Fellow football enthusiasts, welcome to our FC 24 Web App guide! If you are an avid fan of the FC (previously known as FIFA) series, you are likely familiar with the indispensable tool that is called the FC 24 Web App. Whether you are a seasoned FC player or just getting started, this article is your gateway to maximizing your gaming experience no matter where you are.
The FC 24 App is a powerful companion that allows you to manage your squad, trade players and items, complete Squad Building Challenges (SBCs), and much more, all from the comfort of your web browser or mobile device. In this comprehensive guide, we will take you through the ins and outs of this versatile tool, providing you with tips, tricks, and strategies to enhance your gaming journey.
Whether you are looking to build the ultimate squad, make smart investments on the transfer market, or simply stay ahead of the competition, using the FIFA 24 Web App is your key to success. Join us on this exploration of its features and functionalities, and let us help you become a legendary player!
Before we dive into the topic, we would like to share the fastest and most secure method of earning extra FC 24 Coins. This is what you will be using a lot when getting acquainted with the Web App. To ensure you always have a sufficient balance, you can Buy FC 24 Coins with our team's help and get them delivered in a blink of an eye. We offer reasonable prices and guarantee the fastest delivery!
IMPORTANT NOTE: At SkyCoach, you can also Buy FC 24 Boost at the lowest prices and with the fastest delivery. You can make your first purchase even CHEAPER if you find our special PROMO CODE (highlighted in green) hidden in this article and get a 20% DISCOUNT.
Check out some of our most popular
FC 24 Boosting services

below:
FC 24 Web App Release Date
The FC 24 Web App release date was on September 20, 2023. At the same time, FC 24 Companion App (its mobile analog) was released a day later on September 21, 2023. The release time was the same for both desktop and mobile apps – 6:20pm BST / 10:20am PST / 1:20pm EST.
The main feature of using EA FC 24 Web App is the fact that you get access to in-game features before it is even released. Those who were brave enough and pre-ordered the Ultimate Edition of the brand-new FC game were able to try out it a week earlier. However, any player who bought any edition of the latest title could enjoy the benefits of the app as well.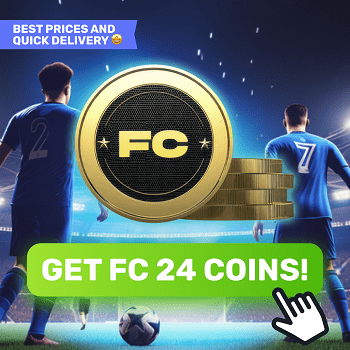 FC 24 Web App Features
This part of our guide is devoted to a complete description of the most important FC 24 Web App tools you can find once you are logged in. For your convenience, we have compiled a list of them and attached it below:
Managing Your Ultimate Team.

Take full control of your squad through comprehensive management options, including player details, formation adjustments, and lineup editing. The web app empowers you to oversee your active squad, reserves, and club items effortlessly;

Exploring the Transfer Market.

Effortlessly search for players within the transfer market, place bids, and acquire items to enhance your squad. The web app faithfully replicates the console transfer market experience, enabling you to engage in player and consumable trading while on the move;

Conquering Squad Building Challenges.

Embark on Squad Building Challenges via the web app to secure valuable rewards for your club. You can construct challenge squads directly within the web app and seamlessly incorporate them into your club once completed;

Tailoring Your Club's Look.

Personalize your club's appearance with customization options for kits, badges, stadiums, and other cosmetic items. The web app provides you with the means to create a unique identity for your team, ensuring it stands out from the rest;

Progressing through Objectives.

Monitor your advancement in daily, weekly, and season objectives, each offering the chance to earn

XP

and exclusive rewards for your club upon completion. Keep track of your objectives and reap the benefits as you strive for success.
All the listed features can become available on your mobile device as well. The only thing you need to do is to go to your Google Play (Android) or Apple App Store (iOS) and start FC 24 Companion App download from the official page. After that, you will be able to enjoy all those features without even the need to have a laptop or PC. BLOG20
How to Log in to FC 24 Web App
If you are new to the game, you might be wondering how to access EA FC Web App to be able to try out all those tools described above. To put things right, we have prepared a step-by-step guide explaining how the login procedure looks:
Access the Web App.

Open your internet browser and navigate to the official FC 24 Web App website. You can typically find the web app by searching for "FC 24 Web App" or by visiting the official EA Sports website;

Login Credentials.

Click on the

"Login"

or

"Sign In"

button on the web app's homepage;

Enter Your EA Account.

You will be prompted to enter your EA account information. Ensure that you use the same email address and password associated with your FC 24 game and Ultimate Team account;

Two-Factor Authentication (if enabled).

If you have two-factor authentication enabled for your EA account, you will need to complete the additional security step. This may involve receiving a code on your mobile device or email, depending on your chosen

2FA

method. Enter the code when prompted;

Access Granted.

Once you have successfully entered your credentials and completed any necessary security steps, EA FC 24 Web App login process is over and you can enjoy its features to the full.
How to Change Club Name EA FC 24 Web App
Despite dealing with an updated version of the app, players still CANNOT change their club name when using the Web App. This can only be done in the game itself and there are no other options to do this. While there were some speculations on this topic, the devs have not added this feature this year as well.
Therefore, if you are wondering how to change club name EA FC 24 Web App, you will have to run the game from your console or PC to do this. For now, we can only hope the developers will bring this feature to life with future updates. Luckily, you do not have any rename restrictions and you can experiment with your club name as many times as you want.
FC 24 Web App Tips & Tricks
While using the Web App does not seem like a difficult task, especially if you have been playing the game for long enough, a lot of beginners would not mind reading a few essential tips and tricks on this topic:
Transfer Market Strategy

When using the Transfer Market, be patient and savvy. Research player prices, look for bargains during peak trading times, and consider using the

"Buy It Now"

option if you find a great deal. Also, pay attention to market trends and fluctuations, as prices can change rapidly.

Complete Squad Building Challenges

Participate in Squad Building Challenges

(SBCs)

regularly. These challenges offer unique rewards and can be a great way to earn valuable players and packs. Always check the requirements and plan your squad accordingly to complete SBCs efficiently.

Manage Your Squad Wisely

Utilize the squad management features to optimize your team. Pay attention to player contracts, fitness levels, and chemistry. Rotate your squad to maintain player fitness and chemistry, ensuring your team performs at its best.

Complete Objectives

Regularly check and complete objectives to earn

XP

, rewards, and special players. Objectives offer a structured way to progress in the game and can provide you with valuable resources for your club.

Diversify Your Squad

While it is tempting to focus on star players, having a well-rounded squad with different player types and attributes can be advantageous. Having versatile substitutes on your bench can make a big difference in matches, allowing you to adapt to different situations.
Conclusion
To sum it up, our EA FC 24 Web App guide has provided you with the essential knowledge and insights needed to fully embrace the brand-new title through its Web App. We have explored how to access the Web App seamlessly, ensuring you can manage your Ultimate Team and engage with the game's dynamic features from any internet browser.
From UT management to the Transfer Market, Squad Building Challenges, club customization, and tracking objectives, this article has equipped you with the tools to navigate the Web App effectively. As you continue your journey in FC 24, remember that staying informed and utilizing these features strategically can greatly enhance your gaming experience.
F.A.Q.
How do I get FC 24 Web App?
You need to enter your EA account credentials on the official FC 24 Web App site to gain access to all its features.
Does EA FC 24 have a Web App?
Yes, the Web App for FC 24 was released on September 20, 2023 and is now fully functioning.
What time does FC 24 Web App come out?
The FC 24 Web App saw the world on September 20, 2023 at 6:20pm BST / 10:20am PST / 1:20pm EST.
Is EAFC 24 out?
The game is launching on September 29, 2023 and will be available on PS5, PS4, Xbox Series X|S, Xbox One, PC, and Nintendo Switch.
Is Web App and Companion App the same?
Technically, these are the same apps yet is Web version is designed for using it from your browser. At the same time, the Companion analog has been created for mobile devices.
What is FC 24 Web App for?
By using the Web App, you can access your UT Club, buy packs, make trades on the Transfer Market, and even play SBCs.