Are you looking for a way to enhance your players' performance even further? Then, welcome to our comprehensive FC 24 Chemistry Styles guide, your definitive resource for mastering this uneasy-to-learn in-game feature! Whether you are a seasoned pro looking to fine-tune your squad's performance or a newcomer eager to understand the nuances of player chemistry, this article is your key to having FC Chemistry Styles explained from the very basics.
In the world of FC, Chemistry Styles play a pivotal role in enhancing player attributes, influencing team dynamics, and ultimately determining the outcome of your matches. With the vast array of alternatives at your disposal, finding the best Chem Styles FC 24 for your players can be a daunting task.
That is where this guide steps in – to demystify the intricacies of Chemistry Styles and provide you with an in-depth list of the best Chemistry Styles FC 24 to suit every position on the field. Get ready to elevate your gaming experience and dominate the pitch with confidence. Let us kick things off and discover what FC Chemistry Styles can take your team to the next level!
IMPORTANT NOTE: At SkyCoach, you can also Buy FC 24 Boost at the lowest prices and with the fastest delivery. You can make your first purchase even CHEAPER if you find our special PROMO CODE (highlighted in green) hidden in this article and get a 20% DISCOUNT.
Check out some of our most popular
FC 24 Boosting services

below:
What Are Chemistry Styles in FC 24?
Chemistry Styles in FC are a crucial gameplay mechanic that allows you to modify and enhance the attributes of individual players on your roster. They are designed to improve a player's performance on the field by tailoring their abilities to suit specific roles and playstyles.
While it may look like an easy-to-understand feature, a lot of players still do not know what are Chemistry Styles in FC 24 and do not use it to the full extent. So, here is a quick explanation of how this mechanic works:
Player Attributes.

In FC, each player has a set of base attributes that define their skills, such as

Dribbling (DRI), Defense (DEF), Physical (PHY), Pace (PAC), Passing (PAS),

and

Shooting (SHO).

However, these are only the main attributes and they include many more categories inside. These attributes determine how well a player performs in various aspects of the game;

Chemistry Styles Explained.

To answer what FC 24 Chemistry Styles are, they are consumable items that can be applied to individual players in your squad. Each item focuses on specific attributes to make a player more effective in a particular role or playstyle;

Chemistry Links.

Chemistry Styles also work in conjunction with the individual chemistry of a player. If a player has a strong connection with their teammates based on position, league, and nationality, they will benefit more from the Chemistry Style boost. Conversely, a player with weak chemistry links will receive fewer attribute boosts.
Now that you know what do Chemistry Styles do in FC 24 and how their effect can be boosted thanks to Chemistry Links, here comes another question. A lot of players, especially those who only begin playing the game, have no idea what Chem Styles to apply to this or that player. The reason for this is that you have a lot of options to choose from and it is also important to know what consumable suits this or that role better.
To ensure you always have access to the most popular and demanded Chemistry Styles, you will have to buy them from the Transfer Market. Some of these consumables cost a lot, and you might need some extra FC coins to afford them. When it comes to this topic, you can safely rely on SkyCoach, as you can Buy FC 24 Coins with our company's help and get them delivered in a blink of an eye. We also offer the best market price you cannot find anywhere else!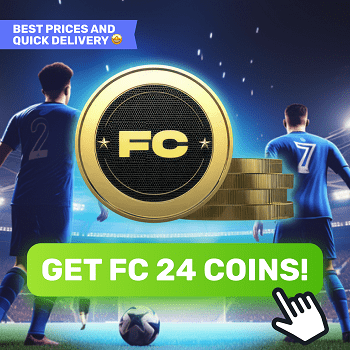 Best Chemistry Styles FC 24 for Each Position
Choosing the correct and most suitable Chem Styles is always a problem, especially if you are only starting out and have limited resources. To begin with, you need to think of the item's price, to what player's position it can be applied to, what attributes it boosts, and so on. BLOG20
To make your life easier, we are going to enlist the best Chemistry Styles FC 24 for each position in this part of the article:
Position

Best Chemistry Styles

Description

Goalkeepers

This combo offers a balanced approach to goalkeeper performance. "Glove" boosts diving and handling, allowing for agile saves.

"Basic" provides a well-rounded improvement to all attributes.

"Wall" enhances physicality and positioning for better aerial dominance. This combination ensures that the goalkeeper excels in shot-stopping and maintains overall consistency.

Center-Backs

This combination helps you to be more efficient when playing in def, as "Sentinel" focuses on improving defending and physical attributes, making them more resilient in one-on-one situations.

"Anchor" enhances defensive and physical attributes while boosting passing, enabling them to excel in both defensive duties and initiating attacks.

"Shadow" emphasizes pace and defending, allowing center-backs to chase down speedy attackers and maintain a tight defensive line effectively.

Full-Backs

Shadow
Powerhouse
Guardian

Here is why this combo is perfect. "Shadow" emphasizes pace and defending, enabling full-backs to keep up with speedy wingers and excel in defensive situations.

"Powerhouse" focuses on boosting passing, dribbling, and physical attributes, making full-backs more versatile in both offensive and defensive roles.

"Guardian" enhances dribbling, passing, and defending, providing full-backs with the skills needed to contribute effectively to build-up play and defensive stability.

Defensive Midfielders

Backbone
Powerhouse
Shadow

When it comes to this position, "Backbone" enhances their passing and physical attributes, making them more robust in controlling the midfield and distributing the ball effectively.

"Powerhouse" focuses on improving their passing, dribbling, and physicality, allowing defensive midfielders to be well-rounded contributors in both defensive and offensive phases.

"Shadow" emphasizes pace and defending, ensuring they can quickly recover the ball and maintain a strong defensive presence.

Center Midfielders

This is one of the most crucial roles and the choice must be made carefully. "Artist" enhances their dribbling and passing, making them more adept at controlling the ball and distributing it accurately.

"Maestro" focuses on boosting their passing, shooting, and dribbling skills, allowing center midfielders to contribute effectively both in terms of creating scoring opportunities and maintaining possession.

"Deadeye" improves their shooting and passing accuracy, making them a threat in front of goal and reliable playmakers.

Wingers

Speaking of Wingers, "Engine" enhances their dribbling, passing, and pace, making them more agile and skillful in one-on-one situations and improving their ability to create scoring opportunities.

"Catalyst" focuses on boosting their passing and pace, allowing wingers to deliver precise crosses and through balls while also maintaining their speed.

"Hunter" significantly increases their pace and shooting attributes, turning them into potent goal-scoring threats when cutting inside or making runs into the box.

Strikers

Finally, the most popular role among all players. "Finisher" focuses on boosting their shooting and physical attributes, enhancing their ability to finish scoring chances with precision and power.

"Hawk" improves their shooting, pace, and physicality, making them versatile goal-scoring threats capable of both finesse and strength.

"Hunter" significantly increases their pace and shooting attributes, turning them into lightning-fast, clinical finishers in front of goal.
Yeah, we do know that a lot of you would like to see the best Chemistry Styles FC 24 for each player present in the game. However, there are so many of them that it would take an eternity to gather all the details in one place. In fact, it makes little sense, as most cards playing in the same position would need the same Chemistry Styles described in the table above. So, it is better to pay attention to what role this or that player performs and make a decision out of that.
FC 24 Chemistry Styles List
Now that you have got acquainted with FC Chemistry Styles stats from the table above, it is high time to add a few words on other Chem Styles available in the game. While they might not be that powerful and popular among the community, they still deserve your attention and can sometimes be used as substitutions.
Below, you can find a complete list of all FC 24 Chemistry Styles:
GK Basic:

+1 All Face Stats;

Wall:

+2 Div Han Kic;

Shield:

+2 Kic Ref Spe;

Cat:

+2 Ref Spe Pos;

Glove:

+2 Div Han Pos;

Player Basic:

+1 All Face Stats;

Sentinel:

+3 Def Phy;

Guardian:

+3 Dri Def;

Gladiator:

+3 Sho Def;

Backbone:

+2 Pas Def Phy;

Anchor:

+2 Pac Def Phy;

Shadow:

+3 Pac Def;

Artist:

+3 Pas Dri;

Architecht:

+3 Phy Pas;

Powerhouse:

+3 Pas Def;

Maestro:

+2 Pac Pas Sho;

Engine:

+2 Pac Pas Dri;

Catalyst:

+3 Pac Pas;

Sniper:

+3 Sho Dri;

Deadeye:

+3 Sho Pas;

Hawk:

+2 Pac Sho Phy;

Marksman:

+2 Sho Dri Phy;

Finisher:

+3 Sho Phy;

Hunter:

+3 Pac Sho.
As you can see from this list, there are 24 Chemistry Styles in total available in FC 24. 19 of them are designed for outfield players while the rest 5 are for goalkeepers.
How to Apply Chemistry Styles FC 24?
If you are only starting to play the game, you might wonder how to apply Chemistry Styles in FC 24, as this can seem to be quite a tricky process for some people. First of all, congratulations on your first Chem Style purchase! Now, let us find out how you can style a player in FC 24:
On the primary Ultimate Team screen, double-press

R1/RB

to access the

Club

tab;
Within the

Club

tab, select

Squad;

Pick a player and press

Square/X;

Opt for

Apply Consumable;

Navigate to the

Styles

category by pressing

R1/RB;

Pick the preferred style item and confirm your choice.
See? Simple as that! Now, think of what Chemistry Links you can build up in your squad to ensure you get the strongest effect possible.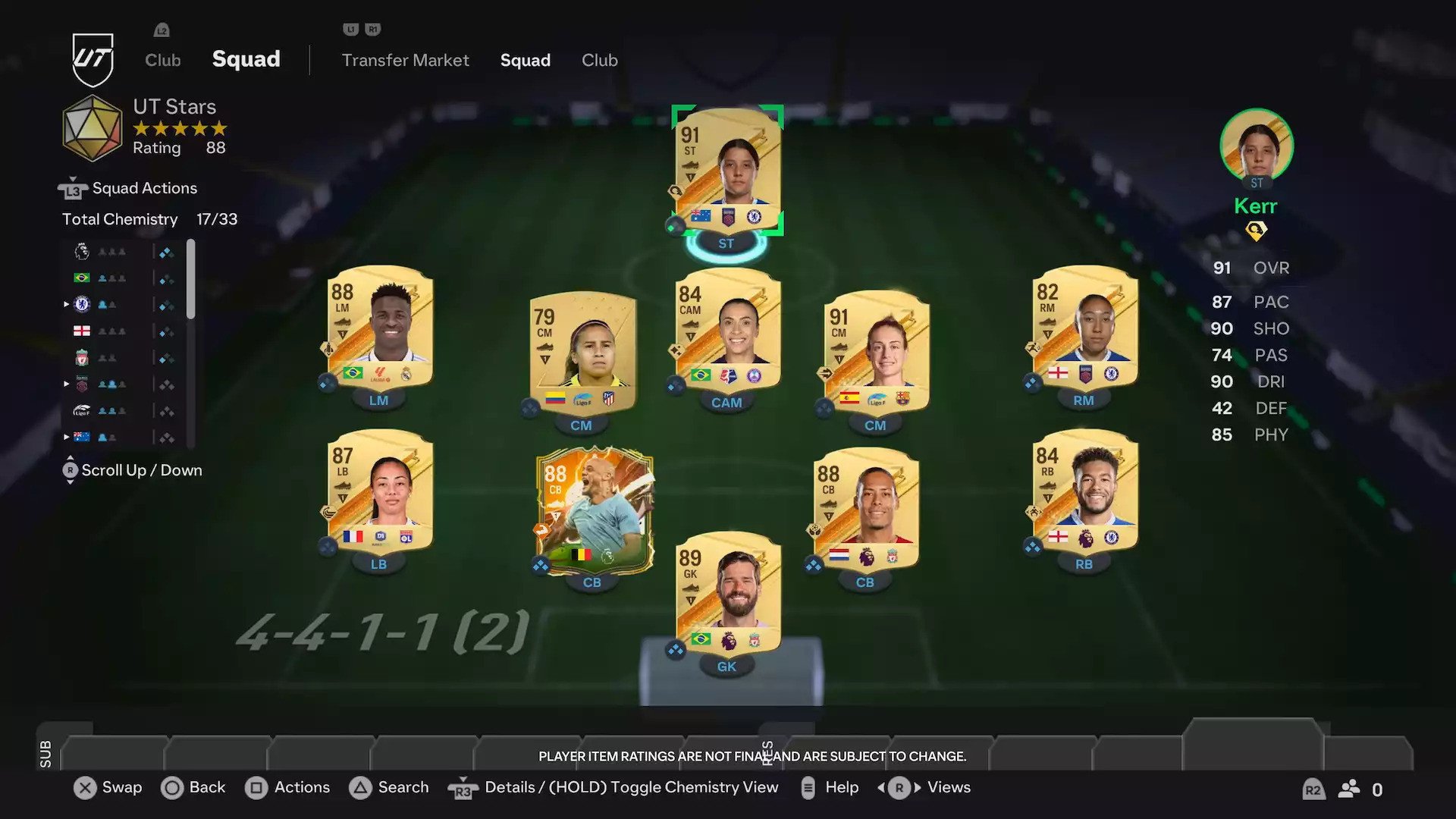 Do Chemistry Styles Stack FC 24?
While you CANNOT apply multiple Chemistry Styles to one player simultaneously, you can REPLACE the old item with a new one. However, by doing so, you will not receive the already-used consumable back, as it is already gone.
Still, you can always think of a new strategy or experiment with your attribute distribution. In this case, replacing one Chem Style with another can be a good decision. This is especially important when we are talking about FC Ultimate Team Chemistry Styles, as you want to stay flexible to ensure you play well against other people. To follow the meta, you might want to change this or that Chem Styles you always thought was best for you.
Conclusion
To sum it up, after reading our complete FC 24 Chemistry Styles guide, you must have learned a lot about this in-game mechanic and the way it works. By exploring the best Chemistry Styles for each position, we have empowered you to fine-tune your squad, adapt to different playstyles, and dominate the pitch with confidence.
Remember that Chemistry Styles are the key to unleashing the full potential of your team, and with this guide at your disposal, you are well-equipped to create a winning formula that suits your tactics and preferences. Do not forget to visit this article once in a while to see if we have updated the information given, as the game's meta is constantly changing and we try our best to stay flexible to catch up with it. This is it for now, good luck, and we will see you in FC 24!
F.A.Q.
How do FC 24 Chemistry Styles work?
FC 24 Chemistry Styles modify individual player attributes, enhancing specific skills, and optimizing their performance based on their position, role, and preferred playstyle.
What is the best Chemistry Style in FC 24?
While the final choice depends on many factors like position and others, a lot of people enjoy playing with Artist and Maestro styles. The reason for this is that they significantly boost Passing and Dribbling attributes.
Do Chemistry Styles make a difference FC 24?
Yes, Chemistry Styles make a significant difference in FC 24 by fine-tuning player attributes and affecting their in-game performance.
How do I know what Chemistry Style to use?
To pick the correct Chemistry Style for you, pay attention to what possible Chemistry Links you can build up, as well as what attributes your players lack when playing on this or that position.
What Chemistry Style should I use FC 24?
Depending on your player's position, you can opt for a variety of alternatives. For example, Wingers would prefer to have Engine applied to them. At the same time, Strikers perform much better with a Finisher style.
Does Chemistry Style matter in FC 24?
Absolutely! Applying the correct Chemistry Style can significantly boost your players' performance, as they will have their stats boosted.
What is the best Chemistry Style for Ronaldo FC 24?
Hawk is a must-have Chemistry Style for Ronaldo, as it improves his Pac, Sho, and Phy stats, which are vital for Strikers, as they are responsible for scoring goals.
What is the best Chemistry Style for Mbappé FC 24?
Mbappé would benefit from Finisher best, as this style boosts his Sho and Phy, making it easier for you to score goals.
What is the best Chemistry Style for Haaland FC 24?
Haaland would play noticeably better if you have a Hunter style applied to him. The reason for this is that it increases his Pac and Sho stats, which are crucial for successful goal scoring.
Can you stack Chemistry Styles FC 24?
You cannot stack Chemistry Styles, but you can always replace one with another.
How do I get Chemistry Styles?
The easiest way to get the Chemistry Style you are looking for is to buy it from the Transfer Market. However, Chem Styles also drop from packs you receive from various in-game activities.