FC 24 Beginner's Guide - How to Start Playing FC Ultimate Team
Welcome to the exhilarating world of FC, where you will experience the excitement of this brand-new game like never before! Whether you are a soccer fanatic or a gaming enthusiast looking for a new challenge, our EA Sports FC 24 complete guide is here to help you kick off your journey into the world of football.
The FC series (previously known as FIFA) has been the go-to title for soccer aficionados and gamers alike for decades. Its realistic gameplay, stunning graphics, and the opportunity to lead your favorite teams to glory have made it a global phenomenon. However, with its depth and complexity, the game can be a bit overwhelming for newcomers. Therefore, we will go through all the essential topics, explaining how to start playing FC 24 as a beginner in 2023 from scratch.
That is where our FC 24 FIFA beginner guide comes in. We have designed this comprehensive resource to equip you with the knowledge and skills needed to start your adventure with confidence. Whether you are playing on PlayStation or Xbox, we will cover the basics, share tips and strategies, and provide you with the tools to navigate the game's various modes and features.
By the time you have completed reading this article, you will be well on your way to becoming an FC pro. So, lace up your boots, grab your controller, and get ready to immerse yourself in the world of football.
Before we delve into the topic, we would like to share the most efficient and quickest way to earn the desired number of FC 24 Coins without endless grinding. By choosing SkyCoach, the most reliable currency provider, you can Buy FC 24 Coins and get them delivered in a blink of an eye no matter what platform you are playing on. We offer affordable prices and are trying our best to make them even lower!
IMPORTANT NOTE: At SkyCoach, you can also Buy FC 24 Boost at the lowest prices and with the fastest delivery. You can make your first purchase even CHEAPER if you find our special PROMO CODE (highlighted in green) hidden in this article and get a 20% DISCOUNT.
Check out some of our most popular
FC 24 Boosting services

below:
FC 24 Ultimate Team Starting Guide
While every player pursues their own objective when entering the game for the first time, the majority of us have come here with one goal in common. As you might have already guessed, we are talking about the Ultimate Team mode where gamers from all over the world compete against each other and try their best to build a competitive squad.
Even though we have not received any game-changing and major updates with the release of the title, many newcomers might struggle to master this mode without using our FC 24 Ultimate Team starting guide we have prepared in this section.
For your convenience, we have split up the following part of the text into separate pieces. Below, you can find complete instructions on how to play FIFA Ultimate Team if this is your first experience ever: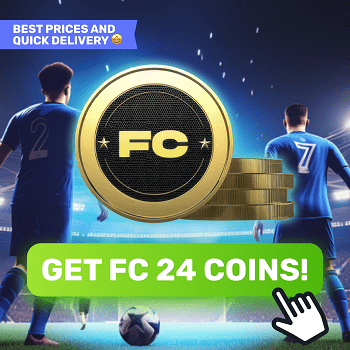 Upon entering the UT mode, you will be greeted with a starter pack that contains a mix of player cards, contracts, and consumables. Take some time to explore the UT menus, which include Squad Building, Transfer Market, Objectives, and Store.
Your Ultimate Team squad is the core of your gameplay experience. Player cards are the heart of your team, each with unique attributes. Chemistry is crucial, as it shows the synergy between players that can greatly impact your team's performance. To maximize chemistry, consider factors like the players' club, league, and nationality.
Initially, your squad consists of the players you received in your starter pack. As you progress, focus on improving your team by acquiring new players through packs, trading in the Transfer Market, or completing Squad Building Challenges (SBCs). Pay attention to player positions and ensure they match the formation you want to play.
You can expand your squad by purchasing player packs. These packs can be bought using in-game currency called FC Coins or FC Points, which you can obtain with real money. The Transfer Market is another valuable resource where you can buy and sell player cards. Understanding player prices and market dynamics is crucial here.
In UT, resources are essential. FC Coins are earned through matches, objectives, and trading, while FC Points can be purchased. Use coins and points wisely to enhance your squad. Consumables like fitness cards and healing cards are essential for maintaining player fitness and health.
Objectives and Challenges
Completing daily, weekly, and seasonal objectives can provide valuable rewards such as coins, packs, and unique player cards. Squad Building Challenges (SBCs) offer an opportunity to test your squad-building skills and earn special player cards or packs.
Chemistry influences how well your players perform together. High chemistry can make your team more cohesive. Look for players with strong individual attributes and high overall ratings, particularly in key positions like Striker and Goalkeeper.
Apply chemistry styles to enhance specific attributes of your players. For example, a Hunter chemistry style boosts pace and shooting, making it ideal for strikers. While many players forget or neglect this feature, this might be one of the most essential FIFA Ultimate Team tips we can ever give to you to ensure you boost your performance and get it to a whole new level.
Player Contracts and Fitness
Monitor player contracts to ensure that your squad is always ready for matches. Renew contracts using contract cards. Fitness is crucial too; players perform best with high fitness levels, so use fitness cards to maintain their stamina.
Engage in various UT match types, including single-player, online seasons, and the competitive UT Champions mode. Learning the nuances of gameplay, including skill moves, passing, and shooting, is fundamental for success. Practice regularly to improve your skills and understanding of the game.
The last point we have described would not make any sense without the rest. However, it is exactly the moment you want to pay maximum of your attention to. Since the success and your final results directly depend on how well you play, we highly recommend that you play as much as possible if you are only starting out.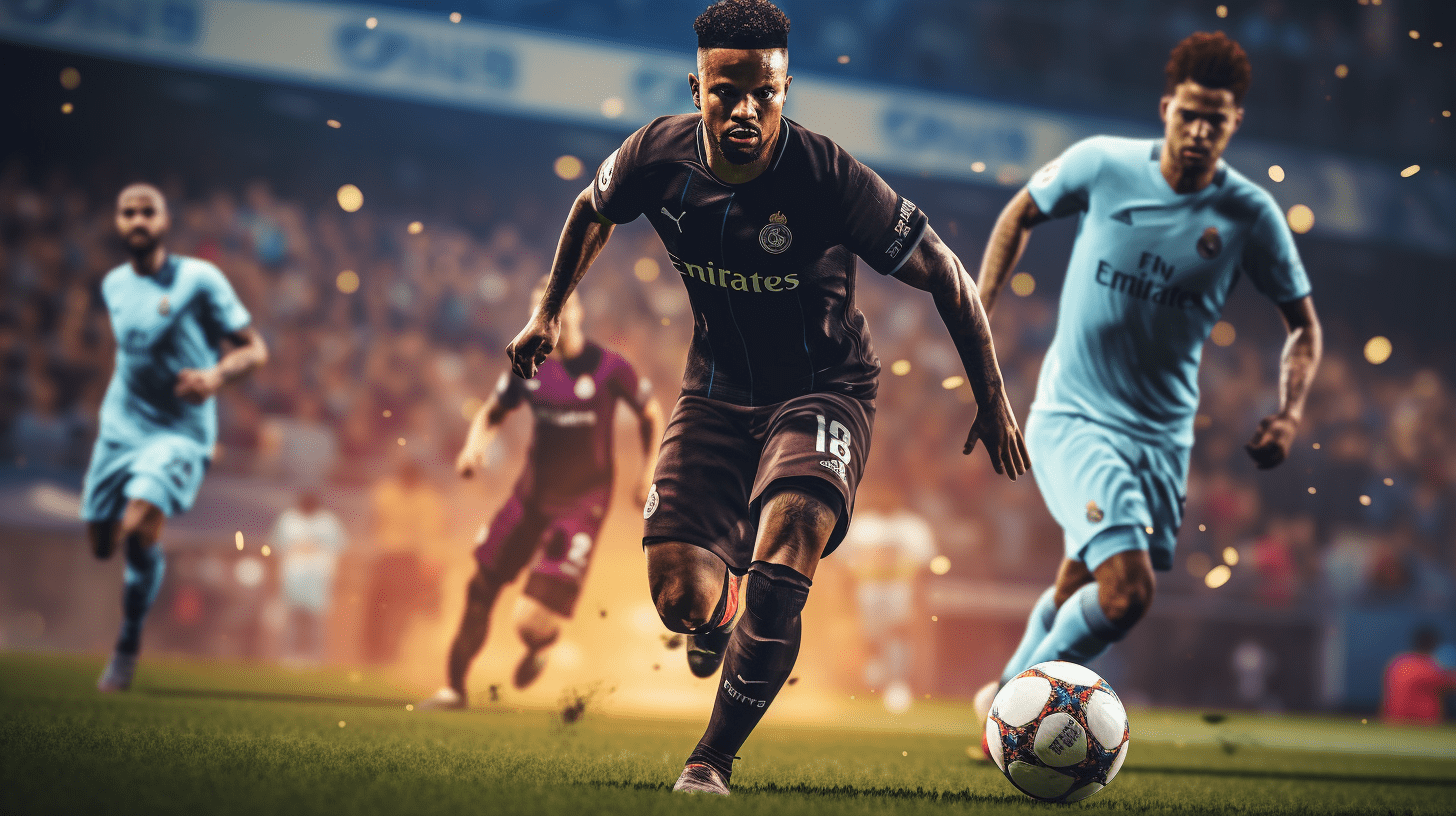 Basic Controls
Before we delve into more complex topics and share essential FC 24 tips for beginners, let us pay a bit of attention to basic controls. Do keep in mind that the game offers a comprehensive control scheme, which might seem a bit hard to master at first. On a typical controller, the left analog stick is used to move the player, while the right analog stick is for skill moves and player switching.
Passing is executed with the A (Xbox) or X (PlayStation) button, and shooting with the B (Xbox) or Circle (PlayStation) button.
To tackle and defend, use the X (Xbox) or Square (PlayStation) button. Pressing it lightly results in a standing tackle, while holding it initiates a sliding tackle.
Mastering skill moves can be advantageous. These are executed with the right analog stick and vary in complexity.
Game Modes
Now that you know how to start FC 24 and have learned its basics already, we would like to talk more about the in-game modes you can participate in. While we have shared quite a lot of details concerning the Ultimate Team mode, we have said anything about the Career Mode. Therefore, the following part of our guide is devoted exactly to this and more.
Career Mode.

Player Career mode allows you to control a single player's journey, making choices that impact their career, including transfers and training.

Manager Career Mode

lets you take charge of a club, including negotiating contracts, scouting players, and managing finances.

BLOG20

Ultimate Team.

This mode offers a plethora of modes and challenges.

Squad Battles

provide single-player matches against AI teams, while

Division Rivals

and

Weekend League

offer competitive online experiences. Additionally,

UT Friendlies

offers unique rule sets and objectives to keep the mode fresh.
Player Attributes
One of the most essential FIFA tips for beginners we can give to you concerns player attributes. While this might seem like a boring aspect of the game, requiring math and calculations at some point, it is vitally important.
In FC, players are represented by various standard attributes that encompass their skills and abilities on the pitch. These attributes provide a numerical rating for each player, which helps determine their overall effectiveness (OVR) in the game.
Below, we have prepared a table, explaining what standard attributes you are going to encounter in FC 24:
Attribute

Abbreviation

Description

Pace

PAC

Pace represents a player's speed and acceleration. It is often split into two sub-attributes:

Sprint Speed

(how fast a player can run in a straight line) and another one called

Acceleration

(how quickly a player can reach their top speed).

Shooting

SHO

The Shooting attribute reflects a player's ability to shoot accurately and powerfully. It includes sub-attributes like

Finishing

(accuracy when shooting close to the goal),

Shot Power

(how hard a player can strike the ball), and

Long Shots

(accuracy when shooting from a distance).

Passing

PAS

Passing measures a player's ability to distribute the ball accurately. Sub-attributes may include

Short Passing

(accuracy of short-range passes),

Long Passing

(accuracy of long-range passes), and

Vision

(ability to see and execute precise passes).

Dribbling

DRI

Dribbling reflects a player's ball control and ability to navigate through tight spaces.

Agility

(how quickly a player can change direction) and

Balance

(how well a player maintains balance while dribbling) are sub-attributes.

Defending

DEF

Defending attributes are crucial for defenders and defensive midfielders. They encompass attributes like

Marking

(the ability to stick close to an opponent),

Tackling

(how effectively a player can win the ball back), and Interceptions (the ability to read and intercept passes).

Physicality

PHY

Physicality relates to a player's physical strength and stamina. Sub-attributes may include

Strength

(the player's ability to hold off opponents),

Stamina

(how long a player can maintain a high level of performance), and

Aggression

(the willingness to engage in physical challenges).

Heading

HEA

Heading refers to a player's ability to win aerial duels, especially when contesting high balls.

Jumping

(how high a player can jump) and

Heading Accuracy

(how accurately a player can direct headers) are sub-attributes.

Skill Moves

SM

Skill Moves indicate a player's proficiency in performing skill moves, which are advanced dribbling techniques. They are rated on a scale from

1 to 5 stars,

with 5-star skillers being the most skilled.

Weak Foot

WF

The Weak Foot attribute assesses a player's ability to use their non-dominant foot. It is rated from

1 to 5 stars,

with a higher rating indicating greater proficiency with the weak foot.

Work Rate

WR

Work rates describe a player's work ethic on the pitch. It's divided into

Attack Work Rate

(how often a player participates in attacking moves) and

Defense Work Rate

(how often a player helps in defending).

Positioning

POS

Positioning is a critical attribute for both attackers and defenders. It reflects a player's ability to find the right positions on the field to receive passes, make runs, or mark opponents defensively.
You can increase the chosen player attributes by applying the required Chemistry Styles. To learn more about this feature, we highly suggest that you read our comprehensive FC 24 Chemistry Styles Guide.
Tactics and Formations
Arranging your players on the pitch correctly plays a significant role and can often lead your squad to victory just due to it. In this section of the article, we will briefly explain to you what Tactics and Formations are and give you a few important FC 24 FIFA tips concerning this aspect of the game.
Custom Tactics.

Customize every aspect of your team's playstyle, from build-up play to defensive style. Experiment with sliders and instructions to fine-tune your tactics.

Player Instructions.

Assign specific roles to your players. For example, you can instruct a central midfielder to

"stay back while attacking"

or a winger to

"get in behind"

to exploit spaces more effectively.
If you wish to learn more about possible Formations and Custom Tactics to ensure you always know how to arrange your players, we have you covered. By checking out our Best FC 24 Formations & Custom Tactics Guide, you can find what you are looking for. There, we have enlisted the most efficient of them starting from 4-3-2-1 all the way up to 4-3-3 (4), and others.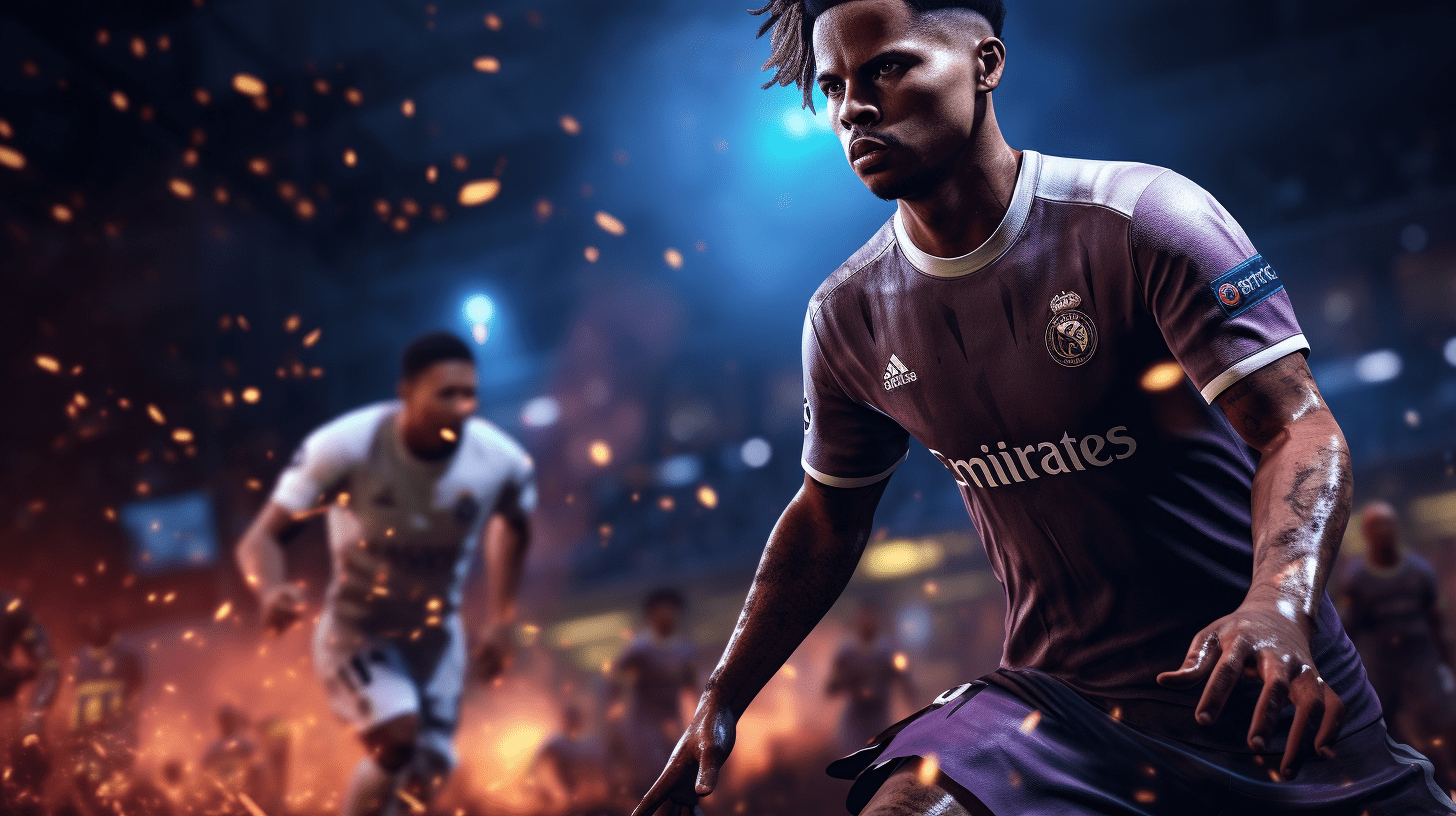 Shooting and Scoring
Show us at least one FC 24 fan who likes to play defensively rather than constantly pushing the opponent's part of the pitch. We bet you will not find many people like that. Therefore, we are going to pay attention to shooting and scoring in FIFA 24 as well.
The following FC 24 tricks DO NOT guarantee you 100% success every time you try to shoot a goal. However, if you are only starting out, they can help you understand the basics of how shooting and scoring work in general:
Timed Finishing.

Timing is critical for accurate shots. After initiating a shot, press the shoot button again just before your player strikes the ball for a timed finish. Well-timed shots are more likely to find the back of the net.

Finishing Techniques.

Different situations call for different finishing techniques. Use chip shots when the goalkeeper rushes out, volleys for crosses into the box, and finesse shots for curling efforts around the keeper.
Defending
Since we have touched on the topic of playing defensively or offensively, we cannot miss a chance to add a few words about how you can counter your opponent's attacks. After all, playing FC 24 revolves not only around shooting goals but also protecting your gates.
Jockeying.

This feature (holding the left trigger or L2) allows you to maintain a defensive stance, making it easier to react to your opponent's moves without committing to a tackle.

Manual Defending.

While AI defenders can be effective, manually controlling a defender gives you more control over positioning and interceptions. Practice to improve your defensive skills.
Transfer Market
The Transfer Market is a virtual marketplace within FC Ultimate Team where players can trade items. It is a central hub for buying and selling player cards, consumables (e.g., Contracts, Fitness Cards), and other UT items.
The market is dynamic and fluctuates based on supply and demand, player popularity, real-world performances, and in-game events.
You can acquire new players through the Transfer Market to enhance your squad. Use search filters to find specific players based on attributes, league, nationality, club, position, and more. Moreover, you can place bids on players listed for auction or buy them immediately at their "Buy Now" price.
To sell players, list them on the Transfer Market with a starting bid price and a Buy Now price. You can also set the duration of the auction. Consider pricing competitively based on a player's attributes, rarity, and current market value.
If you wish to learn more about how you can use the Transfer Market to become richer, make sure to read our How to Make Coins in FC 24 Guide to learn all the ins and outs of this aspect of the game.
Common Mistakes to Avoid
We have done our best to share the most efficient tips and tricks in our FC 24 beginner's guide, trying to cover every aspect of the game you will stumble upon when starting your football journey.
However, here is a list of the top three FC 24 mistakes we would you to know about in advance to ensure you avoid them:
Overusing Skill Moves.

Flashy skills are tempting, but overuse can lead to predictable play. Use skill moves sparingly and strategically;

Neglecting Defensive Responsibilities.

Balance is key. Avoid sending too many players forward, as it can leave your defense vulnerable to counter-attacks;

Rushed Decisions.

Take your time in front of goal. Rushed shots or passes are often inaccurate and can result in missed opportunities.
By immersing yourself in these comprehensive details for each FC gaming aspect, you will be better equipped to hone your skills, make informed choices, and elevate your gameplay to a higher level.
Conclusion
To sum up, our FC 24 beginner's guide has aimed to provide you with a comprehensive introduction to the exciting world of virtual football. Whether you are a newcomer to the game or seeking to enhance your understanding and skills, we have covered a wide range of topics to help you kickstart your journey.
From mastering basic controls to exploring the various game modes, understanding player attributes, and delving into tactics, formations, shooting, and defending, you have been equipped with the knowledge needed to navigate the virtual football pitch.
We have also delved into the intricacies of FC Ultimate Team trading and highlighted common mistakes to avoid, ensuring you are well-prepared to build a formidable squad and succeed in the world of FC gaming. Make sure to stay with us, as we will keep updating this article if any changes occur. Good luck in the game and we will see you on the pitch!
F.A.Q.
What is the best way to start FC 24?
While it might be tempting to try your skills at Division Rivals or other highly-competitive game modes, we suggest that you start playing FC 24 with Squad Battles. Make sure to choose the lowest difficulty level to ensure you win most of the matches even with starting players.
Is FC 24 beginner friendly?
If this is your first experience in the FC series ever, then you might find it quite difficult to navigate through all the present game modes. On top of that, you will have to learn tons of gameplay mechanics, tactics, and strategies to ensure you gain the upper hand in matches against real players.
How do I get better at FC 24?
Make sure to build a squad revolving around strong Chemistry Links and learn the strongest custom tactics and formation you can adapt to your playstyle.
Is FC 24 harder to play?
While it might be difficult for newcomers, FC 24 still remains the same game for those who have played FIFA before and are well aware of the most crucial in-game aspects.
Is FC 24 worth it?
Despite being renamed, the game still remains the best soccer simulator you can currently buy. With regular updates, tons of playable modes, and players, FC 24 is worth it.
Can I play FC 24 alone?
The devs have created the Kick-Off mode exactly for this purpose. By choosing it, you can play against AI opponents to enhance your skills before competing against real players.
What is the easiest skill move in FC 24?
The Ball Roll takes minimum effort to learn and master. Therefore, every beginner should pay a bit of time to get used to executing it flawlessly.