Fellow football fans, welcome to our ultimate FC 24 trophy guide, your comprehensive roadmap to achieving Platinum and unlocking all the achievements in the brand-new continuation of the legendary FIFA franchise. While featuring a different name now, FC 24 remains a high-octane title that demands skill, strategy, and determination. Whether you are a seasoned player looking to complete your trophy collection or a newcomer eager to learn about EA Sports FC 24 trophy list, this article is your key to success.
Within these pages, we will delve deep into the FC 24 achievements topic, providing you with step-by-step instructions, insider tips, and strategies that will not only help you secure that coveted Platinum trophy but also conquer every other achievement in the game. From mastering the gameplay mechanics to uncovering hidden secrets and tackling the toughest challenges, we have got you covered.
Prepare to embark on an epic journey through FC 24's intense gameplay, unraveling the secrets of each level, and perfecting your skills. With our FC 24 achievements guide, you will be well on your way to becoming a true FC 24 champion. So, gear up, sharpen your reflexes, and let's dive into action!
Before we delve into the topic deeper, we would like to share the best way to get prepared for any difficulties you might face when trying to complete this or that trophy. For example, you want to upgrade your squad and buy a new player. For this, you will need a bunch of FC Coins. Farming them manually is a long and tiresome process. It is much easier to Buy FC 24 Coins from SkyCoach! We offer reasonable prices and guarantee the fastest delivery.
IMPORTANT NOTE: At SkyCoach, you can also Buy FC 24 Boost at the lowest prices and with the fastest delivery. You can make your first purchase even CHEAPER if you find our special PROMO CODE (highlighted in green) hidden in this article and get a 20% DISCOUNT.
Check out some of our most popular
FC 24 Boosting services

below:
What are Trophies in FC 24?
Trophies in FC 24 refer to in-game achievements or awards that players can earn by accomplishing specific objectives or milestones within the game. These trophies are a form of recognition and come with varying levels of difficulty and prestige. FC (previously FIFA) games typically have a list of trophies that players can strive to unlock, and they are often associated with both the single-player and multiplayer aspects of the game.
Currently, FC 24 features 41 trophies available in total. They are divided into 4 different categories depending on their difficulty, namely:
Platinum Trophy – 1;

Gold Trophy – 4;

Silver Trophy – 10;

Bronze Trophy – 26.
As you can see, the majority of them go to the Bronze category meaning they are relatively easy to complete. However, the ones placed into the Silver or Gold groups require more time investments and often require you to be a master of this or that game mechanic. At the same time, the FC 24 Platinum difficulty is above all others, as this achievement is the most difficult one to get. Though we will get to this topic in a separate paragraph of our article.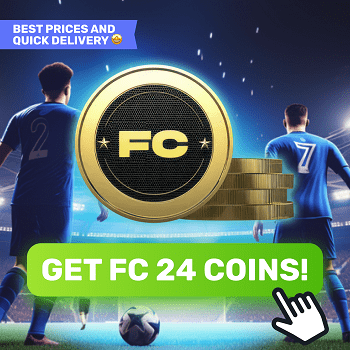 How to Get Platinum FC 24
Unlocking the FC 24 Platinum requires completing all other trophies/achievements available in the game. This means you need to accomplish every specific objective or milestone required for each trophy, including those related to gameplay, career mode, Ultimate Team, and more. Here is a general FC 24 Platinum guide to help you work towards earning this coveted reward:
Examine the Trophy List.

Start by reviewing the list of trophies available in the game. This can usually be found in the game's trophy/achievement menu. Take note of the requirements for each trophy, as this will be your checklist for what you need to accomplish;

Play Through the Game.

Begin your journey by playing through the game's various modes, including exhibition matches, career mode, Ultimate Team, and online play. As you progress, focus on completing the specific objectives tied to trophies;

Skill and Gameplay Trophies.

Work on trophies related to your skills and performance in matches. This may involve scoring goals, performing skill moves, or achieving specific milestones during gameplay. You might need to play matches in different game modes to unlock these trophies;

Career Mode and Managerial Trophies.

If the game includes a career mode, manage your team effectively to earn trophies related to league titles, managerial accomplishments, and player development. These trophies often require several seasons of gameplay;

Ultimate Team Trophies.

In FC Ultimate Team, build a strong squad, complete squad-building challenges, and participate in online or offline competitions to unlock Ultimate Team-related trophies;

Online Trophies.

Dedicate time to playing online matches, achieving a high ranking, and winning online tournaments or seasons to earn online trophies. This may require a good deal of skill and persistence;

Miscellaneous and Story Trophies.

Address miscellaneous trophies such as collecting all player cards, completing specific in-game challenges, or advancing through story-driven modes if applicable;

Track Your Progress.

Regularly check your progress against the trophy list. This will help you identify which trophies you've already earned and which ones are still outstanding;

Stay Persistent.

Earning the Platinum trophy in FC 24 can be time-consuming and challenging, especially for some of the online-focused trophies. Do not get discouraged by setbacks, and keep practicing and improving your skills;

Celebrate Your Achievement.

Once you have unlocked all other trophies, you will earn the Platinum trophy, signifying 100% completion of the game's achievements. Take a moment to celebrate your accomplishment!
While you need to go through a tough way to get your hands on the most demanded reward, your time and effort investments are worth it. Patience, dedication, and skill are key to unlocking the Platinum trophy in FC 24.
FC 24 Trophy List
The following section of the guide is devoted to enlisting and describing all FC 24 trophies you can currently find in the game. For your convenience, we have put this information into separate tables, splitting them up depending on trophy difficulty. BLOG20
We will start our FC 24 trophy list with the toughest achievements gradually getting to easier ones. The order you are going to complete them strictly depends on you and your play style. So, feel free to choose those trophies you would like to finish first.
FC 24 Platinum Trophy List
| | | |
| --- | --- | --- |
| № | Trophy Name | Description |
| 1 | Accolade Collector | Unlock all other trophies |
FC 24 Gold Trophy List
| | | |
| --- | --- | --- |
| № | Trophy Name | Description |
| 1 | Full Wardrobe | Unlock 50 different vanity items |
| 2 | Record Breaker | Reach 200 club appearances with a player in Football Ultimate Team |
| 3 | Golden Generation | Hire an Expert level coach for each department in your club |
| 4 | European Legend | Win the UEFA Champions League Final |
FC 24 Silver Trophy List
| | | |
| --- | --- | --- |
| № | Trophy Name | Description |
| 1 | On the Way Up | Reach Level 7 in Season in Volta Football or Clubs |
| 2 | PlayStyle+ | Score a goal with an active PlayStyle+ |
| 3 | Welcome to the Big Leagues! | Earn enough UT Champions Qualifications Points to qualify for UT Champions Play-Offs |
| 4 | Seasoned Veteran | Reach Milestone 3 in a UT Division Rivals Season |
| 5 | Graduation Day | Complete an Evolution and claim the upgrades in UT |
| 6 | End of the Line | Reach the last level of a Seasonal Objectives Progress during any Season of UT 24 |
| 7 | Campeones | Finish as the Champion of your Clubs Playoff table |
| 8 | Top of the Pyramid | Reach Elite Division with your Club in a Clubs League Season |
| 9 | Dazzling Personality | Develop a dominant personality trait of over 75% |
| 10 | Winning in Style | Win the UEFA Women's Champions League Final |
FC 24 Bronze Trophy List
| | | |
| --- | --- | --- |
| № | Trophy Name | Description |
| 1 | Volta's Best | Reach 90 OVR with your Avatar in Volta Football |
| 2 | Teamwork Works | Win a Volta squads match with 3 friends |
| 3 | Shop Till You Drop | Purchase an item in the Volta Shop using Volta Coins |
| 4 | Dead-Ball Specialist | Score a goal from a Free Kick |
| 5 | Intuition and Execution | Win a penalty shoot-out without missing |
| 6 | Power Shot | Score a goal using the power shot mechanic |
| 7 | Bring It On | Play/Win a match with the competitive settings turned on during any offline mode |
| 8 | Surgical Aim | Complete 25 Precision Passes |
| 9 | Bullseye | Score a goal using Precision Shooting |
| 10 | Squad Building Completionist | Complete 10 Squad Building Challenges in Football Ultimate Team |
| 11 | The Alchemist | Build a squad with 33 Chemistry Points in Football Ultimate Team. Excludes Concept Players and SBCs |
| 12 | Trust Me, I'm a Manager | Create your own custom tactic in Football Ultimate Team |
| 13 | Defensive Masterclass | Keep 10 clean sheets in UT Squad Battles |
| 14 | One Moment Please! | Complete 1 Moment in Football Ultimate Team |
| 15 | We're in the Game! | Play a match in UT with a squad that has players from both male and female leagues |
| 16 | Level Up! | Complete an Evolution level in UT and claim the upgrades |
| 17 | We're Going Up | Ean a Clubs League Promotion with your Club |
| 18 | First of Many | Win your first Clubs League Match |
| 19 | Walk the Walk | Win your first Clubs Playoff Match |
| 20 | Make the Grade | Receive an A grade in a Clubs Skill Game |
| 21 | Precious Advice | Follow your agent's team recommendation twice during the same Player Career |
| 22 | Fashion Icon | Equip a face guard and a tattoo from the avatar customization menu in Player Career Mode |
| 23 | An Ace Up Your Sleeve | While spectating a match in Tactical View in Manager Career, jump in and score a goal |
| 24 | Do Your Homework | Check a pre-match report, complete a training session, and attend a press conference before a match |
| 25 | Best of Five | Play 5 H2H matches with a friend in Kick Off |
| 26 | Football is Everything | Play a Women's International Football match |
Are FC 24 Trophies the Same for All Platforms?
To sum up the information given in the lists above, it does not matter whether you are playing on last-gen consoles or old ones, you will still have the same trophies to complete. Therefore, the tables for FC 24 achievements PS4 will look just like this.
The same goes for FC 24 Steam achievements, as they are no different from their console analogs. So, you can choose any platform you want to enjoy the brand-new title on and there will not be any differences.
Yes, this rule is also applied to FC 24 achievements PS5, and there will not be any changes in the tables we have provided above. Relax, choose the platform you like most, and have fun in the game.
You now know that FC 24 trophies are the same for all platforms and you do not have to choose the only one just to get some of them specifically. Good luck in collecting 'em all, legend!
Conclusion
In closing, this FC 24 trophy guide has served as your unwavering companion on the thrilling path to Platinum glory and the completion of every achievement in this captivating game. Throughout this article, we have meticulously dissected the intricate layers of FC 24, offering you a treasure trove of strategies, secrets, and meticulously crafted instructions to elevate your gaming prowess.
Securing the Platinum trophy and conquering the exhaustive achievement list in FC 24 is a monumental achievement in itself. It is a testament to your dedication, your unwavering commitment to mastering the game's mechanics, and your sheer tenacity in the face of formidable challenges. Whether you are a seasoned veteran looking to add another Platinum feather to your cap or a newcomer eager to etch your name into FC 24's storied history, this guide was tailor-made to be your guiding star.
Now that you know how to unlock FC 24 trophies, make sure to stay tuned and visit this page once in a while. We will keep updating it in case new trophies are added to FC 24. This is it for now, good luck on the pitch and we will see you in the game!
F.A.Q.
What are FC 24 trophies?
FC 24 Trophies commonly denote the in-game accomplishments or accolades that players can acquire through the successful fulfillment of particular objectives or milestones within the game.
What is the most difficult trophy FC 24?
The Full Wardrobe trophy is considered to be the most difficult one, as you have to unlock 50 different vanity items to complete it, and belongs to the Gold category.
How do you get achievements on FC 24?
To earn achievements in FC 24, you need to complete specific tasks or objectives within the game. Achievements, also known as trophies are a way to track your progress and accomplishments as you play FC.
How do you get trophies in FC 24?
Complete specific in-game milestones and challenges, which can vary from scoring goals and winning tournaments to achieving certain progress in career mode and Ultimate Team.
How many trophies can you win in FC 24?
Currently, you can win as many as 41 trophies in FC 24.
Does EA Play give Steam achievements?
Yes, you can earn Steam achievements when playing through EA Play.
Is FC 24 Platinum hard?
Considering you need to complete 40 other trophies to get it, FC 24 Platinum achievement is tough to get. To reach this goal, you might spend from 80 to 100 hours.
Can you get FC 24 on Steam?
Yes, you can purchase FC 24 on Steam. Its Standard Edition is available for $69.99 while the Ultimate Edition costs $99.99.