R6 has been around for 8 years. That's 8 years of content updates and 69 operators added in total. If you're new to this game, then this Rainbow Six Siege Operator tier list will help you understand what operatives are most used and which are more situational. This article will give you an insight into what the community of this game considers a meta as well as just a general idea of what picks are popular and what aren't.
Now, it must be said that every R6 player has their own tier list and preferences. Therefore, even if some operators are way down in the tier list that we're going to provide today, it might not be valid for certain players. Ultimately, it boils down to your personal preference and effectiveness with a particular operator.. With that out of the way, let us proceed to our R6 operator tier list, which we will split into two big categories. Yes, you guessed it - attackers and defenders. But before we get to it, if you're looking to up your rank, you should check out and buy R6 Siege rank boost service, and our PRO R6 players will help you get out of your rank and achieve a higher one.
IMPORTANT NOTE: Apart from learning everything about R6 Best Operators, you can also buy Rainbow Six Siege Boost from SkyCoach. We offer a wide range of products at the lowest market price and with the fastest delivery. You can make your first purchase even CHEAPER if you find a special PROMO CODE (highlighted in green) hidden in this article and get a 20% DISCOUNT.
Check out some of our most popular
Rainbow Six Siege Boosting

services below:
Attackers Tier List
When it comes to naming the best operators in Rainbow Six Siege, one has to realize that everyone has their own opinion. Even if some operator isn't often seen in the pro scene, it doesn't mean they're bad and vice versa.
Discussing the significance of operator ranks, it's notable that the top two tiers, S and A, encompass the most frequently used operators in the game. This indicates their versatility and effectiveness in a wide range of scenarios. Choosing operators from these tiers is often a safe bet, especially when you're uncertain about who to select. As you move down the tiers, the operators become increasingly specialized and situational in their utility. So, B-tier operators can be used in most, if not all, game plans and scenarios. C, D and E tiers represent increasingly more specified operators that are good in one or two things. With that being said, let's take a look at the R6 tier list for the Attacker's side.
| | |
| --- | --- |
| Tier | Operator Name |
| S | Sledge, Thermite, Iana |
| A | Jackal, Thatcher, Ram, Ying, Buck, Ace, Ash, Zofia |
| B | Flores, IQ, Lion, Hibana, Nomad, Twitch, Brava, Maverick, Dokkaebi, Nokk, Osa |
| C | Gridlock, Fuze, Glaz, Amaru, Capitao, Zero, Montagne, Finka |
| D | Kali, Sens, Grim, Blitz |
| E | Blackbeard |
S Tier
These are some of the best Siege operators on the side of the Attackers. You simply can't go wrong by picking them and or even banning them to make sure the other team can't pick them. Although, who to ban is a theme for another guide.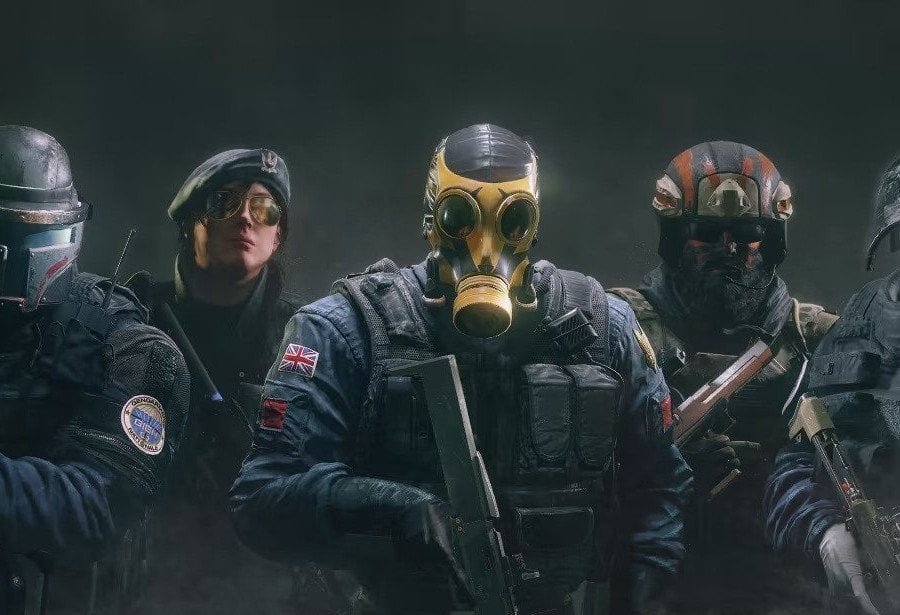 Sledge

- Despite the nerf in

Operation Solar Raid

, Sledge is still an S-tier attacker. It is hard to underestimate his defense-destroying capabilities of two frag grenades and his signature

sledgehammer

. Some maps are regarded as high-destruction ones where there are a lot of obstacles that can be brought down. This is where Sledge is at his peak.

Thermite

- Having two smoke grenades and his trusty Sig Sauer 556XI makes it an outstanding support loadout. And let's not forget the signature

EXOTHERMIC CHARGE

- one of the first abilities that could penetrate reinforced walls. Thermite is an all-time best attacker, and nothing will change that.

Iana

- She is what they call an entry fragger and the best one at that. Her weapons and two frag grenades make her one, and she is exceptionally good in scenarios where verticality is involved.
Sidenote: entry fragger plays a vital role in the game's unique tactical environment. This player is typically the first to breach and enter enemy defenses during an attack. Their main task is to secure early kills, create a man advantage, and open up the site for the rest of the team. This role requires a high level of skill in gunplay, quick reflexes, and a thorough understanding of map layouts and enemy strategies.
A Tier
In this tier, you will see not only several entry breachers but also a few support operators who are perfect when it comes to dealing with the Defender team's gadgets.BLOG20
Jackal

- He is an ideal tracker, which makes him irreplaceable when you need to find enemies who might have hidden. Besides that, his weapons allow him to provide excellent support when planting the bomb because he has those two smoke grenades.

Thatcher

- he is the ultimate device-disabler in the game. And even though the devs released the impact EMP grenades, his own unique EMP grenades are still superior when the team has to rely on the support that he provides, making the job of hard breachers possible.

Ram

- continuing the theme of hard breaches, you have this year's operator whose slow-rolling drone is an absolute nightmare for any defending team. The

Autobreacher

can destroy bulletproof walls, and it also destroys any wooden floor, revealing what's underneath and creating new lines of fire.

Ying

- is a very strong entry fragger who is also very capable of rushing the bomb site utilizing her unique

"Candelas"

throwable devices. They can let out up to 7 flashes, blinding the enemies. Candelas can also be used to trager some of the devices of Defensive operatives.

Buck

- this Canadian operator is Sledge's alternative. While his kit might not be as complete as his S.A.S.'s counterpart, you can see how often the pro players rotate between the two during major championships.

Ace

- this is another powerful breacher that is often compared to Thermite or Hibana. His unique device is a throwable automatic breaching mechanism that creates 3 holes, one by one. It might not be as multi-purpose as

Hibana's charges

, but his weapons are definitely the best compared to the other two.

Ash

- is the definition of an entry fragger. Her breaching rounds are crucial for dismantling bulletproof equipment, including Deployable Shields.

Zofia

- despite numerous nerfs and changes related to her machine-gun primary and her becoming a one-speed operator, she remains an essential asset for the attacking team. Furthermore, her arsenal is arguably among the most effective for an entry fragger.
Sidenote: hard breachers are operators who specialize in using unique gadgets designed to blow up reinforced walls and hatches. Key examples include Thermite, who can deploy a large exothermic charge to create big openings; Hibana, known for her ability to breach from a distance using her X-KAIROS pellets; and Ace, who uses S.E.L.M.A. Aqua Breachers to create multiple breaches. These operators are crucial for breaking through the fortified defenses in the game, providing their teams with strategic entry points and lines of sight.
B Tier
Operators in this tier of the R6 attacker tier list are all still incredibly strong on the attacking side. However, each of them has one limitation that prevents them from taking place in tiers S and A.
Flores

: Flores stands out with his 2 standard and 4

explosive drones

. He excels as an attacker capable of both gathering intelligence and destroying bulletproof reinforcements.

IQ

: In the game's meta, IQ presents a unique challenge. She wields the powerful

Comando

, enhanced with an x1.5 scope, and her gadget provides extensive information, though her utility might not be as robust as needed.

Lion

: Lion's gadget is an ideal solution for detecting and halting roamers throughout the map. When combined with operators like Jackal or Dokkaebi, his gadget becomes exceptionally effective.

Hibana

: As a hard breacher, Hibana offers immense versatility. She can destroy multiple hatches and walls in a single round, and her loadout is formidable, featuring the

Bearing 9

(also known as M9) as a secondary weapon and three Stun Grenades.

Nomad

- Nomad is equipped with three flashbangs and

Airjabs

, which can be planted on any surface to restrict defender movement, making her ideal for preventing enemy run-outs or flanking in the later stages of a round.

Twitch

- Twitch stands out as an entry fragger with a versatile loadout, capable of fulfilling support roles. Her specialized drone is particularly effective in killing defensive equipment.

Brava

- As the latest addition to Rainbow Six Siege, Brava's

Kludge Drones

can hack into defender gadgets, which are then activated only by defender actions, offering an alternative to Thatcher's EMPs or Twitch's drones.

Maverick

- Despite losing his two frags, Maverick remains essential, particularly for his Blow Torch's utility on maps like Skyscraper and Clubhouse.

Dokkaebi

- Dokkaebi's gadget enables her to scam-call any enemy on the map and hack defender cameras with her drones, providing valuable intelligence. A recent buff also prevents deceased defenders from accessing cameras for a certain period.

Nokk

- Nokk has evolved into one of the strongest entry fraggers, equipped with two frags and an ability that renders her temporarily translucent to cameras and other defensive gadgets.

Osa

- Osa excels in the meta but is most effective in specific Bomb sites, particularly on maps like Bank or Consulate, where her abilities can be maximized.
Sidenote: roamers in "Rainbow Six Siege" are defensive operators who actively move around the map instead of anchoring at the objective site. Their role is to disrupt and delay the attackers, often by engaging in surprise attacks or flanking maneuvers. Roamers require a deep knowledge of the map, excellent situational awareness, and the ability to engage effectively in one-on-one gunfights.
C Tier
Now, we're getting into a Tier occupied by operators who have a more situational use. Most of the characters in this list shine only when picked for specific maps or even specific bomb sites. Any one of these could be your personal best operator in Rainbow Six Siege provided you know how to use them effectively.
Gridlock

- Gridlock's gadget can hinder defender rotations and prevent flanks, similar to Nomad's

Airjabs

. However, its versatility is limited, and her status as a one-speed operator affects her standing in the meta.

Fuze

- On maps like Clubhouse or Consulate, Fuze is a valuable addition to any team, but his effectiveness is somewhat restricted. His slow and noisy nature is balanced by the powerful AK-12.

Glaz

- Like Osa, Glaz's utility is site-specific and most effective in certain Bomb sites. He is particularly useful on maps like Chalet, Bank, and Consulate.

Amaru

- Amaru serves as a dynamic wildcard, especially effective in rush rounds and often paired with Blitz in professional play. Her gadget is notably useful on maps such as Chalet, Bank, or Consulate.

Capitao

- Although not frequently used, Capitao's smoke and fire arrows, along with his loadout, make him a potent wildcard choice.

Zero

- Zero holds a decent position in the meta due to his cameras and gadgets, but his utility is quite situational. He is often chosen for maps like Bank or Border.

Montagne

- Montagne is a valuable addition to any team, able to gather extensive information and, when paired with an entry fragger, can form a nearly unstoppable duo. However, his slow movement limits his usage, making him a surprise element more than a regular pick.

Finka

- Finka's prominence in the game diminished

post-Operation Brutal Swarm

. The fact that she lost her explosive throwables and had some adjustments made to her primary weapon has lowered her effectiveness.
D Tier
Operators in this tier could be more relevant in the meta but aren't right now. This doesn't mean that they will not be meta or won't ever be called the best Siege characters in the future. It would be a good idea to pick up one of these "underdogs" and learn how to play them before they become meta.
Kali

- Initially introduced as an alternative to Thatcher, Kali has not been widely adopted by players. With the recent introduction of

Impact EMP Grenades

, her relevance in the meta has further declined.

Sens

- Sens has seen an improvement in the game following the developer's update, changing Sens from a one-speed to a three-speed operator. Sens' exact role is still evolving due to limited game time, but the trend is positive.

Grim

- Grim's gadget is currently off-meta, and while his weapon may undergo scope changes soon, these modifications might not suffice to significantly enhance his utility.

Blitz

- Blitz can be a formidable challenge for defenders, yet he is not invulnerable. Counters like Warden or explosive gadgets such as impact grenades or C4s can effectively neutralize Blitz, who is also known for being loud and slower than before.
E Tier
So far, only one operator resides in this lowest tier of the list of the best R6 operators 2023, which is actually a good thing if you think about it. There are almost 70 operators in the game, and all of them have their uses except only one of them. Of course, the fans of this operator aren't happy, and all they can do is wait for the devs to make this guy relevant again. His time will come, folks.
Blackbeard

- his unique gadget feels too simple and weak compared to other operator's gadgets. The

shield

can be taken down with one bullet, and it has no other uses. That's why, for now, Blackbeard is in this spot.
Defenders Tier List
The tiers for the R6 defender tier list represent the same qualities as the Attacker's list.
| | |
| --- | --- |
| Tier | Operator name |
| S | Mira, Valkyrie, Smoke, Azami |
| A | Thorn, Bandit, Solis, Castle, Aruni, Kaid |
| B | Alibi, Mozzie, Mute, Echo, Warden, Wamai, Goyo, Maestro, Frost, Kapkan, Lesion, Pulse |
| C | Melusi, Fenrir, Doc, Oryx, Rook, Ela |
| D | Vigil, Thunderbird, Tachanka |
| E | Clash, Caveira |
S Tier
These operators are what you may call the essentials; they're great picks regardless of the map, and they're relatively easy to learn.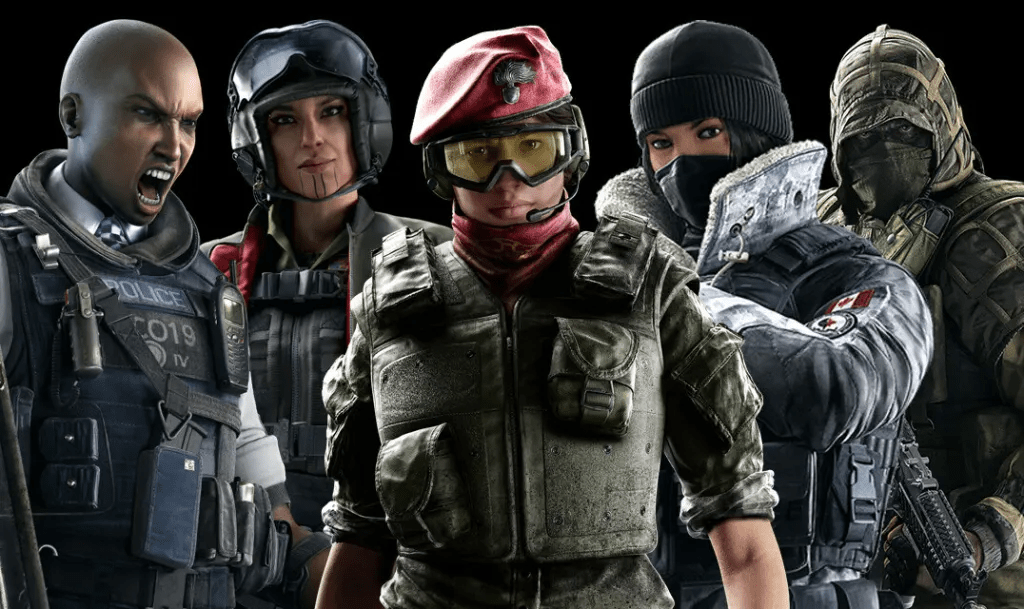 Mira

- Mira's Black Mirrors are highly challenging for attackers, especially when paired with operators like Mute, Bandit, or Kaid, and force attackers to use significant resources to neutralize them. She excels on maps like Oregon, Coastline, Kafe, Clubhouse, and Theme Park.

Valkyrie

- Valkyrie's

Black Eyes

provide vital information throughout the round and remain strong in the current meta despite restrictions on outdoor camera placement.

Jäger

- Jäger's ADSs are crucial for intercepting projectiles and grenades, and he is also one of the best roamers despite the state of his

416C

.

Smoke

- Smoke, a top anchor, effectively blocks entry points with his toxic canisters, each lasting 30 seconds.

Azami

- Azami's Kiba Barrier blocks doors and sightlines and counters vertical plays. Her versatile gadget, combined with an impressive loadout, makes her a formidable defender.
A Tier
Operators in this tier are part of the current Siege meta. You can often see them picked by professional players during tournaments, and they're all-around the strongest on the roster.
Thorn

- she is a trapper who uses traps for both spotting attackers and destroying some gadgets. Her placable Shield and the x1.5 sight on her primary weapon make her one of the best defenders currently.

Bandit

- Bandit electrifies reinforced walls and can use the

"Bandit Trick"

to counter hard-breaching gadgets.

Solis

- A new operator from Operation Solar Raid, Solis detects attacking electronic devices, including the defuser.

Castle

- Castle's Super Shorty and Barricades, despite the underwhelming UMP45, place him strongly in the current meta.

Aruni

- Aruni's gates consume a lot of attacking utility, and her punch opens new sightlines and rotations despite her nerf to one-speed.

Kaid

- Kaid is effective in electrifying hatches, offering diverse defensive options, though slightly less useful than Bandit.
B Tier
Moving on with our Siege operator tier list and going to one Tier lower. Operators in this tier are very strong and useable bringing to the table their unique abilities and tactics.
Alibi

- Alibi remains an effective roamer despite the developers nerfing her loadout.

Mozzie

- can be a real menace since he can

take control of enemy drones

, which can easily turn the tables in a match.

Mute

- Mute's Signal Disruptor hinders attackers' droning and blocks other gadgets.

Echo

- Echo, an anchor in Bomb, uses

Yokai Drones

for constant information and to interrupt planting.

Warden

- forget about smoke screens and getting blind from flashes. He is crucial for countering plants.

Wamai

- Wamai's disks intercept projectiles and grenades, similar to Jäger's ADSs, and counter Ace's gadget.

Goyo

- he is the great denier with his lasting flames. He can easily protect the plant site and keep the opposite team from making a move.

Maestro

- his special camera can shoot stuff, so it's effective in certain bomb sites.

Frost

- Frost's strong loadout and traps make her situationally useful, especially on maps like Border.

Kapkan

- Kapkan is effective in Ranked with his annoying as-hell

traps

despite being easy to counter.

Lesion

- Lesion's well-hidden traps slow down and damage attackers who step on them.

Pulse

- Pulse uses his Cardiac Sensor for intel and combines it with C4 for lethal effect.
Sidenote: Spawn Peek / Spawn Rush: When defenders aggressively attack attackers as soon as the round starts or rush to the attacker's spawn point.
C Tier
These operators definitely have their uses, but they are far more situational than the ones in higher tiers. They are by all means not useless, they're just used in more specific scenarios.
Melusi

- Melusi remains strong as a roamer despite her reduction to one-speed.

Fenrir

- Fenrir's gadget releases vision-impairing purple gas and can be activated and deactivated during the round.

Doc

- Doc's boosted

Stim Pistol

and the addition of the Bailiff elevate his versatility.

Oryx

- Oryx creates new sight lines and climbs hatches, moving freely on maps like Coastline or Consulate.

Rook

- Rook's buffed Armor Plate allows operators to withstand in a DBNO state.

Ela

- Ela remains effective with great primary weapons, a Deployable Shield, and mines.
Sidenote: DBNO stands for "Down But Not Out." This state refers to a condition where a player has lost all their health but is not yet fully eliminated from the round.
D Tier
Operators in this tier have very questionable advantages or they are simply too hard to master and use effectively.
Vigil

- Vigil, a roamer, evades drone detection and uses Impact Grenades effectively.

Thunderbird

- Thunderbird's

Kóna Stations

allow defenders to regain health, which is useful for successful roamers.

Tachanka

- Tachanka's Grenade Launcher blocks entry points with flames, preventing rushes.
E Tier
This tier is for operators that get picked very rarely for many reasons. That doesn't make them really bad, they're just way less popular than all of the rest.
Clash

- Clash can slow down attackers and inflict damage but is easily countered without the right setup.

Caveira

- Caveira's

Silent Step

allows silent movement and potential interrogations, but she lacks utility if unsuccessful in interrogating.
Conclusion
This concludes our R6 character tier list for both sides of the conflict. To sum up, the categorization of operators in "Rainbow Six Siege" into different tiers based on their utility, loadout, and special abilities provides a strategic framework for players to build their teams effectively. On the attacking side, operators like Nomad, Twitch, and Maverick offer a range of capabilities from breaching to intel gathering, each bringing unique strengths to the team. The defending operators, such as Mira, Valkyrie, and Jäger, stand out for their essential roles in fortifying objectives and providing crucial information. Each operator, whether essential, meta, very usable, specific, or off-meta, has a distinct role that can be pivotal in the right context, emphasizing the game's depth and the importance of tactical team composition.
The game's development doesn't seem to slow down, and additions like Azami and Solis continue to reshape strategies, keeping the gameplay dynamic and challenging. Every time a new operator is out, they take their place in the Rainbow Six Siege operators ranked lists such as this one. Understanding the strengths and weaknesses of each operator and their placement in the tier list is vital for players looking to excel in "Rainbow Six Siege." Whether it's leveraging the versatility of an operator like Smoke in defense or utilizing the disruptive capabilities of an attacker like Nokk, success in Siege often hinges on the strategic use of these characters. Players must stay adaptable, continuously learning and integrating new tactics with different operators to maintain an edge in this ever-evolving tactical landscape.
F.A.Q.
Who is the Strongest Operator in Siege?
There isn't one strongest operator in the game, no matter how much you want there to be one. They all have their roles and uses. Read this tier list to find out which ones are the strongest right now.
Which Operators Have the Best Guns in R6?
A good gun is qualified by the damage it deals as well as what kind of optics is available on it. Good examples are the AK-12 and 556XI.
Who is the Best Operator in Rainbow Six Extraction?
Extraction is a stand-alone game in the R6 universe, and it's a co-op shooter where the same operatives from Siege have different uses and even abilities. Lion, Finka, and Doc are usually the best picks.
Is IANA Good in R6?
Iana is the S-tier entry fragger operator. She is extremely good, but keep in mind that the role of an entry fragger is not for new players as it demands a lot of skills from the player.
Is R6 Worth Playing 2023?
With 8 years of content updates, almost 70 playable operators, and a very strong presence in the e-sports scene, R6 remains the only tactical shooter that has no analogs. So, yes, it's worth picking up in 2023 and beyond.
Who is the Best Defender in R6?
Mira, Valkyrie, Smoke, and Azami are all S-tier of defenders. However, you should find the operator that suits your playstyle like no other, and they will be your personal S-tier.