Welcome to the ultimate Division 2 Paradise Lost Incursion guide where we will go over everything you need to know about this activity in great detail!
Incursions are high-level, end-game missions (sometimes referred to as mini-raids) that require players to work together to overcome challenging enemies and complex mechanics. They are designed to test of teamwork and strategy of teams of four Agents, offering some of the most difficult content in the game. In Division 2, Paradise Lost is the first ever activity of this type, whereas in the first game, there were four of these Incursions. So, if you've played that game, you should already know what to expect from it.
"Paradise Lost" was released on October 3rd, 2023, as part of the Season 2 Year 5 content update. It challenges players to navigate through four intense encounters, two of which are boss fights. The mission unfolds in a narrative-rich environment on the outskirts of the capital city, Washington D.C., in the Meret Estate, where Agents must face the Cleaners, a paramilitary group that has taken control of the area and is threatening the tentative stability of the post-pandemic world. In the following Paradise Lost Incursion walkthrough you'll learn what requirements for this activity are, what rewards are there and how to tackle each encounter.
By being one of the latest added activities to the game, it shouldn't be difficult to guess why you, too, should be playing it. Incursions strike a great balance between challenging and accessible activities. They're not as easily completed as most of the rest of the end-game content in the game, but at the same time, they aren't as difficult as raids. That's why the first Division 2 Incursion is a great activity for you to test yourself and your build in a raid-like environment. Besides, the rewards are really good as well. Speaking about Paradise Lost Incursion rewards, the main one that you can get is the incursion-exclusive Exotic Sub-Machine Gun called The Ouroboros. If you want to get this gun right now, you can simply buy Ouroboros Division 2 in a few clicks! Our expert team of PROs will jump to completing your order as soon as you place it!
IMPORTANT NOTE: Apart from learning everything about Paradise Lost incursion, you can also Buy Division 2 Boost from SkyCoach. We offer a wide range of products at the lowest market price and with the fastest delivery. You can make your first purchase even CHEAPER if you find a special PROMO CODE (highlighted in green) hidden in this article and get a 20% DISCOUNT.
Check out some of our most popular
Division 2 Boosting

services below:
How To Start The Paradise Lost Incursion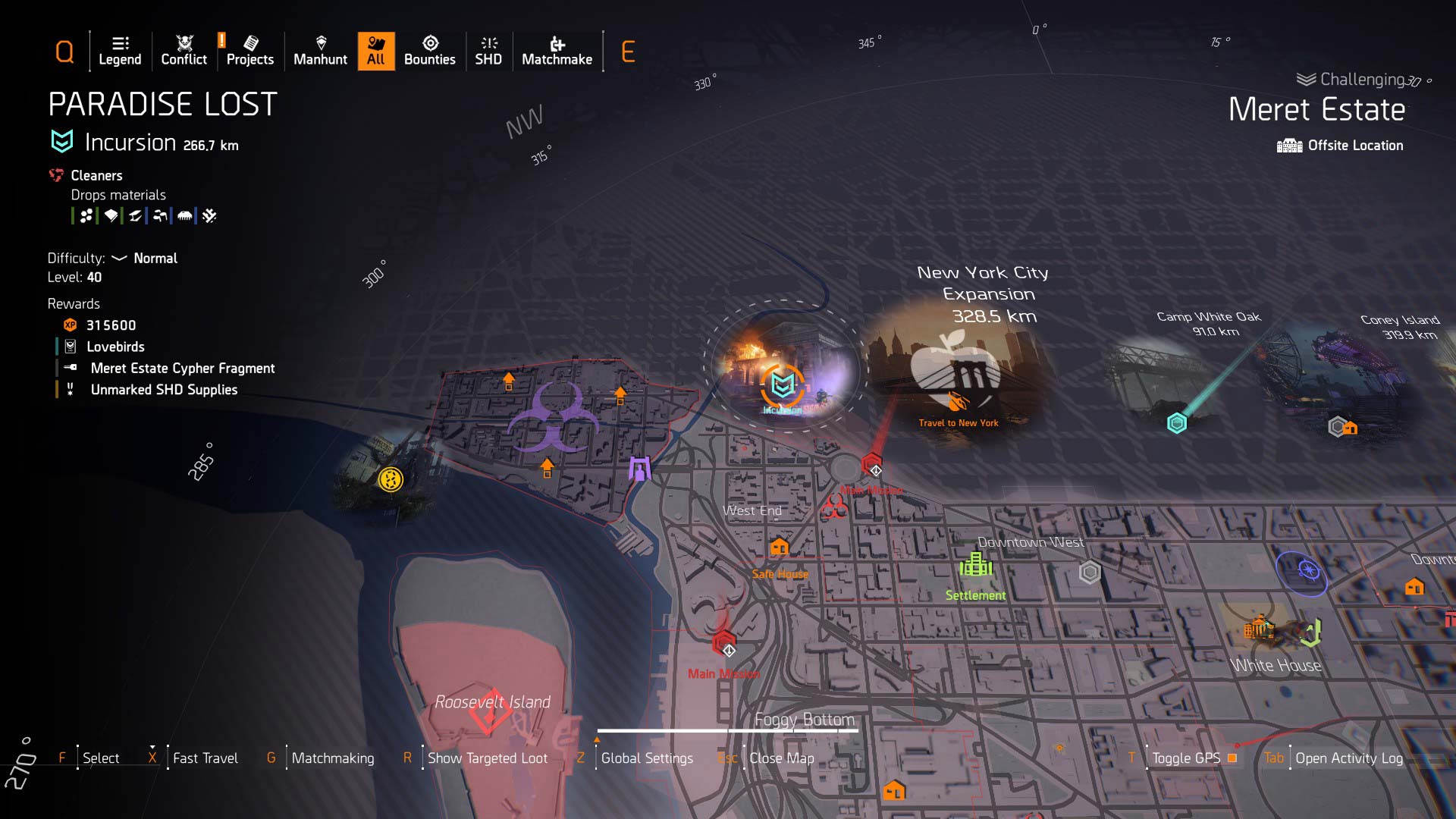 Accessing Paradise Lost Incursion is very easy. Here's a step-by-step instruction on how to start Division 2 Paradise Lost incursion:
Open your map and find the Incursion icon, which would be right beside the NYC Expansion icon at the top of the map.
Just click on the icon, and you will enter the matchmaking queue for it.
Alternatively, find the Meret Estate zone, situated between the DZ West Dark Zone and the teleport point leading to the NYC location and go there.
Requirements
This activity is part of the free content update, so there really isn't much in terms of Division 2 Paradise Lost requirements. All you need is:
Warlords of New York expansion on your account.
Story campaign completed.
Level 40 character.
You can, in fact, queue up and play this activity solo, but you will not be able to complete it due to some mechanics requiring more than one player to participate. Therefore, you will need at least one other team member to be able to finish it.
Difficulty
We should briefly touch on the Paradise Lost Incursion difficulty. We've already established that in terms of difficulty, Incursions are somewhere between full-blown raids and main missions, but there are a few more details that you will need to know about how Incursions work in terms of difficulty.

The scaling is not based on the amount of players you have in your team. So, it wouldn't matter if you play solo or in a 4-man team, the difficulty will stay the same. This is why you will always want to bring along 3 of your friends for maximum efficiency. The difficulty does scale, however, based on the world difficulty set by the leader of the team. Needless to say, you might want to start at Normal to get familiar with the mechanics and bosses. If you still find the activity too difficult, you should buy Paradise Lost Incursion service where our PROs will help you finish it without hustle. We offer the cheapest price for the service provided and guarantee the fastest completion time. BLOG20
Best Loadouts and Team Setups
Speaking of difficulty, your team will need to be able to deal a considerable amount of DPS as well as be able to absorb immense amounts of damage. Therefore, some well-balanced builds will be most effective. Refer to the list below for some examples of the best loadouts for The Division 2 Paradise Lost Incursion:
Role

Loadout

Description

DPS

Stryker-4

with

Coyote mask

and

St. Elmo's Engine

exotic
A very popular PvE build, two players in the team are recommended to have it
Healer
4-set

Future Initiative

with

BTSU Datagloves

and

Alps Summit

chest piece
This loadout maximizes healing output and skill efficiency, enabling rapid and potent healing to keep teammates in the fight longer.
DPS/Tank hybrid

Foundry Bulwark

with

Vanguard

perk
A decent choice for someone who will need to aggro the bosses and stay alive.
You can also buy best Division 2 PvE build at SkyCoach that will definitely make completing this activity much easier. On top of selecting appropriate builds and sets, there's a list of skills and abilities each role must bring along for a successful run:
| | | |
| --- | --- | --- |
| Role | Skill | Function |
| DPS | Reviver Hive | Crucial for DPS players as it can automatically revive them if they are downed, ensuring they can get back into the fight without needing another player to revive them, which can be critical during intense battles. |
| | Crusader Shield | Allows DPS players to use their primary weapons while providing a degree of protection, offering a balance between offense and defense. |
| Healer | Restorer Hive | Deploys micro-drones that repair allies' armor over time within a certain radius, acting as a set-and-forget tool that passively heals the team, allowing healers to focus on other tasks during combat. |
| | Healing Chem Launcher | Provides a more active healing ability, allowing healers to quickly restore a significant amount of health to teammates in a targeted area, especially useful for emergency healing or rapid health restoration. |
| Tank | Bulwark Shield | The sturdiest shield variant, offering the most protection and enabling tanks to draw enemy fire away from their more vulnerable teammates, crucial for fulfilling the tank role effectively. |
| | Artificer Hive | Reinforces the tank's shield or any other skill objects within its range, automatically repairing and boosting the performance of these objects, which is particularly useful for prolonging the lifespan of the tank's shield. |
Walkthrough: Bosses and Mechanics of Paradise Lost
One prevalent mechanic that your team will keep running into is the presence of this purple napalm-like substance that you will first encounter in the second fight. This thing gets spilled on the group and remains there, making the ground it covers very dangerous. If you step into it, you'll get burn damage like from a normal fire. Unlike the normal fire, even when the fire clouds disperse, the area on the ground will continue to burn. So, if you walk into it, it will reignite you, and you will lose big chunks of health. Then, in the third fight, where you get to defeat the first boss, he will be covered in this stuff, which makes him immune to all kinds of damage. But let's start from the beginning and go over each encounter in order while giving you direct tips for how to handle each of them in this Paradise Lost Incursion boss fight guide.
Encounter #1: The Turrets
The first encounter will take place at the entrance to the estate. Your goal will be to disable the two turrets that will continuously shoot at you. On top of those, turrets will get constantly barraged by mortar fire and attacked by multiple types of Cleaners, including the heavy, armored ones.
Passing Division 2 The Turrets encounter won't be easy, as they can't be damaged directly. Rather, if you look directly below each one, you'll see a narrow opening. The large yellow cables connected to each turret run through that opening, and so that's where their weak points are. You'll need to climb onto an elevated position to get a clear line of sight and be able to shoot through the openings.
On each side of the map, there is one object you'll be able to scale:
The wooden structure on the left side
The garbage truck on the right
Climb on those to see through the window and the stack of explosives hidden behind it. Shoot the explosives to deal damage to the turrets. Do that, clear the enemies, and you will beat the encounter. Now, let's get the tactic down:
You can do this by either sticking together or splitting the team into two players. Each pair of players takes care of one of the turrets.
Alternatively, you can stick together and take those turrets down one by one.
As for team composition, you could do this with

3 DPS

and

1 Healer

. Alternatively,

1 Tank

,

1 Healer

, and

2 DPS

.
For the second composition, have

2 DPS

climb up the structure and let one take care of the incoming enemies while the second damages the explosives under the turret.
To make sure this works, have the tank draw turret's fire so that the

DPS

can have a window of opportunity to do their part.
The

Healer

just keeps everyone alive.
Tip: watch out for manhole covers by the left-hand and right-hand sides of those elevated surfaces. When you hear the creaking sound of them opening, that's a sign that the heavy Cleaner unit will climb out, which should be your top priority for all of you to take down.
Encounter #2: The Oil Tanker Defense
The objective of this encounter is easy enough to comprehend, but the devil, as always, is in the details. First of all, the tanker leaks as it takes damage, covering the spots on the ground around it in a purple substance that burns. There are also barrels that contain the same substance that you should avoid blowing up to limit even more space that's safe to maneuver around. There are 3 waves of enemies you need to worry about in this Division 2 The Oil Tanker Defence encounter:
Normal wave

- a wave of regular enemies that aren't specifically aiming to deal damage to the tanker itself, so as long as you dispose of them quickly enough, they won't be an issue.

Focus wave

- a wave that contains 3 or 4 heavy Cleaner units that spawn on the ground level with the tanker and two Cleaner snipers that show up on the top left and right elevated positions. These enemies target the tanker specifically, so they need to be dealt with as soon as possible.
The heavies have

miniguns

instead of flamethrowers, which means they can quickly deal a lot of damage to the tanker.

Drone wave

- happens only once in this fight and spawns 3 boss-level Striker Drones. They're tanky and deal lots of damage. Fortunately, they don't aggressively focus on the tanker, so they can be taken down if you can communicate your actions well.

Boss wave

- just as soon as you're done defending the tanker and your objective asks you to go through the doors, as soon as you get there, a boss enemy will appear right in front of you, letting you know that you aren't out of the woods yet.
As for the strategy, this is a fairly straightforward encounter:
Team composition can consist of

3 DPS

builds and someone with the

Healing Hive

.
Your team might want to spread out around the map to cover most enemy spawn points to be able to deal with them before they reach the tanker.
The final boss and his minigun fire can be blocked by any shield. So, a

Striker Shield

can be super effective at granting everyone a chance to deal damage.
Tip: make sure to regroup once in a while to reset the cooldown of abilities, especially at the end of the encounter, before facing the surprise boss.
Encounter #3: The Flaming Hunter Wright
This is one of the most complex fights mechanically, as it will require your team to use voice communication to defeat the boss. Once you've read and understood how to beat the encounter, it will come down to falling into a good rhythm with your teammates to take the boss down quickly.
Wright is covered in that purple fire, which makes him immune from all damage. This can be removed by having him stand under one of several sprinkles in the room, and a teammate needs to crank the valve of that corresponding pipe, which will douse the flame, making Wright vulnerable to any damage. The damage phase lasts about 10 seconds, so coordination is key! Your objective is to do that a number of times to eliminate him. Now, let's proceed to how to kill Division 2 The Flaming Hunter Wright:
The team composition that will definitely work in this encounter is -

3 DPS

and

1 dedicated Healer

.
Pipes with valves are in the room that

Wright

leaves at the beginning of the encounter.
There are 4 valves (and 4 corresponding sets of sprinklers). There's a drawing next to each valve that will help you understand which set of sprinklers that valve activates.
Each valve can be activated once the green lamp lights up, there's also the gauge that will tell you how soon that will happen.
One of the team members will need to stand in front of the valves and tell the team which one is ready to be activated.
The other teammates, most likely the tank, will get the

Wright's

aggro and lead him to the white tile on the floor under the correct sprinkler. Once there, the tank then calls out for the dousing.
Once in a while, you will have to deal with the adds that will periodically spawn during the fight.
After you deplete each third of

Wright's

health, he will start to charge up, and the room will fill out with purple smoke. The smoke doesn't hurt, but it will then leave spots of purple fire on the ground, so watch out for that.
By the time

Wright's

on the last third of his health, some of the areas on the ground need to be avoided, this is also where you'll need to communicate with your team to make sure everyone stays alive.

Wright

is a rather fast boss, so you need to make sure you're always on the move. He won't outrun you, but he will manage to constantly stay on your tail.
Tip: There's a big AOE (area of effect) attack that you need to watch out for. It deals a lot of damage, and it also traps you in one place until you break away.
Encounter #4: The Lovebirds
In the Division 2 The Lovebirds encounter, you will be fighting two bosses at the same time. Their names are Johnson and Martines. Johnson is this skinny dude who prefers to fight from afar and use these super annoying sniper turrets, while Martinez is that gal in a humongous set of armor who prefers to use her flamethrower from a close distance.
Here's the gist of this fight - both bosses will roam around the arena, but one of them will be protected by the flying drone called The Kid, making them immune to damage. Meanwhile, the other boss will be able to take damage. However, as soon as you deal enough damage to that boss, the one who had The Kid will send the drone flying to the damaged bosse to heal and get protection. Normally, the drone is also immune to damage, but not when it transitions from one boss to the other. Your goal at this stage is to destroy the drone. The best way to achieve that is to keep both bosses as far away from each other as possible. That way, The Kid will have a greater distance to go, leaving you more time to deal damage to it.
When the drone is destroyed, the Lovebirds will regroup at the balcony where they appeared, and Johnson will attempt to summon another drone. This is where your whole team needs to beam out Johnson. Sometimes, Johnson will also attempt to put down a healing box that heals himself and Martinez. When you see him placing it, destroy it before it gets deployed.
You won't be able to kill Johnson in one damage phase, so when he finishes summoning another "Kid", he will also shoot up the flair in the air, and that's a signal for your team to get out of the dodge because Johnson just called a devastating mortar strike. Then you repeat - destroy The Kid, deal damage to Johnson, then finish off Martinez.

To sum up how to kill the Lovebirds in Division 2 Paradise Lost:
The team setup is -

3 DPS

and

1 dedicated Healer

.
Proceed to destroy the drone while it flies from one boss to another (make sure they're far away). The drone will start flying when you deal enough damage to the boss that isn't protected by it.
When the drone is destroyed, focus your fire on Johnson. When he puts down the healing box, destroy that first!
When he summons another "Kid," spread out and avoid the mortar strike.
Rinse and Repeat until both are dead.
Tip: it is a hectic fight, so you will need to lock in that communication and stick to the plan we outlined. The sniper turret can really get to you - it deals lots of damage, and once destroyed, Johnson just throws out another one almost immediately. Just avoid its line of sight as long as you can, and if provided the opportunity, take it down.
Ouroboros Exotic SMG and Other Rewards
You'll get a ton of loot, experience, and materials after each encounter that you do. And provided that the whole incursion can take you up to only 10 minutes, provided you know what you're doing, this activity certainly makes it worth your while. Besides, as mentioned in the beginning, it also awards you with the super exclusive Exotic SMG Ouroboros. It drops with some great stats:
RPM

: 1485

Magazine

: 50

Core attribute #1

: +SMG Damage

Core attribute #2

: +Critical Hit Chance

Attribute

: Random

Optic Mod

: +10.0% Critical Hit Damage

Magazine Mod

: +25.0% Reload Speed

Underbarrel Mod

: +10.0% Critical Hit Chance

Muzzle Mod

: +10.0% Rate of Fire
Unique Talent "

Rule Them All

" - if an agent is affected by a Status Effect, half of the ammunition in their subsequent magazine will transfer that same Status Effect to the enemies they hit. This effect is only active during combat.
Conclusion
"Paradise Lost" stands as a testament to the evolving challenges and immersive experiences "The Division 2" continues to offer. This incursion, the first of its kind in the sequel, not only pushes teams of four to their strategic and cooperative limits but also rewards their prowess with the coveted Ouroboros Exotic SMG, among other valuable loot. The guide provided herein lays out the groundwork for tackling this formidable activity, from understanding the necessary requirements and difficulty settings to selecting the optimal builds and skills for each role within the team.
As Agents venture into the Meret Estate to face the Cleaners, they are reminded that success in "Paradise Lost" is not just about firepower and gear—it's about teamwork, communication, and the ability to adapt to dynamic combat situations. Whether you're maneuvering through the hazardous environments or strategizing to take down the cunning Lovebirds, each encounter within this incursion is designed to be a thrilling and rewarding experience.
For those who have braved the incursions of the first game, "Paradise Lost" offers a familiar yet fresh challenge, and for newcomers, it's an opportunity to dive into the deep end of what "The Division 2" end-game has to offer. With this guide in hand, Agents are well-equipped to embark on this high-stakes operation, secure the Meret Estate, and restore order to a world teetering on the edge of chaos. Good luck, Agents.
F.A.Q.
What is an incursion in The Division 2?
An incursion is a returning activity that was first featured in Tom Clancy's The Division game from 2016. In the free content update for Season 2, Year 5, the first incursion is released for Division 2. This is a PvE activity designed for 4 players that features raid-like mechanics but is noticeably easier and shorter. It also features a unique reward.
How do I access Division 2 Raids?
As stated in the official web page for raids in Division 2, you need to:
Speak to the helicopter pilot outside of the Base of Operations.
Highlight Raids in the menu.
Choose Open Raid.
Select the difficulty.
Initiate matchmaking.
What are the best builds for Division 2 Paradise Lost?
The best builds for Paradise Lost would include full set of Stryker-4, any build with the Heartbreaker and BTSU Datagloves.
What are the best team compositions for Division 2 Paradise Lost?
The best team compositions for Paradise Lost usually consist of one dedicated healer, two or three DPS roles and a tank.
What are the mechanics of the Paradise Lost Incursion?
The most prevalent mechanic is the purple flame spots that cover the ground and burn anyone who steps into them. They limit the free space making it harder to run around avoiding enemy fire, but they do deal a lot of damage if stepped into.