Welcome to the most complete compendium for the best Division 2 pvp builds, where we will explore the most badass builds that you can use in the game to take out any player and their loot. Whether you're skulking around the Dark Zone or taking it out on the enemy team of the more traditional Conflict modes, you will want to keep this guide handy to stay up to date with the most relevant builds.
From sniper setups that can take out enemies from afar to close-quarter combat builds that let you dominate the battlefield, we've got you covered. Prepare to dive into the intricate world of gear sets, weapon choices, and tactical strategies that will morph you into a formidable force in "The Division 2's" PvP arenas.
One last thing before we get started: we wanted to let you in on a secret - to secure the best gear for PvP swiftly, one should buy best Dark Zone build and have our PROs deliver the goods.
IMPORTANT NOTE: Apart from learning everything about Division 2 best PvP builds, you can also Buy Division 2 Boost from SkyCoach. We offer a wide range of products at the lowest market price and with the fastest delivery. You can make your first purchase even CHEAPER if you find a special PROMO CODE (highlighted in green) hidden in this article and get a 20% DISCOUNT.
Check out some of our most popular
Division 2 Boosting

services below:
Destiny 2 PvP Game Modes
PvP content in 'The Division 2' is a crucial and dynamic component of the game, offering players a variety of engaging and strategic experiences. The game features multiple PvP modes, each with its unique set of rules and challenges, Accommodating various playstyles and tactics. At the same time, there are Div 2 best pvp builds that allow players to dictate the rules of combat, forcing the enemy players to either counter the build or die. At any rate, there's a short review of PvP in this game:
Dark Zones:

A signature feature of 'The Division' series, Dark Zones are unique areas in the game where PvP is enabled. These zones blend PvE (Player vs Environment) and PvP elements, where players can encounter AI enemies and other players. The primary objective in Dark Zones is to find and extract valuable loot, which can be challenging as players must defend themselves against both NPCs and other players. The tension in Dark Zones comes from the uncertainty and risk involved in encountering other players who could be friendly or hostile.

Conflict Mode:

This is a more traditional PvP experience, offering organized team-based battles. Conflict mode includes different types of matches like Skirmish (team deathmatch) and Domination (control points). These modes focus on direct combat between players, emphasizing teamwork, strategy, and individual skill.

Builds and Gear:

In PvP, players' builds and gear play a significant role. Division 2 offers a wide range of interchangeable components in the form of weapons, gear sets, and skills, allowing players to create specialized builds. These can range from sniper setups for long-range engagements to tank builds for absorbing damage. Player effectiveness in PvP often depends on how well they can optimize their gear and adapt their strategies to counter their opponents.

Balancing and Updates:

Ubisoft continuously updates the game, balancing weapons, gear, and skills to ensure a fair and competitive PvP environment. These updates can significantly affect PvP strategies, as players must adapt to the changes in the game's meta.
Tactics and Team Play: Success in PvP in 'The Division 2' often hinges on effective communication and coordination with teammates. Understanding the map layout, knowing when to engage or retreat, and coordinating attacks and defenses are crucial for victory.
In summary, PvP in 'The Division 2' offers a rich and varied experience, from the high-risk, high-reward gameplay of Dark Zones to the structured team battles in Conflict mode. It requires a blend of strategic planning, skillful play, and teamwork, all set in the post-apocalyptic and politically unstable landscape of Washington, D.C.
About Making Division 2 PvP Builds
Creating effective and best Division 2 PvP builds is a nuanced process that requires understanding several key aspects of the game. Here's what players should know:
Understand the Meta:

The PvP meta in "The Division 2" refers to the most effective strategies and builds currently being used by the player base. Keeping up with the meta is crucial, as it can change with game updates and balance patches. Knowing which items are strong can give you a significant advantage.

Adapt by selecting the right gear:

Your choice of gear and weapons should align with your preferred playstyle. For instance, sniper rifles are great for long-range engagements, while SMGs and shotguns are better for close-quarters combat. Gear sets and branded sets that complement your weapon choice and playstyle are essential.

Pay special attention to talents:

the talents and their combinations are the essentials of any loadout. Focus on attributes like weapon dmg, critical hit chance, and critical hit dmg for offensive builds or armor and health for defensive builds. Talents should synergize with your overall strategy and enhance your strengths.

Balance Between Offense and Defense:

A good PvP build balances offensive capabilities with survivability. Too much focus on damage without enough defense can make you an easy target, while overly defensive builds might lack the firepower to take down opponents.

Skill Selection:

Choose skills that complement how you want to engage with the game in the more distinguishable way. For example, if you're playing a sniper build, skills like the Pulse can help you spot enemies from a distance. If you're more aggressive, the Hive or Turret can provide additional firepower or area control.

Specializations:

In the game, each specialization is distinguished by its unique benefits and a specialized signature weapon. Choose one that aligns with your build and playstyle. For example, the Sharpshooter is great for sniper builds, while the Demolitionist might be better for an aggressive, close-quarters combat style.

Practice and Adaptation:

Experiment with different builds in various PvP scenarios. Practice is key to understanding how your build performs under different conditions. Be ready to adapt and tweak your build in response to your encounters and the strategies of your adversaries.

Team Synergy:

If you're playing in a team, consider how your build complements your teammates'. Coordinating builds to suit various team roles (like damage dealer, tank, and support) can be more effective than everyone using similar builds.

Stay Informed:

Regularly check community forums, guides, and videos. The "Division 2" community is active, and many experienced players share their insights and build guides, which can be invaluable for both new and seasoned players.
Remember, there's no magic spell for a perfect build in the gaming universe. Your ideal Division 2 pvp builds 2023 will be the ones that resonate with your own battle style, align with the shifting tides of the latest meta, and flexibly adapt to the varied challenges thrown at you in the PvP arena. In this digital battleground, your build is your unique arsenal, crafted to conquer the specific trials you face. BLOG20
Naming the Best Division 2 PvP Builds for 2023
Luckily, you don't have to endure the whole hustle of trial and error when We're going to kick things off by giving you what must be the ultimate SMG build coupled with the best gear set Division 2 has to offer and then move to more commonly used builds. That way, this list will have many variations catering to different playstyles.
Build #1: Deadly SMG PvP Build
There's a lot of buzz surrounding the new pinnacle gun called Ouroboros, and many players have been spending days grinding that new incursion activity, trying to get their hands on it. Those who managed to snatch that gun for themselves are now rocking this awesome build.
Component

Item/Name

What it Does

Specialization

Firewall

Has a super strong medkit
Primary Weapon

Ouroboros

With

1485 base RPM

and the talent that takes whatever effect is applied on you and puts it into the bullets on your next reload
Secondary

Kingbreaker

A great high dmg output option
Armor

4x Heartbreaker set + Catharsis mask + 1x Sokolov

The mask's talent builds up stacks that

increase DMG up to 30%.

But when damage is taken at

30 stacks

, the mask clears all effects applied and even creates a healing cloud.
Skills

Scanner Pulse + Sticky Bomb with EMP

The

EMP

is very useful in

CQB

, while the scanner helps track the enemy's positions.

Attributes

Weapon DMG and Critical Hit DMG

You should be gunning for about

54% crit hit chance

, and

120% crit hit damage

Rolls

Critical Hit Chance & Critical Hit DMG

self-explanatory
Mods

Critical Hit Chance & Critical Hit DMG

self-explanatory
The choice of the primary weapon and the mask makes a very effective combo, and the Division 2 pvp dps build with the most recently added weapon. On top of that, the combination of armor provides additional bonuses such as applying Pulse for 5 seconds from 4 pieces of the set, while Sokolov gives you extra damage for SMG type of guns.
Build #2: The Meta DZ build
Wanna know more about Division 2 builds 2023 pvp that make the meta? This build has been very powerful for a long time, and it consists of an AR and a special mask. When the weapon stats and armor are in the acceptible range, this build will let you shred enemies and give you more than enough survivability in every scenario. What's more, it works both for solo and group PvP.
Component

Item/Name

What it Does

Specialization
ANY
-
Primary Weapon

FAMAS

It is one of the

best PvP weapons

with bonuses to AR damage, health damage, and out-of-cover damage. Make sure to get the

Optimist

talent for this gun
Secondary

Custom M870 MCS

Great choice to finish off enemies with mods for

Shotgun Damage

and

Damage to Armor

, holster for Skill Haste
Armor

Coyote Mask + Fenris chest + Picaro holster + Fox's Prayer kneepads, Walker, Harris & Co gloves, Matador backpack

The mask gives you a bonus to

crit hit chance

and damage based on your distance to the last target you hit. The Chest gives extra

AR damage

. The rest provide other needed bonuses for the build.
Skills

Holographic Distraction Decoy or Pulse + Defender Drone

The choice between the first two skills depends on what your team needs. But the

Drone

must be there whether you play on your own or with mates
Attributes

Weapon DMG and Critical Hit DMG

You should be gunning for about

54% crit hit chance

, and

120% crit hit damage

Rolls

Critical Hit Chance & Critical Hit DMG

self-explanatory
Mods

Critical Hit Chance & Critical Hit DMG

self-explanatory
You can see a lot of Division 2 builds pvp variations of this with the same core but different armor, secondary weapon, specialization, etc. However, what's common for all of them is the FAMAS AR with Optimist and as much Critical Hit Chance and Critical Hit DMG as you can get. The rest of the stats, like armor and the like, are optional and should be based on what you feel comfortable playing with. The secondary is almost always some kind of shotgun or SMG simply because 99% of fights happen at close range.
Build #3: The Most Famous AR Build in Division 2
While there's no strictly best pvp build Division 2, there's one that comes very close. This is the classic one. Ask any Division 2 veteran what is the popular build in Division 2, and they'll tell you that for the longest time, it has been the one with the Eagle Bearer.
Component

Item/Name

What it Does

Specialization
Any
Use

Gunner

for more combat options
Primary Weapon

Eagle Bearer

Known for its

100% accuracy

and reload speed buff in PvP. The key for landing headshots and activating

Tenacity

, which is very strong.
Secondary

ACS12

Used to proc

Heartbreaker

bonus armor, then move in for the kill with EB.
Armor

Coyote's Mask, Fenris, Grupo Providence, Fox's Prayer Knees, Contractors

Coyote's Mask helps with crit hit chance and damage.

Fenris

and

Grupo Providence

offer additional bonuses.

Fox's Prayer

Knees and

Contractors

Gloves provide necessary boosts for the build.
Chest Talent

Unbreakable

Provides extra survivability in PvP encounters.
Backpack Talent

Concussion

Offers

100% uptime

if you land headshots, synergizing well with Eagle Bearer's headshot focus. Alternatively, some players use

Vigilance

.
Skills
Varies
Depending on playstyle and team needs.
Attributes

Weapon DMG, Critical Hit DMG

Focus on maximizing damage output through weapon damage and critical hit damage.
This build emphasizes the Eagle Bearer's strengths in accuracy and headshot damage, particularly useful in PvP scenarios. The combination of Division 2 best gear set pieces and talents is designed to maximize damage dealt and your ability to beat the odds. Remember, the effectiveness of this build can vary based on individual playstyle and the specific dynamics of PvP encounters in The Division 2.
Build #4: The LMG + True Patriot Build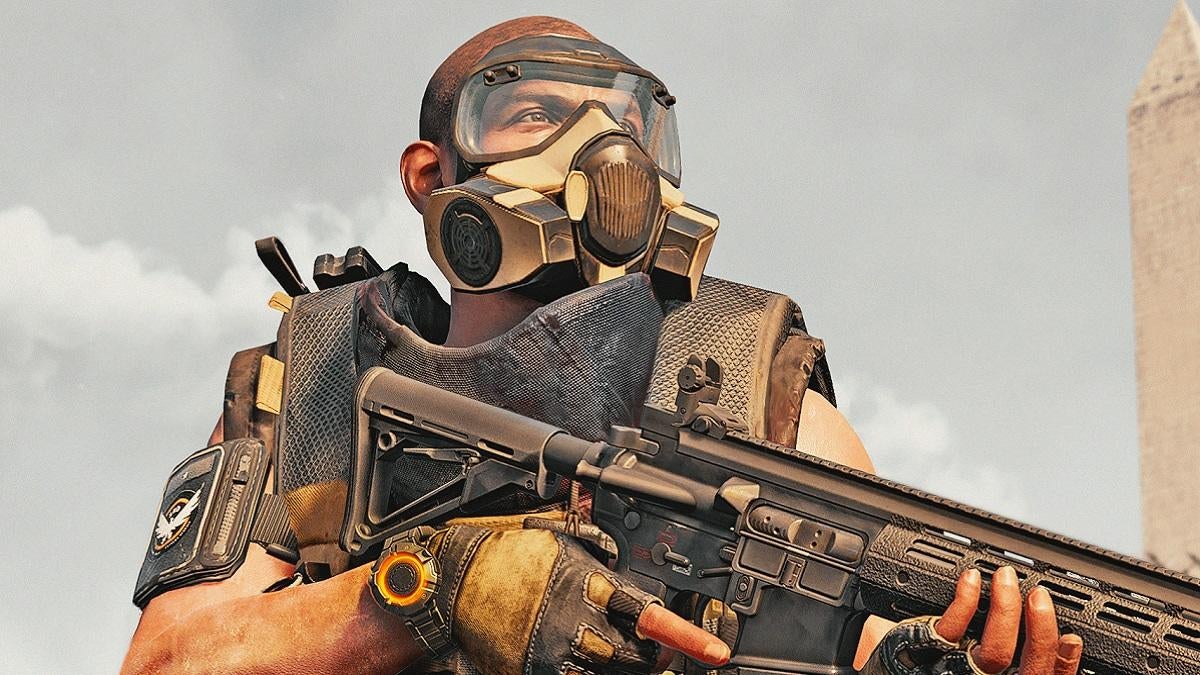 This build is designed for Agents who want to maximize their impact in PvP scenarios, leveraging the unique capabilities of the True Patriot gear set. By tagging enemies with a trio of colors, each representing different tactical advantages, this Division 2 pvp build allows players to control the battlefield and deal significant damage to multiple opponents simultaneously. Let's dive into the specifics of this build to understand how each component contributes to its overall effectiveness.
Component

Item/Name

What it Does

Specialization

Firewall

Chosen mostly for its potent medkit, which improves survivability in PvP combat
Primary Weapon

Iron Lung (LMG)

Used in the build for its effectiveness in PvP. The build compensates for its lack of

crit hit chance

.
Secondary Weapon

FAMAS

Alternative weapon choice for its effectiveness in PvP scenarios.
Armor

True Patriot Gear Set

(various combinations)
The gear set is central to the build, with different combinations like backpack, mask, holster, gloves, etc., each contributing to the overall strategy of the build.
Skills

Defender Drone +

any second skill
You can't go wrong with the

Drone

, and the second skill is usually based on who you play with and what you prefer.
Attributes

Crit Hit Chance, Crit Hit Damage

The build focuses on maximizing crit hit chance and damage, with specific percentages mentioned for different build variations.
Rolls

Crit Hit Chance & Crit Hit Damage

Specific rolls for

crit hit chance

and

damage

are emphasized for the effectiveness of the build.
Mods

Crit Hit Chance, Crit Hit Damage, Armor

Install any available mods to all guns that give you more

damage

and more

armor

.
the "True Patriot" PvP build stands as a powerhouse for those aiming to dominate in PvP showdowns. At its heart is the cunning deployment of the True Patriot gear set. When married with the right arsenal, like the Iron Lung (LMG) and FAMAS, it transforms into the best setup for the Division, a deadly weapon in your PvP arsenal. Its focus on maximizing critical hit chances and damage turns every bullet into a potential game-changer. Perfect for lone wolves or squad fighters, this build strikes a perfect harmony of offensive might and strategic depth, positioning itself as the preferred choice for warriors seeking to leave a mark on the PvP battlefield.
Build #5: The Hazard Protection Build
This build is a game-changer for players in The Division 2, offering 100% immunity from all types of status effects, impressive damage output, high critical values, and substantial base armor. It's a hybrid setup that brings flexibility and adaptability to various combat situations, utilizing new gear from recent updates, including the Saint Elmo's engine exotic AR and the Cavalier gear set. All this makes for best pvp solo build Division 2, which also incorporates the Ninja Bike backpack, and is not just about defense but also about delivering powerful offensive capabilities.
Component

Item/Name

What it Does

Specialization

Firewall

Chosen primarily for its

powerful medkit

, enhancing survivability in PvP scenarios.
Primary Weapon

Saint Elmo's Engine

An exotic AR is recommended for its great talent and ability to build critical stats effectively.
Secondary Weapon

Player's Choice

The build allows flexibility in secondary weapon choice, with no specific weapon class bonuses.
Armor

Yaahl Chest, Bacaro's holster, Ceska gloves + 2x Cavalier set

Combines

Walker, Harris, and Ceska

for damage and crit chance, with

Yahl

for

Hazard protection

. Gloves are essential for any Hazard protection setup, offering crit chance and Hazard protection. The Cavalier is key to achieving

100% Hazard protection

, offering a substantial

30% Hazard protection

bonus.
Skills

Defender Drone + Holographic Distraction Decoy

The

Drone

is the standard for many similar loadouts.

Decoy

is useful when distracting enemies in DZ.
Rolls

Critical Hit Chance & Critical Hit DMG

Self-explanatory
Attributes

Hazard Protection

The main attribute of the build
Mods

Critical Hit Chance & Critical Hit DMG + Armor

Once you have reached

100% Hazard protection

, you can then you can then shift your attention to damage and armor bonuses from mods
To sum up, the Hazard Protection build is a masterclass in balancing offense and defense in "The Division." It's centered around achieving total immunity to status effects while still maintaining high critical hit chances and damage. The use of the Saint Elmo's engine AR and the Cavalier gear set, along with strategic branded choices like Walker, Harris, and Ceska, creates a robust and versatile warrior on the battlefield. This build is ideal for players who want to withstand the harshest of status effects while still being able to dish out significant damage. Whether you're navigating the Dark Zone or engaging in intense PvP battles, this build ensures you're well-equipped to handle a variety of threats with confidence and power.
Conclusion
The Division 2's PvP landscape in 2023 is a complex and thrilling arena where effective the Division pvp class builds can make all the difference. This comprehensive guide has explored a range of formidable builds, each tailored to specific playstyles and combat scenarios, ensuring that you're well-equipped for any PvP challenge.
Deadly SMG PvP Build:

This build, centered around the Ouroboros SMG, is a testament to the power of speed and damage. Coupled with the Heartbreaker set and critical hit-focused gear, it's a build designed for those aiming to hit hard and fast.

The Meta DZ Build:

Armed with the mighty FAMAS AR and a badass mix of gear, you'll be dishing out serious damage while shrugging off hits. It's the perfect blend of firepower and toughness for any situation.

Famous AR Build:

A classic choice, the Eagle Bearer AR build remains a favorite for its precision and power. This build is for players who excel in landing accurate shots and leveraging the Eagle Bearer's unique talents.

LMG + True Patriot Build:

For those who prefer a tactical approach, this build uses the True Patriot set to control the battlefield. It's a strategic choice for players who want to impact multiple enemies simultaneously.

Hazard Protection Build:

Offering complete immunity to status effects, this hybrid build doesn't just defend; it strikes back with significant power. It's a testament to the game's balance of offense and defense.
Each of these loadouts represents a different facet of PvP mastery in The Division 2. From the high-speed aggression of the SMG build to the strategic depth of the True Patriot set, these builds offer a way to dominate the PvP arenas. The key to success lies in not only choosing the right build but also mastering its nuances and adapting to the dynamic player vs. player engagements.
To wrap it all up, as you navigate the shadowy corners of the Dark Zone or clash in the high-octane arenas of Conflict mode, these premier PvP builds of 2023 are your arsenal for ascending to legend status in The Division 2. Remember, the ultimate weapon in your arsenal isn't just about syncing with the Division 2 pvp meta builds; it's about crafting a style that echoes your inner warrior and amplifies your strengths. Keep your tactics as sharp as your reflexes, be as adaptable as the game itself, and above all, plunge into the rich, tactical tapestry and pulse-pounding encounters that only PvP in The Division 2 can deliver.
F.A.Q.
Can I play Division 2 PvP solo?
Yes, you can play Division 2 PvP solo, especially in modes like the Dark Zone, although it can be more challenging without a team.
What is a good DPS in Division 2 PvP?
A good DPS in Division 2 PvP typically involves a high rate of fire and critical hit damage, with weapons like SMGs and ARs being popular choices.
How to extract successfully in the DZ?
Be discreet, use distractions, watch for ambushes, and consider timing your extraction with other players' extractions to avoid drawing attention.
What skills are most effective in Division 2 PvP?
Popular skills include the Hive for area denial, the Turret for additional firepower, and the Shield for added defense.
How to Win in Division 2 Conflict mode?
Learn the maps, communicate with your team, adapt your build to the mode (e.g., Skirmish or Domination), and focus on objective play.
What is the best AR for DPS in Division 2 PvP?
The FAMAS is often viewed as one of the top ARs for DPS in Division 2 PvP due to its high rate of fire and damage output.
What is the best armor set up in The Division 2 PvP?
The best armor setup in The Division 2 PvP often includes gear sets like the Heartbreaker or True Patriot, depending on your playstyle and strategy.
What is the best assault rifle for PVP in the division?
The Eagle Bearer is widely acknowledged as one of the premier assault rifles for PvP in The Division 2, known for its accuracy and unique talents.
What is the best build in Division 2 PvP?
The best build in Division 2 PvP varies based on playstyle, but popular choices include the SMG-focused Heartbreaker build and the versatile True Patriot build.
What is the best exotic AR in The Division 2 PvP?
The Eagle Bearer is often considered the best exotic AR in The Division 2 PvP, prized for its high accuracy and powerful talents.
What is the best gear set for PvP in Division 2?
The Heartbreaker set is highly favored in PvP for its damage bonuses, especially when paired with SMGs or ARs.
What is the best gun in The Division 2 PvP?
The title of the best gun is a hotly contested one. It really boils down to the heat of the moment, but when push comes to shove, the Eagle Bearer AR and the Ouroboros SMG stand tall as the frontrunners. Each brings its own brand of firepower to the table, ready to dominate in the right hands and the right situation.
What is the highest DPS weapon in The Division 2 PvP?
The FAMAS AR is often cited as one of the highest DPS weapons in The Division 2 PvP, due to its high rate of fire and solid damage.
What is the striker build in The Division 2 PvP?
This powerhouse setup revolves around the Striker's Battlegear set, supercharging your weapon skills and boosting your damage output. It's the ultimate choice for gamers who live for the thrill of aggressive, non-stop action, transforming every firefight into an adrenaline-pumping showdown.