Embark on a thrilling quest to master the Division 2 best builds for PvE, your definitive atlas to the zenith of in-game supremacy. We're about to peel back the layers of build-crafting mastery, guiding you through the intricate dance of assembling the mightiest arsenal for your PvE escapades.
Within these digital pages lies the wisdom to forge your path, whether you're a solitary operative or the linchpin of your fireteam. We'll dissect the essentials, the non-negotiables, and the customizable facets of your Division 2 PvE builds, ensuring you're battle-ready for any scenario that unfolds in the urban sprawl.
We'll navigate you through the labyrinth of the most potent Div 2 best PvE builds, each a strategic masterpiece waiting to be claimed and customized to your combat doctrine. Discover where to unearth these treasures, the stats that will bolster your offensive and defensive prowess, and the bonuses that will crown you a PvE legend.
This compendium is laser-focused on PvE, arming you with a curated list of builds, each a key to unlock the full potential of your gameplay.
For the seasoned guardians of Division 2, let this serve as your tactical almanac, a refresher on the subtleties of build optimization. And should you choose the path of least resistance, you have the exclusive option to buy Division 2 best PvE build, entrusting the experts to equip you with the finest tools of warfare.
Now, let's cast aside any delay and plunge into the heart of Division 2's PvE theatre of war. Your ultimate guide to dominance begins now.
IMPORTANT NOTE: Apart from learning everything about Division 2 best PvE builds, you can also Buy Division 2 Boost from SkyCoach. We offer a wide range of products at the lowest market price and with the fastest delivery. You can make your first purchase even CHEAPER if you find a special PROMO CODE (highlighted in green) hidden in this article and get a 20% DISCOUNT.
Check out some of our most popular
Division 2 Boosting

services below:
Division 2 Build Basics
If you always wanted to know how to make Division 2 builds in general, this is your chance. In basic terms, a build in Div 2 is a particular combination of:
Guns
Armor
Equipment
Specialization
Abilities
Attributes
Stats
Mods
These are the main parts of any build, and you hone in on obtaining or unlocking them and equipping them all together. Stuff like skins or transmog items and other cosmetics obviously don't matter. You could see players using the same build but look differently.
Making the best Division 2 PvE builds comes hand in hand with a lot of grind because builds require the rarest components. So, if you want the best of the best, you need to put time and effort into getting it all. However, there's an alternative.
Dive into the heart of combat with a nuanced understanding that every build is a unique beast, each honed to perfection to enhance your prowess against your foes. Whether you're looking to wield the raw power used in the most intense raids or seeking to maximize your damage output, the key lies in specialization. For those eager to master the raids as the veterans do, your first move might be to buy Division 2 raid build.
Imagine a build as a finely tuned instrument, each string resonating with a specific purpose—be it unleashing devastating damage, fortifying your defenses to become an unyielding force, or enhancing your ability to bolster your allies in the thick of battle. You hold the freedom to craft and experiment, to mix and match gear components with Specializations that resonate with your unique approach to the game.
But as we progress, we're ready to reveal the pinnacle, the Division 2 PvE builds 2023 we've hinted at. These builds are the highlights of this year, crafted from endless hours of gameplay and tactical planning. Get ready to explore the builds that will shape your new adventure in Division 2.
About Roles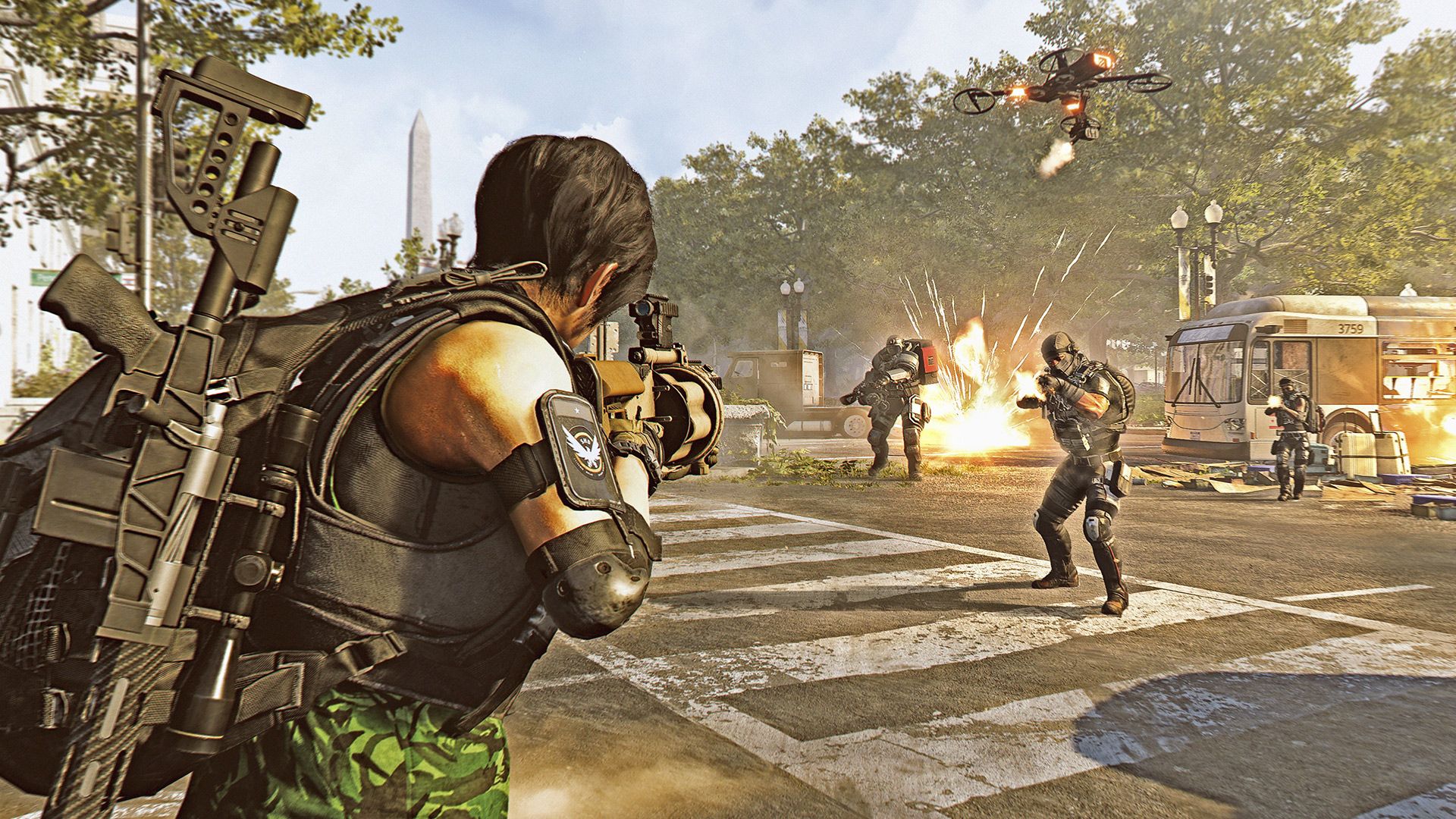 Much like in traditional MMORPG, all group PvE content in the game has the need for roles. So, if you have never heard about what roles are in Division 2, the game essentially uses the 3-role system, those being:
Tank

- whose role is to absorb DMG, draw aggro and stay alive

DPS

- this role focuses on dealing as much DMG as possible

Healer

- this role's job is to keep everyone else alive
Even though there are six distinct specializations in Division 2, they all can be utilized in all of the roles. Some of them are just better at being tanky, doing more DMG or healing.
Note: Playing the game solo is not only feasible, but some players actually favor this approach. Builds tailored for solo play are more aligned with individual playstyles and can encompass any of the three roles, effectively merging substantial survivability with the capacity to inflict significant damage.
Equipped with this knowledge and having the best gear set Division 2, you have a functioning build on your hands. BLOG20
Listing the Best Division 2 PvE Builds for 2023
Let's kick things off by presenting a selection of robust DPS builds designed to help you efficiently conquer a wide array of the game's PvE challenges. These include:
Raids
Missions
Strongholds
Control Points
Bounties
The Summit
Global Events
Dark Zones (PvE elements)
Resource Convoys
Territory Control
Each Division 2 PvE DPS build in this list has its own playstyle, so you'll definitely find something that suits yours.
Important: the following list simply provides the baseline of builds, meaning that you are free to change its components however you want. Choosing between two weapons and deciding how many armor pieces to bring into battle might be difficult.
Build #1: Kingbreaker with Striker
The name of the build comes from its two defining components: the Division 2 Striker set, which has been recently reworked, and the Kingbreaker - the named Assault Rifle that comes with a cool talent. The PF talent increases weapon DMG done to enemies by 20% who are pulsed. After two kills, apply Pulse to the next enemy you shoot. Pulse is a radar-type passive that highlights enemies and can apply different status effects. Now, let's go over the build's components:
Component

Item/Name

What it Does

Specialization
Technician
Provides access to

Linked Laser Pointer

, which allows talents from other components to be procked at all times
Primary Weapon

Kingbreaker

The talent amplifies DMG by 20% to all pulsed enemies.
Secondary

ACS-12

Regular

Flatline

Talent
Armor
3x

Striker set

pieces +

NinjaBike Messenger Backpack

+

Uzina

body +

Brazos

holster
The backpack adds +1 to the set gear requirement to activate perks for any set.

Uzina

amplifies weapon and skill DMG by 20%.
Skills
Crusader Shield + Assault Drone
The Shield helps to stay alive, and the drone is great at distracting enemies.
Attributes
Weapon DMG and Critical Hit DMG
self-explanatory
Rolls
Critical Hit Chance & Critical Hit DMG
self-explanatory
Mods
Critical Hit Chance & Critical Hit DMG
self-explanatory
Within the arsenal of Division 2 builds 2023 PvE, a formidable strategy is recognized for its effectiveness. This specific build is centered around the Pulse skill, harnessing the combined power of this skill with weapon talents that amplify DMG against pulsed adversaries. The design of this build is focused intently on elevating your damage output to the highest degree.
Each element, from the mods to the stat rolls and attributes, is carefully selected to enhance DMG and critical DMG. This build is adaptable, equally suited for the lone wolf or the team player—it excels in both scenarios, making it a flexible option for any agent aiming to amplify their presence in combat.
Build #2: SMG Build with Hunter's Fury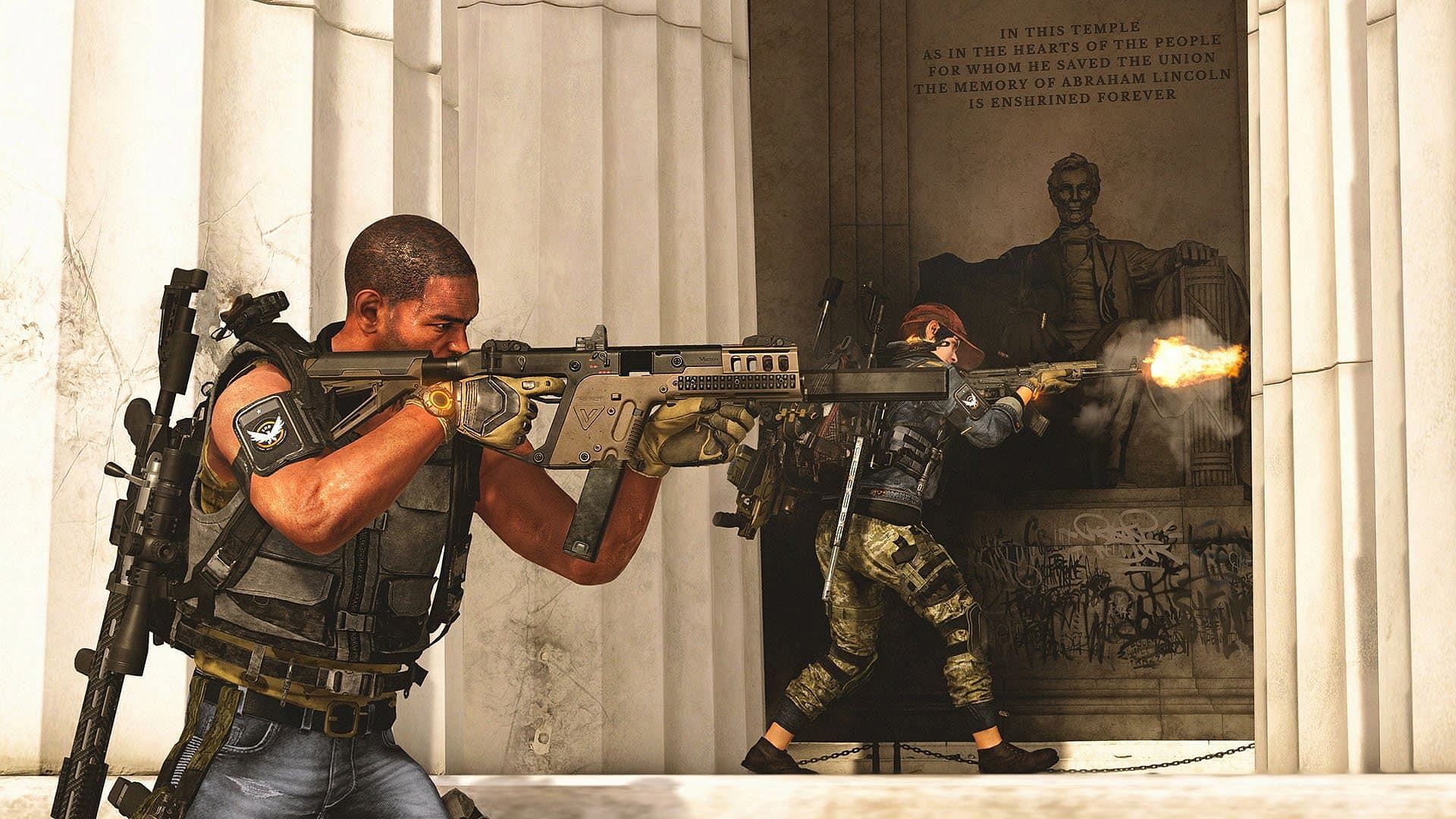 This next build is more for the CQB encounters, but it is super good for farming everything else, thanks to the rapid rate of fire and almost no recoil. Its main component is the Division 2 Hunter's Fury set that makes enemies receive way more DMG. This build will be great for clearing endgame activities. So, let's see what it consists of:
Component

Item/Name

What it Does

Specialization
Gunner
Provides access to

Banshee Pulse

, greater rate of fire, and reload speed on kill.
Primary Weapon

Dark Winter

or

Lady Death

(or anything with the Killer talent)
The talent increases the critical hit DMG for 10 seconds if you kill an enemy with a critical hit.

Secondary

Scorpio

Shotgun
Close and

Personal

talent gives you increased DMG for 10 seconds when you kill an enemy within a 7-meter distance. The shotgun is for CQB and applying DMG over time.
Armor
4x

Hunter's Fury set

pieces + 1x

Sokolov

+ 1x chest piece with

Unbreakable

talent.
The set talent increases DMG dealt to enemies

by 20% within 15 meters

. Plus, killed enemies disorient nearby enemies in a 5-meter radius, amplifying DMG

by 5% up to 5 stacks for the next 10 seconds

. Sokolov piece gives +10% DMG for SMGs. The unbreakable talent restores 95% of your armor every 60 seconds.
Skills
Banshee Pulse + Assault Drone
Confuses the enemies even behind the cover, and the drone is great at distracting enemies.
Attributes
Weapon DMG and Critical Hit DMG
self-explanatory
Rolls
Critical Hit Chance & Critical Hit DMG
self-explanatory
Mods
Critical Hit Chance & Critical Hit DMG
self-explanatory
The big idea behind this build of all Division 2 builds PvE is that it dishes out tons of DMG quickly while also allowing you to disrupt your enemies with the Banshee Pulse and the Hunter's Fury set talent. As for especially chonky enemies, Scorpio will poison them, dealing DMG over time as you shoot them.
Build #3: St. Elmo with Striker
If you're looking for some build that could only be made by playing the most recent content, look no further. The best PvE build Division 2 is the one the parts for which drop from the Paradise Lost incursion, so if you're looking for something that is, consider the following list:
Component

Item/Name

What it Does

Specialization
Gunner
Provides access to

Banshee Pulse

and +15% DMG bonus to any weapons
Primary Weapon

St. Elmo's Engine

AR
Shooting an enemy gives you a stack, once you have

100 stacks

, your next magazine will be loaded with shock bullets.
Secondary
Any weapon you like
Select your favorite talent for your secondary and go with it
Armor
4x

Striker set

pieces +

Coyote's Mask

+

Gruppo Sombra

chest piece
The mask gives you and your teammates 3 different bonuses based on the distance between you and the last enemy you shot. All bonuses are for increased

Critical hit DMG

.
Skills
Banshee Pulse + Assault Drone
Confuses the enemies even behind the cover, and the drone is great at distracting enemies.
Attributes
Weapon DMG and Critical Hit DMG
self-explanatory
Rolls
Critical Hit Chance & Critical Hit DMG
self-explanatory
Mods
Critical Hit Chance & Critical Hit DMG
self-explanatory
The foundation of the build rests on three essential elements: the gear set, the mask, and the primary weapon. Among these, the mask stands out as particularly intriguing due to its variable bonuses, which adapt to your preferred combat range from enemies. This is why it is obviously the Division 2 best gear set because it accommodates all 3 ranges, so it should fit all playstyles.
Build #4: Tank Build for Legendary Activities
For this one, we're giving you a great Division 2 Tank build that can withstand legendary content. This thing can take a beat down and will suit even those whose aim isn't great, especially when using handguns. Naturally, this build focuses on using the combination of a handgun, such as the Divison 2 Liberty, and a shield, so much so that you may forego the usage of any other weaponry. With that said, let's dive into it:
Component

Item/Name

What it Does

Specialization
Technician
Gives you an extra skill tier and bonus

DMG

to robotics like drones and such
Primary / Secondary
Any gun
Your main weapon will be the handgun, which you will be using with the

shield

, so primary and secondary don't matter
Handgun

Liberty

or

Regulus

Liberty or Death

talent gives you multiple stacks of increased weapon DMG, while headshots spend those stacks and repair armor
Armor
1x

Douglass & Harding

+ 1x

Brazos

+ 3x

Foundry Bulwark

+

NinjaBike Backpack

The bag provides the +1 slot for all other sets to activate their bonuses. The D&H bonuses are for pistol and headshot DMG. The

Foundry Bulwark

set bonuses give you increased armor and armor repair
Skills
Artificer Hive + Bulwark Shield
The

shield

is what makes you the tank. Try not to get flanked and you'll be the best tank there is.
Attributes
Armor regen
Needed for survivability
Rolls
Critical Hit Chance & Critical Hit DMG
Needed for dealing DMG
Mods
Protection from Elites
For surviving tougher encounters
The thing about legendary difficulty is that you'll often run into all sorts of drones, turrets, and other robotic enemies, so this is why you'll want to have the Technician for one of your tanky The Division PvE class builds, as this specialization specifies on destroying everything electronics.
Build #5: Medic Loadout for Cooperative Missions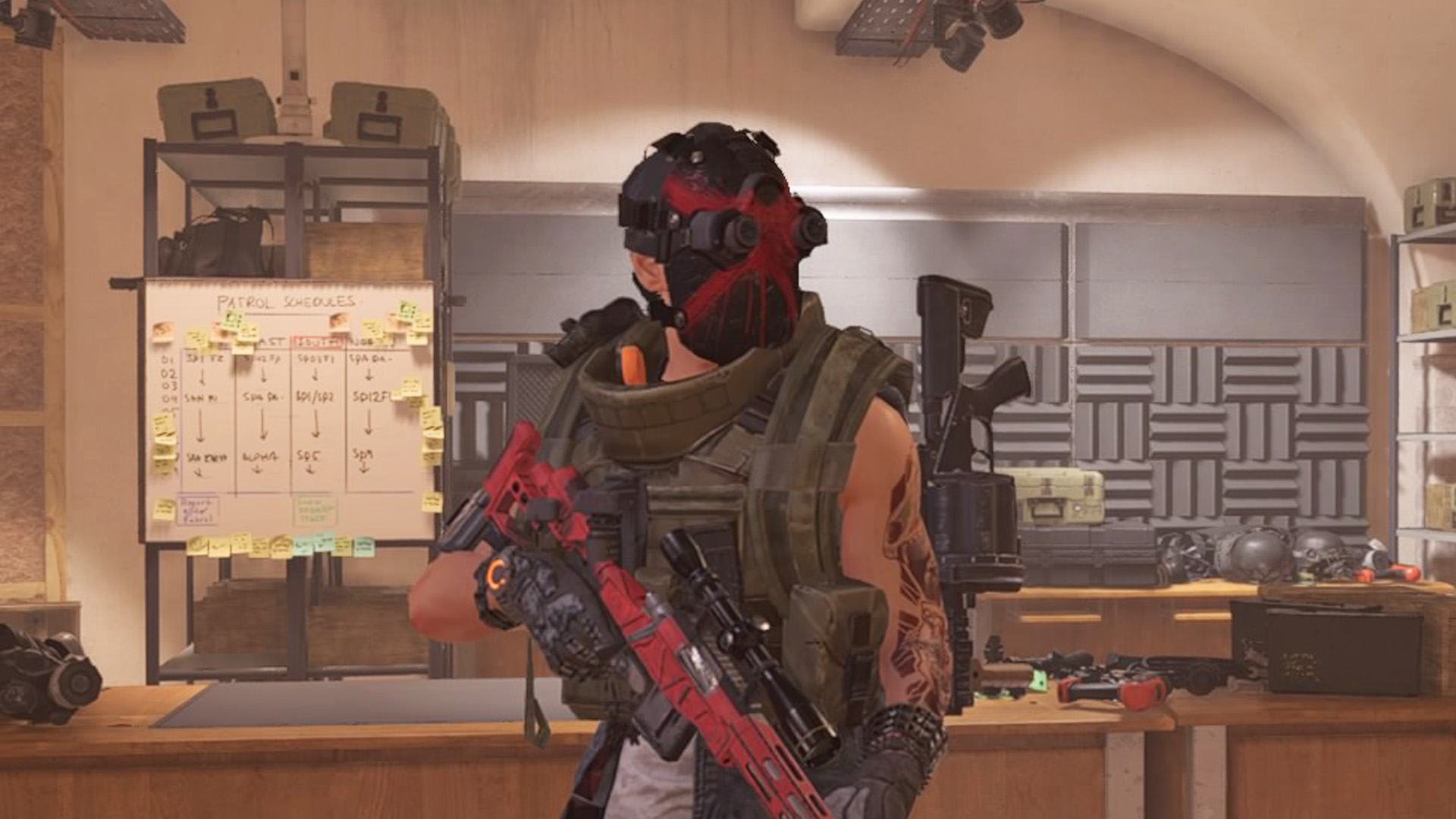 Should your goal be to ensure your allies' longevity during the rigorous boss battles and the various trials of team-based encounters, providing them with immediate healing upon taking damage, then this is the Division 2 PvE build for you! Next, we delve into the essentials that define a healer's role:
Component

Item/Name

What it Does

Specialization
Technician or Survivalist
Gives you an extra skill tier and bonus DMG to robotics like drones and such
Primary / Secondary / Handgun
Any gun
Anything that has a

Reformation

talent will be useful. Otherwise, weapons don't matter much
Armor
4x

Future Initiative

+

BTSU Datagloves

The FI is the

best healing set

in the game because it gives the whole group a DMG bonus to weapons when you have full armor. The gloves refresh cooldowns when you use the Hive. At

Tier 6

, this applies to teammates.
Skills
Restorer Hive + Chem Launcher
The Hive is obviously a must-have, and the Chem launcher repairs armor
Attributes
Repair Skills + Skill Tier + Skill Haste
To be more effective at healing others
Rolls
Critical Hit Chance & Critical Hit DMG
Needed for dealing DMG
Mods
Repair Skills + Protection from Elites
For surviving tougher encounters
This is what the best setup for the Division healer looks like. With this build, your team an basically absorb any kind of DMG from any bosses as long as you know when to use your skills.
Where Do You Get Gear for Builds?
To track down the components for your arsenal, there are a handful of sources at your beck and call. The game's ingenious feature is the loadouts system, which is a game-changer for strategy enthusiasts. It allows you to store multiple configurations of gear, enabling you to switch between them almost instantaneously, as long as those pieces are in your inventory and not tucked away in your stash. This feature is incredibly practical for those who like to adapt on the go.
As for acquiring the specific items highlighted in these builds to curate your personalized collection of Division 2 loadouts, the targeted loot system is your ally. Leveraged in game modes such as The Summit, it lets you narrow down your loot search to specific types of gear, vastly improving your likelihood of finding the exact item you need to complete your ideal setup.
Another very popular method is using a service provider like SkyCoach to get the best pve solo build Division 2. This is the easiest way, and it also allows you to order a custom build where you can give a rundown of what's required to construct your own beast of a build.
Conclusion
Player vs. Environment is at the core of The Division 2 experience. It's a major part of the game, with PvP being limited to only a handful of game modes. That is why you can see a great variety of Division 2 PvE meta builds that change and evolve depending on any given Title Update and activity. At the end of the day, it all comes down to how you want to play your game. It is so great to see that this game still receives content updates, keeping its fans excited about its future. Meanwhile, those who chase the meta are spending a lot of time getting the pieces that they want and min-maxing the stats in the process. This is an unending story, and some even call it the true endgame.
Considering all of the above, it's super handy to have service providers such as SkyCoach who can supply you with the desired gear. We all live busy lives, and most gamers can't spend too much time grinding. If you're also short on free time and want to have fun in the game, you already know the name.
With that said, we hope this guide helped you understand how builds work and how to make some of the most effective of them. There's going to be another one dedicated to the PvP side of the game. So, stay tuned and see you in the next one!
F.A.Q.
Can I play Division 2 PvE solo?
Indeed, solo play is a fully supported option in Division 2 PvE, with numerous players favoring this approach. The game offers a variety of builds tailored for solo engagement.
What is a Good DPS in Division 2 PvE?
A solid DPS build in Division 2 PvE typically centers around maximizing damage output and enhancing critical hit damage.
What is The Best AR for DPS in Division 2 PvE?
For DPS purposes, St. Elmo's Engine is an excellent choice due to its distinctive Talent that provides the capability to stun adversaries.
What is The Best Armor Setup in The Division 2 PvE?
While the Striker set is frequently chosen, the best armor setup really hinges on your intended role and playstyle within the game.
What is The Best PvE Build in Division 2?
If you're looking for a top-tier DPS build, the Kingbreaker and Striker combination is highly recommended. However, it's important to align your build with your preferred playstyle and the role you aim to fulfill in team scenarios.
What is The Best Exotic AR in The Division 2 PvE?
The Eagle Bearer remains a perennial favorite among players for its overall performance and reliability.
What is the best PvE gear set for Division 2?
The Future Initiative set is a go-to for healers, whereas DPS players often gravitate towards the Striker set for its offensive capabilities.
What is The Best Gun in The Division 2 PvE?
Selecting the best gun will vary based on your playstyle and the role you wish to assume. For close-quarters combat, the Ouroboros SMG is a strong contender, while the Eagle Bearer excels in mid-to-long-range engagements.
What is the Highest DPS Weapon in The Division 2?
The FAMAS assault rifle is widely recognized for having the highest DPS output among the available weapons in the game.
What is The Striker Build in The Division 2 PvE?
The Striker build integrates an armor set by the same name with weapons optimized for rapid and high damage delivery, serving as a foundation for numerous effective builds.