Welcome to the bustling streets and hidden corners of Fontaine, ardent treasure hunter! In the expansive world of Genshin Impact, a new pursuit awaits – the search for Fontaine chests. These tantalizing repositories of riches are scattered throughout the region's vibrant landscape, calling for savvy explorers to uncover Fontaine chests locations.
As you navigate the labyrinthine alleyways and towering architecture, each Fontaine chest discovery reveals not only valuable rewards but also the intricate interplay between urban life and hidden treasures. To ensure you get your hands on each and every reward and save plenty of time, we are here to share all Fontaine chests locations.
Equipped with a detailed Fontaine chests map, embark on a journey through this watery land, unlocking the secrets of Fontaine's clandestine riches, one chest at a time. We have marked their exact placement so that you can get your hands on all of them. On top of that, we will also share a complete list of Genshin Impact Fontaine chest rewards, depending on their rarity.
Before we delve into our guide and provide you with all Genshin Impact Fontaine chest locations, we would like to tell you about the most efficient and fastest way to uncover all 201 chests of various rarity. If you have limited time or wish to speed up the collecting process, we have you covered. By choosing SkyCoach, you can Buy Fontaine Chests Farming service. We offer the best market price and guarantee the fastest completion time.
IMPORTANT NOTE: At SkyCoach, you can also Buy Genshin Impact Boost at the lowest prices and with the fastest delivery. You can make your first purchase even CHEAPER if you find our special PROMO CODE (highlighted in green) hidden in this article and get a 20% DISCOUNT.
Check out some of our most popular
Genshin Impact Boosting services

below:
Where to Find All Fontaine Chests in Genshin Impact
To put it in general, you can find all Fontaine chests scattered within the brand-new region named Fontaine. The latter is one of the seven regions of Teyvat, consisting of several islands with some of them being underwater. The main and largest city in the region is Court of Fontaine.
While the region itself is undoubtedly beautiful, we are here to answer another question all players are interested in – where are all the Fontaine chests? To begin with, let us find out what chest categories you can find in the game, including in the brand-new region:
Common;

Exquisite;

Precious;

Luxurious;

Remarkable.
Considering the region's size and the fact you have to collect 5 different chest rarities, you will have to spend quite a lot of time exploring it to uncover every Fontaine chest location. Also, do remember that many of these chests will be waiting for you underwater, making it a bit more difficult to get to them.
Common Chests Fontaine Locations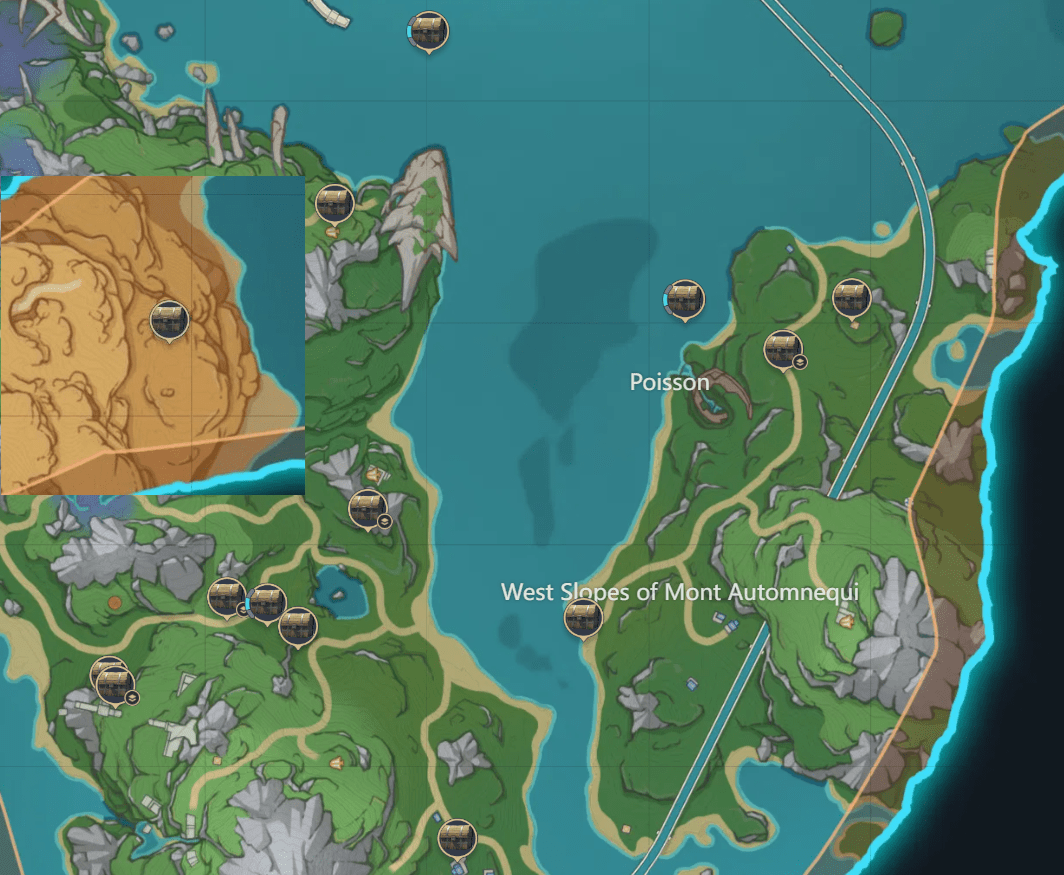 As you can see from the Genshin Impact Fontaine chests map above, there are 14 Common Chests for you to collect. However, one of them will be waiting for you when you move from the desert zone of Hills of Barsom to Fontaine. For your convenience, we have placed this chest in a separate screenshot you can find on the left side. BLOG20
Moving further, you have another 19 Common Chests to collect. The majority of them are located in or around Court of Fontaine, the main city of the region. However, some of the chests are buried underwater and you will have to try hard to get your hands on them. Now that you know all Common Chests Fontaine locations, you definitely want to see if there are chests of higher rarity.
Exquisite Chests Fontaine Locations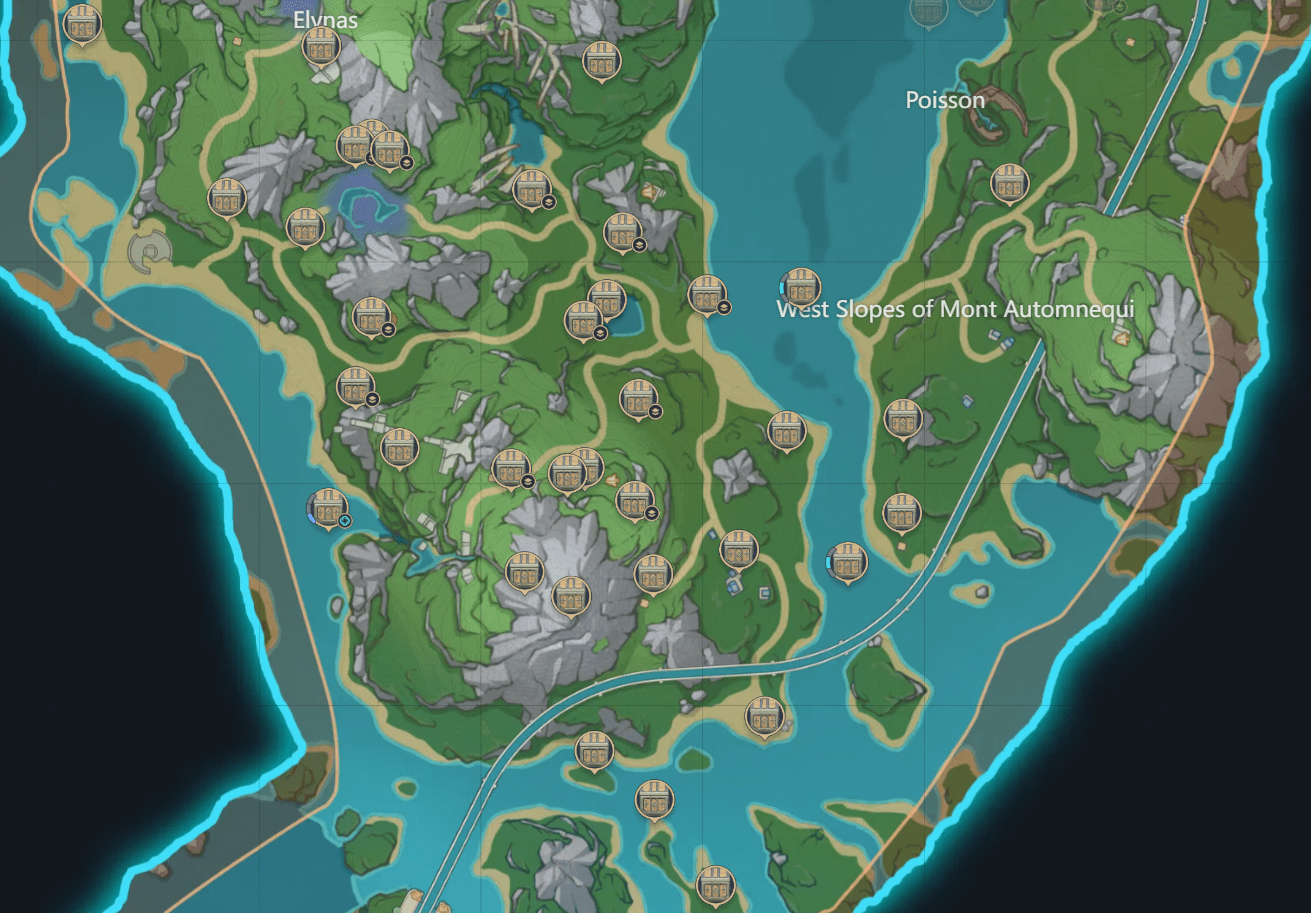 As the map of Fontaine chests shows, there are 36 Exquisite Chests for you to uncover. Most of these chests are placed on the land while a lesser part of them is waiting for you underwater. However, you will not have to spend too much time running from point A to B, as all Exquisite Chests are located next to each other.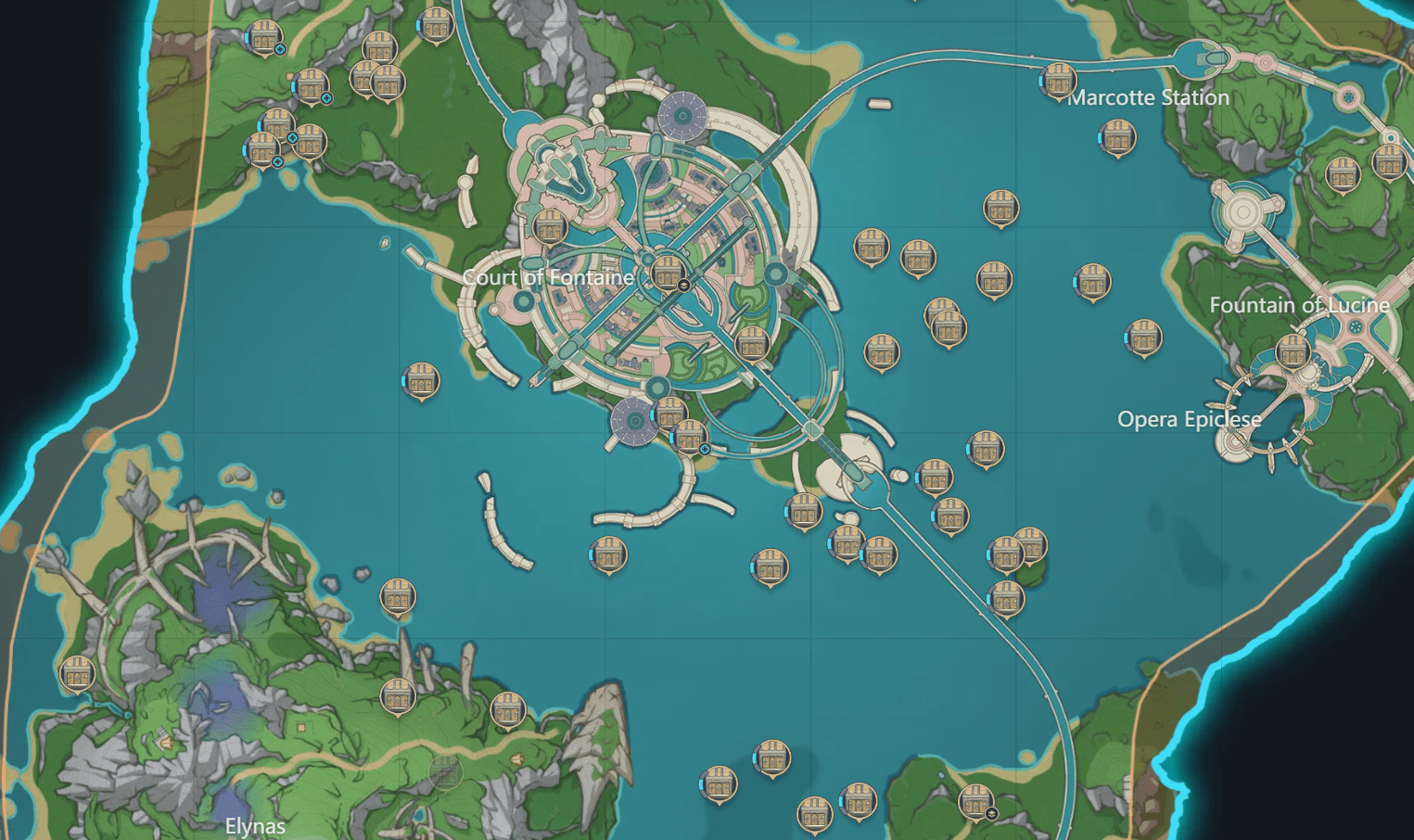 Have you managed to find and open all the Exquisite Chests from the previous screenshot? Then, here you go with 49 more Exquisite Chests to discover. At this point, the major part of them is underwater, and it will take much effort to get to them.
Finally, there are only 9 Exquisite Chests left for you to open up. As usual, most of them are hidden underwater and you will have to dive deep to get your hands on them. Now that you know all Exquisite Chests Fontaine locations, it is time to move further and see what other treasures are waiting for us.
Precious Chests Fontaine Locations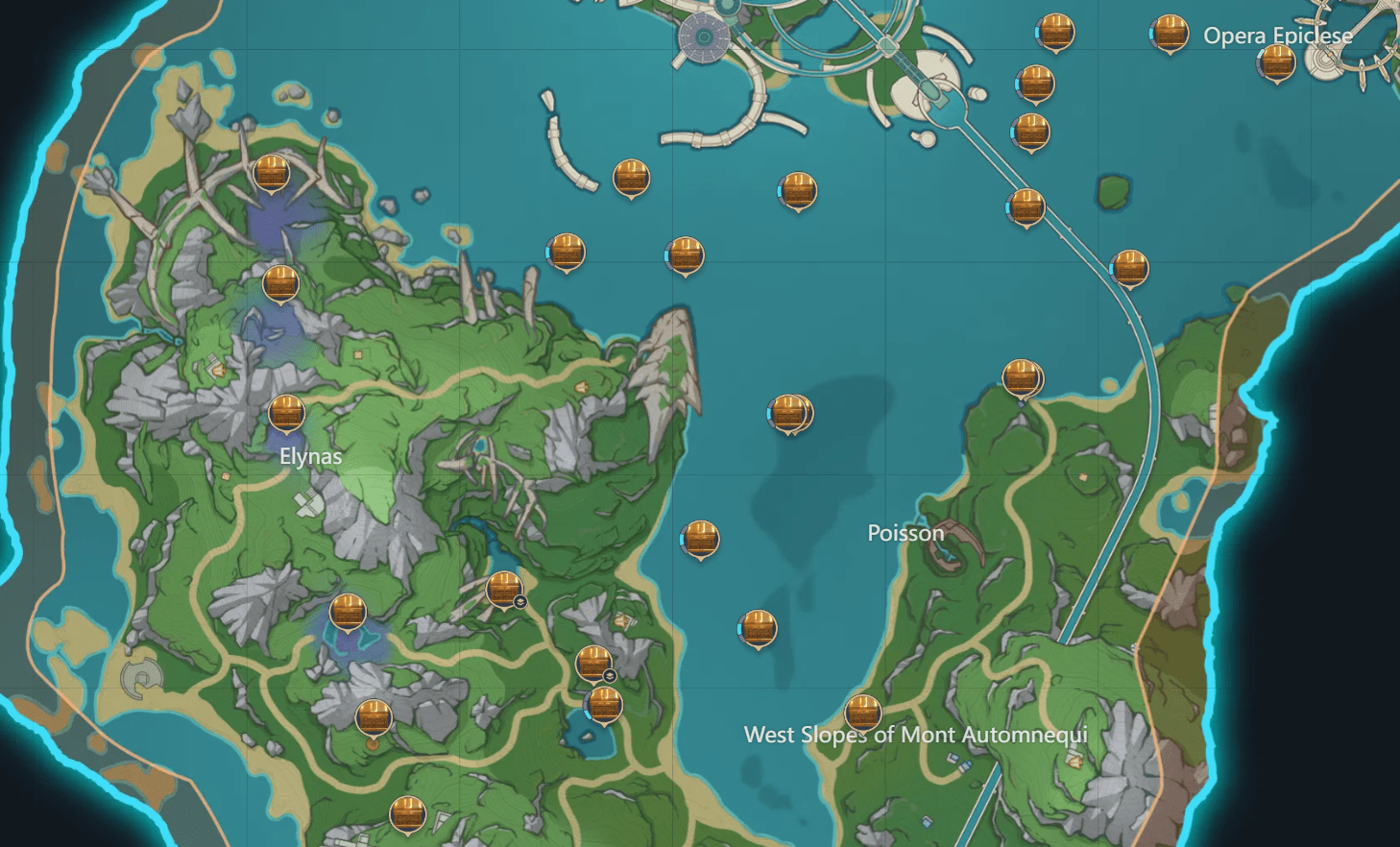 If you are looking for more precious loot, then you would definitely ask yourself how to find every Fontaine chest location, as those shown before cannot boast decent loot. For this, we have prepared a detailed you see above. It consists of two parts. The former one shows the exact location of 27 Precious Chests. Unlike Exquisite ones, they are placed quite far from each other and you will spend quite a bit of time moving between them.
Things are getting worse when you have to collect the remaining part of the 13 Precious Chests you see in the screenshot above. The downtime when traveling between them will only increase while some of them will be buried underwater. Anyway, you have learned all Precious Chests Fontaine locations and it is only a matter of time before you finish collecting them. Without further ado, let's move to another higher-value chest type.
Luxurious Chests Fontaine Locations
We are getting closer and closer to the rarest and most difficult-to-get chests. While wondering where to find Fontaine chests, most players would only dream of getting their hands on the 7 Luxurious Chests you see in the screenshot above. They are extremely difficult to discover and there are so few of them in the region in general.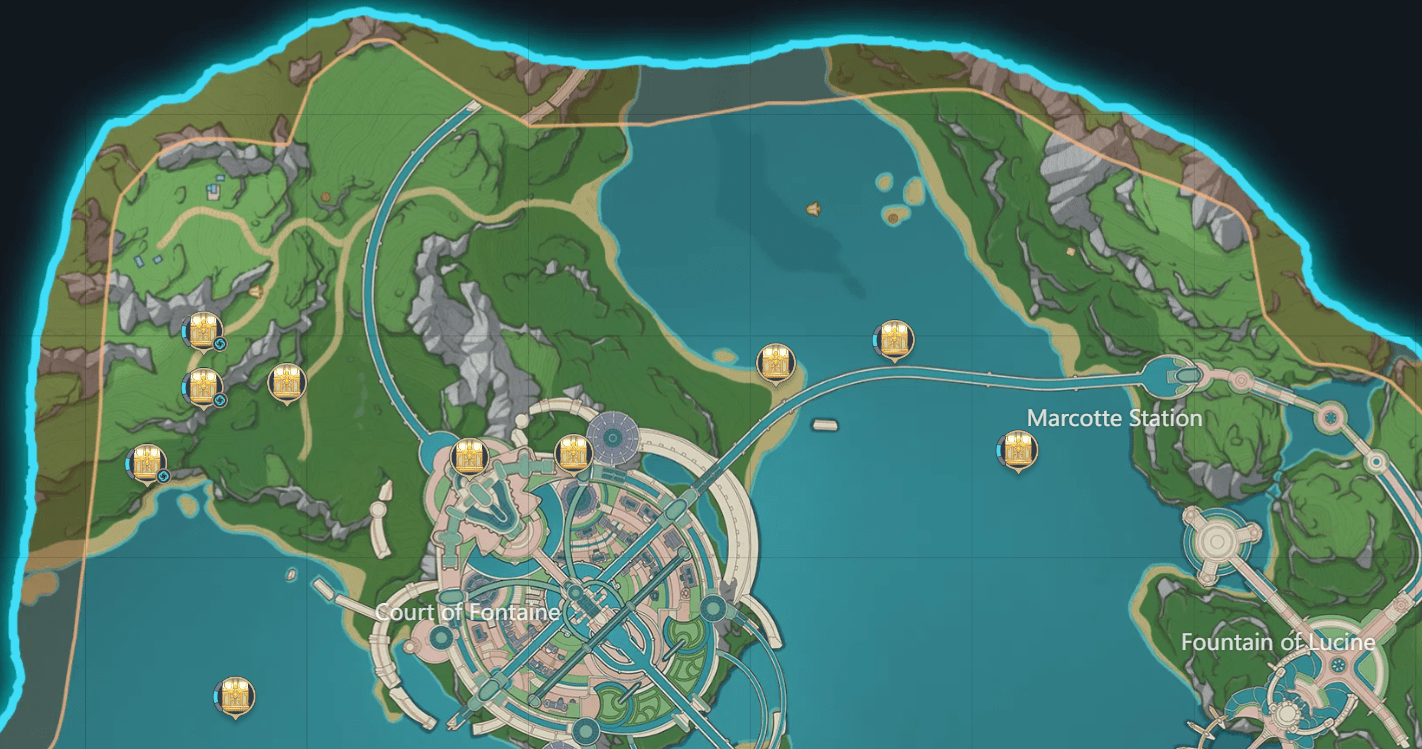 The remaining 10 Luxurious Chests will be waiting for you not that far from Court of Fontaine and in the depths of water around it. Make sure to get them all, as the rewards they contain look much more promising than those you saw before. Now that you know all Luxurious Chests Fontaine locations, it is high time to talk about the rarest chest type you can only find in this region.
Remarkable Chests Fontaine Locations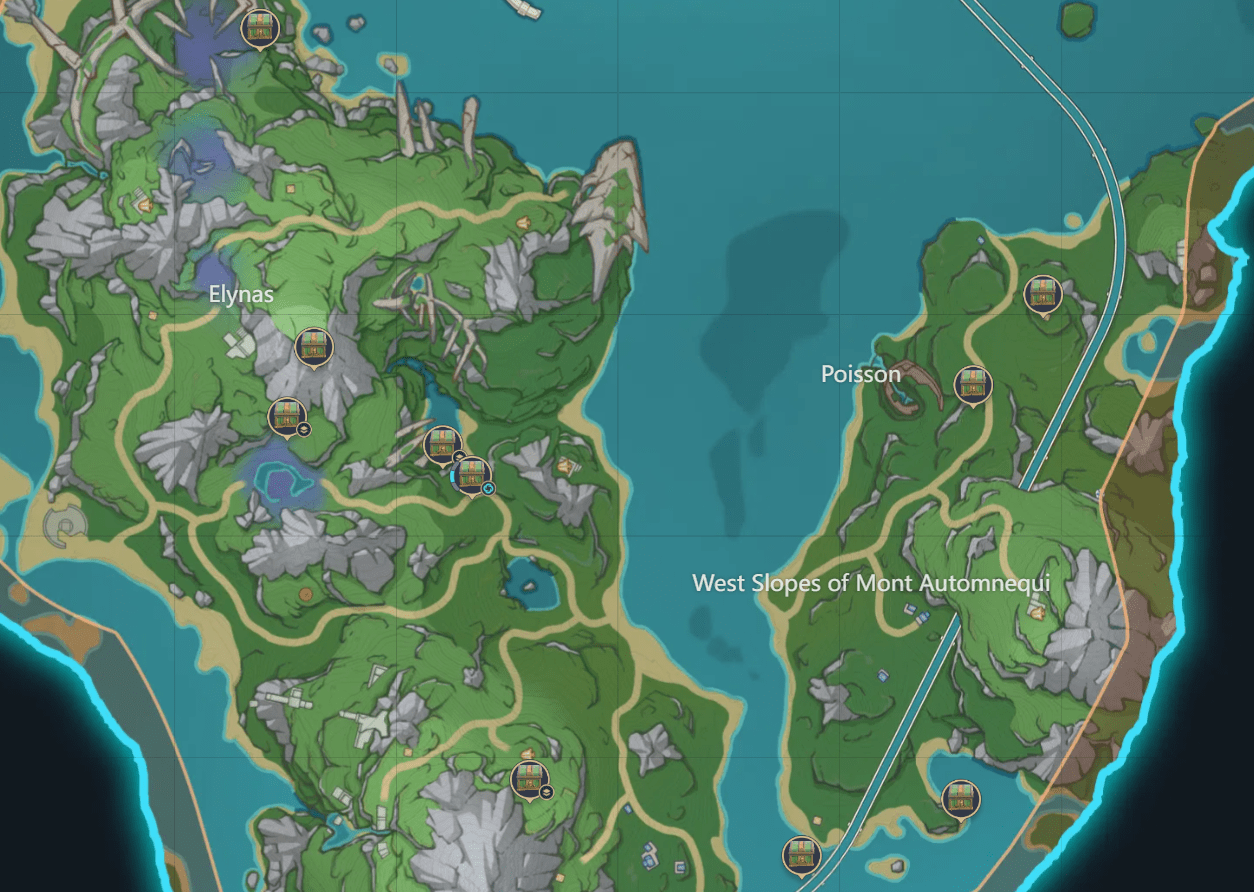 We have made it to the final point of all Fontaine chests locations interactive map, as those 10 Remarkable Chests you see in the screenshot above are the rarest findings you can ever discover. However, they DO NOT contain the most valuable loot as some of you might have thought and there are only 17 of them in total scattered throughout the entire region.
You can find the remaining part of 7 Remarkable Chests on the map above. As you can see, they are placed quite far away from each other. This means the downtime running from point A to B will be as high as never. However, this is the final path you are to go through, and now you know all Remarkable Chests Fontaine locations to do this a bit faster and with minimum effort.
Genshin Impact Fontaine Chest Rewards
Congratulations, traveler! You have made it to the end and learned all Fontaine chest locations currently available in the game. Now, it is high time to see what rewards you can hope to get when you open a chest of this or that rarity.
Here is a complete list of all Fontaine chest rewards at the moment of writing this article:
| | | | | |
| --- | --- | --- | --- | --- |
| Chest Type | Primogem | Adventure XP | Mora | Hydro Sigil |
| Common | x0-2 | x10-20 | x257–996 | x1–3 |
| Exquisite | x2-5 | x20-30 | x756–1,367 | x2–4 |
| Precious | x5-10 | x30 | x1433 | x3–10 |
| Luxurious | x10 | x30 | N/A | x4–10 |
| Remarkable | x0-5 | x0 | x0 | x0 |
Judging by the table you see above, Luxurious Chests offer the most valuable loot whether we are talking about Primogems or any other resources. So, make sure to collect all 17 of them if your goal is to get as many Primogems or Hydro Sigils, which definitely is.
However, if your goal is to level up your character all the way up to 90, discovering and opening chests might not be the best idea. Instead, you can Buy Character Leveling from SkyCoach and trust this routine job to our professional players. We offer the best market price and guarantee the result!
Conclusion
Fellow adventure seekers, this marks the end of our Fontaine chest location guide. We hope you had a fun time reading it and found everything you looked for. In this article, we have provided you with detailed Fontaine chest maps and shared the complete list of rewards you can get from them. Make sure to stay with us, as we will keep updating this guide if any changes occur and more chests will be added in the future. May luck be on your side and we will see you in the game!
F.A.Q.
Where are Fontaine chests?
Most of Fontaine chests are waiting for you in difficult places like rooftops, bushes, and so on.
What is Fontaine chest?
Fontaine chests are a sort of hidden treasure you are to find when exploring the region.
How many Fontaine chests are available?
At the moment of writing the article, you can find 201 Fontaine chests in total.
How do I get all Fontaine chests?
We have provided exact locations of all Fontaine chests from Common to Remarkable ones in our article.
How many Fontaine chests are in Genshin Impact?
Currently, you can collect 201 Fontaine chests.
How to find every Fontaine chest location?
In our guide, we have shared each and every Fontaine chest location and attached a detailed map to them.
How many Fontaine chests are in Fontaine?
There are as many as 201 chests within the entire Fontaine region.