Welcome to the mystical and action-packed world of Warcraft Rumble! Whether you are a new adventurer setting foot in Azeroth for the first time or a seasoned player looking to diversify your usual WoW experience, this Warcraft Rumble beginner's guide is your gateway to the epic battles, diverse characters, and strategic gameplay that make this title an enduring favorite in the gaming world.
In this Warcraft Rumble guide, we will delve into the fundamentals of how to play Warcraft Rumble, providing you with essential tips, tricks, and insights to embark on your journey and conquer the challenges that await. From character selection to combat strategies, we have got you covered.
So, grab your sword, staff, or spellbook, and let's venture forth into the realm of Warcraft Rumble, where heroes are born, legends are forged, and epic battles are won! After reading our comprehensive Warcraft Rumble starting guide, you will learn all the basics, including details on the best classes, leaders, troops, and much more.
Before we get to our Warcraft Rumble gaming guide, we would like to pay attention to what role Gold plays in this game. As always, this in-game currency will be used in any transaction whether you wish to acquire new Minis or anything. Therefore, we offer you to Buy Warcraft Rumble Gold Farm service from SkyCoach to get ahead of others right from the start. We offer the lowest market price and guarantee the fastest completion time!
IMPORTANT NOTE: Apart from reading our Warcraft Rumble Beginner's Guide, you can also Buy Warcraft Rumble Boost from SkyCoach. We offer a wide range of products at the lowest market price and with the fastest delivery. You can make your first purchase even CHEAPER if you find a special PROMO CODE (highlighted in green) hidden in this article and get a 20% DISCOUNT.
Check out some of our most popular
Warcraft Rumble Boosting

services below:
How to Start Playing Warcraft Rumble as a Beginner
Mechanically, Warcraft Rumble does look like a simple game. After all, it is a mobile title, which should be straightforward for people of all ages no matter if they know or do not know anything about the WoW universe in general.
If you are completely new to the game, you might wonder how to start Warcraft Rumble, and we are here to answer this question. The entire gameplay will be centered around the following steps:
First Steps.

To make your initial steps onto the battlefield more effective, you will need to strategically manage your

Gold

resources. Utilize them with care to deploy your Minis effectively on the battlefield. As the game progresses, you can accumulate more gold through methods such as

Mining

or discovering

Treasure Chests;

Main Goal.

The ultimate goal is to establish dominance on the battlefield. Seize essential points of interest, such as

Guard Towers

and

Meeting Stones,

to secure a strategic advantage. This not only grants you the ability to position your Minis in proximity to the objective but is also crucial for asserting control over the map and progressing towards triumph;

Mini Counters.

The true essence of the game comes to life when you start formulating tactical scenarios. Each Mini possesses distinct abilities that can significantly impact battles. For instance,

Flying

Troops might outmatch

Melee Troops,

and be weak against

Ranged

ones at the same time. By honing your understanding of your Minis' skills and attributes, you can attain a higher level of success on the battlefield;

Final.

The ultimate objective is to vanquish the enemy Leader. Your Minis will autonomously progress towards the opposing

Leaders,

striving to conquer them. In the meantime, it is your responsibility to bolster your deployed Troops with powerful

Spells,

equipping them with the necessary advantage to secure a triumphant victory.
This is a brief explanation of what every match will resemble. Further in our Warcraft Rumble beginner's guide 2023, we will delve into deeper details to always gain the upper hand.
Warcraft Rumble Game Modes Explained
The game includes two primary game modes: Player Versus Player (PvP) and Player Versus Environment (PvE). These unique modes present players with diverse challenges and experiences, accommodating a wide range of preferences and strategic approaches. BLOG20
Warcraft Rumble PvE Mode
For those who are wondering how to start playing Warcraft Rumble as a beginner, our team highly recommends that you begin your journey by delving into the PvE mode. Immerse yourself in epic campaigns and daunting dungeons, where you have the opportunity to acquire valuable rewards such as Gold and Skulls.
To access faster progression and accumulate additional Skulls for your gameplay, navigate to the Adventure section located within the Map option on the main interface. Focusing on the PvE aspect of the game is the main advice we want to give when it comes to Warcraft Rumble tips for beginners since you will not be able to upgrade your build/deck without resources you do not have much at the very start.
PvE serves as your initial stepping stone in the strategic adventure, paving the way for unlocking further game features and establishing the foundation for your progress.
Warcraft Rumble PvP Mode
Player Versus Player (PvP) is initially inaccessible during the beginner stage, but it unlocks as you accumulate skulls through PvE activities. To gain entry into PVP, you will need a minimum of 12 Skulls. Once you are inside, you will dive into the competitive fervor of challenging real-world players.
Achieving victory in PvP demands carefully crafted strategies to outmaneuver your adversaries. This is where the game's competitive essence truly comes to the forefront, highlighting the critical importance of tactical decision-making. Additionally, PvP also offers the opportunity for friendly matches with in-game friends through the Co-op option.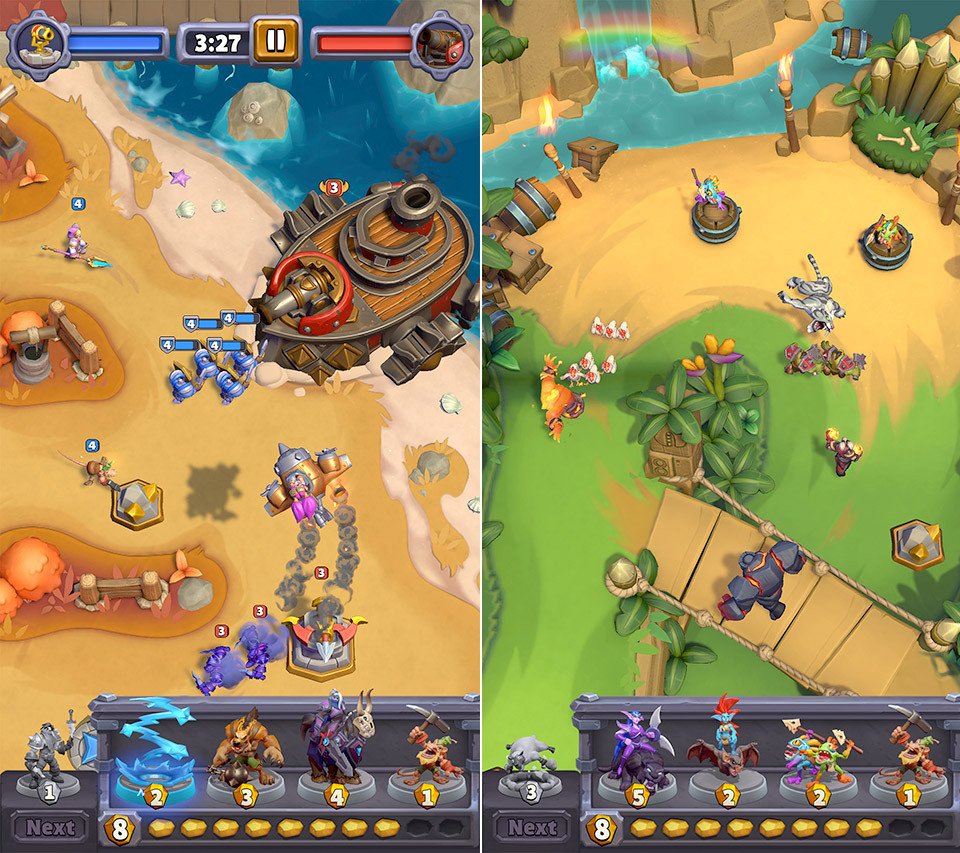 Warcraft Rumble Best Class
In this section of our Warcraft Rumble complete guide, we would like to briefly describe every class you can pick in this game. At the moment of writing this article, you can choose out of five playable classes, such as:
Beast Class

– Boasting formidable leaders such as

Old Murk-Eye

and

Charlga Razorflank,

is dedicated to improving attack and movement speeds, delivering devastating blows to their adversaries;

Alliance Class

– This class is led by figures like

Maiev Shadowsong, Jaina Proudmoore,

and

Tirion Fordring,

powerful magical spells and healing capabilities take center stage to support your characters;

Undead Class

– Focused on necromancy and shadow manipulation, the Undead class offers leaders capable of resurrecting fallen allies and weakening enemies with debilitating curses. An example of this class's leaders is Baron Rivendare and Bloodmage Thalnos;

Horde Class

– This class, spearheaded by leaders like

Sneed

and

Garrosh Hellscream,

excels in stunning enemies and inflicting massive damage, unleashing their fury upon opponents;

Blackrock Class

– Leaders such as

Rend Blackhand

and

General Drakkisath

belong to this class, wielding the ability to disable enemy defenses and unleash a relentless barrage of fiery attacks.
Depending on the game's meta flow, the title for the best leader Warcraft Rumble will be constantly changing while the devs introduce new patches and fixes. However, do not hesitate to pick a class, which suits your own preferences and playstyle.
Warcraft Rumble Best Leader
Continuing our Warcraft Rumble new player guide, those who only begin exploring the game, will inevitably ask who is considered to be the best leader and why. Once again, it all comes down to your own preferences and playstyle. As we can see from the statistics, Baron Rivendare has been the most popular leader since he has been included in 22% of the existing builds. Nonetheless, everything can change with the future buffs and nerfs.
In most cases, we would recommend that you go for the Alliance class since it boasts versatile and balanced leaders, which makes it perfect for beginners:
Tirion Fordring

This leader is perfect for soaking Tower damage since he takes 50% less of Physical damage. What's more important, his Holy Light ability heals all nearby friendly units, allowing you to rush more effectively.

Tirion has three talents, such as:

Divine Shield;

Consecrate;

By the Light.

We highly recommend that you go for Divine Shield, as it significantly increases your tanking capabilities.

Maiev Shadowsong

Being the master of stealth, Maiev can be played anywhere on the map, meaning this unit can act as an element of surprise. On top of that, she remains invisible until she performs an attack or is damaged.

You can make this leader cheaper by playing Unbound troops.

The specter of Maiev's talents is wide and it is difficult to choose the best one:

Enveloping Shadow;

Shadowstep;

Remorseless.

We would recommend that you go for Enveloping Shadow just because Stealth can win you a match in certain situations, especially if your opponent is not ready for this.

Jaina Proudmoore

Similarly to other games in the WoW universe, Jaina deals Frost damage, which slows movement and attack speed. However, the biggest OP here is the fact all your spells' levels are increased by 3 while Jaina is in play.

Jaina boasts the following three talents:

Blink;

Clearcasting;

Flurry.

In most cases, you want to go for Blink since it lets you stay alive longer, meaning your spells will be empowered all this time.
From our point of view, Tirion Fordring is the best Warcraft Rumble leader when playing for the Alliance class. He is simple to use, extremely tanky, and can heal other troops around.
Warcraft Rumble Best Troops
Troop advantage plays a pivotal role in Warcraft Rumble's gameplay, offering you the opportunity to gain an upper hand in troop selection and enhance your strategic prowess to secure victory. There are three primary troop types: Flying, Melee, and Ranged, each with its own set of advantages and drawbacks relative to the others. It's essential to keep the following in mind:
Flying troops excel against Melee units but are vulnerable to Ranged attacks;
Melee troops prove effective against Ranged adversaries but face challenges when dealing with Flying units;
Ranged troops hold the advantage against Flying opponents but find themselves at a disadvantage when confronting Melee forces.
Understanding these dynamics is paramount for gaining an advantage in battles. Keep a keen eye on the troop choices of your opponents and deploy units that hold the upper hand against theirs. This strategic approach will secure the troop advantage for your side, increasing your chances of success.
Below, we have provided a table with the most popular troops for every one of the five playable classes in Warcraft Rumble:
Alliance

– S.A.F.E. Pilot (Ranged);

Beast

– Quilboar (Melee);

Blackrock

– Whelp Eggs (Flying);

Horde

– Frostwolf Shaman (Ranged);

Undead

– Abomination (Melee).
However, the situation may radically change in case the devs decide to nerf these troops and buff others. So, do not concentrate solely on the ones we have just described above. Try various decks/builds/units to see what suits you best.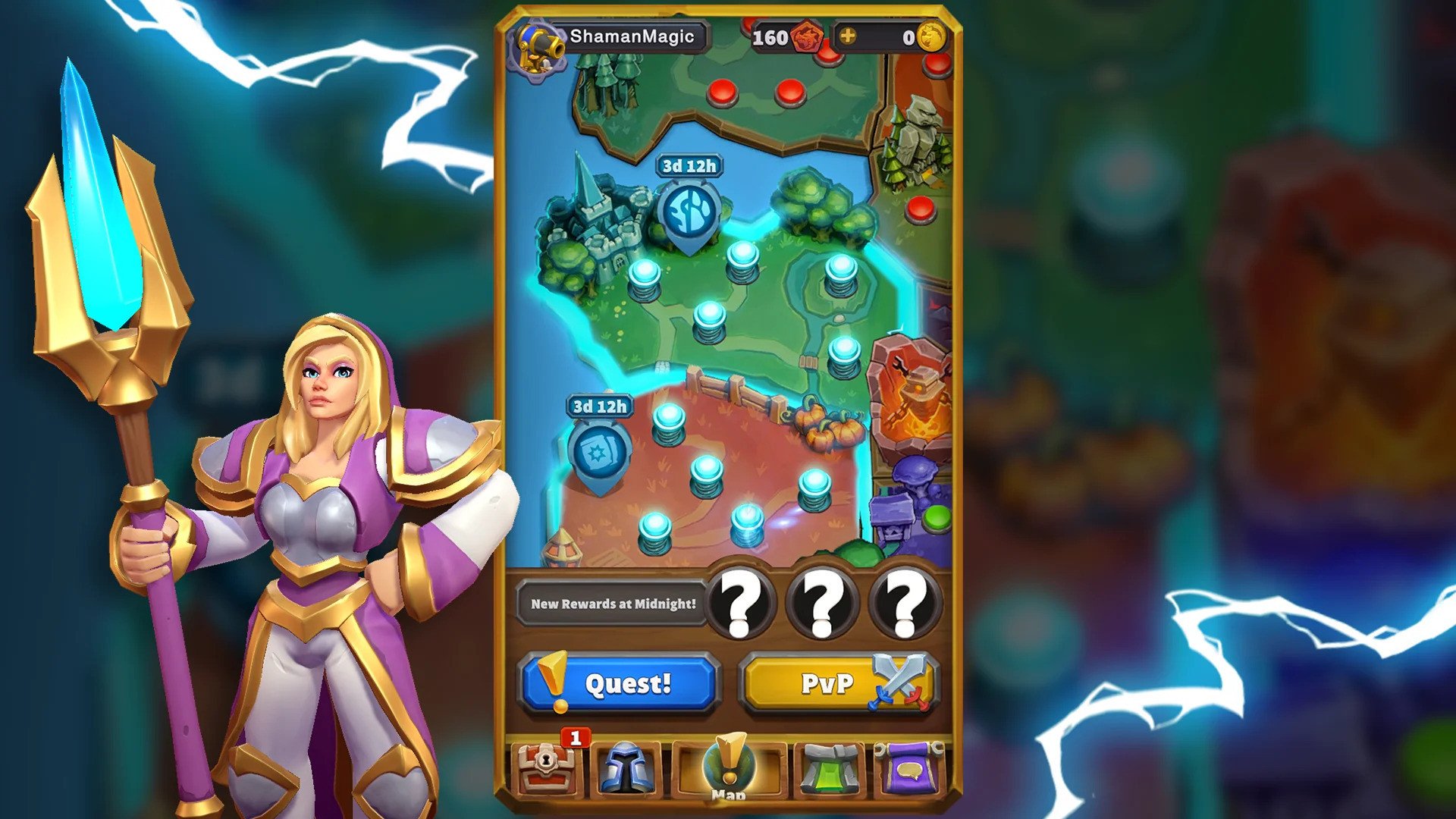 Warcraft Rumble Best Builds
Now that you have learned the basics and got acquainted with Warcraft Rumble tips for new players, it is time to build the deck of your dreams. Creating the optimal deck is equally as important as selecting your leader. The composition of your team significantly shapes your combat effectiveness and strategic tactics during gameplay
Further in this guide, we are going to share the best Warcraft Rumble PvP and PvE builds to ensure you gain the upper hand in any gaming mode you like.
Warcraft Rumble Best PvP Build
One of the best builds you can currently opt for uses Tirion Fordring as the Leader and is perfect for dual-lane push. This is possible for frequent healing, but you need to be careful with playing Tirion himself.
| | | | |
| --- | --- | --- | --- |
| Melee Troops | Ranged Troops | Flying Troops | Spells |
| Tirion Fordring with By the Light | Frostwolf Shaman with Earthwall Totem | Gryphon Rider with Odyn's Fury | Blizzard |
| Footmen with Fortification | Murloc Tidehunters with Morelocs | – | – |
| Core Hounds with Eternal Bond | – | – | – |
| – | – | – | – |
The average Gold cost of this deck is only 3.9, which makes it perfect for fast pushing while also keeping your core units healed.
Warcraft Rumble Best PvE Build
When it comes to the best PvE build, we recommend that you try the following alternative with Rend Blackhand being its Leader. This build focuses on AoE damage and this is exactly what you need in most PvE scenarios.
| | | |
| --- | --- | --- |
| Melee Troops | Ranged Troops | Flying Troops |
| Gnoll Brute with Rabid | Blackrock Pyromancer with Conflagrate | Rend Blackhand with Scale and Steel |
| Warsong Raider with Saboteur | Flamewaker with Heat Stroke | Gryphon Raider with Mighty Throw |
| – | Darkspear Troll with Big Bad Voodoo | – |
| – | – | – |
This build boasts an average Gold cost of 3.6, which is an excellent marker for both rushing and defending yourself.
Warcraft Rumble Tips & Tricks
As our guide draws to its conclusion, we have prepared a list of the three most essential Warcraft Rumble tips and tricks we would like to share with you:
Correct Positioning

Carefully positioning your troops on the battlefield has a profound influence on their overall effectiveness. Place Melee units at the front lines to absorb incoming damage, strategically position Ranged units to deliver attacks from a safe distance, and position Flying units for nimble and tactical maneuverability.

By guaranteeing that each unit occupies the appropriate position, you magnify their individual contributions and elevate their significance during engagements.

Deck Synergy

Constructing a balanced deck that capitalizes on troop synergies is a vital component of strategic expertise. The skill of combining units that enhance each other's strengths while mitigating their weaknesses can yield a potent advantage.

For instance, coupling Melee troops with supporting units that reinforce their defenses can yield a robust front line capable of enduring enemy onslaughts. Explore different combinations to discover powerful synergies that can enhance your performance on the battlefield.

Spell Timing

Flawlessly executing the timing of spell deployment is a skill that can sway the course of a battle. Think about unleashing a spell that enhances your troops' damage just before a crucial face-off.

By employing spells at the right junctures, you augment your troops' abilities during critical encounters. This subtlety can be the decisive factor between triumph and loss in fierce battles. Embrace the finesse of spell timing to exert significant influence on the dynamics of the battlefield.
By employing spells at the right junctures, you augment your troops' abilities during critical encounters. This subtlety can be the decisive factor between triumph and loss in fierce battles. Embrace the finesse of spell timing to exert significant influence on the dynamics of the battlefield.
Conclusion
In conclusion, the world of Warcraft Rumble offers a thrilling and dynamic gaming experience, filled with strategic challenges, diverse troops, and epic battles. As you embark on your journey, remember that success in this realm depends on a combination of factors, from troop selection and positioning to mastering spell timing and synergizing your deck effectively.
With this beginner's guide, you have gained valuable insights into the fundamental aspects of the game, giving you a solid foundation to build upon. Whether you choose to explore the realms of PvE or take on real-world opponents in PvP, the key to victory lies in your strategic prowess.
F.A.Q.
Is Warcraft Rumble easy for beginners?
While the game might seem to be easy from a mechanical point of view, it requires strategic thinking and a desire to try different build variations to always adapt to the meta flow.
How do beginners get better at Warcraft Rumble?
The most straightforward advice here is to keep playing on a regular basis while also trying different classes, leaders, and builds in general.
Is Warcraft Rumble hard for new players?
Similarly to other games of the same genre, Warcraft Rumble is relatively difficult for completely new players since you have a wide choice of playable minis.
What is the best way to start Warcraft Rumble?
As a new player, you want to delve into PvE content first. This will let you gain basic resources and prepare for matches against real players in the future.
Is Warcraft Rumble beginner friendly?
Since you need to get acquainted with every mini you are playing yourself or against, Warcraft Rumble is not really a beginner friendly game.
How do I get better at Warcraft Rumble?
Consistent practice;
Collecting new minis;
Upgrading your favorite deck.
Is Warcraft Rumble hard to play?
If you have never played a similar game or have no idea what WoW universe is, the game will be hard to master at first.
What should I do as a beginner in Warcraft Rumble?
The first thing you want to pay attention to is PvE content, as it lets you explore the basic mechanics of the game and gather resources to build your first deck.
Is Warcraft Rumble free to play?
Since Warcraft Rumble is a free to play game, the only resource you are going to spend on it is your time.
Is Warcraft Rumble good for new players?
If you enjoy the WoW theme and wish to explore its universe from a different angle once more, this game is perfect for you.