Are you excited to try out freshly released Warcraft Rumble? At the very start of your path, you will undoubtedly come to a point and ask yourself how to level up fast in Warcraft Rumble since everyone wishes to get ahead of others when the game has been launched recently. This is exactly what this article is fully devoted to.
In our Warcraft Rumble leveling guide, we will delve into strategies, tips, and techniques that will help you power-level your way through the game, ensuring that you reach the level cap in no time, so you can join the ranks of legendary heroes and champions. So, don your armor, sharpen your blades, and get ready to embark on an epic journey of leveling up in the Warcraft Rumble universe.
Apart from sharing the most essential tips, we will also provide you with details on how Warcraft Rumble XP farming works. This will let you make an informed decision on what methods you want to choose for yourself to ensure you reach the highest level. Without further ado, let's jump right into the topic!
IMPORTANT NOTE: Apart from learning everything about Warcraft Rumble Leveling, you can also Buy Warcraft Rumble Boost from SkyCoach. We offer a wide range of products at the lowest market price and with the fastest delivery. You can make your first purchase even CHEAPER if you find a special PROMO CODE (highlighted in green) hidden in this article and get a 20% DISCOUNT.
Check out some of our most popular
Warcraft Rumble Boosting

services below:
Warcraft Rumble Leveling System Explained
Starting from the very basics of Warcraft Rumble leveling system, the latter functions much like a savings account, where you steadily accrue and store your EXP points by participating in various in-game events, including quest completion and victorious PvP matches.
It is important to understand that the game features two distinct leveling mechanisms:
Profile Level

– Elevating your profile or account level results in an increased accumulation of both gold and experience points across all in-game activities;

Unit Level

– Augmenting the levels of your units bolsters their offensive and defensive attributes, granting them a notable advantage in combat scenarios.
Keeping these two mechanisms in mind, we also have three main resources currently available in the game, such as Skulls, XP, and Gold. When you begin your journey, you will always have a lack of Gold since its sources are limited. On top of that, you will need to farm for Skulls to unlock new in-game opportunities (e.g. participating in PvP matches).
Below, you can see a table, explaining the basics of each one of these resources and what are they used for:
Resource

How to Get

Used For

XP
Missions, quests, and dungeons
Increases your profile level and lets you enhance your troops
Skulls
Campaign missions
Allows you to unlock new game modes like

PvP,

quests, and so on
Gold
Acquire together with XP and comes as the second most important reward for the majority of activities
Buying new units,

DP Tomes,

and interact with the

GRID

system
To make sure you get tons of every of the mentioned-above resources, you need to know the secrets of Warcraft Rumble level up fast strategies we are going to share further in this guide. Keep reading to learn more! BLOG20
Fastest Ways to Level in Warcraft Rumble
While the devs have implemented plenty of fast leveling Warcraft Rumble methods you can choose from, some of them turn out to be more efficient than others. This and the following sections of the article, are devoted to each and every method you can currently use in the game to progress in terms of XP.
Here is a list of the fastest ways to level up in Warcraft Rumble:
Progressing through Campaign;

XP Tomes;

PvP Matches;

Completing Dungeons;

GRID System;

In-Game Store.
However, it is already clear that completing quests has been and remains the fastest way to level in Warcraft Rumble since its Alpha. Therefore, we are not going to pay too much attention to describing this way of leveling. You just need to know that these activities are ongoing and can be performed repeatedly to enhance your units as needed. Once you have achieved a significant level boost, you can confidently progress further into the campaign.
Though quests offer substantial XP rewards, especially when combined with XP Tomes, there will come a point when quests become the primary and dependable source of XP for your units and leaders until they reach a level where they can tackle more challenging missions. When raids become accessible, they will likely become a valuable source of XP as well.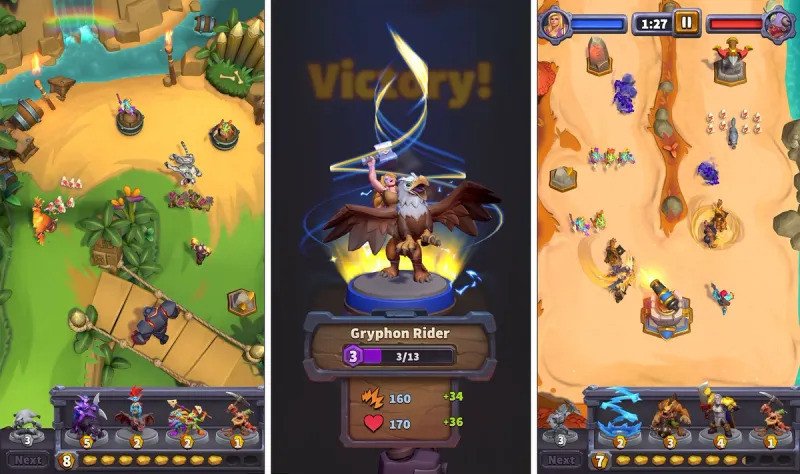 Progressing through Campaign
The most straightforward approach when we are talking about the best ways for fast leveling in Warcraft Rumble is to progress through the campaign missions. However, pushing too far too quickly may result in reaching an impasse. Should that occur, consider revisiting earlier quests or replaying old campaign missions to bolster your unit levels.
Experiment with unit substitutions if you believe it might enhance your strategy. The campaign missions themselves can be completed relatively swiftly and can significantly expedite the leveling of your leaders and units, surpassing your expectations.
XP Tomes
Managing your gold can be a bit of a delicate balance in the early stages. Gold can be quite scarce initially, yet you have the option to invest some of it in the epic XP Tomes available in the store. These tomes cost 500 Gold each but provide a substantial boost in XP for your units and leaders. However, it is essential to weigh this decision against the potential need for Gold to acquire additional units.
If you possess a formidable and preferred army, sparing a bit of gold for an XP tome or two can be a worthwhile investment, particularly after unlocking Conquests, a feature accessible once you have earned 14 Skulls. Conquests allow you to replay past missions and receive gold as a reward, provided you use a different leader. Simultaneously, you will gain the ability to select a second leader, expanding your strategic options.
PvP Matches
Participating in PvP battles provides an additional avenue for accumulating XP. Triumphing in a PvP encounter awards you with 18 XP, along with exclusive rewards to boost your rank. If you are a strong player, fighting other players can be an answer to Warcraft Rumble how to level up fast question.
Although this type of skirmish tends to be more demanding compared to PvE encounters, they offer a valuable opportunity for refining your tactics and skill set. If you find PvP too challenging at any point, you can easily shift back to questing and campaign missions for a change of pace and continued progression.
Completing Dungeons
Continuing our Warcraft Rumble fast leveling guide, it is high time to add a few words about dungeon runs. This mode becomes accessible as you advance through the early phases of the game. It operates as a survival challenge, requiring your army to conquer three different maps consecutively. As you make progress, these modes will become progressively more challenging, offering increased rewards in proportion to your accomplishments.
Currently, you can take part in the following Warcraft Rumble dungeons:
Dire Maul;

Deadmines;

Blackfathom Deeps.
In this mode, each map you successfully complete rewards you with Valor. This Valor can be employed to enhance your army's leader by boosting one of their chosen base attributes. These attributes demand three upgrades to advance to the next level, and the difficulty of upgrading them intensifies as you move further along in the game.
GRID System
When we are talking about Warcraft Rumble fast EXP, GRID presents a distinctive method for obtaining rewards. Participants have the option to purchase items from the GRID, resulting in changes to other items within the same row. If desired, you can also relocate an item to a different slot for a minor fee of 10 Gold, ensuring its immunity from alterations. As you advance in profile level, the GRID system becomes increasingly lucrative, as your rewards scale in tandem with your progression.
In-Game Store
Turning to in-game purchases is the final Warcraft Rumble level up quickly advice we can give to you. Within the title, various options exist for making acquisitions, extending from items available in the in-game store to exclusive promotions and value packs, all of which involve real money. Yet, it is important to note that although these purchases can expedite your progress, the choice to advance without resorting to them is entirely feasible. Playing and leveling up organically remains a valid and rewarding path to success.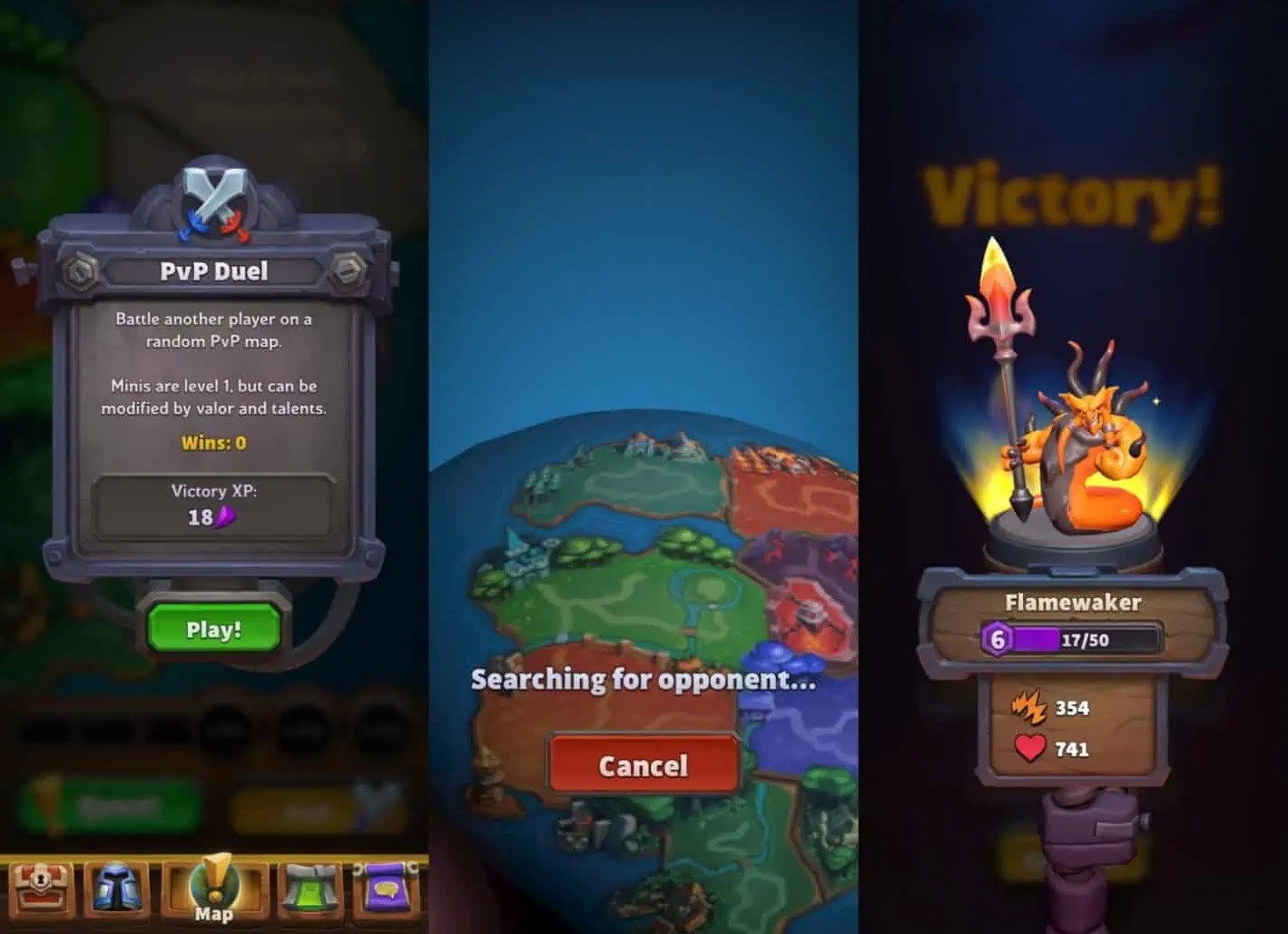 Warcraft Rumble Leveling Tips & Tricks
As our guide draws to its end, we would like to share the top 5 essential Warcraft Rumble leveling tips and tricks to ensure your progression to the cap is always efficient and smooth. For your convenience, we have put this information in the table format you can see below:
Sustainable Progression

Consistently engaging in gameplay serves as the most straightforward means of accumulating experience points and advancing through the ranks in Warcraft Rumble. By earning unit XP, you will also see your account

XP

grow concurrently.

Optimal Time Management

To expedite your leveling process, efficient time allocation is essential. It is vital to prioritize activities in Warcraft Rumble that align with your gameplay style and yield the best results.

Well-Rounded Progress

Maintaining a balanced approach to leveling your troops is crucial. Quests at higher levels, which offer more substantial rewards, are contingent on the average level of your troops, making it essential to level them uniformly.

Strategic XP Allocation

When quests provide additional

XP

as rewards, you have the discretion to designate it to a specific unit. Choose judiciously to enhance the overall potency of your troop lineup.

Daily Quest Fulfillment

Each day presents a limited opportunity with only three available quests. Consistently logging in to complete these quests is paramount for maximizing your

XP gains.
Conclusion
To sum it up, the journey through the Warcraft Rumble is a thrilling adventure, and your character's level is the key to unlocking the full potential of that experience. Our guide has provided you with a comprehensive roadmap to expedite your progress and ascend to new heights in the game.
From mastering the art of consistent gameplay and strategic XP allocation to unlocking the potential of the GRID system and conquering the dungeon mode, this article has armed you with the knowledge to make the most of your Warcraft Rumble journey.
F.A.Q.
What is the fastest way to level up in Warcraft Rumble?
With a wide range of possible leveling methods, Questing remains the most efficient one. The reason for this is that completing quests is easier than fighting other players or finishing challenging dungeons.
How do you level up fast in Warcraft Rumble?
Competing quests is the best source of XP in Warcraft Rumble, as they are easy to do and provide you with a generous reward.
What is the max level for minis in Warcraft Rumble?
The current level cap for Minis is set at level 20.