What is this article about?
In this article, we will focus on Final Fantasy XIV. And while there are many beautiful things that can be said about FFXIV, we will focus on the economy part. It is shocking how many things can be done in the game if you have enough money from hiring real people to create your dream home, to buying yourself a literal Timon (from the Timon and Pumbaa). Why? Because you can. You are deeply mistaken if you think you know everything that can be bought with Gil because the game has endless content.
While FFXIV might need a guide on buying it, we are not joking (it is somehow hard to spend your real money to start playing). It is vibrant and deep in the best possible way.
But to fully enjoy it, you will need a lot of in-game cash to afford everything you want. With that in mind, we are glad to welcome you to the place where you can learn about all the ways of making cash in FFXIV.
But it is only possible to appreciate the game if you know its story genuinely. Do not believe us? Have a seat.
The story behind Final Fantasy
No game stands close to Final Fantasy. And we are not even speaking about the gameplay, lore (some of the best in the industry), or the title's life cycle. We are talking about the legacy. It is hard to imagine a world without the FF games. They cemented Japan on the RPG market, creating a whole new genre of JRPG. And the story behind the creation of the entire series needs its own Netflix show.
In the 80s, there were many iconic NES (Nintendo Entertainment System) games like Zelda, Mario, and Dragon Quest; while you might not be familiar with the last title, it is THE game that made RPG big in Japan.
Square Enix, the publisher of Dragon Quest, was making games in more than just one genre. They were working on racing simulators and pseudo-3D games, while also being known for the RPG, but the games did not make enough profit to let the company grow.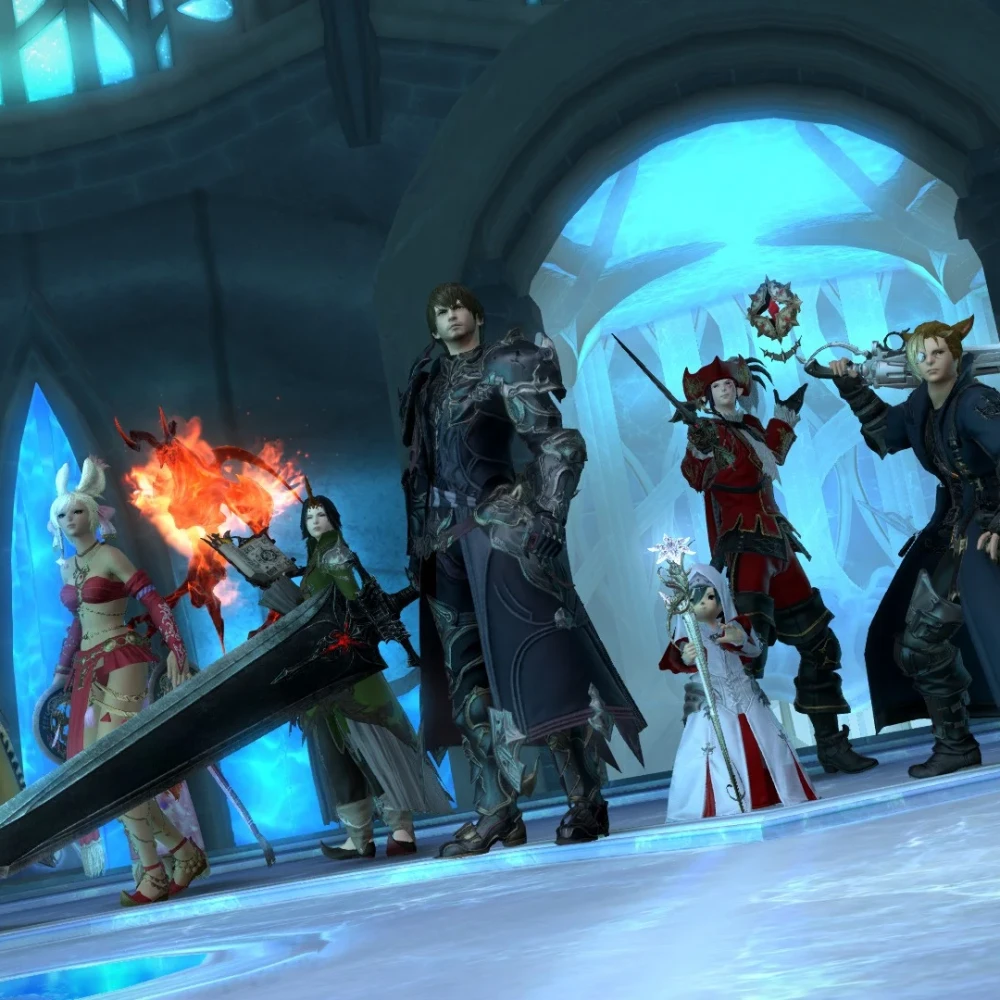 The market was stacked with different projects then, and it was impossible to compete with the mastodonts controlling the game industry. It led to Square Enix being on the edge of bankruptcy. The only thing they had left to do was to give it a last shot at creating something that would be financially profitable. Or, as you may say, they had to create their Final project.
The creator, Hironobu Sakaguchi, said that he felt like Final Fantasy was his last chance to leave a legacy behind because if it had done poorly, he would return to the university and leave the game industry.
Now we are at a crossroads in a story where everyone chooses the path to move forward. There are two versions of the same story, and both are based on facts. While they might be two sides to the same coin, one is very lyrical and focuses more on the creator's feelings, while the other is practical and less heartwarming.
Version One. The Dream That Came True
According to Hironobu, the 'Final' in the game's name represents giving it all for the last chance in the game industry. As we mentioned, the company had no profitable games, so it was a do-or-die situation. And 'Fantasy' is an idea of time stopping because you can not go any further. It is impossible to say it in a better way than the man did himself.
"They say that technologically, it is good to keep going, and each time, we give it our all and expend our skills and energy until we can go no further; this is what I consider to be the 'final fantasy."
The Fantasy was to create a game that would leave a legacy. And it is magnificent that something that was meant to be the final piece ended up being a starting block. It is impossible to count how many people grew up with the Final Fantasy series. And it is uplifting to see how depression and stress can be cured by art, and by creating something you have always wanted to see.
Romantic, is not it? But there is another version of the exact origin.
Version Two. Pure Efficiency
The word 'Final' was meant to be 'Fighting,' reasonably enough, the team decided to change the name to avoid trouble with the tabletop game 'Fighting Fantasy.' While 'Fantasy' was generated from the setting of the upcoming game and the idea of having a double 'F' in the title.
Team effort pulled out SE from the crisis, and the rest is history. It would be insanely fun to play Fighting Fantasy, but now we are stuck with the 'Final' in the title forever. And we can not deny that we are thrilled that it turned out to be as it is.
Final Fantasy XIV Economics Explained
We are glad you skipped the last part. It was nothing interesting, really.
It is impressive that the game published in 2010, is still attracting new players, even with all the difficulties of purchasing it. And remember the minimum of a Bachelor's degree in economics to fully understand the process of earning Gil.
The good part is that if you are tired of your job in real life, you are likely to rest while working in the game. Okay, we are over the sarcasm. The game is truly remarkable. But it has its own level of entrance, and sometimes it takes a lot of work to find yourself in the magical world of Final Fantasy.
What is Gil?
Gil is the main currency of the fictional lands of Eorzea, and is sometimes referred to as gold. It is just the name under which the money goes in the game; basically, it is like dollars in the US.
While it may look simple initially, Gil does not only work in an NPC-to-player way. It circulates between players as well. It leads to the creation of real-world-like economics. To be a member of this growing and evolving scheme, you have to sell and buy goods on the market. Reselling is a great option as well, just like in real life.
For what do you need Gil?
You can buy better weapons, customize your character, get a mount showing you are an upper-class member, invest in the housing segment, etc. While it mostly sounds unrequired and as a show-off, it's not true.
You must upgrade your weaponry constantly to beat giant bosses or clear the dungeons. Sometimes you find yourself without the material to craft the prerequisites, etc. Later in the article, we will list some of the most expensive things available in the game.
So, are you ready for the answer to the main question? It is finally time to learn how to make Gil in FFXIV.
How to earn Gil?
Quests
You will get money by completing quests, so if you like the plot or are just fond o taking all of the sidequests available, you are free to do so. You will be rewarded with the cash you are looking for earlier in the game. It is not the fastest way of getting things done, but it is the most casual and easy. Since you are not grinding to get resources, you are playing something you like the way it should be.
Duty Roulette
Duty Roulette allows players to participate in randomized duties. Such duties are constantly changing, so you will often find something new to do. While you are already getting cash and being rewarded with the XP bonus, you can get it up a notch.
If you want to get the maximum value out of Duty Roulette, you have to be an 'adventurer in need.' Since the system is based on creating groups of people to do the tasks, the shortage classes get bonuses. For example, if you are playing a tank or a healer, you will likely get the bonus every time.
There is another bonus to it. Doing Duty Roulettes will lead to maxing out your Tomestones of Poetics. You get points for completing older content in the game or as a daily DR bonus when playing as jobs below the cap.
You can get a hold of 2,000 Tomestones of Poetics at a time if you are reading about it for the first time; it is because most players completely forget about them since they are not used for anything in the endgame. But you can convert them into the items at capitals, Revenant's Toll and Idyllshire.
The only important one is Idyllshire, where you can find the NPC Hismena. She is located in Rowena's Central for Cultural Promotion, where she sells Goblinol and Goblacquer for 10 Poetics apiece. These go on the market for 64 Gil; if you do some math, you will get 12,800 Gil for 2,000 Tomestones of Poetics. And that is a lot of money for something you do on accident.
Find yourself a job
Sorry for sounding like toxic parents, but getting a job is a sturdy way of making money in FFXIV. You will make a living by gathering materials because crafters often do not like to look for something and are ready to buy it from you.
If you are chasing the goal of becoming Gill Bates in the FF setting, look into these options: Alchemist, Armorer, and Goldsmith. These professions are the best for making constant money by selling items you produce.
Be smart with the Market Board
The Market Board is an in-game marketplace interface where you can buy and sell items. Also, you can search for specific things needed to craft something. While seeing a lot of options might be overwhelming, be careful with the purchases and apply the level filter, so you do not buy something that can not be used immediately. If you are looking for exotic and special offers, apply the 'Partial Match' option. It would save your nerves if you mistyped or did not remember the items' full names.
To start selling on the market, you need to reach level 17 and complete the "Scions of the Seventh Dawn." Finishing the quest will let you hire the Retainer, an NPC enabling you to sell items on the market. Approaching your new friend will open an interface that will let you put things on sale. Just don't forget to compare prices first. If you want to sell something fast – make it cheaper, or if you are playing a long game – check twice to know the best price you can put.
As in real-life, transactions will be with taxes. Did you think you were in some kind of a fantasy world?
Sell your stuff on the Market Board
If you have a lot of food or consumables, feel free to put them on sale. Just think about what you will need to play the game successfully. Because if you need it, others will need it as well.
Investing your time in gathering hard-to-get items will result in better sales since people like to save time.
Consider farming large quantities of basic materials since they are significant for selling. They are always needed and relatively cheap, so lowering your price will result in faster sales.
Don't stack the numbers
Players do not need to buy twelve pairs of the same boots. It may seem too obvious, but it gets more complicated with knowing the recipes. If you know that the recipe requires three Grade Five Strength Dissolvenst, don't sell 5. Just sell more in smaller quantities.
Selling small stacks of things will lead to making more in the long-term. Usually, people do not need almost 10,000 fire crystals at once. Especially with the price at nearly half a million Gil for that amount. But buying 1,000 at once seems reasonable, even if the price is 2 or 3 Gil higher for a single unit. That means you will make more by several payments than by one huge sale.
Sometimes you will get across odd prices on the market. Maybe someone is trying to sell something fast, or it is just a niche item that will make a profit only in good hands. Consider buying it cheap and selling it for more. Nice! You did your first flip.
These options are the main ways of making Gil in FFXIV by selling on the Market Board — but flipping and reselling are not always the best options. Plus, having more sources of profit is a smart move. Do not put all eggs in one basket because there is no best way to make Gil. FFXIV offers many ways of getting gold, but combining them is what makes you rich.
Retainer Ventures
Send your sidekicks to do the job for you. The good thing is the more ventures retainers complete, the bigger their level will be. A higher level equals more rewards. More rewards equal more XP and Gil. Remember to acquire a Venture currency to start a Retainer Venture. It is less grindy than other FFXIV Gil farming options and less profitable.
Treasure Maps and Grand Company Hunts
You can get treasure maps while gathering or simply buy them on the market. But remember that you can keep one map at a time. Before you go on an adventure of your lifetime, do not forget that every map and treasure hunt is a gamble cause you never know what you will get. Another way of profiting from them is selling them on the market. It is more reliable but less rewarding. Let others do the work; just don't be jealous after they get something crazy.
If you are not into maps and have half a brain (sorry, it is a song reference), you might want to try the Grand Company Hunts instead. Finishing them will grant you high Gil rewards and Seals that can be traded for other valuable items. Note that you must reach the Second Lieutenant rank to unlock the hunts.
Doman Enclave Reconstruction
To start things off, you must finish the Main quest, 'Elation and Trepidation,' followed by the side quests 'A Thousand and One Farewells' and 'Short Arms of the Law' in Revenant's Toll.
Your next step is to enter the Doman Enclave from the Mercantile Docks in southwest Yanxia. Find the quest called 'Precious Reclamation' to start the Doman Enclave Reconstruction.
Now, all you have to do is to watch some cutscenes and sell your stuff. The main issue, and the future profit, is that the more money you spend, the more the Doman Enclave levels up. With higher levels, you will receive higher income every week. It will give you around 40,000 Gil per week at the maximum level. Making it a better option than just selling it to a vendor.
Think about making Doman Enclave the 'Favoured destination.' While it may not be worth it on its own, it is a good option if you tend to visit Borzjan's Southern Front and Zadnor. Since the teleportation fee will be cut in half.
Just buy it
We have been dancing around this topic for quite some time now, but you can simply buy FF XIV GIL for us! Just place your order and our manager will get in contact with you straight away. While you are waiting, check that we have a money refund guarantee, fast delivery, and complete safety.
Save time. You are already working in real life; why would you want to do it in-game?
Have you ever watched a show on YouTube where rappers and other bloggers try the most expensive things they can find? Welcome to the new segment on our blog, where we tell you about the craziest things we could find for your in-game cash.
The most expensive in-game items FFXIV edition
Gilded Mikoshi




50 000 000 GIL


Are you ready to spend 50mil Gil on a mount? We hope you are because the

Gilded Mikoshi

will make your wallets empty. On the bright side, you will spread gold everywhere you go.

Fallen Angel Wings




45 000 000 GIL


One of the best-looking glamorous in the game. Although, it can be bought cheaper with vouchers. It does not take any value from it. Still rare, gothic, and goes well with everything.

Copycat Bulb




10 000 000 GIL


A cute-looking (and somewhat scary) plantlike minion, they will follow you around in your journey for only 10mil Gil. What a bargain.

Cassie Earring & Blitz Ring




5 000 000 GIL


Obtained from RNG drops with unique elemental buffs, what else do you want from something as expensive as them?

Housing




1 000 000 000 000 000 000 GIL


Okay, the price is a meme. But if you add the time you need to spend just clicking a single sign + the Gil price, you will have something close to that. And the most expensive thing about the housing is not even the house. It is the price you pay to keep your sanity.
The only reasonable thing that is left to say is that you can buy Gil directly from our services. And you will always have enough money no matter what you plan to buy. Thanks for reading our FFXIV Gil guide. We can not wait to see you on your Gilded Mikoshi! Make it rain, reader.
F.A.Q.
What is the fastest way to make money in Final Fantasy 14?
The quickest way of making money in FFXIV is by selling items or resources. Flipping is also a reliable option, especially if you see rare items being sold for cheap. You can resell them for some extra cash later. Every other option will require you to spend time on farming/grinding.
Although technically it is against the rules, you can buy Gil straight from the services. For example, you can use Skycoach. We guarantee the safety of your account and fast delivery.
Can you make money playing FFXIV?
Trading real money for in-game items is prohibited by the developers. But you can find a job as someone who helps with in-game transactions or completes hard-to-do stuff. Just check everything twice so you do not waste your time.
How do you farm Gil?
There are many options. You can start by playing as much as possible and completing every quest. Do not forget about your Duty Roulette. Finding a job will let you access new ways of making money. Treasure maps, being smart on the market, etc. There are a lot of options. Just find the one that suits you the most.
What can I sell to make money in FFXIV?
You can sell everything from consumables, and other stuff players need to play the game successfully. Rare items, large quantities of research, and anything that takes a lot of time to get, will have great demand.