Treating gold as the main currency has become a common thing for us. In fact, most modern players hope to see the gold feature added to their favorite titles, as the latter will serve for in-game progression. This is especially true when it comes to MMO projects like Palia. Despite presenting itself as a relaxing and cozy title, revolutionizing the entire genre, it still brings a competitive part of the gameplay.
Instead of enjoying the process and trying out every opportunity the devs have prepared for players, a lot of them are trying hard to get gold fast in Palia. Why is that so? Why cannot people just relax and have fun in the game? The answer is simple, if you know the best methods for earning fast gold in Palia, you will get your hands on advanced recipes, crafting plans, and equipment much quicker than anyone else out there.
As you can see, the reason for people being so crazy about Palia gold farming lies at the very top as usual. The desire to become the best, especially when playing an utterly fresh project, always prevails. Even if you are playing in a cozy and relaxing title where you are supposed to befriend each other, build your own house, and do gardening, the competitive part always remains unchanged.
So, if you are also wondering how to get gold fast in Palia, you have come to the right place. In this article, we will enlist all the sources and methods you can use to become richer in the game to try all the benefits the devs have prepared for you quicker than other players.
Before we begin, we would like to mention that there is one efficient, fast, and secure way of getting as much gold as you wish. By using our service, you can Buy Palia Gold and get it delivered in the shortest time possible. We offer fair prices and guarantee safety!
IMPORTANT NOTE: At SkyCoach, you can also Buy Palia Boost at the lowest prices and with the fastest delivery. You can make your first purchase even CHEAPER if you find our special PROMO CODE (highlighted in green) hidden in this article and get a 20% DISCOUNT.
Check out some of our most popular
Palia Boosting services

below:
The Best Way to Farm Gold Palia - Celebration Cake
Currently, the most efficient method of earning a ton of gold in Palia is to cook Celebration Cake. To get access to Celebration Cake's recipe, you are to reach level 9 in Cooking and purchase it from Reth. However, Celebration Cake is extremely difficult to cook, as it requires the following ingredients to be crafted:
x1 Blueberry;

x4 Butter;

x3 Egg;

x3 Flour;

x4 Sweet Leaf;

x3 Blueberry Jam / x3 Apple Jam;

x1 Milk
To ensure you get the maximum amount of Gold, you need to have a party of friends who will help you craft some of these ingredients. Otherwise, you will spend too much time doing this solely on your own. In the long run, you need to have all 24 Inventory Cells filled with Celebration Cakes. Also, keep in mind that x30 Celebration Cake equals 1 stack. If you fill the entire inventory with those cakes, you can make up to 297k Gold. The only downside of this method is that you cannot do this all by yourself and have to group up with other players/friends.
Hunting Sernuks & Chapaas
Right after the Closed Beta saw the world, Hunting quickly became the most profitable source of gold in Palia. There were 2 reasons for Hunting to be the best way to get gold in Palia:
Sernuk Antlers,

which drop from

Sernuks

you can find across fields and forests;

Spotted Chapaa Tails,

which drop from

Chapaas

you can find around the same places.
Yes, these items had a too-high selling cost and players quickly realized how profitable it was to sell them. At the same time, the two most Sernuk and Chapaa inhabited locations were found:
Whispering Banks;

Fisherman's Lagoon.
By rotating between these two locations, players could farm dozens of Sernuks and Chapaas. If you followed the route and did everything correctly, you could earn ~13k gold per hour. This number was absolutely insane and all players literally rushed to farm these locations, hoping to kill as many Sernuks and Chapaas. BLOG20
For better or worse, the devs have reacted quickly and decreased the amount of gold you would get for selling Sernuk Antlers and Spotted Chapaa Tails. This has definitely got Hunting nerfed and made it a less profitable and popular choice for Palia gold farm.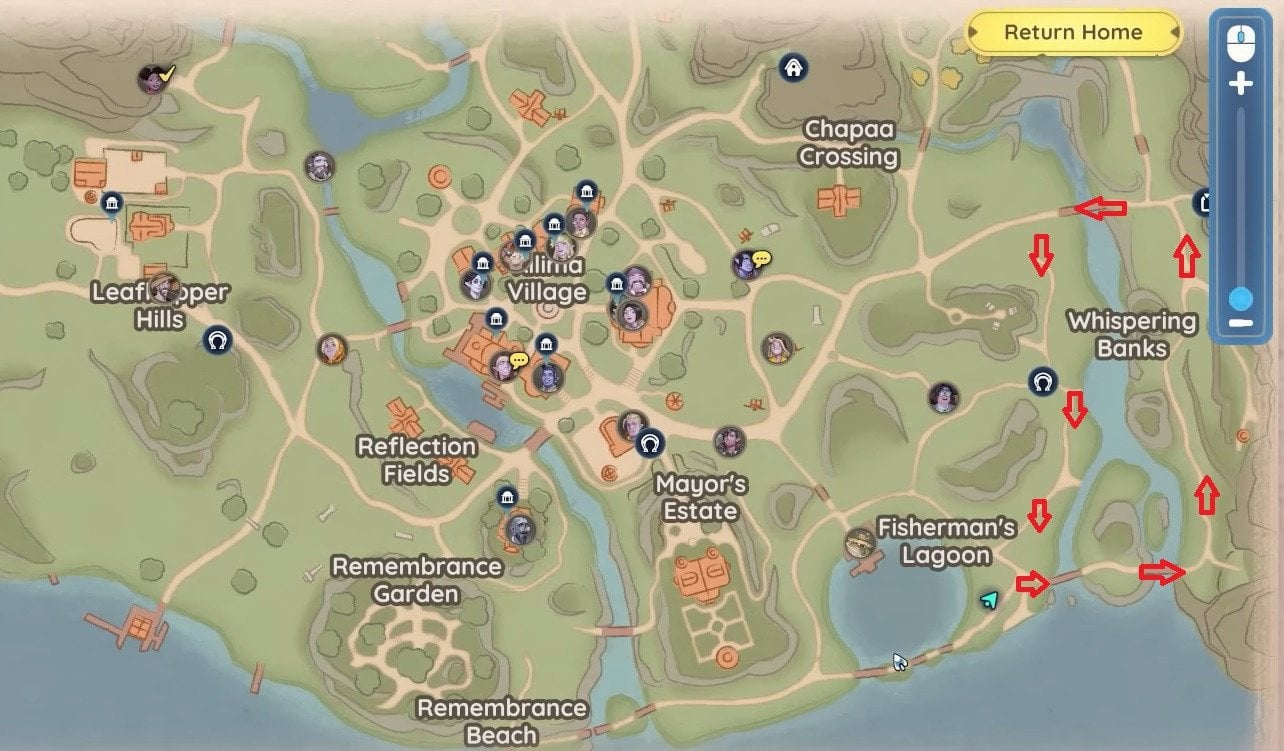 Despite being nerfed, Hunting still remains one of the decent gold-making alternatives. Moreover, you can use the same route for getting as many Sernuk Antlers and Spotted Chapaa Tails as possible. You can see it in the screenshot above.
Another tip before you rush to hunt down poor Sernuks and Chapaas – do not bother upgrading your bow. It is more than enough to just use Standard Bow and Standard Arrows to one-shot your prey. Another reason why you want to keep Standard Bow is that it does not lose durability and can be used all the time.
However, we do not recommend using Makeshift Bow, which you have right from the start, as you will need to land two shots to get a deer killed. Instead, gather the following resources to craft Standard Bow:
Standard Bow Recipe

bought from Hassian's Hunting Guild Store;

x1 Makeshift Bow;

x20 Sapwood Plank;

x5 Copper Bar.
You also want to craft Standard Arrows:
Standard Arrow Recipe

bought from Hassian's Hunting Guild Store;

x5 Sapwood;

x1 Copper Bar.
By combining these crafting materials, you can create x20 Standard Arrows at a time.
Gathering Oysters & Shells
Soon after Hunting got nerfed, players discovered another method to farm gold fast in Palia. This time, it revolves around roaming around certain areas while picking up such loot as:
Oysters;

Shells;

Corals;

Dragon's Beard Peat;

Other sea stuff.
Another advantage of this method is that you get a chance of encountering rare bugs, crabs, and so on. In fact, it happens much more often than you might think because you cover quite a large area while using this gold farming way.
All the sea stuff we have mentioned above does not cost too much on its own. However, you can open up Oysters. While doing this, you get a chance of obtaining Pearls, which cost quite a lot. On top of that, you can obtain Pearls of different colors, for example, Green ones.
While this might be considered the fastest way to make gold in Palia right now, the RNG element spoils everything. You see, the amount of gold you are going to get after one hour of farming strictly depends on how many Pearls you manage to open. Luckily, the chance of getting them is not that low. Looking at the statistics, you can manage to make ~6.5k gold per hour if you decide to use this method.
If you got interested in gathering Oysters and Shells, let us share the route you want to follow to make this way of earning gold as efficient as possible.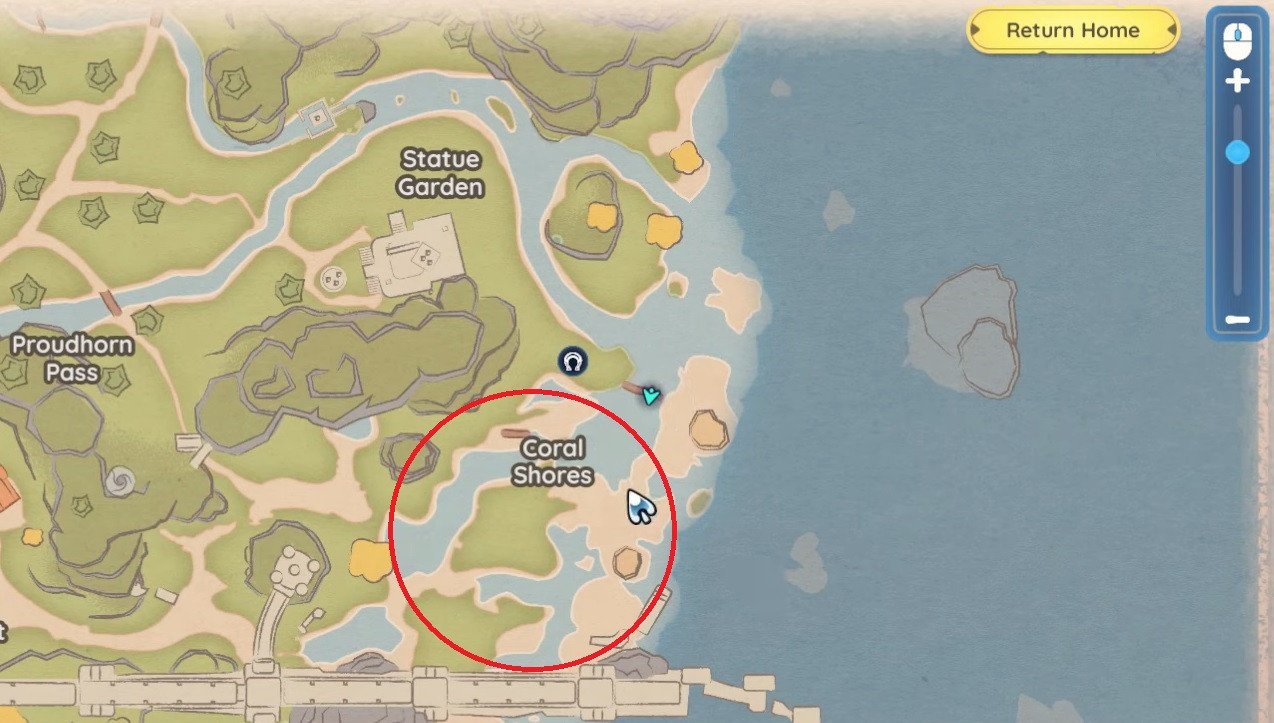 As you can see from the screenshot, your farming route starts in Coral Shores. To get there, you need to go to the Bahari Bay location.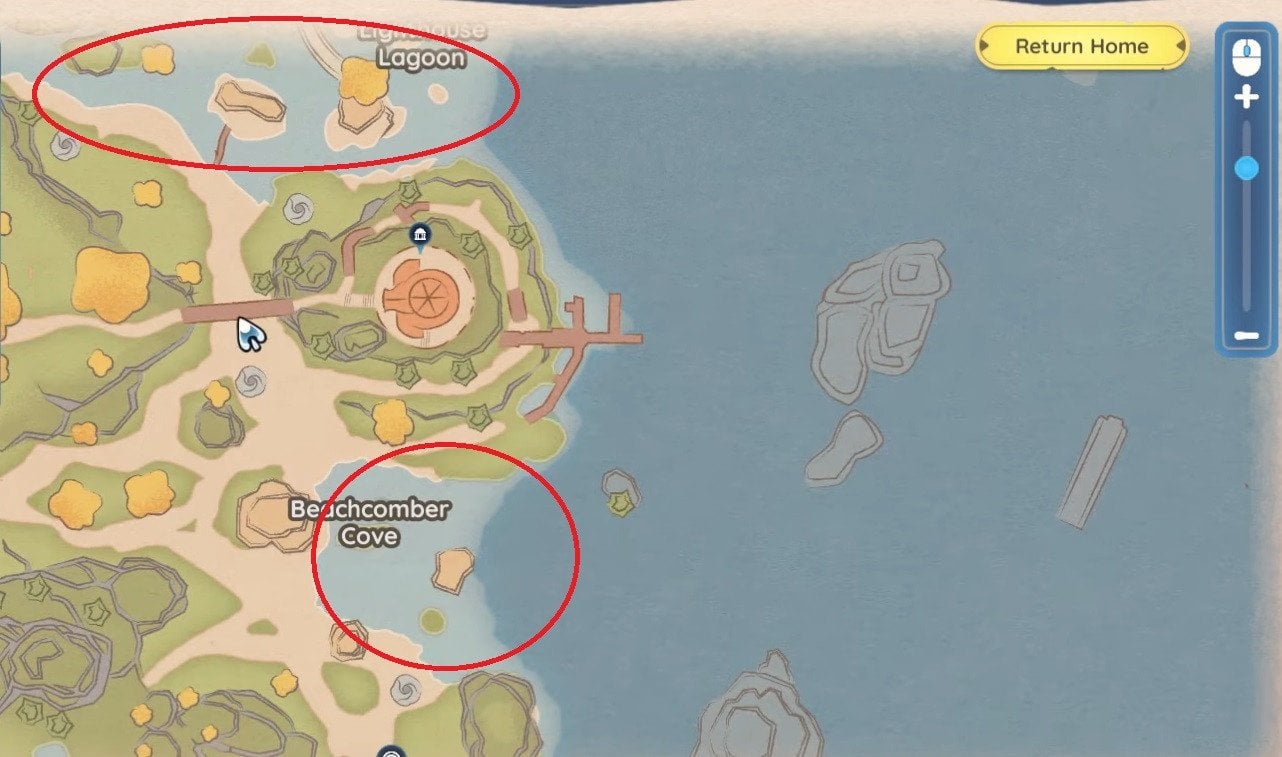 After that, you need to move lower and loot everything you see in Lighthouse Lagoon and Beachcomber Cove zones. Once you are done, make sure to use your glider to return to the original spot and do this again.
If you wish to use this method as your primary source of making money, the circled zones are the best Palia gold farming spots so far.
Insect Catching
Now, let us get down to a less popular yet still efficient Palia coin farm method. It revolves around catching insects, which might sound a bit boring at first. However, when using this way of making money, you need to understand that you should focus on catching rare insects. To make things clearer, here are a few examples:
Common Blue Butterfly

is a

BAD

catch;

Fairy Mantis

is a

GREAT

catch.
As you might have already guessed, the Insect Catching method is also RNG dependent. To put it in other words, you can earn a ton of gold or much less depending on what bugs you manage to catch. If luck is on your side, you can earn ~8.5k gold per hour or much less if it is not. So, if you wonder how to make money fast in Palia, Insect Catching might be a good option, especially if you are a lucky person.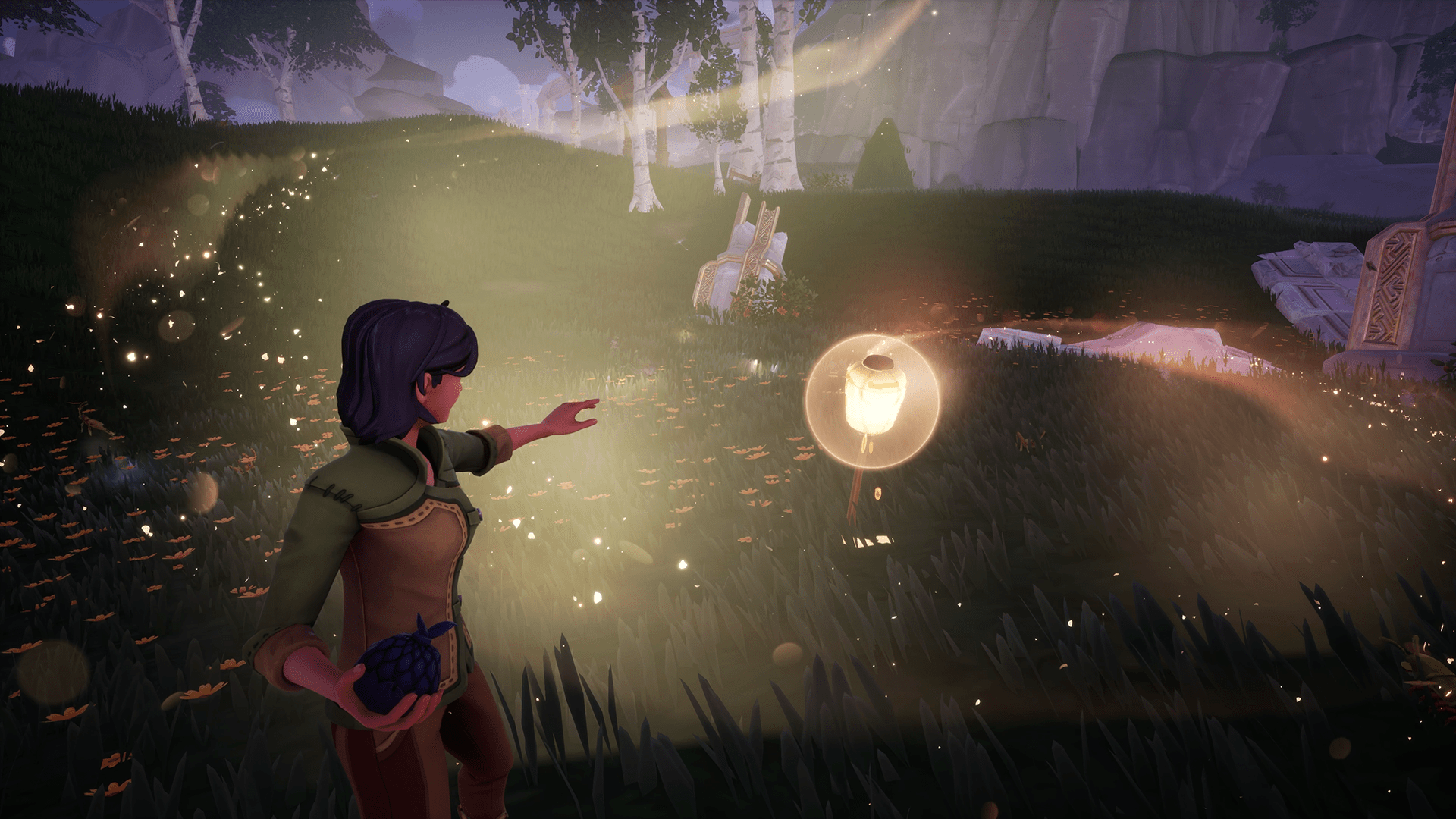 On top of that, you need to craft Standard Smoke Bombs to catch insects you encounter. For this, you need to have the following crafting materials:
You can create x20 of those bombs at a time, which is a lot and lets you catch a ton of insects while exploring the world of Palia. Since there are so many bugs for you to catch, here comes another advantage of this method – it has no downtime (unlike Fishing, for example). While wandering around fields, you will CONSTANTLY encounter bugs and other insects. The only problem here is how rare they are and how much will they cost.
Gathering Plants
This might be the easiest yet most boring way of making gold in Palia. The reason for this is that you do not need any instruments or anything to gather plants. The only goal here is to find and gather the rarest plants you can only find out there in the wild. To make the most of this method, make sure to gather the following:
Sundrop Lily;

Mountain Morel.
Of course, you can pick up everything else you see but these ones cost more than most of the plants you are going to encounter. At the same time, this way of earning gold is extremely boring, as the only thing you do is wander around and hope to find a rare plant to pick up. It often happens so that you cannot find anything at all and can spend 2-3 minutes walking pointlessly.
Even if you are a lucky person and manage to get your hands on rare plants, you will still get only ~4k gold per hour. Considering how boring this method is, it might be a good idea to consider something else when you are looking for the best way to make money in Palia.
Fishing
Remember we mentioned Insect Catching and the fact that it has no downtime? So, here is its counterpart – Fishing. It is a great tool for AFK gold farming in Palia. However, it is also quite a boring way of making money, as the only thing you do is cast the fishing rod and wait for a big fish to come.
Our team would not recommend Fishing as your primary gold-farming method. Why? Because you will only make ~3.2-3.5k gold per hour. To increase your spoil at least for a bit, make sure to search for pounds with bubbles. By casting the fishing rod into them, you will get a better chance of catching high-quality fish.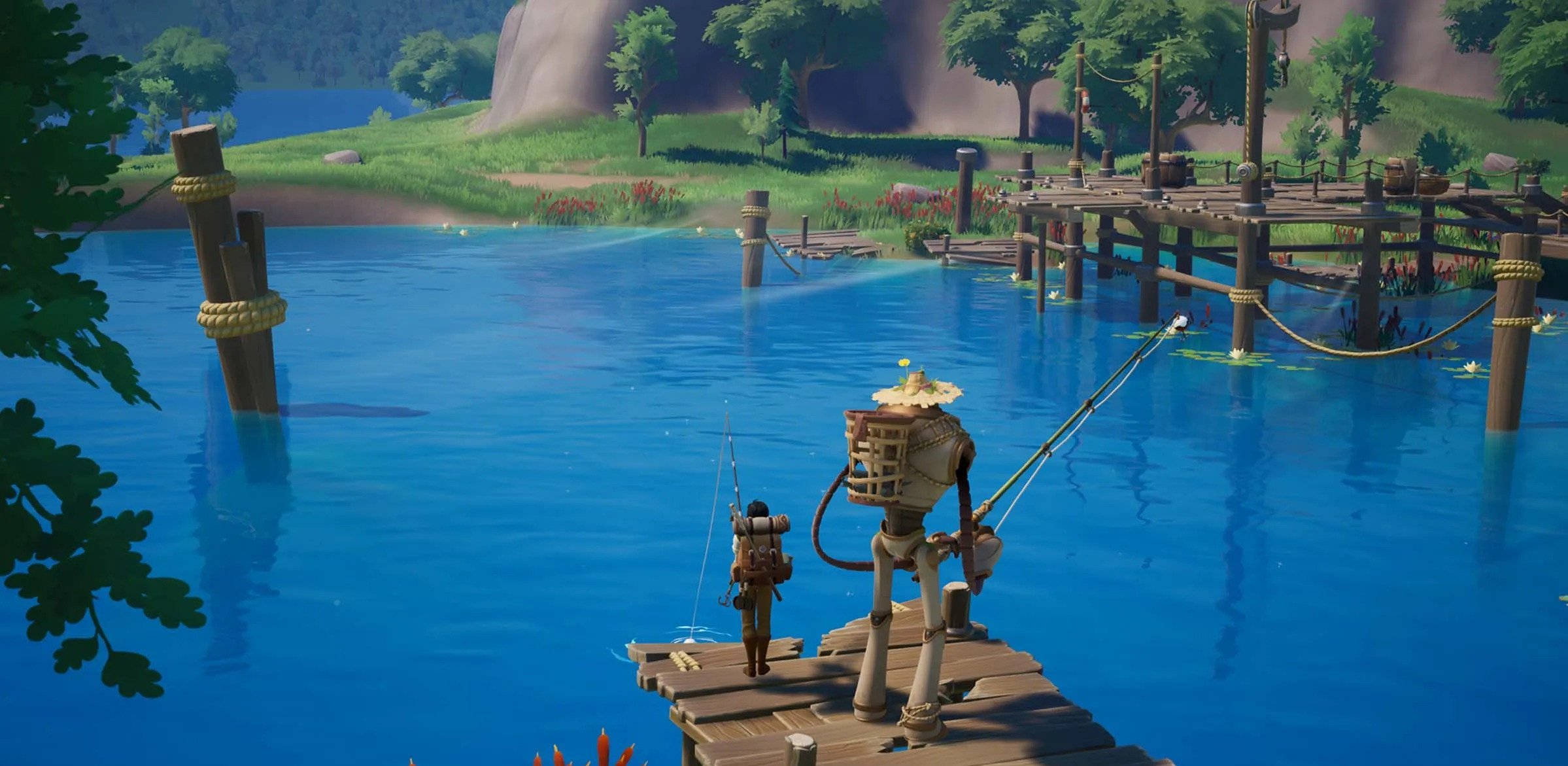 On top of that, you can learn the Grilled Fish Recipe to cook the fish you catch. By doing so, you can sell it for a higher amount of gold later on. Still, it is one of the lowest-profitable ways of making gold in Palia so far. Consider using it only when you are drinking tea in front of the screen and want to AFK farm for a bit.
Foraging & Mining
We have decided to put both of these methods into one paragraph due to one common feature they share – animation canceling. On top of that, it would be a wise decision to combine Foraging and Mining together, as you will inevitably encounter trees while looking for mining nodes and vice versa.
While it is not that difficult task to find a tree or a mining node, they bring little gold on their own. However, you can speed up the farming process by using the animation canceling feature. Here is how it works:
Start cutting a tree/mine a node;
Wait for the animation to playout almost entirely;
Click again to

cancel the animation

before it ends.
It saves quite a bit of time in the long run and it might help you earn more gold when using Foraging and Mining as your primary gold farming methods in Palia. Still, even if you are using the animation canceling feature, you end up getting ~3.5k gold per hour.
Gardening
Finally, we have come down to the laziest yet still decent way of making gold in Palia – Gardening. Before we begin, we must say that it cannot be compared to Hunting or Insect Catching in terms of how much you are going to make. At the same time, Gardening can be used as an additional method of making some extra gold in Palia.
On top of that, it cannot be called fast by any means, as you will have to wait for quite a bit before your plants fructify. When you are only starting out, we highly recommend that you plant Tomatoes only. Why? Because they have the highest value when it comes to selling them later on. Only then, you can pay attention to other plant species and even get a few of them, which are more expensive than Tomatoes.
We cannot say exactly how much you can earn by using Gardening as your gold-making method in Palia. It all depends on how many seedlings you plant and how well you look after them. However, this is definitely a good way of earning a bit of extra gold while doing Insect Catching, for instance.
Palia Gold Farming Tips & Tricks
As our Palia gold farming guide draws to an end, we would like to share 5 tips and tricks that will help you earn even more money while playing the game:
| | |
| --- | --- |
| Upgrade Backpack | The first thing you want to do when you get your hands on a bit of extra gold is to upgrade your backpack. The reason for this is that it will let you carry more stuff, meaning you will have to return home less often. To upgrade your backpack in Palia, visit General Store in Kilima Village. |
| Use Your Glider | To rotate between the farming spots quicker and speed up the process of earning gold, you cannot go without your glider. Make sure to get your hands on the one ASAP, as it will let you travel around the world of Palia much faster. |
| Combine Gold-Farming Methods | A great example of what gold-farming methods you can combine is Foraging and Mining. At the same time, you can add Gardening to this work chain. This will let you earn more gold than you would normally do if you would concentrate on one farming method only. |
| Efficient Gathering & Crafting | Engage in gathering professions or crafting activities that can yield valuable items or resources. These items can be sold on the in-game market for a profit. Research which items are in demand and can be obtained through gathering or crafting. |
| Choose Efficient Farming Routes | This is especially important when we are talking about Hunting or Gathering Oysters and Shells. Both of these gold-farming methods require you to use specific routes to earn as much gold as possible. |
Conclusion
Fellow adventure seekers, this marks the end of our Palia gold making guide. We hope you had a fun time reading it and learned a lot of new stuff. As you can see from the article, there are a ton of ways to choose from when it comes to making gold in Palia. You can choose the ones you like, but for now, the most efficient gold-making methods in Palia are Hunting and gathering Oysters and Shells. Make sure to stay with us, as we will keep updating this guide if any changes occur. Good luck and we will see you in the game!
F.A.Q.
What is the fastest way to farm gold in Palia?
Currently, Hunting and gathering Oysters and Shells are the two fastest ways to farm gold in Palia.
How do you get gold coins in Palia?
There are a lot of ways to get gold coins in Palia. You can choose the ones you like from the following list:
Hunting;
Gathering Oysters and Shells;
Insect Catching;
Gathering Plants;
Fishing;
Foraging and Mining;
Gardening.
How to get money fast in Palia?
Make sure to combine several gold-making methods simultaneously. For instance, do Foraging and Mining at the same time while also planting Tomatoes at home.
How do I get more gold in Palia?
You can choose any of the methods we have described in our article. On top of that, we are sure that the devs will add more ways of getting gold in Palia later on.