Do you know what is the most popular skill/profession in MMOs statistically? You have guessed it right – it is Mining. This type of skill is available in this or that form in most MMO projects today. And the brand-new Palia game has not become an exception here. That is why we welcome you to our comprehensive Palia Mining guide.
After reading this article, you will learn how to level Mining fast in Palia. On top of that, we will briefly answer the question of how to unlock Mining since many players wonder how they can start gaining XP for this skill. Besides, we will share the most efficient farming routes where you can find rare ores, as well as the best spots to level up the skill. Finally, we will share details on what Mining recipes are available in the game and what Villager is the master of this skill.
Before we begin our Palia Mining overview, let us tell you about the easiest and fastest way to become richer in the game. To buy all the equipment you need, upgrade it, and so on, you need a ton of gold. Farming it on your own may take tons of time and spoil the fun. Instead, we offer you to Buy Palia Gold with our company's help and get it delivered in a blink of an eye. We guarantee the best market price and the safety of the service provided.
IMPORTANT NOTE: At SkyCoach, you can also Buy Palia Boost at the lowest prices and with the fastest delivery. You can make your first purchase even CHEAPER if you find our special PROMO CODE (highlighted in green) hidden in this article and get a 20% DISCOUNT.
Check out some of our most popular
Palia Boosting services

below:
How to Unlock Mining in Palia
Many players are constantly looking for the fastest way to level Mining in Palia. Nonetheless, the initial step is to understand how to unlock this skill. The process involves a few intricacies, and here is a breakdown of what you should be aware of:
All

8 skills

become accessible immediately after character creation;
To initiate skill progression, seek out the relevant

NPC

associated with the skill you are interested in;
Engage in the questline provided by the respective

NPC

to gain insights and knowledge about the chosen skill.
Following these steps, you will begin to accumulate XP as you perform actions related to the specific skill. In the context of Mining, XP can be acquired by breaking down nodes and extracting valuable ores. You can also discover other materials such as Clay, which is also used for crafting.
Should you be curious about the NPC overseeing the Mining guild, it is Hodari. By interacting with this Villager, you will garner essential information about the skill's fundamentals and receive your initial skill-oriented quest. As you advance in the Palia Mining skill, you will gain access to exclusive equipment, recipes, and an array of valuable items from the guild's store.
How to Level Up Mining in Palia
Now, let us delve into the most captivating segment of this article – Palia Mining leveling guide. In the following section, we will enlighten you about the most effective approaches to swiftly advance your Mining skill. Fortunately, the game developers have designed the leveling process to be uncomplicated and transparent, ensuring that all players can easily grasp it.
Speaking of the Palia Mining leveling process in particular, your initial step involves equipping yourself with a Makeshift Pick. With this tool in hand, set out to mine every ore-rich node that crosses your path. This action will reward you with precious ores like Iron, Copper, and Palium, simultaneously contributing to your skill's XP growth.
While excavating these valuable resources, seize the opportunity to gather plants or cut down a tree or two. While you do need an axe to chop trees, you can freely pick up all the plants you encounter without a special tool required.
The captivating facet of Mining skill advancement is that it not only enhances your expertise but also pads your pockets with gold. You can either sell these resources for profit or utilize them in crafting endeavors. BLOG20
The subsequent stratagem and another best way to level Mining in Palia revolves around talking to your guild master. Hodari will always greet you with enthusiasm, offering a series of quests designed to grant you access to rarer resources and an extra XP boost. This method not only accelerates your skill advancement but also infuses an element of enjoyment, contrasting the monotonous task of mining ores.
If you struggle to level up Mining on your own or simply wish to speed up this process, we have a solution for you. By ordering our Palia Skill Leveling service, you can master any skill in no time. The offer comes at the best price and we guarantee the result.
Best Spots to Level Up Mining in Palia
Since you already know that extracting ores brings you XP and makes you proficient in Mining, it is time to answer the question of where is the best spot to level up Mining in Palia. Depending on what ore type you are hunting for, the farming spots will be different. After all, it makes more sense if you combine these two tasks together – level up the skill and gather valuable resources.
To answer this question shortly, Copper is usually found at the following locations:
South of the Mayor's Estate;

Remembrance Garden.
It is also important to note that Copper spawns far more often than any other node types. So, finding it in other areas should not be surprising.
Moving on, Iron usually spawns at the following locations:
Behind Hodari's House;

Around Meadow Areas, where Sernuks live.
On top of that, Iron can only be discovered in Bahari Bay. So, make sure to take a quick trip there if you are looking for this type of ore specifically.
Best Places to Mine for Copper
In this section of our Palia Mining guide, we will provide you with a detailed map where every Copper spawn location is pinned. By following this map, you can save plenty of time and rotate from one bountiful place to another faster. You will no longer ask yourself a question of where to get Copper, as you already know its spawn zones in advance.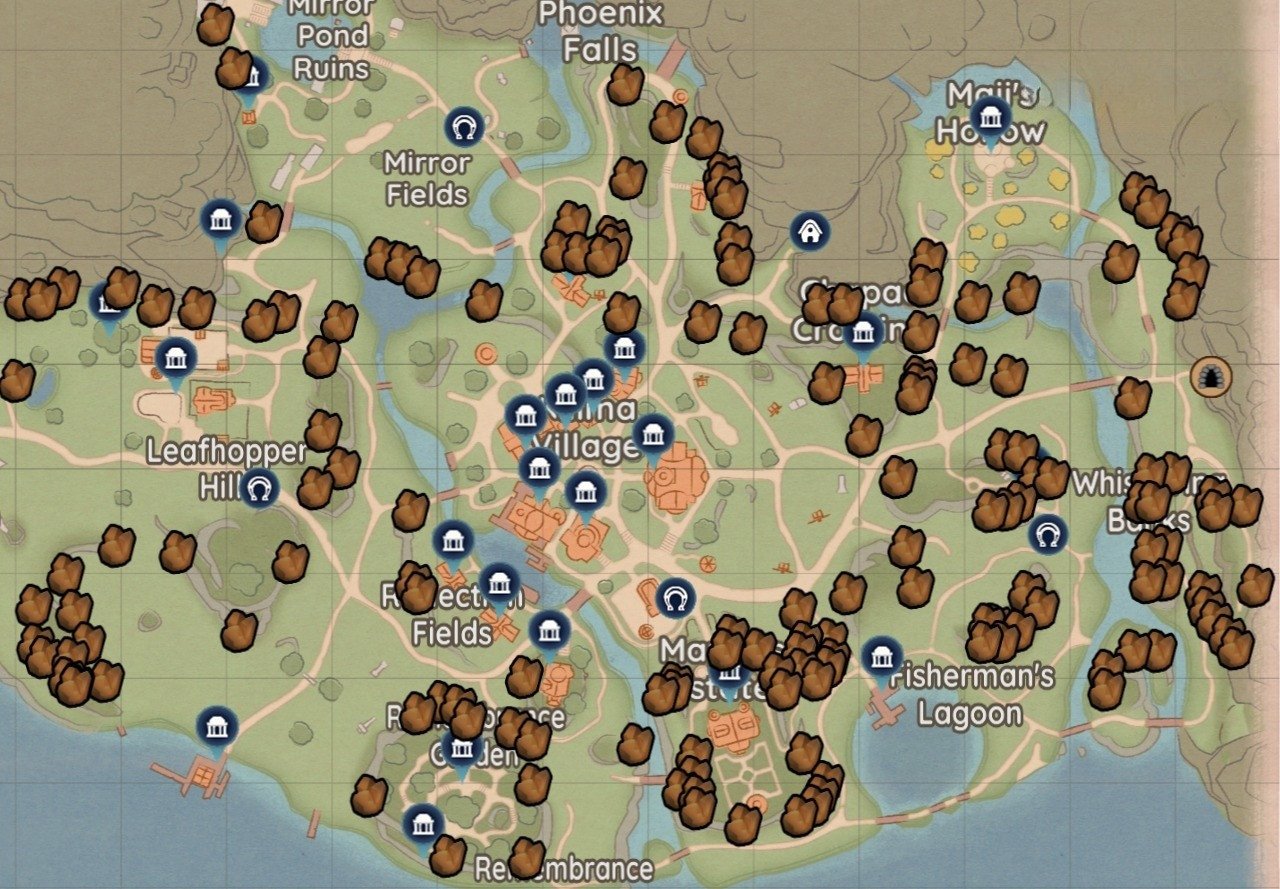 As you can see from the map, there are tons of Copper nodes scattered around Kilima Village. By moving to the right and lower right sides from the village, you can quickly gather practically any amount of the ore required.
Best Places to Mine for Iron
Just like in the previous paragraph, we are going to share a detailed map of Bahari Bay, answering the question of where to get Iron. The latter is a bit rarer resource compared to Copper, meaning it is harder to find as well. However, you will inevitably need it when you decide to upgrade your skill tools and craft stuff for your home.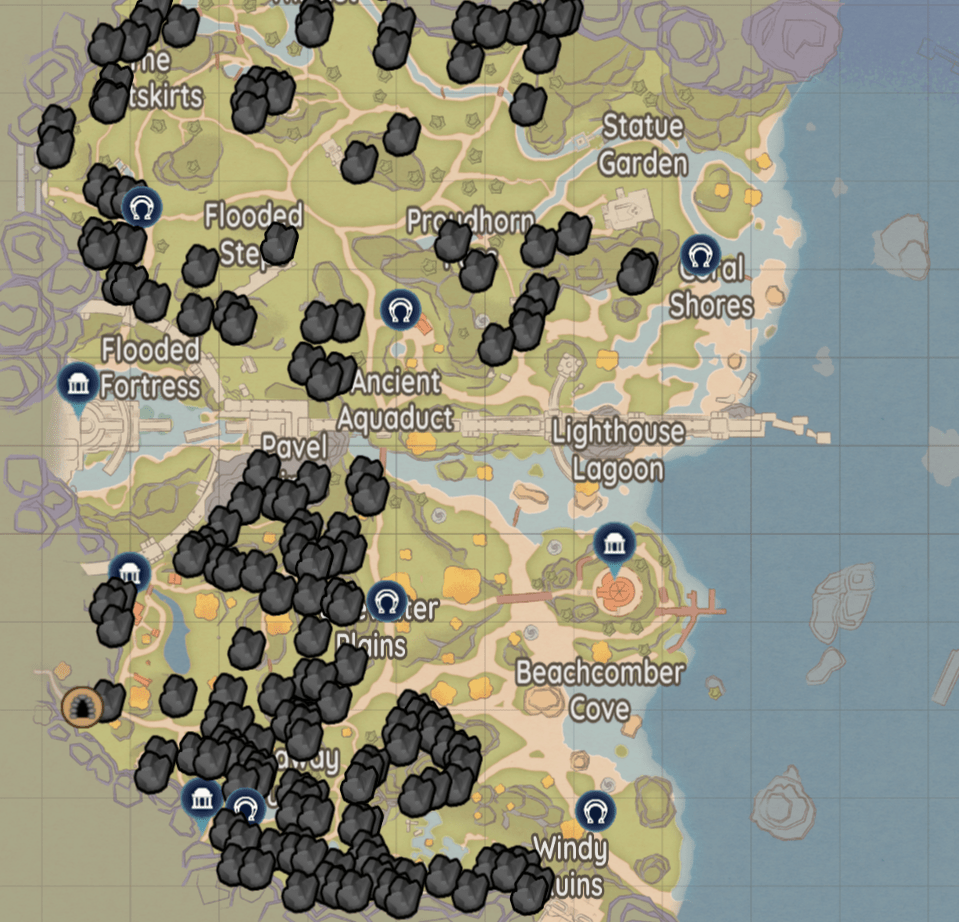 As you can see from the screenshot, there is a higher chance of finding Iron in the lower part of the map. At the same time, you are more likely to encounter other players hunting for Iron there as well. So, it might be a good idea to go to less obvious places (e.g. Flooded Step and its surroundings) to mine for Iron there.
Best Places to Mine for Palium
If you wonder where to get Palium, be ready for a challenge. Currently, Palium is the rarest ore you can only encounter in the game. It can only be found in the Bahari Bay zone and it is super hard to get. By looking at the map you see below, it becomes clear how few Palium spawn spots we have. The reason why the devs did so is that Palium is used for last-level equipment upgrades. So, it should be difficult to get and that explains everything.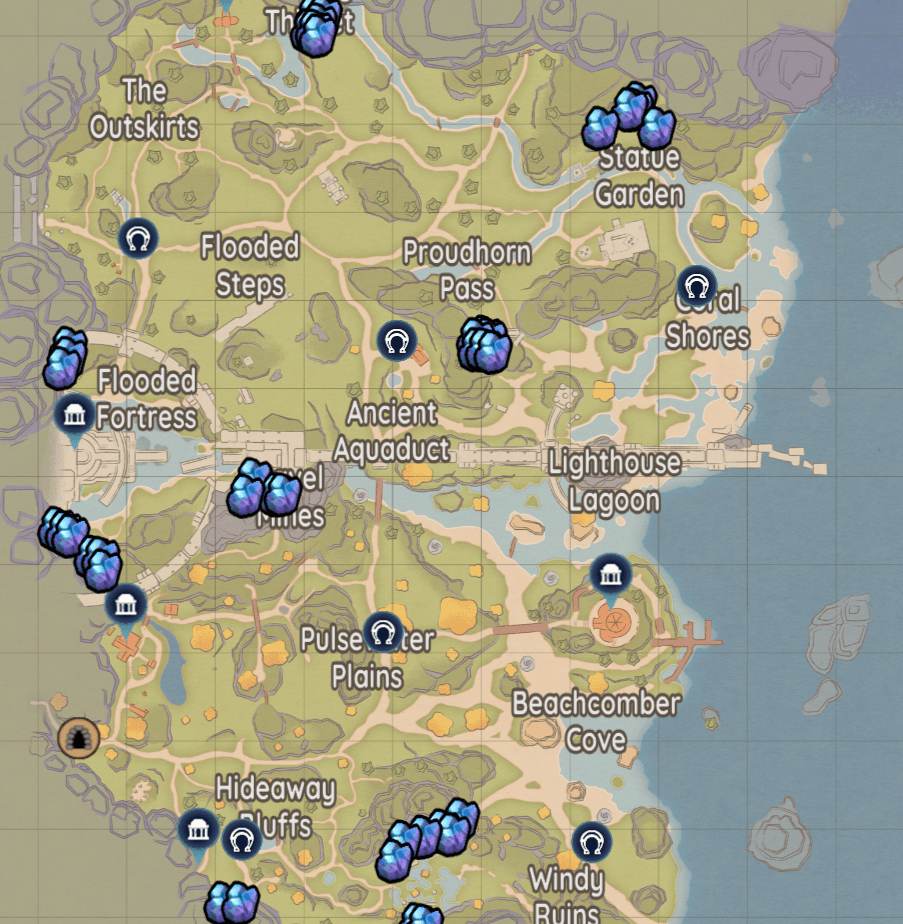 It might happen that you have come to the marked zone yet still cannot find Palium there. The reason for this is that other players were faster than you. However, you can wait for a while and nodes will respawn again or you can go to another area to see if you can find something there.
How to Get Tools for Mining in Palia
Do you know what is an integral part of mastering any skill in Palia, including Mining? The necessity to upgrade skill-specific tools to make your farming process faster and have an opportunity to mine for rarer ores. Currently, the game offers a selection of 4 distinct types of pickaxes, each characterized by unique attributes that bestow special advantages.
In this section of the article, we will provide you with an exhaustive answer, explaining how to get tools for Mining in Palia. To embark on this endeavor, refer to the table provided below. This comprehensive table outlines the required resources and materials necessary to create different types of pickaxes, as well as the specific advantages associated with each variant.
| | | |
| --- | --- | --- |
| Pick Type | Required Materials to Craft | Description |
| Makeshift Pick | Available from the start, given by Hodari | Deals the lowest damage, can mine Copper |
| Standard Pick | Standard Pick Recipe, x1 Makeshift Pick, x20 Sapwood Plank, x5 Copper Bar | Deals higher damage, can mine Iron |
| Fine Pick | Fine Pick Recipe, x1 Standard Pick, x10 Heartwood Plank, x5 Iron Bar | Deals even more damage, can mine Palium |
| Exquisite Pick | Exquisite Pick Recipe, x1 Fine Pick, x5 Flow-Infused Plank, x2 Palium Bar | Deals the highest damage possible |
If you cannot befriend Hodari or any other Villager or simply wish to speed up this process, we are here to help. By ordering our Palia Friendship Leveling service, you can be sure our professional players will befriend any NPC for you. We offer the best market price and guarantee the fastest result.
Where to Get Mining Recipes in Palia
Currently, the only way of getting your hands on skill-unique recipes is to use Mining Guild Store. Access to this store is attainable upon reaching level 2 in Mining. Upon achieving this milestone, you will acquire the capability to procure recipes for crafting pickaxes of varying qualities.
If you do not know where to get Mining recipes in Palia, your guild master, Hodari, will you have covered. Fortunately, the developers have undertaken measures to alleviate the grind, enabling players to genuinely relish the game.
You just need to farm enough gold in advance to be able to buy the required Palia Mining recipes. Once you get the amount of gold needed, you can swiftly progress to crafting a Fine Pick shortly after commencing your gameplay. However, obtaining the coveted Exquisite Pick will demand a tad more dedication, as it stands as the pinnacle of quality tools presently accessible.
Is Mining Good for Making Gold?
There is no exact answer to whether Mining is good in terms of money making. The reason for this is that it is still RNG-dependent. Imagine that you do not have the maps where each and every node location is pinned. What does it mean? It means you can spend a lot of time roaming around the map while looking for an ore spawn location.
At the same time, you can make quite a bit of gold just by using Mining alone. While it is not the most profitable method of making gold in Palia, some players find it enjoyable to mine for rare ores and then sell them.
If you wonder how much money you can make by mining everything you encounter, the sum comes down to ~4k gold per hour in total. Again, it may vary depending on what ores you are mining for and how many of them you manage to get within an hour. Give it a shot and see if this method suits you or not.
Palia Mining Tips & Tricks
Before we end our Mining guide, we would like to share the 5 most crucial Palia Mining tips & tricks. By following the advice outlined in this paragraph, you will be able to get your hands on the rarest ores, upgrade your equipment faster, and so much more:
Strategic Node Selection.

Be deliberate in choosing which ore-rich nodes to mine. Nodes can be location-specific and might contain different types of ores. Prioritize nodes that yield ores you need or that are more valuable in the in-game economy;

Upgrade Your Pickaxe.

Invest in upgrading your pickaxe as you progress. Upgraded pickaxes can increase your efficiency, dealing higher damage with each swing and speeding up your skill-leveling process;

Diversify Your Mining Locations.

Explore various regions and environments in Palia. Different areas might offer different types of ores and resources. This diversification not only ensures a varied yield but also prevents resource depletion in a single location;

Complete Mining Quests.

Engage with NPCs, like

Hodari,

who offer mining-related quests. These quests can provide valuable rewards,

XP

boosts, and even introduce you to rare or high-quality resources;

Explore Group Mining.

Engaging in mining activities with other players can be beneficial. Group mining not only fosters a sense of community but can also offer increased resource yield through shared efforts.
Conclusion
Fellow heroes, we have reached the conclusion of our Mining guide in Palia. We are sure you have enjoyed the read and gained valuable insights. Within this article, we explored unlocking and advancing the Mining skill, obtaining recipes and tools, sharing the best farming locations for this or that ore, and much more. Keep journeying with us, as we will continuously update this guide to reflect any in-game changes. For now, best of luck, and we will see you in the game!
F.A.Q.
What is Mining in Palia?
Mining is one of 8 skills in Palia. It lets you mine for various ore types such as Copper, Iron, and Palium used for crafting recipes, as well as upgrading your skill-specific equipment.
How to unlock Mining in Palia?
Once you create your character, you already know Mining. Though you cannot gain XP and master this skill until you finish the quest given by your guild master named Hodari.
Is Mining good for gold farming?
While Mining is not the most profitable skill in terms of making gold, it does reward you with valuable resources used for different crafting recipes.
How to level up Mining fast in Palia?
Find ore nodes and mine for Copper, Iron, and Palium. By successfully extracting ores, you will earn XP in the skill. You can also complete skill-specific quests given by your guild master Hodari.
Where to get Mining recipes in Palia?
Once you reach level 2 in Mining, you will unlock the Guild Store. Make sure to visit it and buy the required recipe you need to upgrade your equipment.
How do I get Mining tools in Palia?
You have a Makeshift Pick by default, which you can use to gather basic resources. As you become more proficient in the skill, you will have to buy recipes to upgrade your equipment. This will allow you to mine for rarer ores and do this at an increased speed.
Who is the Mining guild leader in Palia?
Hodari is your Mining guild leader and the NPC who gives you all the skill-related quests.