If you are missing shooting at someone or you simply wish to test how good you can handle a bow, Palia has only one skill that brings combat mechanics to the game – Hunting. The latter allows you to chase down wild animals to loot resources like antlers, skins, meat, and so on. Some of them are used for cooking while others can be useful when it comes to decorating your place. If you wish to learn more about this skill, we are glad to see you in our comprehensive Palia Hunting guide.
By reading this guide, you will find more details concerning how to level Hunting fast in Palia. Moreover, we will tell you how to unlock Hunting and start earning XP to progress in this skill. On top of that, we will provide you with the most lucrative farming spots where you can loot Sernuk Antlers, Spotted Chapaa Tails, and other rare resources. Finally, you will learn about Hunting recipes currently present in the game and what Villager is the guild leader of this skill.
Before delving into our Palia Hunting overview, we would like to introduce you to the swiftest and most efficient path to amassing wealth in the game. Gathering sufficient gold to purchase essential equipment, carry out upgrades, and more can be an arduous and time-consuming task. Rather than spending hours grinding gold yourself, we present you with an alternative. You can Buy Palia Gold with our company's help and have it quickly delivered to you.
IMPORTANT NOTE: At SkyCoach, you can also Buy Palia Boost at the lowest prices and with the fastest delivery. You can make your first purchase even CHEAPER if you find our special PROMO CODE (highlighted in green) hidden in this article and get a 20% DISCOUNT.
Check out some of our most popular
Palia Boosting services

below:
How to Unlock Hunting in Palia
Before we share tips for the fastest way to level Hunting in Palia, it is important to make it so that you can gain XP for this skill. This process encompasses several subtleties, and here is a concise overview of what demands your attention:
All

8 skills

become readily accessible right after your character sees the world for the first time;
Find the associated skill master who is responsible for running the guild;
Engage in the questline offered by the corresponding

Villager

to acquire in-depth insights and understanding of the chosen skill.
After finishing the initial quest line, you will have the opportunity to gain XP every time you execute actions aligned with the particular skill. When we are talking about Hunting particularly, XP can be garnered through actions chasing down wild animals, extracting valuable resources like antlers and meat, and even unearthing additional materials such as hides, which have their crafting uses.
If you still have not met the NPC overseeing the Hunting guild, it is Hassian. By interacting with this Villager, you will glean crucial knowledge pertaining to the skill's fundamental aspects and receive your initial skill-specific quest. As you progress within the realm of Palia Hunting skill, you will unlock the gateway to exclusive equipment, recipes, and an array of valuable items available at the guild's store.
How to Level Up Hunting in Palia
We have come to the most exciting part of the article for many of you – Palia Hunting leveling guide. After reading this part of the text, you will find out what tactics you can use to become the master of this skill faster than any others. Before we begin, let us warn you about one thing – there is nothing to be afraid of. The process of leveling skills in the game is easy to learn and it is not so grind-focused as in most MMO projects.
Turning our attention to the Palia Hunting leveling process, your initial stride involves equipping yourself with a Makeshift Bow and Makeshift Arrows. Once you are set, embark on a journey to track and hunt creatures across diverse terrains. This endeavor will yield valuable resources such as antlers, meat, and hides, all while contributing to the growth of your skill's XP.
While pursuing these sought-after resources, you can also spend time gathering plants or mining for rarer ores and minerals. While a proper tool is required to mine for ores, you can freely collect the plants you encounter without any specialized equipment. BLOG20
The intriguing facet of advancing your Hunting skill is its dual benefit – not only does it brings you XP and make you a proficient hunter, but it also augments your coffers with gold. You can opt to vend these resources for profit or save for crafting recipes.
If you are tired of chasing down poor Sernuks and Chapaas, you can diversify your approach, as there is another best way to level Hunting in Palia. The latter revolves around completing quests for your guild master – Hassian. The esteemed guide will help you get access to rarer resources and earn even more XP. This method not only accelerates your skill progression but also brings an element of enjoyment, offering a refreshing contrast to the seemingly repetitive task of hunting creatures.
If you have no time to level up Hunting all by yourself or wish to speed up this process, you can rely on SkyCoach. By ordering our Palia Skill Leveling service, you can master any skill in a blink of an eye. We guarantee the best price and the safety of the service provided.
Best Spots to Level Up Hunting in Palia
Now that you know the basics of leveling up Hunting, it is high time to answer the question of where is the best spot to level up Hunting in Palia. The choice of hunting grounds varies based on the specific type of trophies you are pursuing. Merging these two objectives – gaining XP and looting precious resources – we have prepared a strategy, allowing you to simultaneously elevate your expertise while amassing valuable resources.
If you do not know where to find Sernuks, they mainly inhabit the following areas:
Whispering Banks;

Flooded Steps.
At the same time, Chapaas are found around these zones:
Leafhopper Hills;

Pulsewater Plains;

Hideaway Bluffs.
Of course, you can find them in other locations as well but we have enlisted the most popular places to hunt for these animals.
Best Places to Hunt for Sernuks
The following part of our Palia Hunting guide shares a detailed map where you can see the exact spawn locations of Sernuks in both Kilima Village and Bahari Bay. By hunting around the marked areas, you can save extra time, level up the skill faster, and gain more gold as well.
Kilima Village Sernuk Locations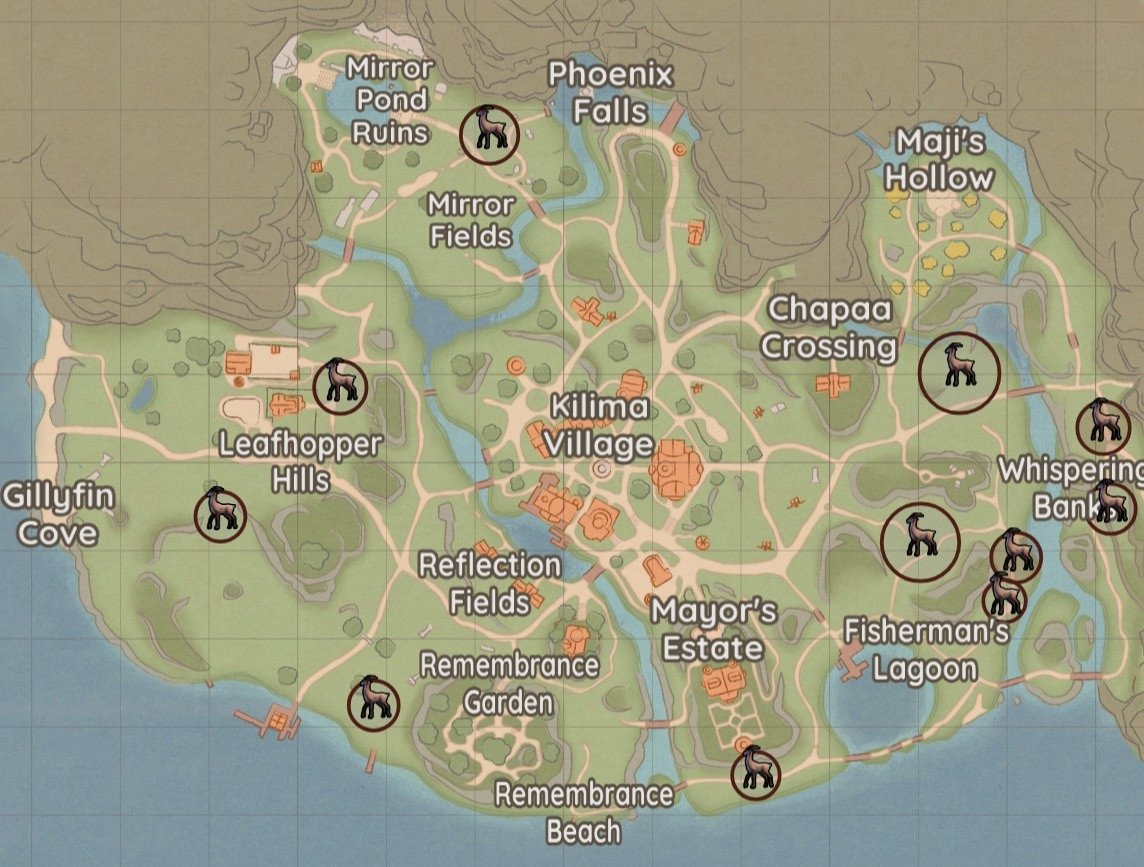 Bahari Bay Sernuk Locations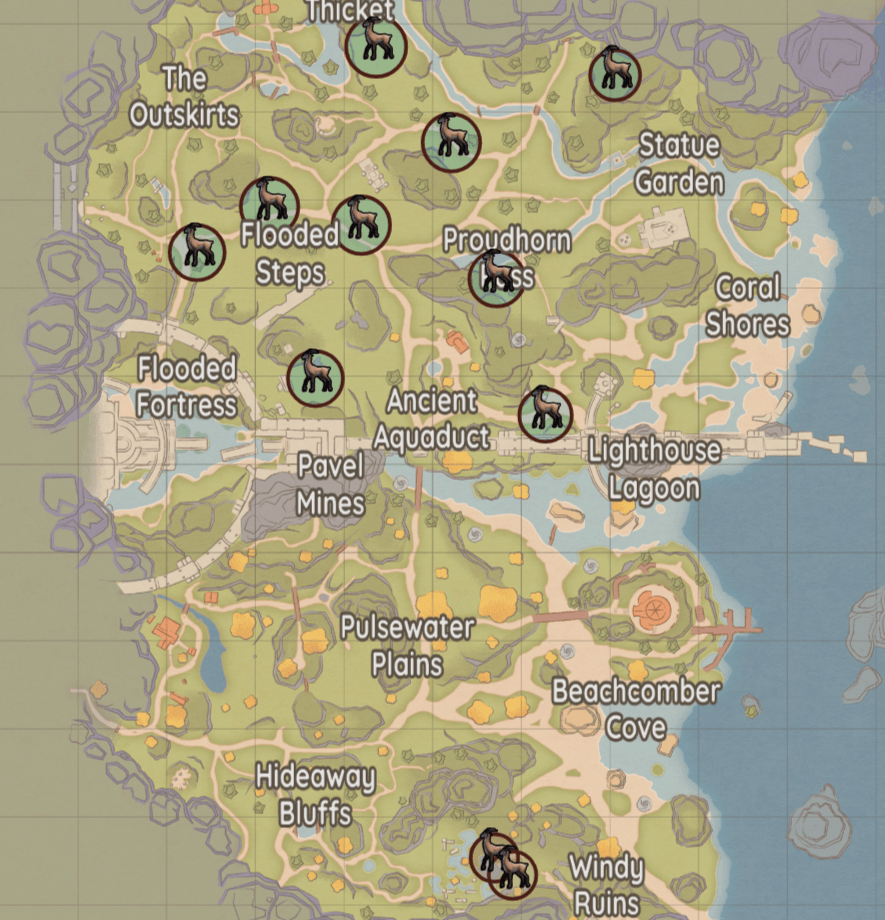 Judging by the screenshots, it becomes clear that the best spots for hunting for Sernuks in Kilima Village are on the right side of the map. When it comes to Bahari Bay, you should be looking for Sernuks in the upper part of the map.
Best Places to Hunt for Chapaas
When it comes to Chapaas, these animals are much easier to find. At the same time, the loot you get from them is not that expensive and is more common. Anyway, we have prepared two similar maps, answering the question of where to find Chapaas in both Kilima Village and Bahari Bay.
Kilima Village Chapaa Locations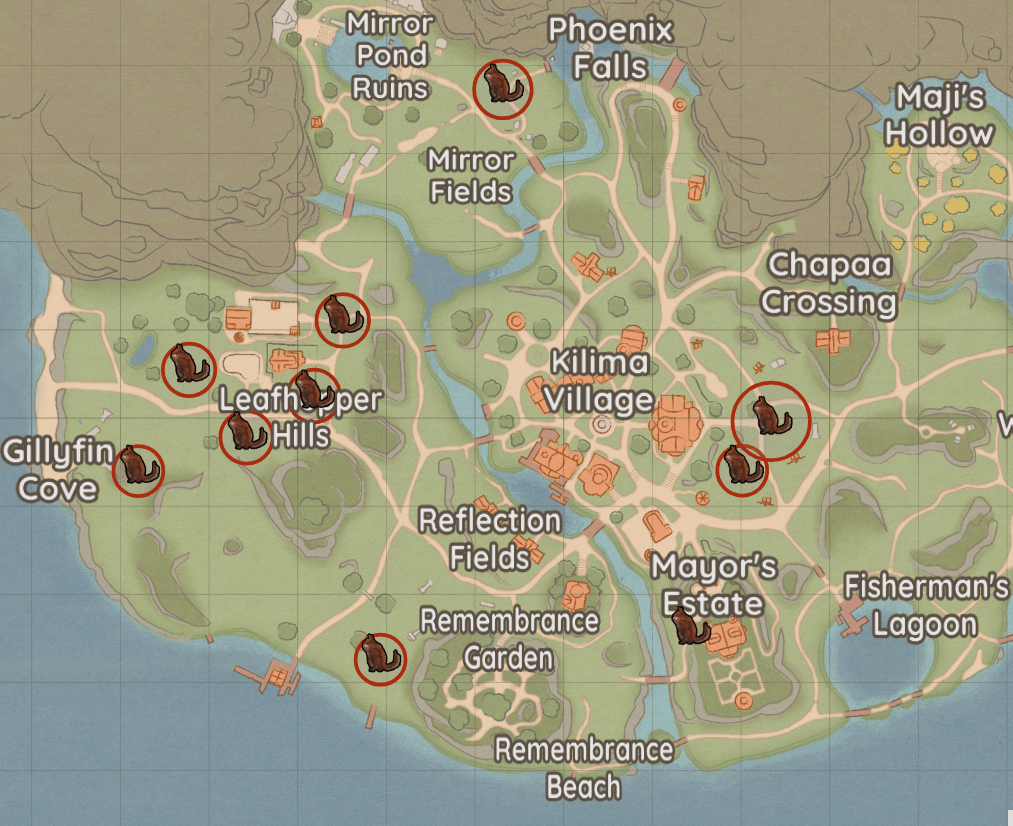 Bahari Bay Chapaa Locations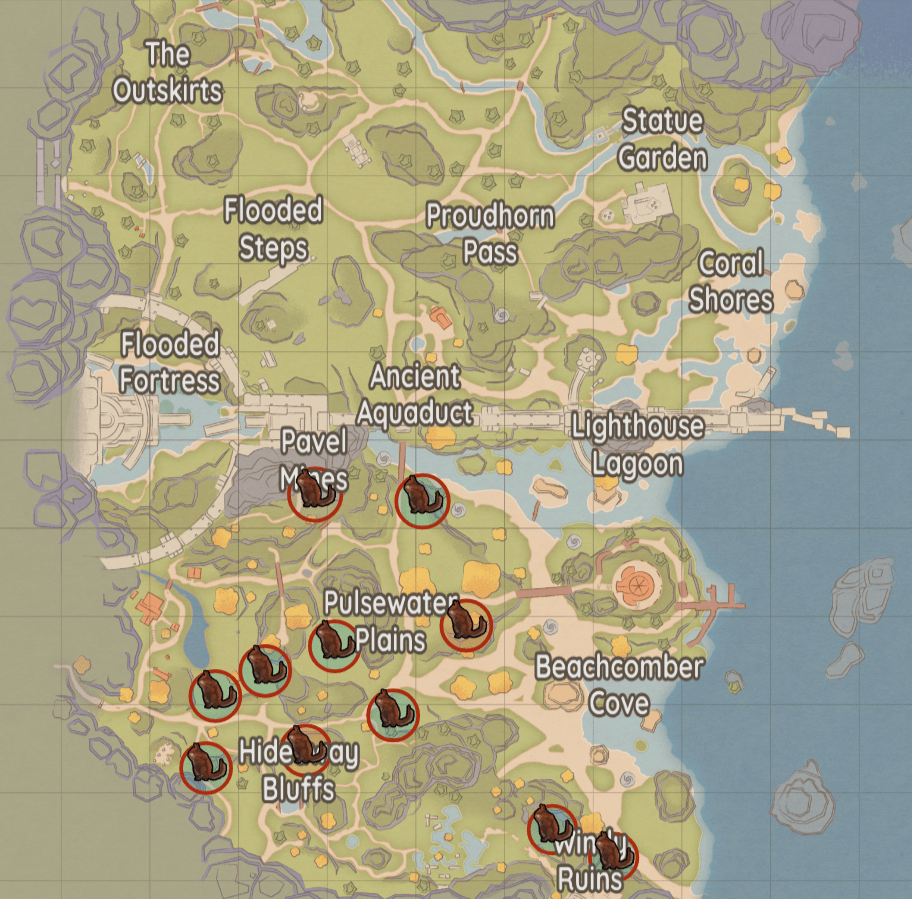 By taking a brief look at those maps, you can see that Chappas mostly inhabit the left side of the Kilima Village zone. At the same time, you can only find Chappas in the lower part of the map when you are hunting in Bahari Bay.
How to Get Tools for Hunting in Palia
Is there a hunter who can hunt without special equipment? Of course, not. Therefore, the following paragraph of the article is devoted to how to get tools for Hunting in Palia. They are necessary to chase down all wild animals you encounter. As for now, there are 4 types of bows and 5 types of arrows available in the game.
Down below, you can see the tables containing information on what crafting materials you need to find to create this or that bow or arrow type. If you doubt that this part of mastering Hunting is important, trust us, it is. By upgrading your bow and arrows, you can one-shot Sernuks and Chappas instead of running after them through forests and fields.
| | | |
| --- | --- | --- |
| Bow Type | Required Materials to Craft | Description |
| Makeshift Bow | Available from the start, given by Hassian | Has the shortest shooting range |
| Standard Bow | Standard Bow Recipe, x1 Makeshift Bow, x20 Sapwood Plank, x5 Copper Bar | Has an increased shooting range |
| Fine Bow | Fine Bow Recipe, x1 Standard Bow, x10 Heartwood Plank, x5 Iron Bar | Can shoot even farther |
| Exquisite Bow | Exquisite Bow Recipe, x1 Fine Bow, x5 Flow-Infused Plank, x2 Palium Bar | Features the highest shooting range |
As you can see from the table, the choice of bow only influences the shooting distance. Arrows are the thing that allows you to deal higher damage.
| | | |
| --- | --- | --- |
| Arrow Type | Required Materials to Craft (x20 pcs) | Description |
| Makeshift Arrow | x5 Sapwood, x1 Flint. Hassian gives you the recipe for free. | Deals the lowest damage |
| Standard Arrow | Standard Arrow Recipe, x5 Sapwood, x1 Copper Bar | Deals average damage |
| Slowdown Arrow | Slowdown Arrow Recipe, x5 Sapwood, x1 Copper Bar, x1 Briar Daisy | Deals average damage and slows down targets |
| Fine Arrow | Fine Arrow Recipe, x5 Heartwood, x1 Iron Bar | Deals higher damage |
| Dispel Arrow | Dispel Arrow Recipe, x1 Flow-Infused Wood, x1 Iron Bar, x1 Brightshroom | Deals even higher damage and lets you disrupt the magical abilities of targets |
Do you struggle to befriend Hassian or any other Villager? We have a solution exactly for you! By ordering our Palia Friendship Leveling service, you can rely on our pro players, as they will help you become the best friend of any NPC you like. We provide fair prices and guarantee the result.
Where to Get Hunting Recipes in Palia
Do you wonder where to get Hunting recipes in Palia? As might remember, we mentioned the Hunting Guild Store earlier in the article. This is the only place where you can buy skill-specific recipes required for upgrading your bow and arrows. You get access to this shop right after you reach level 2 in Hunting. At this point, you can already upgrade your bow and make it Standard instead of Makeshift.
Make sure to speak to your guild master named Hassian to find out more about Palia Hunting recipes available to you. As a rule, high-level equipment recipes cost quite a lot of gold. Luckily, you can farm a ton of in-game currency by using Hunting only. More on that in the next paragraph!
Is Hunting Good for Making Gold?
Right after the Palia's release, Hunting was the best money making tool. The reason for this was the enormously high prices for Sernuk Antlers and Spotted Chapaa Tails. So, those players who found this trick rushed to farm poor Sernuks and Chapaas for hours. By doing so, they managed to earn up to 13k gold per hour. However, the devs have quickly fixed this and dumped the selling price for antlers and tails.
Despite being nerfed, Hunting remains one of the most efficient skills in terms of farming gold in Palia. People still hunt for Sernuk Antlers and Spotted Chapaa Tails, selling them for decent money. So, do not hesitate to try this skill if your goal is to become richer in the game and you wish to earn gold fast.
Palia Hunting Tips & Tricks
In this section of our Hunting guide, we would like to draw your attention to 5 Palia Hunting tips & tricks you can use to become a master of this skill. Make sure to follow the advice you find below to loot the rarest trophies and earn XP as fast as no one does.
Varied Creature Types.

Palia hosts a diverse array of creatures, each with its unique behavior. Familiarize yourself with their characteristics to develop effective strategies for chasing them down;

Upgrade Your Gear.

Once you get enough gold, spend it on equipment upgrades undoubtedly. This will let you shoot wild animals from a further distance, as well as increase your damage done allowing you to one-shot even the biggest creature;

Team Up for Efficiency.

Hunting in groups not only makes the experience more enjoyable but also improves efficiency. Dividing tasks like tracking and attacking can help you cover more ground and take down bigger animals;

Take Only What You Need.

When it comes to hunting wild animals, the unspoken rule of Palia says that you should only take what you need. It means that it is not necessary to kill

10 Sernuks

if you only need one pair of antlers to decorate your home. Leave prey for others as well;

Time of Day Matters.

Keep an eye on the in-game time and how it affects creature behavior. Some creatures might be more active during certain times of the day, making hunting more fruitful if you plan your expeditions accordingly.
Conclusion
Fellow adventure seekers, this marks the end of our Hunting guide in Palia. We hope you had a fun time reading it and learned a lot of new stuff. We have done our best to share details on such topics as how to unlock and level up the skill, what recipes and tools you can find in the game, as well as the best farming spots, and more. Make sure to stay with us, as we will keep updating this article if any changes occur. Wish you all the best and we will see you in the game!
F.A.Q.
What is Hunting in Palia?
Hunting is one of 8 skills in Palia. By mastering it, you can chase down wild animals to loot rare trophies from them. As your primary hunting tool, you are using a bow and arrows, which can be upgraded as you become more proficient in the skill.
How to unlock Hunting in Palia?
As soon as your character sees the world of Palia for the first time, you already know all 8 skills. Hunting is not an exception here. However, you will not be able to progress in this skill until you complete the beginner's quest you can take from Hassian, your Hunting guild leader.
Is Hunting good for gold farming?
Hunting is one of the best skills when it comes to farming gold. By looting and selling trophies like hides, antlers, and meat, you can earn quite a lot of gold in no time.
How to level up Hunting fast in Palia?
The easiest way to level up Hunting is to go out to the wild and start hunting for Sernuks and Chapaas. Another way of earning extra XP is to complete skill-specific quests given by your guild master Hassian.
Where to get Hunting recipes in Palia?
Currently, the only way to get your hands on Hunting-specific recipes is to visit your Guild Store. The latter becomes available once you achieve level 2 in Hunting.
How do I get Hunting tools in Palia?
By default, you are using Makeshift Bow and Makeshift Arrow, which you get from Hassian. However, you can upgrade them later on as you become more proficient in the skill. For this, you need to buy the required recipe, gather all the crafting materials, and create the tool you like.
Who is the Hunting guild leader in Palia?
Hassian is your Hunting guild leader. He is also the NPC from whom you can take skill-specific quests.