Fellow adventure seekers, welcome to our ultimate WotLK Classic Icecrown Citadel guide –World of Warcraft's one of the most iconic raids ever known. Perched atop the frozen wastes of Northrend, this imposing fortress serves as the final bastion of the malevolent Lich King, Arthas Menethil. With its towering spires, sinister atmosphere, and treacherous bosses, Icecrown Citadel offers a challenging and memorable experience for heroes seeking to test their mettle in Azeroth's most frigid and foreboding domain.
In this comprehensive guide, we will delve deep into the frigid heart of this raid, providing you with Icecrown Citadel tactics, strategies, and tips to navigate its frozen halls. Whether you are a seasoned raider seeking to perfect your approach or a novice adventurer braving the challenges for the first time, this article will equip you with the knowledge and tactics needed to conquer the Citadel's formidable foes.
Prepare to face the wrath of the Lich King, unravel the mysteries of this frozen fortress, and emerge victorious with the spoils of war. The fate of Azeroth hangs in the balance, and it is time to rally your allies, don your best gear, and step into the icy depths of this raid once again. Adventure awaits, hero; let this Icecrown Citadel walkthrough be your trusted companion on your journey through this legendary raid.
Before we delve deeper into the topic, let us tell you about the most efficient and fastest way to complete Icecrown Citadel in WotLK Classic. This can be done thanks to SkyCoach and our PROs who are ready to take care of this job for you. By choosing us, you can Buy WotLK Icecrown Citadel Boost and get it done in a blink of an eye. We offer the best market price and guarantee the result!
IMPORTANT NOTE: At SkyCoach, you can also Buy WotLK Boost at the lowest prices and with the fastest delivery. You can make your first purchase even CHEAPER if you find our special PROMO CODE (highlighted in green) hidden in this article and get a 20% DISCOUNT.
What is Icecrown Citadel in WotLK Classic
Icecrown Citadel (also known as ICC) located in the icy continent of Northrend, is a pivotal raid in the Wrath of the Lich King (WotLK) expansion of World of Warcraft. It is a massive fortress of dark and foreboding design, and it serves as the epicenter of the expansion's storyline.
ICC offers two difficulty modes: 10-player and 25-player, allowing both smaller and larger groups of players to experience the content. The raid is divided into wings, each with its own set of bosses, challenges, and themes. During this legendary endgame activity, you will face off against 12 bosses in total.
Unlike it was in the original expansion, you will not find an Icecrown Citadel solo guide here since this is an impossible thing to do in WotLK Classic. Therefore, you have to gather a party consisting of reliable players and give it a try!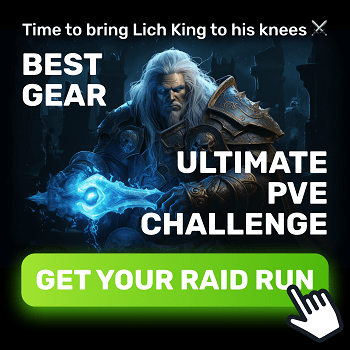 WotLK Icecrown Citadel Release Date 2023
Players will have the opportunity to once more venture into the chilling depths of Icecrown Citadel on October 12, 2023, following the launch of the Wrath of the Lich King phase four, which is scheduled for October 10. BLOG20
Icecrown Citadel Boss List
Since its original release, Icecrown Citadel boss order has not changed. Below, you can see a complete list of all 12 bosses you are going to encounter within the ICC raid:
Lord Marrowgar;

Lady Deathwhisper;

Gunship Battle;

Deathbringer Saurfang;

Festergut;

Rotface;

Professor Putricide;

Blood Prince Council;

Blood Queen Lana'thel;

Valithria Dreamwalker;

Sindragosa;

The Lich King.
Do remember that every boss features unique rewards. For example, all old-school players should remember Icecrown Citadel mounts, which are also present in WotLK Classic today.
How to Get to Icecrown Citadel
Locating Icecrown Citadel is a straightforward task in WotLK Classic. This massive fortress is situated in the southern reaches of Icecrown, easily recognizable as the largest structure in the region. If you wonder how to enter Icercrown Citadel it is as simple as making your way through the prominent front doors, conveniently located at coordinates 53, 85.
To make things easier for you, take a look at the Icecrown Citadel location on map we have attached below: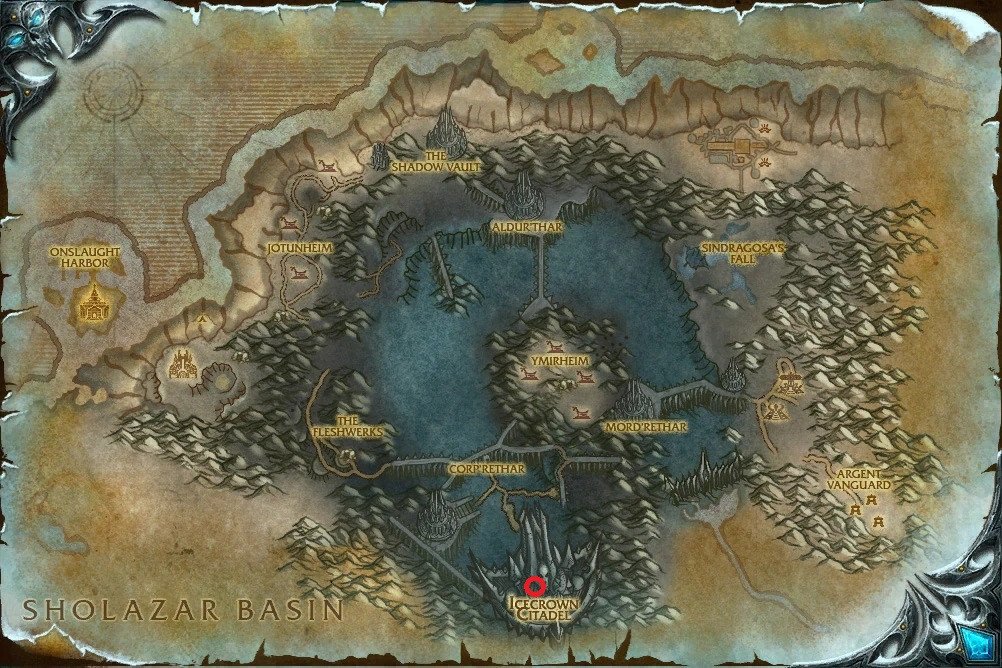 Now that you know where Icecrown Citadel entrance is located, you have several starting points to choose from. Getting a bit ahead of things, we would like to mention that Dalarn is the most convenient place to make your way to ICC.
Therefore, let us tell you how to get to Icecrown Citadel from

Dalaran

first:
Getting to Icecrown Citadel is a breeze, especially since you can easily spot its towering spire from Dalaran. Simply take flight to the west from the city, passing through the Violet Citadel subzone of Dalaran until you reach the frigid expanse of Icecrown. Upon arrival in this new zone, make your way to the coordinates 53, 85, and you will find yourself at the Citadel's doorstep.
If you are wondering how to get to Icecrown Citadel from

Stormwind,

here is a quick guide for you:
Take the boat from the north dock of Stormwind Harbor. This will take you to Borean Tundra – one of the two possible starting zones for WotLK Classic. From there, you can fly or run towards Icecrown Citadel itself.
Finally, we have made it to how to get to ICC from

Orgrimmar,

and here is a brief explanation for that:
To reach Northrend, you have two primary travel options. You can either venture through the Dark Portal located in the Blasted Lands, followed by a boat journey to Northrend. Alternatively, you can opt for a more cost-effective approach by taking a boat directly from Menethil Harbor. Each choice has its advantages and drawbacks.
The first option, while faster, comes at a higher cost. However, it grants you the added benefit of unlocking access to other continents in the vast world of WoW. On the other hand, the second option is more budget-friendly but considerably slower, and it restricts you from venturing to any other continents.
Anyway, you know now how to get to ICC from Dalaran, which is the fastest and most convenient way to do this. We strongly recommend using this starting point as your primary one, as it will save plenty of time and get you right where you are heading in a blink of an eye.
Icecrown Citadel Bosses Guide – WotLK Classic 2023
The upcoming section of our Icecrown Citadel raid walkthrough is dedicated to detailed ability descriptions, strategies, and tips for defeating the bosses within this challenging activity. Do remember that you will have 12 bosses to face off against, each requiring you to learn their mechanics. We would like to warn you that not being able to complete ICC after the first try is absolutely expected. Read the strategies and tips described below, keep practicing, and you will eventually succeed.
Before we get to Icecrown Citadel bosses guide, make sure you have gathered a party of reliable players. No matter if your goal is to complete this raid as 10 or 25 people, you will have to try extremely hard to get your hands on the desired loot. However, this experience is worth every effort and minute spent. So, let's begin and we wish you good luck!
Lord Marrowgar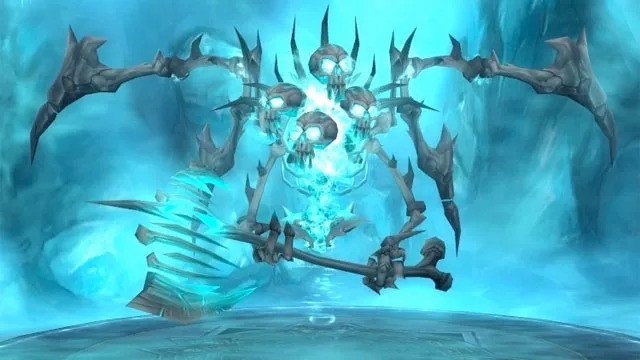 Lord Marrowgar serves as the 1st boss encounter in the ICC raid. He is a massive, skeletal monstrosity known for his bone-shattering abilities and is often seen as the gatekeeper to the rest of the Citadel. While being a relatively easy foe to defeat, slaying Marrowgar is essential for natural raid progression and difficulty increase you will experience later on.
Lord Marrowgar 10 Man Raid Setup:
2 Tanks;
2-3 Healers;
5-6 DPS.
Lord Marrowgar 25 Man Raid Setup:
3 Tanks;
5-7 Healers;
15-17 DPS.
Lord Marrowgar Abilities
Bone Storm

This is an ability in which, at regular 2-second intervals, the boss applies a bleeding effect to players. The severity of the damage inflicted depends on your proximity to the boss. This storm persists for a duration of

30 seconds.

Bone Spike Graveyard

The boss hurls three spikes randomly at players. These spikes impale their targets, causing substantial initial damage and subsequent damage equal to

10%

of the target's health per second. The impaled spikes remain active for a duration of

5 seconds.

Coldflame

Marrowgar creates a frosty line that travels across the battlefield. Anyone unfortunate enough to be ensnared by it will endure damage every second for a span of

8 seconds.

These frigid flames originate from the boss and can inflict significant harm if they make contact with a player.

Bone Slice

This is a devastating attack that deals an immense amount of damage, which is distributed among its targets. It exclusively strikes players within melee range of the boss. This ability's main purpose is to destroy

Tanks,

so keep an eye on it.
Lord Marrowgar Strategy & Tactics
The encounter unfolds in two repeating phases until the boss is defeated. Initially, all Tanks must position themselves collectively at the boss's vicinity to evenly distribute the damage from Bone Slice. Failing to do so risks the primary Tank's survival. Maintaining this proximity helps mitigate the impact of Bone Slice, reducing its damage output.
For the safety of the entire raid, it is advisable for the entire group to stand in melee range, as it shields them from Coldflame's harmful effects. However, Hunters, unable to attack the boss at such close quarters, should position themselves slightly behind the raid and be vigilant in evading Coldflame.
Throughout the encounter, Lord Marrowgar frequently employs the Bone Spike Graveyard ability to impale three targets. Melee fighters should focus their attacks on the spikes to free afflicted players. When the raid is closely clustered, melee damage dealers can efficiently handle this task through cleave and area-effect abilities like Fan of Knives.
Nevertheless, if a Hunter or caster becomes a target of Bone Spike Graveyard, it is more practical for ranged damage dealers to eliminate it, sparing melee fighters from disengaging the boss. As Bone Storm's impending arrival becomes evident, begin dispersing across the room. There is a possibility that someone may be impaled just as Bone Storm initiates, so immediate removal of these spikes is imperative.
Lady Deathwhisper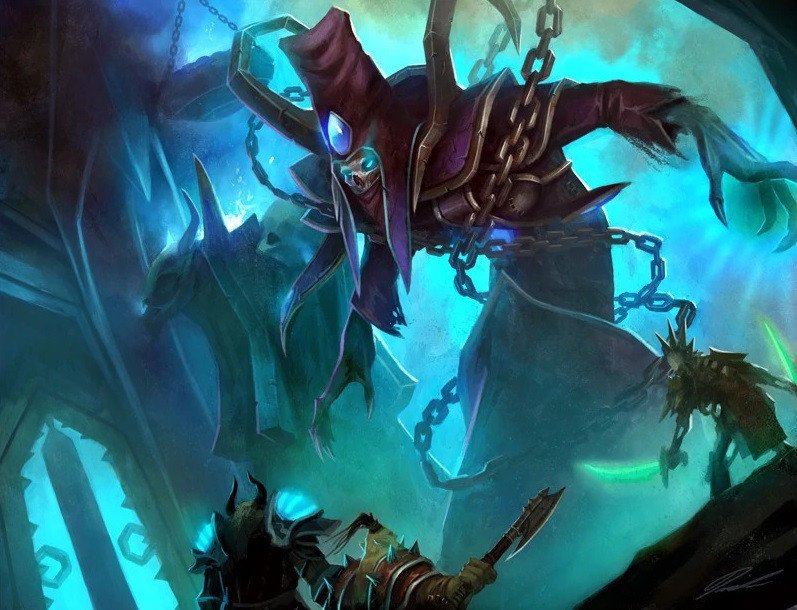 Being the leader of the Cult of the Damned, Lady Deathwhisper acts as the 2nd boss in Icecrown Citadel. She possesses formidable magical abilities, including necromancy and frost spells. Her encounter involves complex mechanics and phases, making it a challenging fight for raid groups. The fight consists of 2 Phases, and we are going to each below.
Lady Deathwhisper 10 Man Raid Setup:
2 Tanks;
2-3 Healers;
5-6 DPS.
Lady Deathwhisper 25 Man Raid Setup:
3 Tanks;
5-7 Healers;
15-17 DPS.
Lady Deathwhisper Abilities
Mana Barrier

This ability automatically restores Lady Deathwhisper's health by drawing from her mana pool.

Animate Dead

The boss can reanimate either a

Cult Adherent

or a

Cult Fanatic.

Typically, she raises three of each type, and she does this once every minute.

Death and Decay

Creates a zone that deals ongoing shadow damage to any targets within its

15-yard radius.

This ability is easily recognizable by the

greenish

area it covers on the floor.

Mind Control

Allows Lady Deathwhisper to take control of an enemy, enhancing their damage output and health for a duration of

20 seconds.

Dark Empowerment

Empowers

Cult Adherents

raised by Lady Deathwhisper, granting them

AoE

damage abilities while rendering them immune to interruption during their spellcasting.

Dark Transformation

Transforms a

Cult Fanatic

into a

Behemoth,

increasing its size and damage potential.

Shadow Bolt

With a casting time of

2 seconds,

inflicts additional shadow damage. This ability is exclusively used during Phase 1 and has a range of 100 yards.

Frostbolt

Delivers frost damage and reduces the movement speed of its target by

50%

for

4 seconds.

It has a 2-second casting time and is employed solely during Phase 2.

Frostbolt Volley

An instant cast ability, which deals

Frost

damage and also reduces movement speed by

50%.

Touch of Insignificance

Reduces threat by

20%,

and it accumulates in stacks, with a maximum of

5 stacks

achievable.

Adherents

Represents a buff that renders adds almost immune to

Magic

damage.

Fanatics

Grants a buff that renders adds nearly impervious to

Physical

damage.

Summon Vengeful Shade

Involves the summoning of a

Vengeful Shade

by Lady Deathwhisper. This shade pursues a raid member and utilizes Vengeful Blast against them.
Lady Deathwhisper Strategy & Tactics
Thorough preparation and strategic planning are paramount before confronting Lady Deathwhisper. Assign specific roles to your tanks and DPS, and divide your raid into two distinct groups: ranged DPS and melee DPS. Ranged DPS should focus their attention on Lady Deathwhisper, while melee DPS should stand ready to address the waves of additional enemies she summons.
As the battle commences, position your raid on the elevated platform, with the tank ideally placed to intercept the incoming adds. To safeguard your healers, ensure they remain positioned behind, away from the potential AoE damage. Lady Deathwhisper intermittently ushers in fresh waves of adds, alternating between opposite sides of the room.
It is imperative that melee DPS efficiently clears one side before transitioning to the other, methodically addressing each wave. Melee DPS should prioritize dealing with Adherents, while Fanatics should be the focus of your casters. Be cautious of explosive adds that can inflict significant damage. The initial add will unleash a Whirlwind attack, demanding swift control and response from both you and your tank.
To optimize your DPS output, consider consolidating adds on each side to enable melee classes to capitalize on cleave damage. Always be vigilant for Lady Deathwhisper's Death and Decay spell, unmistakable due to the expansive Green circle it creates on the floor. Swiftly reposition to evade its harmful effects.
Throughout the encounter, Lady Deathwhisper simultaneously gains control over raid members. It is imperative to employ crowd control on those affected by Mind Control. Fear, Polymorph, Cyclone – select the appropriate method based on your raid setup. The meticulous maintenance of crowd control is of utmost importance in this encounter.
Precise timing is of paramount importance when transitioning into the second phase of the encounter. It is advisable to lower Lady Deathwhisper's Mana to approximately 5-10% before pushing her into the next phase. This ensures that she cannot summon additional waves of adds. The commencement of the second phase is triggered as you breach her Mana Shield.
In Phase 2, tanks return to their customary roles, with a primary focus on maintaining aggro due to Lady Deathwhisper's Touch of Insignificance. Establishing a kick rotation is crucial to prevent any Frostbolts from successfully being cast. Although the concept is straightforward, Phase 2 can become quite chaotic, demanding close coordination between tanks and DPS.
While one or two tanks manage the boss, the others alternate between addressing adds from one side. The need to adapt to this back-and-forth dynamic between adds and the boss adds an extra layer of challenge to Phase 2.
Gunship Battle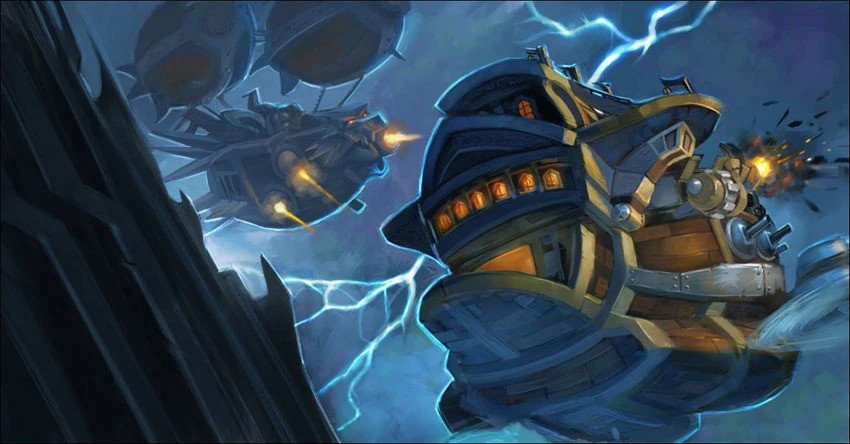 The Gunship Battle is an exciting and unique encounter, which acts as the 3rd boss in the raid. It takes place aboard the Skybreaker, Alliance players' airship, and the Orgrim's Hammer, Horde players' airship, depending on what faction you are playing for. During this part of the raid, you are not fighting any boss but rather face off against an opposite faction.
Gunship Battle 10 Man Raid Setup:
2 Tanks;
2-3 Healers;
5-6 DPS.
Gunship Battle 25 Man Raid Setup:
3 Tanks;
5-7 Healers;
15-17 DPS.
Gunship Battle Abilities
Heat

Serves as a crucial resource for the

Gunship Cannons

in this encounter. These cannons gradually generate heat as they operate. Once a cannon's heat level hits the maximum threshold of 100, it becomes temporarily Overheated and ceases to function for a duration of

3 seconds.

Cannon Blast

Inflicts

Siege

damage upon the target.

Incinerating Blast

A more devastating attack that combines

Siege

damage with additional damage proportional to the amount of heat employed to launch it. The execution of Incinerating Blast consumes the accumulated heat, making it a high-risk, high-reward maneuver.
Muradin Bronzebeard / High Overlord Saurfang
Battle Fury

Enhances all damage output by a substantial

12%,

and it accumulates in stacks. Each stack lasts for a duration of

20 seconds

and is renewed with every successful strike by either Saurfang or Muradin against a target.

Cleave

Delivers Weapon damage to as many as three targets positioned directly in front of

Saurfang

or

Muradin,

making it particularly effective against groups of enemies in close proximity.

Rending Throw

Inflicts Physical damage upon impact and applies a stacking Damage over Time (DoT) effect that triggers every

3 seconds.

Notably, Rending Throw is employed exclusively when the tank is positioned out of melee range, adding a tactical dimension to the encounter.
Gunship Battle Strategy & Tactics
Prepare to engage by equipping your Jetpacks for aerial maneuverability. Assign specific players to operate the Gunship Cannons. Utilize Cannon Blast repeatedly to generate heat and Incinerating Blast to consume your heat, preventing overheating and ensuring continuous cannon functionality.
Be vigilant regarding the adds that materialize on your ship, swiftly employing AoE attacks to eliminate them. Melee DPS players should remain cautious of Bladestorm attacks initiated by Sergeants among the adds.
Remember that adds become increasingly formidable the longer they persist, so prioritize their swift elimination. Ranged DPS should focus on neutralizing the Riflemen situated on the enemy ship.
Expect that, during the encounter, the Gunship Cannons may freeze and become temporarily unusable. To reestablish their functionality, it is imperative to eliminate the Mage located on the enemy ship.
Deploy a group comprising Melee DPS, a Tank, and Healers to the enemy ship using their jetpacks. Once there, expedite the Mage's demise as the Commander on the enemy ship gains a stacking damage buff, which can become unmanageable if allowed to accumulate.
After the Mage is vanquished, use your jetpacks to safely return to your own ship. Exercise caution when on your ship to avoid enemy rockets positioned on the ground.
Deathbringer Saurfang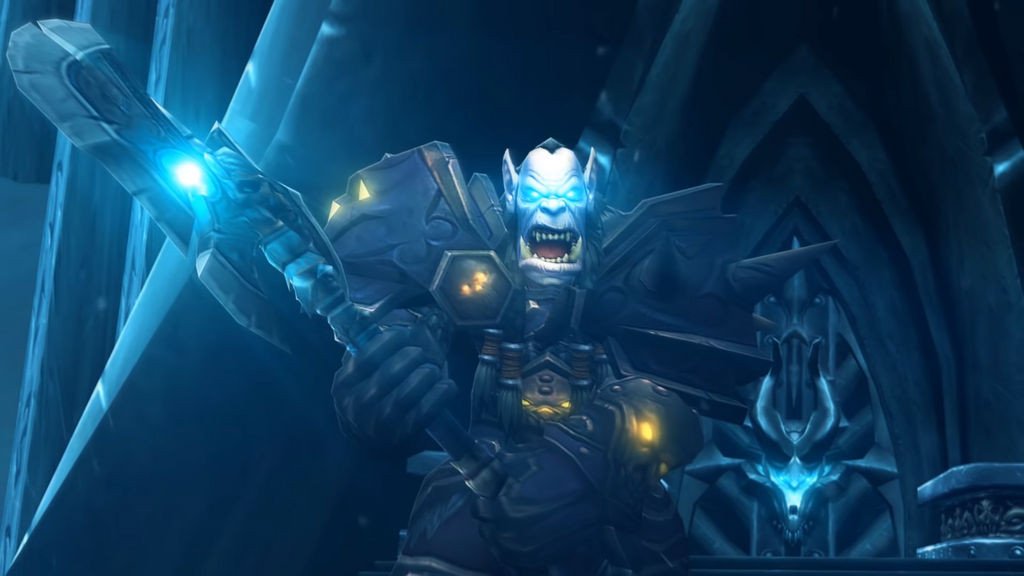 Deathbringer Saurfang is the 4th boss and known for his combat prowess and is often referred to as one of the most skilled warriors in the game. He is a formidable orc warrior who wields a massive two-handed weapon and wears distinctive, imposing armor. His loyalty to the Lich King is unwavering, making him a key figure in the storyline as players seek to confront and ultimately defeat the Lich King.
Deathbringer Saurfang 10 Man Raid Setup:
2 Tanks;
2-3 Healers;
5-6 DPS.
Deathbringer Saurfang 25 Man Raid Setup:
3 Tanks;
5-7 Healers;
15-17 DPS.
Deathbringer Saurfang Abilities
Mark of the Fallen Champion

The boss' melee strikes splash over to the marked target, causing additional

Physical

damage. If the afflicted target perishes while under this effect, he reaps the benefit of a

5%

(20% on Heroic) total health restoration. Importantly, this mark is immune to dispelling or any form of removal, including death itself.

Boiling Blood

Agitates an enemy's blood, resulting in periodic Physical damage occurring every

3 seconds

for a duration of

15 seconds.

Rune of Blood

Allows the boss to siphon health when he executes melee attacks on targets marked with this rune. The amount leeched equals

20 times

the damage dealt, directly replenishing Saurfang's health pool.

Call Blood Beast

Summons formidable

Blood Beasts

into the battle.
Deathbringer Saurfang Strategy & Tactics
Saurfang undergoes an enraged state approximately 6 minutes into the battle. To mitigate damage from Blood Nova, ranged players should maintain a spread-out formation. Healers should be attentive to players afflicted with Boiling Blood. Tanks should promptly taunt off each other when marked by Rune of Blood.
When Saurfang accumulates 100 Blood Power, he will randomly cast Mark of the Fallen Champion on a player. It is imperative to keep this player alive; otherwise, they will heal Saurfang for a substantial portion of his health (20% on Heroic or 5% on Normal difficulty).
At intervals of 35 seconds, Saurfang summons 5 Blood Beasts (or 2 in 10-man raids) in his vicinity. Ranged DPS players are tasked with kiting and eliminating these Blood Beasts, which boast Resistant Skin and thus necessitate single-target abilities for effective disposal.
On Heroic difficulty, Blood Beasts additionally employ Scent of Blood shortly after their emergence. Finally, Saurfang triggers Frenzy at 30% HP.
Festergut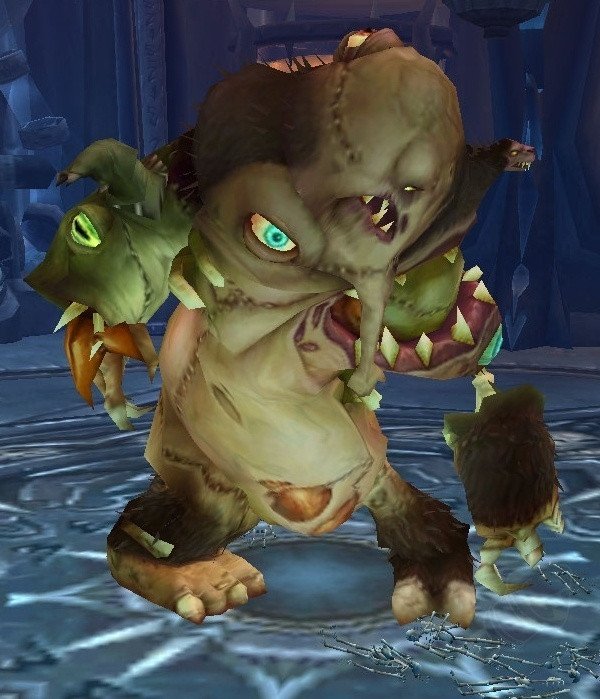 Festergut is an abomination, a creation of the Lich King's forces, and he is characterized by his immense size and repugnant appearance. Being the 5th boss in the Icecrown Citadel raid, he is known for challenging mechanics, requiring players to manage various debuffs and environmental hazards while dealing damage to the boss.
Festergut 10 Man Raid Setup:
2 Tanks;
2-3 Healers;
5-6 DPS.
Festergut 25 Man Raid Setup:
3 Tanks;
5-7 Healers;
15-17 DPS.
Festergut Abilities
Gas Spore

Targets three random party members, dealing

Physical

damage to those nearby after a

12-second delay.

Malleable Goo

Has a 5-yard radius, inflicting damage and drastically slowing casting and attack speed by

200%

for

15 seconds.

Gaseous Blight

Causes

Shadow

damage and affects all party members.

Inhale Blight

Boosts the boss' damage and attack speed by

30%,

with a casting time of

3.5 seconds.

Pungent Blight

Delivers a significant dose of

Shadow

damage, affecting all party members, and has a

3-second

casting time.

Vile Gas

Inflicts damage every

2 seconds,

leading infected party members to vomit and harm other nearby party members. Its duration i

s 6 seconds.

Gastric Bloat

Results in Nature damage and raises in intensity by

10%

with each cast. It triggers Gastric Explosion when reaching

10 stacks

and persists for 100 seconds.

Gastric Explosion

Acts as a lethal outcome for the infected party member, causing their demise and dealing

Shadow

damage to adjacent party members.
Festergut Strategy & Tactics
Festergut enters an enraged state after 5 minutes. Efficiently heal the raid-wide damage stemming from Gaseous Blight. Ranged players should maintain a spread-out formation to minimize the risk of multiple players being affected by Vile Gas.
Tanks will acquire a stacking debuff known as Gastric Bloat. To avert an explosive catastrophe and prevent a raid wipe, tanks should engage in a taunt rotation when this debuff reaches 9 stacks.
On Heroic difficulty, Professor Putricide occasionally hurls Malleable Goo at random players from the balcony. Players must deftly dodge these projectiles.
Throughout the encounter, Festergut unleashes Inhale Blight, which concurrently reduces the damage dealt by Gaseous Blight. Consequently, raid-wide damage diminishes, but tank damage escalates substantially following each Inhale Blight cast.
At intervals, 3 random players (or 2 in 10-man raids) will be afflicted with Gas Spore, set to detonate after 12 seconds. The entire raid must congregate around one of these players to accumulate stacking buffs, guarding against impending death from Pungent Blight, and then subsequently disperse.
Roughly 20 seconds after Festergut employs Inhale Blight for the third time, he proceeds to cast Pungent Blight. This action results in the removal of buff stacks, the reduction of Festergut's stacking damage buff, and the reintroduction of Gaseous Blight into the room.
Rotface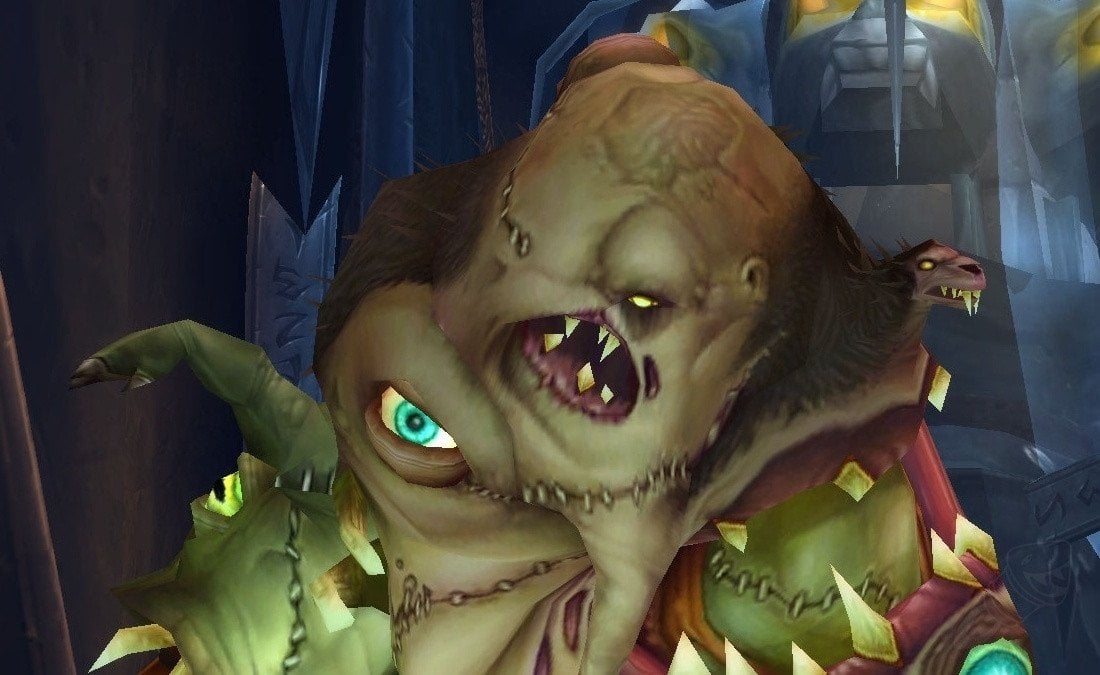 Rotface is the 6th boss known for his hulking and deformed appearance, with his body composed of various stitched-together body parts and oozing, toxic substances. The encounter with Rotface is memorable for its unique mechanics, which include managing the spread of ooze and handling various abilities related to toxic slimes. Players must coordinate their actions and strategically position themselves to overcome the challenges posed by this grotesque abomination.
Rotface 10 Man Raid Setup:
2 Tanks;
2-3 Healers;
5-6 DPS.
Rotface 25 Man Raid Setup:
3 Tanks;
5-7 Healers;
15-17 DPS.
Rotface Abilities
Mutated Infection

Afflicts its target with continuous damage over a

12-second

duration while simultaneously reducing the healing they receive by half. Upon expiration, it spawns a small ooze.

Ooze Flood

Inflicts damage over time and progressively reduces movement speed by

10%

with each stack. This effect persists for

5 seconds.

Slime Spray

Delivers ongoing

Nature

damage per second over a 5-second duration.

Vile Gas

Inflicts damage every

2 seconds

and prompts infected party members to vomit, harming nearby party members as well. This effect persists for

6 seconds.
Rotface Strategy & Tactics
On Heroic difficulty, Professor Putricide periodically casts Vile Gas at random ranged players from the balcony. To mitigate its effects, maintain a spread-out formation, akin to the strategy employed during the Festergut encounter.
Exercise caution to avoid Slime Spray. Throughout the fight, the outer quarter of the room becomes engulfed by Ooze Flood. Each quarter experiences coverage at least once before the cycle repeats.
Randomly inflicted players will contend with Mutated Infection, which spawns a Small Ooze upon cleansing or upon the debuff's expiration. The merger of two Small Oozes yields a Big Ooze, which accumulates a stacking damage buff when it combines with a Small Ooze.
Once a Big Ooze merges with a Small Ooze five times, it triggers Unstable Ooze Explosion, leading to its self-destruction. The Off Tank takes responsibility for tanking the first two Small Oozes before their merger, subsequently kiting the Big Ooze around the outer edge of the room.
Players afflicted by Mutated Infection should position themselves in the Off Tank's path. Upon cleansing, the Big Ooze will collide with the Small Ooze and undergo fusion.
Professor Putricide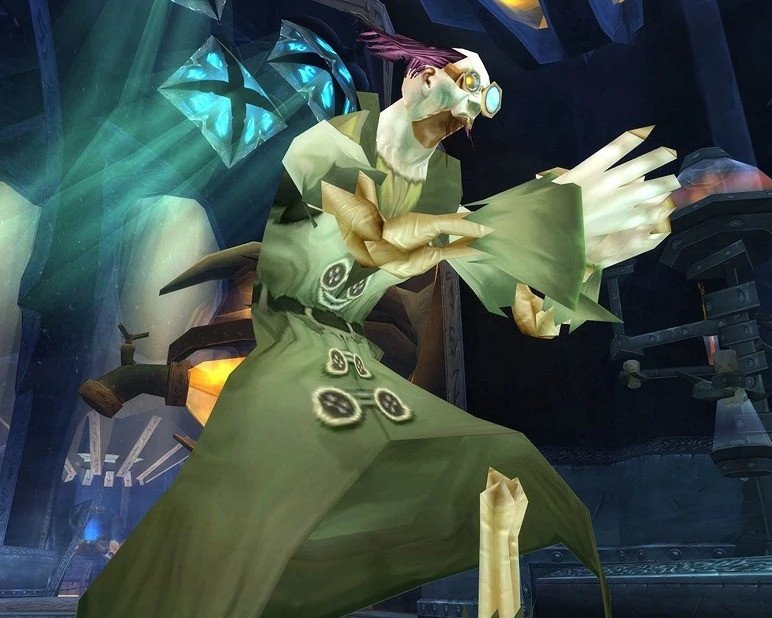 Professor Putricide is the 7th boss and known for his eccentric and deranged personality, and he plays a pivotal role in the storyline of Icecrown Citadel. He is responsible for creating grotesque creatures and concocting deadly plagues, all in service to the Lich King, who serves as the ultimate antagonist of the expansion.
Professor Putricide 10 Man Raid Setup:
2 Tanks;
2-3 Healers;
5-6 DPS.
Professor Putricide 25 Man Raid Setup:
3 Tanks;
5-7 Healers;
15-17 DPS.
Professor Putricide Abilities
Unbound Plague

Delivers continuous damage over time, with its potency escalating each passing second that the

Blight

persists on the affected target.

Unstable Experiment

Serves as the ability responsible for spawning either

Gas Cloud

or

Volatile Ooze.

Slime Puddle

Generates a slimy pool at specified target locations.

Choking Gas Bomb

Involves the boss' hurling gas bombs in the vicinity, leading to ongoing damage over time, with an eventual explosion occurring after

20 seconds.

Choking Gas Explosion

Denotes the detonation resulting from the gas bombs about

20 seconds

after they make contact with the ground. This explosion inflicts damage and entirely eliminates the hit chance of affected targets for a duration of 20 seconds.

Malleable Goo

Causes damage to anyone situated in its path while also significantly reducing attack and casting speed by

250%.

Mutated Strength

Amplifies the boss' attack speed and damage output by

50%,

concurrently dealing escalating damage to his adversaries every

3 seconds.

Mutated Plague

Offers the boss' substantial healing, with the amount increasing significantly for each stack of Mutated Plague previously afflicting the target.
Professor Putricide Strategy & Tactics
At the outset, the raid divides into three groups: two for ranged and healing, and one for melee. A contagious disease begins to spread among the players. Melee players must react swiftly as the disease hops between them, necessitating a rapid spread. Safely pass the disease to others every 8-10 seconds. Crucially, synchronize the phase transition to handle oozes effectively, giving priority to the green ooze.
Phase 2 introduces additional challenges with the emergence of Ooze adds and Choking Gas Bombs. Evade the hazards posed by Malleable Goo and Choking Gas Explosion. Maintain the group formations established in Phase 1. Continue to pass the disease. Melees and tanks must remain vigilant for Choking Gas Bomb, carefully controlling the boss's positioning to prevent the debuff. Execute the transition cautiously, at around 37%, to effectively manage the oozes.
In the final phase, precise positioning becomes paramount. Beware of oozes and Choking Gas Bombs. As Slime Puddle can no longer be absorbed, keep the center clear. Meticulously manage boss movement to avert debuffs on melee players. Tank coordination for taunts minimizes raid damage. Prioritize healing tanks and be prepared to let some players fall if necessary. Utilize Bloodlust/Heroism after dealing with oozes, ensuring careful planning. Consider allowing players with the disease to succumb and revive them later in the encounter.
Blood Prince Council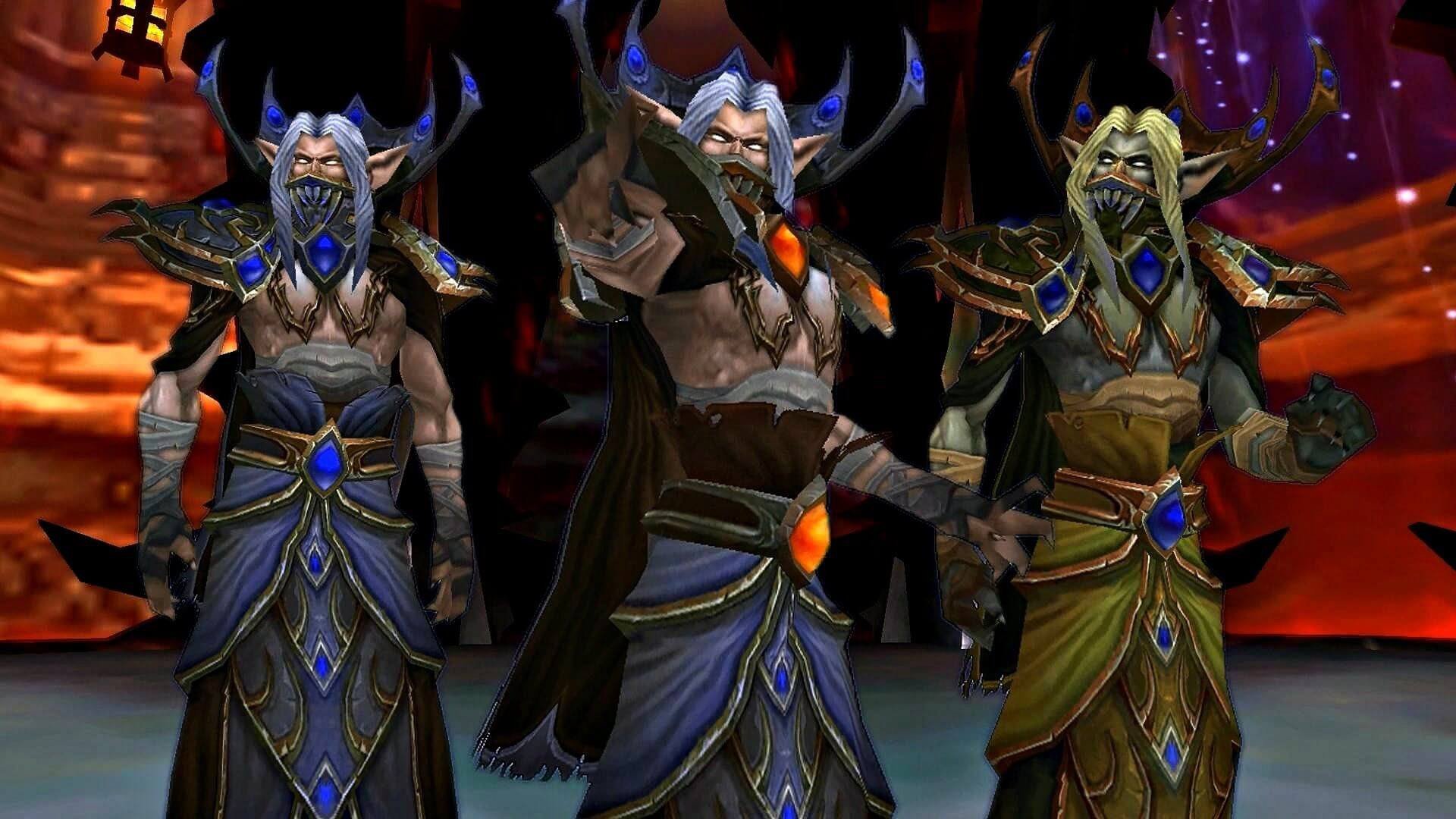 Blood Prince Council is the 8th boss and composed of three blood elf princes: Prince Valanar, Prince Keleseth, and Prince Taldaram. Each prince has unique abilities and characteristics, and the encounter is structured as a council-style fight where players must deal with all three princes simultaneously. Players must manage the abilities of each prince while avoiding deadly attacks and positioning themselves strategically. This fight tests the raid's ability to communicate effectively and prioritize targets.
Blood Prince Council 10 Man Raid Setup:
2 Tanks;
2-3 Healers;
5-6 DPS.
Blood Prince Council 25 Man Raid Setup:
3 Tanks;
5-7 Healers;
15-17 DPS.
Blood Prince Council Abilities
Shadow Prison

This debuff that affects every player in motion. Each time a player moves, they accumulate one stack of this debuff, which inflicts damage. For example, if you move for

5 seconds,

you will have

5 stacks

and suffer damage each second. Importantly, the damage ceases when you stop moving. So, if you find yourself with numerous stacks, it is safer to halt your movement and allow the debuff to dissipate.

Kinetic Bomb

Bright spheres descend from the ceiling throughout the fight, with a maximum of four in play. When a Kinetic Bomb reaches the ground, it detonates, causing significant damage and hurling the entire raid across the room. This often leads to disastrous outcomes, so it is crucial to keep them in mind. Damaging these bombs will propel them back into the air, preventing a ground impact.

Empowered Shock Vortex (Valanar)

Involves a forceful wave emanating from the caster, dealing

Physical

damage and forcibly pushing nearby allies away.

Shock Vortex (Valanar)

Inflicts damage upon all enemies within a specified range and pushes them backward.

Shadow Lance (Keleseth)

Involves the hurling of a dark magic bolt at an enemy, resulting in

Shadow

damage.

Empowered Shadow Lance (Keleseth)

Acts as a more potent version of the attack described above, dealing substantial

Shadow

damage.

Summon Dark Nucleus (Keleseth)

Summons Dark Nucleus, which possesses the Shadow Resonance ability.

Conjure Flame Sphere (Taldaram)

The boss entails the creation of a large

Flame Sphere

above the caster, which swiftly approaches a distant player. Upon reaching its target, the sphere detonates, causing massive damage within a small radius.
Blood Prince Council Strategy & Tactics
Each Prince can only be damaged one at a time due to the effect of Invocation of Blood. This also grants the active Prince an empowered version of one of their spells. Invocation of Blood switches every 30 seconds, with Valanar always starting with it.
To minimize damage from Valanar's Shock Vortex, it is crucial to maintain a spread-out formation. When Empowered Shock Vortex is cast, melee players should promptly move away and spread out. Assign ranged DPS to handle Valanar's Kinetic Bombs to prevent them from reaching the ground and causing damage.
Similarly, for Taldaram's Glittering Sparks, staying spread out is essential to mitigate damage. If you are targeted by Taldaram's Ball of Flames or Empowered Ball of Flames, move away from it. Meanwhile, the rest of the raid should move alongside the Ball of Flames to deplete its power before it reaches its intended target.
In the third phase, Prince Keleseth will cast Shadow Lance and summon Dark Nucleus. The Tank responsible for Keleseth, which can be a ranged tank like a Warlock, should focus on damaging the Dark Nucleus to gain the Shadow Resonance buff.
Blood Queen Lana'thel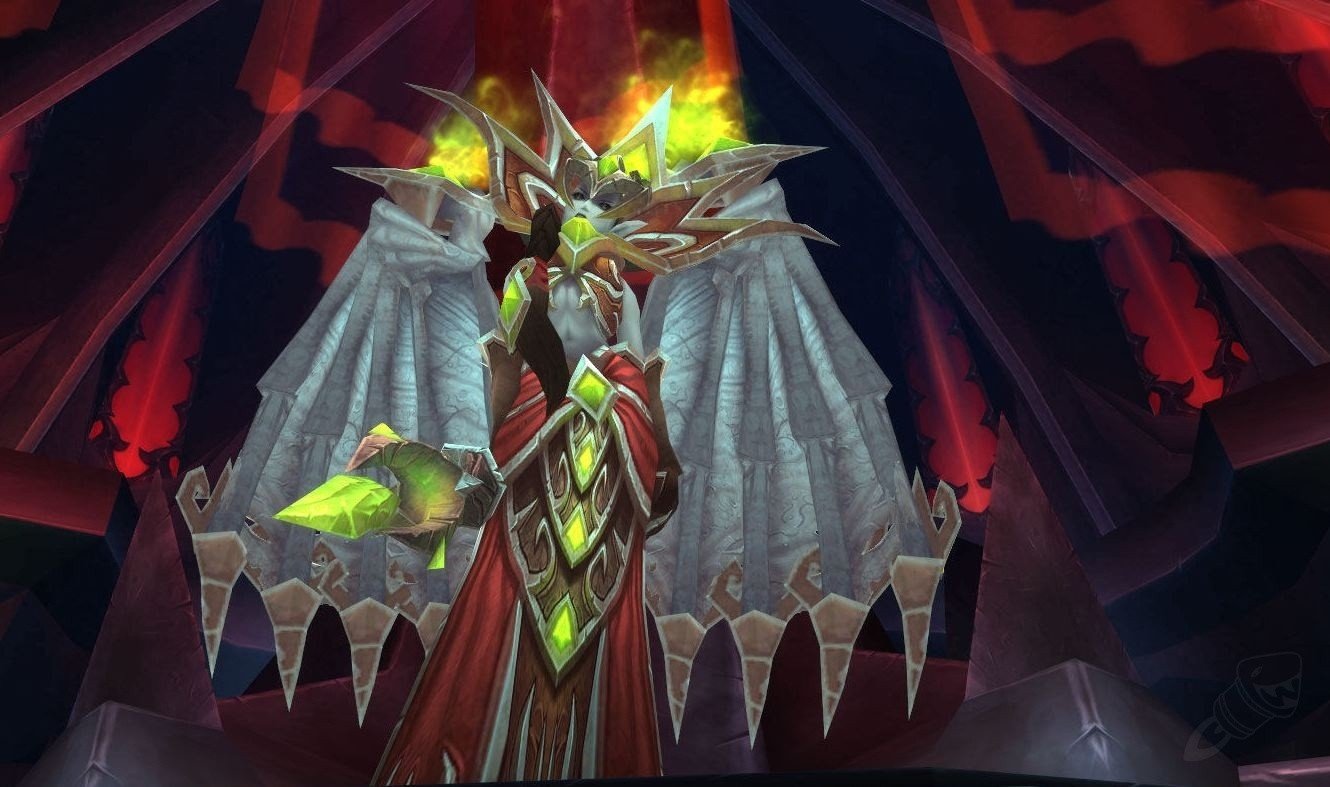 Lana'thel was once a high elf and a member of the San'layn, a group of blood elves who had been transformed into vampiric undead by the Lich King himself. Under the Lich King's control, she became the ruler of the San'layn and an influential figure within the Scourge. She acts as the 9th boss in this legendary raid testing your reaction and a range of fight mechanics.
Blood Queen Lana'thel 10 Man Raid Setup:
2 Tanks;
2-3 Healers;
5-6 DPS.
Blood Queen Lana'thel 25 Man Raid Setup:
3 Tanks;
5-7 Healers;
15-17 DPS.
Blood Queen Lana'thel Abilities
Swarming Shadows

Targets a random player in the raid, marked by the appearance of purple flames beneath them. This player must promptly carry these shadows out of the raid area.

Pact of the Darkfallen

Establishes a red beam connection between players, causing them to deal

Shadow

damage to others within range. To break this connection, all linked players must be within

5 yards

of each other for at least one second.

Bloodbolt Whirl

Hurls a dark blood bolt at the target, inflicting damage.

Essence of the Blood Queen

The boss bites a player, granting them the Essence of the Blood Queen buff. This vampiric transformation boosts damage output by

100%

and causes attacks to heal for

15%

of the damage dealt. After

60 seconds,

this buff fades away, and players gain the Frenzied Bloodthirst debuff, requiring them to promptly bite another non-infected player to satiate their thirst for blood.

Shroud of Sorrow

Continuously inflicts

Shadow

damage to nearby enemies every

2 seconds.

Twilight Bloodbolt

Targets a specific player, dealing damage not only to the target but also to surrounding allies within

6 yards.

Blood Mirror

Links all of the main

Tank's

damage with another raid member, causing

Shadow

damage to the linked player, who, in turn, damages whoever is standing closest to the Tank.
Blood Queen Lana'thel Strategy & Tactics
The encounter with Blood Queen Lana'thel requires the presence of two tanks to manage Blood Mirror effectively. Healers should keep a vigilant eye on the tank to counter the effects of Delirious Slash.
Throughout the encounter, the Blood-Queen emanates an aura called Shroud of Sorrow, causing continuous raid-wide damage. In Heroic difficulty, this damage escalates with each player who possesses the Essence of the Blood Queen buff.
Ranged DPS should maintain a spread-out formation in a semi-circle to handle Twilight Bloodbolt. However, they should also create an opening in the center of the room to deal with Pact of the Darkfallen. Players linked by this effect should converge in the center to remove the debuff.
If targeted by Swarming Shadows, players should immediately distance themselves from the raid, as the debuff will follow them until it expires.
Periodically, every 2 minutes, Blood-Queen Lana'thel takes flight and employs Incite Terror, casting Bloodbolt Whirl on the entire raid. After the fear from Incite Terror subsides, raid members should rapidly spread out.
Fifteen seconds into the fight, Blood-Queen Lana'thel uses Vampiric Bite on the highest threat player, besides the tank, granting them the Essence of the Blood Queen buff for 60 seconds. To avoid Mind Control, players must use Vampiric Bite on another player within 10 seconds after the buff expires. Subsequently, every 60 seconds, players with the Essence of the Blood Queen buff must continue to use Vampiric Bite on players who haven't been bitten yet.
The encounter has a 5:30 minute enrage timer. Assuming players are using Vampiric Bite promptly, it is advisable to have 16 DPS with the Essence of the Blood Queen around the 4:30 mark, making it an opportune time to utilize Bloodlust.
Valithria Dreamwalker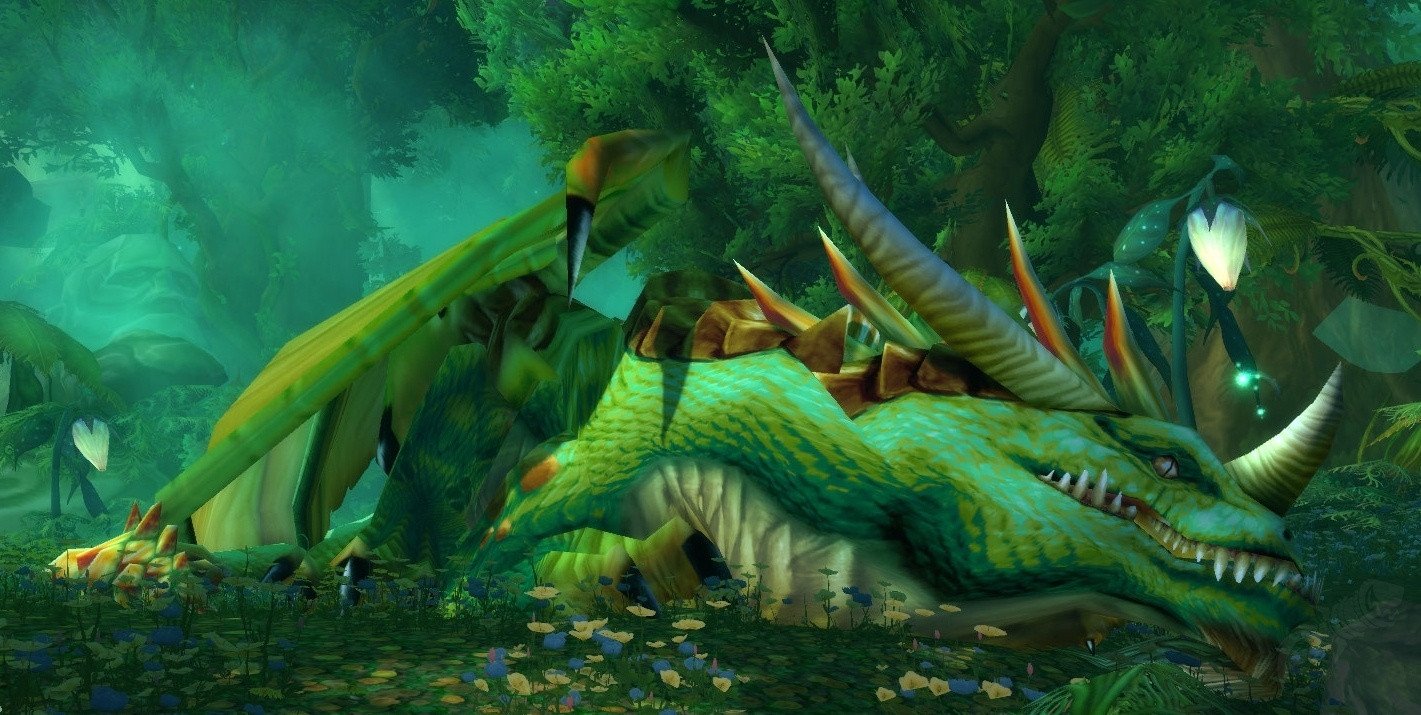 Valithria Dreamwalker is the 10th boss and a green dragon that serves as the guardian of the Emerald Dream. In the raid, players must aid Valithria in her weakened state as she battles the Scourge forces within the citadel. The encounter is unique in that players must focus on healing the boss rather than defeating traditional enemies. It requires healers to keep her alive while dealing with waves of enemies and various mechanics.
Valithria Dreamwalker 10 Man Raid Setup:
2 Tanks;
2-3 Healers;
5-6 DPS.
Valithria Dreamwalker 25 Man Raid Setup:
3 Tanks;
5-7 Healers;
15-17 DPS.
Valithria Dreamwalker Abilities
Summon Nightmare Portal

Upon activation, grants entry to the

Dream State.

Twisted Nightmares

Your character experiences periodic Nature damage every

3 seconds.

However, in compensation, you also gain

200 Mana

every 3 seconds, and both your healing and damage output receive a

10%

boost. This transformative buff has a

40-second

duration, can accumulate in stacks of up to 100, and serves as the linchpin for achieving victory in this encounter.
Apart from the boss' main abilities, you will also have to deal with a range of constantly spawning and attacking adds. In fact, this is your primary goal, as you need to protect Valithria from them while your Healers will help her to get to 100% HP.
Valithria Dreamwalker Strategy & Tactics
Valithria's restoration to full health is the primary objective to conclude this encounter. In the Heroic version of the battle, her health gradually diminishes over time.
Healing duties are divided between those focused on Valithria and those attending to the raid's well-being. Archmages clustered around Valithria should be the target of AoE attacks.
At 30-second intervals, Nightmare Portals make their appearance, initially identifiable as dormant red orbs (or green in the normal version) on the ground. Healers assigned to Valithria should enter these portals and make contact with the orbs within, acquiring the valuable Emerald Vigor.
In the Heroic variant, these orbs apply a damage-over-time (DoT) effect. They will not respawn, so some orbs should be left intact for future Nightmare Portals to maintain Emerald Vigor stacks. Healers dedicated to Valithria must diligently sustain their stacks throughout the fight.
To address the spawned adds, the raid should split into two groups, each responsible for one side of the room. Swift elimination of Blazing Skeletons is crucial due to their Lay Waste ability.
Suppressers will channel Suppression on Valithria. Risen Archmages pose threats with their Column of Frost, Frostbolt Volley, and Mana Void. Efforts should be made to interrupt Frostbolt Volley. In the Heroic mode, Frostbolt Volley drains 2,000 Mana.
Sindragosa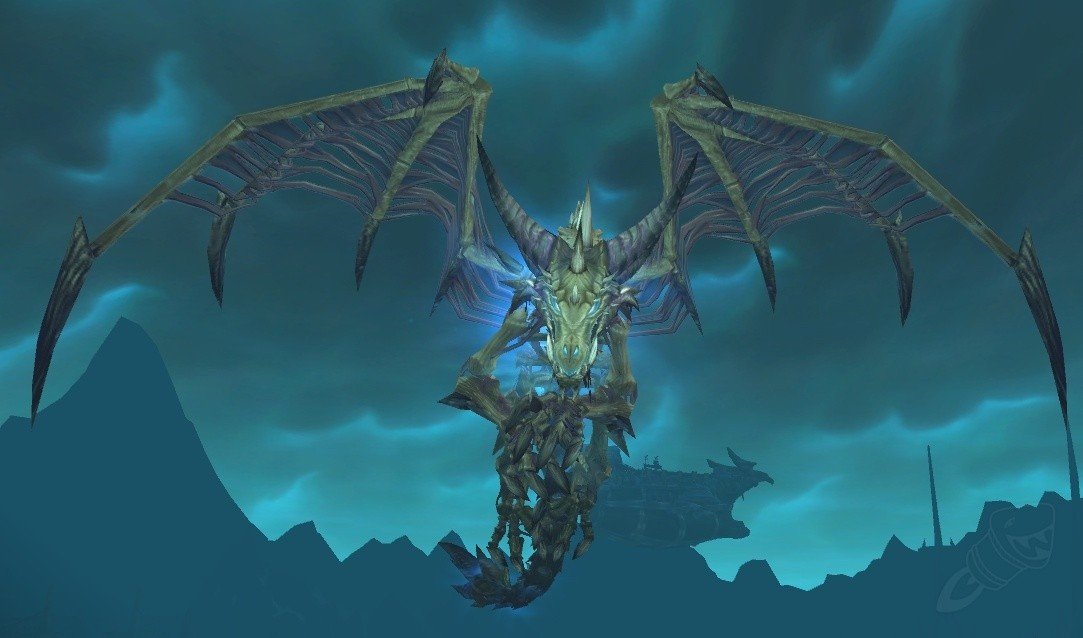 Sindragosa is the 11th boss waiting for you in the Frostwing Halls. She serves as one of the primary challenges in the raid, with a range of frost-themed abilities and mechanics that players must overcome to defeat her. She was once a blue dragon named Sindragosa, consort to the blue dragon aspect Malygos. However, she was later transformed into a powerful frost wyrm by the Lich King.
Sindragosa 10 Man Raid Setup:
2 Tanks;
2-3 Healers;
5-6 DPS.
Sindragosa 25 Man Raid Setup:
3 Tanks;
5-7 Healers;
15-17 DPS.
Sindragosa Abilities
Tail Smash

Strikes foes within

20 yards

of its impact point, dealing damage and pushing them back.

Frost Aura

Emits a chilling aura that periodically damages nearby enemies with

Frost

damage.

Icy Grip

Pulls all raid members towards the boss, setting them up for Blistering Cold.

Blistering Cold

Unleashes a devastating wave of

Frost

damage on enemies within a

25-yard

radius.

Unchained Magic

Initiates an

Arcane

backlash after

8 seconds.

Instability

Inflicts

Arcane

damage per stack when under the effect of Unchained Magic, dealing damage to nearby allies in a

20-yard

range on heroic difficulty.

Frost Beacon

Marks a target for encasement in an Ice Tomb.

Ice Tomb

Creates icy spheres that encase enemies in blocks of ice.

Frost Bomb

Inflicts

Frost

damage that cannot be healed to all nearby targets.

Mystic Buffet

Assails nearby foes with arcane energy every

6 seconds,

increasing magical damage taken by

10%

per stack for

8 seconds.

Penetrating Cold

Causes melee

DPS

to suffer additional physical damage, with

1,000 Frost

damage per stack every

2 seconds.

Frost Breath

Unleashes a massive cone of

Frost

damage, slowing affected targets' attack speed by

50%

and movement by

15%.
Sindragosa Strategy & Tactics
During this phase, once she lands, exercise patience until the tank firmly establishes aggro. The tank should tactically position Sindragosa to the side to mitigate perilous attacks. Melee combatants must vigilantly evade Tail Smash, Frost Breath, and prepare for Blistering Cold. It is crucial to monitor your stacks of Penetrating Cold, keeping them within the manageable range of 8 or 9 to lighten the load on healers.
If the boss targets you with Unchained Magic, immediately halt your spellcasting, as it can prove fatal. Healers must be cautious not to accumulate more than 5 or 6 stacks of Unchained Magic and should position themselves away from the raid. When Icy Grip is cast, execute a swift retreat from Sindragosa to evade the subsequent Blistering Cold. Abilities like Blink, Ghost Wolf, or Disengage can facilitate your escape.
As the boss takes flight, she designates six players with Frost Beacon. Ensure you mark these targeted individuals, and a Paladin should grant the main tank Hand of Freedom for a seamless transition to the aerial phase. During the airborne phase, the primary focus of DPS should be the swift destruction of Ice Tombs, with the entire raid taking refuge behind them to shield against Frost Bombs.
The second phase introduces the formidable Mystic Buffet ability. To successfully navigate this phase, it is imperative to limit the accumulation of Mystic Buffet stacks to no more than 5 or 6. Avoid incurring unnecessary magic damage during Unchained Magic by employing prudent strategies such as utilizing a tank cooldown or resorting to Pain Suppression and Hand of Sacrifice as needed.
The boss no longer takes to the skies but instead targets players with Frost Beacons, which subsequently create Ice Tombs on the ground, akin to the aerial phase. To effectively combat this challenge, the raid should position themselves strategically behind these Ice Tombs to shield against the effects of Mystic Buffet. Additionally, they should periodically shift between the left and right Ice Tombs to adeptly manage Blistering Cold and deftly evade Frost Bombs.
A meticulous execution of this tactic, combined with adherence to the overall strategy, paves the way for a triumphant encounter in this phase. It is worth noting that while this encounter may appear daunting from a psychological standpoint, it can be surmounted with relative ease when approached with a well-coordinated plan and precise execution.
The Lich King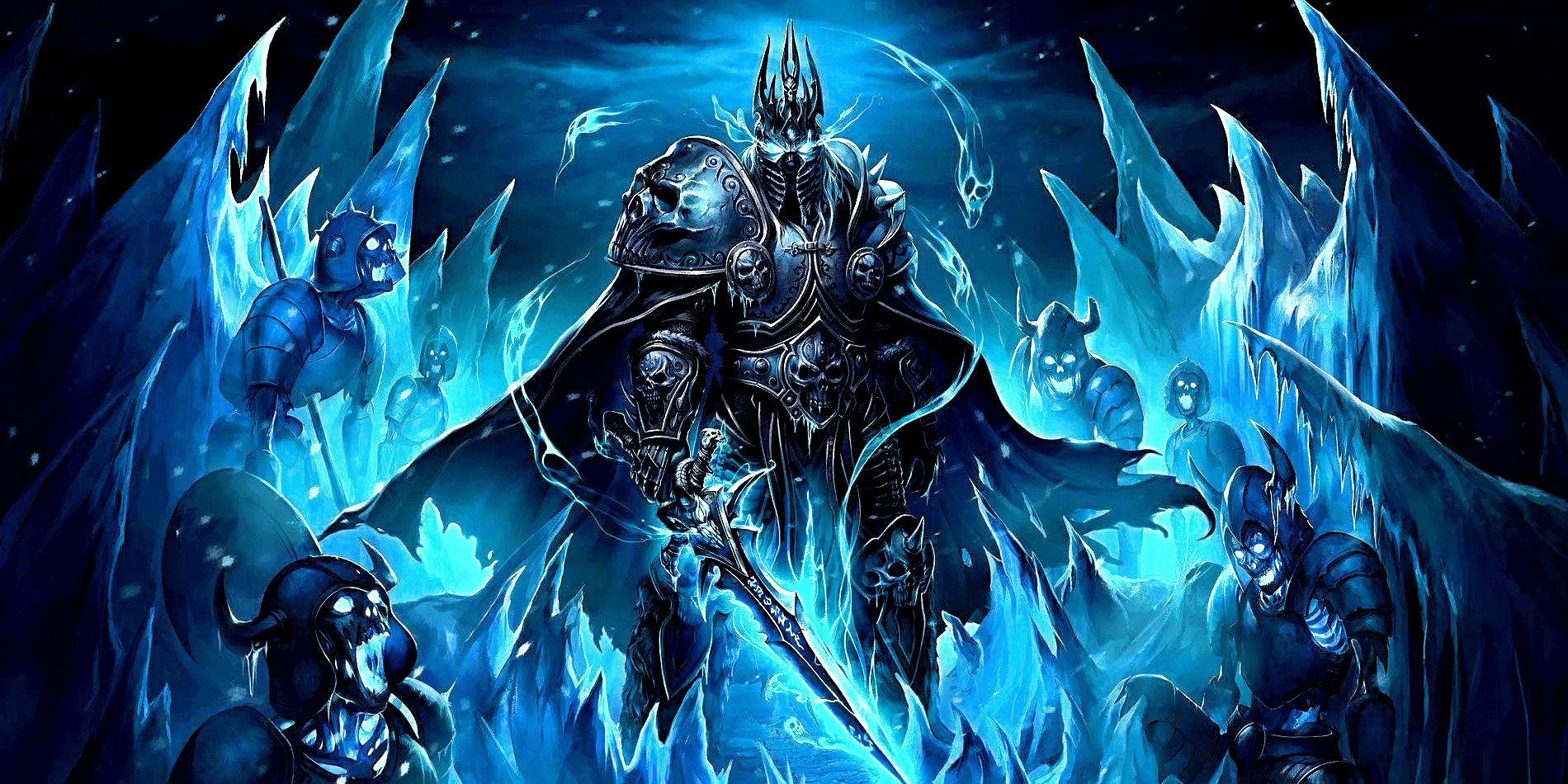 The Lich King, also known as Arthas Menethil, is the primary antagonist and final boss in the Icecrown Citadel raid. Arthas was once a prince of Lordaeron who became corrupted by the cursed runeblade Frostmourne and transformed into the Lich King, the leader of the undead Scourge. In this part of the article, we will cover not only all the details you need to know to defeat this boss but also tell you how to get to Arthas in ICC, as this often causes problems for unprepared players.
The Lich King 10 Man Raid Setup:
2 Tanks;
2-3 Healers;
5-6 DPS.
The Lich King 25 Man Raid Setup:
3 Tanks;
5-7 Healers;
15-17 DPS.
Consider the following instructions as both ICC 25 guide and 10 as well. Just like with all the bosses described above, we are going to enlist all his abilities and provide you with a detailed strategy to defeat him.
Before we delve deeper into the topic, let's find out how do you get to the Lich King in Icecrown Citadel after you defeat the previous boss. If you think it is that simple and obvious, believe us it is not. Many players cannot find the portal leading to the final boss no matter what Icecrown Citadel maps they use, as it is not that easy to spot it.
The thing is that getting to the Lich King is only possible after you are done with all the previous bosses. Only in this case, you will have a portal open in the center platform after you have cleared Sindragosa.
Now that you know how to get to Lich King ICC, let's get to the main and most interesting part of the guide and find out how to defeat this formidable boss.
The Lich King Abilities
Summon Drudge Ghouls

Gradually summons

3 Drudge Ghouls

over a period of 3 seconds.

Summon Shambling Horror

Calls forth a

Shambling Horror

that possesses Shockwave and Enrage abilities.

Soul Reaper

Strikes the target for

50%

weapon damage and inflicts them with Soul Reaper, a debuff that deals substantial

Shadow

damage after 5 seconds and increases the caster's haste by

100%

for 5 seconds.

Necrotic Plague

Infects the target with a deadly plague, causing significant

Shadow

damage every

5 seconds

for 15 seconds. If the afflicted target dies or the effect expires, it jumps to another nearby unit, gaining an additional stack. Dispelling it reduces a stack and makes it jump.

Plague Siphon

Boosts the boss' physical damage by

2%

for each jump of Necrotic Plague.

Infest

Deals initial Shadow damage to all enemy players and continues to inflict increasing

Shadow

damage per second. The effect ends when the target has more than

90%

health.

Remorseless Winter

Conjures a massive winter storm, dealing

Frost

damage to all nearby enemies within a

45-yard

radius.

Pain and Suffering

Unleashes

Shadow

damage in a cone in front of the caster, leading to ongoing

Shadow

damage for 3 seconds, stackable up to

5 times.

Summon Ice Sphere

Summons an

Ice Sphere

that deals

Frost

damage and knocks back any enemy it reaches off the platform.

Summon Raging Spirit

The

Raging Spirit

possesses the Soul Shriek ability.

Defile

Taints the ground beneath a random target, dealing

Shadow

damage to any enemies within the area and causing it to expand. Lasts for

30 seconds.

Summon Val'kyr Shadowguard

A

Val'kyr Shadowguard

attempts to seize a random raid member and drop them from the top of Icecrown Citadel.

Harvest Soul

Tries to harvest the souls of nearby enemies, dealing ongoing

Shadow

damage per second. If a target survives the channel, their soul is transferred to

Frostmourne

to be devoured.

Vile Spirits

Conjures

10 Vile Spirits

that will assault enemies after

30 seconds.

Shadow Trap

Inflicts

Shadow

damage on all enemies within a 10-yard radius, pushing them back.

Fury of Frostmourne

Unleashes a devastating wave of

Shadow

damage that renders all enemies unable to release their spirits or be resurrected. The Lich King casts this at

10%

health, signifying the conclusion of the encounter.
The Lich King Strategy & Tactics
Do remember that this is the toughest encounter in the entire raid. It consists of 3 large phases. For your convenience, we are going to describe all of them separately, as each of them features unique mechanics you are to play around. Also, forget about any Icecrown Citadel walkthrough solo as it was in the original WotLK since it will not be possible in the Classic version of the game.
At the start of the encounter, the boss stands in the platform's center. The Off-Tank's primary responsibility is handling Shambling Horrors, ensuring they face away from the raid. Raid members should position themselves near the middle edge of the platform to avoid frontal cone attacks.
Careful management of the Necrotic Plague debuff, applied to players, is essential to pass it on to Shambling Horrors. DPS roles include clearing Drudge Ghouls and managing their Frenzy state. Healers must pay attention to Infest, a damaging debuff, to prevent it from overwhelming the raid. The phase transition is triggered when the Lich King's health drops to 70%, prompting the raid to move to a new platform.
During the phase where the raid spreads out, it is crucial to minimize damage from Pain and Suffering and to handle Ice Spheres effectively. The Off-Tank should be in charge of managing Raging Spirits, while Ranged DPS should focus on taking down Ice Spheres to prevent any disruptions to the Raid. This phase requires a delicate balance of positioning and target priority. Ensuring a smooth transition back to the main platform before the mobile one disappears is of utmost importance.
During this stage, the Main Tank maintains control of the Lich King in the center, while the Off-Tank focuses on handling any remaining Raging Spirits. The management of the Plague Siphon debuff becomes of utmost importance, as it progressively increases the Lich King's damage output. DPS and healers should position themselves appropriately to effectively deal with Val'kyr Shadowguards and Defile.
For Defile, the raid must swiftly adjust their positioning to avoid its effects, whereas dealing with Val'kyr Shadowguards requires coordinated stuns for maximum efficiency. As this phase progresses, cautious movement and precise positioning are essential to prevent any potential wipes resulting from Defile. When the Lich King reaches 40% health, the raid will once again transition to the new platform.
Throughout this stage, the focus shifts to dealing with Raging Spirits, as Shambling Horrors and Drudge Ghouls are no longer present. The Off-Tank takes charge of controlling the Raging Spirits, while the DPS concentrates on swiftly eliminating them.
The final phase commences with the immediate focus on dealing with Raging Spirits efficiently. When Harvest Soul triggers, it is crucial for raid members to have their health at a level that can withstand the stun effect and subsequent damage.
Upon entering the Frostmourne room, the raid should assemble in the center before collectively choosing a location with fewer bombs and moving there as a group. This coordinated action creates a secure path for bomb drops. Upon exiting the Frostmourne room, the raid should prepare for Defile and also anticipate the arrival of Vile Spirits.
Strategic positioning and well-timed actions are essential for the raid to effectively handle both Vile Spirits and Defile mechanics. The successful execution of these mechanics brings the raid closer to the ultimate showdown with the boss.
When the boss' health drops to 10%, he will unleash Fury of Frostmourne, which results in the apparent demise of the entire raid. At this point, resurrection and any actions are impossible. However, it is essential to understand that this signifies your long-awaited victory!
How to Leave Icecrown Citadel
At the beginning of our guide, we have talked about Icecrown Citadel entrance location in detail. However, many players also experience difficulties when it comes to leaving the final spot. Exiting the raid after defeating the Lich King can be a bit tricky, as there is no designated exit point within the raid instance itself. However, there are several methods how to leave Icecrown Citadel explained below:
Jump Off the Edge.

One option is to jump off the edge of the platform where the Lich King encounter took place. Doing this will result in your character's death, but once you're in the spirit realm, you can release your spirit and then resurrect at the graveyard nearest to Icecrown Citadel;

Hearthstone.

If you have set your Hearthstone to an inn or a location outside of Icecrown Citadel, you can simply use your Hearthstone to teleport back to that location. This is one of the quickest and most convenient methods;

Mage Portal.

If you have a Mage in your group, they can be incredibly helpful in providing an easy way out. Mages can create a portal, which you can then use to teleport to a major city.
Basically, these are all the methods you can use to get out of this location. Do not try to look at the map of Icecrown Citadel, as you will not find any better solution. We strongly recommend that you use the 2nd alternative since it is arguably the fastest, safest, and most convenient one.
How to Get Icebound Frostbrood Vanquisher
While the Icecrown Citadel raid features plenty of valuable loot and rewards, the majority of players farm it just to get one thing. Yes, you have guessed it right, as we are talking about Reins of the Icebound Frostbrood Vanquisher. This ICC 25 man mount unlocks only after you get the Glory of the Icecrown Raider (25 player) achievement.
Getting this mount is a true honor and not that many players can boast such an opportunity. Therefore, if you are lucky to get your hands on it, consider yourself a really lucky and skillful player.
Conclusion
To sum it up, Icecrown Citadel is an epic and challenging raid instance that offers some of the most memorable encounters in WoW history. From the initial confrontations with the various bosses to the ultimate showdown with the Lich King himself, this raid provides a rich and immersive experience for players.
Throughout this guide, we have covered each boss encounter, detailing their abilities, strategies, and tactics to help you and your raid group overcome these formidable foes. Whether you are battling through the plague-ridden halls of the Plagueworks, navigating the frosty challenges of the Frostwing Halls, or facing the Lich King's inner sanctum, you have been equipped with the knowledge needed to emerge victorious.
Remember, success in Icecrown Citadel requires coordination, communication, and skill from every member of your group or raid. But with the right strategy and determination, you can triumph over the forces of the Scourge and put an end to the Lich King's reign of terror.
So, rally your allies, prepare your gear, and venture into the frozen heart of Icecrown Citadel. The fate of Azeroth hangs in the balance, and it is up to you to ensure that the scourge of the Lich King is vanquished once and for all. Good luck, heroes, and may your adventures be legendary!
F.A.Q.
What is the strategy for the Icecrown Citadel bosses?
The strategy for Icecrown Citadel bosses involves understanding their unique abilities, coordinating with your raid team to mitigate damage and execute mechanics, and optimizing your DPS and healing output. It requires precise positioning, teamwork, and adaptation to each boss's mechanics to emerge victorious in this challenging raid instance.
What is the order of the Icecrown Citadel?
First of all, you are to clear The Lower Spire where you will face off against first four bosses. The Plagueworks follows it where you are to defeat three more bosses. After that, you will move to the Crimson Hall where you will fight two more bosses. Finally, you will find yourself in Frostwing Halls where three more bosses will be waiting for you.
How many bosses are in Icecrown Citadel?
There are 12 bosses in total:
Lord Marrowgar;
Lady Deathwhisper;
Gunship Battle;
Deathbringer Saurfang;
Festergut;
Rotface;
Professor Putricide;
Blood Prince Council;
Blood Queen Lana'thel;
Valithria Dreamwalker;
Sindragosa;
The Lich King.
How do you get to the Lich King in Icecrown Citadel?
You can face off against the Lich King only after you have cleared all other bosses. Only in this case, you will have the portal in the center platform active, leading to the final boss himself.
Who is the final boss of Icecrown Citadel?
The Lich King, also known as Arthas Menethil is the final boss of ICC.
Where is the Icecrown Citadel on the map?
You can enter Icecrown Citadel at 53, 85 coordinates.
How do I get into Icecrown Citadel?
The easiest starting point to make your way to the Icecrown zone is to fly from Dalaran.
What level is Icecrown Citadel raid?
Icecrown Citadel represents a level 80 raid.