Fellow adventure seekers, in this Diablo 4 Mount guide, you will find out all the details you need to know concerning the mount feature in Diablo 4. We will also share information on how to unlock a few of the mounts that are already available. The game has been already launched and it is high time to start preparing to explore Sanctuary since mounts will largely help you travel across the open world that awaits you in Diablo IV.
IMPORTANT NOTE: At SkyCoach, you can also Buy Diablo 4 Boost at the lowest prices and with the fastest delivery. You can make your first purchase even CHEAPER if you find our special PROMO CODE (highlighted in green) hidden in this article and get a 20% DISCOUNT.
Check out our most popular
Diablo 4 Boosting services

offered at the best market price:
How to Unlock the Basic Mount in Diablo 4
Before moving to more extravagant alternatives, let us start with the basics. After reaching the capital city of the Fractured Peaks, Kyovashad, you will find the Stable Master there. Talking to him opens the menu where you can see all the horses you currently have. It all begins with the brown horse that has no name and looks quite standardized.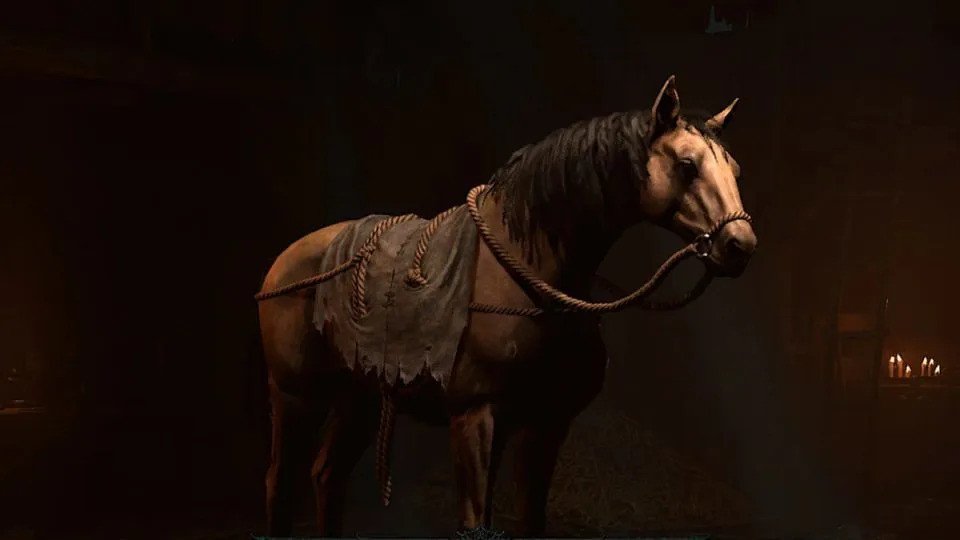 The whole process is also simple and consists of one step. You just need to complete the Diablo 4 mount quest called Mount: Donan's Favor and you can saddle up the basic steed. If you wish to learn to ride a mount in Diablo 4 faster, check out our Diablo 4 Mount Boost service. By ordering it, you can be sure our professional players will unlock a riding feature for you in a blink of an eye. After that, you can obtain any mount and ride freely across Sanctuary!
The riding feature is closely interconnected with another newest implementation in the game. Of course, we are talking about Diablo 4 dismount abilities you can use when riding the horse. It allows you to initiate the fight and destroy your opponents right after you get off the mount.
If you wish to try new end-game content quicker, you need to reach the level's cap first. To speed things up, you can use our Diablo 4 Powerleveling services and entrust this job to our professional players. In this case, you can skip all the boring and tedious stuff. We offer the best market price and guarantee the fastest result. BLOG20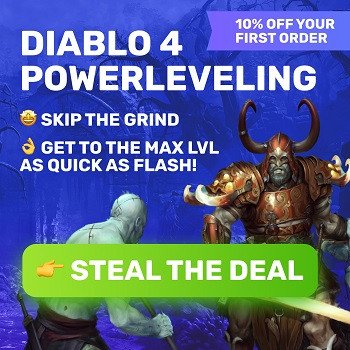 How to Unlock the Light Bearer Mount in Diablo 4
This mount could only be received until the game's official release. It is called Light Bearer and it could only be obtained by pre-ordering Diablo 4. No matter what version you chose to buy, you could still get this reward. On top of that, you could get the exclusive Caparison of Faith mount armor. To see what it looks like together with the mount itself, check out the screenshot attached below.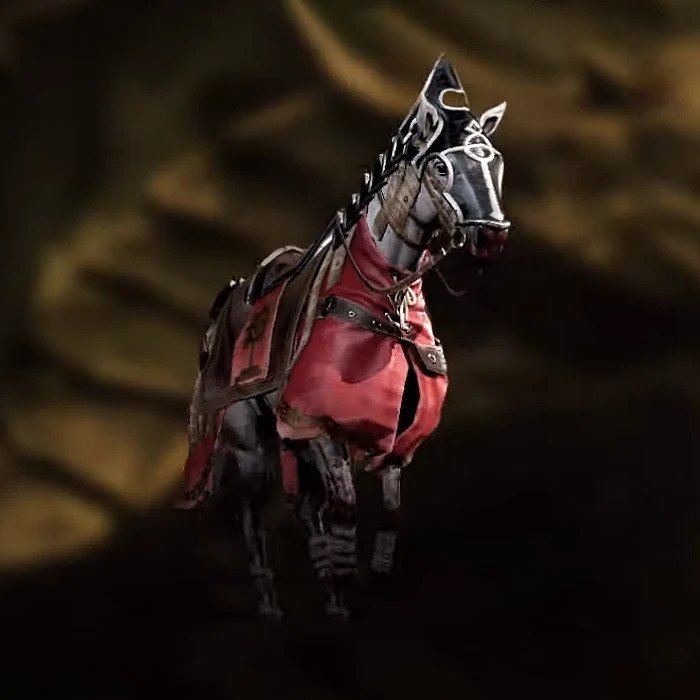 However, the main rule remains the same. You still need to unlock the ability to use mounts before you can try this steed in action.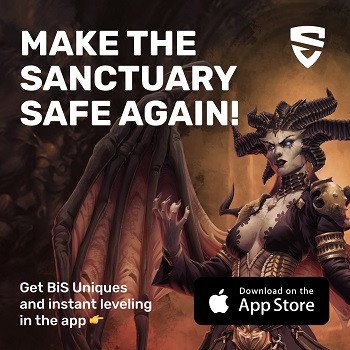 How to Unlock the Temptation Mount in Diablo 4
If you are a real Diablo fan, you can show your support by purchasing the game's Deluxe or Ultimate edition. In this case, you will obtain the Temptation Mount, which looks like a demonic steed. On top of that, you can get your hands on the Hellbound Carapace mount armor set to make it even cooler.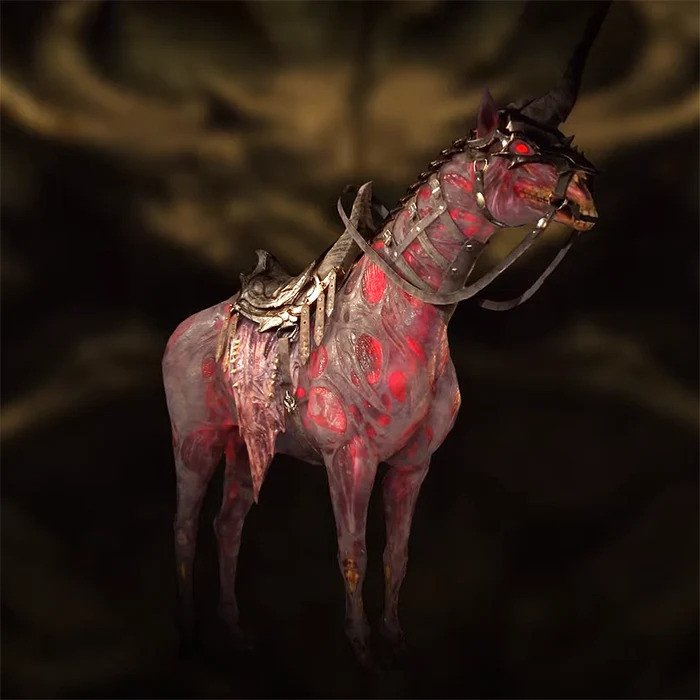 This is probably the easiest Diablo 4 mount unlock process ever seen. You just need to pay extra money and claim this exclusive reward. As it usually happens, players will not likely get this mount in the game for free. So, if you really like the way it looks, it is time to deep into your pocket.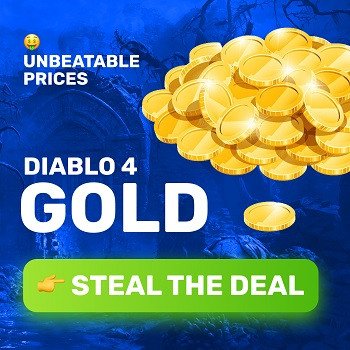 How to Unlock the Spectral Charger Mount in Diablo 4
If you are looking for an unusual mount to obtain, you would definitely be interested in Spectral Charger. Unlike the previous steed, it can be unlocked absolutely for free. To do this, you are to complete the Gathering Legions zone event in Kor Dragan. This location can be found while traveling to the north of Kyovashad. Another convenient way to get there is to start your path from the Menestad waypoint, which is located in the northeast direction.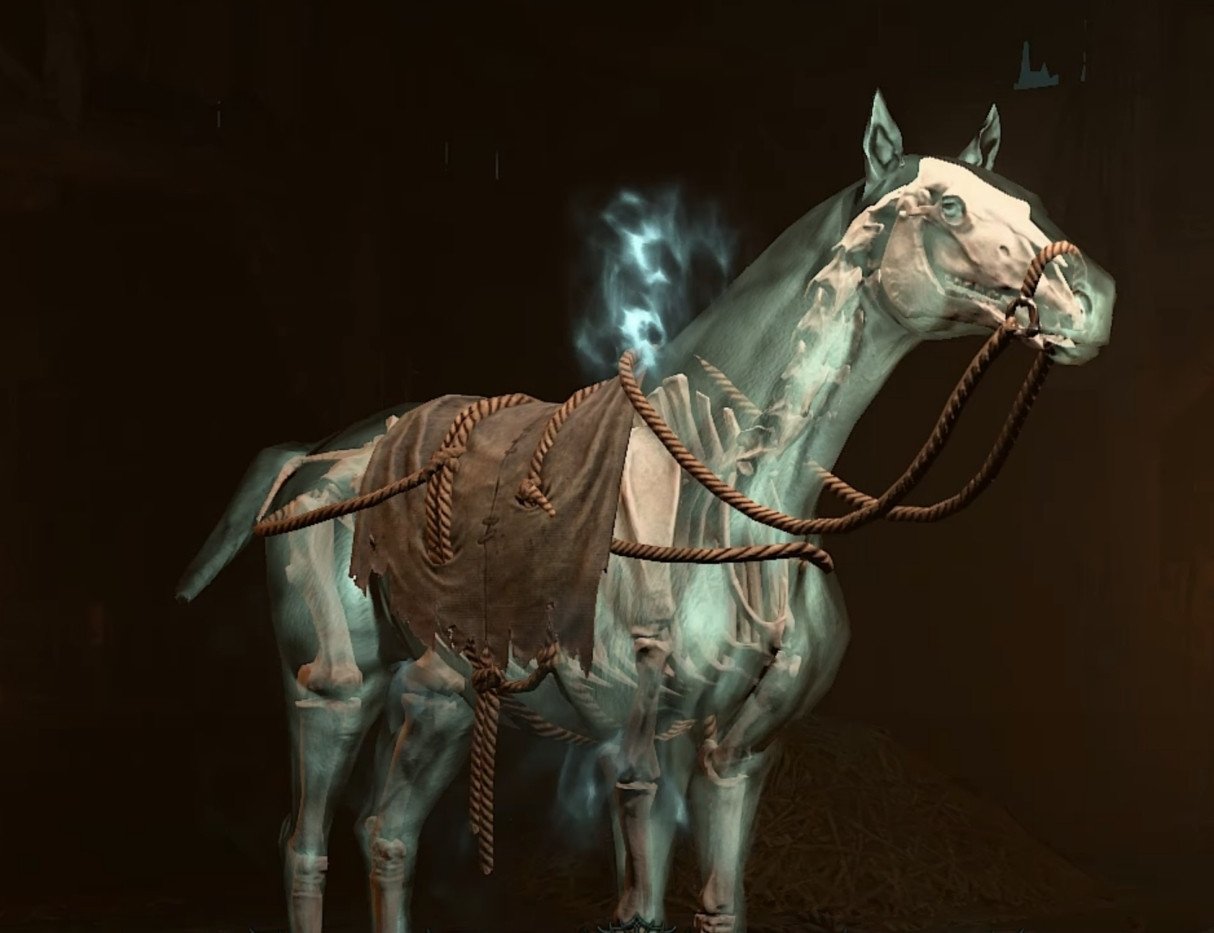 However, it is not that plain and simple with this mount. To get access to the mentioned-above quest, you need to reclaim the Kor Drogan Stronghold first. This will reward you with extra Renown and other exclusive rewards.
Do remember that this Stronghold is full of deadly vampires and killing them solo can be a challenge. So, we highly recommend that you gather a few friends to complete it effortlessly. After finishing the Gathering Legions event, you will receive the Ghastly Reins. The latter is used to get access to the mount we have just described.
To ensure you achieve the highest results in end-game content, you cannot go without the Paragon Board system. The latter lets you make your character even stronger by granting passive effects and bonuses. If you wish to level it up quicker, we are glad to offer our Diablo 4 Paragon Leveling services to help you with that. We offer fair prices and guarantee the best result.
How to Unlock the Decaying Steed Mount in Diablo 4?
Another free-to-get mount is called Decaying Steed. Unlike the previous horse, this one can be obtained randomly by defeating Treasure Goblins. The latter can be found all over the world yet this happens quite rarely. If you have managed to meet one, your task is to him to interrupt the teleportation process. This cunning creature will also try to escape from you by leading you to groups of mobs to distract you.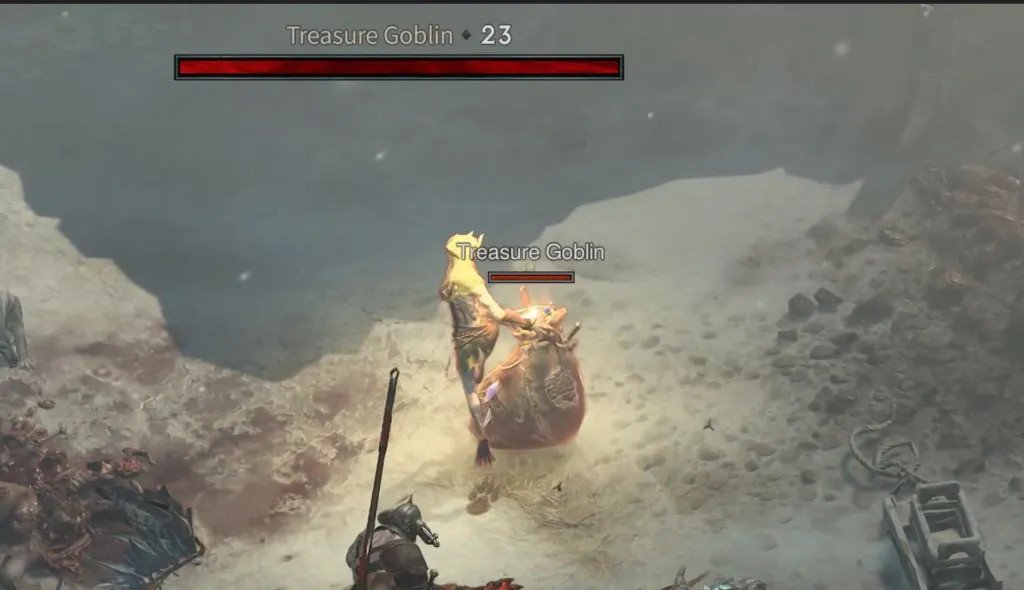 In the screenshot above, you can see how the Treasure Goblin looks. Your main task is to not lose the track of him and keep chasing him until he is defeated. Apart from the Reins of the Decaying Steed mount, you will also receive a lot of exclusive rewards for doing so.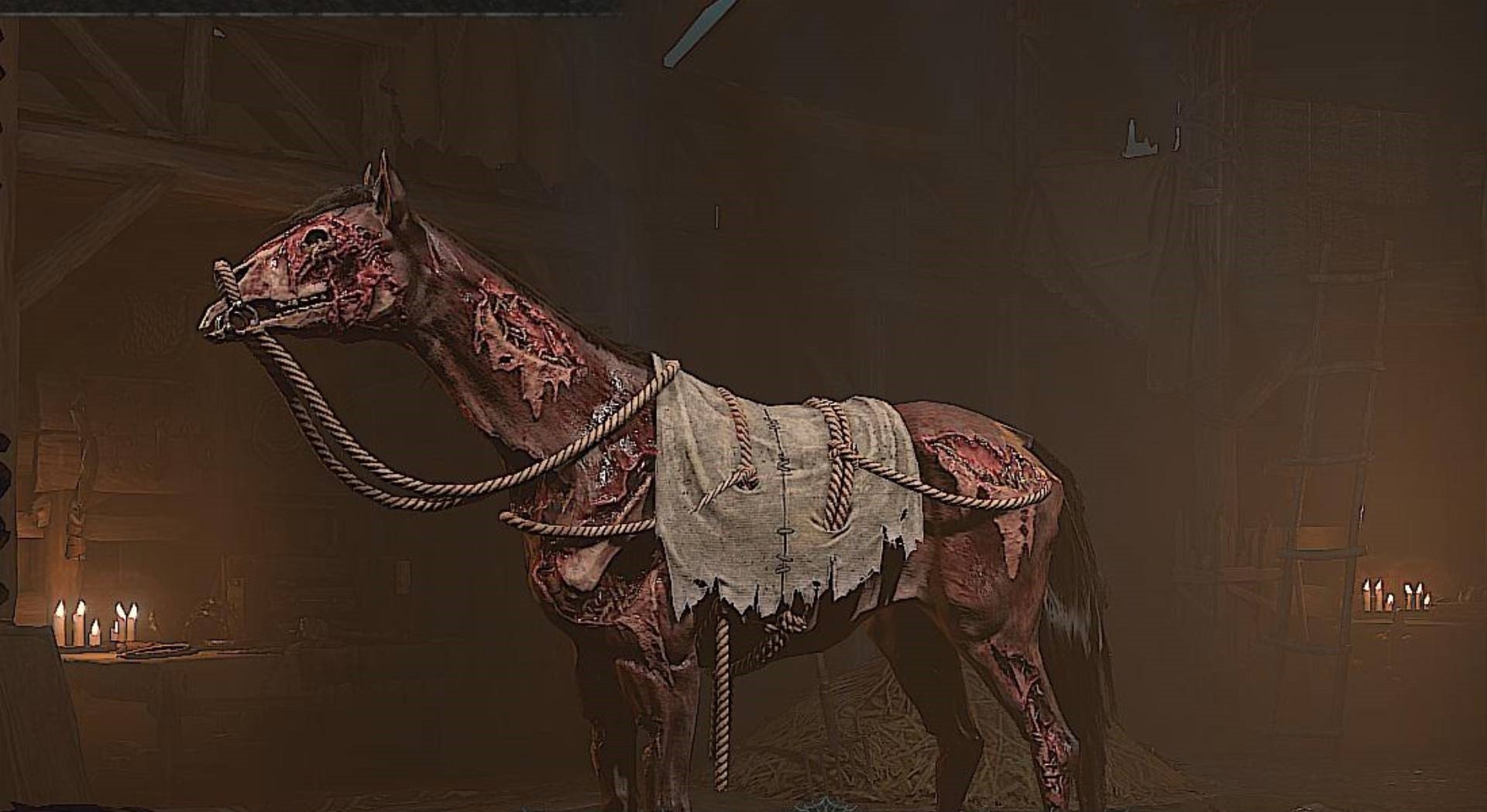 As it usually happens, the whole process is highly randomized and players have an extremely low chance of finding this mount. It may take you days or weeks to get it, as everything depends on the RNG and nothing else. However, if you like the way this mount looks, you have the instructions now.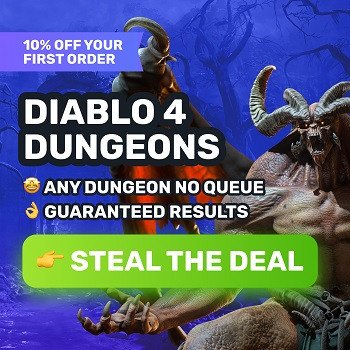 Diablo 4 Bardings & Trophies Explained
Apart from asking the question of how to get a mount in Diablo 4, a lot of players also enjoy using various bardings and trophies to customize their steeds. This is another opportunity to make your horse stand out from others. It is also a good addition to the end-game content, as you can try to collect them all. In the screenshot below, you can see the Brigandine Barding worn by the Decaying Steed mount.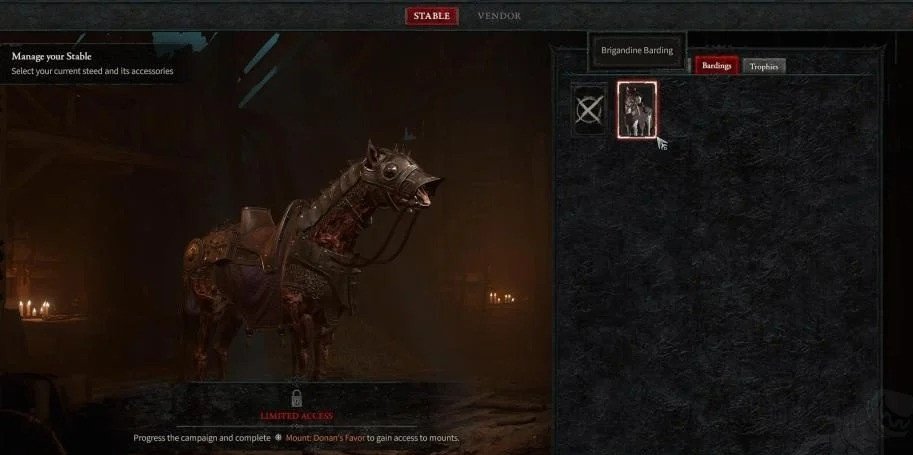 As many players suggest now, these bardings can be obtained by finishing various high-difficulty tasks like reclaiming Strongholds or clearing out dungeons. We can only hope that this customization feature will not become a part of the microtransaction system.
Another exclusive barding can be collected from the Nostrava Stronghold and called Barding of Mount Arreat. However, one of the players has also managed to obtain it after defeating a Treasure Goblin.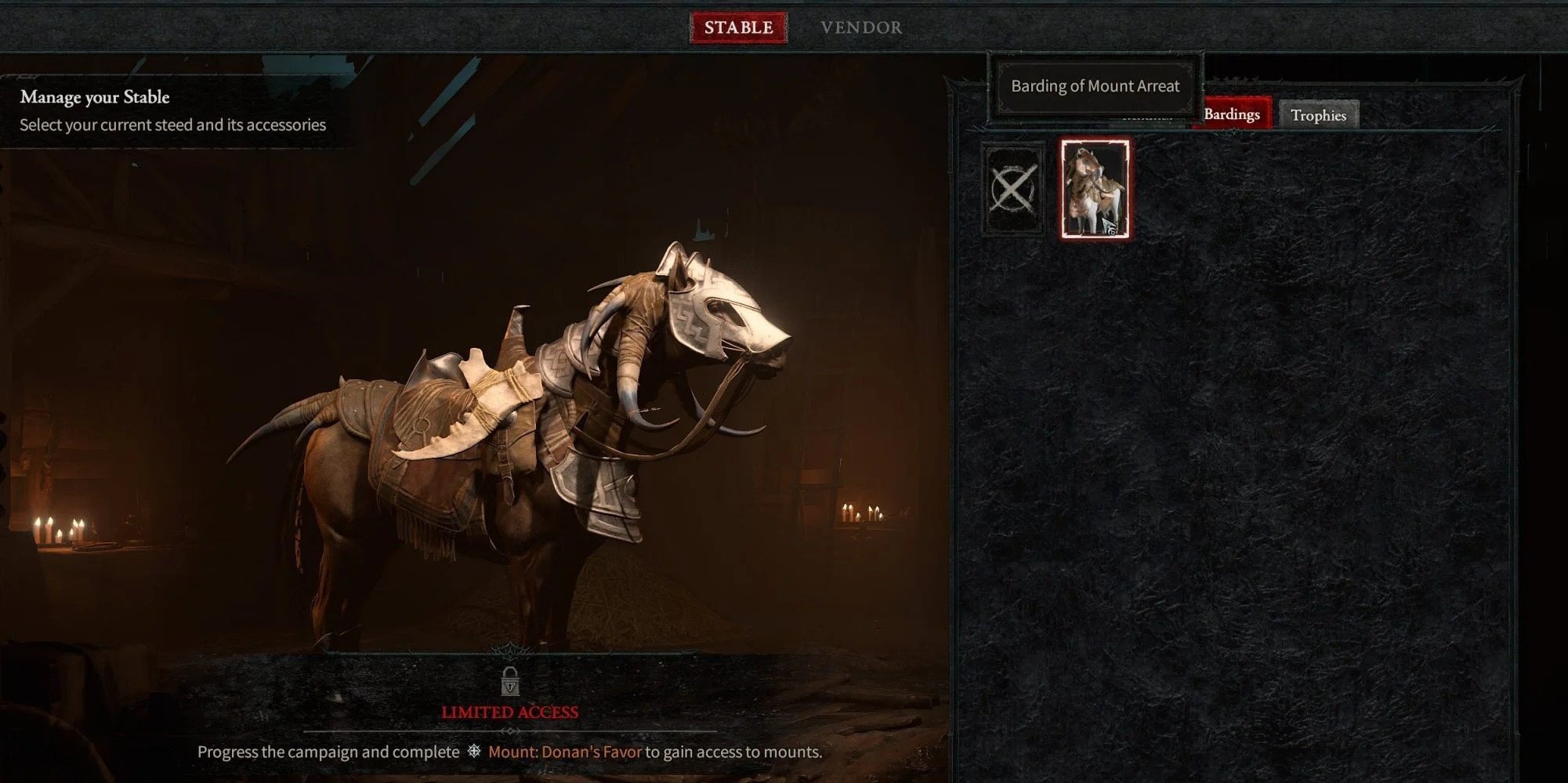 Adding a few words on the trophy system, it seems that getting your hands on at least one trophy is big luck. Although, if you are lucky enough, you can find Shield of Mount Arreat trophy. It represents a large round shield hanging off the steed's saddle.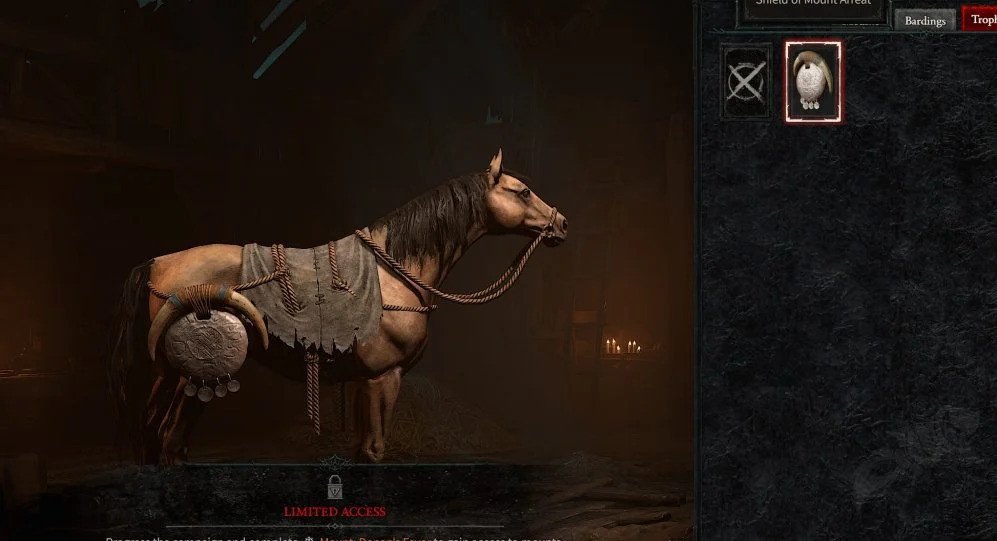 As we stated earlier, both of these systems are a perfect activity for high-level players. While trying to collect all the bardings and trophies, people can also make up an exclusive look for their horses. The number of available customization options will only grow, as we keep exploring the Diablo 4 Open World and wait for future DLCs to come out.
When trying to make your character unique, you will have to buy various items to stand out from others. In this case, you will need a lot of gold to purchase everything you wish. To get tons of it, you can use our Diablo 4 Gold Coins services to become richer in no time. We guarantee the best market price and can deliver it in a blink of an eye.
Conclusion
We hope you had a fun time reading this article. You have surely learned a lot about the mount system presented in Diablo IV. By following the instructions provided in our guide, you will get the steed you like most in no time. Remember, this article will be constantly updated in the future, as there will be more mounts added for sure. Make sure to check it again from time to time to learn the latest details.
F.A.Q.
Will Diablo IV have mounts?
Yes, this is one of the new features the last game of the franchise has acquired. Thanks to it, you can explore the open world faster and more efficiently.
How do you get a mount in Diablo 4?
It depends on what mount you want to unlock specifically. As a rule, you need to complete a difficult task to obtain a steed you like. It can be anything starting from reclaiming the Stronghold or defeating a Treasure Goblin.
Can you customize a mount in Diablo 4?
With a variety of bardings and trophies, you can make your steed look the way you like it. One can obtain them by taking part in various end-game activities.
Are there mounts in Diablo 4?
There are tons of different mount types in Diablo 4. To unlock your first mount, you need to complete the Mount: Donan's Favor quest.
When to unlock mount Diablo 4?
Once you have made it to Act IV and completed the Mount: Donan's Favor quest, you will get access to your first mount.
What does the mount do in Diablo 4?
Mounts in Diablo 4 serve as a mean of transportation, allowing you to move around Sanctuary much faster.

Does Diablo 4 have horses?
Most of Diablo 4 mounts are horses. Getting your first horse is possible when you complete the Mount: Donan's Favor quest.
What are the different mounts in Diablo 4?
In Diablo 4, you can find demonic horses, flayed horses, and dead horses.