Welcome to our comprehensive CS2 beginner guide where you can learn the very basics of the game and more. Whether you are a complete newcomer to the world of tactical shooters or a seasoned gamer looking to refine your skills in this iconic title, this guide is your gateway to improving your gameplay in CS2.
Within the following pages, we will explore essential strategies, tips, and techniques, answering the question of how to get better at CS2 and allowing you to sharpen your aim, enhance your game sense, and ultimately become a formidable force on the virtual battlefield. So, gear up and get ready to embark on your journey toward becoming a CS2 pro.
IMPORTANT NOTE: At SkyCoach, you can also Buy CS2 Boost at the lowest prices and with the fastest delivery. You can make your first purchase even CHEAPER if you find our special PROMO CODE (highlighted in green) hidden in this article and get a 20% DISCOUNT.
Check out some of our most popular
CS2 Boosting services

below:
How to Play CS2
Despite sounding like an obvious and easy-to-answer question, learning Counter-Strike 2 basics is a tough and challenging way. After all, if everything had been so easy, this legendary title would not have attracted millions of players from around the world for more than 20 years.
Therefore, we are going to share the most crucial CS2 tips, which will help you catch up with those players who have been playing the game for a much longer period of time than you do. Luckily, the release of the brand-new part of the franchise is the most suitable time to join the ranks of CS players.
Further in this guide, you will learn how to play CS2 when only starting out, as well as find essential advice on how you can progress further and develop your personal skills. Before we delve deeper into the topic, let us tell you about the fastest and easiest way to reach the highest CS2 rank.
By choosing SkyCoach, you can Buy CS2 Rank Boost service and trust this tiring and nervous job to our professional players. They will gladly help you get to a higher rank, especially if you consider that you are stuck at your current level and cannot get a better rank just because of your teammates. We offer fair prices and guarantee the result!
Learn In-Game Roles
If you still do not know what player roles in CS2 are, it is high time to fix this. However, unlike in MOBA games, all the in-game CS2 roles are nothing more than just conditional division. For example, you can easily play as an AWPer and become a Lurker in the next round. It all depends on how well you perform when playing any of those roles and what CS2 strategy is more appealing to you personally.
So, here is the entire list of all player roles in Counter-Strike 2:
In-Game Leader

– This is by far not the easiest and most preferable role if you are only starting out. However, In-Game Leaders are usually those who know the map perfectly and can give timely callouts to the team and tell who should go where;

Entry Fragger

– These players are usually famous for their fast reaction, allowing them to win

1v1 fights

in most cases. As a rule, Entry Fraggers run out first and try to immediately take down an opponent to gain quantitative superiority for their team;

Support

– This category of players is closely connected with Entry Fraggers. Those who act as Supports usually assist with flashes and smoke, as well as finish off injured enemies in case an Entry Fragger dies;

Lurker/Stealth

– Such players are famous for playing from the flank side and never show up together with the rest of their team. Usually,

Lurkers

play silently and safely to plant a bomb on an unexpected site while their team is distracting the enemies somewhere else;

AWPer/Sniper

– The name says it all. AWPer is a person who mainly plays with an

AWP

or

Scout

to assist their team from a distance. As a rule, AWPers have good reactions and must learn to quick scope to be able to eliminate an enemy who gets too close.
Learning all 5 in-game roles is the essential part when people ask how to get good at CS2. As you can see, there is no "perfect" role, which carries the rest of your team. No matter what role you choose to perform, cooperating with your teammates is still a must. BLOG20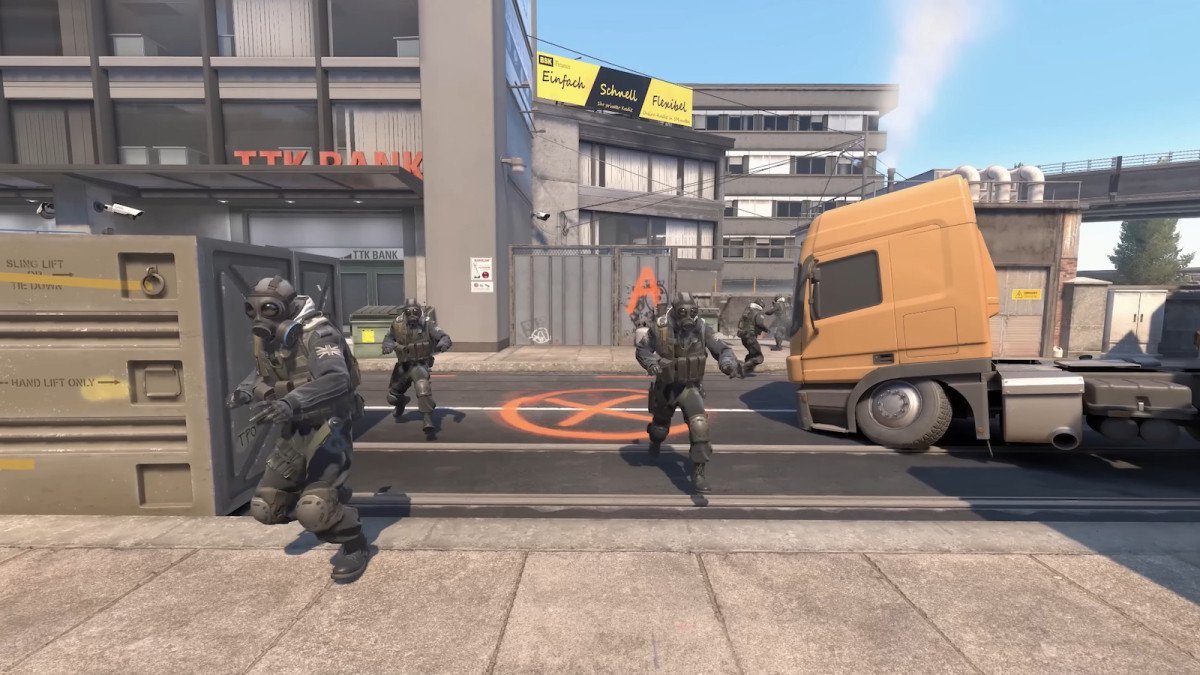 Do Not Neglect Aim Training Maps
While everyone around knows how important it is to master shooting techniques in CS2, nobody really pays enough time to this. At the same time, we highly recommend that you spend at least an hour per day playing Aim Training Maps. If you do not know where to start, go ahead and try Yprac Aim Trainer.
This map is your path into the world of improving your aiming skills. However, do keep in mind that it is a custom map, meaning you need to download it through the Steam Workshop, a place where players can download and install custom maps and game modes created by the community.
Playing Yprac Aim Trainer is probably the best way to practice CS2 shooting techniques like one tapping and others. If you still doubt whether it is your go-to option, here are a few reasons to start your way to mastering CS2 exactly from this map:
Customizable Settings

– The map allows players to adjust the speed and behavior of the targets to match their skill level and specific training needs. This flexibility makes it suitable for both beginners and experienced players;

Target Scenarios

– Yprac Aim Trainer includes a variety of target scenarios and modes, such as static targets, moving targets, and even target tracking exercises. This diversity helps players work on different aspects of their aiming skills;

Performance Tracking

– The map features performance tracking tools, such as timers and score counters, to help players measure their progress and set goals for improvement.
Finally, you can warm up by playing this map before searching for a game against real players. For many players, Yprac Aim Trainer has become a kind of warm-up routine they tend to do on a daily basis to keep the skill ceiling high.
Learn to Play with Core Weapons
The biggest favor you can do for yourself is to play only with core weapons when the situation allows so. This is one of those CS2 tips for beginners you will not hear that often. At the same time, it is going to be much easier for you to learn basic spray patterns and the way you want to use a weapon in this or that scenario.
When we are talking about core weapons, this term is usually applied to AK-47 (when playing for the Terrorist side) and M4A4/M4A1-S (when playing for the Counter-Terrorist side). These rifles are the workhorses of CS. They are accurate, powerful, and versatile. Aim for headshots with these guns, as they are one-shot kills to the head. However, M4A4 only kills a target with one accurate headshot hit if the latter does not have armor.
Quick Tip: When using these two rifles, burst fire or tap the trigger for better accuracy, especially when shooting at long distances.
If you feel like being a sniper, consider mastering AWP from the very beginning. This gun is a powerful sniper rifle capable of killing enemies with a single shot, regardless of where it hits. However, it is expensive and has a slow rate of fire.
Quick Tip: Play defensively with the AWP. Hold angles and use cover to minimize exposure to enemy fire.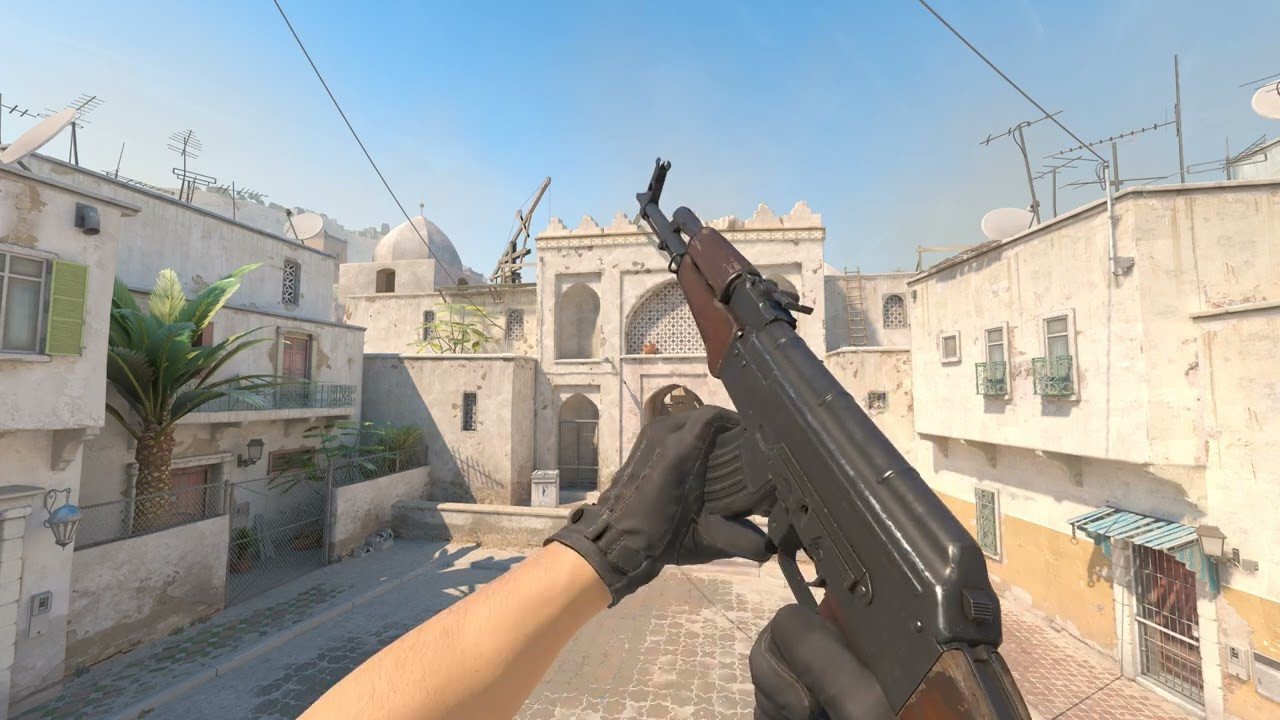 Playing Safely Pays Off
Continuing the topic of playing defensively, we would like to add a few more words about why it is usually worth it to play safely in CS2. Below, you can find a list of CS2 tips from pros, explaining why staying alive ALMOST always pays off:
Economy Management.

Surviving rounds allows you to retain your weapons and equipment, which can save your team money in the long run and give you an advantage in future rounds;

Intel Gathering.

Playing safely allows you to gather information about the enemy's movements and positions, which can be shared with your team to formulate better strategies;

Consistency.

Safe play reduces the likelihood of taking unnecessary risks and making costly mistakes, leading to more consistent and reliable performance;

Tactical Advantage.

By holding angles and using cover effectively, you increase your chances of winning engagements and controlling the pace of the game;

Clutch Potential.

In tight situations, staying alive gives you the opportunity to clutch rounds and potentially turn the tide in your team's favor.
Communication is Crucial
When it comes to communicating inside a team, most players only think of the widely known callouts that exist on any CS2 map. However, communication is much more than just telling your teammates where have you seen an enemy last time. Here are a few more reasons, explaining why communication is key to success in Counter-Strike 2:
Enhances Team Coordination.

Effective communication helps teams coordinate strategies, execute tactics, and react to in-game situations as a cohesive unit;

Shares Vital Information.

It allows players to share enemy positions, status updates, and important game-related information, giving the team a significant advantage;

Aids Economy Management.

Discussing buy strategies and money management ensures the team makes informed decisions about weapon purchases and utility usage.
Listen to Your Surroundings
Continuing the previous topic, we would also like to mention how important it is to be listening to what happens around you all the time. For this, you might want to buy better headphones and invest in the quality of your sound. The main reason why listening to everything around you is so vital is directly connected with how quickly you can give info to your teammates.
Starting from footsteps, jumping, and even scoping, you can hear everything in case you have a high-quality headset. At the same time, you will also know what sounds you are making yourself, as this will let you shift-walk when necessary. The latter is especially important if you are performing a Lurker role.
Learn Spray Patterns
To learn spray patterns is one of the first CS2 tips and tricks you will hear from experienced players. Start by understanding the unique patterns of your chosen weapons. Practice controlling recoil by pulling your mouse down and countering horizontal movement.
Use aim training and recoil control maps, and regularly practice burst and tap shooting. Review professional players and analyze your own gameplay to identify areas for improvement. Developing these skills takes time and persistence, so be patient and consistent in your practice.
In most cases, beginners start from the Recoil Master – Spray Training by Mr. uLLeticaL map. If you are not a big fan of such maps, you can always play Deathmatches with the Headshots Only mode. On top of that, we highly recommend that you switch on the "Follow Recoil" option in the "Game" menu of your CS2 settings. This will make your crosshair move with the recoil of the gun, and it is going to be much easier for you to see how these patterns work.
Economy Management is Vital
In any part of the Counter-Strike franchise, managing the economy is essential. Each round, players earn money based on their performance and objectives achieved. Wise spending on weapons and utility can give your team an advantage.
For instance, if your team lost a round and has limited funds, you might choose to buy cheaper weapons like SMGs instead of expensive rifles to balance performance and economy. This strategic decision ensures you have enough money for future rounds while still being competitive.
While trying to carry a round with SMGs is sometimes possible, it can be a wise decision to go for an Eco-Round (short for Economic Round). This means you buy nothing and start playing this round with a pistol only. By choosing this tactic, you can save up enough money to buy an AK-47 or M4A4/M4A1-S in the following round.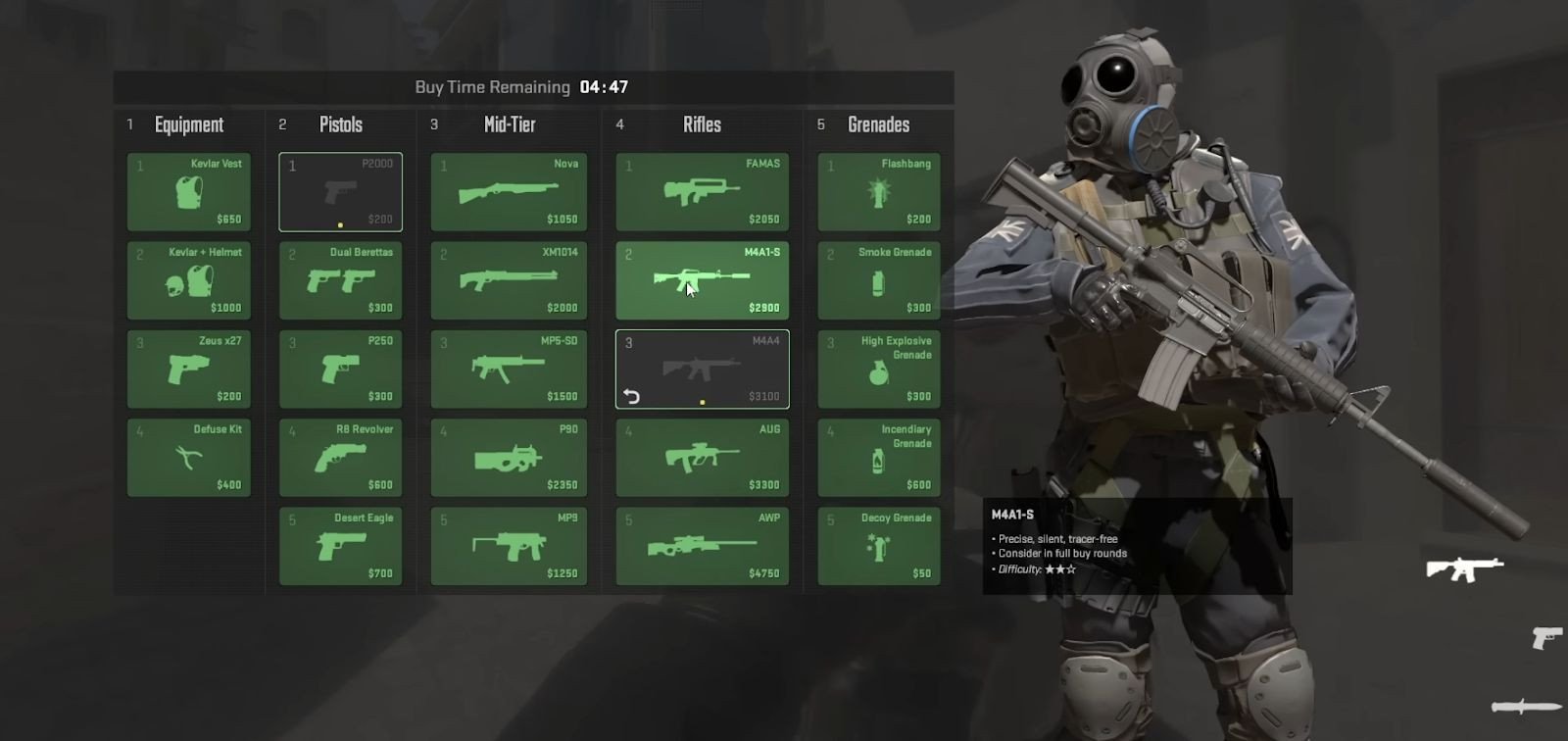 Always Remember About Utilities
To put it briefly, using utilities in CS2 is crucial because they provide tactical advantages. Smoke Grenades block vision and movement, Flashbangs blind opponents, and Molotov/Incendiary Grenades deny areas. Effective utility usage can disrupt enemy plans, protect objectives, and gain map control, increasing your team's chances of winning rounds.
When wondering how to get good at CS2, many players often neglect this point, as they prefer to rely solely on how well they shoot. Moreover, a properly thrown flashbang can help you win a round because you will have enough time to rush your opponents.
Learn Common Maps & Corresponding Callouts
It is not a secret that some of the CS2 maps are played more often than others. When you are only starting out, your main goal is to learn the following maps:
Dust 2;

Inferno;

Mirage;

Nuke.
When playing these maps, make sure to learn such basic things as where bomb sites are and main callouts. The latter can be a bit challenging when you only begin playing a certain map. Therefore, you should try to memorize only the most important callouts at first. For your convenience, we have listed some of the basic callouts for every one of the above-mentioned maps in the table below.
| | |
| --- | --- |
| Map Name | Basic Callouts |
| Dust 2 | Mid, Long, Pit, Ramp, Goose, Short, Lower/Upper Tunnels |
| Inferno | Banana, Mid, Second Mid, Boiler, Library, Pit |
| Mirage | Catwalk, Mid, Vent, Tetris, Palace, Balcony |
| Nuke | Silo, Heaven, Hell, Rafters, Ramp, Outside, Garage, Vents |
Know When to Reload
Knowing when to reload in CS2 is crucial because it directly impacts your readiness in combat. Reloading at the wrong moment can leave you vulnerable to enemy attacks. Proper reload management ensures you have a full magazine when you need it most, such as during an engagement or when holding a critical position.
Being caught with an empty or partially loaded weapon can be a costly mistake, potentially leading to your elimination or the loss of an important round. Therefore, mastering the timing of reloads is essential for maintaining a competitive edge in CS2.
Take Your Time Before Playing Ranked
While playing ranked matches in CS2 sounds tempting because you can show to everyone how well you are playing, it might be a good idea to take your time before rushing into ranked plays. Here is why:
Skill Development.

Taking time to improve your skills in casual or unranked modes allows you to build a solid foundation. You will learn the game mechanics, maps, and essential strategies that are vital for success in ranked play;

Game Sense.

CS requires more than just raw aiming skills. It involves map awareness, communication, teamwork, and understanding the economic aspects of the game. These skills develop over time with experience;

Frustration Avoidance.

Ranked matches are generally more competitive and can be frustrating for new players. By waiting until you feel more confident in your abilities, you can have a more enjoyable experience and contribute positively to your team;

Higher Stakes.

Ranked matches have a more significant impact on your rank and overall game experience. Entering them prematurely can lead to a lower initial rank and potentially longer climbs to higher ranks.
Conclusion
To sum it up, the journey to becoming a better Counter-Strike 2 player is an exciting and rewarding one. With a strong foundation in core skills, effective communication, and a solid understanding of game mechanics, you are well on your way to mastering this iconic first-person shooter.
Remember that practice, patience, and a willingness to learn from your experiences are key to improvement. So, gear up, stay focused, and enjoy the adventure as you strive to get better at CS2. The virtual battlefield awaits your triumphs!
F.A.Q.
Is CS2 easy for beginners?
The answer depends on whether you have played any other game in the CS franchise. If yes, you will get the hang of it much faster. If not, you will have to spend quite a lot of time to learn the basics and adapt to CS2.
How do beginners get better at CS2?
Learn In-Game Roles;
Do Not Neglect Aim Training Maps;
Learn to Play with Core Weapons;
Playing Safely Pays Off;
Communication is Crucial;
Listen to Your Surroundings;
Learn Spray Patterns;
Economy Management is Vital;
Always Remember About Utilities;
Learn Common Maps & Corresponding Callouts;
Know When to Reload;
Take Your Time Before Playing Ranked.
Is CS2 hard for new players?
If you have never played any of the games from the CS family, then it is going to be very difficult for you to master CS2. The most challenging mechanic you are going to deal with is the spray patterns, as most of your shots will not hit a target when it seems like they should.
Is 100 hours in CS2 good?
Depending on how fast you learn, having 100 hours in CS2 might be enough to feel confident in standard matches. However, it is still too little to start playing ranked.
How to become good at CS2?
CS2 is all about constant practice and devoting plenty of time to playing on aim practice maps. Also, do not forget to learn map callouts, grenade throws, spray patterns, and other important aspects of the game.
How to play CS2 guide?
If you are a complete beginner to CS2, the first thing you want to do is to get acquainted with the most widespread and common maps like Dust 2, Inferno, Mirage, and Nuke. After that, start training your shooting and learn spray patterns.
How long does it take to get good at CS2?
Depending on how fast you learn and how much time devote to the game, getting good at CS2 can take you around 400-700 hours.
Is CS2 beginner friendly?
Not really. Especially, if you have never played any of the Counter-Strike games before CS2, you will have a hard time adapting to local mechanics, shooting patterns, and so on.