Welcome to the ultimate guide for optimizing your Counter-Strike 2 crosshair settings. In a fast-paced game like CS2, having the perfect crosshair can make all the difference between victory and defeat. Whether you are a seasoned veteran or a newcomer to the game, fine-tuning your crosshair settings is crucial for precision aiming and achieving those jaw-dropping shots.
In this article, we will delve into the art and science of CS2 crosshair settings, explaining what crosshair types are better for various playstyles and offering invaluable insights into advanced console commands that can give you the edge in the heat of battle.
Experienced players understand how important it is to work out what crosshair type is best for them. This plays a huge role when you are playing ranked matches or simply trying hard in pubs. However, if you struggle to achieve higher ranks, we have a solution for you. By ordering our CS2 Rank Boost service, you can trust this job to our professionals.
They will quickly boost your account to let you enjoy a whole new level of gameplay. We off fair prices and guarantee the fastest result! Now, get ready to elevate your gameplay to new heights as we uncover the secrets to the best CS2 crosshair settings.
IMPORTANT NOTE: At SkyCoach, you can also Buy CS2 Boost at the lowest prices and with the fastest delivery. You can make your first purchase even CHEAPER if you find our special PROMO CODE (highlighted in green) hidden in this article and get a 20% DISCOUNT.
Check out some of our most popular
CS2 Boosting services

below:
What are Crosshair Styles in CS2?
If split into general categories, there are only two crosshair styles in CS2: Dynamic and Static. However, they come with slight variations, allowing you to choose the one you like more. It is also worth mentioning that CS2 static crosshair type is by far the most popular among players of all levels, including pros. Currently, you can find 5 crosshair styles in the game:
Default.

This crosshair features a wide and boxy design with a central dot. The crosshair's lines dynamically expand and contract to reflect your accuracy while in motion. Not many players use CS2 Default crosshair, as it look quite clumsy and takes a lot of time to get used to;

Default Static.

In this variation, the crosshair comprises a central dot accompanied by four lines extending outward in each cardinal direction;

Classic.

The classic crosshair configuration consists of cross lines pointing vertically and horizontally. As you move, the lines dynamically adjust to indicate your accuracy. When fully expanded, small dots appear at even greater distances from the center;

Classic Dynamic.

Similar to the classic crosshair, this style lacks the small dots. The cross lines expand and contract to represent your accuracy while on the move;

Classic Static.

Renowned as the most popular crosshair in Counter-Strike, this type is simple yet effective. It features a straightforward cross formation that extends both vertically and horizontally.
Before we move to the best CS2 crosshairs, keep in mind that the final choice is always up to you. While you can use pre-made crosshairs or copy crosshair codes from professional players, it is better to experiment on your own.
See what size, style, and color suits you better and create your own best crosshair for CS2. Do remember that certain crosshair patterns can be more or less effective while playing on specific maps. For example, a widely recognized and much beloved Green crosshair does not work too well when playing on Ancient. So, bearing that in mind should help you choose the right color for your future crosshair.
How to Change Your Crosshair in CS2?
After diving into the Settings Menu, you need to go to the Crosshair tab. There, you will find a variety of parameters you can change to experiment with your crosshair style. By dragging those sliders, you can change your Counter Strike crosshair's size, style, and so on. In a small box, you will see a preview of what your crosshair will look like in the game. BLOG20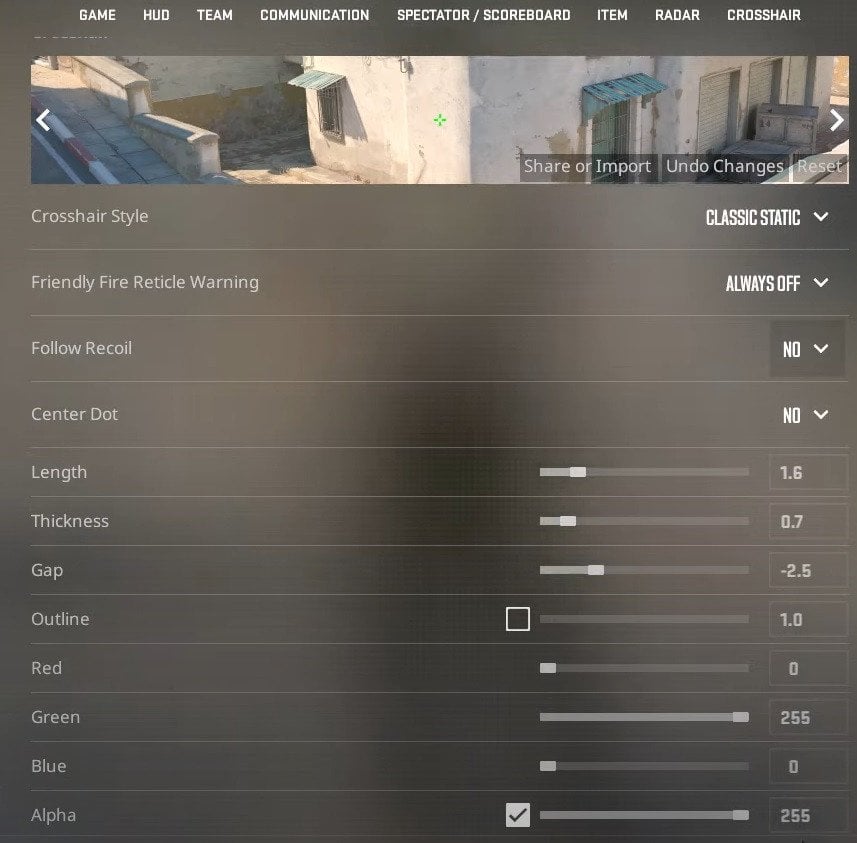 Remember that crosshair preferences are highly subjective, and what works best for one player might not work for another. It is a good idea to experiment with different settings until you find a crosshair that feels comfortable and helps you aim accurately.
Additionally, if you want to go beyond the in-game options and customize your crosshair further, you can use console commands to achieve more specific adjustments. Open the developer console (usually by pressing the tilde key "~") and enter the relevant CS2 crosshair console commands to modify aspects of your crosshair.
If you experience problems with winning matches even after you have found a perfect crosshair for yourself, we are here to help you. By ordering our CS2 Wins Boost, you can get any number of wins and significantly increase your K/D ratio. We offer the best market price and the fastest completion time.
Best Crosshair Settings for CS2
If you have liked the crosshair suggested in the screenshot above, it is a widely used variety of static crosshair CS2 that a lot of players use. It is perfect for one-tapping your targets, as well as peeking from any distance.
The presented-above pattern is also considered to be the best crosshair for headshots CS2. The reason for this is its size and the fact that it stays static in any combat situation. To put it in other words, you can quickly aim at your enemy's head practically from anywhere. Besides, this crosshair stays visible on all maps despite being Green.
Below, you can see a list of options you need to set to play with a crosshair you have seen in the previous part of the article:
Crosshair Style:

Classic Static;

Friendly Fire Reticle Warning:

Always Off;

Follow Recoil:

No;

Center Dot:

No;

Length:

1.6;

Thickness:

0.7;

Gap:

-2.5;

Outline:

1.0;

Red:

0;

Green:

255;

Blue:

0;

Alpha:

On, 255;

T-style:

No;

Deployed Weapon Gap:

No;

Show Player Crosshairs:

Personal Preference.
Feel free to change the parameters according to your taste, as all cool CS2 crosshairs are found in an experimental way.
Best CS2 Pro Crosshairs – Settings & Codes
Now that you know everything about styles and settings you can change to find a perfect pattern for yourself, it is high time to talk about CS2 pro crosshairs. They are used as pre-made solutions and are super popular among amateurs.
The main reason why people want to use a CS2 professional crosshair is that they believe it directly influences their performance in matches. While it may be partly true, it is still more of a placebo effect.
Why? Because these pros have created these crosshairs for themselves. They have tried dozens of options before they have decided to use this particular one. So, the crosshair you are going to play with is perfect exactly for this specific person.
If, in spite of this fact, your goal is to try a pro player's crosshair, we have prepared a table for you. It contains all the best CS2 pro crosshairs 2023 with their codes put in the rightmost column.
| | | |
| --- | --- | --- |
| Pro Player's Nickname | Team | Crosshair Code |
| s1mple | NaVi | CSGO-RiaU3-DDuB5-rCqXD-GUhfw-pevvE |
| NiKo | G2 | CSGO-UwUWf-AScRw-fmW79-woFNe-wLsuL |
| dev1ce | Astralis | CSGO-jvnbx-S3xFK-iEJXD-Y27Nd-AO6FP |
| EliGE | Complexity | CSGO-BFTzN-avOyU-djZEM-FmwKd-v5TCP |
| Twistzz | FaZe | CSGO-9axTZ-n8pEc-uCqW3-SWTK7-3WOAK |
| ZywOo | Vitality | CSGO-Qzpx5-BRLw8-xFPCS-hTns4-GHDhP |
| m0NESY | G2 | CSGO-9DiTj-65KbT-sfshG-qB5ce-mRFuA |
While using Simple's crosshair, for example, can potentially increase your performance, you still need to try hard to achieve a high rank during placement matches. This procedure defines at what rank you are going to play for many hours from this point. If you are sure you play better than any average player of your rank, we have a solution for you.
By ordering our CS2 Placement Matches Boost service, you can trust this job to our boosters. After everything is done, you will be playing with players who you think are of your skill level. We offer fair prices and the fastest completion time
How to Import CS2 Crosshair Codes
Now that you know what good CS2 crosshairs look like, it is time to find out how you can import them to try them in action. For your convenience, we have prepared the following step-by-step guide, explaining the whole process of importing CS2 crosshairs:
Click the

"Settings Menu";

Go to the

"Crosshair" tab;

Press the

"Share or Import"

button, which can be found at the top of this subsection;

Enter

any crosshair code you like.
After you enter the code, you can change the parameters the way you like. This lets you customize any pro CS2 player crosshair according to your taste if you wish to slightly edit it.
Conclusion
In Counter-Strike 2, mastering the art of precision aiming is a journey that begins with the perfect crosshair. As we conclude this guide to the best CS2 crosshairs and codes, we have explored an array of crosshair styles that cater to different preferences. From the classic simplicity of the static crosshair to dynamic designs that adapt to your movement and shooting, the choices are as diverse as the players themselves.
We hope you had a fun time reading our article and found a lot of useful details concerning this topic. Make sure to stay with us, as we will keep updating it if any changes occur. This is it for now, we wish you good luck and see you in the game!
F.A.Q.
Which crosshair is best for СS2?
As a rule, most players consider Classic Static crosshair and its variations to be the best choice.
What is СS2 crosshair code?
CS2 crosshair codes can be imported into your game to let you use a pre-made crosshair.
How do you import crosshairs in СS2?
Click the "Settings Menu";
Go to the "Crosshair" tab;
Press the "Share or Import" button;
Enter a crosshair code.
Are dot crosshairs good?
Dot crosshairs unlock their full potential when it comes to one-tapping headshots and gunfighting at longer ranges. At the same time, they are not really good for spraying and can be not that effective in close-range fights.
What is the sensitivity of simple crosshair?
S1mple plays with 3.09 sensitivity.
What monitor does simple use?
S1mple uses a ZOWIE XL2566K monitor.
What brightness does simple play on?
S1mple has its brightness set to 130%.
What crosshairs do СS2 pros use?
Most CS2 pros use a Classic Static/Style 4 crosshair, as it provides perfect accuracy and visibility on all maps.
Which СS2 player has the best crosshair?
A lot of players consider s1mple's crosshair to be the best one, as it features an ideal balance between one-tapping targets and spraying.