Welcome to the ultimate guide for optimizing your Counter-Strike 2 settings! Whether you are a competitive player striving for peak performance or a casual gamer seeking immersive visuals and impeccable audio, mastering the right settings is crucial.
Within these pages, we will delve into the best CS2 settings tailored for FPS optimization, video quality enhancement, mouse precision, and audio immersion. From configuring your graphics for smooth gameplay to fine-tuning your mouse sensitivity and creating an audio scape that enhances your gameplay awareness, we have got you covered.
By following the advice in this article, you will not only increase FPS in CS2 but make your game look and sound better. Still, if you struggle to get to higher ranks and are sure your current rank is the limit, we are here to help. By ordering our CS2 Rank Boost service, you can trust this frustrating job to our professionals who will boost your account in a blink of an eye. We offer fair prices and guarantee the result!
IMPORTANT NOTE: At SkyCoach, you can also Buy CS2 Boost at the lowest prices and with the fastest delivery. You can make your first purchase even CHEAPER if you find our special PROMO CODE (highlighted in green) hidden in this article and get a 20% DISCOUNT.
Check out some of our most popular
CS2 Boosting services

below:
Best CS2 Video Settings
The first thing that crosses our minds when we are thinking about CS2 video settings is how they influence our in-game performance and what parameters are considered to be the most optimal for players of medium skill.
In this part of the article, we will delve deeper into this topic and find out what the best CS2 video settings are and share the list of all options you need to change to achieve peak performance.
Before we begin, let us find out what video settings in CS2 are. To put it simply, they refer to the graphical options that allow you to customize the visual aspects of the game. These settings include options like resolution, texture quality, shadow details, anti-aliasing, and more. Video settings directly impact the game's appearance and performance on your system. Balancing these settings is important to achieve a visually appealing experience while maintaining a smooth and responsive gameplay performance.
So, as you can see, having the best CS2 graphic settings directly influences your performance in the game and lets you achieve higher results. On top of that, if you have a slow PC, changing the below-mentioned options will significantly increase your FPS. However, we will talk more about that further in our article.
Here is a list of the best CS2 video settings for competitive mode:
Boost Players Contrast:

Enabled;

Wait for Vertical Sync:

Disabled;

Current Video Values Preset:

Custom;

Multisampling Anti-Aliasing Mode:

4X MSAA;

Global Shadow Quality:

Low;

Model/Texture Detail:

Low;

Shader Detail:

Low;

Particle Detail:

Low;

Ambient Occlusion:

Disabled;

High Dynamic Range:

Performance;

FidelityFX Super Resolution:

Disabled (Highest Quality);

NVIDIA Reflex Low Latency:

Enabled + Boost;
These are also considered to be CS2 pro video settings, as most if not all professional players use exactly the same settings. So, if your goal is to become one of them, your path starts at this point.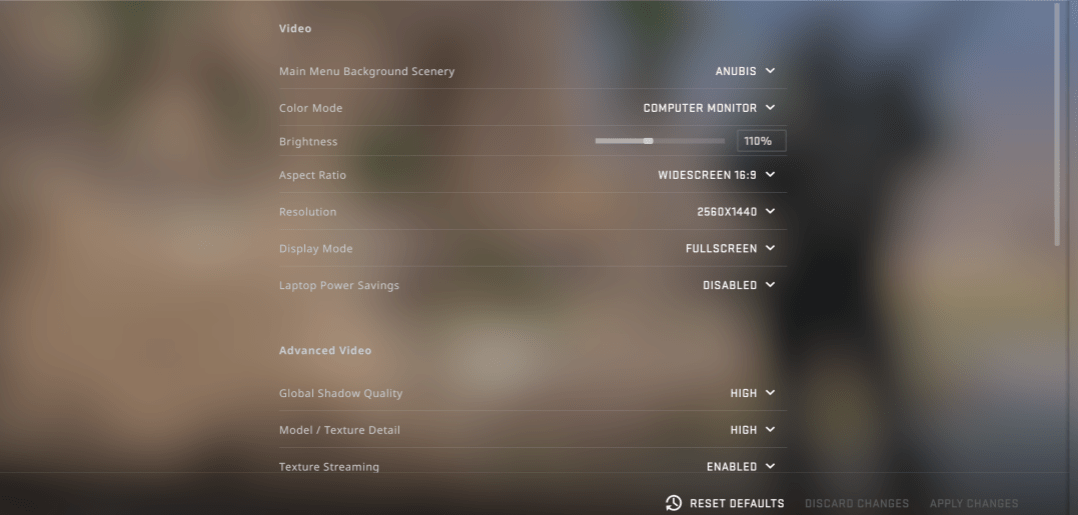 Best CS2 FPS Settings
When it comes to the CS2 settings for FPS, the situation looks a bit tricky. Why? Because you definitely want to have as many frames as possible but want to keep your game looking well.
Before we begin, for those of you who have no idea what this term means, we would clarify it. FPS, or Frames Per Second, measures how many images are consecutively displayed each second. It is crucial in CS2 for several reasons. BLOG20
First of all, it directly affects the smoothness and fluidity of gameplay, impacting how quickly you can react to in-game events. Higher FPS results in more responsive controls and smoother aiming, allowing for better accuracy and faster decision-making. In a competitive game like Counter-Strike 2, where split-second reactions can make the difference between victory and defeat, maintaining a high and consistent FPS is essential to stay competitive and perform at your best.
Since you have already set everything to low when changing your Video settings, there is not much you can do to make your FPS increase more. However, a lot of professional players do the following to squeeze out even more frames:
Aspect Ratio:

4:3;

Resolution:

1280X960 (4:3);

Scaling Mod for 4:3 Resolution:

Stretched.
These are considered to be the best CS2 settings for FPS. The only downside here is that they make your game look awful. So, consider applying these settings only if you have a really slow PC and every frame matters to you.
If you do not care about the way your game looks or have a really outdated system, you can always try CS2 FPS config 2023 to get the highest frame boost ever possible.
Best CS2 Mouse Settings
When we are talking about other CS2 competitive settings, we cannot miss out on mouse settings and sensitivity in particular. Let us find out why the latter point is so important if you wish to boost your performance.
Sensitivity in CS2 matters because it determines how quickly your in-game view moves in response to your physical mouse movements. Finding the right sensitivity for you is crucial as it directly affects your aiming accuracy and consistency. A sensitivity that's too high might lead to overshooting targets, while a sensitivity that's too low can make it difficult to turn quickly or react to fast-paced situations. Strike a balance to ensure precise aiming and swift reactions, allowing you to excel in both close-quarters combat and long-range engagements.
DPI
If you have played CS:GO before, you can safely set the same sensitivity level in CS2. However, you can try to experiment with your DPI instead. Here is a fun fact – most pro players stick to DPI levels of 400 (66%) or 800 (28%). This does not mean you cannot use other values, but we have just shared the most popular ones.
Zoom Sensitivity
The final point we would like to mention when speaking about the best settings to play CS2 in terms of mouse control is Zoom Sensitivity. The latter dictates how swiftly a player's aim adjusts when employing scoped rifles within the game. Despite AWPers benefiting from this setting more than anyone else, it is advised that all players invest time in tuning this parameter. While opinions differ on the optimal Zoom Sensitivity, it primarily hinges on the player's mouse characteristics. Nevertheless, many players find solace in the default value of "1" for a seamless experience.
Best CS2 Audio Settings
When it comes to Audio settings, the first thing we want to draw your attention to is how important it is to have a good pair of headphones. We all know that no best CS2 graphics settings will help you win a match if you cannot hear where your opponents are coming from. Besides, you can only hear a slight footstep thanks to high-quality headphones. So, consider investing a certain sum of money into this if your goal is to become a better player.
While there are specific best graphics settings for CS2, we cannot say the same about Audio here. The thing is, it is a strictly personal thing and you should experiment with it to find the optimal values.
The only thing we can recommend to you is to TURN OFF all music, except for the ten-second warning volume. By doing so, you will get rid of unnecessary sounds that can distract you while you are trying to hear enemies' footsteps or shots.
Best CS2 Launch Options
Another important part of the best CS2 settings 2023 lies in what Launch Options you are using. Luckily, the list of commands has not changed since CS:GO and you can use the same values. The table below provides you with all the details you need to know concerning this topic.
Launch Option

Description

-console
You will see the console open after the game launches.
-novid
Skips the devs' intro video.
-refresh
Depending on your monitor refresh rate, the value can change here. For instance, write

-refresh 144

if you have a

144Hz

monitor.
-high
Makes your system run the game on high priority. This slightly increases its performance but loads your PC more.
+fps_max
Set this launch option's value to any you want your

FPS

cap to be at. If you wish to remove this limit at all, set it to

0.

-nojoy
This command disables the joystick support, allowing you to free up some

RAM

and reduce the overall load on your

PC.

-disable_d3d9ex
Turns off the

d3d9ex

mode in CS 2. While it effectively addresses certain graphical glitches, it noticeably extends the time it takes to minimize and relaunch the game, leading to higher

CPU

usage.
Do not miss out on using these launch options, as they are an integral part of CS2 performance settings and can be very useful in certain situations. If you use all the above-mentioned commands, you launch option line will look similar to this: -high +fps_max 0 -disable_d3d9ex -novid -console -refresh 144 -nojoy
Conclusion
In conclusion, mastering the ideal settings and using Counter Strike 2 config can significantly elevate your gaming experience. By fine-tuning your FPS, video, mouse, and audio settings, you pave the way for enhanced accuracy, smoother gameplay, and heightened immersion.
Whether you are a competitive player seeking the edge in fast-paced matches or a gamer yearning for captivating visuals and audio cues, these settings are your gateway to achieving your gaming aspirations. Remember, finding the right balance between performance and aesthetics is key, and with the insights provided in this guide, you are equipped to do that.
F.A.Q.
How to get 1280x960 CS2?
You need to create a custom resolution in Nvidia Control Panel and set it in CS2. It will apply automatically when you launch the game.
What CS2 settings do pros use?
As a rule, pros change video settings to as low as possible, as well as lower the resolution and aspect ratio.
What is the best sensitivity settings in CS2?
There are no exact values you can use when it comes to the best sensitivity level in CS2. Experiment with this parameter to find what suits you perfectly.
What is the best stretched settings for CS2?
If you are playing with stretched settings, you should use 4:3.
What is the best video setting for CS2?
Boost Players Contrast: Enabled;
Wait for Vertical Sync: Disabled;
Current Video Values Preset: Custom;
Multisampling Anti-Aliasing Mode: 4X MSAA;
Global Shadow Quality: Low;
Model/Texture Detail: Low;
Shader Detail: Low;
Particle Detail: Low;
Ambient Occlusion: Disabled;
High Dynamic Range: Performance;
FidelityFX Super Resolution: Disabled (Highest Quality);
NVIDIA Reflex Low Latency: Enabled + Boost;
What is the best 4:3 video settings for CS2?
The first thing you want to do is to set your resolution to 1280x960 and set everything to low.
What is the best display mode for CS2?
Set the aspect ratio to 4:3, as well as the resolution to 1280x960.