Mastering the art of ranking up swiftly in Counter-Strike 2 requires a combination of skill, strategy, and dedication. Whether you are a novice wondering how to rank up in CS2 or a seasoned player striving for higher tiers, our comprehensive guide is here to equip you with valuable tips and tricks.
From honing your aim and refining your game sense to understanding map dynamics and effective teamwork, this guide covers essential strategies to help you navigate the competitive landscape of CS2 and accelerate your journey to the top ranks. Get ready to elevate your gameplay and surge ahead in the ranks with our expert insights.
We can assure you that after reading this article you will not only learn how to get a rank in CS2 but also find out more about the way the game's ranking system works, what ranks are there, and so much more.
But before we begin, we must say that there is no more effective method of climbing up a rank ladder than using our CS2 Rank Boost service. By choosing SkyCoach, you can be sure our professional players will help you get to the desired rank in no time. We offer fair prices and guarantee the result!
IMPORTANT NOTE: At SkyCoach, you can also Buy CS2 Boost at the lowest prices and with the fastest delivery. You can make your first purchase even CHEAPER if you find our special PROMO CODE (highlighted in green) hidden in this article and get a 20% DISCOUNT.
Check out some of our most popular
CS2 Boosting services

below:
How CS2 Ranking System Works
Before we answer the question of how do you rank up in CS2, let us pay attention to the basics and try to learn more about the ranking system we see in the brand-new version of Counter-Strike.
A lot of players wonder whether elo system CS2 has changed at all or if the devs have decided to keep it untouched. To put it shortly, at the very core, it has remained the same. You still have the same ranks and it is probably going to take you the same number of wins to climb from a lower rank to a higher one.
HOWEVER! We are going to see some NEW FEATURES concerning the matchmaking system in general. They do not affect the way you rank up in CS2 but do change the concept for the better. Here are a few examples:
Leaderboard Name Registration (LNR)

– Opportunity to record your nickname in the leaderboard after reaching a certain skill threshold. This can actually be one of the opportunities to get to CyberSport for casual players;

New Regions Added

– You will now have the opportunity to find matches in Europe, Asia, Australia, Africa, North America, South America, China, or throughout the World;

Recalibration System

– This is still speculation, but it might be so that you will have a chance to recalibrate once per season or once per year.
Of course, this is not going to change the way how does CS2 ranking system work. We still have the same rank tiers starting from Silver and going all the way up to Global Elite. The system itself represents an algorithm that rates your personal skills, teamwork, and how well you perform in the game in general. This is pretty much the same idea we had in CS:GO and the devs have decided to keep it. Further in the article, we are going to describe all the tiers and ranks currently available in Counter-Strike 2.
What Are CS2 Ranks – All Counter Strike 2 Ranks Listed
As we have already stated above, CS2 will feature the same tiers and ranks as in CS:GO. For those of you who are new to the game, we are going to list the below from lowest to highest.
Tier Name

Corresponded Ranks

Silver I;
Silver II;
Silver III;
Silver IV;
Silver Elite;
Silver Elite Master.

Gold Nova I
Gold Nova II
Gold Nova III
Gold Nova Master

Master Guardian I
Master Guardian II
Master Guardian Elite
Distinguished Master Guardian

Legendary Eagle
Legendary Eagle Master

Master
Supreme Master First Class

Global Elite
Depending on how high you manage to climb upon finishing your calibration, it will be easier or harder for you to reach the best rank – Global Elite. This is a truly challenging task and not that many players get to this level, especially if playing for fun or solo. In most cases, getting as high as supreme in CS2 is already an achievement. BLOG20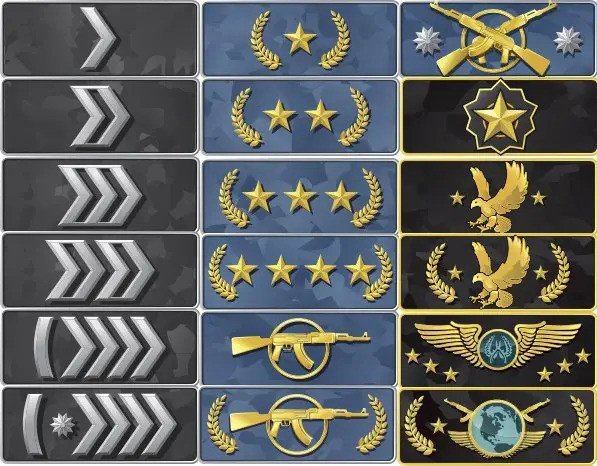 To ensure you are placed as high as possible once your calibration is finished, you can use our CS2 Placement Matches Boost service. By choosing SkyCoach, you can be sure our professional players will win all 10 matches for you to climb the highest rank straight away. We offer fair prices and guarantee the result!
How Many Wins Do I Need to Rank Up in CS2?
This is a very tricky and controversial question. Despite playing the game for years, even the best players struggle to answer how long does it take to rank up in CS2. The reason for this is that the system often behaves unpredictably and lowers your rank when it shouldn't. However, a reverse situation also happens when a player gets ranked up even though they performed awfully.
While you can never answer this question with full confidence, we are here to share our thoughts on this topic. So, if you wonder how many wins it takes to rank up in CS2, the approximate number is 4-5 wins in a row. Sometimes, it can be 6-7 wins, depending on how well you perform or if you have lost a game or two during this streak.
If, for some reason, you cannot climb a higher rank or wish to stop your losing streak, we are here to help you. By ordering our CS2 Wins Boost service, you can trust this job to our professional players. They will gladly win any number of matches you ask to. We offer the best market price and guarantee the result.
How to Rank Up Faster in CS2
Now that you know how many games you need to win to rank up in CS2, it is high time to share the most crucial tips that will help you do this. For your convenience, we have split those tips and tricks into two categories:
To have a higher chance of achieving success, we highly recommend that you pay attention not only to Practical tips but to Theoretical ones as well. Also, do remember that practice takes much time and effort. So, before you ask yourself a question of how to rankup fast in CS2 again, think twice and see if you spend enough time practicing.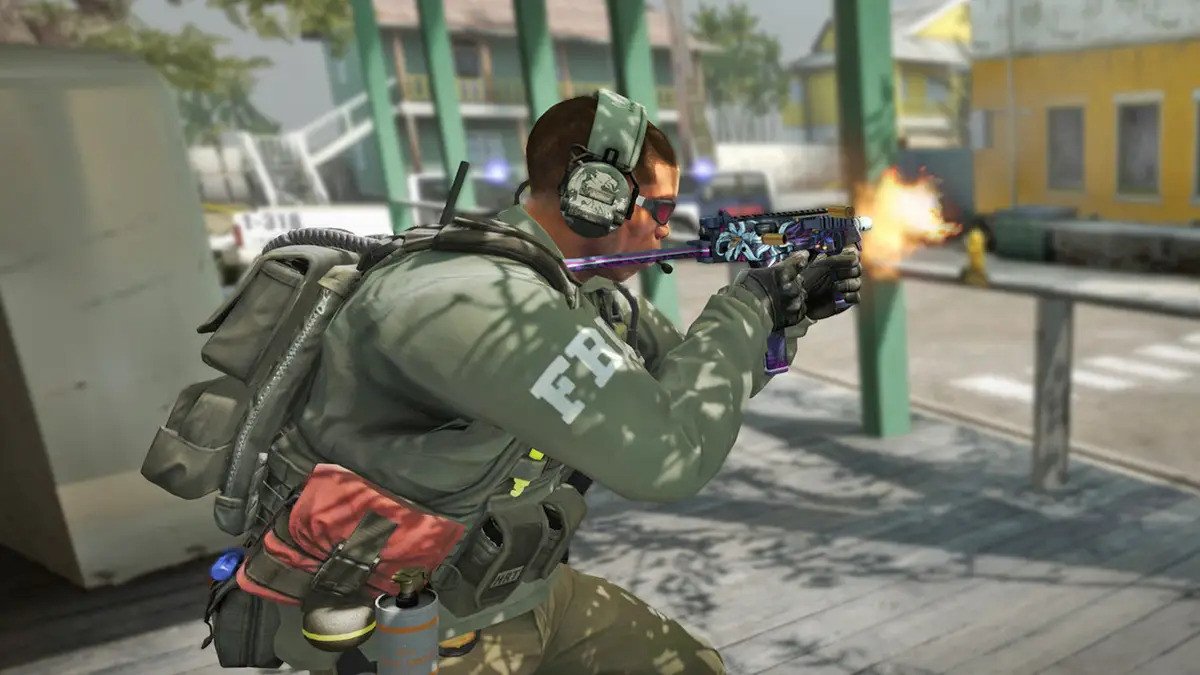 Practical Tips & Tricks
The following Practical tips and tricks will help you become better at the game, meaning you can achieve a higher rank in CS2:
Practice Aim and Recoil Control.

Regularly train your aim and practice controlling recoil patterns for different weapons. Use aim training maps and guides to refine your accuracy;

Master Crosshair Placement.

Keep your crosshair at head level and pre-aim common angles. This practical skill improves your chances of landing headshots;

Learn Smokes and Flashes.

Study and practice utility throws to control the map. Understand key smoke and flashbang spots to create strategic advantages;

Economy Management.

Learn the in-game economy system. Make informed decisions on when to buy, save, or force-buy based on your team's resources;

Warm-up Routine.

Develop a consistent warm-up routine that includes aim training and a few casual matches to get into the right mindset;

Play with a Team.

Team up with friends or a regular group to enhance coordination and communication for better teamwork;

Review Your Gameplay.

Record and review your matches to identify mistakes, missed opportunities, and areas for improvement;

Adapt to Your Team.

Adjust your play style to match your team's preferences, whether they are aggressive or more defensive.
Theoretical Tips & Tricks
Just like in all other competitive online games, studying the basics is a vital part of becoming better at CS2. So, if you really wonder how to rank up faster in CS2, do not miss out on the following Theoretical tips and tricks:
Understand Map Callouts.

Learn the names of different map areas for effective communication and callouts;

Map Knowledge.

Study map layouts, timing of player movements, and common hiding spots to make informed decisions;

Positioning & Game Sense.

Develop a sense of predicting enemy movements, and position yourself advantageously during engagements;

Stay Positive.

Maintain a positive attitude to boost personal performance and team morale, even during challenging matches;

Stay Informed about Updates.

Keep up with game updates, changes to mechanics, maps, and weapons, and adapt your strategies accordingly;

Watch Professional Matches.

Analyze pro players' techniques, positioning, and decision-making to learn from their gameplay;

Communicate Effectively.

Use voice and text chat to provide crucial information to your team. Timely callouts and clear communication can turn the tide of a match;

Develop Tactical Awareness.

Learn various strategies for both attacking and defending sites. Understand the strengths and weaknesses of your team's approach;

Monitor Your Performance.

Keep track of your stats, such as kill-death ratio, headshot percentage, and utility usage. Identify areas where you can improve.
Conclusion
This brings us to the end of the article. We hope you had a fun time reading it and learned a lot of new stuff. Within these pages, we have discussed the way CS2 ranking and matchmaking systems work. Moreover, we have answered the question of how many wins to rank up in CS2. Finally, we have provided you with essential tips and tricks that will let you climb the highest rank possible and become one of the few Global Elites in the game. Make sure to stay with us, as we will keep updating this guide. This is it for now, good luck, and we will see you in the game!
F.A.Q.
What is the quickest way to rank up in CS2?
Ranking up in CS2 becomes possible only when you show consistent performance and play at least at a medium or even higher level compared to your team. If the game's matchmaking system sees you are doing well, your chances of getting to a higher rank are 100%.
How many wins does it take to rank up in CS2?
Statistically, it takes around 4-5 wins to rank up in CS2. However, the number can increase up to 6-7 wins if you lose at least one match or play worse than you usually do.
How long does it take to rank up in CS2?
If you play flawlessly, you can get to a higher rank after 4-5 wins in a row.
Will CS2 ranked be free?
If you have an upgraded version of CS:GO purchased before the CS2 release, then CS2 ranked will be free for you.
Is CS2 different from CS:GO?
To put it shortly – yes! CS2 features a completely upgraded Source 2 engine, boasting an advanced lighting system, ambient occlusion, realtime lighting, and so much more.
What are the ranks in CS2?
All CS2 ranks can be divided into the following tiers:
Silver;
Gold Nova;
Master Guardian;
Legendary Eagle;
Supreme Master First Class;
Global Elite.
How many games does it take to rank up in CS2?
Considering you play well and consistently take a place in a top 3 player list, winning 4-5 games in a row should be enough to rank up in CS2.
Will CS2 have a different ranking system?
CS2 ranking system will resemble that of CS:GO original as much as possible.
Can you rank up in free CS2?
To be able to earn XP, complete placement matches, and climb ranks, you need to upgrade your CS2 to the Prime version.
What is a good rank in CS2?
The majority of average CS2 players manage to get as high as Gold Nova I or Gold Nova II when playing competitive matches. So, these ranks are considered to be quite good.
Is it hard to rank up in CS2?
As long as you play well and show consistent results, you will keep ranking up in CS2 every 4-5 wins in a row.
How long does CS2 rank last?
If you have not played a single competitive game within the last 30 days, you will lose your CS2 rank and will have to play placement matches again.
How do I get better at CS2?
Here are a few of the many tips that will help you become better at CS2:
Practice Aim & Recoil Control;
Master Crosshair Placement;
Learn Smokes and Flashes;
Economy Management;
Warm-up Routine.