Diablo 4 Helltide Events Guide
Fellow heroes, welcome to our comprehensive Diablo 4 Helltide events guide. In this article, you will learn how to unlock Helltides, as well as find the map providing you with Helltide Mystery Chest locations. Besides, we will explain what Helltide rewards you can get and what Helltide Events bosses are waiting for you during this activity. Finally, we will share a few important tips and tricks that can help you survive and farm as many Aberrant Cinders as possible.
Helltides are one of many Diablo 4 endgame activities players will get access to after reaching World Tier 3: Nightmare. These events can appear in any part of the world and act as the only source of Fiend Rose and Forgotten Soul, exclusive crafting materials used to enchant your gear at the Occultist. On top of that, Helltides are a great opportunity to farm Legendary or Unique items.
If you have already tried your skills at Helltides, you realize how tough this activity is. When taking part in it, your primary goal is to collect Aberrant Cinders, which can be later exchanged for generous rewards. However, farming Cinders is not an easy task but we are here to help you. By using our Diablo 4 Cinders Farm service, you can be sure our professional players will get the required number of Cinders you want. We offer the best market price and guarantee the result!
IMPORTANT NOTE: At SkyCoach, you can also Buy Diablo 4 Boost at the lowest prices and with the fastest delivery. You can make your first purchase even CHEAPER if you find our special PROMO CODE (highlighted in green) hidden in this article and get a 20% DISCOUNT.
Check out our most popular
Diablo 4 Boosting services

offered at the best market price:
What are Helltides in Diablo 4?
Helltides are demonic events appearing in any part of Sanctuary. You can tell exactly what part of the world is affected by Helltides by opening your map and finding the Red Sword icon. These unsettling events manifest as a result of a surge in demonic activity, casting an ominous shadow over the land.
As the sky transforms into a darkened abyss, rivers flow red, and meteoric chaos rains upon the mortal realm, the very fabric of the earth itself is reshaped by malevolent energy. It becomes apparent that the veil separating Hell and Sanctuary is growing thin, allowing the forces of Lilith to flourish.
Under the influence of Helltides, empowered minions unleash their vile might with greater intensity and numbers. However, the risk is met with reward, as these formidable foes yield bountiful loot and a unique form of currency known as Aberrant Cinders. The latter is used to open Tortured Gifts, offering unique loot.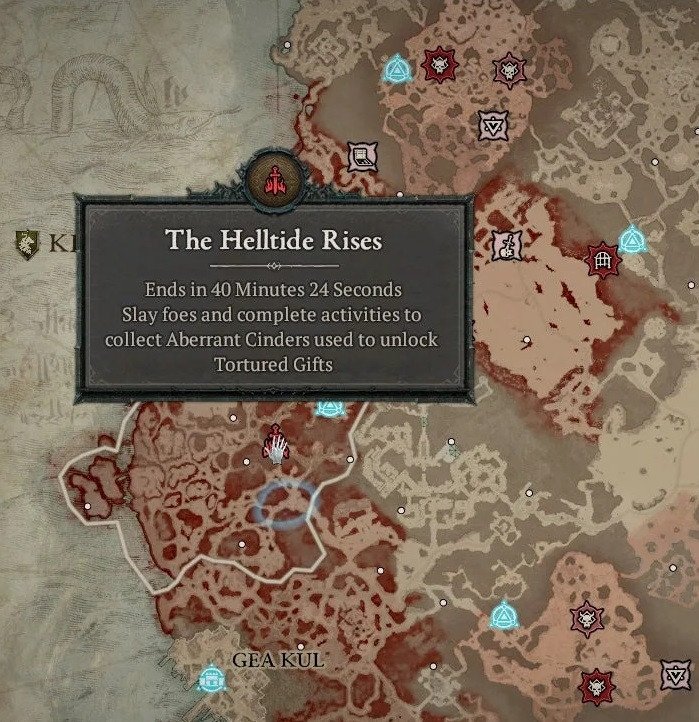 Now, that we have Helltides explained, it is time to talk about how often this activity is held. The Helltide events start every 2 hours and 15 minutes and last for one hour each. As you can see, the interval where no Helltide is happening is not that big. You need to wait only 1 hour and 15 minutes for another Helltide to begin.
If you cannot wait to try your skills at Helltide events, you need to unlock World Tier 3: Nightmare first. The latter becomes available only after you finish the campaign and reach level 50 or higher. If you wish to skip the leveling grind and get straight to the endgame content, we have you covered. By ordering our Diablo 4 Powerleveling service, our professional players will boost your character in a blink of an eye. We guarantee the best market price and the fastest completion time! BLOG20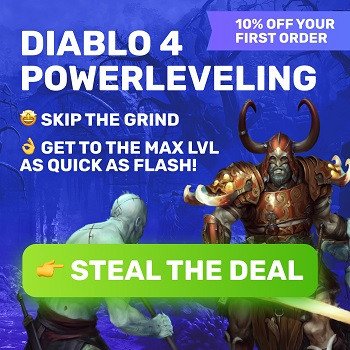 How to Unlock Helltide in Diablo 4
As we have already stated, to unlock Helltides in Diablo 4, you need to play at World Tier 3: Nightmare difficulty or higher. To swap from World Tier 2 to World Tier 3, you must complete the main storyline and a Capstone Dungeon called Cathedral of Light. The latter can be found in Kyovashad, Fractured Peaks.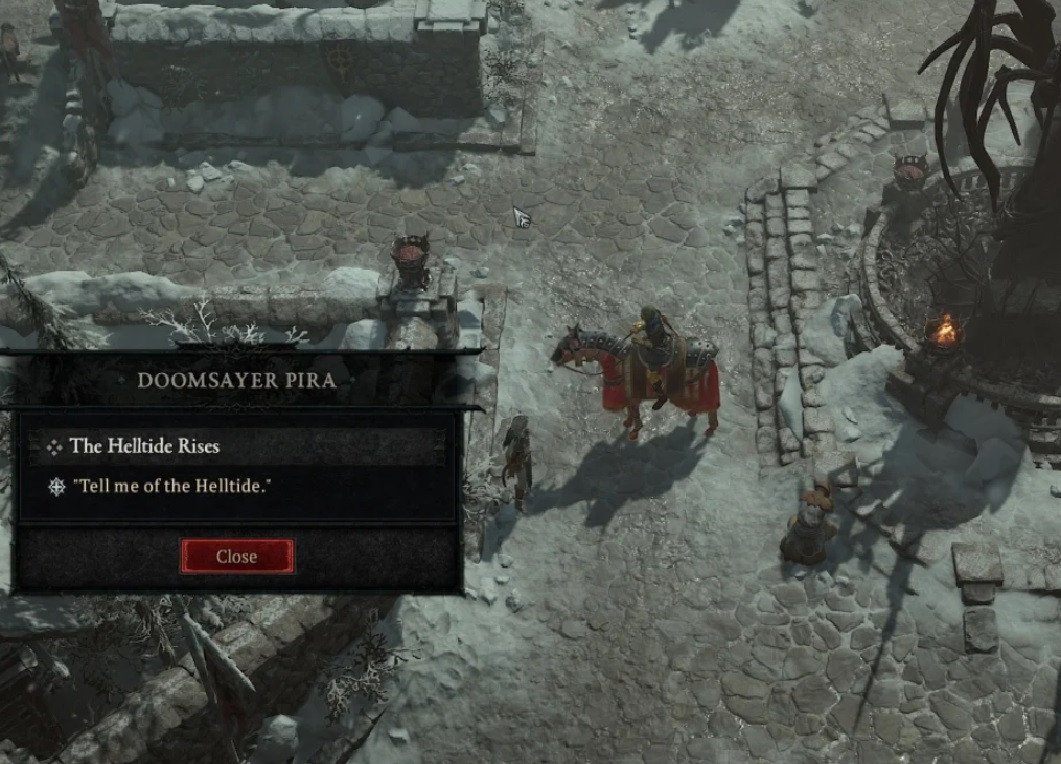 After you have switched to World Tier 3, find Doomsayer Pira standing nearby the World Tier Statue in Kyovashad. You can see the way she looks in the screenshot above. Talking to her allows you to start The Helltide Rises quest. Finishing it lets you complete Helltide events in Diablo 4 and you will see Helltide-affected areas start spawning on your map. You will also gain a bunch of Gold and XP just like from any other quest.
Diablo 4 Helltide Rewards
When participating in Helltide events, the main reward you are striving for is Tortured Gifts. The latter is a special type of chest scattered throughout the region affected by Helltide. You can open Tortured Gifts by collecting Aberrant Cinders we mentioned at the beginning of the article. To collect these Cinders, you are to slay as many mobs as possible within a Helltide area in a period of 60 minutes.
Here is a list of possible Diablo 4 Helltide rewards you can hope to get after opening Tortured Gifts:
Legendary Items;

Cosmetic Items;

Crafting Materials.
You can see the exact location of Tortured Gifts marked on your map. However, these chests come in several variations and require a different number of Aberrant Cinders to open them.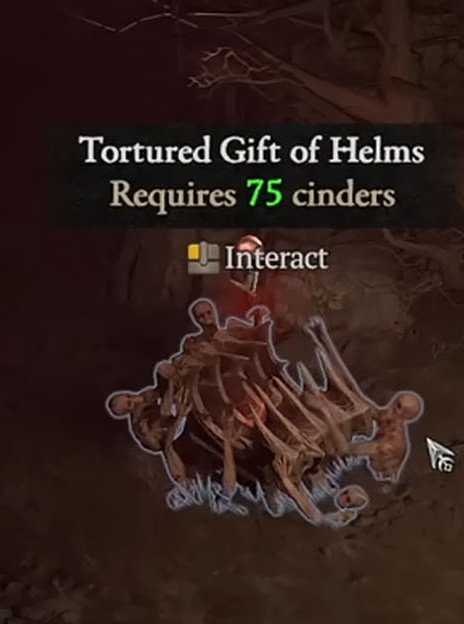 Below, you can find a small table covering all Tortured Gift types.
| | | |
| --- | --- | --- |
| Tortured Gift Name | Gear Type | Aberrant Cinder Cost |
| Tortured Gift of Protection | Helms, Chest Armor, Gloves, Grieves, Boots | x75 |
| Tortured Gift of Jewelry | Rings and Amulets | x125 |
| Tortured Gift of Light Weaponry | Daggers, Wands, Swords, and other one-handed weapons | x125 |
| Tortured Gift of Heavy Weaponry | Two-Handed Swords, Staves, and other two-handed weapons | x150 |
| Tortured Gift of Mystery | Multiple Unique and Legendary items for various equipment slots | x175 |
At the same time, all Tortured Gifts contain Fiend Rose and Forgotten Souls. These are crafting materials required to improve your Sacred and Ancestral gear. They can only be looted within Helltide-affected regions and are considered to be an extremely rare find.
There are other ways to farm Forgotten Souls apart from opening Tortured Gifts as well:
Harvest

Screaming Hell Veins

you encounter within Helltide zones;
Slaying the

Helltide Boss.
Of all the described chests, Tortured Gift of Mystery stands out the most. It requires you to have x175 Aberrant Cinder to open it, which is a lot. On top of that, this type of chest is NOT MARKED on your map as others, making it incredibly challenging to find. At the same time, the rewards it offers are much better than what you can find in all other chests. Just imagine how cool it would be to get your hands on multiple Unique and Legendary items waiting for you in this chest.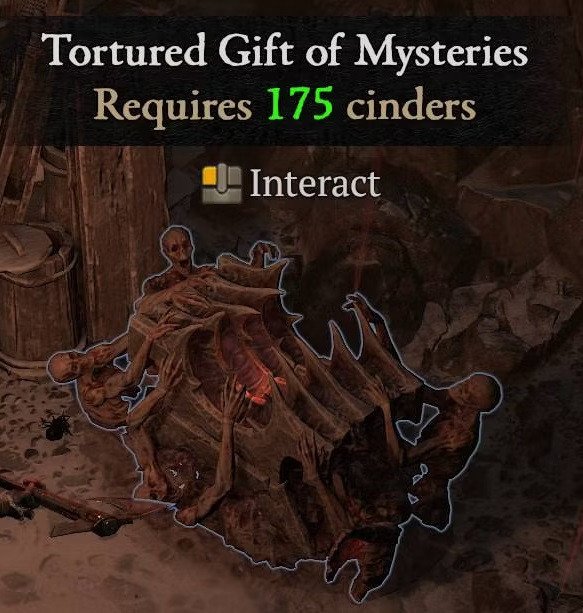 However, be careful when trying to collect that many Aberrant Cinders to open this chest. If you die, you will lose half of the Cinders you have managed to gather. To make your life easier, we will provide you with all Helltide Mystery Chest locations so that you can find them quicker and with minimum effort.
Helltides are tough and require a certain strategy to claim the rewards. Before venturing into a Helltide-affected area, we highly recommend that you gear up. For this, you will need quite a lot of gold. Farming it manually takes too much time and effort. Instead, you can Buy Diablo 4 Gold with our company's help and get it delivered quickly. We offer the best market price and guarantee the complete safety of the service provided.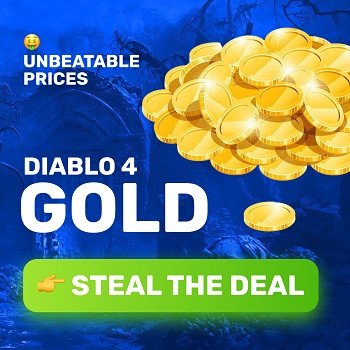 Diablo 4 Helltide Mystery Chest Locations
To ensure you find your coveted Mystery Chest and get the best rewards, you can use the following map. All Helltide Mystery Chest locations are marked on it. Nonetheless, these are NOT 100% EXACT locations, as they can slightly change from one event to another. However, if you wander for a bit around the marked area, you will definitely find what you are looking for.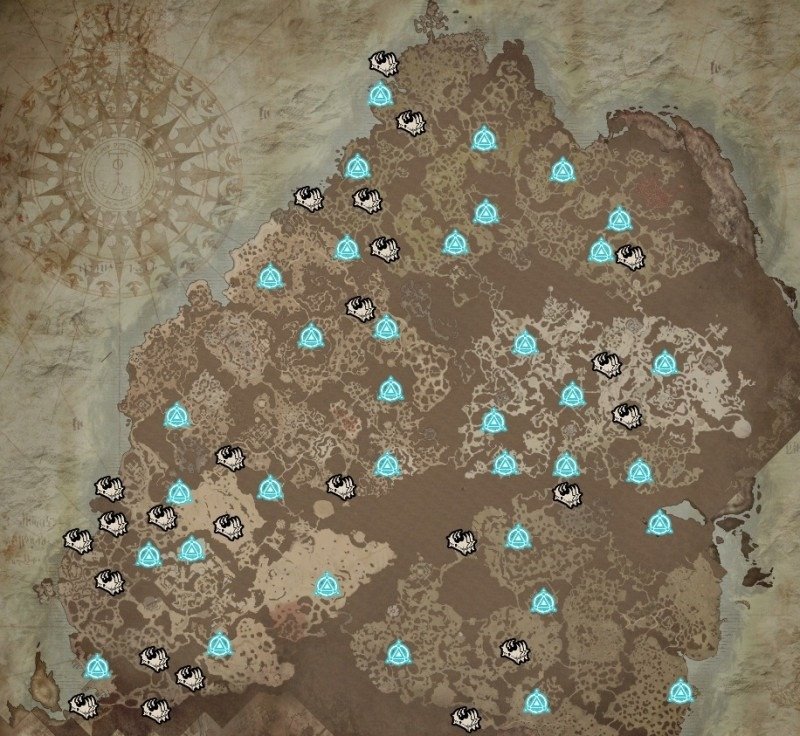 Your main task is to not die when trying to make your way to one of the Mystery Chests you see on this map. Make sure you have a party of reliable friends to cover you or be swift in order to survive.
Helltide Bosses & Special Events
Your activity is not limited to farming Aberrant Cinders only, as you will also encounter several powerful Helltide Bosses and a range of special events that only happen within Helltide areas.
Kixxarth, Helltide Assassin
This Helltide Boss features extremely high movement speed and tankiness. It is constantly moving around the map and is marked with a horned skull icon on your minimap. We DO NOT recommend that you are trying to defeat it solo, as it has a ton of HP and can easily one-shot you if you do not have good enough gear. On top of that, remember that you lose half of your Aberrant Cinders if you die, and this boss can definitely make this happen.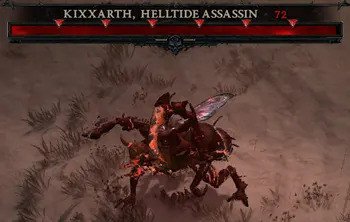 Kixxarth boasts another unique feature – it is always of a higher level than you are. Besides, the boss cannot be lower than level 72, meaning you will not deal that much damage to it if you are level 50 or so. Always communicate with your team, group up, and try to survive for as long as possible when fighting this boss. Remember about elixirs increasing your Dodge Chance, boosting Armor and Maximum Life rates. They will help you greatly in this battle!
Portal Invasion Event & Helltide Commander
You will see a group of Occultists performing a ritual, and your task is to prevent it. After you are done with the Occultists, Invasion Portals will begin to spawn. Tons of demons will get out of them and try to attack you.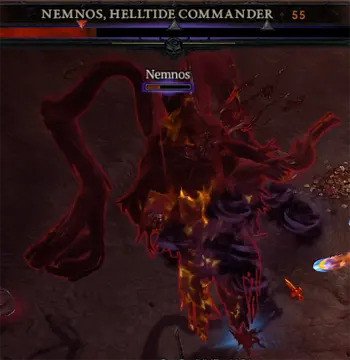 Getting rid of these mobs summons the Helltide Commander. This boss is not as deadly as Kixxarth yet you will have to face off against multiple Elites and a pack of demons while fighting it. On top of that, you will see Helltide Meteors falling in random locations while fighting the boss, making it even more difficult to dodge its attacks and stay alive.
When moving around Helltide areas, you will encounter other Local and Zone events within them. They are marked by an orange circle and are a must to complete. The reason they are so important is that they grant extra Aberrant Cinders and other loot. Besides, they are much easier to complete compared to killing a boss.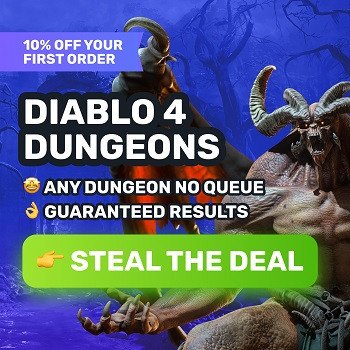 Helltide Tips & Tricks
Here, you can find a list of Diablo 4 Helltide tips and tricks that may be useful to you:
Spend your Aberrant Cinders.

This is probably the most crucial advice we can give, as many players do not know that their

Cinders

are not carried over from one Helltide event to another. Therefore, it is crucial to be nearby several Tortured Gifts when the event is about to end. Remember, all Tortured Gifts, except for Mystery ones, and marked on your map and can be found easily;

Do not miss Wretched and Tortured Souls.

You will encounter them from time to time while exploring the Helltide zone. Do not forget to

click on them,

as they also drop Cinders;

Complete Local Events.

As we have already mentioned,

completing Local Events

rewards you with a ton of Aberrant Cinders. The reason for this is that you will have to face off against a large pack of enemies;

Do not neglect consumables.

Elixirs can greatly increase your

survivability

and

damage output.

Never forget about using your consumables during Helltides;

Always stay in motion.

Helltide Meteors are the main reason why players should not be standing

AFK

during participating in Helltide events. These meteors fall all over the place every few minutes. Standing in these zones will result in taking damage over time.

Survive by all means.

Remember, when participating in Helltide events, your goal is not only to

farm Aberrant Cinders

but to use them to

open Tortured Gifts.

However, you can easily lose a good deal of everything you have managed to collect. Always remember the rule – it is better to stay alive and save what you already have than to risk and lose half of it.
Conclusion
Fellow adventure seekers, this marks the end of our Diablo 4 Helltide events guide. We hope you had a fun time reading it and learned a lot of new stuff. After reading this article, you have learned how to unlock Helltides, discovered Helltide Mystery Chest locations, details concerning Helltide rewards, and more. Make sure to stay tuned, as we will keep updating this guide if any changes occur. Have fun in the game and we will see you in the Sanctuary!
F.A.Q.
How to complete Helltide events in Diablo 4?
Within 60 minutes, you need to slay as many mobs as possible to collect Aberrant Cinders from their corpses. After that, find Tortured Gifts to spend what you have gathered and earn your rewards.
How to unlock Helltides?
To unlock Helltides in Diablo 4, you need to finish the campaign, switch to World Tier 3: Nightmare, and complete The Helltide Rises quest.
What is Helltide in Diablo 4?
Helltides are temporary demonic events that can happen in any part of Sanctuary. During it, you will face off against armies of empowered demons and have a chance to obtain unique rewards.
What are Helltide events?
Helltide events in Diablo 4 represent temporary activities where your goal is to slay as many demons as possible and open Tortured Gifts to earn precious rewards.