Fellow adventure seekers, welcome to our comprehensive Diablo 4 Lilith boss guide. This article is designed to equip you with the knowledge and strategies, answering the question of how to beat Lilith in Diablo 4. Finishing the Act VI of Diablo 4's campaign was tough, wasn't it? Yet here you are reading these lines, meaning you have managed to make it to this point and are ready to test your skill in this epic boss fight.
If you struggle to finish this battle, our Diablo 4 final boss guide will be of great use to you. Within these pages, you will find invaluable tips and tricks to exploit Lilith's weaknesses, along with effective strategies to adopt during the fight. We will also discuss the potential Diablo 4 Lilith rewards that await those who manage to defeat her.
Whether you are a seasoned Diablo player seeking an extra edge or a newcomer preparing to face your first major boss, this guide will provide you with the tools you need to defeat Lilith and continue your epic journey through the dark and treacherous world of Diablo 4. So, sharpen your weapons, put on the best gear, and let us embark on this adventure together!
If you cannot defeat Lilith no matter how hard you try, we have a solution for you. By ordering our Diablo 4 Lilith Kill Boost service, you can be sure our professional players will get the job done for you. All you are left to do is to enjoy the loot and keep exploring Sanctuary further. We offer the best market price and guarantee the result!
IMPORTANT NOTE: At SkyCoach, you can also Buy Diablo 4 Boost at the lowest prices and with the fastest delivery. You can make your first purchase even CHEAPER if you find our special PROMO CODE (highlighted in green) hidden in this article and get a 20% DISCOUNT.
Check out our most popular
Diablo 4 Boosting services

offered at the best market price:
How to Beat Lilith, Creator of Sanctuary in Diablo 4 – Phase 1
Before we begin our Diablo 4 Lilith boss guide, it is worth mentioning that killing Lilith is possible even if you are 10 levels behind her, as it all depends on your gear, build, and how well you play your class in general. However, before taking your first attempt, we highly recommend reaching level 50. By doing so, Lilith will be level 49, which makes her under-leveled and eases the fight greatly.
It is also crucial to wear your best gear possible, upgrade it to the max at the Blacksmith, and change your build for this battle specifically. When fine-tuning your build, make sure you have chosen not only damage-dealing abilities but those that increase your maneuverability and survivability as well.
During the 1st phase of the fight, you will face Lilith in her Creator of Sanctuary form. She will mostly use thin-lined attacks while also swiftly moving around the platform. Evading these attacks is quite simple, as you will see a distinct animation before they happen. In fact, you can even get hit by some of them and soak a portion of the damage, as you will not be one-shotted anyway.
On top of that, be ready to face off against constantly spawning groups of Succubus and Oppressors. They do not deal that much damage yet can distract you from focusing on Lilith.
This is what Lilith's moveset looks like when fighting her in the Creator of Sanctuary form.
Ability Name

Description

How to Counter

Spinning Slice
Lilith swings both her wings, trying to deal damage in two spinning strikes.
Move backwards, as the animation is relatively slow and easy to predict.
Demon Cross
Thin lines appear on the ground, resulting in flame explosions that must be avoided.
Move to a safe zone, which does not have these fiery lines.
Hell Dive
Lilith soars into the skies and disappears from your screen. A few seconds later, she will crash down near the center of the platform, dealing overwhelming damage.
After she is up in the skies, do not stand still and keep moving around the platform.
Champion Summon
After losing

50%

of her

HP,

Lilith will summon

Dreadful Champion of Chaos.

When she has only

25% HP

left, she will summon two Dreadful Champions of Chaos.
Defeat those mobs while trying to avoid taking damage from Lilith's attacks.
In most cases, avoiding Lilith's incoming attacks is better than dealing damage to her. The reason for this is that you can be easily one-shotted with her Hell Dive if you get hit by it. At the same time, you want to stay away from the Demon Cross lines, as they can be a beginning of a more deadly combo attack. Finally, you have no other choice but killing mobs summoned by the Champion Summon ability. Otherwise, they will keep damaging you until the end of the 1st stage and you do not want this.
To skip the leveling grind and try your skills at fighting Lilith and other challenging activities, you can use our Diablo 4 Powerleveling service. By doing so, you can be sure our professional players will get your character boosted to the desired level. We offer reasonable prices and guarantee the result. BLOG20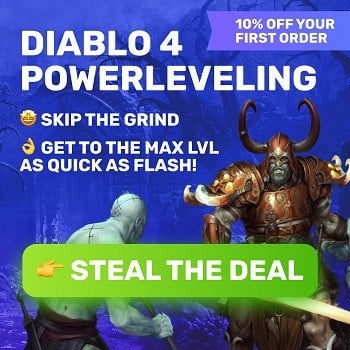 How to Beat Lilith, Daughter of Hatred in Diablo 4 - Phase 2
Once you manage to bring Lilith's HP to zero during the 1st phase, she will transform into her demonic form called Daughter of Hatred. During the 2nd phase, she will have Spinning Slice, Demon Cross, and Hell Dive abilities as well. However, they will be more powerful and deal higher damage.
On top of that, Lilith's moveset will be enlarged and have a few more abilities you need to know about when fighting her in the Daughter of Hatred form.
Ability Name

Description

How to Counter

Arena Destruction
Lilith cracks away a piece of the platform you are fighting on. This happens when her

HP

drops to

75%, 50%,

and

25%.

If you do not move away from this zone, you will be

INSTANTLY

wiped.
Move to a safe zone, which does not fall off.
Shadow Flight
The boss covers a large piece of the platform with corrupted blood, standing in which deals massive damage.
Make sure you stay in a safe spot and wait until the corruption disappears.
Corrupted Growths
Lilith spawns growths, which explode shortly after.
Avoid standing near these growths when they are about to explode.
Throughout the entire 2nd phase, the Arena Destruction ability remains a major threat. As the battle goes on, you will have less and less space to fight Lilith, meaning it will be much harder to evade her abilities, especially AoE ones.
You need to react quickly before a huge piece of the arena falls off. If you miss this moment, you will immediately die and have to start again. Speaking of the restart, after you complete the 1st stage of the fight, your progress is saved at this checkpoint. In case of death, you will start fighting Lilith from the 2nd stage again.
Let us remind you again. Defeating Lilith in Diablo IV becomes much easier if you upgrade your gear and insert the best gems in it. To do this, you will need quite a lot of gold. If you are tired of farming it manually, you can always Buy Diablo 4 Gold with our company's help. We guarantee the best market price and the fastest delivery time!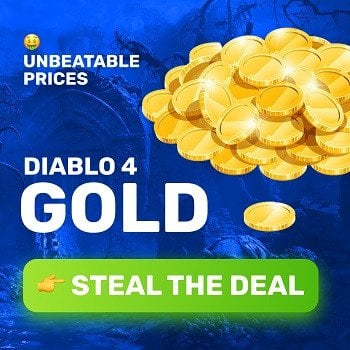 Diablo 4 Final Boss Tips & Tricks
When facing off against Lilith, it is crucial to approach the battle with a combination of strategy, preparation, and adaptability. Here are some tips and tricks to help you in your fight against the main antagonist of Diablo 4:
Focus on dodging Lilith's attacks.

While dealing damage to Lilith is definitely important,

dodging her attacks

is the point many players forget about. This will result in an inevitable wipe, as most of Lilith's attacks can one-shot you, especially if your gear is not good enough. Remember, your task is to wait for the moment when Lilith is open for your attacks. Until this, you need to avoid taking damage from her as much as possible;

Keep staggering.

Just like other bosses in the game, Lilith is immune to your

CC

abilities. Instead of immobilizing her, they will fill her

Stagger Bar.

Once the latter is filled completely, Lilith will not be able to move and attack you, meaning you can deal the highest

DPS

possible during this short period of time;

Understand Lilith's abilities.

Familiarize yourself with Lilith's attack

patterns

and

abilities.

She possesses a range of devastating attacks, including summoning minions, casting powerful spells, and using AoE attacks. Knowing what to expect will help you react quickly and effectively;

Clear adds ASAP.

Lilith often summons minions to aid her in battle. Prioritize taking out these mobs to prevent them from overwhelming you or providing support to Lilith.

AoE

abilities and

CC

effects can be particularly effective for dealing with groups of minions;

Learn from your mistakes.

If you only begin playing Diablo or enter this fight unprepared, you will

die many times.

This is a natural process and you should not be worried too much. Instead, take some time to analyze your gameplay, try a different fighting strategy, or change your character build.
Keep in mind that no matter how well you play, it is essential to have powerful enough gear to defeat Lilith in Diablo 4. In most cases, you will have to spend some time farming dungeons to get Legendary gear. At the same time, dungeons can be a problem for many average players. To ensure you complete a dungeon run of any difficulty, you can order our Diablo 4 Dungeon Carry service. We offer the best price and guarantee the fastest completion time.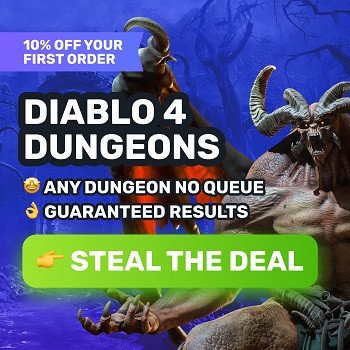 Diablo 4 Lilith Boss Rewards
Defeating Lilith finishes the game's storyline. After that, you can experience a whole range of Diablo 4 endgame content. For example, you can keep testing your skills in activities like Helltide Events or Nightmare Dungeons. On top of that, you will be able to skip the campaign if you decide to create alt characters and proceed to the endgame content directly.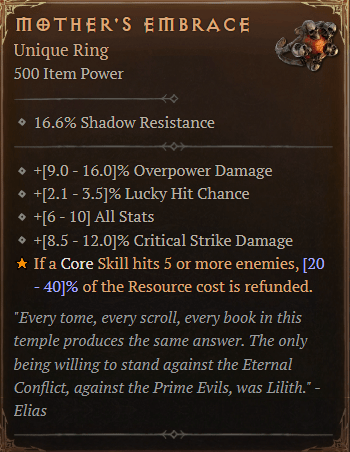 In the screenshot above, you see another major reward you will get after defeating Lilith. The ring is called Mother's Embrace, and it has a unique Aspect inserted in it. This ring will be especially useful when playing crowd control-heavy builds and will be particularly useful during the endgame. Finally, you will receive a bunch of gold and Legendary gear as another part of Diablo 4 Lilith boss rewards.
Conclusion
With the knowledge and strategies presented in this Diablo 4 Lilith boss guide, you are equipped to face the daunting challenge of defeating Daughter of Hatred. By understanding Lilith's abilities, optimizing your build, and adapting to the battle, victory is within your grasp.
The rewards that await those who emerge triumphant will greatly enhance your character's power and progress. So, gear up, make up a strategy, and embark on this epic encounter with confidence. We hope you had a fun time reading this article and learned a lot of new stuff. Make sure to stay with us, as we will keep updating this guide if any changes occur.
F.A.Q.
How to beat Lilith in Diablo 4?
Make sure you use your mobility tools to avoid Lilith's most dangerous attacks. Keep filling the Stagger Bar to make Lilith immobilized and deal the highest DPS possible.
What are the rewards for defeating Lilith in Diablo 4?
Defeating Lilith in Diablo 4 rewards you with the following:
Plenty of

Legendary

gear;
Unlocking the endgame;
A bunch of gold.
Who is the boss in Diablo 4?
Lilith, Creator of Sanctuary is the final boss of the game's campaign.
What does Lilith want in Diablo 4?
Lilith wants to corrupt the hearts of human inhabitants and turn them into instruments of darkness. With her malevolent intentions, Lilith poses a grave threat to both forces of Heaven and Hell.
Who is the bad guy in Diablo 4?
Lilith is the main antagonist of Diablo 4 and acts as the final boss of the game's campaign.