As in previous Diablo games the Necromancer's primary ability is to raise and control undead minions as well as using different kinds of dark magic to obliterate his enemies. In Diablo 4, players can expect a wide range of undead creatures, from Skeleton Warriors and Skeleton Mages to more powerful abominations like mighty golems. These minions can be used to tank for the player, deal damage, or even provide utility if a player decides to sacrifice some of his minions to get a permanent buff for himself.
In addition to summoning minions, Necromancers will also be able to use various spells to deal damage, apply damage-over-time effects, or even steal his enemies' life to heal himself. All these abilities can be really powerful tools in combat, if used correctly. Sure, at the first stages of your journey this class may feel weaker than others, however Diablo 4 Necromancer gameplay on lvl 70 or higher will show you that Necromancer is a really powerful class.
IMPORTANT NOTE: At SkyCoach, you can also Buy Diablo 4 Boost at the lowest prices and with the fastest delivery. You can make your first purchase even CHEAPER if you find our special PROMO CODE (highlighted in green) hidden in this article and get a 20% DISCOUNT.
Check out our most popular
Diablo 4 Boosting services

offered at the best market price:
Diablo 4 Necromancer Trailer
Before we start digging into Diablo 4 top Necromancer builds and other things you may find useful for your journey in the Sanctuary, check out this awesome Necromancer trailer:
Pros and Cons
The developers did their best to balance Diablo 4 classes, so, as any other class in the game, Necromancer, of course, has its own pros and cons. There are plenty of topics regarding Diablo 4 Necromancer builds on Reddit, all of which does not provide any reliable information yet. However, we did our own research and now we are not going to talk about things like the class' aesthetic. Instead, we will keep our attention to purely gameplay-mechanics side of the things:
Pros
Cons

Great Crowd Control - It is pretty easy to avoid damage and keep your enemies away from you when you have a whole bunch of minions protecting you from all sides.
Excellent Solo-Playing Efficiency - For the same reason as above, playing solo as a Necromancer will be a very pleasant experience, as you can always rely on your Army of the Dead.
Very Good Minions Customization - Necromancers in Diablo 4 have access to a great deal of customization when it comes to his undead minions. See more about that in the Book of the Dead part of this article.

Weak Without Minions - Being more of a summoner than a mage, your Necromancer will be significantly weaker without his minions, even considering the Sacrifice bonuses, which will be explained in more details later in this article.
Low Direct Damage - While Necromancer have a wide range of direct-damage abilities, his main strength lies in his minions, so do not expect your spells to be absolutely devastating.
Mediocre Damage Mitigation - Unlike other classes, Necromancer does not have too much damage mitigation in his arsenal, depending more on minions to take damage instead of him.
Resources
The Diablo 4 Necromancer utilizes two distinct types of resources: Essence and Corpses.
The primary resource for a Necromancer is Essence, which slowly regenerates over time. However, utilizing Basic Skills can generate Essence at a much quicker pace, thus enabling more frequent spell casting. BLOG20
In addition, the corpses of defeated enemies can be utilized to summon minions and trigger other abilities, including the well-known Corpse Explosion. Furthermore, supplementary skills like Decompose allow Necromancers to create additional corpses as needed, ensuring they always have a sufficient supply of bodies to raise (or explode).
What are Paragon Points for Necromancer?
The Paragon system is nothing new to Diablo games. This system helps you prolong your game experience by offering additional Paragon levels, available after you reach the maximum level of your character. However, in Diablo 4, this system has been significantly modified.
Diablo 4 Paragon Board becomes available once you reach level 50, and it functions as a progression system for your character's endgame. For every 25% of experience earned (i.e., at 25%, 50%, 75%, and 100%), you'll receive one Paragon point, and you can earn a total of four Paragon points per level until you reach Level 100. After reaching Level 100, the Paragon Board will be capped. Diablo 4 Paragon Points are really hard to farm for Necromancer (as well as for all other classes), since you will not only need better gear to progress Your Paragon Board, but also excellent class understanding and micromanagement. In Diablo 4 the best way to farm Paragon Points for your Necromancer is currently not very clear, since we do not have enough information about the game, however, we recommend you to concentrate on Nightmare Dungeons, Whispers of the Dead, or Helltide.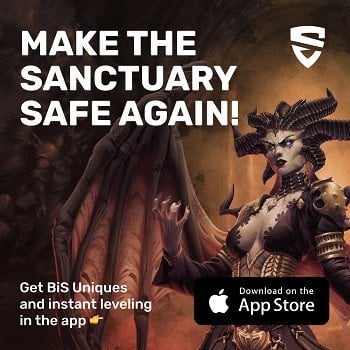 Diablo 4 Necromancer Weapon Types
In Diablo 4 different classes have access to different types of weapons, depending on their playstyle and abilities. The Diablo 4 weapons for Necromancer are:
Scythes;
Swords;
Daggers;
Wands;
Focuses;
Shields.
As you see, the most common Diablo 4 Necromancer weapon damage is physical, but add to it all the powerful magic you can use in battle and you will get a fairly versatile damage profile.
Of course, the most suitable weapon for a Necromancer is a Scythe both in terms of in-game mechanics and style. However, if the situation requires you can use any available weapon, especially if it is more powerful than what you currently have.
Generally, you are most likely going to look for Diablo 4 Necromancer weapons belonging to sets, because they are going to be the most powerful. However, you can also look for Diablo 4 Necromancer weapons with gems, to be able to better customize your performance.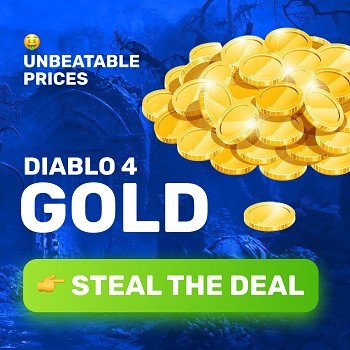 Diablo 4 Sets for Necromancer
Many players are wondering what's the best set for Necromancer Diablo 4? Well, at present, the sets available for a Necromancer in Diablo 4 are unknown. As the game is still in development and there has been limited information released about specific character classes, it's difficult to say what players can expect in terms of gear and equipment. However, as more information becomes available, we will update our article with the latest details on Necromancer sets in Diablo 4. Fans of the series are eagerly anticipating the release of the game and are sure to be excited to learn more about what the Necromancer class will have to offer in terms of gameplay and customization options. Until then, we can only speculate about what lies in store for players of this iconic class in the upcoming installment of the Diablo franchise.
Diablo 4 Necromancer Best Skills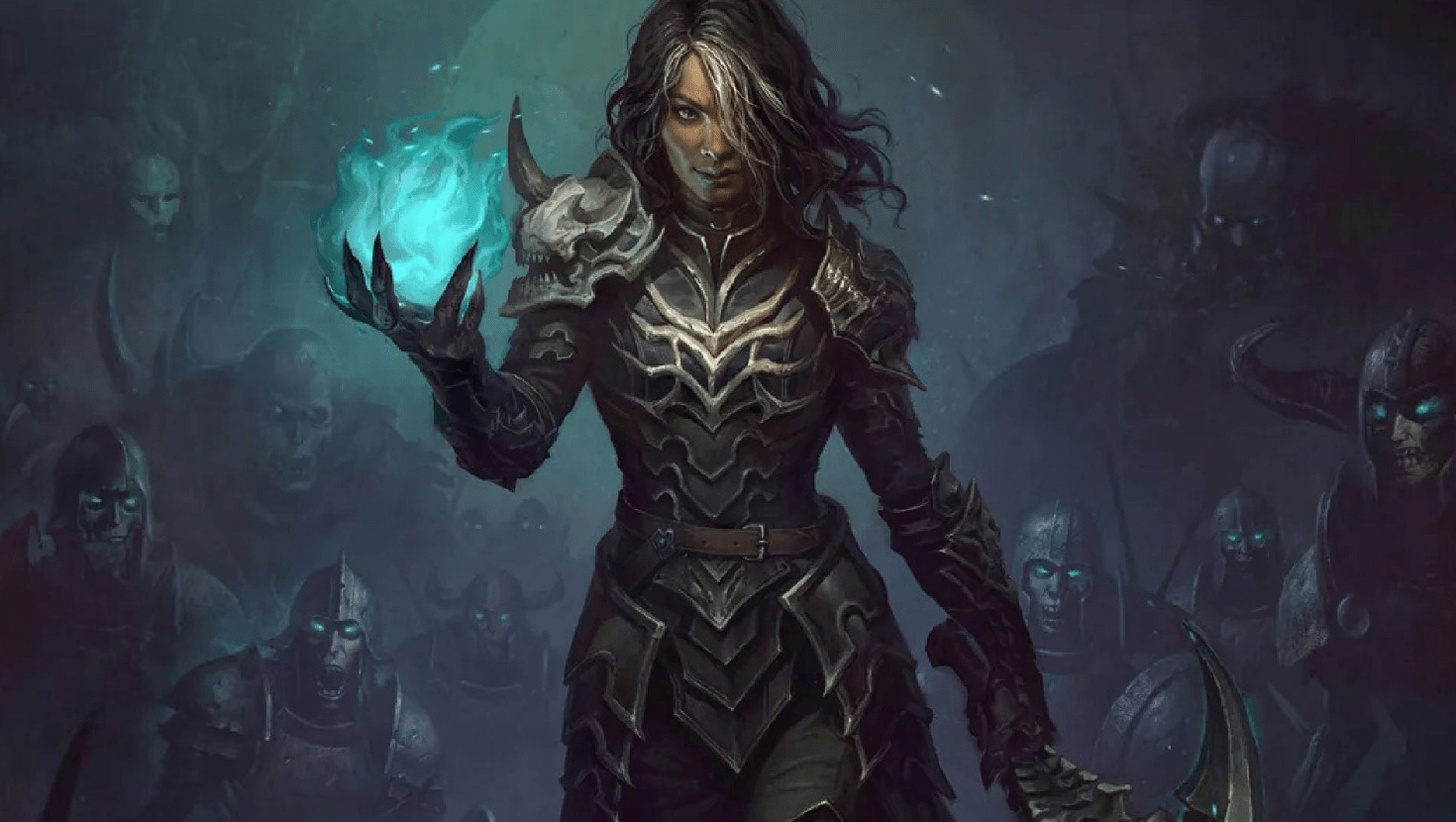 There are a lot of discussions about Diablo 4 best Necromancer skills on Reddit, where Diablo 4 players are trying to speculate about what this class' skills loadout should look like. For now, though, there is simply not enough reliable information available. For example, we currently do not know about Diablo 4 best Necromancer passives and primary stats.
However, we can say that, like all classes in Diablo 4, the Necromancer will have a wide range of customization options. Players will be able to choose from different minion types, abilities, and passive skills to tailor their Necromancer to their playstyle. This will allow players to create unique and powerful builds that cater to their strengths.
Various skills and abilities are very important in Diablo 4 gameplay, since they allow players to unleash the devastating potential of their characters. Here's a list of known Diablo 4 Necromancer skills, categorized by skill type:
Bone
Bone spells are mostly about dealing direct damage and crowd-controll your enemies. This is as close as your Necromancer can get to purely spell-casting damage, but Bone magic is in many ways inferior to, say, Sorcerrers' Fire magic, so, to maximize your efficiency you will need to combain it with other abilities in your arsenal.
Bone Spear: Unofficially revealed through gameplay footage, this skill casts a projectile that passes through enemies and splits into three smaller projectiles upon bouncing off a wall.


Bone Spirit: Conjures a spirit of bone that seeks out the nearest enemy, exploding on contact and dealing area-of-effect damage. Damage increases based on the amount of Essence spent.


Bone Prison: Calls forth a wall of Bone to surround a target enemy or area, which cannot be broken through while active. Useful for trapping groups of enemies or blocking off areas.


Darkness
Your Darkness spells will curse and aplly damage-over-time effects on your enemies. These spells are crucial to survive Diablo 4 end-game content and deal with Elete enemies and Bosses.
Blight: Casts a ball of energy that explodes upon impact, dealing immediate area-of-effect damage and then further damage-over-time to enemies in the area.



Decompose: Channels dark magic onto enemies, dealing damage and generating Essence while periodically spawning corpses that can be used to summon skeletons.



Decrepify: This curse will reduce the target's movement speed and damage output.
Iron Maiden: This curse will make the target's melee attacks reflect back on it.


Blood
Blood spells can deal large amounts of AoE damage and keep you alive by draining your enemies' health. If you master Blood magic you will be able to mitigate incoming damage and clear large waves of enemies very efficiently.
Blood Surge: Draws blood from surrounding enemies to create a close-range area-of-effect attack. Damage dealt is based on the amount of blood drawn.



Blood Mist: Grants temporary immunity from damage by transforming the Necromancer into a mist of blood. Drains Life from any enemy the Necromancer passes through.



Corpse Explosion: As the name implies, with this ability you can make enemies' corpses explode, dealing physical damage in a circle around them.



Do not forget to check this article later, because we are planning to add a Diablo 4 Necromancer skill calculator to make it easier for you to tune your character to maximum efficiency.
The Book of the Dead Explained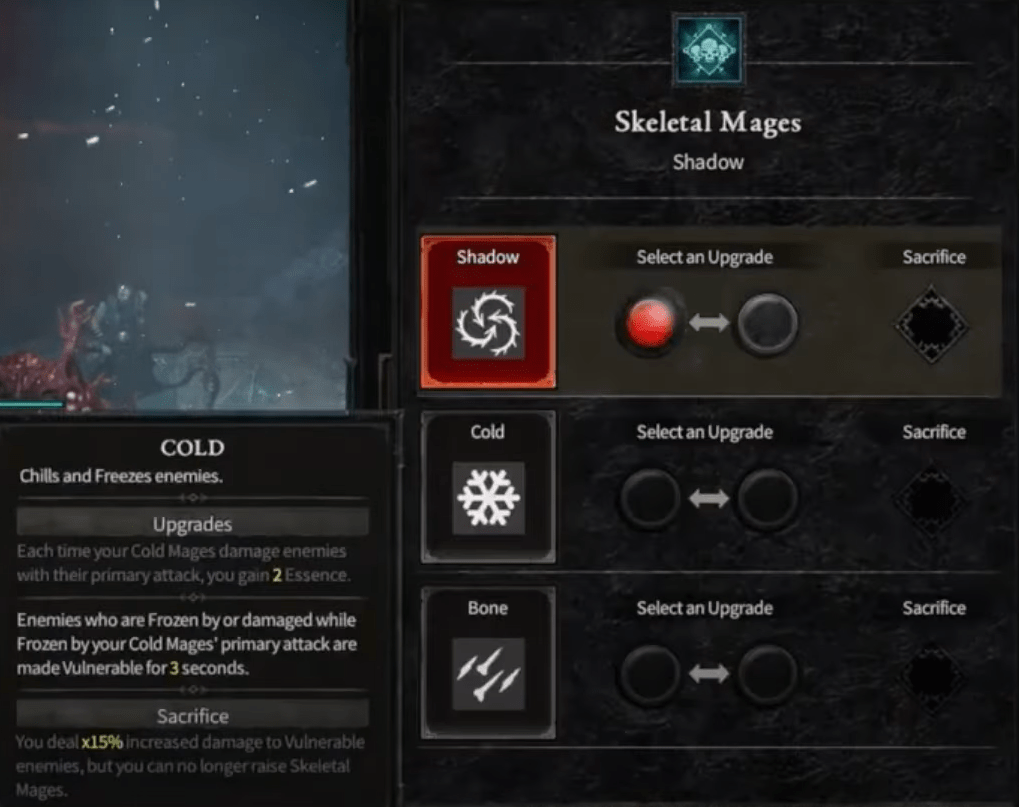 While using deadly magic to deal with your foes is certainly impressive (and Necromancer in Diablo 4 has plenty of spells in his arsenal), the true strength of a Necromancer lies in their ability to raise an army of the dead to serve their bidding. With access to the Book of the Dead, the Diablo 4 Necromancer can customize and command their undead troops like never before. The menu offers a variety of minion types to summon and upgrade, as well as the option to sacrifice summons to increase the Necromancer's own power. This feature allows for greater class flexibility, making it possible to play with a more independent style if you prefer not to rely too heavily on summoned minions. Note, that you can choose only one Upgrade for every type of minions. Mastering the art of crafting Diablo 4 Necromancer top-tier builds is an essential part of success in Diablo 4 end-game content.
In this article, we'll take a closer look at the minions available through the Book of the Dead and the benefits of upgrading and sacrificing them.
You will have access to three types of minions:
Skeletal Warriors;
Skeletal Mages;
Golems.
So, let's see what we know about all of them so far.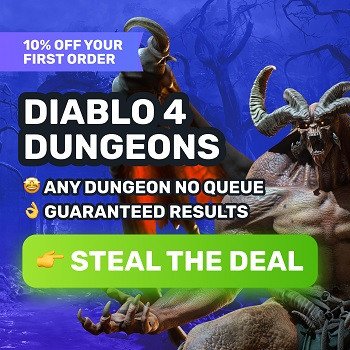 Skeletal Warriors
The Diablo 4 Necromancer can summon three types of Skeletal Warriors:
Skirmishers
Deal increased damage but have lower life. This is your standard type of Skeletal Warrior, which does not provide any significant buffs to you, aside from dealing increased damage, of course. Sadly for now, there is no information about what your Upgrades and Sacrifice options do with this type of minions, so check this article later.
Defenders

These are durable shield-bearers with 15% more life. You will have two Upgrades for them as well as the ability to sacrifice your Skeletal Defenders:

Upgrade 1

- Defender absorbs next direct damage, 10 seconds cooldown.

Upgrade 2

- Increases the amount of Thorns your minion gets from you from 30% to 50%.

Sacrifice

- Increases your non-physical resistance, but you lose the ability to raise Skeletal Warriors.

Reapers
They trade attack speed for high damage, using a front-facing AoE spell and a powerful wind-up attack. Again, there is no further information about what Upgrade and Sacrifice options available for these minions.
Skeletal Mages
The Diablo 4 Necromancer can also summon three types of Skeletal Mages:
Shadow
Sadly, there is a complete lack of information about this type of Necromancer minions. But, you know, we will update it later.
Cold

As the name implies, these minions can chill and freeze your enemies. You can find the following options for this type of minions in your Book of the Dead:

Upgrade 1

- You will gain 2 Essence every time your Cold Skeletal Mage hits an enemy with their primary attack.

Upgrade 2

- Makes enemies vulnerable for three seconds when they are Frozen or damaged by your Cold Skeletal Mage's primary attack while Frozen.

Sacrifice

- You will gain 15% increased damage to vulnerable enemies but lose the ability to summon Skeletal Mages.

Bone

These undead minions use their own bones as projectiles, dealing heavy damage at a cost to their own life. The Upgrades for this type of minions goes as follows:

Upgrade 1

- This Upgrade makes your Bone Skeletal Mages sacrifice 10% of their Life for every attack (was 15%). Also, if your Bone Skeletal Mage lives longer than 5 seconds, this Upgrade will increase its damage by 40%.

Upgrade 2

- If your Bone Skeletal Mage dies from its own attack, it will leave a Corpse and fortify you.

Sacrifice

- Increases your Overpower damage by 30% but you will lose the ability to summon Skeletal Mages.
Golems
The Diablo 4 Necromancer can also summon three types of Golems:
Bone

These can be used to tank damage as they can taunt enemies in a wide area. You will have access to the following Upgrades for this type of minions:

Upgrade 1

- If your Bone Golem takes 20% of its maximum Life as damage it leaves a Corpse.

Upgrade 2

- Your Bone Golem increases his maximum Life by 10% and the amount of Thorns it inherits from you by 50% (instead of 30%).

Sacrifice

- Gives you an additional 10% of attack speed, but you can no longer summon a Golem.

Blood

These creatures can drain life from enemies around. The Upgrades for this type of Necromancer's Golems are as follows:

Upgrade 1

- Your Blood Golem absorbs 15% of damage you would take.

Upgrade 2

- If your Blood Golem is at full health it gains a 25% damage reduction bonus and its damage output is also increased by 25%.

Sacrifice

- Increases your maximum health by 10%, but you lose the ability to summon golems.

Iron

These powerful creatures are capable of stun enemies around it. Iron Golems will have the following Upgrades and Sacrifice options:

Upgrade 1

- Every fifth attack of your Iron Golem will cause a shock wave, which deals significant damage to the primary target and to all enemies behind it.

Upgrade 2

- The Iron Golem's slam attacks makes your enemies Vulnerable for 3 seconds.

Sacrifice

- Your Critical Strike damage is increased by 30%, but you can no longer summon Golems.
Recommended Stats
At the moment, there is still much uncertainty surrounding the Necromancer class in Diablo 4 and how its attributes will function. While there have been some hints and teases from the game's developers, we still don't have a complete understanding of what each attribute will do for the class. However, as more information becomes available, we will be sure to update this part of the article to provide players with the latest insights and details about the Necromancer's attributes, including Diablo 4 Necromancer best build, using which you can easily dominate your enemies.
In the meantime, players can continue to speculate and theorize about what are the best stats for Necromancer in Diablo 4 and how the class will function, using their own experiences and knowledge of previous Diablo games to try to anticipate what the developers have in store. As we learn more about the Necromancer and its mechanics, we look forward to sharing that information with you to help you make the most of this exciting new addition to the Diablo universe.
Necromancer Items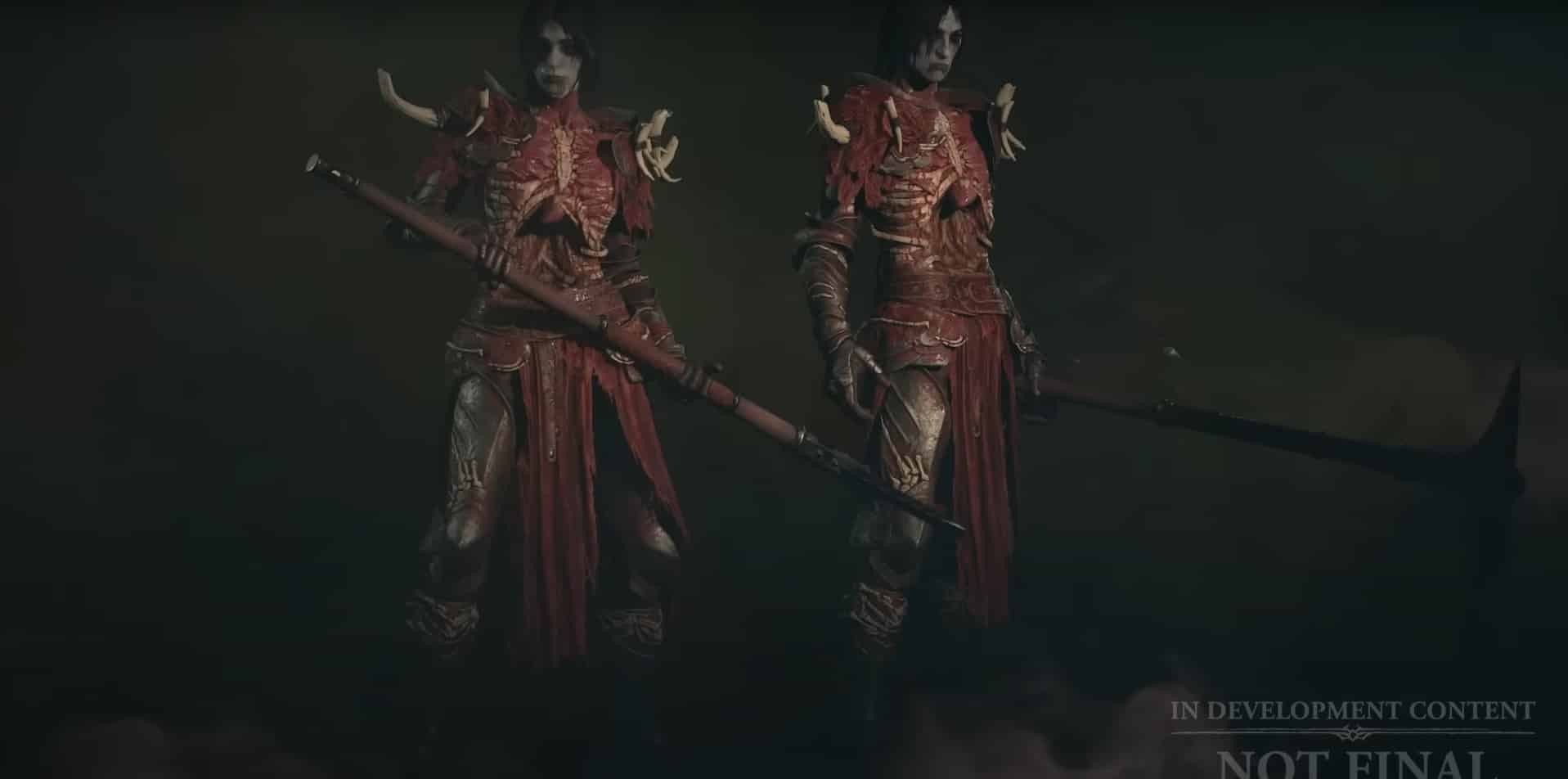 In Diablo IV, players who choose to play as Necromancers have the ability to equip a maximum of ten items across various equipment slots, which include:
Head;
Torso;
Hands;
Legs;
Feet;
Neck;
Ring 1 and Ring 2;
Main Hand Weapon;
Off-Hand Weapon.
Of course, as in other Diablo games, your items will be of huge importance. Diablo games are about getting the best gear and we all know that. So, Diablo 4 Necromancer legendary items, sets, gems, and weapons are what interested players the most. Sadly, though, we currently do not know anything about Diablo 4 Necromancer best gems, exact pieces of equipment and the like, however, we will surely provide tips about all this as soon as more information becomes available.
Conclusion
That's all we have for now on the Diablo 4 Necromancer. Keep an eye out for more information as the release date approaches. In the meantime, check out our overview of the gameplay footage shown at the Xbox and Bethesda conference, or learn more about the 150 handcrafted and procedurally generated dungeons you'll encounter in Diablo 4.
F.A.Q
What is the best Diablo 4 Necromancer build?
Currently, the best Necromancer build in Diablo 4 is called Bone Spear.
What are the best skills for a Necromancer in Diablo 4?
This depends on what Diablo 4 Necromancer build you are using. However, your summoning abilities are going to be more important than others.
Is the Necromancer good in Diablo 4?
Necromancer in Diablo 4 is as good as any other class. It offers well-rounded gameplay, as it can deal decent single-target and multi-target damage. The only crucial class's downside is the absence of clear escape.
Does Diablo 4 have Necromancer?
Necromancer in Diablo 4 is one of the five playable classes.