One of the most widespread and exciting characters to play is Barbarian. Initially added back in Diablo 2, it was carried to the next part of the game series. We have prepared this Barbarian Class Overview for Diablo 4 to describe this class's gameplay, mechanics, and other features.
Despite being an extremely popular class, the game's developers have not created a separate Diablo 4 Barbarian trailer. Instead, we have the general video describing three classes simultaneously. It was released back in November 2019 yet still looks amazing. We have attached it below so that you can check it out if you have not done it before.
While reading this article, you will also learn about the class's skills, weapons, and more. Besides, we will share information concerning possible builds and the most efficient stat priority you can use. For those people who are going to try this class for the first time, we will describe its strengths and weaknesses. This Barbarian Class Overview for Diablo IV will be constantly updated with the latest details. So, make sure you stay tuned with us to be the best.
IMPORTANT NOTE: At SkyCoach, you can also Buy Diablo 4 Boost at the lowest prices and with the fastest delivery. You can make your first purchase even CHEAPER if you find our special PROMO CODE (highlighted in green) hidden in this article and get a 20% DISCOUNT.
Check out our most popular
Diablo 4 Boosting services

offered at the best market price:
Barbarian General Information in Diablo 4
The following part of our Diablo 4 Barbarian guide includes basic details covering the class's most essential features. It is a very useful extract of the article if you wish to get a basic understanding of how this class works. Everything mentioned in this paragraph will be described in detail further in the guide.
Barbarian is a powerful melee class known for its brute strength and raw physical power. They excel in close combat and are capable of wielding a variety of weapons, from two-handed axes and hammers to dual-wielded swords. The Barbarian's abilities allow them to charge headfirst into battle, dealing massive damage to multiple enemies at once and shrugging off incoming attacks.
The resource you are using to make your abilities stronger is called Fury. The latter generates while you are fighting enemies. However, it disappears quite quickly after you disengage from the battle. Your abilities can only deal Physical damage, which is your strong and weak side simultaneously.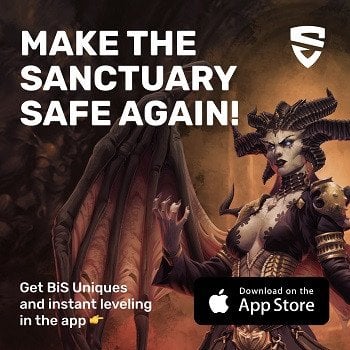 Barbarian Pros and Cons in Diablo 4
Moving further, we would like to pay attention to the class's upsides and downsides. We can suggest that they will not be that different from what we saw back in Diablo 2. Though, if you only begin playing this game series, you should know what you are going to deal with. BLOG20
Let us start with Strengths, which include the following points:
Overwhelming DPS.

Your Core Skills deal insane damage if you use your

Fury

correctly;

Exclusive class mechanic.

Boasting the Berserking buff, this is the only class in the game that can gain a

25%

damage and

30%

movement speed boost simultaneously;

Moves around the battlefield quickly.

With a wide range of active and passive abilities, this class has immense movement speed and can easily catch up with any foe;

Can soak a ton of incoming damage.

Having various defensive abilities under the belt, you can not only deal amazing damage yourself but also soak a great amount of incoming damage as well.
Up next, we have Weaknesses to discuss:
Brings little value without Fury.

You mainly deal damage by using Core Skills, all of which consume

Fury.

If you run out of it, you become practically useless for a short period of time;

Can only attack in melee range.

Despite having various charging abilities, you will have to stick close to an enemy when attacking it. It means you will have trouble dodging certain Elite and Boss abilities in certain situations;

Have no companions to rely on.

You will have to fight your foes all alone, as you have no pets or companions to help you in battle. The only exception here is the

Call of the Ancients

ability, which has a long cooldown. Going for particular Diablo 4 Barbarian talents can partially solve this problem but not entirely;

Requires time to unlock its potential.

Being a powerful opponent in the late game, all Barbarians suffer from slow resource generation during early game stages;
Bearing the mentioned upsides and downsides combined with the Diablo 4 Barbarian tips we are going to describe further in the article, you should have an understanding of how this class performs in action.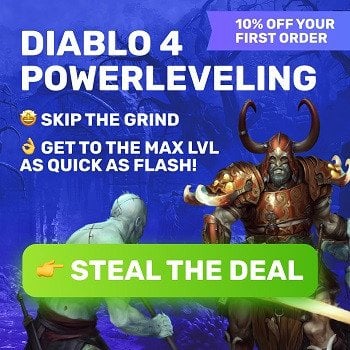 Best Barbarian Equipment in Diablo 4
This paragraph of the article includes a brief description of each item slot you have. To begin with, this class is completely unique when compared to others, as you can wear four weapons simultaneously. Your character swaps between them automatically depending on what ability you are using. We have compiled a table containing the names of all equipment slots available for this class.
| | | |
| --- | --- | --- |
| Armor | Jewelry | Weapons |
| Helm | Amulet | Two-Hand Bludgeoning Weapon |
| Chest | x2 Ring | Two-Hand Slashing Weapon |
| Gloves | — | Main Hand |
| Pants | — | Off-Hand |
| Boots | — | — |
As you progress in the game, you will unlock various methods of making your character stronger. For example, you can insert Diablo 4 Barbarian legendary gems to gain extra stats. Before you find at least one of them, you can stick to their weaker versions. However, the legendary ones are what you need to show decent DPS in the late game. Here is a list of gems that is currently present in Diablo IV :
Amethyst;
Emerald;
Ruby;
Topaz;
Sapphire;
Diamond;
Skull.
As for now, the best Diablo 4 Barbarian best gems are Emerald, Ruby, and Skull. To be exact, you should always strive to insert Emeralds into your armor pieces and weapons. The reason for this is that it increases your Thorn value if inserted into armor. If you want to, you can also insert it into weapons to gain extra Critical Strike Damage against Vulnerable enemies. To make your target Vulnerable, you can use the Flay ability. If you are only a beginner, let us show you an example of what stats a gem can provide. For instance, it can be Emerald, namely its Chipped version:
Weapon:

+7.5-1% Critical Strike Damage to Vulnerable Enemies;

Armor:

+0.075 Thorns;

Jewelry:

+14.3-1%-

Poison

Resistance.
Striving for the maximum DPS, you cannot go without a Diablo 4 Barbarian weapon gem particularly. It will greatly increase your damage output if you manage to get it as a rare drop or buy one.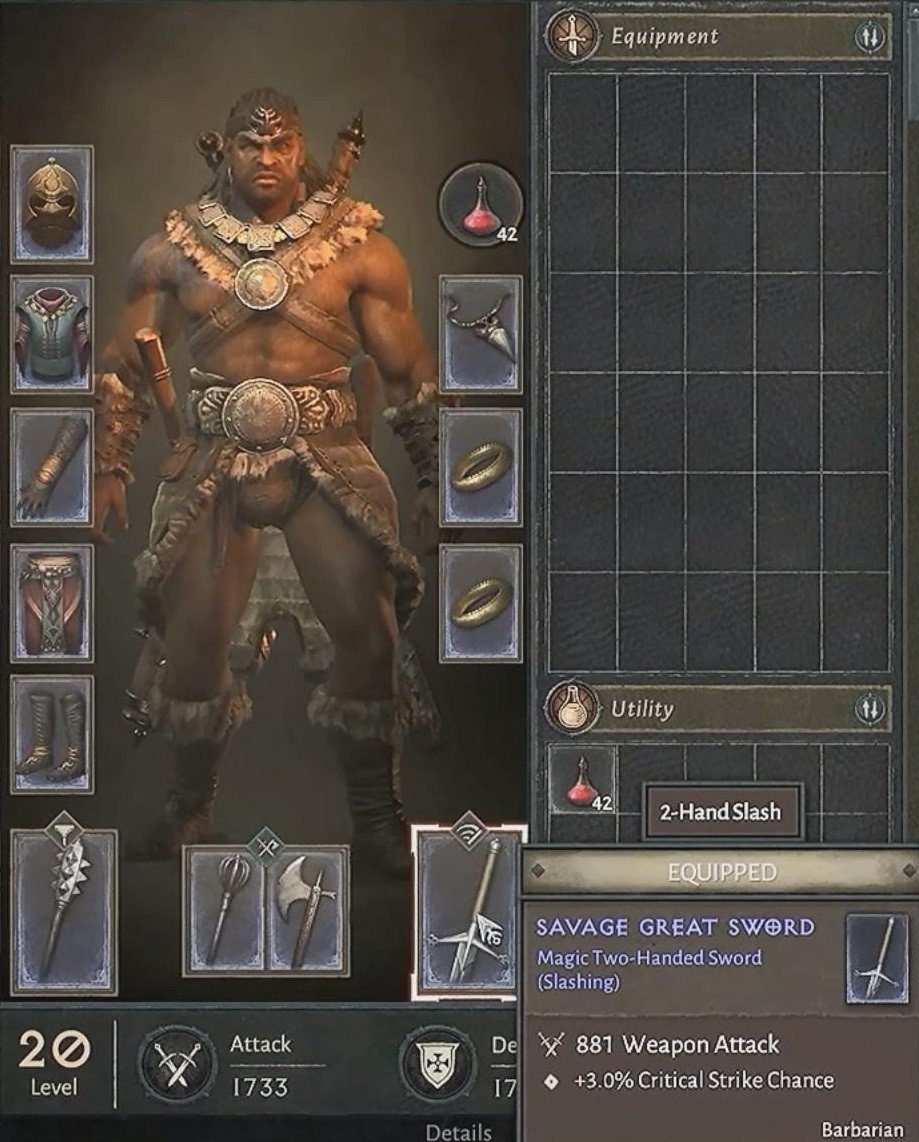 Just like the series before, Diablo IV is going to have a gold system as well. It means you will have to farm in-game currency to purchase items you need. However, we have prepared an alternative solution for you. Instead, you can buy Diablo 4 Gold Coins with our company's help. This is the easiest and safest method to become richer and save your precious time. We offer reasonable prices and guarantee the result.
Best Barbarian Unique Weapons & Armor
Once you change your difficulty level to World Tier 3: Nightmare and above, you will have a chance of obtaining Unique items. Just like Legendaries, they provide you with unique bonuses and effects that cannot be acquired anywhere else. Each class features class-unique items of this category, but we have compiled a list containing 5 best Barbarian Unique gear pieces:
Other class-specific Uniques are also worth your attention because they are all powerful and grant extremely powerful bonuses. This list represents a perfect case scenario, which is hard to achieve in the real game.
Diablo 4 Barbarian Weapon Types
As we mentioned earlier, this class has a wide range of weapons to choose from. You can use one-handed and two-handed weapons, including axes, polearms, swords, and maces. Additionally, Barbarians can dual wield one-handed weapons or choose to use a single two-handed weapon. These Diablo 4 weapons for Barbarian suit various playstyles and outperform each other in different combat scenarios.
We have prepared a list of the best Barbarian weapons, which suit any type of content:
This list is far from complete but one thing can be said for sure, you can forget about the maximum DPS if you do not have at least Diablo 4 Barbarian legendary weapons. Ideally, you need to strive to get your hands on Unique weapons but Legendaries can be a worthy substitute during the early and mid game.
We can state without a doubt that Diablo 4 Barbarian weapon damage matters a lot. However, your weapon will have other stats as well. You also value such stats as Critical Strike Damage, Critical Strike Chance, and Damage to Vulnerable Enemies. Make sure your final build looks balanced and combines everything you need to outbattle your enemies.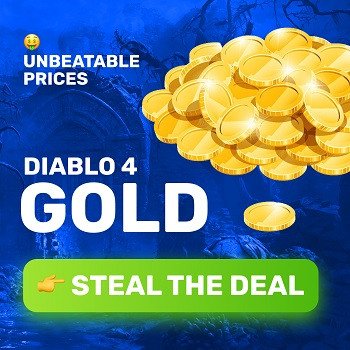 Best Barbarian Legendary Aspects
Once you get to the mid-game stage, Legendary Aspects will become an essential part of your gearing process. However, a lot of players consider them to be so important they try to get them as soon as possible. Again, it depends on what build you are playing but there are some Legendary Aspects that are worth your attention anyway. In this part of our guide, we will share a list of the best Barbarian Legendary Aspects:
What is the Best Set for Barbarian Diablo 4
Moving further, we would like to discuss Diablo 4 sets for Barbarian, which can make your character even more powerful. Unfortunately, this system is not available yet. Do not worry, as it should be added a bit later this year. The game's developers have not provided any exact information on this topic yet. They have just stated they want to work on this system more to make it function right.
However, the most avid fans already speculate and make their guesses. Some people say that this feature may appear in the game at the beginning of Season 2. The latter probably starts in October 2023 or around this time. Others claim that the system will be launched as late as December of this year. All we can do is wait for the official announcement and hope for the best.
Since this feature has not been added to the game yet, we cannot share any Barbarian weapon sets at the moment. The same refers to Barbarian legendary sets as well. Stay tuned and do not forget to check our article to find the latest details concerning this topic once we update it.
While waiting for the system to be released, you can use Barbarian Legendary and Unique items to make your character stronger. They work perfectly for any in-game content and can substitute sets for sure.
Barbarian Skills and Passives in Diablo 4
Up next, we have prepared a brief description of all Barbarian skills Diablo 4. Starting with the basics, the skill system has been largely updated and reworked. It now resembles a mix of Diablo 2 and 3 systems combined together.
To receive a skill point, you are to achieve a new level. However, this is not the only way to get those points since you can use the Renown system as well. Moving further and becoming stronger, you will unlock additional skill categories.
As for your active skills, they can be upgraded up to 5 times. Doing so increases their overall power and reduces their cooldowns by 5% per enhance as well. After reaching a certain point, you will get access to two specializations for active skills. You can choose one of them to specify to make it a more powerful tool for certain combat scenarios and simply empower it.
Adding a few words on your passive abilities, they grant you small boosts to utility, defense, or damage in specific situations, giving players more flexibility in creating their character according to the preferred playstyle.
While browsing the Internet, you can see people discussing the best Barbarian skills on Reddit quite actively. However, skills themselves do not play such a big role as many players believe. To make a certain build work properly, you need to use a combination of those skills (e.g. Whirlwind Barbarian) where you have a bit of everything. The build we have mentioned in brackets features not only damage-dealing skills yet also utility and defensive ones too.
If you wish to unlock your Barbarian's full potential, you will have to level up for quite a long time. If you are not a fan of this process or simply wish to speed it up, you can buy our Diablo 4 Powerleveling services and let our professionals do this routine job for you. We provide the best market price and guarantee the fastest result.
Basic Skills
The following extract includes information on the main Barbarian Diablo 4 spells, which are used most frequently. They require no Fury to be activated and deal insignificant damage. As a rule, they are used to generate Fury and clear out smaller enemy groups.
Bash

(grants 10 Fury) - strike your foe with a powerful blow using your weapon, resulting in

30% damage.

By bashing your enemies four times, your next strike will stun them for

1.25 seconds,

which increases to 2 seconds if a Two-Handed weapon is wielded. The skill can only be used with a bludgeoning weapon;

Flay

(grants 9 Fury) - inflict

38%

of Bleeding damage over 5 seconds by flaying the enemy, dealing

5% damage.

The skill can only be used with a slashing weapon;

Frenzy

(grants 4 Fury) - Unleash a quick succession of strikes, dealing

20% damage

per hit. Upon hitting an enemy with the ability, its attack speed increases by

+20%

for 3 seconds. This bonus can stack up to

+60%.

The skill can only be used with dual-wielded weapons;

Lunging Strike

(grants 9 Fury) – dash forward and deal

30% damage

to the target.
Core Skills
These abilities are a must-have core for any Diablo 4 Barbarian top-tier builds, as they deal overwhelming damage. However, they require quite a lot of Fury to be activated. You will not be using too many of them in the early game, as you will have trouble with resource generation.
Hammer of the Ancients (consumes 35 Fury) - strike the ground with immense force using your hammer, causing a devastating blast in a specific area that deals

50% damage

to nearby enemies. The skill can only be used with a two-hand bludgeoning weapon;
Rend (consumes 35 Fury) – deal

12%

damage

to the foes in front of you. Also, inflict

19%

of Bleeding damage for 5 seconds. The skills can only be used with a slashing weapon;

Whirlwind

(consumes 25 Fury per second) - swiftly strike nearby foes, inflicting

17% damage

with each blow;

Double Swing

(consumes 25 Fury) - swing your weapons in opposite directions, dealing

36% damage

with each weapon. Enemies caught in the center take damage from both strikes. The skill can only be used with dual-wielded weapons;

Upheaval

(consumes 40 Fury) - inflict a devastating blow on the ground with your weapon, causing debris to fly forward and dealing

70% damage

to enemies in its path. The skill can only be used with a two-handed weapon.
Defensive Skills
With the ability to soak tons of damage, no Diablo 4 top Barbarian builds can exist with the skills from this category. They greatly increase your survivability rate and allow you to live longer in fights even against the strongest enemies. On top of that, you can immobilize your foes for a short period of time by using them.
Ground Stomp

- slam the ground with tremendous force, causing

9% damage

to enemies and leaving them stunned for 3 seconds;

Iron Skin

- strengthen yourself and gain a barrier that soaks up

50%

of your missing

HP

for a duration of 5 seconds;

Challenging Shout

– make surrounding enemies attack you and gain

40% damage

reduction for 8 seconds;

Rallying Cry

- let out a loud cry to boost morale, providing allies with a 6-second buff that increases their movement speed by

30%

and resource generation by

x40%;
Mentioning Diablo 4 Barbarian best skills, Rallying Cry is definitely one of them. It is a great ability to make your entire party stronger, which is useful in any kind of fight.
Brawling Skills
This ability category adds extra utility to your build. As a rule, these skills are used offensively to start the battle. Besides, some of them can be used to boost your damage output for a short period of time.
War Cry

- let out a powerful war cry that boosts the damage dealt by you and nearby allies by

x15%

for 8 seconds;

Kick

- unleash a forceful kick, dealing

18% damage

and pushing back enemies in front of you. Those who collide with terrain take extra

54% damage

and become stunned for 3 seconds;

Leap

- jump forward and descend with force, causing a shockwave that deals

32% damage

and pushes back nearby enemies;

Charge

- gain the Unstoppable buff and charge forward, dragging enemies with you. Then, swing through them, dealing

25% damage

and knocking them back.
Weapon Mastery Skills
When creating a perfect Barbarian build in Diablo 4, this ability category is a must-have. They greatly boost your DPS but have quite long cooldowns. However, the first ability we are going to describe can be used a practically infinite number of times if you do everything correctly.
Death Blow

- try to perform a lethal strike that inflicts

120% damage

to foes in your path. If the target dies, the cooldown of the skill is immediately reset;

Rupture

- thrust your weapon forward to impale enemies in front of you, inflicting

13% damage.

Afterwards, violently pull your weapon out to inflict damage equal to the enemies' total Bleed effect and remove all Bleeding damage from them. The skills can only be used with a slashing weapon;

Steel Grasp

- throw three chains that deal

23% damage

to enemies and drag them towards you.
Ultimate Skills
Unfortunately, you can only select one ability of this kind. Keep that in mind when using Diablo 4 Barbarian skill calculator and creating a setup according to your playstyle. All of the described-below abilities are difficult to use and have long cooldowns. As a rule, only experienced players can get the maximum value out of them.
Call of the Ancients

- summon 3 powerful Ancients to fight alongside you for a duration of 6 seconds.

Korlic

charges at enemies, inflicting

80% damage

and unleashes a flurry of weapon strikes for

30% damage

each.

Talic

spins around in a rapid whirlwind, attacking enemies with ferocity, dealing 50% damage.

Madawc

causes the ground to shake and upheave, dealing a devastating

150% damage

to enemies in the area;

Iron Maelstrom

- upon activation, attach a chain to your two-handed bludgeoning weapon and slam it onto the ground, dealing

60% damage

and causing enemies to be stunned for 2 seconds. Reactivate it for the

second

time, attach a chain to your two-handed slashing weapon and swipe it in front of you, dealing

20% damage

and causing enemies to suffer from

24% Bleeding

damage over 5 seconds. Finally, reactivate it for the

third

time, attach a chain to your dual wield weapons, and unleash a flurry of swings, dealing

32% damage

per hit to surrounding enemies;

Wrath of the Berserker

- gain the

Berserking

and

Unstoppable

effects for 5 seconds, enhancing your combat abilities. In addition, for the next 10 seconds, using Basic Skills to deal direct damage will trigger the

Berserking

effect, granting you an additional 5 seconds of enhanced combat capabilities.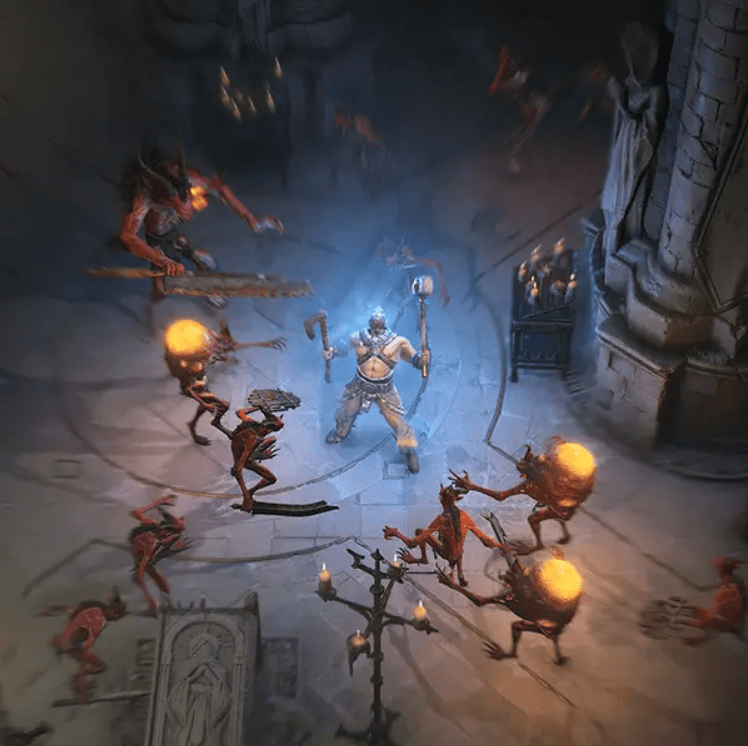 Adding a few words on passives, you can choose practically any of them you enjoy and find useful for your playstyle. As a rule, one can only see their effect after getting to the Barbarian gameplay lvl 100 stage. If you still do not know where to start, here is a list of Diablo 4 best Barbarian passives that are considered to be the most useful in any build:
Are you looking for an easy way to start your Diablo 4 journey? By ordering our Adventurer Starter Pack service, you can rely on our professional players to boost your character for you. Except for the maximum level, you will also get a ton of gold and decent gear to start enjoying the game for real.
Barbarian Arsenal System Explained
This class's unique mechanic allows you to utilize four different weapons simultaneously. You can choose what weapon will be used for every attack skill and gain extra bonuses for this. The four weapon slots are Two-Hand Bludgeoning Weapon, Two-Hand Slashing Weapon, Main Hand, and Off-Hand.
This system also has a Technique Slot apart from those we have just mentioned. However, it was not available during the Preview version of the game. Stay tuned to find out what it does after we update this article for you.
No matter what setup you call the strongest Barbarian build Diablo 4, it cannot go without this mechanic. It is a unique one of its kind and makes this class special among others.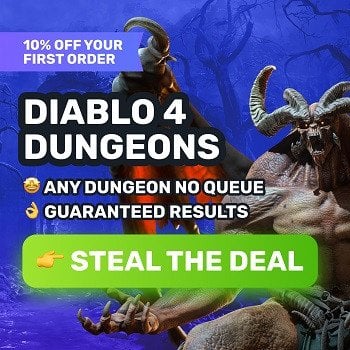 Diablo 4 Barbarian Paragon Board Guide
To further strengthen your character, you can use the Paragon Board system, which becomes available at level 50 and grants additional stats and bonuses. Completing the campaign, which typically takes around 35 hours, is a straightforward way to reach this level. Upon reaching level 50, players earn 1 Paragon point for every 25% of experience gained per level, with a maximum of 200 points achievable at level 100. You can also gain up to 25 extra points if you progress through the Renown system and discover all the Altars of Lilith. However, unlike Diablo 3's Paragon Board, this new system has limitations, as the maximum number of points you can allocate is not endless as it was in the previous game of the franchise.
It is particularly hard to state what Paragon Points for Barbarian can be considered to be the best. The reason for this is that you have 8 class-unique boards to choose from and your final choice always depends on the build. For instance, Whirlwind Barbarian focuses on certain Paragon Points while HOTA Barbarian prefers others. However, we have compiled a list of the best Diablo 4 Barbarian Paragon Points that are used most frequently.
Barbarian Best Stat Priority
In this extract of the guide, you will learn about the four core stats and what they do when playing this class in particular:
Strength

– increases your Skill Damage and grants you additional armor;

Willpower

– boosts your Fury generation speed and enhances your Overpower Damage;

Dexterity

– increases your Critical Strike Chance;

Intelligence

- does absolutely nothing and should be avoided if possible.
Speaking of the most essential stats for Barbarian Diablo 4, they are Strength and Willpower. The first one basically increases your damage output. The second one is vital for its resource generation speed boost. At the same time, Dexterity also increases your DPS, as you value everything connected to Critical Strike attacks. Finally, Intelligence is the weakest stat you can choose for this class, as it does not bring any significant benefits whatsoever.
Diablo 4 Barbarian Best Builds
Currently, we have the following three Barbarian builds that prove themselves better than others:
Whirlwind Barbarian - Revolves around the constant usage of the Whirlwind skill and a range of shouts to gain extra Movement Speed, Attack Damage, and other buffs;
HOTA Barbarian - This build is nothing new to people who played previous games of the franchise. It revolves around the constant usage of the Hammer of the Ancients ability and also features a few shouts to stay alive longer and deal higher DPS;
Rend Barbarian - Unlike the two previous builds, this one sacrifices burst damage to apply DoT effects with the constant usage of the Rend skill. It is not that powerful compared to the two ones described above yet can be used in certain situations when Bleeding damage works better than burst (e.g. World Bosses).
They all suit completely different playstyle and it is particularly difficult to define which of them can be called the best Barbarian build exactly for you.
A lot of people make their guesses about the best Diablo 4 Barbarian build on Reddit every day and try to predict the meta flow. Nonetheless, we have just listed the obvious winners and the game's statistic proves the same.
Barbarian Dismount Ability Explained
To initiate a fight more efficiently and deal a ton of damage right away, you can use your class-unique Dismount Ability. To get access to it, you need to be riding your mount first of all. When you are approaching a group of enemies, press 1 (default hotkey) to use your Dismount Ability. Make sure to do this before enemies get a chance to hit you. Otherwise, you will not be able to use this ability and will dismount as usual.
Your Dismount Ability is called Bounding Slam and looks simple yet effective. You leap from the mount, slam the ground, and deal Physical damage to all surrounding enemies while also stunning them for a short duration. This lets you take the upper hand in any combat scenario before a fight even starts.
SkyCoach Boosting & Coaching Services
If you are looking for a reliable and trustworthy game boosting company, look no further than SkyCoach! With over 5 years of experience in the industry, we have proven to be leaders in providing top-notch boosting services.
One of the best things about SkyCoach is our commitment to customer satisfaction. We offer a 24/7 customer support service that is always ready to assist you with any questions or concerns you may have. Whether it is in the middle of the night or on a holiday, our support team is always there to help.
One of our greatest benefits is frequent sales. Not only do we offer competitive pricing on our boosting services, but we also provide a 5% cashback on every order. This allows you to save a penny and use our services at an even lower price.
Final Words
Summing up everything above, the Barbarian is a flexible and powerful class, capable of dealing massive damage with a variety of weapons. Having such an impressive choice of weapons at their disposal, Barbarians can adapt to different combat scenarios with ease.
Additionally, their skills are incredibly impactful, allowing them to deal massive amounts of damage while also providing utility for their party. This class turns out to be a great tank as well, as you can taunt surrounding enemies making them attack you only.
F.A.Q.
What is the best Diablo 4 Barbarian build?
Currently, the best Barbarian Diablo 4 build is Whirlwind Barb. The latter lets you destroy groups of enemies quickly, as well as deal overwhelming damage against solo targets.
What are the best skills for a Barbarian in Diablo 4?
Rallying Cry and Death Blow seem to be extremely powerful if used timely and correctly. The first ability provides you and your allies with a strong buff for a short duration. The second skill can be used any number of times as long as it kills a target.
What is the best way to build a Barbarian in Diablo 4?
The most common pick to build a Barbarian in Diablo 4 is to go for the Whirlwind build.
How good is Barbarian in Diablo 4?
This is a formidable and dynamic class that is highly effective in both single-target and AoE combat scenarios. With a diverse toolkit of skills and the ability to wield multiple weapons simultaneously, it is a versatile and powerful class that excels in a variety of different playstyles.
How does Barbarian work Diablo 4?
You have various weapons available in your arsenal and can swap between them quickly depending on what combat situation you find yourself in. On top of that, you have a range of mobility skills that let you close the distance in a blink of an eye.
What weapons do Barbarians use Diablo 4?
Barbarians in Diablo 4 can choose between two-handed maces, hand axes, swords, and even polearms.
Is Diablo 4 hard for Barbarians?
Currently, Barbarian is one of the easiest-to-master classes a beginner can go for. So, picking up this class will make your gameplay smooth and easy.
Is Barbarian worth playing Diablo 4?



To put it shortly - yes. Being a slow and weak unit during the early game, it transforms into a powerful machine capable of clearing Nightmare Dungeons and other endgame content effortlessly.
What is the best ultimate skill Barbarian in Diablo 4?
Call of the Ancients is the common choice when it comes to the Ultimate skill for Barbarian.