Have you always dreamed of building and decorating your own home? It is now possible in Palia! In fact, the devs have paid much attention to this skill, allowing players to create a large variety of furniture and decorate their homes the way they like. So, if you are looking forward to learning more about this unique mechanic, welcome to our Palia Furniture Making guide.
Within this article, we are going to tell you how to level Furniture Making fast in Palia, as well as how to unlock the skill itself. Moreover, we will provide a list of some of the most interesting pieces of furniture you can make. On top of that, you will learn what tools you are going to use to create furniture and decorations for your home. Finally, we will share information on what Villager is running the skill's guild and is responsible for teaching you new recipes and other stuff.
Before we jump into our Palia Furniture Making overview, we would like to warn you that this skill cannot be used for making money. Yes, you cannot sell furniture and decorations you craft. Therefore, you will not be able to farm any gold by using this skill. However, you can always Buy Palia Gold with our company's help. We guarantee the best market price and the fastest delivery.
IMPORTANT NOTE: At SkyCoach, you can also Buy Palia Boost at the lowest prices and with the fastest delivery. You can make your first purchase even CHEAPER if you find our special PROMO CODE (highlighted in green) hidden in this article and get a 20% DISCOUNT.
Check out some of our most popular
Palia Boosting services

below:
How to Unlock Furniture Making in Palia
Those who only begin exploring the realms of this brand-new MMO often wonder what the fastest way to level Furniture Making in Palia is. Nevertheless, the initial stride is comprehending how to unlock this skill. The process entails a few nuances, and here is a breakdown to ensure you are well-informed:
All

8 skills

become available right after you create your character;
Before you can start earning

XP,

locate the

Villager

who is responsible for teaching you this skill;
Engage in the questline offered by the respective

NPC

to gain comprehensive insights into the chosen skill.
By following these steps, you will commence accumulating XP as you engage in skill-related activities. In the realm of Furniture Making, XP can be earned through crafting and designing pieces, working with materials like wood, fabrics, and metals.
If you still do not know who is running the Furniture Making guild, it is Tish. Engaging with this Villager will provide you with foundational knowledge about the skill and launch your initial skill-oriented quest. As you progress within the Palia Furniture Making skill, you will unlock access to exclusive tools, intricate designs, and a selection of valuable items from the guild's store.
How to Level Up Furniture Making in Palia
It is high time to delve into the most interesting part of the article – Palia Furniture Making leveling guide. In the upcoming section, we will illuminate you on the most efficient tactics to rapidly elevate your Furniture Making skill. Thankfully, the game's developers have orchestrated the leveling process to be straightforward and transparent, making it accessible to all players. It also means that you will not have to pointlessly grind for hours and can play for fun.
Describing the Palia Furniture Making leveling process, your initial stride revolves around learning how to use the Worktable. Once you do this, embark on crafting a variety of furniture items. This endeavor will yield a spectrum of items such as tables, chairs, and shelves, bolstering your skill's experience accumulation. BLOG20
While engaged in crafting these aesthetic pieces, do not forget to go to the wild to cut down some trees and mine for clay or stones. You will need these and other materials for crafting certain furniture pieces.
Another strategic avenue and the best way to level Furniture Making in Palia involve conversing with your guild master. Tish, your guild leader, is always ready to extend a warm welcome and a series of quests tailored to expose you to rarer recipes and bonus experience.
If you cannot level up Furniture Making on your own or wish to speed up this process, we are here for you. By using our Palia Skill Leveling service, you can be sure our professional players will boost your skill to the highest threshold. We offer fair prices and guarantee the fastest completion time.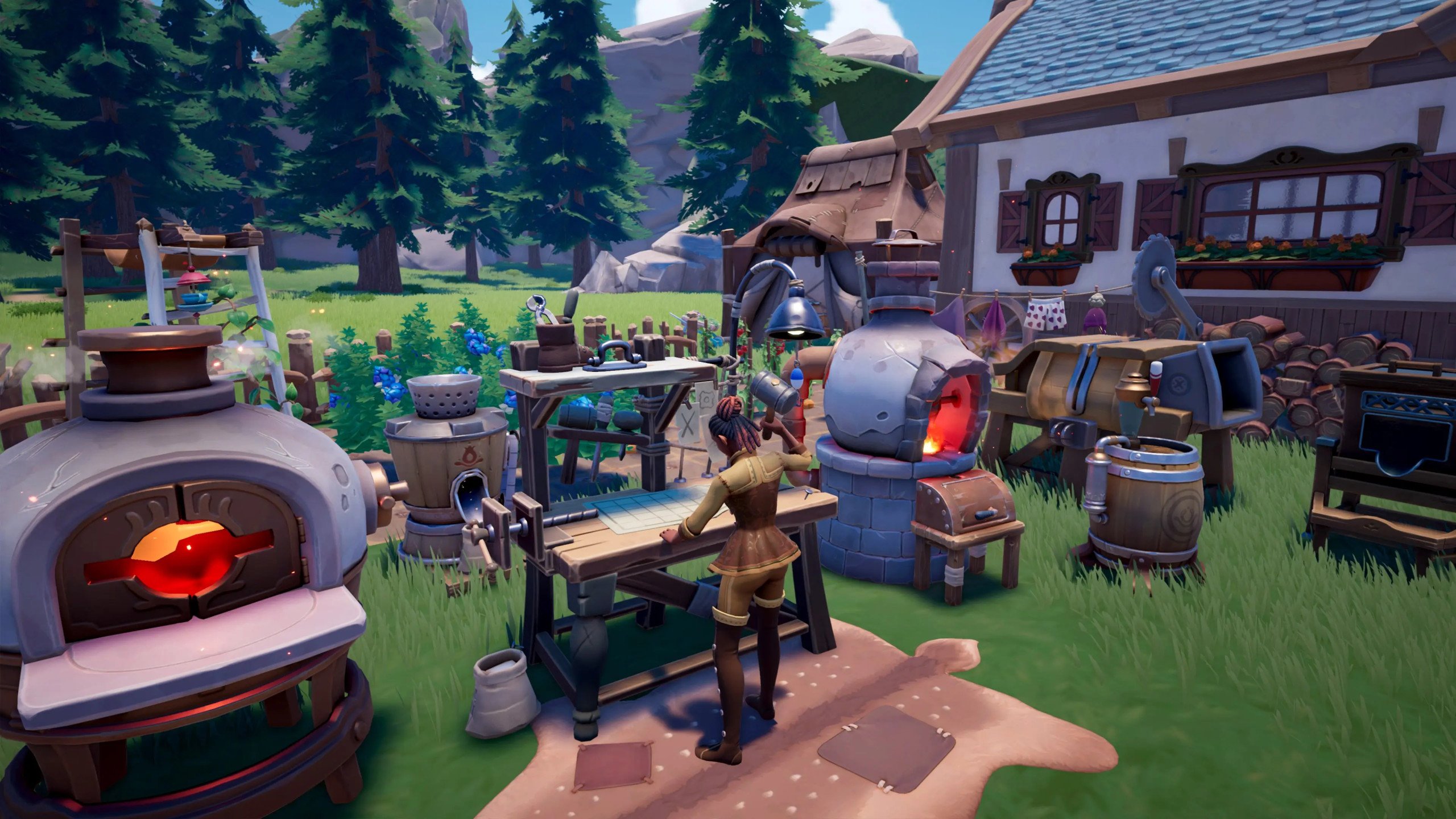 What is the Best Furniture to Make in Palia
Unlike other skills, Furniture Making works in a completely different way when it comes to choosing what things you want to craft. To begin with, you gain the same amount of XP no matter what furniture piece you decide to create.
We have already mentioned that you cannot sell things you create. Therefore, it makes no sense to strive to create luxurious furniture pieces if your goal is to sell them. In the end, you will have to use it on your own or delete it completely.
However, here are a few of the most widespread and vitally important furniture pieces you can craft in Palia:
| | | |
| --- | --- | --- |
| Furniture Name | Rarity | Required Materials to Craft |
| Homestead Medium Bed | Rare | x35 Sapwood Plank, x40 Plant Fiber, x10 Fabric |
| Kilima Large Lantern | Uncommon | x3 Sapwood Plank, x20 Plant Fiber, x1 Glass Bulb, x2 Sundrop Lily |
| Homestead Cozy Chair | Common | x12 Sapwood Plank |
| Kilima Inn Dining Chair | Common | x15 Sapwood Plank |
| Homestead Large Dresser | Uncommon | x25 Sapwood Plank, x1 Copper Bar |
As you can see from the table, some of the items have similar names (e.g. Homestead). It means that those furniture pieces belong to the same Furniture Set and look similar. Such sets can be used to decorate your home in one style so that all the things you have inside could complement each other.
How to Get Tools for Furniture Making in Palia
As you already understand, you cannot make furniture with bare hands. For this, you are going to use special tools, such as:
Worktable;

Fabric Loom;

Glass Furnace.
Each of these crafters is used for different purposes, allowing you to create the most exquisite items to decorate your home. Below, you can see a table, containing information on what crafting materials you need to have to create these tools, as well as each crafter's brief description.
| | | |
| --- | --- | --- |
| Crafter Name | Required Materials to Craft | Description |
| Worktable | Available from the start | The most often used tool for creating furniture pieces and decorations |
| Fabric Loom | x15 Sapwood Plank, x20 Plant Fiber, x2 Copper Bar, x5 Ceramic | Refines raw material into fabrics used for the following crafting |
| Glass Furnace | x15 Stone Brick, x2 Copper Bar, x3 Ceramic, x2 Flint | Lets you create glass pieces used for bulbs and panes |
By using the mentioned-above tools you can craft a large variety of décor items. However, you will need to learn their recipes first. This can be done by talking to Tish, your guild master. We also highly recommend that you befriend her ASAP. This can be easily done by using our Palia Friendship Leveling service. We offer the best market price and guarantee the result.
What is Furniture Modification Bench in Palia
To put it shortly, Furniture Modification Bench is used to change the color and style of furniture pieces you created before. Below, you can see a step-by-step guide to how it is done:
Position the

Furniture Modification Bench

within your

Housing Plot

at a suitable location;
Buy

Furniture Modification Kits

from the

Furniture Store;

Ensure the specific Furniture item you intend to customize is placed in your Inventory;
Access the

Furniture Modification Interface

and opt for a design from the available choices. It is important to note that each design selection will require a specific quantity of Furniture Modification Kits;
Validate your choices, and your Furniture will undergo the necessary modifications to seamlessly match the new style you have chosen.
At the same time, you should remember that NOT ALL furniture pieces can be changed by using this tool. On top of that, you can always cancel those changes for free and make the chosen item look as it did before.
Where to Get Furniture Making Recipes in Palia
As of today, the exclusive skill-oriented recipes are solely attainable through the Furniture Making Guild Store. Accessing this shop becomes feasible once you attain level 2 in Furniture Making. Upon reaching this milestone, you will gain the capability to secure recipes tailored for crafting furniture pieces of varying rarities.
For those uncertain about where to get Furniture Making recipes in Palia, your guild master, Tish, has your back. Make sure to consult with her, and she will provide comprehensive guidance regarding the skill you are seeking to enhance.
Additionally, it is important to note that Palia Furniture Making recipes can come at a substantial cost, and you might need to dedicate a fair amount of time to gold farming before you can afford some of them.
Palia Furniture Making Tips & Tricks
In this section of our guide, we would like to draw your attention to the 5 most essential Palia Furniture Making tips & tricks you can use to become a true master of this skill:
Strategize Your Purchases.

Before buying any Furniture Modification Kits or recipes from the store, plan out which furniture pieces you want to customize. This will help you avoid unnecessary expenses and make the most of your resources;

Daily Check-ins.

Visit the Furniture Store regularly to check for new recipes and items. Palia might introduce new designs and options, so staying updated ensures you do not miss out on any exciting customization opportunities;

Craft Wisely.

When crafting furniture modifications, choose designs that align with your preferred aesthetics and overall theme. This ensures your customized furniture adds a cohesive and visually pleasing touch to your home;

Efficient Gold Farming.

Since Furniture Making recipes and kits can be costly, consider engaging in gold farming activities to accumulate the necessary funds. Participate in quests, sell valuable resources, and explore various ways to bolster your in-game finances;

Gather Materials Efficiently.

Explore different areas in Palia to gather the specific materials required for your furniture. Some materials might be rarer or more abundant in certain regions, so plan your gathering routes accordingly.
Conclusion
Fellow adventurers, this marks the end of our Furniture Making guide in Palia. As promised, we have shared information on how to unlock and level up this skill. Moreover, we have provided you with a few examples of items you can craft and what tools you are going to use for this. We hope you had a fun time reading this article and learned a lot of new stuff within these pages. Make sure to stay with us, as we will keep updating this guide if any changes occur. This is it for now, we wish you good luck and see you in the game!
F.A.Q.
What is Furniture Making in Palia?
Furniture Making is one of 8 skills in Palia. By learning it, you can craft various furniture pieces to decorate your home and make it look stylish and unique.
How to unlock Furniture Making in Palia?
After creating the character, you already know Furniture Making. However, you cannot gain XP in it until the welcoming quest, given by Tish, is finished.
Is Furniture Making good for gold farming?
Furniture Making cannot be used for farming gold because you cannot sell the items you craft.
How to level up Furniture Making fast in Palia?
Make sure to create all the furniture pieces available to you. There are no particular items that will bring you more XP for fast leveling.
Where to get Furniture Making recipes in Palia?
Once you reach level 2 in Furniture Making, you will unlock the Guild Store. By visiting it, you can choose what recipes you want to buy.
How do I get Furniture Making tools in Palia?
You have access to the Worktable by default. However, you can also craft Glass Furnace and Fabric Loom later on. For this, you need to buy their recipes from the Guild Store and gather the required crafting materials.
Who is the Furniture Making guild leader in Palia?
Tish is your Furniture Making guild leader and the NPC who gives you all the skill-related quests.