Previously using pure crafting as your main source of gear was simply not an option because all Profession-crafted gear either required you to have that Profession, or were Bind on Pickup (BoP) items. Now you can craft pretty much everything you need (except, of course, Tier pieces), and because you can also apply special modifiers called Embellishments to crafted gear (more about which later in this article) some of the craftable items are best-in-slot for many classes and specializations.
Let's make an example out of, say, Enhancement Shaman. Among the huge variety of talent options many top players who choose the so-called Elementalist build always take the Windfury Weapon talent (while there are playable variants of this build without this talent), which when combined with the Fang Adornments Embellishment boost your DPS so significantly, that this gear option is 100% best-in-slot. There are dozens of such examples, so if you want your performance to be as high as possible you should carefully consider what gear to craft and what Embellishments to use.
But first, let us explain how you get that crafted gear in the first place.
How to use Crafting Orders
When considering crafting your gear you should pay close attention to who will craft it. With so many different specializations and stats available in every Profession the item-level of crafted gear will differ significantly from one player to another. Luckily, you can specify the minimal quality of ordered items via the Crafting Order system, so you will get only the gear quality you need (and can afford).
You can place a Crafting order on pretty much anything that is available for crafting in the game, including high item-level gear. There are three types of Crafting Orders:
Public

- These can be taken by anyone;

Guild

- These are only for the members of your guild;

Personal

- This kind of

Crafting Orders

are created for a specific player. You do not have to know the man personally, knowing his nickname is enough to place an order and get the item.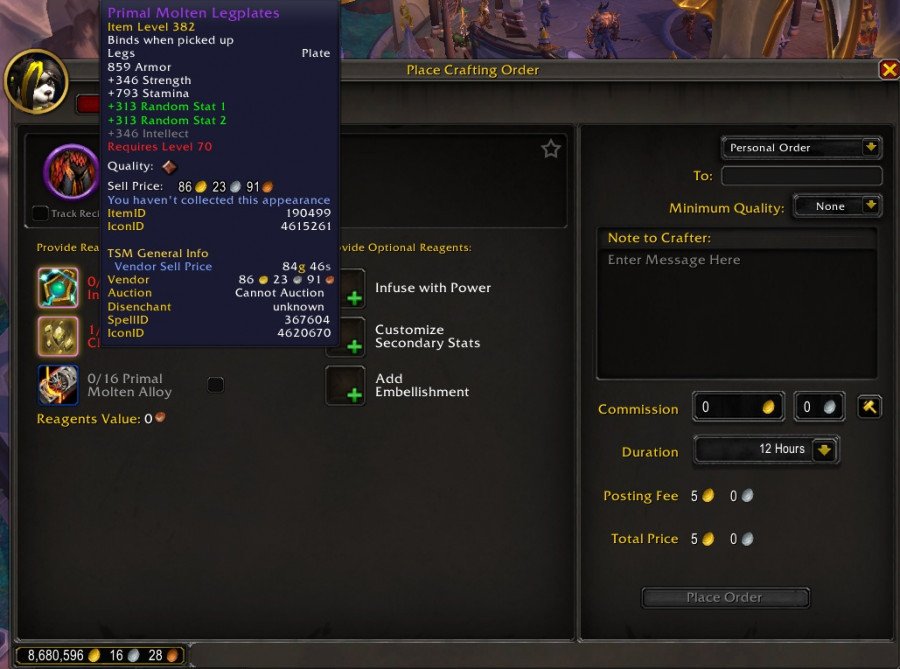 In all cases you will need to provide all needed reagents (including Primal Chaos, Spark of Ingenuity, and Embellishment special reagent if you want your gear to have those special properties) and some gold for the craftsman, the amount of which is decided by you.
Luckily, you do not have to craft the Embellishment special reagents by yourself, thus significantly limiting your options. All of them can easily be found on the Auction House in the "Trade Goods" - "Optional Reagents" tab. All of them have either Rare or Epic quality.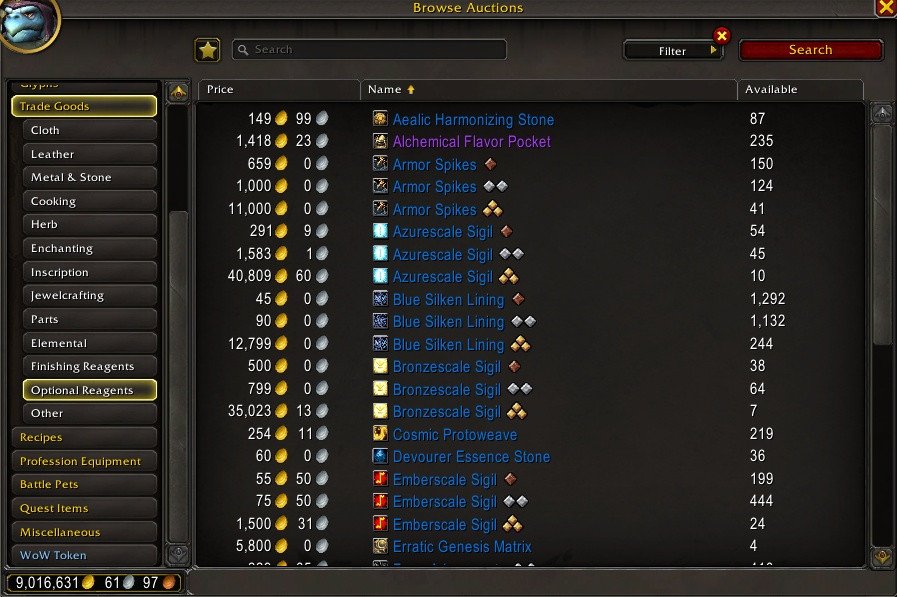 The completion time of Crafting Orders is usually no more than a few hours (and often even less than that), so you will not have to wait long for your gear pieces. Of course, getting those cool shiny pieces of gear will not be cheap. You will need a solid sum of gold to buy the gear you need, so consider using our WoW Gold services, where you can find the cheapest gold offers in every realm in all regions. Safety is guaranteed!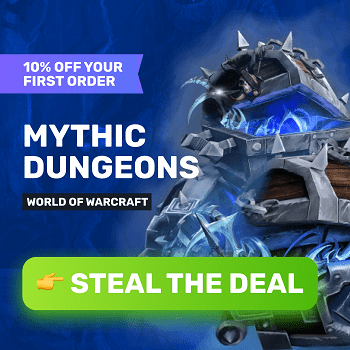 Crafted Embellished Gear Explained
Embellishments is a new Professions feature, added with the Dragonflight expansion. These are specific abilities, which can be added to crafted gear to provide very useful bonuses. Embellishments can be added to any crafted gear using a special reagent, but there is also so-called Embellished gear which already have special modifiers when you craft them. Often such gear is a very good choice for pretty much any class and specialization, but you can wear only two Embellished items (or items with Embellishments) simultaneously. If you apply an Embellishment to a piece of gear you will see a special effect: Unique-Equipped: Embellished (2), this makes the choice of right Embellishments highly important.
Also, some Embellished gear, for example Toxic Thorn Footwraps, will have an additional bonus that requires a certain Embellishment on your character.
There are plenty of possible options for any situation. Below you will find a detailed list of best crafting Embellishments available in the current patch:
There are Embellished gear pieces for every armor type and also a range of off-set Embellished items. Below you will find a list of all Embellished items you have to choose from separated in armor-types:
Plate
Mail
Leather
Cloth
Jewelry
Weapons
Note that there are plenty of other options you can craft, however, these are Dragonflight's best crafting weapons if you want to use Embellished gear for this slot.
Alchemist Stones
Alchemist stones are one of the main reasons for players to choose Alchemy as their main profession. Usually, these items are great options for almost any situations, however they can be easily replaced by regular trinkets without significant performance losses. In the current patch, we have: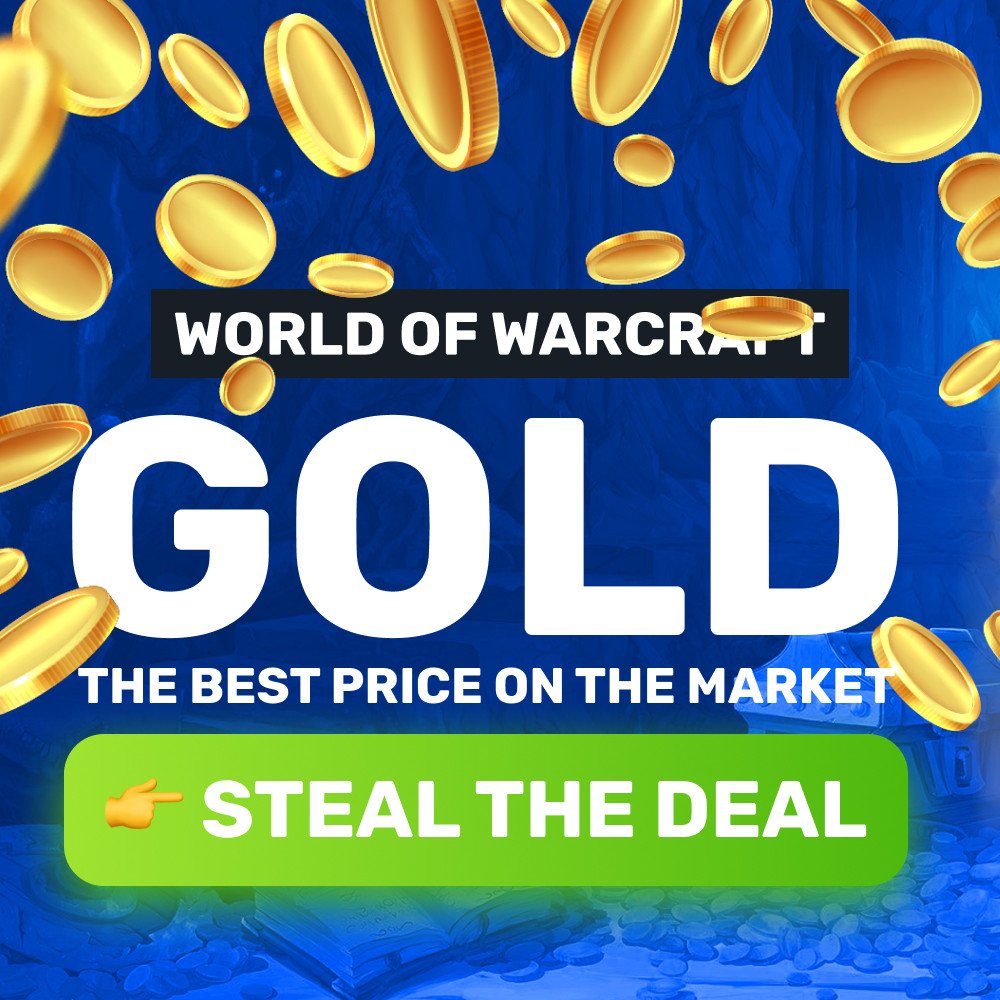 Best-in-Slot Craftable Items
Now, when we have talked about all the crafting gear options, we can start discussing the best-in-slot items for every role. Note that the following suggestions come from some of the best players in the game, which does not mean that they are 100% suitable for all players. However, you definitely should carefully consider copying their craft gear layout to maximize your performance.
Conclusion
It is pretty obvious that no serious player will play without crafted gear in the current expansion, because the bonus provided by Embellishments is so significant. Sure, the available crafting options do not provide too much of a choice (which can be considered as a good thing by some casual players), but still it is pretty easy to make a wrong choice. So we hope that this small article will help you make your choice right. Keep an eye on our future articles and do not forget about our World of Warcraft Boost services, which can help you in everything you can possibly want in this game.
F.A.Q.
Is Crafted gear better than dropped gear in Dragonflight?
Sometimes, definitely yes. For example, Elemental Lariat, among other best crafting gear, would be a great choice for almost any class end specialization. Plus, craftable gear does not depend on random drops from raids and dungeons, you can simply buy them with gold.
How many Dragonflight crafted gear can you wear?
You can wear only two Embellishments at once. This restriction is obviously implemented for the sake of game balance.
How do you get gear in Dragonflight?
The ways of obtaining good gear in World of Warcraft Dragonflight are as follows:
Drops from Mythic+ dungeons and raid bosses;
Rewards from the Great Vault;
Rewards for Conquest points;
Craft via the Crafting Orders system.
What other WoW Services you offer?
Pretty much everything a player would want in the game! Starting from our excellent Mythic Carry services, designed to help players gear up as quickly as possible, to safe and reasonably priced WoW Raid Carry services for those who want to get the best gear including Tier-Set pieces, best-in-slot weapons and trinkets and so on. We also offer a wide range of Dragonflight Boost services to help you with Professions, quests, reputations and many more.