The upcoming buff of exotic items in the Season of the Deep has a lot to offer, even for the Eyes of Tomorrow destiny gun. For quite some time, this exotic rocket launcher remained unnoticed by most players, and obtaining it was necessary only for collection purposes.
In this article, we will discuss where to get Eyes of Tomorrow, how much it has changed after the buff, and most importantly, whether it is worth using.
Check out our most popular
Destiny 2 Boosting services

offered at the best market price:
Eyes of Tomorrow Main Features
As strange as it may sound, even after many years since its introduction in Destiny 2, Eyes of Tomorrow still holds the top spot among other rocket launchers due to an interesting feature. We are talking about the incredible tracking ability of this weapon, which even The Truth would envy.
This distinguishing feature combines perfectly with the fact that D2 Eyes of Tomorrow fires 6 rockets simultaneously and can lock onto 4 targets at once. This allows players to clear out huge groups of enemies instantly or even take out an entire team in Gambit with just one shot.
The last feature of Eyes of Tomorrow D2 is not really talked about by the community and is often overlooked due to its practical uselessness. This feature is the main perk, Adaptive Ordnance, which grants a 50% buff to the gun after killing 4 enemies in 1 volley for your next shot.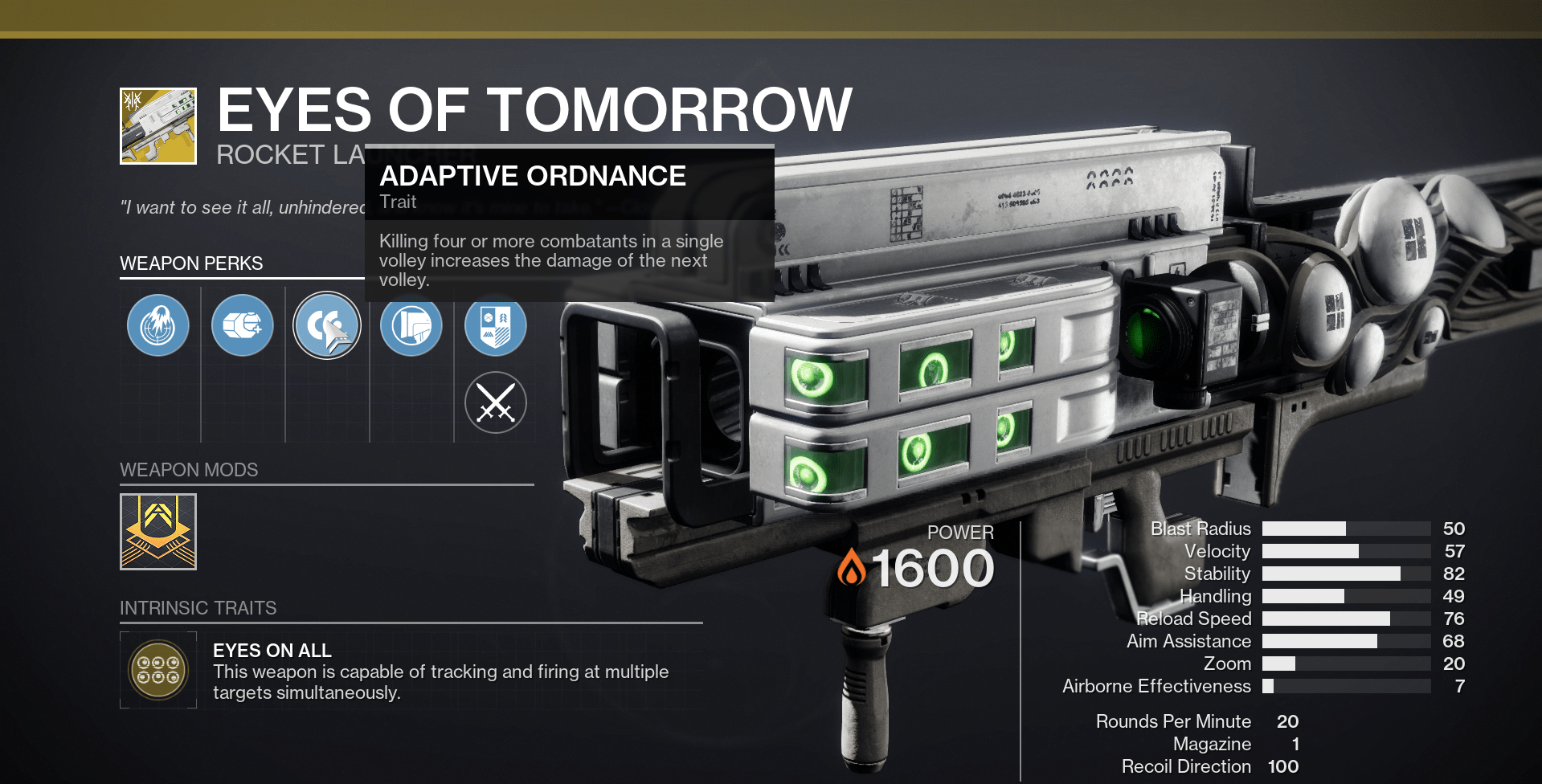 As you can understand, not everyone likes to spend 1 rocket from their ammo reserve to get a 50% buff for just 1 shot. Due to this half-working perk, Eyes of Tomorrow was significantly inferior to Gjallarhorn when it came to raids and other difficult PvE activities.
Fortunately, after a long time, this perk will be reworked. You can read more about the details of the rework and how to get the Eyes of Tomorrow further in the article.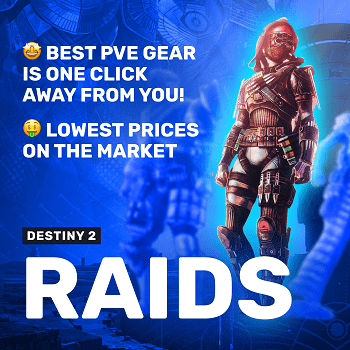 Eyes of Tomorrow Season of the Deep Rework
Among all exotic items that have seen buffs in Season of the Deep, the Eyes of Tomorrow has received the strongest changes for the better. Now, the Adaptive Ordnance perk will give much more than just a 50% buff. When you kill 4 enemies, you will get 1 rocket back in your magazine. This means that by using Destiny Eyes of Tomorrow correctly, you can have an infinite supply of rockets and use it much more often with a 50% damage buff.
This buff is very similar to the original mechanic of the main perk of Whisper of the Worm, where 3 precise shots would return 3 rounds to the magazine and reserve ammo, allowing you to use this sniper rifle literally indefinitely.
However, while Whisper of the Worm performed exceptionally well with this perk during boss DPS phases, Eyes of Tomorrow will be perfect for clearing groups of enemies in Grandmaster Nightfalls and Master Raids.
This will significantly mitigate the fact that Eyes of Tomorrow Destiny 2 deals less DPS to bosses than its legendary analogs like The Hothead or Blowout.
We can state for sure that we now have 3 unique exotic rocket launchers for all needs:
It is nice to know that none of these 3 rocket launchers needs to compete for the title of top 1 DPS. The reason for this is that each of them has taken its place in its niche and can complement rather than overshadow each other.
Now let us discuss the question of Destiny 2 how to get Eyes of Tomorrow and how long it takes to obtain it.
How to Unlock Eyes of Tomorrow
To begin with, it should be clarified that obtaining EoT solo is impossible, as it requires a team. The main reason for this is that you will need to defeat the final boss of the Deep Stone Crypt raid, which can only be done with a team (preferably consisting of 5-6 people).
Like most raid exotics, Eyes of Tomorrow drop is not guaranteed on the first kill of the final raid boss. To obtain this exotic, you will likely need to complete Deep Stone Crypt multiple times, as the initial Eyes of Tomorrow drop rate is 5%.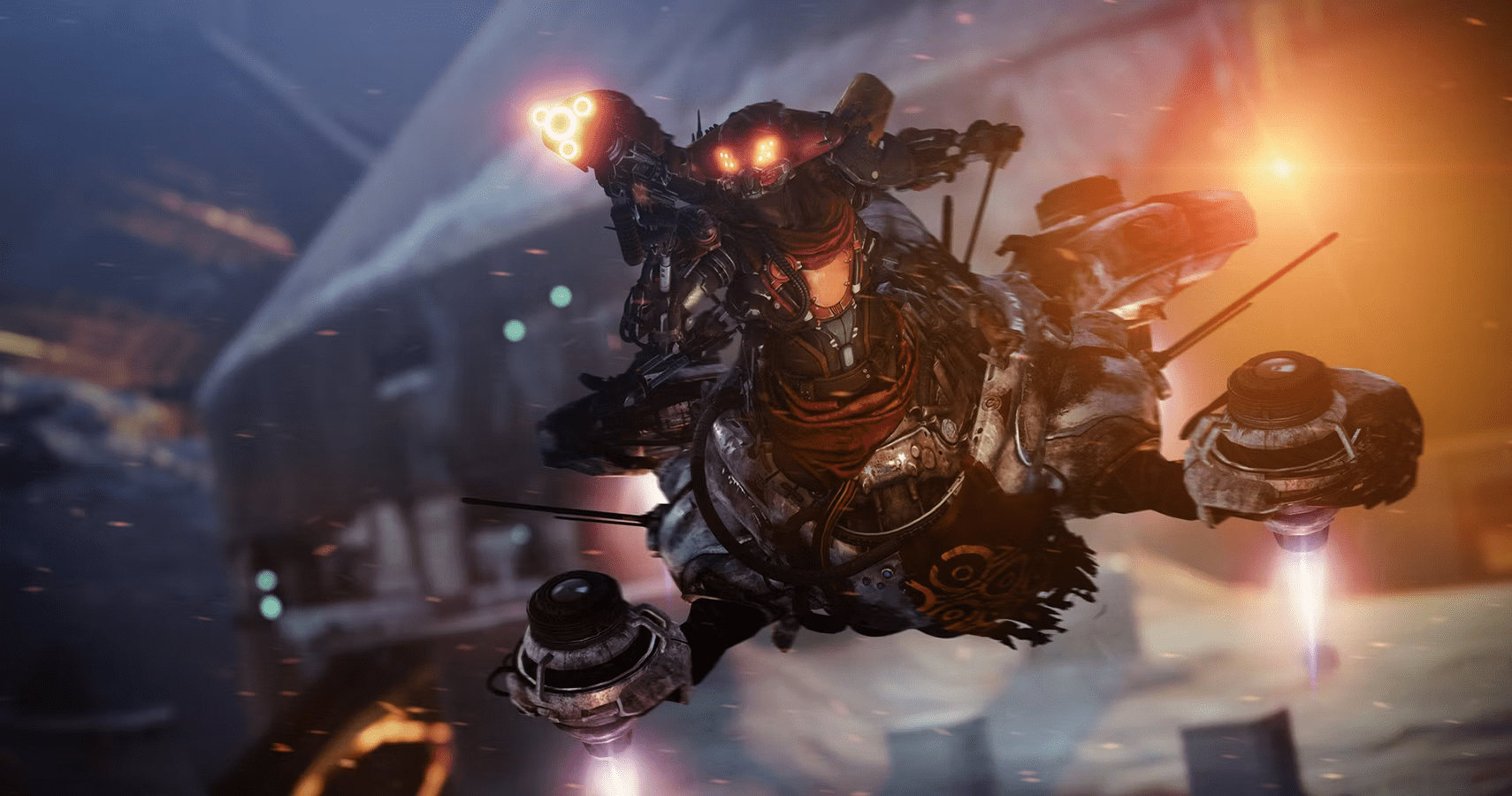 With each final boss kill, your Eyes of Tomorrow drop chance will increase by approximately 1% for the character on which you killed it. You can farm this exotic weapon three times a week when the raid is not in rotation (when it does not drop pinnacle loot), once on each of your three characters.
When Deep Stone Crypt is in rotation and drops pinnacle gear, you can re-farm the boss an infinite number of times, with a chance to get Eyes of Tomorrow on each kill.
Therefore, if you are wondering how to get Eyes of Tomorrow Destiny 2, we recommend that you wait until Deep Stone Crypt is in rotation and simply farm it until you get the desired exotic. If you have no time or a reliable team to farm this gun, our Eyes of Tomorrow Boost service can help you get this weapon guaranteed and at the lowest market price.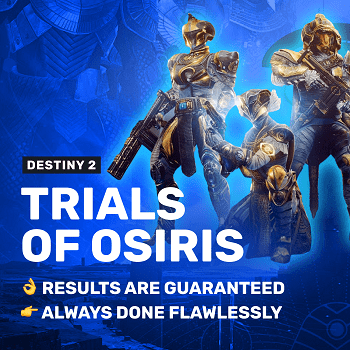 What to Use with Eyes of Tomorrow
Due to its changes, using Eyes of Tomorrow to deal damage to single targets is not the best idea (unless it is a champion). Therefore, we will look at the best options for destroying single targets that will help you in cases where using EoT is not very rational:
All of these weapons with the right perk combination can work great in conjunction with Eyes of Tomorrow, allowing you to quickly clear single targets at both long and short ranges.
If you do not have the desired weapon from the list, or you want to get its god roll, our Legendary Weapons Boost service can help you with farming and obtaining any perk combination on the desired weapon as fast as possible.
Conclusion
The buff that is planned for Season of the Deep will bring Eyes of Tomorrow out of the outsiders and make it a competitor to many heavy weapons for sure.
Finally, in the battle of Eyes of Tomorrow vs Gjallarhorn, we will not have a clear winner. These two rocket launchers will occupy their niches as "Best damage buff weapon - Gjallarhorn" and "Best adds clearing - Eyes of Tomorrow".
Despite the fact that the answer to the question of Eyes of Tomorrow how to get may be disappointing for many due to the need to complete the raid, we still recommend spending your time and effort on obtaining this exotic rocket launcher.
We hope that our Eyes of Tomorrow Destiny guide has been helpful to you and you have found all the necessary information, as well as learned something new.
F.A.Q.
Where is Eyes of Tomorrow?
You can randomly obtain Eyes of Tomorrow by completing the raid on Europa called Deep Stone Crypt.
How do I get Eyes of Tomorrow?
The main source of Eyes of Tomorrow is the final boss of the Deep Stone Crypt raid - Taniks, the Abomination. Unfortunately, the drop of Eyes of Tomorrow from him is not guaranteed and it may take many attempts to get the desired exotic rocket launcher.
What is the drop rate of Eyes of Tomorrow?
Like most raid exotics in Destiny 2, Eyes of Tomorrow has an initial drop rate of approximately 5%.
Can you farm for Eyes of Tomorrow?
If the Deep Stone Crypt raid is in rotation, then you can farm EoT indefinitely on your characters. Otherwise, you only have 3 attempts per week - one on each of your 3 characters.
Where does Eyes of Tomorrow drop?
Eyes of Tomorrow drops from the 4th year Destiny 2 raid - Deep Stone Crypt, from the final boss.
Does Eyes of Tomorrow have bad luck protection?
Yes, every time you kill Taniks, the drop chance increases by about 1% for the character on which you killed him.