After the release of the Master Version of the Vow of the Disciple raid, which happened on April 19, 2022, the players community swarmed with discussions about whether farming this more difficult version of the raid to get Adept weapons and higher stats armor was worth it. This article will try to answer this question.
How to get Adept Weapons?
Unlike the Vault of Glass raid's Master Version, in the Vow of the Disciple Master Version you can get any Adept Weapon, not just those present in the weekly rotation. There is only one way to get Adept Weapons – you will need to complete a weekly challenge in one of the raid's encounters.
These challenges are:
Swift Destruction

(1st encounter);

Base Information

(2nd encounter);

Defenses Down

(3rd encounter);

Looping Catalyst

(4th encounter).
You can complete only one challenge per encounter per week. If you complete the challenge and get your Adept Weapon on one character, you can also do so on your other characters and get Adept guns on them. Note that you can get three different Adept Weapons or three same ones, but the chance to get a duplicate of an Adept gun you already own is significantly lower than the chance to get a new Adept Weapon.
There are six Adept Weapons in the Vow of the Disciples raid:
Once you get an Adept Weapon, you can reroll its perks after defeating Rhulk on Master Difficulty. Each reroll will cost you 25 Spoils of Conquest. You will also have a chance to get the deepsight version of the weapon.
Chests you find at the encounter's end, completed without challenge, or secret chests will not contain Adept Weapons. However, they will drop armor pieces with higher stats instead (for example: higher Mobility or Resistance).
What is the difference between normal and Adept Weapons?
The main feature of Adept Weapons is that you can use Adept Mods with them. These are improved versions of standard weapon mods with more powerful bonuses. Of course, Adept Weapons will also have better stats. Another cool feature of Adept Weapons is that they have two perks to choose from in each column (instead of just one in normal weapons), which increases the chance of getting a god roll for the weapon.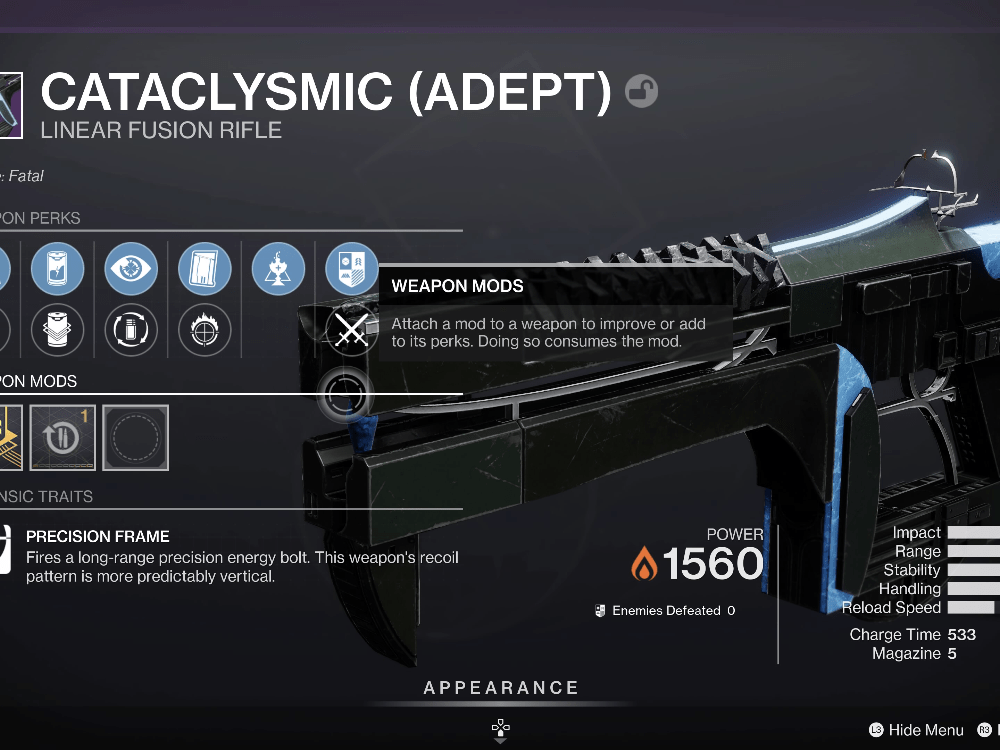 Is it possible to craft Adept Weapons?
One of the coolest features of the Witch Queen update is the new weapons crafting system. You will need a deepsight version of a weapon to use this. Crafted weapons can be upgraded and used with enhanced perks that are much better than standard ones. This allows you to get god rolls for any in-game activity by simply changing your weapon's perks when needed.
However, you cannot craft Adept Weapons and get enhanced perks for them. This will possibly be fixed in the future.
So, for now, Adept Weapons are better only if you do not want to spend too much of your time farming deepsight versions of normal weapons. Adept Weapons can provide you with a significant performance boost (thanks to Adept Mods) after comparably short farming.
What is so difficult about the Vow of the Disciple Master difficulty?
The main difficulty is loadout and Power Level requirements. To complete comfortably, defeat the bosses, and easily make it through encounters, you will need at least 1580 Power Level. Also, some enemies on Master difficulty can use Void and Solar Shields, so if your loadout is not optimized for that this will be a problem. Same can be said about Overload and Unstoppable Warriors if there is no one to stun them in your team.
Speaking about your loadout, unlike the normal version of the raid you will need at least one weapon to stun Champions and another for various shield types, used by enemies in every encounter. Your team should have these Exotics for the Vow of the Disciple Master difficulty raid:
Without these weapons and their unique bonuses, the Vow of the Disciple raid on Master difficulty would be a nightmare for you and your teammates.
Why should you try Master Vow of the Disciple at least once?
Despite all the difficulties, we can safely say that every player should try it at least once.
First off, you will receive an

Exotic Sparrow

– Gouging Light.
Secondly, for completing the raid on

Master

difficulty you will get a triumph, needed for the

Disciple-Slayer

title.
Also, if you want to get the

Pyramid Conqueror

title you will need to complete all four

Master

difficulty challenges (be ready for a 4-weeks completion time).
If you are still not sure if you need Adept Weapons or not, we can provide you with the following advice: you would be better off with Adept Weapons if you do not want to spend too much time gearing. The Master Vow of the Disciple raid will save you many hours, because you can get a very powerful Adept Weapon after only one or two runs. But if you want to get the best weapon, have a good team, and a lot of time, then your best option will be the weekly Normal Vow of the Disciple raid farm. You will need to collect 5 deepsight versions of every raid weapon and then start crafting and upgrading them.
Conclusion
The Master Vow of the Disciple raid is definitely a step towards players who are not ready to spend countless hours crafting raid weapons, but still want to have decent gear with good perks. Sadly though, it is a little unfair for players who are ready to spend all those hours getting good gear. One of the most challenging activities in the game can not provide them with gear that would be better than the gear they can get by mindlessly farming the raid's normal version, crafting, and getting enhanced perks for normal versions of raid weapons. We hope that this problem will be solved soon and Master Vow of the Disciple rewards will actually be worth the time and effort needed for this raid's completion.