Welcome to the ultimate guide for Diablo 4 Echo of Varshan, a freshly released Season 2 endgame boss, who is also known as Uber Varshan. In the darkest corners of Sanctuary, a new terror has emerged, and it is up to brave adventurers like yourself to confront this malevolent force.
In this comprehensive Echo of Varshan guide, we will delve into every aspect of this mighty enemy, providing you with strategies, tactics, and insights on how to defeat this formidable adversary. Additionally, we will help you uncover the enticing rewards that await those who successfully vanquish Echo of Varshan.
Prepare to embark on an epic journey, as we equip you with the knowledge and expertise needed to beat D4 Echo of Varshan. Let's dive into the abyss and emerge victorious against the darkness that threatens the world of Sanctuary.
In case you cannot defeat this mighty foe, we are here to help you. At SkyCoach, you can Buy Echo of Varshan Boost and trust this job to our PROs. We offer the cheapest price for the service provided and guarantee the fastest completion time.
IMPORTANT NOTE: Apart from learning everything about Echo of Varshan boss, you can also Buy Diablo 4 Boost from SkyCoach. We offer a wide range of products at the lowest market price and with the fastest delivery. You can make your first purchase even CHEAPER if you find a special PROMO CODE (highlighted in green) hidden in this article and get a 20% DISCOUNT.
Check out our most popular
Diablo 4 Boosting

services offered at the best market price:
Diablo 4 Echo of Varshan Location
If you are new to the game and are only starting out, you are probably wondering where is Echo of Varshan Diablo 4 since you cannot encounter this boss just like that. He lurks within the depths of Malignant Burrow, a level 75 dungeon. To access this treacherous lair, adventurers must journey to the northern reaches of Hawezar, where the entrance is discreetly situated beside the enigmatic Tree of Whispers.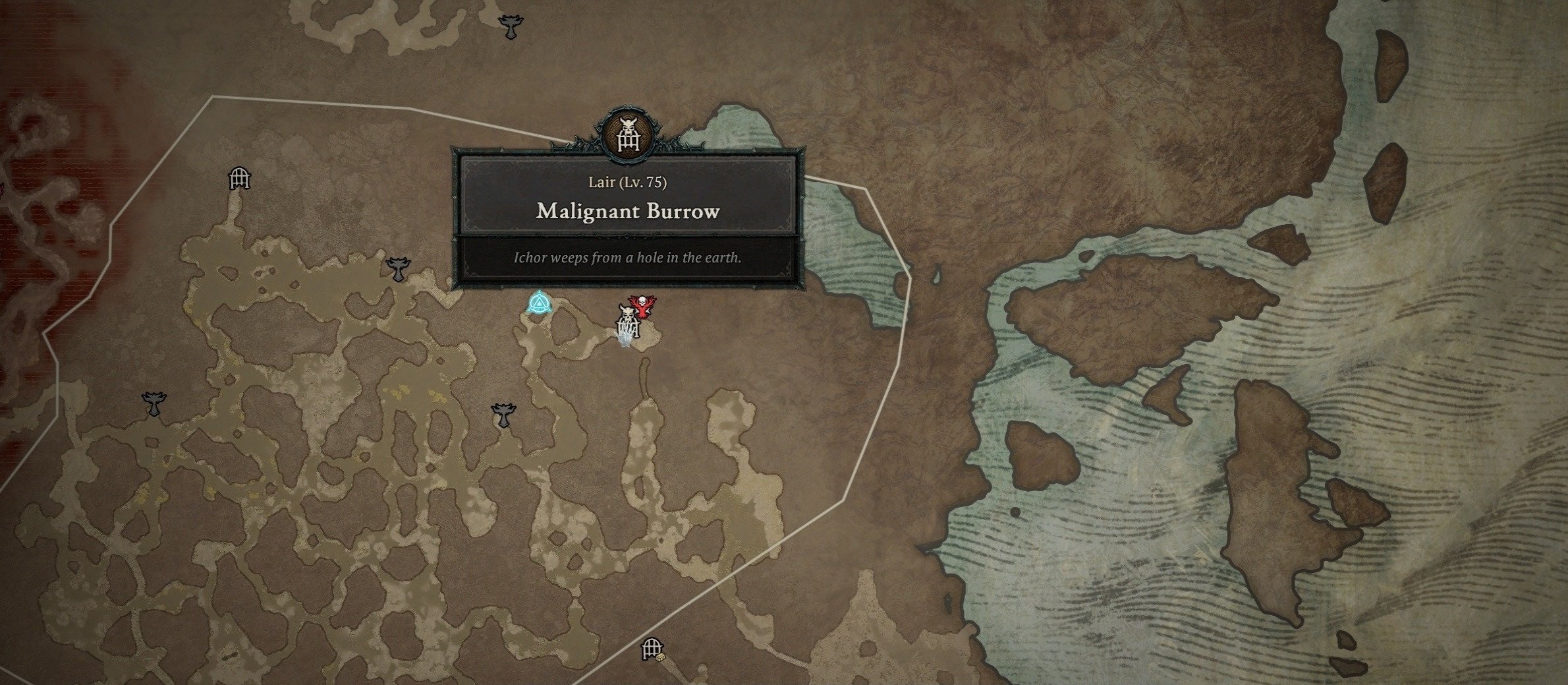 How to Summon Echo of Varshan in Diablo 4
To summon Echo of Varshan Season 2, one must first confront and defeat the Grotesque Debtors while undertaking the Grim Favors in World Tier 3 or 4. There is a chance that this daring feat will yield a Malignant Body Part as a drop. By exchanging 10 completed Grim Favors with the Tree of Whispers, you secure a guaranteed Malignant Body Part in the collection of your choice. Once you have amassed the necessary Parts, your journey will lead you to Varshan's lair beneath the tree for the summoning ritual.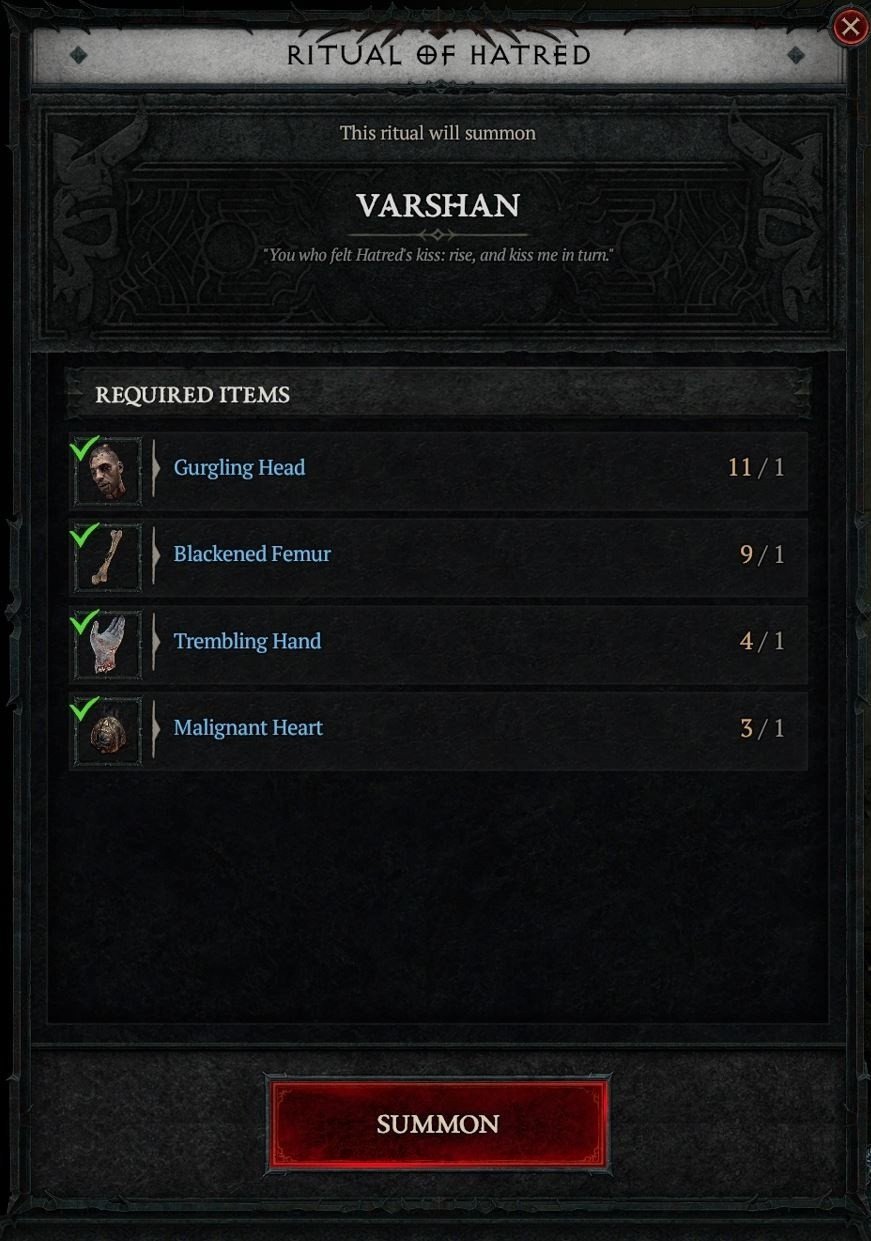 On World Tier 4, the challenge intensifies, requiring not only Malignant Body Parts but also a Malignant Heart. This additional requirement can be met by sourcing it from the same foes and endeavors that yield the Body Parts themselves. However, this crafting reagent is not the same as that we had during the Season of Malignant and it cannot be inserted in your gear. BLOG20
Here is a full list of items and their quantity you need to gather to start your Varshan fight:
In case you are tired of farming the required materials, you can craft all of them (the only exception here is Malignant Heart) if you stop by the Alchemist:
Do keep in mind that farming or crafting the mentioned-above items is a must every time you wish to summon Echo of Varshan. Trust us, you will have to do this a lot of times, as you need to kill Varshan to farm Mucus-Slick Egg, a resource used to summon Uber Duriel. The latter is the mightiest boss you will encounter during Season 2 and every player wishes to farm him as often as possible hoping for a chance to get Uber Uniques.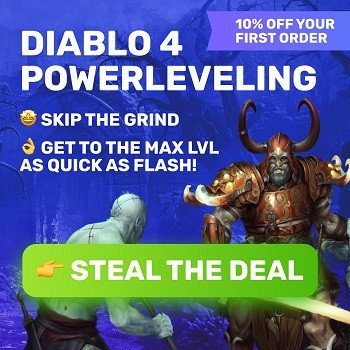 Diablo 4 Echo of Varshan Abilities
Compared to other bosses, Echo of Varshan mechanics do not like too hard and they are not likely to present difficulties, especially if you get acquainted with them in advance. By learning them, you will significantly increase your chances of getting the upper hand.
Throughout the entire fight, you will face off against the following Echo of Varshan abilities:
Tentacle Strike

– This is one of Varshan's menacing abilities, as he sporadically unleashes his tentacle-like intestines, simultaneously spewing forth a series of vile projectiles. While this attack may not inflict significant damage, it poses a threat that can be deftly sidestepped by using your Evade or employing your character's movement skill to swiftly reposition yourself behind the boss. A noteworthy aspect of this ability is that Varshan regains a portion of his

Barrier

with each successful strike, making it essential to interrupt his momentum and minimize his resilience;

Putrid Dance

– This is a perilous maneuver in the boss's arsenal, where he harnesses pure putrescence to taint the ground with a corrupt pattern. Various segments of the floor take on a pink hue before erupting into violent explosions after a brief interval. To survive this deadly performance, you must swiftly vacate the

pink-marked regions

and carefully track the pattern to evade harm. It is crucial to note that the boss employs three distinct patterns for this dangerous move, requiring your attentiveness and agility to stay unscathed;

Summon Malignance

– The boss brings forth three sinister

Malignant

minions, and then endeavors to assimilate their power. In response, it is imperative to direct your offensive efforts towards eliminating these malignant minions. Specifically, you must swiftly dispatch the one that Varshan is targeting with his channeling. Failing to eliminate the targeted minion before the boss completes his channeling ritual can have dire consequences. It will empower the boss with dangerous buffs, escalating the challenge of the encounter.
Adding a few more words on the Summon Malignance ability, here is a list of possible buffs Varshan can gain:
Wrathful

– The boss attacks carry the affliction of

Daze,

leaving victims disoriented, while also inflicting persistent damage over time;

Devious

– Varshan cunningly saps your precious resources with each strike. This unscrupulous tactic can swiftly deplete your reservoir of vital assets, requiring careful resource management during the encounter;

Vicious

– Under the influence of this malevolent buff, Varshan's damage output becomes amplified, intensifying the threat he poses.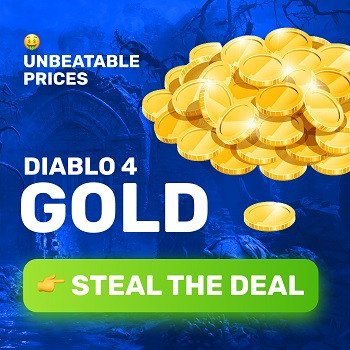 How to Beat Echo of Varshan Diablo 4
While this might not be the most challenging boss, not every player understands how to beat Echo of Varshan Diablo 4, and we are here to help you with that. Starting from what potions you need to buy to a brief explanation of how to avoid boss attacks, we have you covered:
Enhance Shadow Resistance:

If reaching the critical 70%

Shadow Resistance

cap proves challenging, employ the Potent Elixir of Shadow Resistance to exceed this threshold. This will fortify your magical defenses and bolster your resilience against Echo of Varshan's arcane assaults;

Positioning is Crucial:

In case you keep dying and are wondering how to kill Echo of Varshan Diablo 4, always prioritize positioning yourself behind the boss during the encounter to evade its potent frontal attacks. A well-considered vantage point will be your best defense;

Beware the Void Zones:

Throughout the battle, remain vigilant as Varshan will generate triangular void zones that traverse away from the boss and then return. These zones can pose a significant hazard and require careful maneuvering to avoid;

Initial Elite Adds:

Right at the onset of the battle, Varshan will summon two formidable

Elite

adds that demand your immediate attention. Be prepared to engage and defeat these adversaries to gain the upper hand in the battle. This is probably one of the most important Echo of Varshan tips we can give you since these adds will definitely get you killed in case you do not get rid of them sooner.
If you keep failing again and again, the best advice here is to try using a different build for your character. The easiest and most convenient way to do this is to Buy Diablo 4 Build Service at SkyCoach and get a fully ready-to-play character. We offer the cheapest prices and guarantee the fastest result. Utilizing the most efficient build is a short answer to how to defeat Echo of Varshan with minimum effort and time investment.
Diablo 4 Echo of Varshan Rewards
Here comes the most exciting part of the guide where we will provide you with a complete list of all Echo of Varshan rewards you can hope to get after defeating this boss:
| | | |
| --- | --- | --- |
| Class | Unique Rewards | Malignant Rings |
| Barbarian | Fields of Crimson, 100,000 Steps, Gohr's Devastating Grips | Ring of Red Furor |
| Druid | Mad Wolf's Glee, Vasily's Prayer, Greatstaff of the Crone | Airidah's Inexorable Will |
| Necromancer | Bloodless Scream, Deathless Visage, Deathspeaker's Pendant | Ring of the Sacrilegious Soul |
| Rogue | Condemnation, Eyes in the Dark, Skyhunter | Writhing Band of Trickery |
| Sorcerer | ‍Staff of Endless Rage, Esu's Heirloom, Raiment of the Infinite | Tal Rasha's Iridescent Loop |
| All Classes | Frostburn, Mother's Embrace | – |
As you might have already understood from the table, you can get Malignant Rings from Echo of Varshan by farming this boss multiple times. Compared to other Uniques listed above, these newly-added Malignant Rings are the most coveted artifacts all players will try to get. While you can acquire them in the Open World, Echo of Varshan remains the best source for trying to obtain them.
Conclusion
To sum up, mastering the Echo of Varshan encounter in Diablo 4 is a formidable challenge, but armed with the knowledge and strategies presented in this guide, you are well-prepared to face this menacing foe head-on. From understanding Varshan's abilities to devising effective tactics, you now possess the tools to emerge victorious in your battle against the darkness.
As you traverse the treacherous realms of Sanctuary, keep in mind the promise of enticing rewards that await those who conquer this vile threat. By honing your skills and optimizing your character's strengths, you will not only overcome Echo of Varshan but also stand as a true champion of the Diablo universe.
May your adventures in Diablo 4 be filled with glory, riches, and the satisfaction of defeating the Echo of Varshan, a testament to your prowess in this dark and relentless world. Go forth, and may victory be your constant companion!
F.A.Q.
How do you summon Echo of Varshan?
To summon Varshan when playing on World Tier 3, you need x1 Gurgling Head, x1 Blackened Femur, and x1 Trembling Hand. In case you exploring the Sanctuary on World Tier 4, you need x1 Malignant Heart on top of all other items listed previously.
What level should I be to fight Echo of Varshan?
To ensure your fight with Varshan is as smooth as possible, we highly recommend that you reach the level cap of 100 before engaging in a battle with him.
How do you beat Echo of Varshan Diablo 4?
To slay Varshan, you are to learn his core abilities and learn to play around them. It is also vital to buy and use Potent Elixir of Shadow Resistance to ensure you take minimum damage from his Shadow abilities.
Is Echo of Varshan the hardest boss?
Compared to other Season 2 bosses, Echo of Varshan can hardly be called the hardest one. However, it is essential to learn his moveset anyway to ensure your success.
What are Echo of Varshan abilities Diablo 4?
Tentacle Strike;
Putrid Dance;
Summon Malignance.
How do you survive Echo of Varshan?
It is vital to dodge his Tentacle Strike to avoid taking too much damage in the long run. Also, do not forget about his Putrid Dance pink areas you need to move away from before they explode.
Why is Echo of Varshan so difficult?
Since Echo of Varshan is the primary source of the newly-added Malignant Rings, the devs have made him a tough enemy to defeat to ensure the farming process is not that easy.
What are Echo of Varshan rewards Diablo 4?
By defeating Echo of Varshan, you can get a range of Uniques for all 5 in-game classes, as well as the ones available for all of them. On top of that, you can acquire Malignant Rings from killing Varshan.
What boss drops Malignant Rings in Diablo 4?
In case you are looking for the most reliable source of farming new Malignant Rings, you should focus on slaying Echo of Varshan.