Fellow adventure seekers, welcome to the dark and treacherous world of Sanctuary, where evil forces conspire and unimaginable power awaits those who dare to seek it. As Season 2 has begun, the devs have introduced Diablo 4 Malignant Rings, which hold a sinister allure, promising both formidable might and challenging encounters with Echo of Varshan for those who wish to get them.
Our Diablo 4 Malignant Rings guide will serve as your definitive companion on the perilous journey to obtain, understand, and master these malevolent artifacts. Join us as we delve into the abyss to uncover the secrets of these newly-added uniques, revealing how to get Malignant Rings Diablo 4, their devastating effects, and a comprehensive list of these unholy relics. Whether you seek to harness their power for good or embrace the darkness they represent, this guide will illuminate your path in the eternal battle against the forces of evil.
Before we jump into the topic, we would like to tell you about the best way to get Malignant Rings added in Season 2. At SkyCoach, you can buy Barbarian, Necromancer, Rogue, Sorcerer, and Druid Malignant Rings in just a few clicks. We offer the cheapest price for these and other uniques and guarantee the fastest delivery time.
IMPORTANT NOTE: Apart from learning everything about Malignant Rings, you can also Buy Diablo 4 Boost from SkyCoach. We offer a wide range of products at the lowest market price and with the fastest delivery. You can make your first purchase even CHEAPER if you find a special PROMO CODE (highlighted in green) hidden in this article and get a 20% DISCOUNT.
Check out our most popular
Diablo 4 Boosting

services offered at the best market price:
What Are Malignant Rings in Diablo 4?
During BlizzCon 2023, the devs have revealed they are planning to add five class-specific Unique Malignant Rings, offering players a chance to unlock altered variations of the powers we had during Season of the Malignant.
If you wondering what are Malignant Rings Diablo 4 and how they work, securing these coveted Season 1-inspired rings necessitates revisiting a familiar nemesis from the past, Varshan, and vanquishing this malevolent foe once more. Once in your possession, each ring bestows a distinctive effect tailored to enhance the performance of a specific class within the game.
While the prospect of facing Varshan anew may seem daunting, the benefits conferred by the affixes found within these rings make the endeavor more than worthwhile, especially since they can also be unlocked and retained within the Eternal Realm.
Diablo 4 Malignant Rings List
If you have not been at BlizzCon and have no idea what these new uniques are, let us provide you with a full Diablo 4 Malignant Rings list for every class:
Ring of Red Furor

– Barbarian;

Airidah's Inexorable Will

– Druid;

Ring of the Sacrilegious Soul

– Necromancer;

Writhing Band of Trickery

– Rogue;

Tal Rasha's Iridescent Loop

– Sorcerer.
Once again, all these D4 Malignant Rings will be fully available on November 7, 2023. As the devs confirmed, they will remain in the game on both Seasonal and Eternal servers in the future. BLOG20
How to Get Malignant Rings in Diablo 4
Speaking of Diablo 4 Malignant Rings how to get, you must undertake the task of summoning and vanquishing the Echo of Varshan endgame boss. This feat can be accomplished when operating at World Tier 3 or 4, regardless of whether you find yourself within the Seasonal or Eternal Realms.
The summoning of Varshan takes place at the conclusion of a harrowing journey through the Malignant Tunnel, nestled deep inside the Malignant Burrow, which is situated in close proximity to the ominous Tree of Whispers, nestled within the Hawezar Region.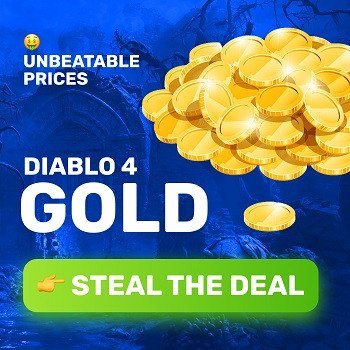 How to Summon Echo of Varshan
In order to summon Echo of Varshan at Malignant Altar situated at the terminus of the Malignant Burrow, adjacent to the foreboding Tree of Whispers, you will need certain Malignant Body Parts.
These valuable components can be procured by successfully accomplishing the Whispers of the Dead quests and unlocking the rewards contained within the caches associated with the Tree of Whispers.
The prerequisites for summoning Varshan vary depending on the World Tier you are currently operating within:
World Tier 3 Echo of Varshan Summon Requirements:
World Tier 4 Echo of Varshan Summon Requirements:
Now that you know how to farm Malignant Rings Diablo 4, you just need to slay Echo of Varshan one time after another and hope for the desired drop.
Diablo 4 Malignant Rings Effects
Since you have a clear understanding of how you can acquire these powerful uniques, it is high time to provide you with a complete description of all Diablo 4 Malignant Rings effects for each of the five classes currently available in the game:
Ring

Class

Description

Ring of Red Furor
Barbarian
Upon expending

100 Fury

within a concise 3-second window, your subsequent usage of Hammer of the Ancients, Upheaval, or Death Blow ensures a

Critical Strike,

while also bestowing an additional

[10% to 30%]

bonus in Critical Strike Damage.
Airidah's Inexorable Will
Druid
When you unleash an Ultimate Skill and then once more 5 seconds later, you draw in remote adversaries towards you and inflict

[1,380 - 2,760]

points of

Physical

damage upon them. The damage dealt is further amplified by

1.0%

for every point of Willpower (x) you possess.
Ring of the Sacrilegious Soul
Necromancer

You possess the innate ability to automatically trigger the equipped Skills on nearby Corpses:

Writhing Band of Trickery
Rogue
Using a

Subterfuge Skill

results in the creation of a Decoy Trap, which serves the purpose of persistently Taunting and enticing adversaries. After 3 seconds, the

Decoy Trap

detonates, inflicting a range of

Shadow

damage between 5,521 and 8,281. This effect can take place once every 12 seconds.
Tal Rasha's Iridescent Loop
Sorcerer
Whenever you unleash a form of Elemental damage, you acquire a boost of increased damage, ranging from x% to

10.0 - 15.0%,

which persists for a duration of 4 seconds. If you continue to deal Elemental damage during this period, it will refresh and extend all of these damage-enhancing bonuses.
Now that you know more about Malignant Rings Diablo 4 Season 2 and how they work in action it is time to find out which one of them looks the most promising. While you cannot say this for sure since you only have one ring per class, some of them look a bit stronger compared to others. Keep reading our article to find out more!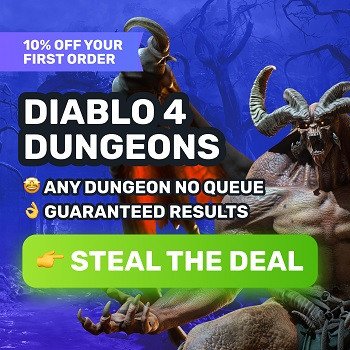 Best Malignant Rings Diablo 4
While you cannot influence the process of Malignant Rings drop and the chance of getting the one you like, you can decide which one seems to be the most powerful in your opinion. If you have not figured out this yet, we are here to provide you with a detailed explanation of what are the best Malignant Rings Diablo 4 and why: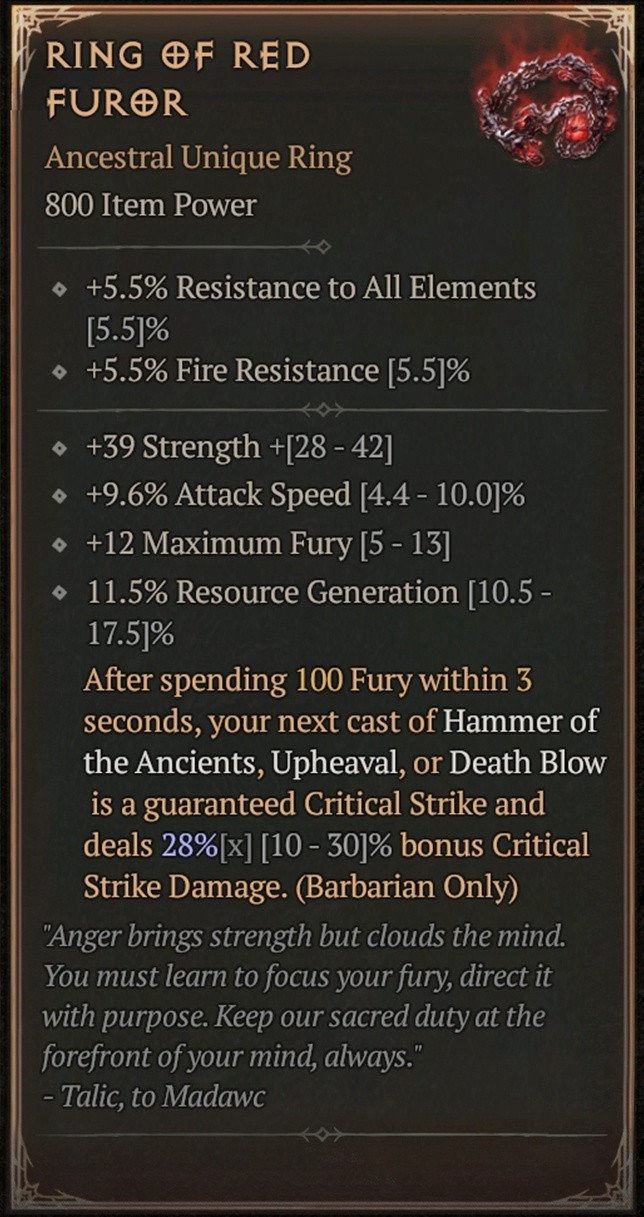 Ring of Red Furor (Barbarian) – This particular ring is initially a level 800 item with a base resource generation of 17. However, when you invest in upgrading it, typically gaining a cumulative 50% increase through five upgrades, each providing a 10% boost, your resource generation will surge to 26%.
Additionally, this ring grants you around 20 points of maximum Fury, a highly advantageous feature that harmonizes exceptionally well with the Hammer of the Ancients skill. Furthermore, you will enjoy a 15% increase in attack speed. In essence, this Barbarian Malignant Ring becomes a pivotal element in enhancing the synergy of an already potent HotA build, which is widely regarded as one of the most formidable character builds in the game, making it even stronger.
Tal Rasha's Iridescent Loop (Sorcerer) – This ring introduced is set to be exceptionally potent for Ball Lightning Sorcerers. This is primarily due to its inclusion of resource generation, a lucky hit chance, non-physical damage, and cooldown reduction, all within the confines of a single ring. When equipped on a Sorcerer, it becomes a highly advantageous choice, as it not only complements the character's abilities but also provides a substantial damage boost.
This ring essentially offers a 1.5x multiplicative damage increase for each element you possess, making it compatible with Fire, Cold, and Lightning, resulting in a remarkable 50% damage boost. Without a doubt, Sorcerer Malignant Ring is poised to become one of the best choices for this class, further enhancing the power of your character.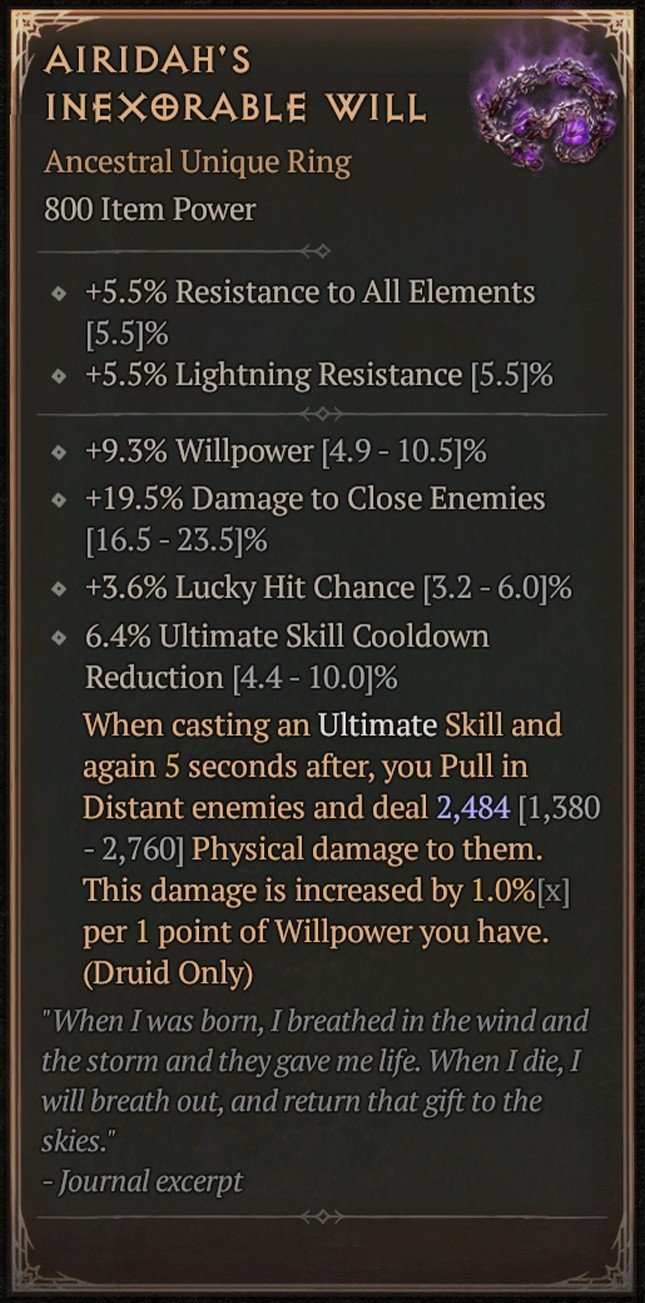 Airidah's Inexorable Will (Druid) – Airidah's Inexorable Will stands out as one of the premier Malignant rings in Diablo IV Season 2. This remarkable pixel pull ring becomes particularly formidable when you have an ultimate skill active, as it confers an impressive cooldown reduction specifically for ultimate skills. As part of a unique set, Druid Malignant Ring further advances to offer a substantial 15% cooldown reduction, all within the confines of a single ring. This enhancement is especially advantageous for Druids, making it a highly coveted and effective accessory for those who seek to harness the full potential of their character's abilities.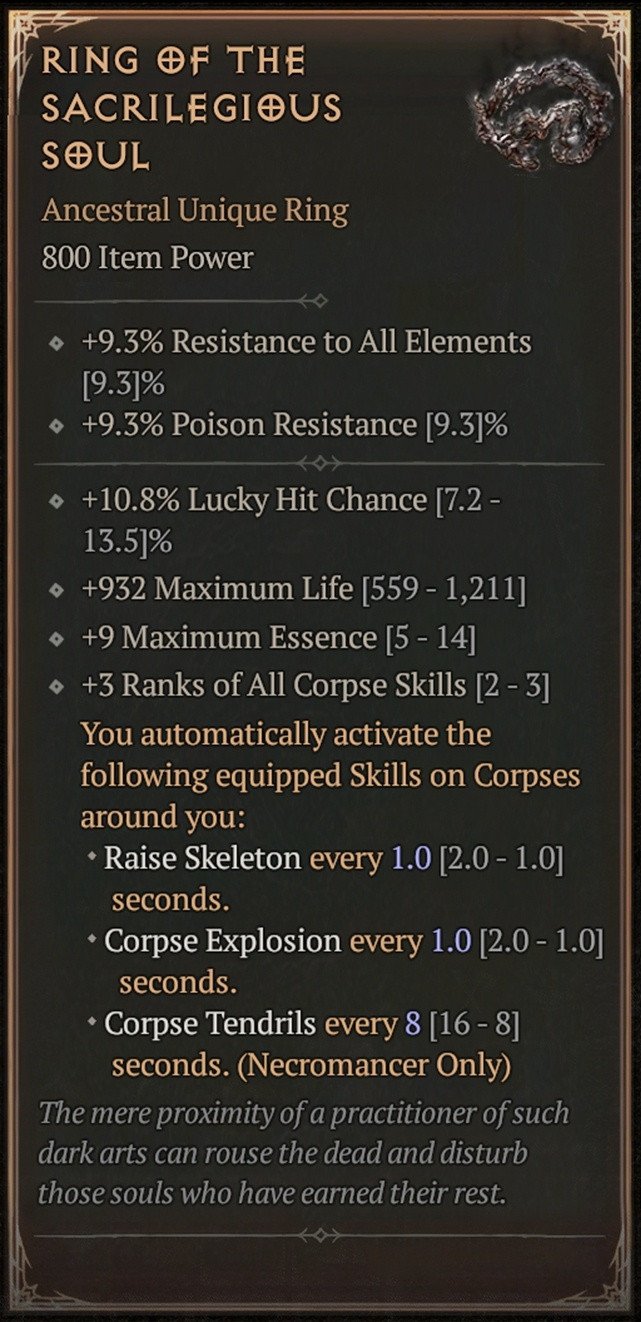 Ring of the Sacrilegious Soul (Necromancer) – This ring is destined to become the go-to choice for Bone Spear Necromancers. It offers an exceptional stroke of luck, potentially reaching an impressive 20% lucky hit chance when fully upgraded. Moreover, it provides maximum essence, maximum life, and elevates the rank of all corpse-related skills.
With this ring equipped, you can expect a substantial boost of five ranks to your Corpse Explosion, which is highly advantageous for Infinimist builds, as well as enhancing Bone Spear. Necromancer Malignant Ring also grants an additional five ranks to Corpse Tendrils, and the automated activation of your corpse skills. Corpse Explosion becomes accessible once every second, while Corpse Tendrils can be triggered every 8 seconds, although there has been a slight nerf to the frequency of Corpse Tendrils.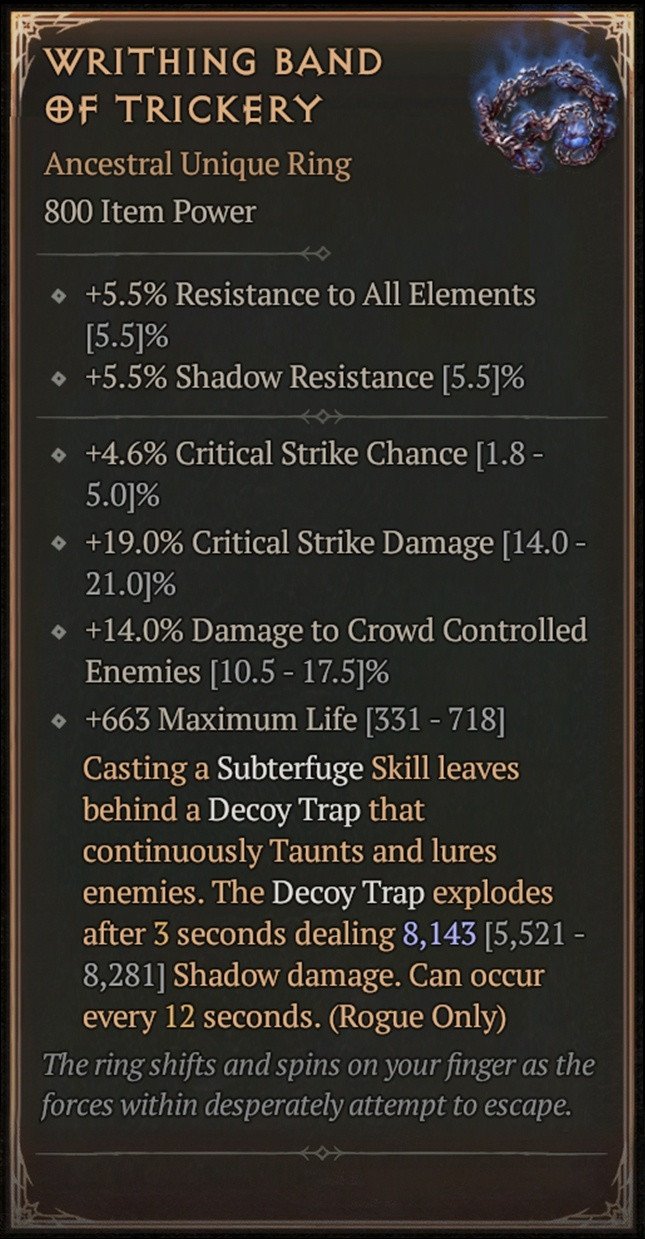 Writhing Band of Trickery (Rogue) – The new Malignant Ring for the Rogue class might not appear overwhelmingly powerful at first glance. However, it does have some potential, particularly when combined with pixel-pulling strategies. When you cast a subterfuge skill, it leaves behind a decoy trap that continuously lures enemies, with this effect occurring every 12 seconds. This unique mechanic can potentially offer benefits when used in conjunction with pixel-pulling tactics, creating an interesting synergy.
What sets this ring apart is the inclusion of critical strike chance, critical damage, crowd control damage, and life, which are some of the most desirable stats for a ring. In many cases, Rogue Malignant Ring can be considered the best-in-slot choice due to these impressive attributes. Unfortunately, the ring's unique power, which creates a decoy trap to attract enemies and subsequently explodes to deal damage, might not be as game-changing as the other features it offers. Nevertheless, it remains a ring worth considering for Rogue players.
Conclusion
In the ever-darkening realm of Diablo 4, the Malignant Rings stand as alluring relics, promising both power and peril to those who seek them. Throughout this comprehensive guide, we've ventured deep into the heart of Sanctuary to unveil the secrets of these malevolent artifacts. We've explored the methods to obtain them, delved into their potent effects, and provided you with a meticulous list of these unholy rings.
Whether you are a seasoned veteran or a newcomer to the world of Diablo, these rings are bound to intrigue and challenge you in new and exciting ways throughout the entire Season of Blood and further. The unique attributes and synergies they offer can redefine your gameplay experience, breathing life into both established and novel character builds.
As the eternal battle against evil rages on, the Malignant Rings serve as a testament to the ever-evolving nature of the Diablo universe. So, harness their power wisely and embark on your journey with newfound knowledge and determination, for the world of Sanctuary is as treacherous as it is enticing. May you find the strength to conquer the darkness and emerge victorious in your quest for power and glory.
F.A.Q.
What are Malignant Rings Diablo 4?
Malignant Rings represent five class-specific uniques you can obtain from killing Echo of Varshan starting from November 7, 2023. They possess powerful effects and can greatly enhance your performance.
How to get Malignant Rings Diablo 4?
The most efficient way to get Malignant Ring is to farm Echo of Varshan endgame boss. The latter can be summoned at the end of the Malignant Tunnel in the Malignant Burrow.
Are Malignant Rings available Diablo 4?
Malignant Rings became part of the game on November 7, 2023, shortly after Season of Blood began.
What are the best Malignant Rings in Diablo 4?
As of today, Ring of Red Furor for the Barbarian class looks like the best Malignant Ring you can try to acquire from killing Echo of Varshan.