Fellow heroes, we are glad to see you reading another Mage Tower guide prepared by our team. This time, we are talking about the Balance Druid Mage Tower Dragonflight gameplay. After reading this article, you will learn the most crucial tips and tricks that can help you outbattle both bosses with minimum attempts. On top of that, we will share a few recommendations concerning BiS gear and the optimal talent build.
Balance Druid Mage Tower Challenge Info
The Mage Tower offers a unique encounter for each role. To find out which one is prepared for you when playing this specialization, you need to talk to War Councilor Victoria. This NPC is waiting for you at Deliverance Point, which is not that far from Dalaran. Therefore, you can use Dalaran Hearthstone to get to the city quicker. After you are there, jump on your mount and fly towards the required destination. The entire journey should not take you more than 5 minutes.
Once you have a conversation with the NPC, you will see that the encounter you need to complete is called Thwarting the Twins. The latter is split into 3 stages, each having its own mechanics and traps. During this battle, your main foes are going to be Karam Magespear and Raest Magespear. These two brothers have a ton of unusual mechanics and spells you need to learn to play around. In general, this encounter tests your ability to deal the highest damage while kiting the enemies.
Unlike in some other challenges, you will have neither allies nor AI NPCs helping you throughout this battle. Just like in most other DPS-oriented encounters, you will need to defeat both twins completely on your own. However, you will not have to fight them simultaneously until you get to the final stage. This is where the game starts testing how well you actually play this spec.
To ensure you achieve the desired victory with minimum effort and attempts, we have prepared a Balance Druid Mage Tower strategy. One can find it toward the end of the article. There, you will see what bosses' mechanics and spells you should be aware of. We also share a few tips on how to counter them more efficiently.
However, this strategy does not guarantee you victory. Still, your success mostly depends on how well you press buttons during the encounter. If you cannot complete the challenge on your own, we have the solution for you. Check out our Timewalking & Mage Tower Boost services where our professional players can defeat any boss for you. We offer reasonable prices and guarantee the fastest completion time.
IMPORTANT NOTE: At SkyCoach, you can also Buy WoW Boost at the lowest prices and with the fastest delivery. You can make your first purchase even CHEAPER if you find our special PROMO CODE (highlighted in green) hidden in this article and get a 20% DISCOUNT.
Check out some of our most popular
WoW Boosting services

below:
Best Gear for Balance Druid Mage Tower
Since the Mage Tower saw the world for the first time back in the Legion expansion, it already has a certain set of rules. The game's developers have decided to leave it unchanged in the current expansion as well. It mostly concerns your equipment's ilvl since it is temporarily lowered to 120. The downscale effect is also applied to your character's level, as you are going to be level 45 for the time you are participating in this encounter.
Despite looking annoying at first, these rules actually make sense. They have been designed to make all players taking part in this challenge equal. In other words, you cannot fully rely on your top-rank gear parts anymore. Instead, you should actually play a particular specialization extremely well. This is what makes the Balance Druid Timewalking Mage Tower challenge so tough, especially for beginners.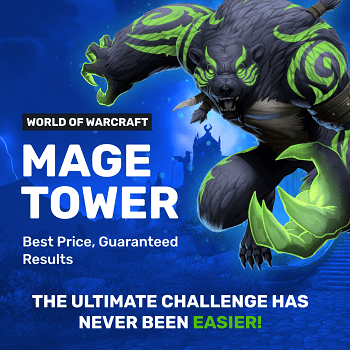 The only trick that can actually help you increase your chances of winning the fight is the correct stat priority. For this spec, you usually prioritize Mastery and Haste over any other secondary stats. However, having a bit of Critical Strike can also help you deal with enemies quicker. On top of that, Intellect remains your primary stat and should be prioritized in any in-game activity.
If you still have no idea what Balance Druid Mage Tower gear to choose, we have prepared the following table exactly for you. The latter includes BiS items that can be looted by killing Raid and Mythic+ bosses. Though, some of them are craftable and you can get them by using the Work Order system implemented in the current expansion. BLOG20
If you wish to use a Mythic+ set instead, we have you covered as well. By ordering our Mythic Carry services, you can be sure that our pro players will clear out any dungeon for you. We offer fair prices and guarantee the fastest result.
To make your character even more powerful, you have to take a look at Balance Druid Mage Tower trinkets currently available. They act as an amazing source of main and secondary stats. Besides, they grant you unique on-use abilities that can greatly help you throughout the fight.
To get all the mentioned and other high-rank items, you cannot neglect Raiding content. Nonetheless, slaying a particular boss without a reliable party can be a huge problem. To ensure you receive the desired rewards, you can order our WoW Raid Boost services. In this case, our professional players will take care of any boss for you.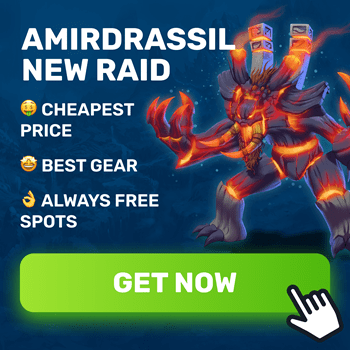 Balance Druid Mage Tower Best Enchants & Gems
In this paragraph of our Balance Druid Mage Tower guide, we would like to pay attention to what enchantments and gems you can use to make this challenge easier. They act as a perfect source of additional main and secondary stats. Down below, you can find a list of the most optimal enchants for this spec.
Equipment Slot

Best Alternative

Provided Bonus

Weapon
Sophic Devotion
Can significantly increase your

Intellect

for a short period if the effect procs.
Cloak
Graceful Avoidance
Slightly reduces the damage you take from

AoE

spells.
Chest
Waking Stats
Another passive source of

Intellect,

which influences your

DPS.

Bracers
Devotion of Avoidance
Works in the same way as your cloak's enchant does.
Legs
Frozen Spellthread
Provides you extra

Intellect

and

Stamina

to deal more damage and live longer.
Boots
Watcher's Loam
Grants you additional

Stamina

increasing your survivability.
Ring
Devotion of Mastery
Gives you extra

Mastery,

which is the most essential stat for this spec.
Adding a few words on the Balance Druid Mage Tower recommended gems, we have compiled the following list:
Skillful Illimited Diamond is your priority, as it provides you with additional

Intellect

and

Mastery

stats enhancing your damage output;
Keen Neltharite is the number one choice since it grants you a ton of

Mastery

and

Haste

stats you need more than anything else.
If you wish to get geared up quicker, you cannot go without the Auction House. However, you will need a ton of gold to purchase everything you need. You can always Buy WoW Gold with our company's help and get it delivered to any server. This will take minimum time and the result is guaranteed.
Balance Druid Mage Tower Best Consumables
We have also prepared a few of the most crucial consumables you cannot go without. They significantly boost your chances of achieving victory and spend less time trying to defeat both bosses. Check out what items we have enlisted below:
Balance Druid Mage Tower Best Talent Build
With the completely updated talent system brought in Dragonflight, players can now experiment with their talent setups as they wish. Unfortunately, not all of them are equally efficient. In this section of the article, we are going to share the optimal Balance Druid Mage Tower 10.2 talent build. Of course, you can try other alternatives but this one works perfectly for this encounter.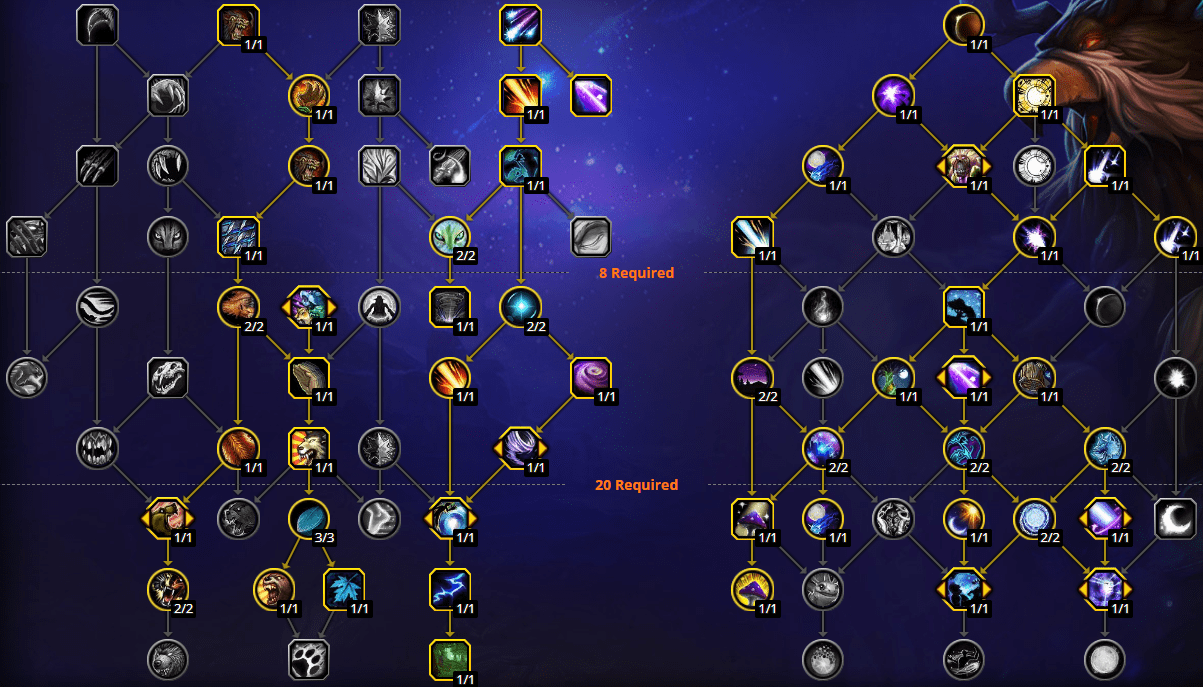 By copying this code, you can export the build into your game:
BYGAAAAAAAAAAAAAAAAAAAAAAAAAAAAAAAAAAAAAAAAAAKAkkIJIJAJJSiUgWikkEpkkiQSItkSECKAEKAA
To get access to all the required talents, you need to reach the level's cap first. Until you reach level 70, you are not likely to complete this challenge. To speed up this process, you can use our WoW Powerleveling services. In this case, our professional players will get your character boosted ASAP.
Karam and Raest Magespear Fight Strategy
In this section of the article, you will find the most important Balance Druid Mage Tower tips to complete this encounter with minimum attempts. Though, you still need to practice a lot and learn your spec's mechanics thoroughly. On top of that, you have to learn to play around the bosses' talents as well.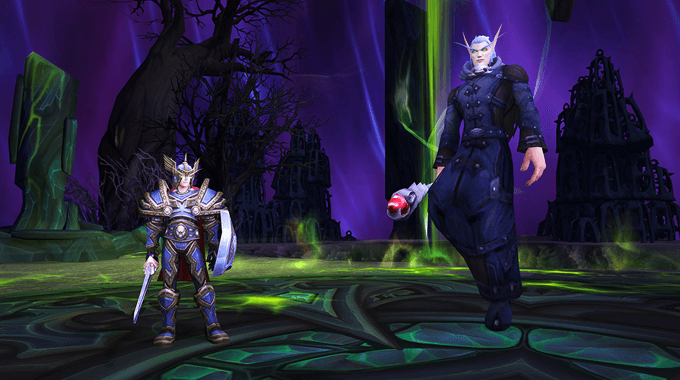 Your fight begins with facing off against Karam Magespear. His brother will not attack you during Stage 1. Therefore, this phase is relatively easy to complete, as you only need to kite the boss and dodge his Rising Dragon. The latter deal immense damage and should be avoided at any cost. Otherwise, it can one-shot you easily.
Do not use your core abilities and deal steady damage with fast-refreshing talents. Once the boss' HP level drops to 33%, he will start casting Purgatory and become immune to any incoming damage.
This defines the beginning of Stage 2 where you will fight Raest Magespear. He constantly casts Shadow Bolt, which can be mostly ignored since it does not deal too much damage. Be aware of his Hand from Beyond talent, as it starts casting Grasp from Beyond as soon as it spawns. Your task is to make the boss' HP hit a 60% marker. You will have a limited amount of time for this. If you will not make it on time, Stages 1 and 2 will be repeated.
After you do this, Stage 3 starts and you need to defeat both brothers. They will try to attack you simultaneously, so you need to prepare to dodge all his deadliest spells and mechanics. While kiting Karam and dealing the maximum damage to Raest, you also have to get rid of Rune of Summoning. If you do not stand on it, Thing of Nightmare will spawn. This mob can definitely one-shot you, so you do not want to have another enemy running in the arena.
Answering the question of how to do the Mage Tower as Balance Druid, you do not need to kill both twins. To complete the encounter, you should only slay Raest. At the same time, you want to play around the summoning mechanics, as you can be one shotted by super-powerful adds.
This is not the toughest encounter currently existing in the game. However, it still requires a ton of time to get prepared for it. Nonetheless, the rewards are more than worth it, as you cannot receive them in any other in-game activity.
Adding a few words concerning a Balance Druid Mage Tower nerf, this is not likely to happen. This is definitely a strong spec but it does not need to be nerfed. On top of that, you still need to spend quite a lot of time mastering it.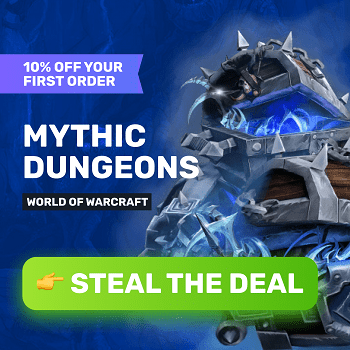 Balance Druid Mage Tower Rewards
Defeating Raest ends the encounter. After this, you will be teleported back to your original location. There, you will receive a unique Balance Druid Mage Tower appearance, which you can check out in the screenshot below.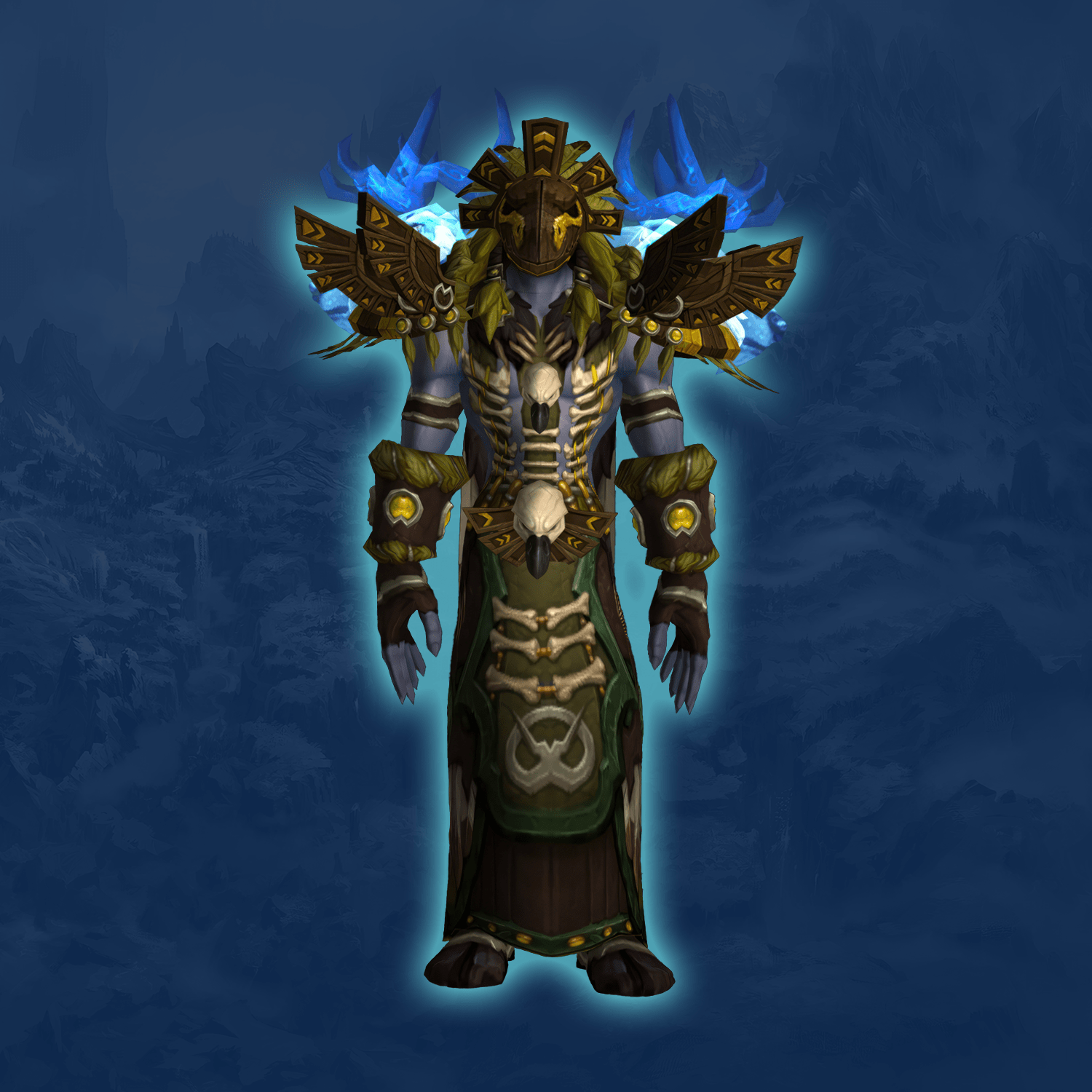 If you are a really skillful player, completing all 7 encounters currently available in the game grants you an additional reward. It is Soaring Spelltome, which represents a unique ground mount. This is an open book your character stands on to fly over the ground.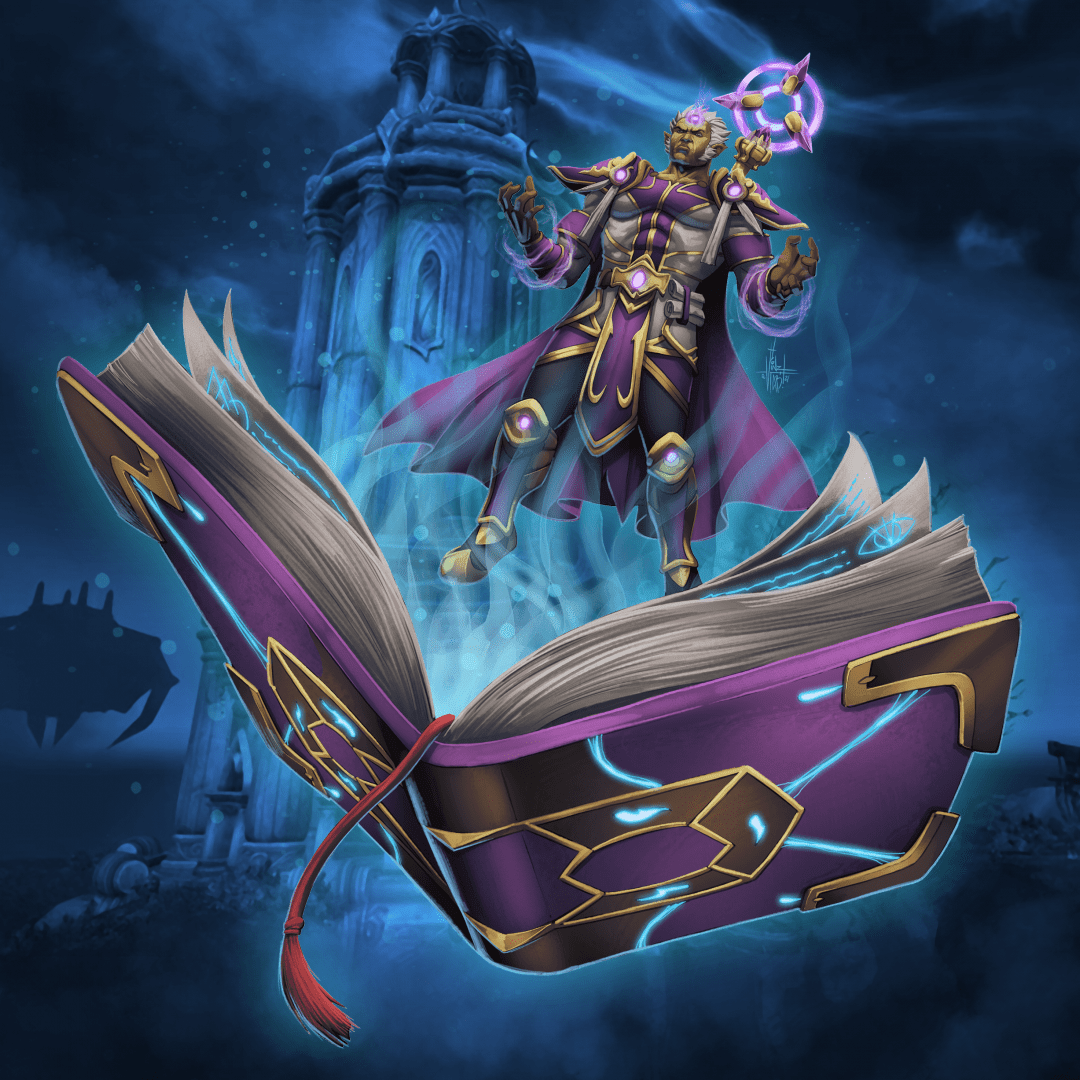 Getting all the desired rewards requires much time and effort. To speed it up, you can use our World of Warcraft Boosting services. In this case, our professional players will do this routine for you. We provide the best market prices and guarantee the result.
SkyCoach Boosting & Coaching Services
For over 5 years, the SkyCoach team does its best to help players throughout the world enjoy the games they like. We help people experience World of Warcraft and other online titles in a new way. With a large range of boosting and coaching services provided, you can always rely on us. No matter what in-game situation you face, we can make it up for you.
To ensure you get the best service, we offer a 5% cashback on all orders you place. On top of that, we arrange various sales to help you save a penny. If you have any questions concerning your order or wish to place one, you can always contact our 24/7 customer support service. Forget about endless grinding and farming. Remember, we try hard to let you enjoy the game as it is.
F.A.Q.
What reward do Balance Druids get from Timewalking Mage Tower?
In most cases, all players look forward to obtaining a class-specific transmog set we talked about earlier.
What are the best Balance Druid talents for Mage Tower?
Check out a separate paragraph in the article. There, we describe the most optimal talent build you can try for the encounter when playing this spec.
How do you increase damage as Balance Druid in Mage Tower?
Being a DPS spec, you have enough damage by default. In most cases, pressing your spells on cooldown is enough to complete the challenge. At the same time, dodging the bosses' mechanics is more important than dealing damage.
Is Balance Druid good for Mage Tower?
This is definitely a great specialization if you like to play a DPS role. It performs well enough and is worth your attention for sure.