No one would deny that PVE is a huge part of World of Warcraft gameplay. For years it was far more popular than even PVP (but that is, of course, an open question), and for all expansions prior to World of Warcraft Legion, when such a thing as Mythic Plus Dungeons was first introduced, raids were the only real PVE challenge for players.
After that, however, Mythic+ Dungeons have become a whole new level of PVE gameplay, so popular, in fact, that it significantly alters the evolution of the game over the last few years. While raids have often been considered to be kind of "big deal", with all those long preparations, big collectives, difficult communications, and strict hierarchy, Mythic Plus Dungeons felt like a breath of fresh air. Why, you ask? There are just a few reasons:
This was simply something new;
Most of the players liked them very much right from the start;
While being no less difficult, M+ dungeons take significantly less time, which is far more convenient for the majority of players than 4 hours long daily raids with your guild.
We are not going to discuss whether adding this kind of short-session-content into the game's end-game pool was a good decision or not. All we know is that now there are two kinds of PVE meta in the game, one for raids, and one for Mythic+ Dungeons. Pretty much every player is aware of that, but what is Mythic+ Dungeons and how to be effective in them? We will answer all these questions in our Mythic Plus guide. So, read on to learn more about all Mythic Plus changes in WoW Dragonflight, because here you will find everything you need to know about Mythic+ Dungeons!
What are Mythic+ Dungeons?
Mythic+ Dungeons are just regular dungeons divided in so called Keystone levels or "keys" for short, with increasingly higher difficulty, starting from +0 Key which is the easiest (but still much harder than Heroic dungeons), all the way up to 20+ keys, which will be a challenge even for the most well-geared, coordinated, and dedicated groups.
How to unlock Mythic Dungeons in WoW Dragonflight?
To access the Mythic Dungeon difficulty you have to have a Mythic+ Keystone in your inventory. Once you have entered the dungeons and selected Mythic difficulty, you will need to place your Keystone into the special mechanism at the dungeon's entrance called Font of Power.
After you place your Keystone into the Font of Power you will see the difficulty and all current weekly affixes (more about them later). To get a Keystone you will need to complete any Mythic+ dungeon on at least +2 level. After that you will find a random dungeon's +2 Keystone in your inventory. To upgrade it further you will need to complete this dungeon to receive another random dungeon's Keystone, this time level 3, and so on. If you fail to complete the dungeon for some reason or do not manage to make it within timer (in case of random groups the reason is usually someone rage quits after one or two wipes), your Keystone level will be lowered by 1.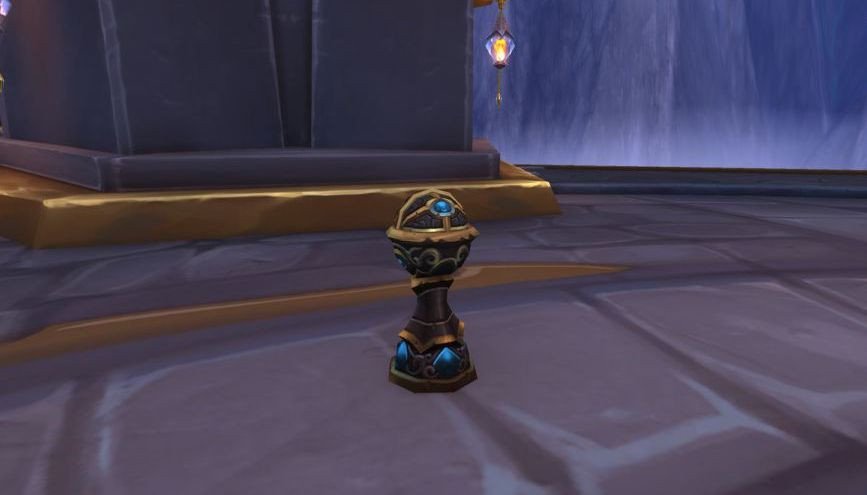 Such a system creates a serious challenge for players, so in order to get to higher keys, and thus to better rewards, you will need to really master your class and specialization. This journey will not be easy!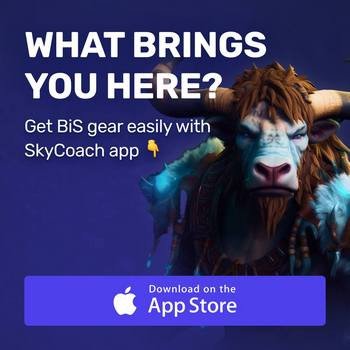 WoW Mythic Plus Loot Table
Well, speaking about Mythic Dungeons loot table, things are pretty straightforward. Mythic+ gear scale designed in such a way that the more difficult Keystone you have completed, the better your rewards will be. Note that in the latest expansion the WoW Dragonflight Mythic Plus loot pool was redesigned and now the loot table is looks like this:
| Keystone Level | Dungeon Gear ilvl | Great Vault Reward ilvl |
| --- | --- | --- |
| Mythic +1 | 398 | None |
| Mythic +2 | 402 | 408 |
| Mythic +3 | 402 | 411 |
| Mythic +4 | 405 | 411 |
| Mythic +5 | 405 | 415 |
| Mythic +6 | 408 | 415 |
| Mythic +7 | 411 | 418 |
| Mythic +8 | 411 | 421 |
| Mythic +9 | 415 | 421 |
| Mythic +10 | 418 | 424 |
| Mythic +11 | 418 | 428 |
| Mythic +12 | 418 | 431 |
| Mythic +13 | 418 | 434 |
| Mythic +14 | 421 | 434 |
| Mythic +15 | 424 | 437 |
| Mythic +16 | 424 | 441 |
| Mythic +17 | 428 | 441 |
| Mythic +18 | 428 | 444 |
| Mythic +19 | 431 | 444 |
| Mythic +20 | 431 | 447 |
As you can see, now you will get better and better rewards all the way up to +20 key (before the best loot can be obtained from +15 Keystone). This makes your progressions above +15 Keystone level much more important than before.
What item level do I need to have for Mythic Dungeons in WoW Dragonflight?
Well, for Dragonflight Mythic Season 2 a good start will be at least 398 item level. Of course, the more the better, but having 398 ilvl gear as a damage dealer should be enough for Keystone Levels from +2 to +5. Healers and tanks, however, are required to have 402+ item level for obvious reasons.
Sure, these are average values, because having one really good DPS or tank in your party can guarantee successful completion of M+ dungeon even if your gear is 20 item levels below the recommended. Imagine having a whole team of BiS-geared PROs helping you with your M+ completion. We can arrange that, by the way. Having been doing it for years, actually. Check out our Trustpilot page and then our Mythic Carry services. With our pro players in your team the question "How to gear for Mythic dungeons?" will bother you none.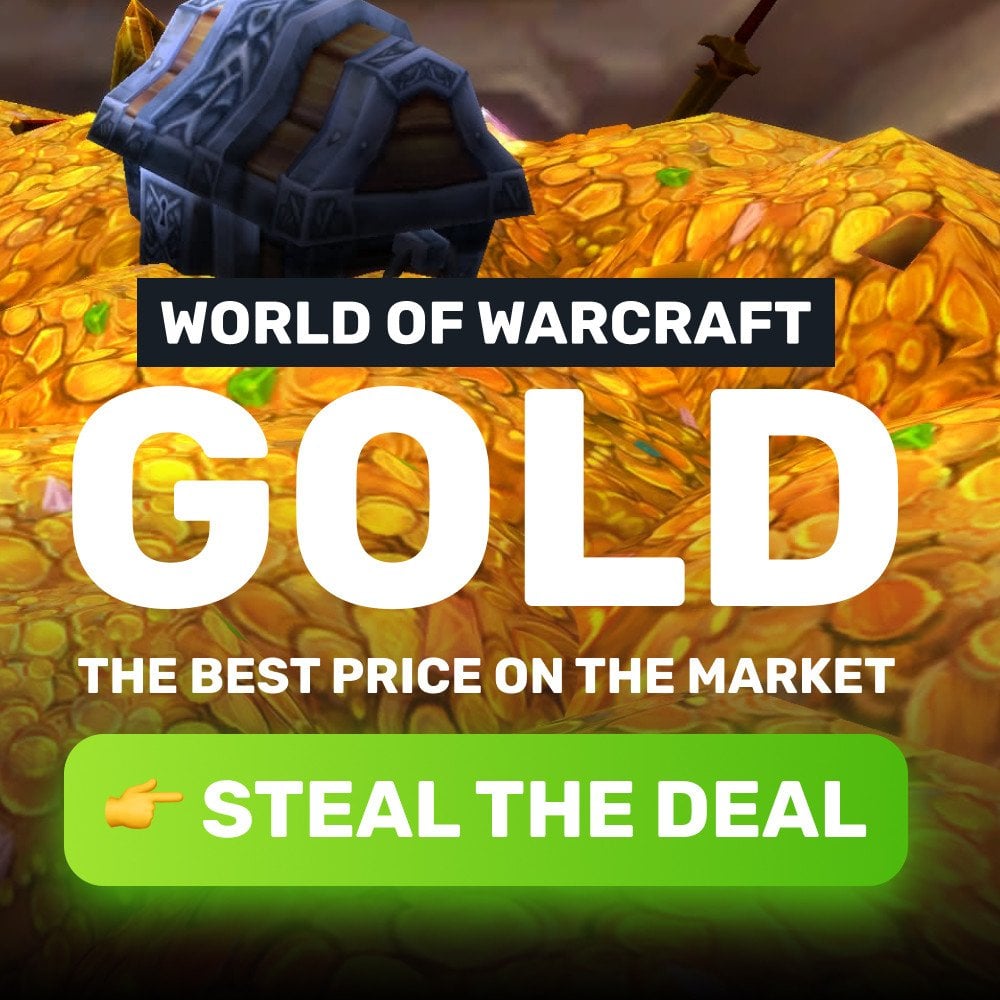 Flightstones Upgrades and Great Vault Rewards
Great Vault
Another great source of equipment is Great Vault, which works similarly for all end-game activities. The Great Vault is located in the Bank of Valdrakken just to the right from the Seat of the Aspects.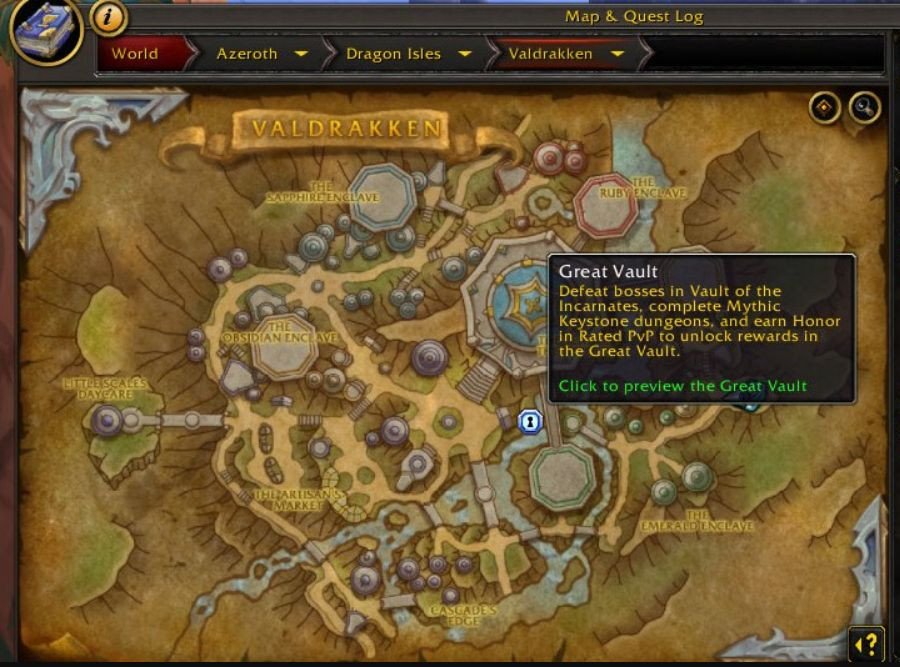 You can pick up only one item every week, but the more Great Vault objectives you complete the more items you will have to choose from. Here is what you can do to get Great Vault items:
PVP

- You will get Great Vault items for earning Honor Points in Rated PVP (Arena or Rated Battleground):
- 1250 Honor Points - 1 item;
- 2500 Honor Points - 2 items;
- 5000 Honor Points - 3 items.

Raids

- Defeating raid bosses will gain access to Great Vault items:
- 2 bosses - 1 item;
- 4 bosses - 2 items;
- 6 bosses - 3 items.

Mythic+ Dungeons

- Quite obviously, you will need to complete M+ dungeons to gain access to Great Vault gear:
- 1 dungeon - 1 item;
- 4 dungeons - 2 items;
- 8 dungeons - 3 items.
You also can decide to not to get a Great Vault item, to get the Aspects' Token of Merit instead. This is a special currency using which you can buy two valuable items from Bronze drakonid Evantkis next to the Great Vault:
Volcanic Sculptor - Costs 6 Aspects' Token of Merit. This modification adds a socket to a Dragonflight Season 2 item that currently lacks one. This enhancement can be applied to Helms, Necks, Bracers, Belts, and Rings.
Bottled Essence - Costs 12 Aspects' Token of Merit. This item is the fuel for the

Engine of Innovation

in Valdrakken. This particular item will only become visible to you on Evantkis after you have successfully finished the entire questline of Spark of Ingenuity on your account.
There is also an important thing about the Great Vault gear: it can be upgraded with Flightstones, no matter what gear piece you get. For example, if you are lucky, you can receive a Tier Set piece from the Great Vault which you will be able to upgrade with Flightstones. This is much better than looting the same piece of armor from raid boss, obviously, because you can get yourself a Mythic Raid level Tier Piece by simply farming some M+ Dungeons. So, to maximize the chances of you receiving a full Tier Set from Great Vault you should try to unlock as many Great Vault items as possible every week.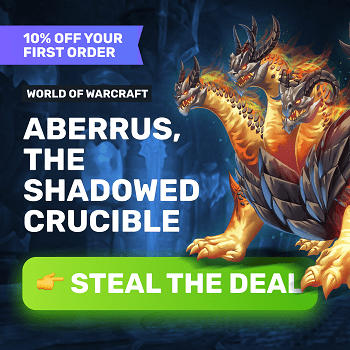 Flightstones Upgrades Explained
The new system assigns each item to a specific track, which determines the maximum upgrade level. Consequently, players cannot repeatedly obtain items from low keystone dungeons and upgrade them to the highest level anymore. The tracks and their corresponding item levels are as follows:
Explorer: item level 376 to 398;
Adventurer: item level 389 to 411;

Veteran:

item level 402 to 424.
The following items can be upgraded using the indicated methods:
Keystone +2 to +8 end-of-dungeon loot and LFR raid items: Champion track, item level 415 to 437;
Keystone +9 to +16 end-of-dungeon loot and normal raid items: Hero track, item level 428 to 441;
Keystone +17 to +20 end-of-dungeon loot and heroic raid items: Mythic raid items, cannot be upgraded.
To illustrate, any item that drops on the Veteran track can only be upgraded up to 424, while items on the Explorer track can only be upgraded up to 398.
Also note that If you upgrade or acquire an item at a specific item level, any future upgrades for other items to reach that same item level in the same slot will be discounted. For example, if you obtain a chest piece at item level 434, any subsequent upgrades to other chest pieces up to item level 434 will be discounted.
Upgrade Discounts
After obtaining gear of a specific item level in a given slot, either through upgrading or drops, all future upgrades for that slot will have a 60% discount on their Flightstone cost. This account-wide discount applies to most slots, but rings and trinkets require two items of the same item level to unlock the discount.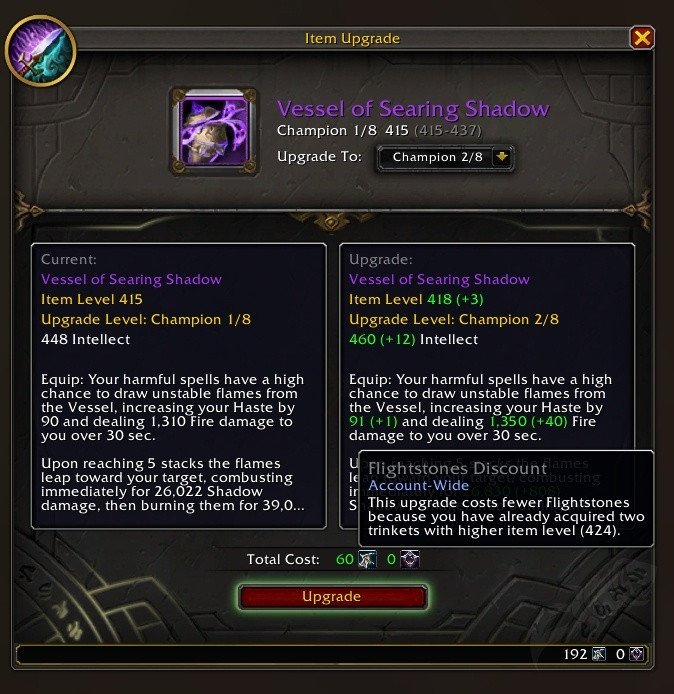 There are also Crest discounts, meaning that after obtaining gear of a specific item level in a given slot, either through upgrading or drops, all future upgrades for that slot will no longer require Crests. However, this discount is not account-wide. To unlock the discount for rings and trinkets, two items of the same item level are required.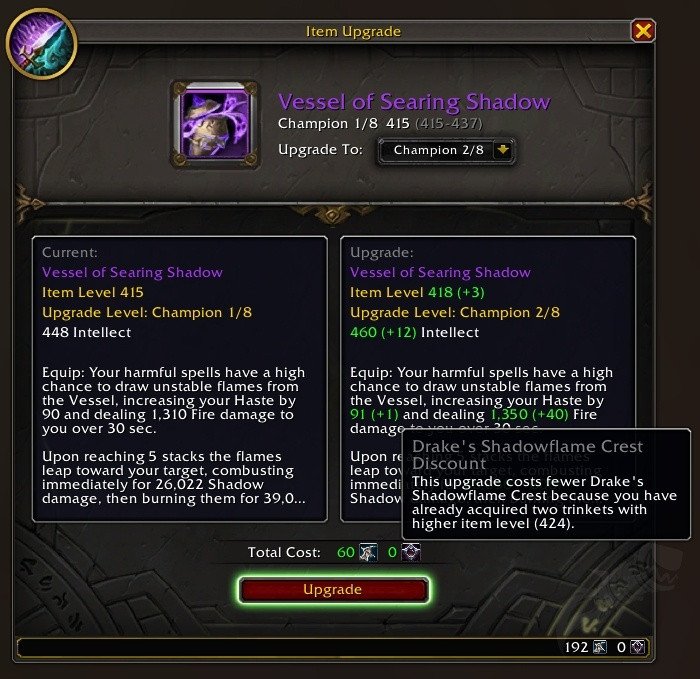 Dragonflight Mythic Dungeons Pool
As usual, not all dungeons from the actual content are presented in the Mythic Plus Pool. The developers always put some old dungeons in the rotation, which is a good opportunity for players to see what some content of the previous expansions was like. Below you will find the list of dungeons available in the Dragonflight Mythic Season Two dungeons pool:
Brackenhide Hollow;
Halls of Infusion;
Uldaman: Legacy of Tyr;
Neltharus;
Freehold (Battle for Azeroth);
The Underrot (Battle for Azeroth);
Vortex Pinnacle (Cataclysm);
Neltharion's Lair (Legion).
To make the access for old dungeons easier for players, three portals were placed in Valdrakken just to the right from the staircase leading to the Seat of Aspects. These portals are leading to Legion Dalaran, Jade Forest, and Warlords of Draenor Shadowmoon Valley.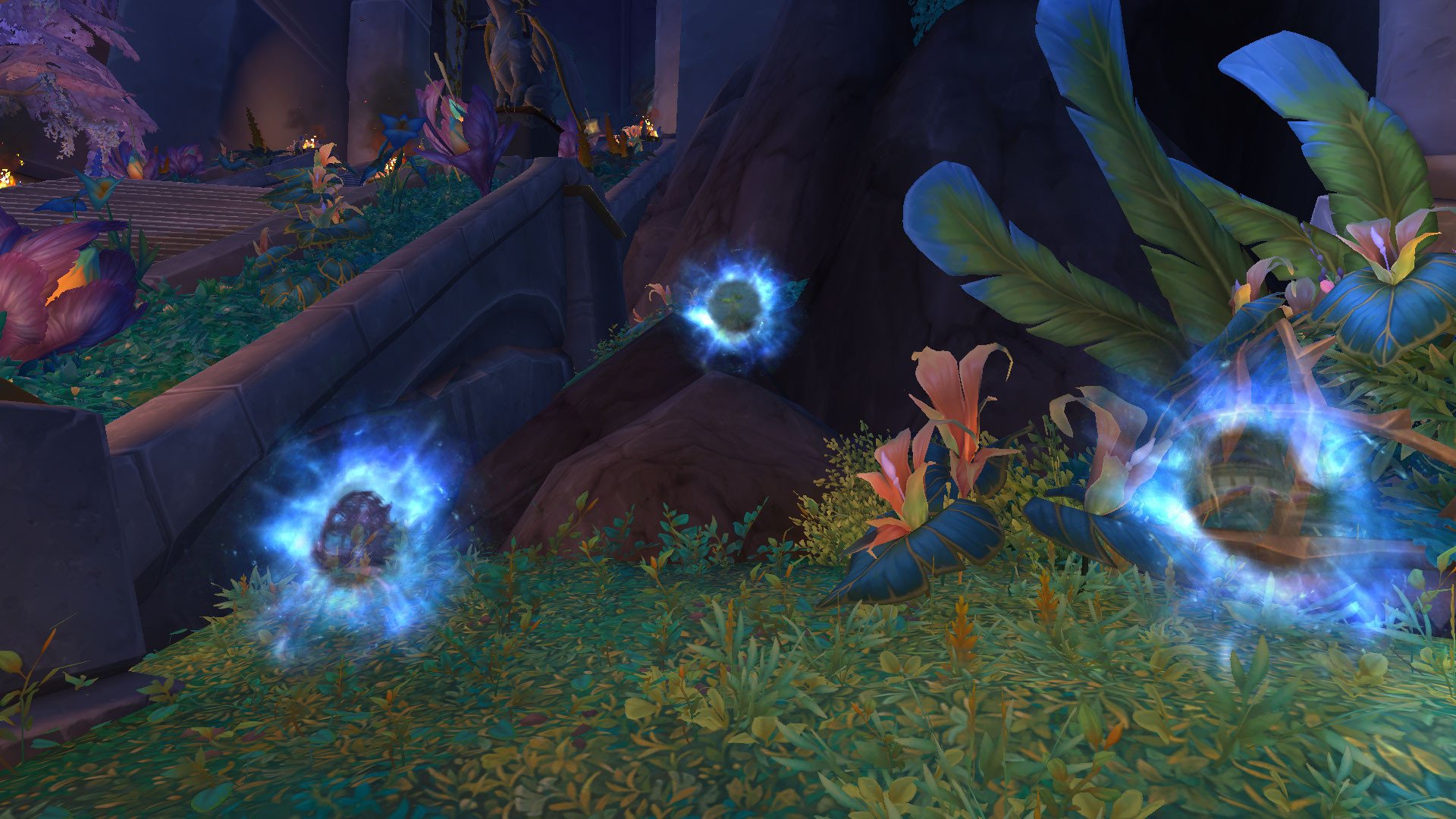 Mythic+ Affixes
What differs M+ dungeons from regular 5-people dungeons is weekly Affixes. These are special effects, which make enemies in dungeons stronger and apply unusual effects on them or players. Quite obviously, thus alone makes dungeons significantly more difficult. After the removal of Necrotic and Inspiring affixes now we have a 10 weeks Affix rotation. Below you will find a detailed information about all affixes presented in the Season 2.
Well, first off we have the two main affixies that will alternate every week for every Mythic Key starting from +2.
Fortified - increases the damage and health of all non-boss enemies in the dungeon by 30% and 20% respectively.
Tyrannical - increases bosses' health by 30% and damage by 15%. Tyrannical weeks are usually considered to be far more difficult than Fortified, so you better save your cooldowns for boss fights with this affix present.
Then we have two types of affixes, which will become an annoying part of your every day Mythic+ routine starting for 7+ and 14+ Keystone level:
7+ Affixies
14+ Affixies
Afflicted
This affix will periodically spawn

Afflicted Souls

during combat. These souls will commence casting Afflicted Cry, which will reduce

Haste

of all players by 100% for 10 seconds.

Afflicted Souls

possess a Cursed Spirit, Poisoned Spirit, and Diseased Spirit. Dispelling any one of these debuffs or healing the soul to its maximum health will halt its casting and cause it to disappear. The range of Afflicted Cry is 60 yards, and players can also avoid it by using line-of-sight tactics.
Spiteful
Summons a

Spiteful Shade

upon death of every non-boss enemy. These

Spiteful Shades

have a really strong melee damage (often nearly one-shotting players), but they quickly die by themselves, losing 8% of their HP per second. This affix requires careful crowd-control and dragging enemies away from attacking

Spiteful Shades.

Incorporeal
Throughout combat, this affix will periodically summon incorporeal beings that incessantly cast Destabilize, resulting in a 50% reduction in player damage or healing. These beings persist for 20 seconds before vanishing. The incorporeal beings belong to ALL mob types, hence crowd control abilities with mob type restrictions will work effectively on them. Attempting to interrupt Destabilize will only prompt an immediate recast.
Raging
Causing most of the non-boss enemies apply the Raging buff on themselves once they reach 30% of their health. This buff increases the damage done by 50% until death. We highly recommend utilizing some kind of enrage-dispel like Tranquilizing Shot (Hunter), Soothe (Druid), or Shiv (Rogue).
Volcanic
Causing Volcanic Plumes occasionally appear under players while in combat. After some time Volcanic Plume will deal damage and knock you into the air. Similar to the Storming affix. the more enemies you fight simultaneously, the more Volcanic Plumes will appear.
Bursting
As with the previous affix, this one can easily punish you for killing too many enemies at once. With this affix present, the majority of enemies will apply the stackable Burst debuff to the whole party upon death. This debuff deals Shadow damage-over-time, which scales up based on the current Keystone difficulty. The debuff is a magic effect and can and should be dispelled.
Entangling
During combat, Entangling spawns a plant underneath players, inflicting them with the Entangled buff and decreasing their movement speed by 30%. If a player moves 10 yards away from the plant, the vine will break, and the buff will be removed. However, if a player fails to move away from the plant within 8 seconds, the plant will stun them for 3 seconds. The Entangled buff can be dispelled by root-breaking effects like Blessing of Freedom or Tiger's Lust.
Bolstering
This affix activates when most of the non-boss enemies in the dungeon are defeated. Increases the damage of all nearby enemies by 20% and their health by 15%, stacking with every death, which sometimes results in an instant wipe if you just AoE a huge pack of enemies too quickly. This is a nightmare for PUG groups and widely considered to be one of the hardest affixes in Mythic+ pool.
Storming
With this affix enemies will create tornadoes in a frontal cone. If a tornado hits a player, he will receive damage and will be knocked into the air. With this affix present you should be very careful about pulling large groups of enemies. Also very annoying for melee players.
Sanguine
Causing enemies to leave

Sanguine Ichor

on the ground for 20 seconds upon death, which heals their allies by 5% of the maximum HP per seconds and damages players for 15% of their maximum HP per second. Also, the effects of multiple

Sanguine Ichor

pools are multiplied when they overlap each other. This affix requires a really strong AoE damage and careful tanking.
So, as you see, some affixes will be extremely difficult (while others not so much), especially on higher keys. It really takes a lot of planning and consideration to fight your way through some of the highest Keystones.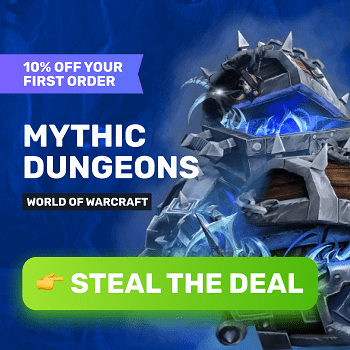 Mythic Score System
The developers did their best to make Mythic+ Dungeons a kind of competitive discipline, by adding a built-in scoring system, very similar to the PVP scoring system. Every completed dungeon will award you with some amount of Mythic Score points, based on Keystone difficulty and whether you manage to complete the dungeon within the timer or not. Note that Fortified and Tyrannical weeks will have separate ratings which later combine into your overall Mythic Score.
Aside from making your group finding way easier and allowing you to get better Valor upgrades for your M+ gear (more about that later), a high Mythic Score will also give you unique achievements (and, consequently, all related rewards). The rewards goes as follows:
So, how do you get this Mythic Score efficiently? This is really obvious: the higher the Keystone level you complete, the more Mythic Score you will get. Also, if you complete the dungeon within the timer, you will get an additional Score. Below you will find and example of how your Mythic Score is calculated:
Let us assume that you have completed, a dungeon on +15 Keystone level on Fortified week, thus receiving some

Mythic Score

(let us say 150, for example). However, at the next week you have decided to cut yourself some slack and did not complete this dungeon on the Tyrannical week.
At the same time, your friend has completed another dungeon on +10 Keystone level two times, on both Fortified and Tyrannical weeks.This gave him an overall

Mythic Score

200. So, you should always complete M+ dungeons on both Fortified and Tyrannical weeks if you want to gain Mythic Score quickly.
Also note that if you complete the same dungeon twice a week, first time on, day, +10 Keystone level, and the second time on +17, only ⅔ of your Mythic Score will be calculated based on the highest completed key. Completing dungeons within a timer also gives you more

Mythic Score.
Conclusion
Mythic+ Dungeons is perhaps the most popular end-game activity in the game. They offer overwhelmingly difficult PVE challenges and, at the same time, are far less time-consuming than more traditional raids. Considering that a Mythic Dungeon gear ilvl in WoW Dragonflight is usually comparable to those from raids, M+ Dungeons is a perfect way to experience the most interesting part of the game for a great number of players.
We hope that our guide to Mythic Dungeons was helpful for you. Be sure to check this article again when another big update is released to learn everything new about Mythic+ Dungeons.
F.A.Q.
How do I get my 2500 rating for Mythic Plus?
You will need to complete Mythic Plus Dungeons within the Dragonflight dungeons pool. To minimize the time in which you will get your Mythic Score, try to complete as high keys as possible. Completing them within a timer will also help a lot.
How to do Mythic Plus Dungeons?
Mythic+ Dungeons are not much different from regular dungeons in terms of overall gameplay feel (save that they are much more intense). If you want to get those Mythic Dungeon rewards, you must adjust your playing to current affixes and your party's composition.
How difficult is Mythic Plus?
This depends completely on what Key you want to complete and what the current week's affixes are. Usually, things get pretty difficult starting from 15 Keystone Level. Also, Tyrannical weeks are considered to be more difficult than Fortified.
What level of Mythic Plus should I be doing?
If your goal is to simply get some high M+ ilvl gear, then the highest Keystone you should aim for is 20. However, if you want to be among those few players who manage to met the requirements for Keystone Master and Keystone Hero achievements, your goal is to complete as high level Keys as possible. Sure, you will not have better Mythic Plus item level gear for, say, +25 Keystone level, but you will receive much more Mythic Score for a single dungeon.
Can you keep getting loot from Mythic?
Yes, you will continuously get gear from Mythic dungeons in WoW Dragonflight. You will be able to trade items you do not need to players in your party.
How many pieces of gear drop from Mythic plus?
In M+ dungeons your party will receive only two pieces of gear from the chest at the end of the dungeon. So, your chances of getting an item are roughly 20-30%.
How many dungeons are in Dragonflight?
There are eight new dungeons, introduced with the latest expansion:
Brackenhide Hollow;
Uldaman: Legacy of Tyr;
Neltharus;
Halls of Infusion;
Ruby Life Pools;
The Nokhud Offensive;
The Azure Vault;
Algeth'ar Academy.
However, not all of them will be available in the current Mythic+ pool. As stated above, only the following dungeons will be available for Mythic+ completion in Season 2:
Brackenhide Hollow;
Halls of Infusion;
Uldaman: Legacy of Tyr;
Neltharus;
Freehold (Battle for Azeroth);
The Underrot (Battle for Azeroth);
Vortex Pinnacle (Cataclysm);
Neltharion's Lair (Legion).
What WoW Dragonflight services do you offer?
Thousands of players have already used our WoW Dragonflight Boost services, which are perfect for anyone who want to achieve his in-game goals but just do not have the time to sacrifice for the sake of it. With us you can Buy WoW Gold, any kind of WoW Raid boost, fast, efficient, and safe WoW Powerleveling, and many more. Contact our Customer Support team if you want to ask any questions.