Fellow heroes, it has finally happened. The long-awaited Mage Tower challenge has returned in Dragonflight with the 10.0.5 patch. Just like in previous expansions, you are to face off against the same bosses. The game's developers have remained all 7 encounters unchanged. The same goes for the reward system, as you still can get Legion-themed transmog sets.
The only difference here is that everything happens in Dragonflight. It means you have an updated talent system, new equipment, and so on. You can try a variety of new tactics and strategies when fighting good old bosses. For that, you need to make your way to Deliverance Point and find War Councilor Victoria there. The easiest way to get there is to get yourself Dalaran Hearthstone. Then, you just need to fly on your mount from Dalaran to the required destination.
With so many specializations currently existing in the game, we have decided to focus on the Frost Mage Mage Tower Dragonflight guide. While reading it, you will learn everything you need to know about this spec's gameplay during the encounter. We will share BiS gear, talent builds, and the boss fighting strategy that works best.
IMPORTANT NOTE: At SkyCoach, you can also Buy WoW Boost at the lowest prices and with the fastest delivery. You can make your first purchase even CHEAPER if you find our special PROMO CODE (highlighted in green) hidden in this article and get a 20% DISCOUNT.
Frost Mage Mage Tower Challenge Info
When playing this specialization, you are to complete the Thwarting the Twins encounter. The latter consists of 3 stages and is considered one of the toughest ones in the game. The reason for this is that you will have various mechanics to counter and play around. During it, you will face off against two brothers, Karam Magespear and Raest Magespear. Both twins have a range of deadly abilities you need to learn.
Besides, you have no one to rely on during this challenge. In most cases, your success depends on how good you are at kiting. On top of that, you want to use your control abilities wisely during the third stage where you will be fighting both brothers simultaneously. Exactly, the challenge gets this hard when you reach the final phase. However, you need to defeat them one by one during the first two stages as a starting point.
To make your life easier, we have prepared the Frost Mage Mage Tower strategy that works best. Still, using it does not guarantee success. It may take you dozens of attempts before you finally complete the challenge. We are just trying to reduce the number of these attempts to a minimum.
If you wish to get your reward quicker and do not have spare time practicing, you can always order our Timewalking & Mage Tower Boost services. In this case, our professional players will take care of any encounter for you. The only thing left for you is to enjoy your loot and keep doing whatever you like.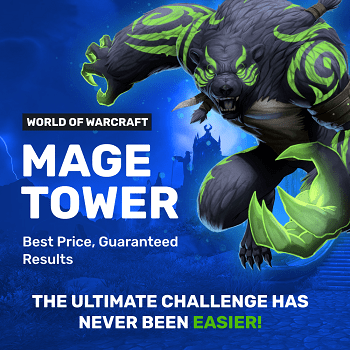 Best Gear for Frost Mage Mage Tower
Another huge difficulty during this encounter lies not only in the bosses you fight against. To make the challenge harder, the game's creators have implemented a few rules. Starting with your equipment, its ilvl gets lowered to 120. No matter if it is top-rank gear, the bonuses it provides you with are significantly decreased. The same goes for your character's level, as it gets downscaled to 45. All this makes you noticeably squishier during the battle and you do not want to get too much damage to avoid being wiped.
The only positive thing about these rules is that you do not actually need high-rank gear to complete the encounter. Your success depends on your personal skills and how well you perform while playing a particular specialization. BLOG20
To pass the Frost Mage Timewalking Mage Tower challenge, you need to practice a lot and work on your rotation. Besides, you want to focus on your main and secondary stats more than ever. In most cases, prioritizing Versatility and Critical Strike is recommended during the encounter. This lets you keep a perfect balance between taking and dealing damage.
If you are still hunting for Frost Mage Mage Tower gear, we have compiled the table for you. The latter mostly contains equipment pieces you can loot after defeating Raid and Mythic+ bosses. It is definitely not an easy task but no one makes you aim at the highest ilvl gear. Remember, completing this encounter is about skill, not high-rank armor or weapons.
Going for Mythic+ gear parts instead works perfectly as well. However, this will take you a ton of time and effort. In fact, you do not need this strong equipment to pass this encounter successfully. If you still wish to do this, you can always rely on our Mythic Carry services in case you are stuck at a certain level. Our professional players will clear out a dungeon of any difficulty for you. We offer fair prices and guarantee the result.
Moving further, we have another way to make your character more powerful. Of course, we are talking about Frost Mage Mage Tower Trinkets available out there. They not only provide you with extra secondary stat yet grant unique on-use abilities that help a lot in this battle.
To make your gearing up process easier and let you collect all the Raiding set pieces, we have prepared the solution just for you. Make sure to check out our WoW Raid Boost services to see how we can help you get the desired equipment parts. Also, you will no longer have to rely on your party members, as our professional players will do the job for you.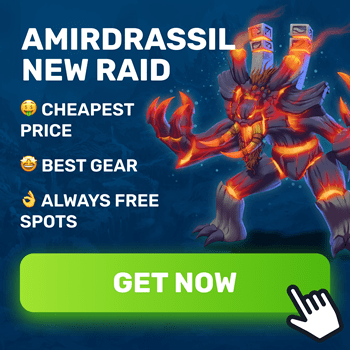 Frost Mage Mage Tower Best Enchants & Gems
Moving to the next paragraph of our Frost Mage Mage Tower guide, it is worth mentioning enchantments and gems you can use for additional stats. Despite being a relatively insignificant part of your equipment, they greatly increase your chances of winning this battle. Starting with the enchants, take a look at the table below.
Equipment Slot

Best Alternative

Provided Bonus

Weapon
Sophic Devotion
A nearly always go-to option, as it boosts your

DPS

potential by increasing your Intellect.
Cloak
Homebound Speed
Grants you extra

Speed,

which is what you need for effective kiting throughout the fight.
Chest
Waking Stats
Another passive source of additional

Intellect

allowing you to deal higher damage.
Bracers
Devotion of Speed
Just like the cloak's enchantment, this one provides you with extra

Speed.

Legs
Frozen Spellthread
A perfect choice for additional

Intellect

to deal increased damage in any situation.
Boots
Plainsrunner's Breeze
Greatly increases your

Speed

stat to kite an enemy easier and move around the platform quicker.
Ring
Devotion of Critical Strike
Grants you a bunch of

Crit

influencing your

DPS

potential.
This enchantment choice represents a perfect combination of damage-dealing potential and utility. You can move around the arena quicker while dealing increased DPS. In most cases, it will work better than any other alternative you can think of.
Up next, we have the Frost Mage Mage Tower recommended gems to discuss. We have the following list that includes such items as:
To be able to purchase any in-game item you need, you need gold. All the available sources for getting it are too time-consuming and simply boring. Instead of endless farming and grinding, you can Buy WoW Gold with our company's help. We guarantee the fastest delivery time, your server does not matter. On top of that, we offer fair prices and provide cashback on all orders you place.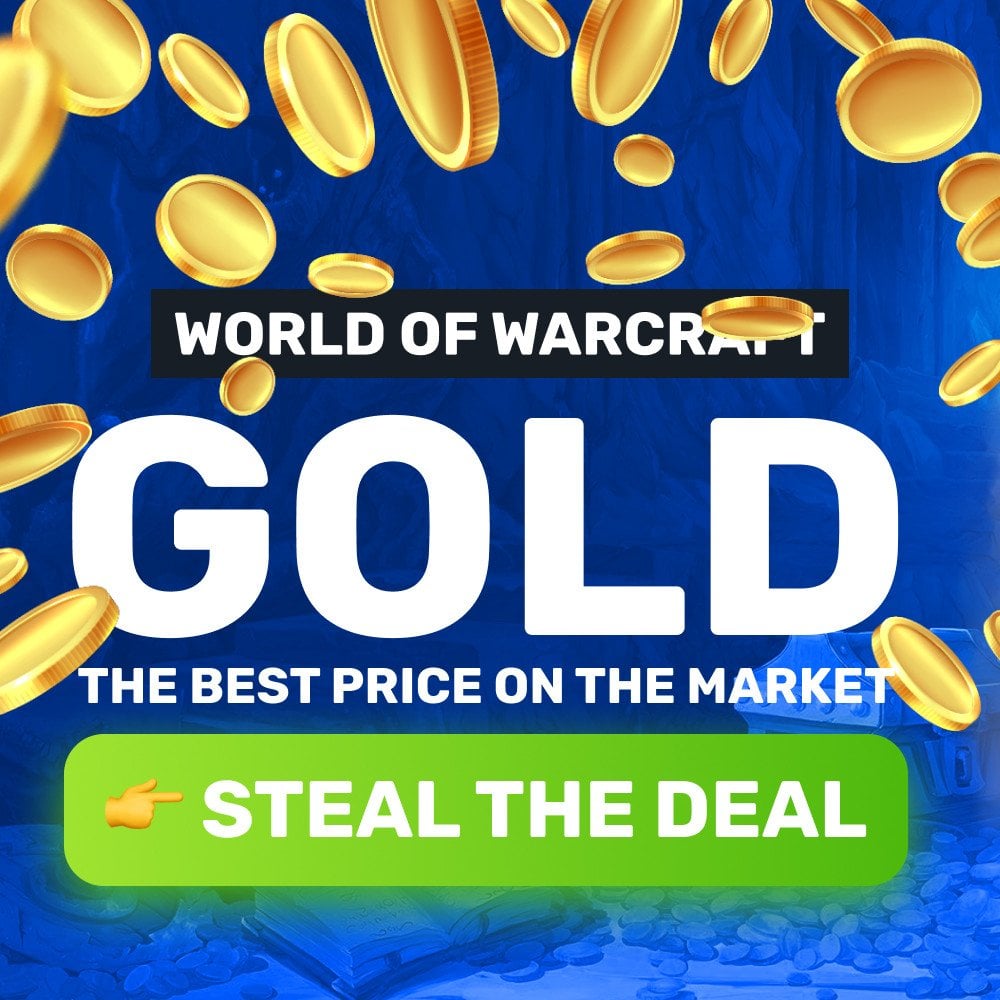 Frost Mage Mage Tower Best Consumables
Another step of your preparation for the fight includes buying or crafting certain consumables. They greatly increase your chances of outbattling the boss, as they boost your main and secondary stats. On top of that, some of them help you soak more damage and stay alive longer. Check out the following list to find what items suit you best for this battle:
Frost Mage Mage Tower Best Talent Build
Another indispensable part of your success in this challenge is a properly-chosen talent build. Luckily, the Dragonflight expansion allows players to experiment and create new varieties that were unavailable before. The following Frost Mage Mage Tower 10.2 talent build balances between single-target and AoE damage. It works fine in most cases but you can feel free to change it according to your playing style.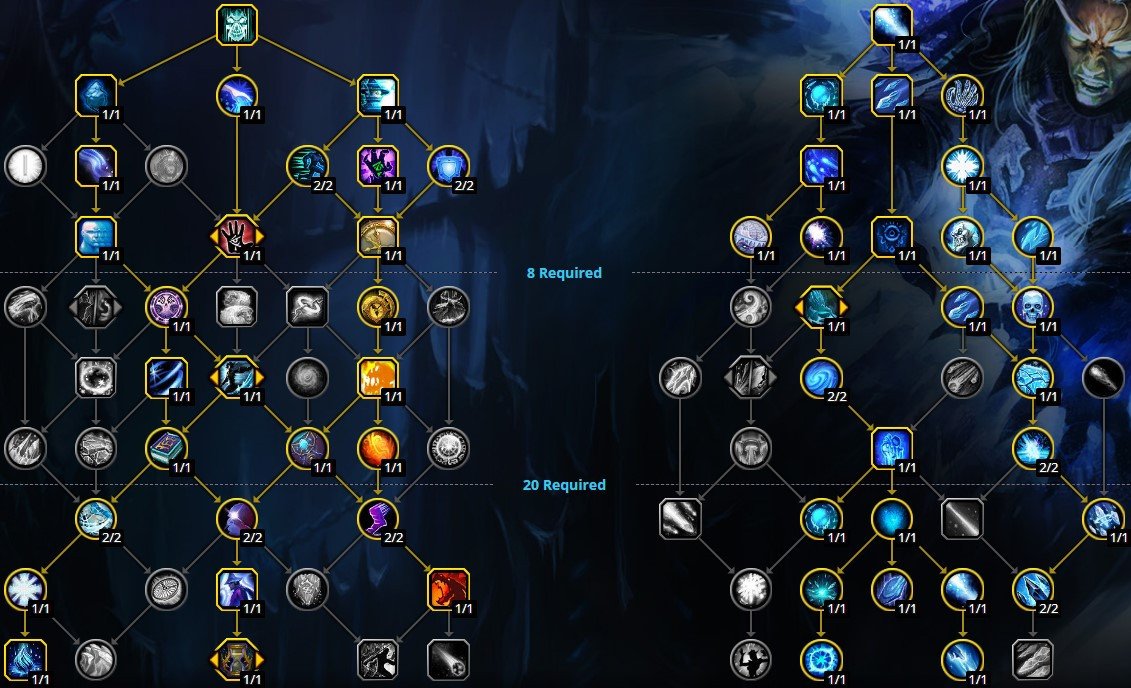 To export this build directly into your game, copy the following code:
BAEAAAAAAAAAAAAAAAAAAAAAAIJEhWiESSDIlkIiISCAAAJJJRIRSSikSSSCAAAAAAAAAAJ
We cannot single out any particular talents, as they all complement each other. Therefore, we highly recommend that you get your character to the level's cap before attempting to pass the encounter. To speed up this process, you can use WoW Powerleveling services. In this case, our professional players will get your character boosted in a blink of an eye.
Karam and Raest Magespear Fight Strategy
To make your life easier and let you learn the bosses' mechanics quicker, we have would like to share several Frost Mage Mage Tower tips you can use during the battle. Following them significantly increases your chances of completing the encounter with fewer attempts.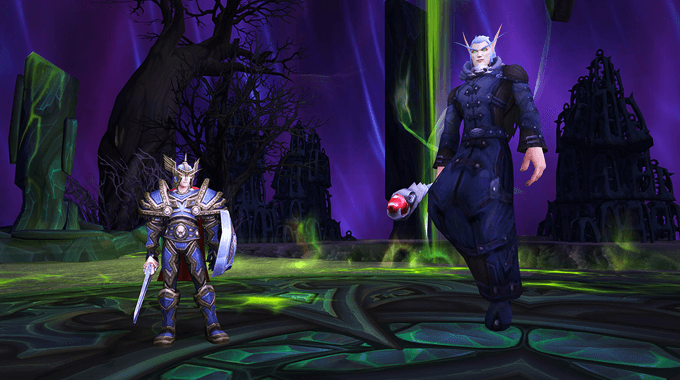 Starting with the matchup general info, you are not going to fight both brothers simultaneously. Not from the beginning of the battle. The first enemy you are to deal with is Karam Magespear who is chasing you around the arena trying to hit you with his Rising Dragon. Luckily, with a ton of slow and CC you have, it is unlikely you are going to take that damage.
The entire Stage 1 revolves around kiting Karam around the platform while dealing the highest damage possible. Though, make sure to save your most important cooldowns for the next phase. After you get his HP pool to as low as 33%, he will begin channeling Purgatory and gain immunity to any damage type.
During Stage 2, you are to face off against Raest Magespear. The latter constantly casts Shadow Bolt and you have no other option but to soak the incoming damage from this spell. However, it possesses no danger to your life, unlike his Hand from Beyond. This mob should be instantly killed before it finishes its Grasp from Beyond cast. If you fail to do this, meet your wipe and start again. Your primary goal is to get the boss' HP pool to 60% to get to the final phase.
Once Stage 3 begins, you are to deal with both twins at once. The tactic is quite straightforward, as you need to kite Karam and use your Frostbolt to keep him slowed while dealing all damage possible to Raest. The only problem here is you also need to get rid of Rune of Summoning that will randomly appear around the platform. If you cannot do this on time, you will face off against Thing of Nightmare. The latter will wipe you if a few hits. Therefore, you do not want it to be summoned no matter what happens.
Keep in mind that killing Raest is enough to finish the challenge. So, it is your primary goal to focus him during the final stage. Answering the question of how to do the Mage Tower as Frost Mage, you want to use your slowing tools effectively and focus the right target to complete the encounter quicker. The longer it lasts, the faster Karam starts running.
If you wonder if a Frost Mage Mage Tower nerf can happen, just forget about it. This spec does not seem to be too strong at all. In fact, it has been buffed in the 10.0.5 patch, as it performed relatively weakly after the Dragonflight launch. So, it is high time to try out this spec and get the challenge done.
Frost Mage Mage Tower Rewards
After completing the encounter, you will be teleported to your initial location. Once you are there, you will be rewarded with a unique Frost Mage Mage Tower appearance that you can see in the screenshot below. No doubt, it looks amazing and seems like a perfect reward for your efforts.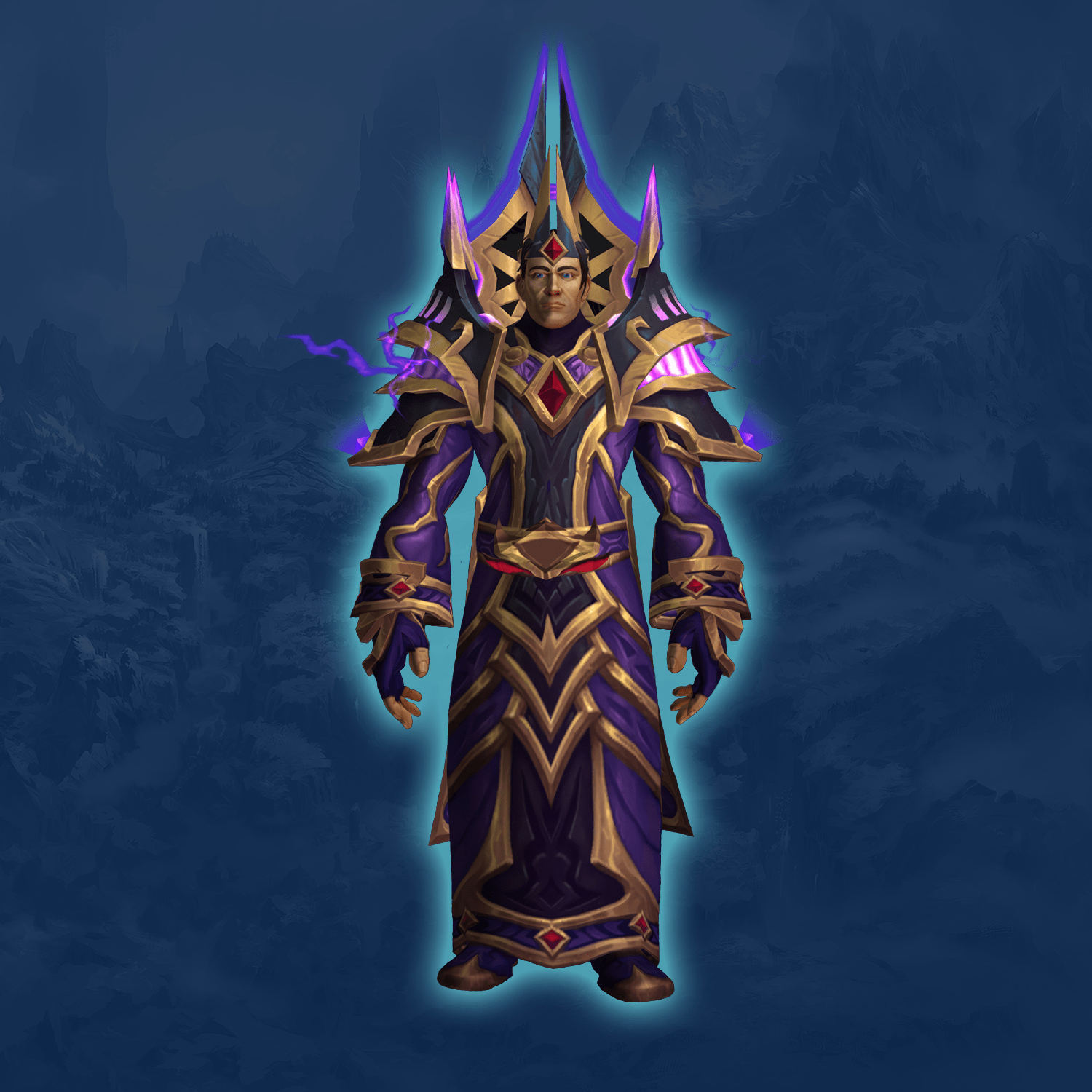 If you keep defeating bosses from other challenges as well, you will eventually receive Soaring Spelltome. The latter represents a ground mount you can use to soar over the ground. It looks like an open book your character stands on.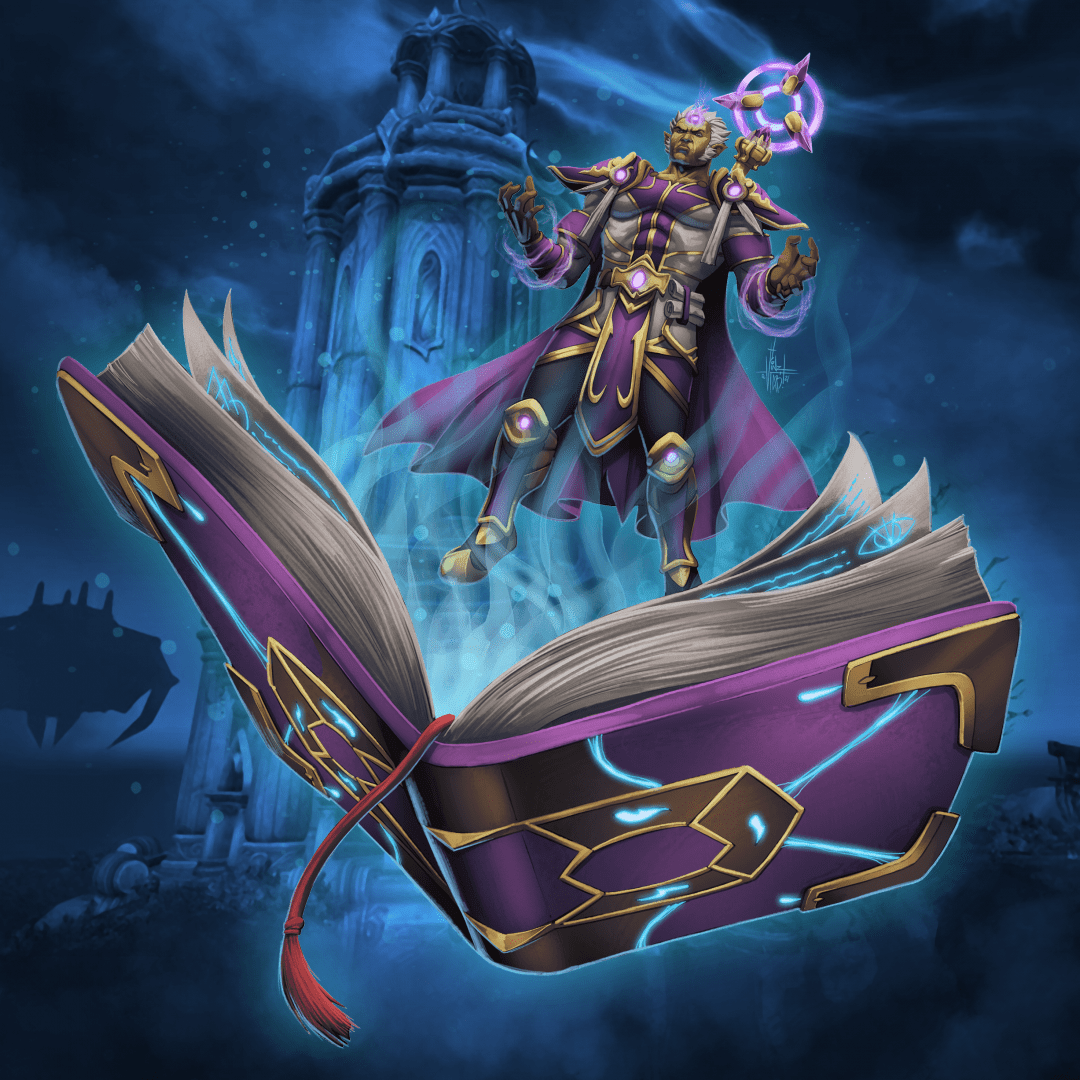 If you cannot wait to get all the rewards, you can always rely on us. By ordering our World of Warcraft Boosting service, our professional players will deal with any boss for you. The only thing left for you is to enjoy the deserved rewards and keep exploring the Dragon Isles.
SkyCoach Boosting & Coaching Services
While reading the article, you have already got acquainted with a few of the services we provide for WoW players. This list is far from complete, as we offer help practically with any in-game situation you can find yourself in. At SkyCoach, we try hard to let you experience the games you like in a new way.
The range of our services is not limited to World of Warcraft only. By checking our website, you can find dozens of other online titles we work with. If you wish to place an order, make sure to contact our 24/7 support. Our specialist will gladly answer any questions you have and describe the essential order details.
To make your experience unforgettable, we offer a 5% cashback on all orders you place. Besides, we do our best to complete your order in the shortest time possible. No matter how difficult it is, we have you covered.
Final Words
This marks the end of our guide. We hope you have learned a lot about the Frost Mage gameplay and are now ready to accept the fight. Make sure to stay with us, as we will keep updating this article if any changes occur.
F.A.Q.
What reward do Frost Mages get from Timewalking Mage Tower?
In most cases, you want nothing but a class-specific transmog set. The latter changes your character's appearance and serves as proof of slaying the boss.
What are the best Frost Mage talents for Mage Tower?
Everything that slows down a melee-range boss works great. To see the entire build we have prepared for you, check the separate paragraph to see the screenshot.
How do you increase damage as Frost Mage in Mage Tower?
As a damage-dealing specialization, you have a ton of tools to deal maximum DPS. You do not need to do anything special for that. Just master your rotation before getting into the fight.
Is Frost Mage good for Mage Tower?
After a recent buff, it has become a pretty solid specialization to play. Therefore, you can safely choose it to complete this challenge.