After reading this guide, you will pass the Holy Paladin Mage Tower Dragonflight encounter with minimum attempts and effort. We will share all the most crucial tips and tricks you can use to make your walkthrough easier. This article includes information about BiS gear, the optimal talent setup, and more. Make sure to read it to the end to become a true master of this specialization and get much-desired rewards.
Holy Paladin Mage Tower Challenge Info
Being a healer, you are to complete a particular encounter. To begin it, you need to find War Councilor Victoria. She is waiting for you at Deliverance Point, which is a 2-minute flight from Dalaran. Getting there can be even easier if you have Dalaran Hearthstone, which immediately teleports you to the city. After you have reached the required destination, talk to the NPC and you will be teleported to a special arena.
A healer-oriented challenge is called End of the Risen Threat and can be roughly split into 7 phases. Since you cannot deal enough damage on your own, you will have three AI NPCs acting as your allies. By clearing out all stages full of annoying adds, you will finally face off against Lord Erdris Thorn. The latter is the main foe you need to deal with to complete the encounter.
Since the encounter is aimed at testing your healing abilities, you need to keep Commander Jarod Shadowsong, Granny Marl, and Callie Carrington alive at any cost. Otherwise, you will have to give it another shot and start from the very beginning. While doing it, you should be able to deal damage as well since relying on your AI allies is not the best idea.
Being one of the toughest and long-running encounters, it may take you over hundreds of attempts to complete it. However, we have prepared the Holy Paladin Mage Tower strategy to ensure you do this ASAP. You can find it toward the end of the article.
If you do not have time to practice and simply wish to get the rewards right away, we have the solution for you. Check out our Timewalking & Mage Tower Boost services where our pros complete any encounter for you. We offer the best market price and guarantee the fastest result.
IMPORTANT NOTE: At SkyCoach, you can also Buy WoW Boost at the lowest prices and with the fastest delivery. You can make your first purchase even CHEAPER if you find our special PROMO CODE (highlighted in green) hidden in this article and get a 20% DISCOUNT.
Check out some of our most popular
WoW Boosting services

below:
Best Gear for Holy Paladin Mage Tower
Being an old-expansion activity, the Mage Tower already has a set of rules all players must follow. These restrictions are necessary to make all the participants more or less equal while taking part in the encounter. Beginning with your equipment, its ilvl is temporarily decreased to 120 while you are present in the arena. The same goes for your character's level since it is downscaled to 45.
Unlike in other PvE activities, you cannot rely on your top-rank gear here. Instead, you should perform extremely well when playing a particular specialization. This concerns how well you know your spec's mechanics and core abilities. Without that, you will not be able to pass the Holy Paladin Timewalking Mage Tower challenge for sure.
To make your life a bit easier, you are to follow the correct stat priority. In most cases, you want to focus on Haste, Versatility, and Mastery stats. On top of that, you choose Intellect over anything else, as it is your primary stat. The latter boosts your damage and healing done. Therefore, it is your priority for any type of content and the Mage Tower is not an exception.
If you still have not decided on what Holy Paladin Mage Tower gear to wear, we have you covered. Down below, we have compiled the table containing the strongest equipment parts you can get from Raid and Mythic+ bosses. Despite being extremely powerful, these items are not a must-have thing to complete this encounter successfully. You can use practically any equipment if you follow the correct stat priority. BLOG20
If you prefer Mythic+ content instead, you can use the equipment you collect from dungeons. To speed up this process, you can always rely on our Mythic Carry services. In this case, our pros will clear out a dungeon of any difficulty for you. This will take a minimum time and you will receive the desired loot in a blink of an eye.
Using the correct Holy Paladin Mage Tower trinkets can also boost your damaging and healing potential. Besides, they act as a great source of main and secondary stats. On top of that, they provide you with unique on-use abilities that can help you in battle.
Getting all the mentioned items requires you to spend a lot of time Raiding. If you are never lucky with a team or simply have no time for this activity, we have you covered. By ordering our WoW Raid Boost services, you can be sure our pros will slay any boss for you. This is a great chance of receiving the loot you need without spending 3-4 hours trying to complete another raid.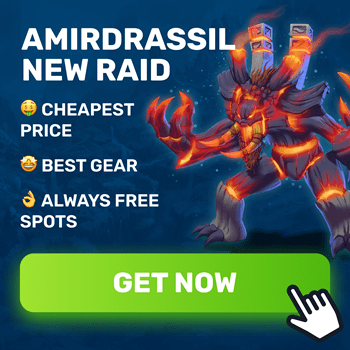 Holy Paladin Mage Tower Best Enchants & Gems
The following paragraph of our Holy Paladin Mage Tower guide includes information about enchantments and gems you can wear to complete this encounter easily. They act as a great source of main and secondary stats. As a rule, players specializing in Enchanting and Jewelcrafting can create them on their own. However, you can always buy them at the Auction House if you have enough gold.
Equipment Slot

Best Alternative

Provided Bonus

Weapon
Sophic Devotion
Can greatly boost your

Intellect

stat if the effect procs.
Cloak
Regenerative Leech
The

Leech

stats lets you heal for a bit if you restore an ally's

HP.

Chest
Waking Stats
Passively increases your

Intellect

stat, which can never be extra.
Bracers
Devotion of Leech
This enchant works in the same way as the cloak's does.
Legs
Temporal Spellthread
Noticeably boosts your

Intellect

stat and increases your maximum

Mana

pool.
Boots
Watcher's Loam
Provides you with extra

Stamina

enhancing your survivability rate.
Ring
Devotion of Haste
A great source of additional

Haste,

the stat you value over any others.
Adding a few words concerning Holy Paladin Mage Tower recommended gems, the choice is usually obvious and looks as follows:
As we mentioned earlier in this paragraph, purchasing all the required stuff can be expensive. At the same time, the process of farming gold can hardly be called exciting. To skip this routine step, you can Buy WoW Gold with our company's help. We guarantee the best market price and are ready to deliver in-game currency to any server you order.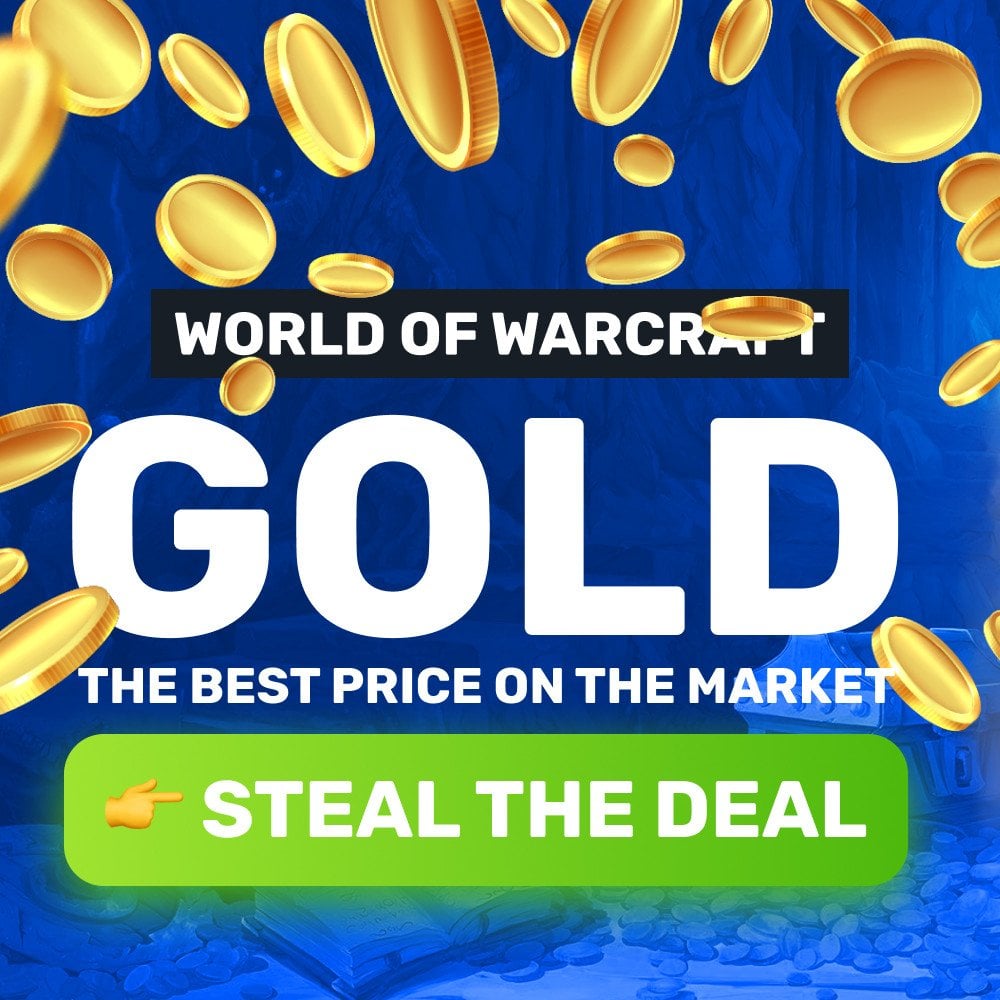 Holy Paladin Mage Tower Best Consumables
With properly chosen consumables, your chances of achieving victory radically increase. This axiom has always worked like this and the Dragonflight expansion has not become an exception. In most cases, buying everything you need at the Auction House is more convenient than crafting it yourself. Down below, we are going to share the four strongest consumables you cannot go without during this challenge:
Holy Paladin Mage Tower Best Talent Build
With the completely renewed talent system presented in Dragonflight, the game's developers have opened new frontiers for players who love to experiment. Nonetheless, not all of the possible builds are equally good for this encounter. If you do not have the slightest idea what setup to try, we have prepared the optimal Holy Paladin Mage Tower 10.2 talent build for you. It suits any playing style and usually performs well enough for players of all levels.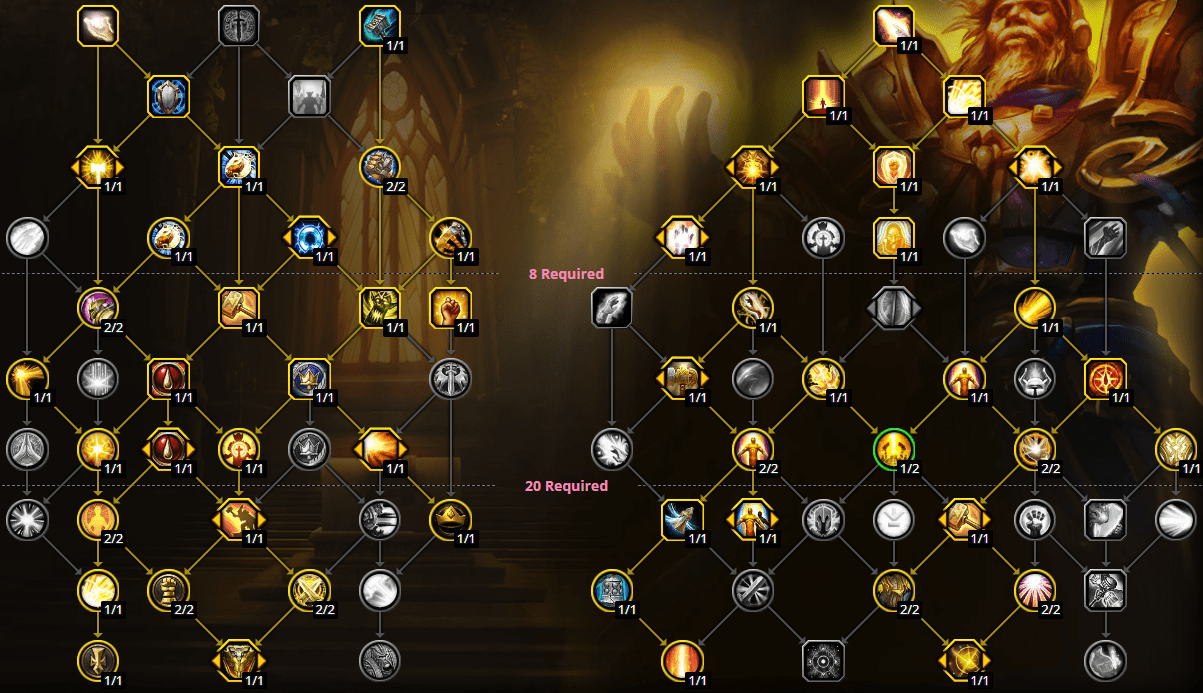 You can export this setup directly into your game by copying the following code:
BEEAAAAAAAAAAAAAAAAAAAAAAAAAAAAgEAAAAAAAlIkQJSiSTkiEOQJBpFS0QkkiESSUSJJBNpEB
Gaining access to all the talents you see in the screenshot above requires you to be level 70. Without reaching the level's cap, you are not likely to complete this encounter. If you wish to speed up this process, you can always rely on our WoW Powerleveling services. Our pros will gladly boost your character to the maximum level ASAP.
Lord Erdris Thorn Fight Strategy
This section of the article includes the most helpful Holy Paladin Mage Tower tips, which you can use to pass the encounter with minimum attempts. Since the challenge consists of 7 stages, we are going to describe every one of them in detail. Luckily, not all of them revolve around mob fighting. During a few phases, you can actually have a rest to restore HP and Mana before moving further.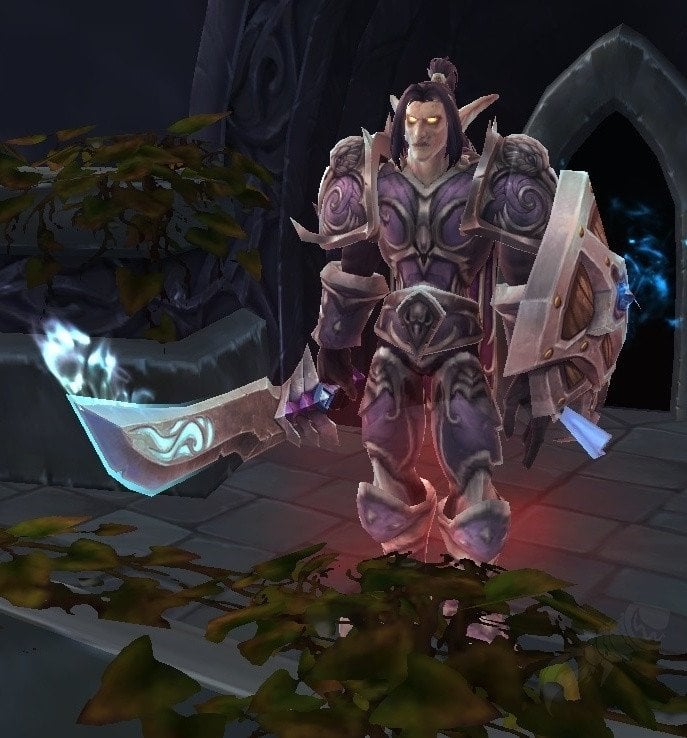 After you finish reading this section, you will know how to do the Mage Tower as Holy Paladin for sure. We will provide you with a detailed description of every mob you are going to face off against. On top of that, you will learn more about the boss' talents and mechanics you need to be able to counter.
This phase is simple yet annoying at the same time. You will have to defeat Corrupted Risen Arbalest, Corrupted Risen Mage, and Corrupted Risen Soldier. None of their abilities can be called too dangerous. The only exception here is Mana Sting, which is cast by arbalests. It drains your Mana yet can be dodged if you get behind your ally.
This phase is a restoration one. During it, you can wait for your HP and Mana to replenish and then keep going forward. This is also a great opportunity to take your time and let your core abilities refresh.
Here, things get a bit tricky. At first, you will face off against Flickering Eye and Unstable Fel Orb, which are both relatively easy to kill. They have no deadly spells or unusual mechanics to play around. Then, you will fight Panicked Soul and Damaged Soul, each having annoying mechanics to be aware of. The first mob should be dispelled before it scares you. As for the second one, you are to heal it or it will die and transform into a more powerful foe.
This is another restoration phase where you can take your time before moving further. Use it to replenish HP and Mana, as well as to refresh main abilities' cooldowns.
This stage is aimed at testing your healing abilities, as you need to heal every Damaged Soul that will try to reach the boss. You need to do this to make your next phase easier.
Here, you will have to face off against every Damaged Soul you have not saved. However, it is going to be in its more powerful form. If you managed to heal all of them during the previous stage, you will move to the final one.
When fighting the boss, your priority is to keep the allies alive. Remember, you will have to start the encounter from the beginning if any of them dies. This is definitely not what you want to see after you have made it to the last stage. Make sure you dodge the boss' leap since it deals a ton of damage. It also leaves a large fel patch on every part of the arena he leaps onto.
His Ignite Soul ability is probably the most annoying talent you can find in the game. It can ruin your walkthrough completely if not countered properly and timely. This spell deals damage to your allies equal to your current HP. To avoid a wipe, you need to stand on the fel patch during the 9-second cast to reduce your HP. Otherwise, all your allies will die guaranteed.
Being a mediocre specialization, Holy Paladin Mage Tower nerf is definitely not expected in the nearest future. However, you should give it a try if you enjoy this spec's playing style.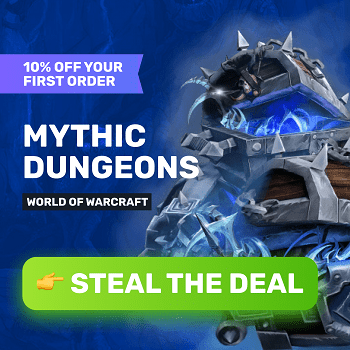 Holy Paladin Mage Tower Rewards
Slaying the final boss ends the encounter. After that, you will be returned back to your original location. There, you will receive a unique Holy Paladin Mage Tower appearance, which you can see in the screenshot below.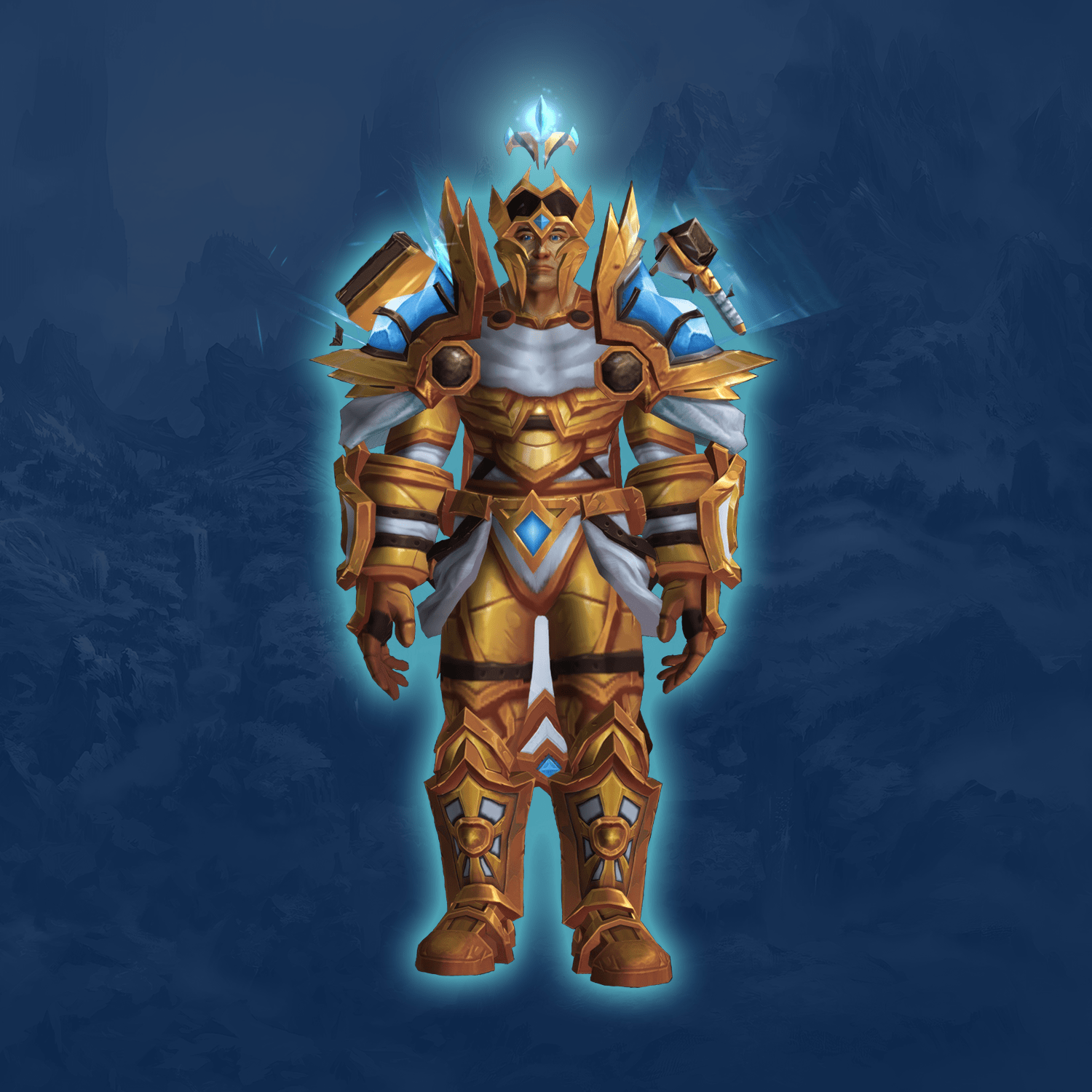 If you are a truly skillful player, you can try to complete all 7 encounters currently available. In this case, you will receive the Soaring Spelltome mount. The latter is a special mount, which you can get only in this activity. It looks like an open book your character stands on to fly over the ground.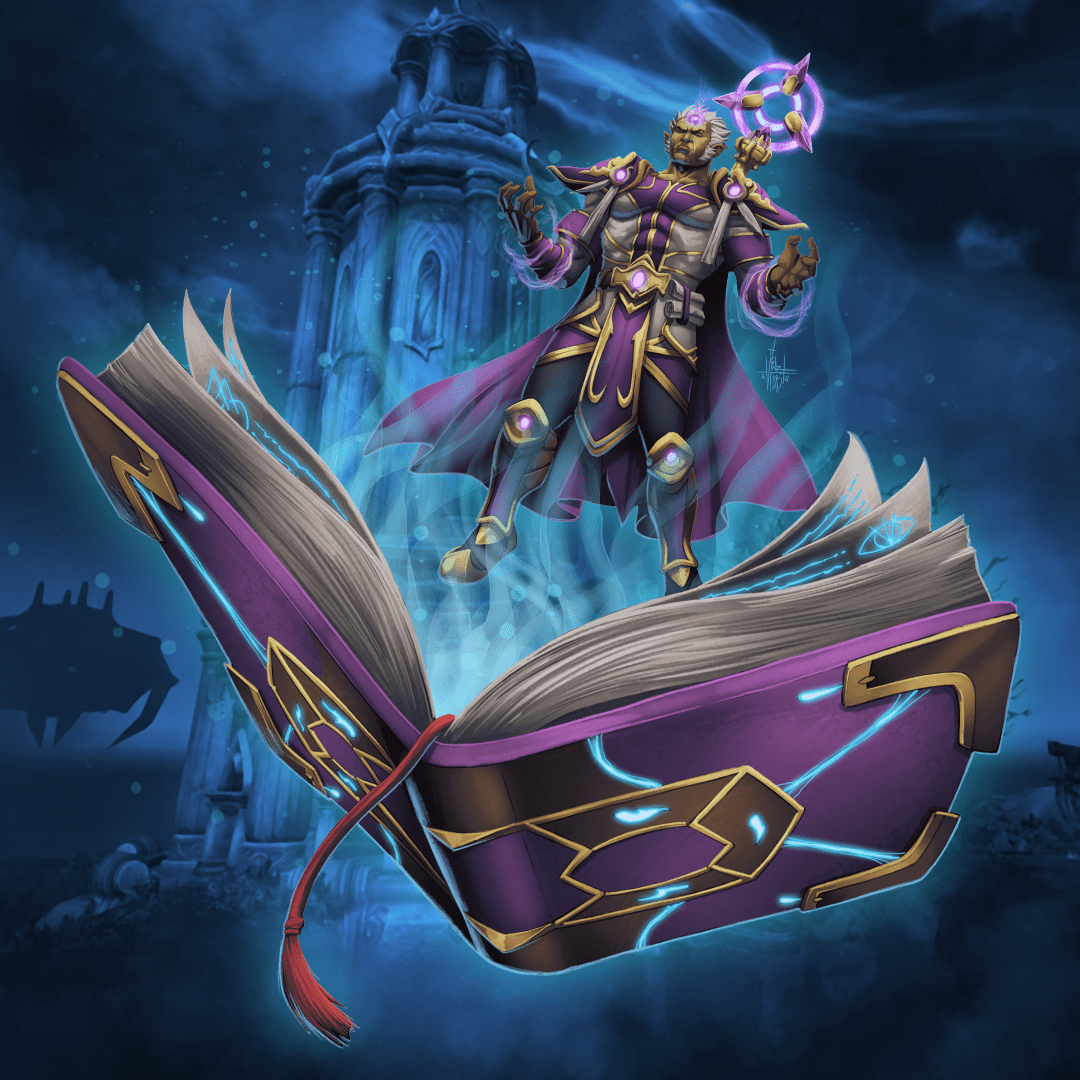 Completing all the encounters may take weeks if not months. If you wish to get the desired rewards right away, we have the solution for you. Check out our World of Warcraft Boosting services where our pros will gladly help you pass any challenge. We guarantee the fastest completion time and offer reasonable prices.
SkyCoach Boosting & Coaching Services
For over 5 years, the SkyCoach team does its best to help players throughout the world enjoy the games they like. We help people experience World of Warcraft and other online titles in a new way. With a large range of boosting and coaching services provided, you can always rely on us. No matter what in-game situation you face, we can make it up for you.
To ensure you get the best service, we offer a 5% cashback on all orders you place. On top of that, we arrange various sales to help you save a penny. If you have any questions concerning your order or wish to place one, you can always contact our 24/7 customer support service. Forget about endless grinding and farming. Remember, we try hard to let you enjoy the game as it is.
Final Words
Fellow heroes, this brings us to the end of our guide. We hope you have had a fun time reading this article and learned a lot about this exciting in-game activity. Make sure to stay with us, as we will keep updating this guide if any changes occur.
F.A.Q.
What reward do Holy Paladins get from Timewalking Mage Tower?
After you are done with the final boss, you will receive a class-specific transmog set we mentioned earlier.
What are the best Holy Paladin talents for Mage Tower?
All of your talents work in a combination with each other. Therefore, you need to use a particular talent build. For example, you can try the one we described in a separate paragraph of our article.
How do you increase damage as Holy Paladin in Mage Tower?
This is definitely not your priority during this encounter. Instead, you should focus on healing your allies.
Is Holy Paladin good for Mage Tower?
It is a reliable healing specialization, which deserves your attention. You should give it a try if you enjoy its playing style.