Greetings to all nature enthusiasts! Are you looking to dominate in World of Warcraft as a Restoration Druid? Look no further than our comprehensive Restoration Druid 10.1 healing guide, which covers every aspect of playing as Resto, including abilities, talents, equipment, consumables, and ways to improve. Whether you're a seasoned veteran or a newcomer to the specialization, our guide has something for everyone. We encourage new players to read the guide from beginning to end to get a thorough understanding, but experienced players can also jump to the section that interests them the most. Let's embark on this journey together and become unstoppable in the game!
Restoration Druid Pros and Cons
Every World of Warcraft specialization has its own set of strengths and weaknesses, and the Restoration Druid is no exception. It's crucial to understand these aspects early on, especially if you plan to switch to the Restoration specialization.
Restoration Druids are a formidable class that should not be underestimated. They have several advantages that make them a force to be reckoned with, including:
An impressive array of impactful cooldowns, including Tranquility, Incarnation: Tree of Life, and Flourish.
The ability to concentrate healing-over-time effects on a single ally, resulting in

excellent single-target healing

.
Extremely

high mobility

with additional mobility cooldowns, ensuring strong sustained healing even while on the move.
Committing to dealing damage can result in

good damage output

.

Outstanding survivability

making it a formidable healer.
However, it is worth noting that the Restoration Druid specialization also comes with a few drawbacks.
Requires significant setup

and precise timing of cooldowns to maximize throughput, which can be challenging in certain situations.
Less equipped to handle

unpredictable burst damage

and spot healing.
Lacks a raid-wide

damage reduction

cooldown, which can be a significant disadvantage in group settings.
To fully explore the full potential of any specialization in World of Warcraft, it's crucial to play it at the maximum level. However, the prospect of starting from scratch and leveling up to level 70 can be overwhelming and time-consuming, especially for those who don't already have a Restoration Druid at that level. Luckily, there's a simple and effective solution available. Our Dragonflight Leveling 60-70 service can help you level up your character quickly and efficiently. Our team of expert players will take your character and level it up to the cap, so you don't have to spend countless hours grinding on your own. Our prices are reasonable, and we guarantee successful results.
Restoration Druid Basics
The Restoration Druid class specializes in the use of Healing Over Time spells (HoTs), making them experts in preemptively applying healing spells to allies in anticipation of incoming damage. In response to actual damage, they can then utilize a range of healing spells and cooldowns. The class's arsenal of HoTs is especially useful for healing a large number of dispersed allies or focusing their efforts by stacking multiple HoTs on a few select targets, which allows them to adapt to different types of challenges. Additionally, the class places significant emphasis on shapeshifting, particularly in dungeon and Mythic+ environments.
Core Restoration Druid Abilities
As a Restoration Druid, you rely solely on Mana as your resource to cast healing spells. It's critical to manage your Mana effectively during each encounter to ensure you can heal competently throughout.
It's essential to keep in mind that the list of abilities mentioned earlier is not exhaustive. Players should take the time to review their spellbook thoroughly, acquainting themselves with additional rotational skills and cooldowns and understanding when to use them effectively. While practicing on target dummies can be useful, it's essential to eventually take on more challenging content.
Mythic+ dungeons are an excellent way for players to put their skills to the test while also earning valuable gear. However, running these dungeons with random groups can often be stressful and negative, particularly for healers who are attempting to gear up and improve their M+ score. Fortunately, there's a solution to this problem. By utilizing our Mythic Carry services, you can team up with our professional players, who will successfully clear any Dragonflight dungeon for them. This not only ensures success but also provides you with valuable gear and a boost to their M+ score, significantly benefiting them in future adventures.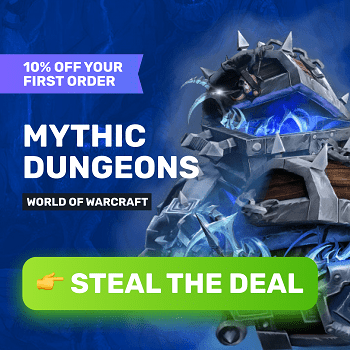 Restoration Druid Stat Priority
Let's now shift our focus to the Restoration Druid stats. If you are playing as a Restoration Druid, then you should prioritize maximizing your Intellect, as it is the primary stat for your class. However, it is also important to consider the benefits of secondary stats.
For instance, Critical Strike can increase the healing done by your spells, with its chance to double the healing output. As a Restoration Druid, Crit is not too random because there are plenty of healing events that balance it out over the course of a fight.
Haste, on the other hand, can help decrease the cast time of your spells, add more ticks to your HoTs (heal over time spells), and reduce the Global Cooldown (GCD). While Restoration Druids do not use many cast time spells, the added HoT ticks and GCD reduction make Haste a valuable stat for them.
Additionally, Mastery can give you additional healing on the target for every HoT that is active on them, even with just one HoT on the target. Since Restoration Druids have a variety of HoTs in their kit, Mastery can be particularly useful, especially in smaller group content.
Finally, Versatility can provide a linear gain in both outgoing healing and damage, while also reducing the damage taken. In terms of overall value, Versatility is generally similar to Crit chance. All in all, this stat priority is a reliable and effective choice for Dragonflight in the current state of the game:
Item Level;
Haste;
Mastery;
Versatility & Crit.
This guide serves as a valuable reference for determining whether or not an item is an upgrade for your character. However, as you progress and gain more experience, it is recommended to use a character simulator to determine the precise value of an item's stats. This is because the importance of each stat can change as you acquire new gear, and a character simulator can provide an accurate assessment of an item's true value.
While character simulation is the most accurate way to evaluate upgrades, in most cases, prioritizing higher item level gear will suffice. However, it is still beneficial to occasionally review your stat priority to ensure that you are equipping items that align with your preferred playstyle. By doing so, you can ensure that you are making the most of the gear available to you and maximizing your character's potential.
Best Restoration Druid PvE Builds
Dragonflight has recently implemented an upgraded talent system that allows for more character customization and the creation of multiple builds. This new system offers greater flexibility for different encounters and encourages players to experiment, which is what the developers had in mind.
By using the talent builds presented below and saving them in your templates, your Restoration Druid will be well-prepared for any situation that arises in World of Warcraft. However, it's important to remember that success doesn't solely rely on having the right talent build. In a world where raid queues can be lengthy, fellow players may suddenly leave a group, and PUG experiences can be frustrating, success often hinges on teamwork. If you're looking to make faster progress, we offer a range of Dragonflight Boost services that can meet your specific needs.
Restoration Druid Raid Build
This particular raid build is considered to be the standard and highly recommended one for all players. It can effectively counter any type of damage pattern, is very adaptable, and offers plenty of opportunities for powerful burst windows.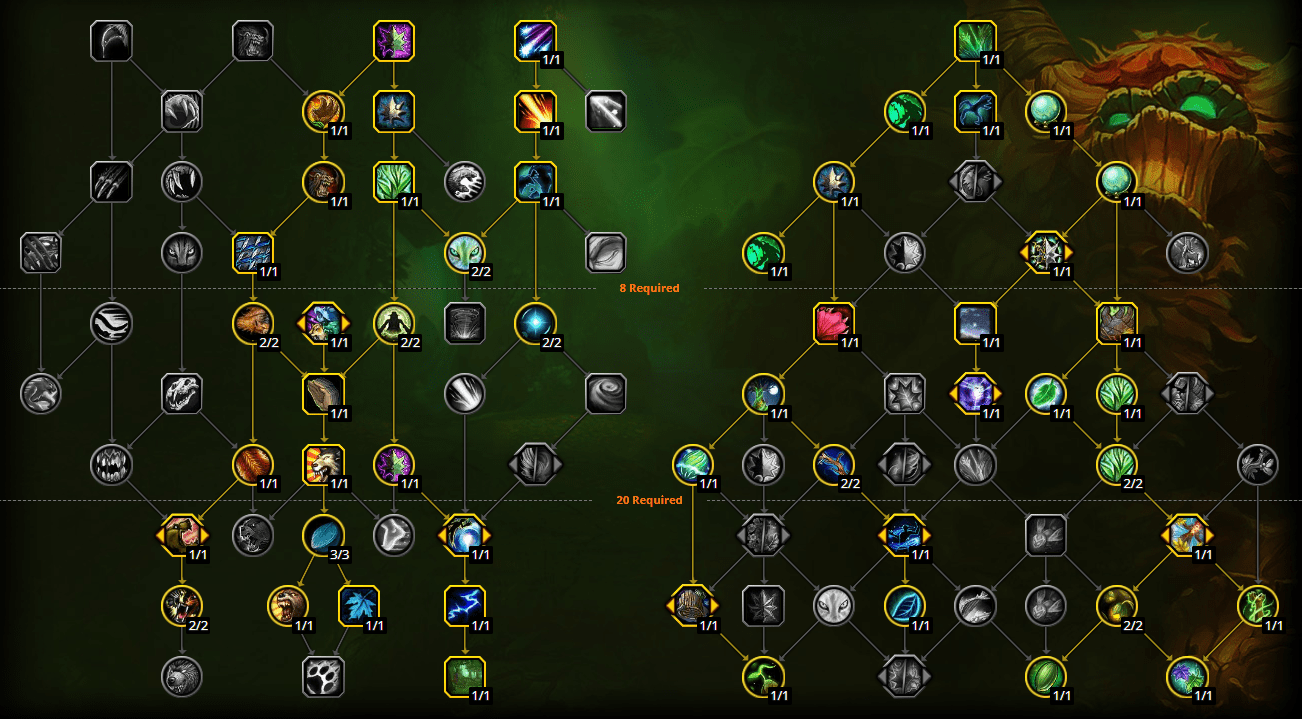 To use this build in the game, simply copy and paste the text provided below:
BkGAAAAAAAAAAAAAAAAAAAAAAIJJRpEJSk0QiINhWkEAAAAAAAAAAAAQBQEBBJASSkEpQSLRAAAAAAiAAAA
Restoration Druid Mythic+ Build
For Restoration Druids who plan to tackle Mythic+ dungeons, the talent build below will work just fine: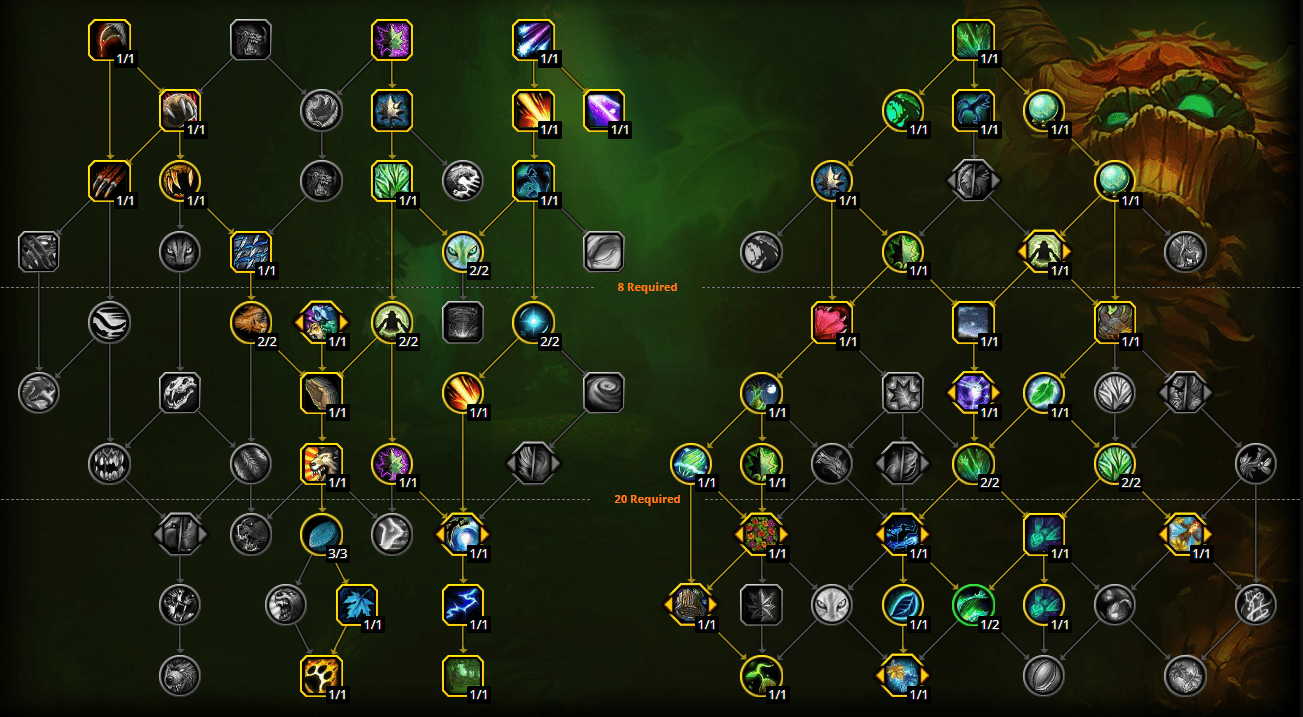 To incorporate this build into your character's template, copy the provided string below:
BkGAAAAAAAAAAAAAAAAAAAAAAgkEtSSSSKSLJwBSjmWkEAAAAAAAAAAAAQJBkEBBQCJJSSAJtEAAAAAAiAAAA
Best Restoration Druid PvP Build
Restoration Druids are versatile healers who excel in many different areas. Widely regarded as the top healer in the game, they consistently outperform other healers in Arena battles. Thanks to their exceptional mobility, they can swiftly reach allies in need of healing and utilize potent defensive abilities. With a mix of potent single-target and area-of-effect healing, they are unmatched in their healing capabilities. However, mastering this complex healing specialization takes time and dedication.
For players interested in a talent build focused on PvP, the following setup is highly recommended: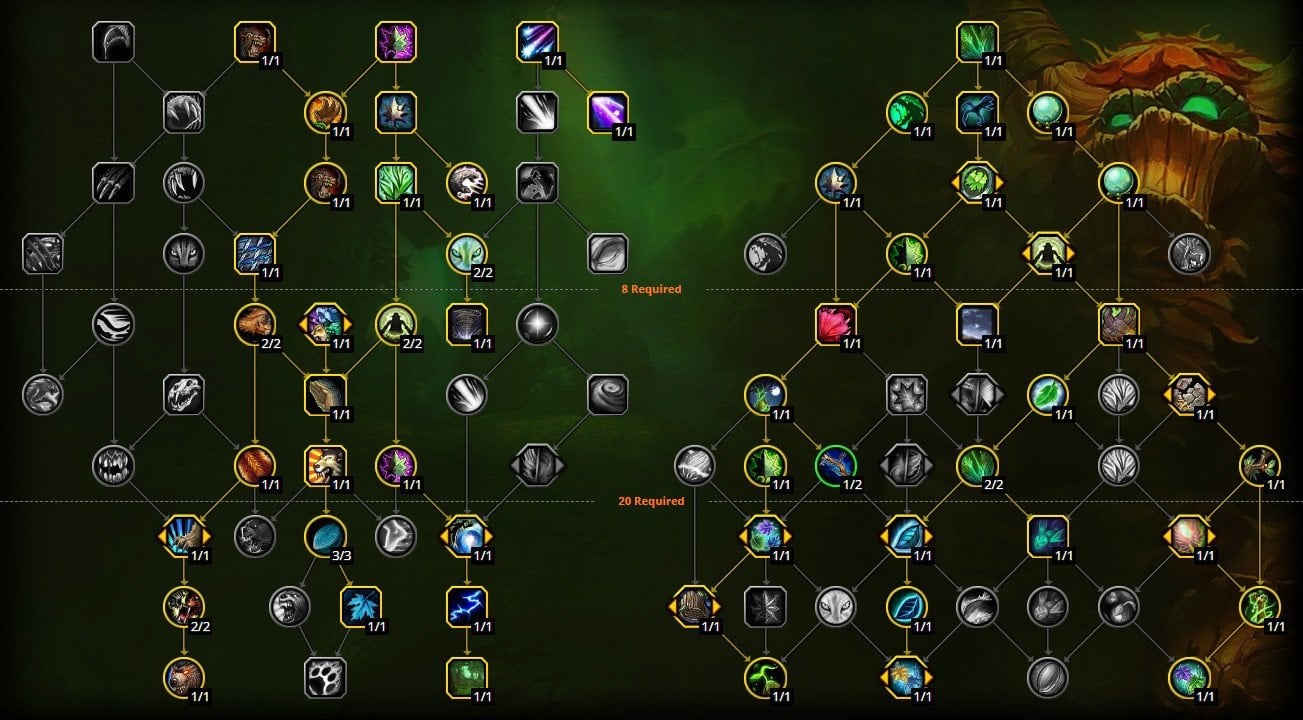 Import string:
BkGAAAAAAAAAAAAAAAAAAAAAAgkkSTSSi2BSJCi0SaKKJBAAAAAAAAAAAAUECBIBJBIJkEpRSLJBAAAAAIAAAA
In PvP, players can choose up to three talents from the list below. Each talent serves a specific purpose, and some may be more advantageous for certain strategies than others. Although the three talents recommended below are typically the most effective choices, players may opt for different PvP talents depending on their team's goals and objectives.
Essential PvP Talents:
With the Focused Growth talent, each time you cast Lifebloom on an ally, they gain a stack of Focused Growth, which can stack up to three times. These stacks enhance the healing of your Lifebloom. It's crucial to keep your Lifebloom and Focused Growth stacks active on your team's primary target, particularly when under attack from the enemy team.
Alternatively, Keeper of the Grove is an excellent PvP talent to prioritize if you anticipate being the main target of the enemy team. This talent provides immunity to all crowd control effects when you use Tranquility, which can help keep you alive in the midst of battle.
Situational PvP Talents:
Reactive Resin is a talent that grants two charges of Reactive Resin to an ally whenever you cast Rejuvenation on them. These charges will instantly heal your ally when they're hit by a melee attack and increase the duration of Rejuvenation. This greatly enhances your team's survivability when facing one or more melee attackers.
If you find yourself needing to use Cyclone defensively, High Winds is another PvP talent worth considering. When you cast it on an enemy, their damage output is reduced once they exit Cyclone. This talent can be particularly useful against teams with minimal interrupts or those that aren't focused on you, as it helps your allies survive longer.
Finally, Thorns is a talent that deals Nature damage to any melee attackers who strike you or your ally. While it's not typically used in 3v3 arena due to the strength of other talents, it can be effective in 2v2 matches against teams with melee attackers.
If you're excited about the prospect of engaging in the thrilling world of PvP gameplay (which is undoubtedly exhilarating), you may want to prioritize reaching the level cap as quickly as possible. It's worth noting that PvP activities below level 70 are somewhat limited, so hitting that milestone should be your primary goal. However, leveling up can be a tedious and frustrating process, particularly when you're so close to the next level. If you're looking to expedite the process, you might consider trying out our Dragonflight 60-70 Powerleveling service. For a reasonable fee, we can assist you in leveling up your Restoration Druid to 70 and getting you up to speed in a relatively short amount of time.
Restoration Druid Best in Slot Gear
Dragonflight provides a vast array of choices for obtaining gear, including raids, Mythic+ dungeons, and Crafting Order systems. As a result, BiS (Best-in-Slot) gear has lost some of its importance, but many players still strive for specific items as their primary motivation for engaging in WoW content.
It's important to note that gear effectiveness is influenced by several factors, such as the type of content you're participating in (PvP or PvE) and the other gear you're equipped with. To determine the exact value of any gear for your Restoration Druid, it's highly recommended to simulate your character.
In general, prioritize items with higher item levels as they offer the most significant boost to your primary stat, Intellect. After that, consider the stat priority discussed earlier.
Aberrus, the Shadowed Crucible Best in Slot Gear for Restoration Druid
It's worth noting that raiding in Dragonflight may not be the quickest method for obtaining gear. If speed is your top priority, it's worth exploring other options such as crafting or Mythic+ dungeons. However, if raiding is your preferred activity, below is a list of the items you should aim to obtain:
Although obtaining the BiS gear mentioned earlier can significantly improve your character's performance, it's important not to fixate solely on obtaining them. While it's natural to aim for the "best" options on paper, there are often more accessible alternatives that offer similar benefits.
Moreover, the game is regularly updated with new gear options and changes to gameplay that can disrupt the BiS theorycrafting. These lists should be reviewed frequently.
It's important to remember that performing your rotation effectively, mastering encounters, and communicating and collaborating with your teammates can have a greater impact on your overall performance than any single piece of gear. So, while gear can certainly help, it's not the only factor that determines success.
Mythic+ Best in Slot Gear for Restoration Druid
The Mythic+ system is an excellent option for acquiring powerful gear in the world of Dragonflight. While completing higher-level keys can be a daunting task, the rewards can make it well worth the effort. By successfully completing challenging Mythic+ dungeons, you can equip your character with some of the most formidable gear available in WoW's PvE content.
It's important to note that the gear mentioned earlier is just a guide to help you aim for the best items that can be obtained from end-of-run chests and the Great Vault. During your journey to obtain gear from Mythic+ dungeons or other sources, you may find other items that work better for your character. It's not necessary to obtain the exact set of gear mentioned above, as there are other viable options available.
The Upgrade, Spark of Shadowflame, and Embellishment Options for Restoration Druid
When upgrading your gear with Flightstones, it's important to prioritize high-impact slots like weapons and trinkets first. Keep in mind that Flightstone upgrades have a cap of 441 item level. If you decide to craft a weapon with a higher item level, such as 447 or higher, then you can focus on upgrading trinkets and offhands instead. Flightstones can then be used to fill in your weakest slots.
Here are some good trinkets and offhands to consider upgrading with Flightstones:
After obtaining the Spark of Shadowflame, your priority should be crafting high item level items. Keep in mind that you can always use the recrafting system to increase their item level later if needed. Once you have your best pieces, focus on improving your weakest slots with sparks to increase your average item level.
Unfortunately, the best season 1 embellishment, Potion Absorption Inhibitor, has been nerfed due to changes to Potion of Chilled Clarity. Elemental Lariat is also not as good until you have a full set of sockets on your season 2 gear. However, there are new options to complement our existing ones, and some weaker season 1 choices have been buffed.
It's essential to get a high item level weapon early on, and some recommended ones for week 1/2 are:
Primal Molten Spellblade + Magazine of Healing Darts or Draconic Missive of the Feverflare (for raid or healing-focused Mythic+) or Draconic Missive of the Aurora (for damage-focused Mythic+).
Signet of Titanic Insight is also an excellent choice for an early ring, especially if you can get a free socket.
Finally, once you have at least five sockets on your gear, Elemental Lariat becomes a great option.
Crafting items with Embellishments gives them special properties and effects in addition to regular stats. However, you may only wear 2 pieces of gear with Embellishments at a time. With that in mind, the best Embellishments are:
Elemental Lariat (With all available sockets);
We recognize that obtaining the expertly crafted gear mentioned before can be a significant investment in terms of gold. It might require weeks of relentless grinding and dedication to gather the necessary funds. However, there is an alternative solution available for those seeking a faster and more efficient approach. Our services provide the option to buy WoW Gold, which will be delivered promptly to your character. We take great care in offering reasonable prices and ensuring a successful transaction. With this convenient option, you can quickly obtain the needed gold, freeing up your time and focus to enhance your character's gear and gameplay.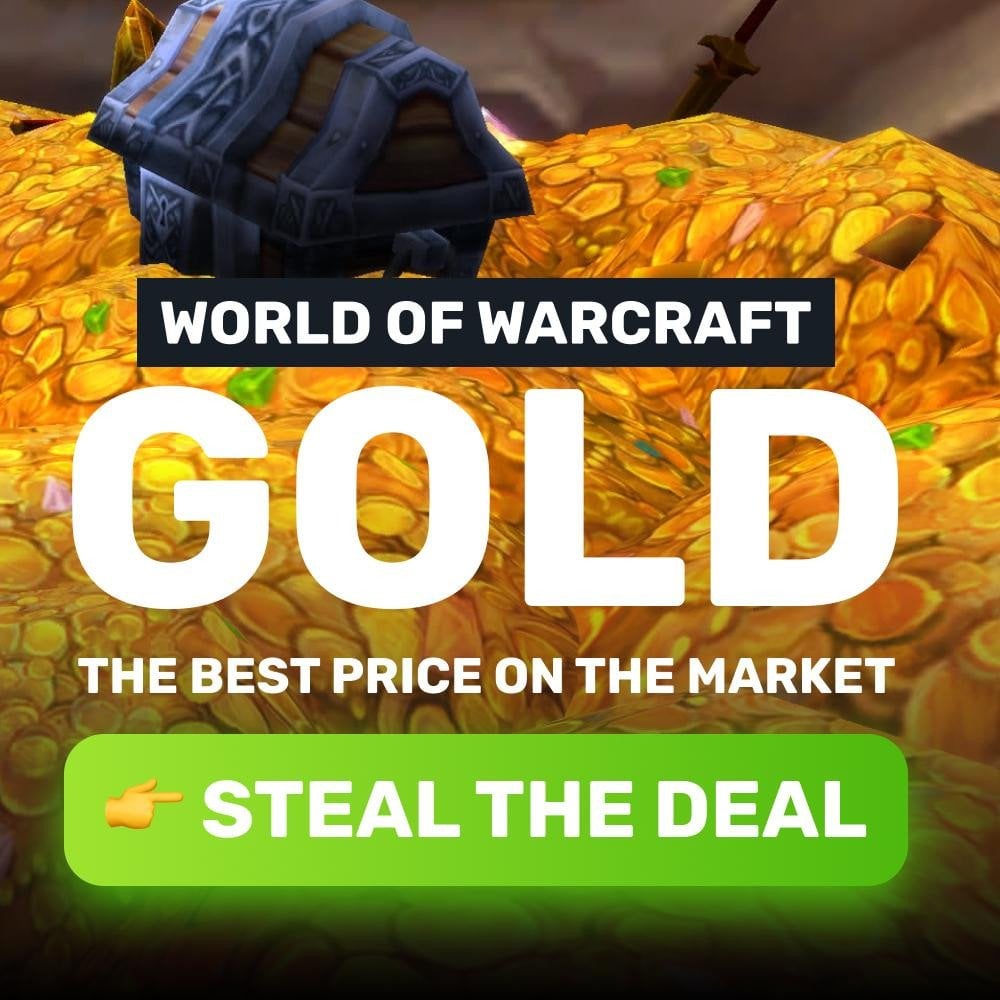 Best Restoration Druid Enchants and Consumables
Ensuring that your gear is equipped with the appropriate enchantments is a wise decision. These enchantments not only enhance your character's abilities but also showcase to fellow players that you are a competent and committed member of your class. To assist you in this process, we have compiled a comprehensive catalog of the best enchantments currently available in Dragonflight:
As a Resto Druid, you'll want to use Phial of Elemental Chaos for most situations. However, if you're comfortable with Mythic+ dungeons, I'd recommend switching to Phial of Glacial Fury instead, as it deals a significant amount of damage.
To prepare for different scenarios, you should also carry a variety of potions, including Potion of Chilled Clarity for raiding (which doesn't affect GCDs), Potion of Frozen Focus as a niche alternative to Toxic items, and Elemental Potion of Power for Mythic+. Additionally, you'll want to have enough Refreshing Healing Potions on hand, and consider carrying Potion of Withering Vitality for emergencies.
To maximize your performance, it's important to not overlook the benefits of weapon enchantments and feasts before each encounter. A Howling Rune enchantment on your weapon is highly recommended, along with a feast of Grand Banquet of the Kalu'ak for those willing to share or Sizzling Seafood Medley for solo indulgence.
When it comes to gemming your gear, the most effective strategy is to use Keen Ysemerald in all of your sockets, with the exception of one socket where you should use a Fierce Illimited Diamond. This setup will provide the best balance of stats and damage output for your character.
Although gear enchants and consumables are crucial for success in defeating raid bosses, they may not be sufficient. Additionally, if you're unable to locate a suitable raid group during a given week, you risk missing out on a complete raid lockout. Fortunately, our WoW Raid Boost services provide a solution to this issue. Our skilled team will assist you in obtaining the finest raid items for your character, allowing you to fully utilize your gear enchants and consumables. With our support, you can be confident that you're adequately equipped to confront any raid challenge that comes your way.
Restoration Druid Rotation Guide
To master the art of playing a Restoration Druid, practice is key. Before jumping into real battles, make sure to hone your skills by spending ample time practicing on target dummies. By doing so, you can familiarize yourself with your abilities, learn to optimize your rotations, and be better prepared to keep your allies alive in the heat of battle.
Restoration Druid Healing Rotation and Priority
Restoration Druid Damage Rotation and Priority
Cooldown Usage for Restoration Druids
As a Restoration Druid, you possess a number of healing cooldowns by default, and you can obtain others depending on your talent choices. To maximize their effectiveness, it is recommended to use them in the following ways:
Restoration Druid Leveling Guide
Leveling as a Resto Druid can be a slower process compared to other specs, but it's definitely doable. One strategy is to gather multiple mobs and take advantage of our semi-decent AoE and great self-healing abilities to efficiently take them down. Taking all of the Cat Form talents can also help improve your damage output, while quick dungeon queues can provide a change of pace and additional experience. With Druid's exceptional mobility, you can move through zones quickly without any downtime.
Here's a talent setup that can help with the leveling process: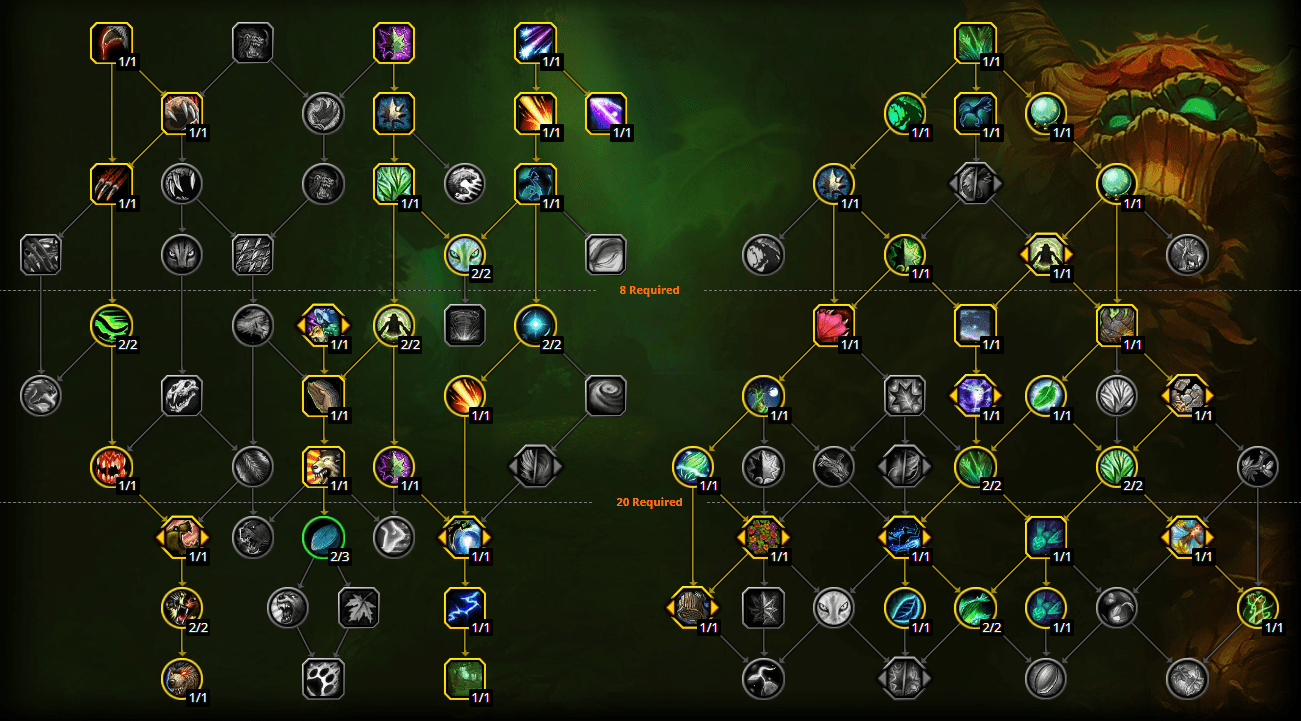 Sting for copying:
BkGAAAAAAAAAAAAAAAAAAAAAAgkEtSSiki0SCENhWKJBAAAAAAAAAAAAUSAJRQAkACWQokk0SSAAAAAAiAAAA
As a leveling Resto Druid, you won't have a strict rotation, but it's important to know which abilities to use.
Start by tagging enemies with Moonfire or Sunfire depending on their positioning. If they're spread out, use Moonfire, and if they're grouped up, use Sunfire. Make sure each enemy has both debuffs on them.
Next, switch to Cat Form and use Rake and Shred for single target, or Thrash and Swipe for multiple targets.
Keep an eye on the debuffs and

refresh them

if they fall off and the enemy is likely to survive.
Don't forget to

heal yourself

between fights, or even during if you're taking too much damage.
If you're in caster form and the enemy won't live long enough for the DoTs to tick, use Starsurge.
As you make your way towards reaching level 70 with your Restoration Druid, you may find it helpful to utilize some consumables that can assist you on your journey.
Fried Bonefish: This is an excellent choice for increasing your movement speed when you defeat enemies. If you're aiming to level up quickly, make sure to keep this food buff active as much as possible.
Gunshoes: This consumable provides a significant boost to your movement speed, and unlike some other similar items, it doesn't require engineering to use. However, it has a moderate cooldown.
Reaching the maximum level in World of Warcraft is an exciting achievement that unlocks a variety of opportunities for your character. However, if you're feeling overwhelmed and in need of assistance with your newly leveled character, we offer World of Warcraft Raid Boosting services. Our team of skilled players provides these services at competitive prices and with the utmost efficiency to help you get the most out of your WoW experience.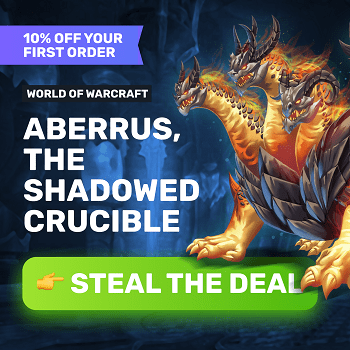 The Best Primordial Stones for Restoration Druid
Primordial Stones for Raiding and Healing focused Mythic+
When it comes to socketing your Onyx Annulet for Restoration Druid in raiding, there are several Primordial Stones that stand out:
Wild Spirit Stone is especially valuable for healing, as long as you wear a full healing setup. It can add up to 6-8k HPS with a reasonable amount of overhealing, which is significant. Note that Wild Spirit Stone doesn't proc from absorb-based stones.
If you're looking for a more damage-oriented option, you can consider Desirous Blood Stone, which counts as a healing stone. In that case, you can swap out Deluging Water Stone for it. The top three choices on the list above are still recommended for the best healing output.
Primordial Stones for Mythic+ (Damage focused)
When it comes to Mythic+ dungeons, Restoration Druids can benefit from socketing specific Primordial Stones in their Onyx Annulet. The top choices for this purpose are:
However, if you choose to socket the ring for damage, you will lose around 6% of your healing. Therefore, it's recommended only for high-level Mythic+ dungeons where you're already comfortable with the healing requirements and your group's performance. Additionally, you can swap out Exuding Steam Stone for Desirous Blood Stone if you want to prioritize damage, but note that this comes at a cost of a decent amount of healing.
How to Become a Better Restoration Druid in Dragonflight
Once you've equipped yourself with the proper gear, enchantments, and nourishment and have familiarized yourself with your opener, you're ready to take on more advanced techniques as a Restoration Druid. Here are some valuable tips and tricks to help you:
Take your time to

explore your spellbook and talents

, paying close attention to everything, even those talents that are not part of the recommended builds. Mastery of your specialization distinguishes exceptional druids from good ones.
Don't overlook

target dummy

training or running

low-level keys

. Our healing and damage arsenal is quite intricate and requires muscle memory to execute correctly.
Search for gear

upgrades from various sources

instead of just focusing on "Best in Slot" lists or a single content type. Dragonflight offers gear from nearly every activity, which is advantageous for beginners.
Study

raid strategies

and

dungeon routes

to become the most informed and prepared player in your group.
Be a team player! In WoW, individual accomplishments are rare. Learn to coordinate

crowd control

and

cooldowns

with your party and raid members to achieve extraordinary results.
Don't be afraid to

experiment

! As we mentioned earlier, your talents and abilities are not set in stone. Try new things and see what works best for you.
Other Articles to Read
At SkyCoach, we are committed to providing extensive coverage of all our favorite games. If you're looking for information on various topics related to World of Warcraft, we encourage you to browse through our blog. Our blog is home to detailed guides and articles on different WoW specializations and in-game activities.
If you're interested in tanking and would like to learn more about the Blood Death Knight, or if you're looking to try a new specialization like Shadow Priest, our blog has got you covered.
If you're still focusing on Restoration Druid, we highly recommend checking out our Restoration Druid Mage Tower Guide. This exciting challenge will put your skills as a healer to the test and offers unique rewards that you won't want to miss out on!
SkyCoach Boosting & Coaching Services
Navigating the vastness of World of Warcraft can be overwhelming, especially if you have limited playtime. At SkyCoach, we understand how important it is to stay informed and up-to-date, which is why we offer a wide range of services to help you achieve your in-game goals.Whether you're looking to increase your gold or gear, conquer a difficult dungeon or raid, or receive expert coaching from one of our professional players, we have the tools and resources you need to succeed. Our services are diverse, affordable, and available 24/7, with regular sales and a cashback program that can save you up to 20%.
So when you're in need of assistance with anything in WoW, or other online games, know that you can always rely on us to provide top-notch support and help you make the most of your gaming experience.
Final Words
We aimed to create an all-inclusive guide covering every aspect of playing a Restoration Druid in Dragonflight. We hope that you found the answers to any unanswered questions you had regarding Restoration Druid in this guide. Our recommendations should aid you in enhancing your gameplay and enjoyment in WoW. However, it's essential to remember that these are suggestions, not strict guidelines. Feel free to experiment with different talents, gear, and rotations to discover what suits you best. Ultimately, WoW is a game, and it's meant to be enjoyed. That's everything we have for now. Take care, and we'll see you in the Dragon Isles!
F.A.Q.
Are Restoration Druids good in Dragonflight?
Restoration Druids are not only effective, but they are also powerful healers. They excel in raw throughput, possess the best on-the-move healing, and have good raid-wide utility abilities, making them a valuable addition to any type of content.
Is Restoration Druid hard to play in WoW?
While learning the basics of how to play Restoration Druid is relatively easy, mastering this specialization's intricacies at higher levels, such as climbing the ranks in Mythic+ or raiding, can be a daunting task. It takes a skilled player with a determined mindset to achieve mastery.
What is the best weapon for a Restoration Druid?
Equipping a weapon with Intellect is always the best choice, whether it's a two-hander or a one-handed weapon with an off-hand.
What is the best profession for a Restoration Druid?
Although not required, Leatherworking is an excellent choice as it allows you to craft armor for yourself. Herbalism and Mining are also good choices for general gold-making purposes.
Is Restoration Druid good in PvE WoW?
Yes, absolutely! Restoration Druids are top-tier choices for both raids and Mythic+ content, making them highly sought-after in group settings.
What is the best rotation for a Restoration Druid?
Mastery of cooldowns is crucial for playing Restoration Druid effectively. Once you have mastered this, the spell sequence will come naturally. Reviewing the Restoration Druid rotation section of our guide is an excellent starting point.