Fellow heroes, we hope you are all geared up for the returning Mage Tower challenge. The game's developers have decided to bring it back in Dragonflight as well. It means you can now try your skills and see how well you are playing a particular specialization. For completing the encounter successfully, you will receive unique rewards that cannot be obtained anywhere else.
Just like in the Legion expansion where this in-game activity was introduced for the first time, you are going to face off against the same bosses. There are 7 encounters in total, each designed for a particular role. Some of them seem to be more challenging than others yet all of them require you to be a skillful player.
If you are ready to test yourself, you should make your way to Deliverance Point. Once you are there, talk to War Councilor Victoria. To shorten your traveling path, you can use Dalaran Hearthstone and take a 2-minute flight from Dalaran to the required destination. After you speak to the NPC, you will be teleported to a special arena where you are to fight your role-specific boss.
As we have already mentioned, each encounter is specifically designed for a certain in-game role. In this article, we are going to talk about Retribution Paladin Mage Tower Dragonflight gameplay and possible tactics. While this is a decently strong specialization, the encounter you are to pass is tough. So, make sure to read this guide up to the end to learn how to complete it successfully.
IMPORTANT NOTE: At SkyCoach, you can also Buy WoW Boost at the lowest prices and with the fastest delivery. You can make your first purchase even CHEAPER if you find our special PROMO CODE (highlighted in green) hidden in this article and get a 20% DISCOUNT.
Check out some of our most popular
WoW Boosting services

below:
Retribution Paladin Mage Tower Challenge Info
During The God-Queen's Fury challenge, you are to face off against three bosses simultaneously. They are Sigryn, Jarl Velbrand, and Runeseer Faljar who will try to attack you at once. Unlike your rivals, you will have no allies to rely on during this encounter. The only thing you can use is Orb of Valor. This small yellowish sphere will appear at a random place in the arena. It serves as a source of extra healing and impressively increases your self-sustainability throughout the battle.
Once it spawns, do not rush toward it. This sphere has no timer and it will not despawn if you do not pick it up. Therefore, it makes sense to save it for later when you actually need additional healing. For example, this situation may happen when the battle draws to its end. The closer the bosses are to death, the deadlier abilities they start casting.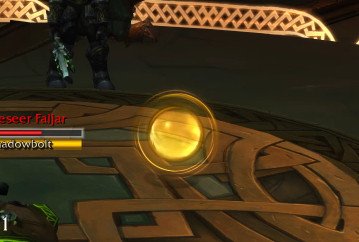 This is one of those encounters when correct healing management matters more than dealing damage. Since you are attacked by three enemies at the same time, you are to survive the first few minutes of the fight. Once you are done with the weakest boss, it becomes much easier. The incoming damage you take will not be that significant after that. We will explain this Retribution Paladin Mage Tower strategy further in this article to decrease the number of attempts you take to complete this challenge.
However, a lot of us play WoW just for fun and are not ready to spend too much time learning bosses' mechanics and trying hard to get the rewards. If you still wish to receive a new transmog set in your collection, you can order Timewalking & Mage Tower Boost services from our company. In this case, you can be sure our professional players will handle any encounter for you.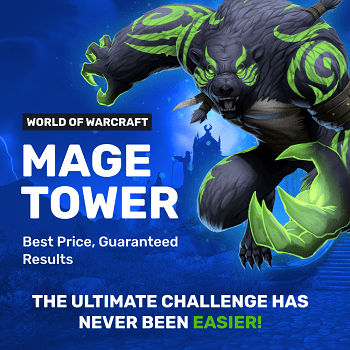 Best Gear for Retribution Paladin Mage Tower
Before you make your first attempt, you should be aware of a few rules applied during this challenge. The game's creators have decided to make all players' equipment ilvl decrease to 120 while you are in the arena. Besides, your character's level is also lowered to 45, which makes you squishier and more vulnerable to incoming attacks. The purpose of these features implemented is to make the encounters tougher. BLOG20
You can no longer loot or buy top-rank gear to pass this challenge too easily. We understand how annoying these rules may seem to you. However, they were added back in the Legion expansion and remain unchanged in Dragonflight as well. All this makes Retribution Paladin Timewalking Mage Tower challenge a true trial for a particular group of players. It actually tests your personal skills and nothing else.
Instead of relying on your equipment ilvl that much, you should pay more attention to what stats it provides. On top of that, your stat priority matters as never before. In most cases, you want to have a balanced distribution of your secondary stats without focusing too much on something particular. However, you might need a bit of extra Versatility to survive all the incoming damage throughout the fight.
There is an option that makes your life easier in terms of worn equipment. Down below, we have enlisted all decent Retribution Paladin Mage Tower gear pieces you should pay attention to. All of them are lootable from Raid and Mythic+ bosses. To ensure your chances of gaining the required items, you need to gather a group of reliable players. All this takes too much time and is not always obligatory to complete the encounter.
If you are patient enough, you can try to loot Mythic+ gear instead. However, it is not worth the time invested, as you do not need that powerful equipment for this challenge. It is better to spend this time doing something else. After all, this encounter revolves around testing your skills, not how well you are equipped.
Paying attention to available Retribution Paladin Mage Tower Trinkets would be a better idea. They provide you with a decent number of secondary stats and grants quite powerful on-use abilities. Most of them can greatly help you during the fight. The presented list is not complete and contains only the best alternatives exactly for this specialization. You are free to experiment and wear other options if you feel like it.
To speed up your gearing process and get rid of dependence on your team, you can order our WoW Raid Boost services. In this case, you no longer need to worry about how your raid goes. All you are left to do is to enjoy the well-deserved rewards and keep preparing for the Mage Tower.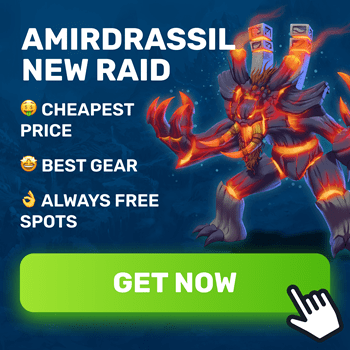 Retribution Paladin Mage Tower Best Enchants & Gems
Another source of additional secondary stats is enchants. They are applied to your equipment parts and can be extremely useful during this encounter. On top of that, you have a large range of gems to choose from. In this paragraph of our Retribution Paladin Mage Tower guide, we will focus on both of these seemingly insignificant gear attributes.
Equipment Slot

Best Alternative

Provided Bonus

Weapon
Sophic Devotion
Grants you extra

Strength,

which influences your

DPS

potential.
Cloak
Writ of Avoidance
Allows you to take less

AoE

damage, which can be useful during this fight.
Chest
Waking Stats
Provides you with additional

Strength

to deal more damage by default.
Bracers
Devotion of Avoidance
Works in the same way as the cloak's enchant.
Legs
Fierce Armor Kit
Gives you a bunch of

Stamina, Strength,

and

Agility.

Boots
Plainsrunner's Breeze
A decent

Speed

buff that can be useful in certain situations.
Ring
Devotion of Versatility
A bit of extra

Versatility

can never be too much, as it influences your survivability.
Most of the mentioned enchants focus on boosting your main stat. The reason for this is you have enough self-sustain abilities but need a damage increase. The majority of them provide a passive effect that is active all the time while others have a chance to proc randomly.
If you ask what Retribution Paladin Mage Tower recommended gems are there for you, we have compiled a short list of the most likely options. It as follows yet can be changed according to your playing style and personal preferences:
Fierce Illimited Diamond is a decent alternative to go for, as it grants extra

Haste

and significantly boosts your

Strength;

Keen Ysemerald is usually your choice for the rest of the slots but can be replaced with Energized Ysemerald if necessary. Our pick increases your

Haste

and

Mastery

stats to cast spells quicker and deal more damage.
To purchase everything you need and get prepared thoroughly, you will need a ton of in-game currency. There are different ways of obtaining it but they are all time-consuming and quite boring. Instead, you can Buy WoW Gold with our company's help to afford any items that we have described above. The service provided is safe and we guarantee the fastest delivery time.
Retribution Paladin Mage Tower Best Consumables
You are not likely to pass the Mage Tower encounter successfully without consumables. They radically boost your main and secondary stats allowing you to deal higher damage or survive longer. In this paragraph, you will learn what items prove themselves best against this boss:
Retribution Paladin Mage Tower Best Talent Build
As a part of your preparation, you cannot neglect a correctly chosen talent setup. Luckily, the latest expansion has brought a ton of updates concerning the way we build our talent branches. The presented below alternative is a perfect balance between single-target and AoE damage. You will need this throughout the fight, as you want to deal damage to all bosses simultaneously yet focus the one that stays alive alone quickly as well. The suggested Retribution Paladin Mage Tower 10.2 talent build looks the following way: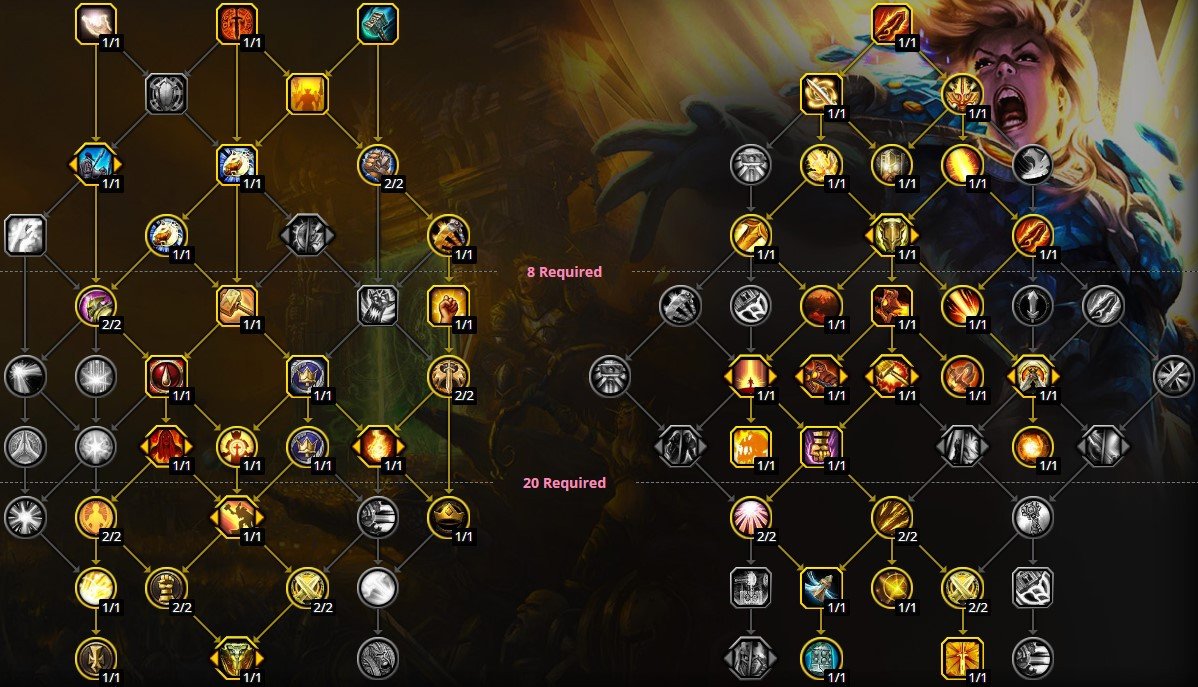 By copying this code, you can export this build to your game:
BYEAAAAAAAAAAAAAAAAAAAAAAAAAAAAgIBgkWaJJEQSSKpkkElAAAAAAAIFRSSaCkkUSJJBlQA
To gain access to all the required talents you should reach level 70 first. If you do not have enough time for this, you can go another way and order WoW Powerleveling services provided by our company. The team of professionals will take care of your character and get it boosted in a blink of an eye for you.
Sigryn Mage Tower Fight Strategy
As we mentioned at the beginning of the article, you are to face off against three bosses at once. However, to increase your chances of completing the encounter, it is vitally important to set a correct priority. For example, you do not want to focus Sigryn while two of her helpers remain alive. If you still do not get what a properly-built priority is, get acquainted with our Retribution Paladin Mage Tower tips presented below.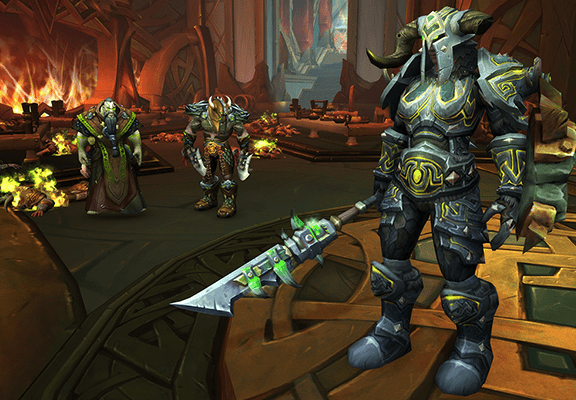 We highly recommend that you begin focusing on Jarl Velbrand right after the battle starts. While doing it, you will also deal decent damage to Sigryn by using your AoE spells and trinkets. Velbrand's most dangerous ability is Berserker's Rage since it radically increases his DPS. Once he activates this buff, you are to kite him for 20 seconds. The rest of his spells can be easily dodged or interrupted.
After you are done with the first enemy, start focusing on Runeseer Faljar next. Be aware of his Ancestral Knowledge and make sure to interrupt it. However, you cannot do this unless you break his shield first. Luckily, this cast takes a long time to be completed and you can get rid of the shield easily. He will also place runes at random platform locations with his Runic Detonation. You are to stand on a rune shortly after it spawns to prevent possible damage.
When it comes to Sigryn, you have a large range of abilities to counter her deadliest mechanics. Speaking of her main damage-dealing ability, it is Blood of the Father. It takes her 3 seconds to complete casting it. So, you are to interrupt it with Hammer of Justice or Repentance. If you have them on cooldown, make sure to use Divine Shield to avoid the biggest part of the incoming damage.
If you are still wondering how to do the Mage Tower as Retribution Paladin, we have to warn you first. Completing this encounter with the first attempt is practically impossible. To succeed, you need to learn the bosses' mechanics and know how to counter their abilities. After all, the reward is worth it no matter how many attempts you have made.
Speaking of a possible Retribution Paladin Mage Tower nerf, it is particularly difficult to state something. This specialization is widespread and played by a lot of players. At the same time, it is not the strongest one when it comes to this encounter.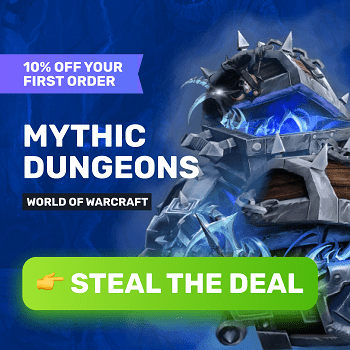 Retribution Paladin Mage Tower Rewards
When the challenge ends, you will be teleported to your original location. After this, you will receive a unique Retribution Paladin Mage Tower appearance that you can check out in the screenshot below. The latter looks extraordinary and cannot be obtained anywhere else.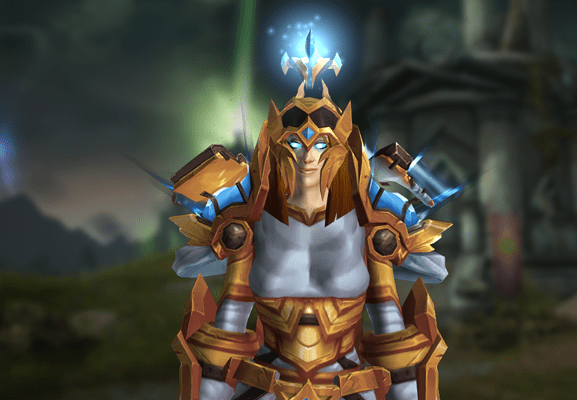 If you keep completing other encounters, you will eventually be rewarded with Soaring Spelltome. It is a special ground mount that represents an open book you can stand on and move over the ground.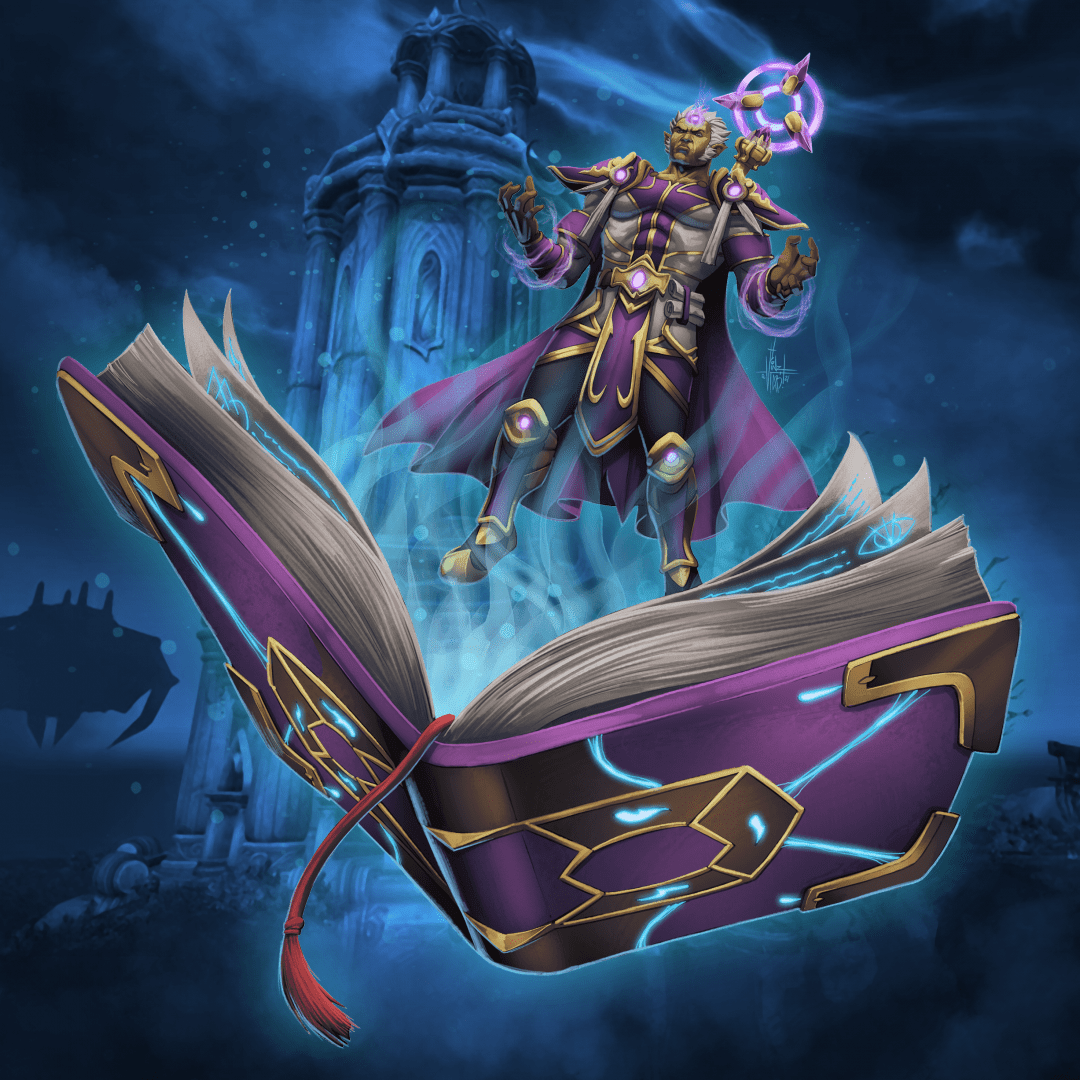 If you cannot complete a particular encounter or simply wish to save time, we have you covered. Go ahead and check out our World of Warcraft Boosting services. After you place an order, it will take minimum time for our pro players to defeat any boss for you.
SkyCoach Boosting & Coaching Services
The SkyCoach company consists of dozens of avid gamers who are trying hard to make your WoW experience unforgettable. The range of our services is not limited to this game only. By visiting our website, you can find a ton of other popular online titles. We are ready to help you 24/7 and you can always contact our customer support service if you have any questions left.
We have been working for you for over 5 years and have built a large client base that trusts us. To ensure you get the best quality services, we offer 5% cashback on all orders. The latter can be used for future purchases to make them cheaper.
For instance, you can order Mythic Carry boost at a lower price and get extra cashback on top of that as well. We appreciate your loyalty and are always ready to arrange sales. This makes us the best in terms of pricing policy on the market.
Final Words
This marks the end of our guide. We have shared everything you need to know to complete this challenge successfully. The rest is just a matter of personal skills. Make sure to stay with us, as we will keep updating this article to keep you informed about the latest updates or changes.
F.A.Q.
What reward do Retribution Paladins get from Timewalking Mage Tower?
After you are done with all three bosses, you will receive a class-specific transmog set. This is probably the most sought-after reward of this challenge.
What are the best Retribution Paladin talents for Mage Tower?
It is particularly difficult to single out certain talents. Let us put it that way, everything that helps you interrupt the bosses' abilities is useful. Besides, you want to make sure you outheal all the incoming damage. Luckily, you have a large range of abilities for that. To learn more, return to our talent build paragraph in this article.
How do you increase damage as Retribution Paladin in Mage Tower?
This encounter is more about surviving rather than dealing damage. You need to prioritize the enemies in the correct order to pass this challenge. If you manage to withstand incoming damage from all of them simultaneously and slay at least one boss, it is a great job already.
Is Retribution Paladin good for Mage Tower?
Since you have a large specter of all-purpose abilities, this specialization works just fine for this encounter. If you enjoy playing this spec and know its essentials, try it for this encounter.