After the 10.0.5 patch has been launched, players have finally got what they waited for. We are talking about the legendary and much-beloved Mage Tower challenge. Originally, it was introduced back in the Legion expansion. Since then, it has remained one of the most difficult yet exciting in-game activities. Going from one expansion to another, it has finally appeared in Dragonflight.
The activity's essentials have not changed a bit. You still need to defeat a boss in a challenge that has been designed exactly for your role. In most cases, you do this all by yourself or a few AI NPCs help you.
To test your skills, you should find War Councilor Victoria who is located at Deliverance Point. Getting there may be problematic, so we recommend that you buy Dalaran Hearthstone to shorten your travel time. After you are in Dalaran, it will take you around a few minutes to fly to the destination on your mount.
This guide is all about Shadow Priest Mage Tower Dragonflight gameplay and tactics. We will share everything you need to know to complete the encounter. It includes BiS gear, optimal talent build, and the strategy you are most likely to use against the boss.
Shadow Priest Mage Tower Challenge Info
Being a ranged damage-dealing specialization, the challenge designed specifically for you is called Thwarting the Twins. To complete it, you are to pass all 3 stages and defeat two bosses. Their names are Karam Magespear and Raest Magespear, both have a large specter of annoying and dangerous mechanics. This encounter is considered one of the most difficult ones, as it tests a variety of players' skills.
During it, kiting remains your primary tool to achieve success. You will understand this right after the first phase begins. Besides, you have neither other players nor NPCs to rely on. You are to deal with two deadly twins and an army of their mobs all by yourself. Luckily, you do not fight both of them and have to deal with them one by one. However, they will start attacking you together during the last stage.
To ensure you outbattle them, we would like to share the Shadow Priest Mage Tower strategy that you can find towards the end of the article. In this paragraph, we describe the bosses' deadliest mechanics in detail and give a piece of advice on how to counter them.
If you are not a big fan of challenges yet still wish to get your rewards, we have the solution for you. Check out our Timewalking & Mage Tower Boost services where our professional players handle any encounter for you. After the job is done, you can enjoy your reward and keep exploring the Dragon Isles.
Best Gear for Shadow Priest Mage Tower
Let us begin with one of the most vitally important parts of your preparation process. Of course, we are talking about the equipment you want to wear for this encounter. Before we plunge into details, let us remind you of a few rules applied to the challenge. No matter what gear you decide to wear, its ilvl will be temporarily downscaled to 120. To make it worse, your character's level will become 45 for the time you are fighting the bosses.
These rules were implemented long before Dragonflight saw the world and they remained unchanged in the latest expansion as well. By doing so, the game's creators try to make all players equal while participating in this challenge. You cannot defeat your enemy just by wearing top-rank equipment. Instead, you should rely on your skills and be a true master of the specialization you play.
The whole Shadow Priest Timewalking Mage Tower challenge revolves around unobvious mechanics you should efficiently use to succeed. We are talking about kiting, creating separate talent build specifically for this activity, and so on. Not every player is aware of these things and this is the reason they cannot complete this encounter.
Of course, by wearing top-rank Shadow Priest Mage Tower gear, you can significantly increase your chances of outbattling the enemy. However, this is not a mandatory part, as you can win this fight just by relying on your skills. If you decide to collect the strongest gear parts, check out the following table. The latter contains equipment pieces you can loot from Vault of the Incarnates bosses.
Hunting for a Mythic+ set instead of this one is not the best idea. To start with, you do not need this powerful equipment to complete the challenge. Besides, it may take too much of your precious time and the final reward is not really worth it. The main idea of this challenge is to show your skills and get an amazing transmog set just for it.
If you still wish to collect at least some of the Mythic+ gear parts, you can use our Mythic Carry services to get them guaranteed. No matter what dungeon you are stuck at, our pro players will clear it out for you. It is the easiest and fastest method of gearing up.
Now, check the Shadow Priest Mage Tower Trinkets that we have described in the table down below. They are a great source of secondary stats you will need more than anything else during this encounter. Yes, you have read it right. Since your ilvl does not matter that much, you want to get maximum stats instead.
Therefore, your trinket choice plays a huge role, as these items not only provide you with additional stats but also grant on-use abilities. In most cases, you prioritize Haste and Crit/Mastery stats, as they significantly increase your DPS potential.
To make sure you get all the required equipment parts in the shortest time, we offer you the following option. By ordering our WoW Raid Boost services, our professional players will take care of any boss for you. The only thing left for you to do is to enjoy the loot and keep preparing for the challenge.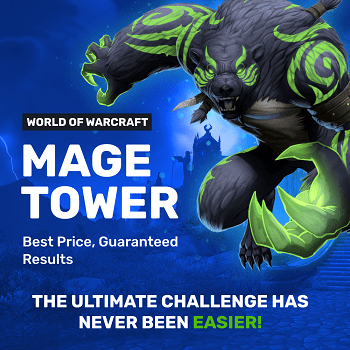 Shadow Priest Mage Tower Best Enchants & Gems
The following part of our Shadow Priest Mage Tower guide is devoted to enchantments and gems you can use for additional stats. Of course, the provided bonus can be hardly compared to the from gear. However, it directly influences your chances of winning this battle and cannot be neglected. Starting with the enchants, we have prepared the table containing the best options for you.
Equipment Slot

Best Alternative

Provided Bonus

Weapon
Sophic Devotion
Can randomly increase your

Intellect

stat allowing you to deal extra damage.
Cloak
Homebound Speed
Grants you additional

Speed,

which makes kiting easier.
Chest
Waking Stats
Another source of extra

Intellect

that lets you deal higher damage.
Bracers
Devotion of Speed
Passively increases your

Speed

to kite enemies around the platform.
Legs
Frozen Spellthread
Greatly boosts your

Intellect

stat for additional

DPS.

Boots
Plainsrunner's Breeze
Significantly increases your

Speed

stat making kiting noticeably easier.
Ring
Devotion of Haste
Provides you with extra

Haste

allowing you to cast spells quicker.
The provided enchant list includes alternatives that boost both your Speed and Intellect stats. This is a perfect combination of extra DPS and utility in one build. In most cases, you want to use these items to pass the encounter.
Up next, we would like to pay attention to Shadow Priest Mage Tower recommended gems and bonuses they provide:
To get geared up quicker, you can buy stuff at the Auction House. However, it requires a ton of gold. Farming and grinding are not the most attractive methods of gaining it. Instead, you can Buy WoW Gold with our company's help. We guarantee fair prices and can deliver it to any server you play on.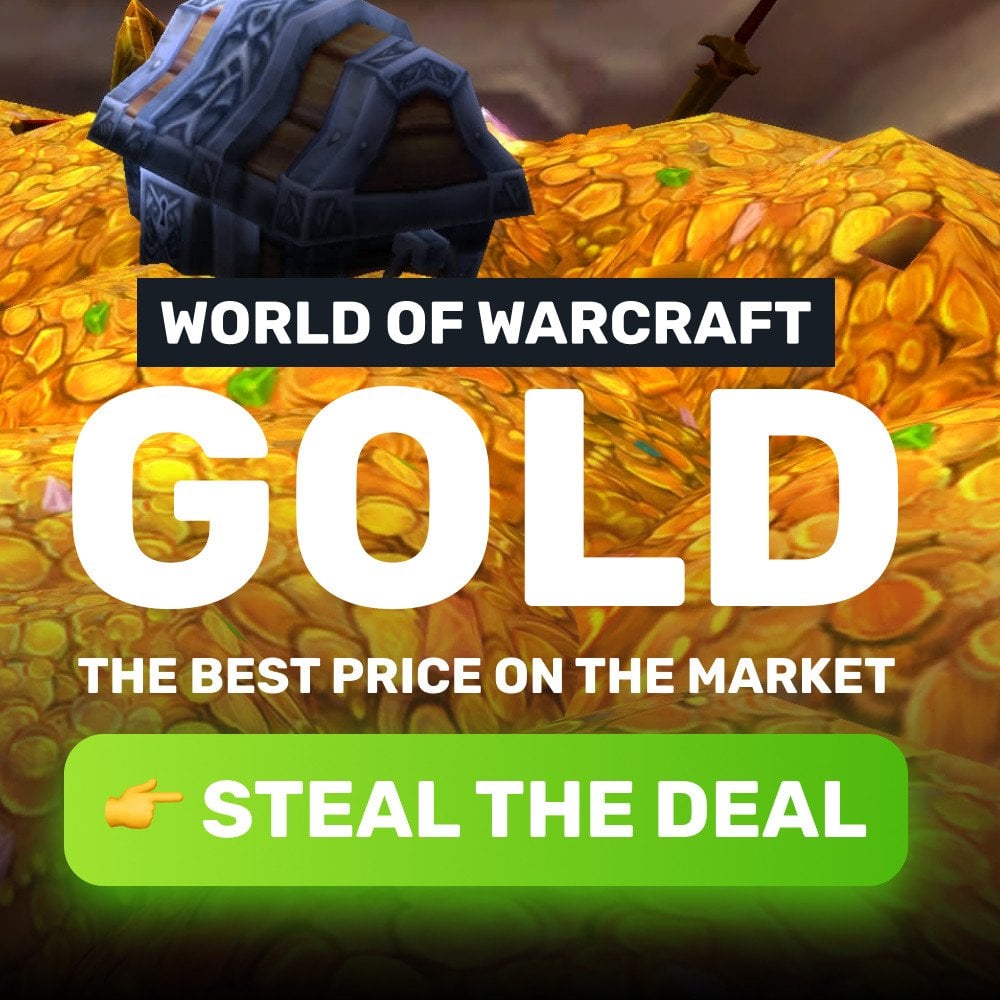 Shadow Priest Mage Tower Best Consumables
Before rushing into the fight, make sure you have bought or crafted certain consumables. They are your key to achieving victory with minimum attempts. Most of them greatly increase your damaging potential and let you stay alive longer. In this part of our guide, we will share the list of items that work best for this encounter:
Shadow Priest Mage Tower Best Talent Build
Another vitally-important step for the successful completion of this encounter is the talent build you choose. Down below, we would like to share the suggested alternative that works for Shadow Priest Mage Tower 10.1 and features an optimal balance between single-target and AoE damage.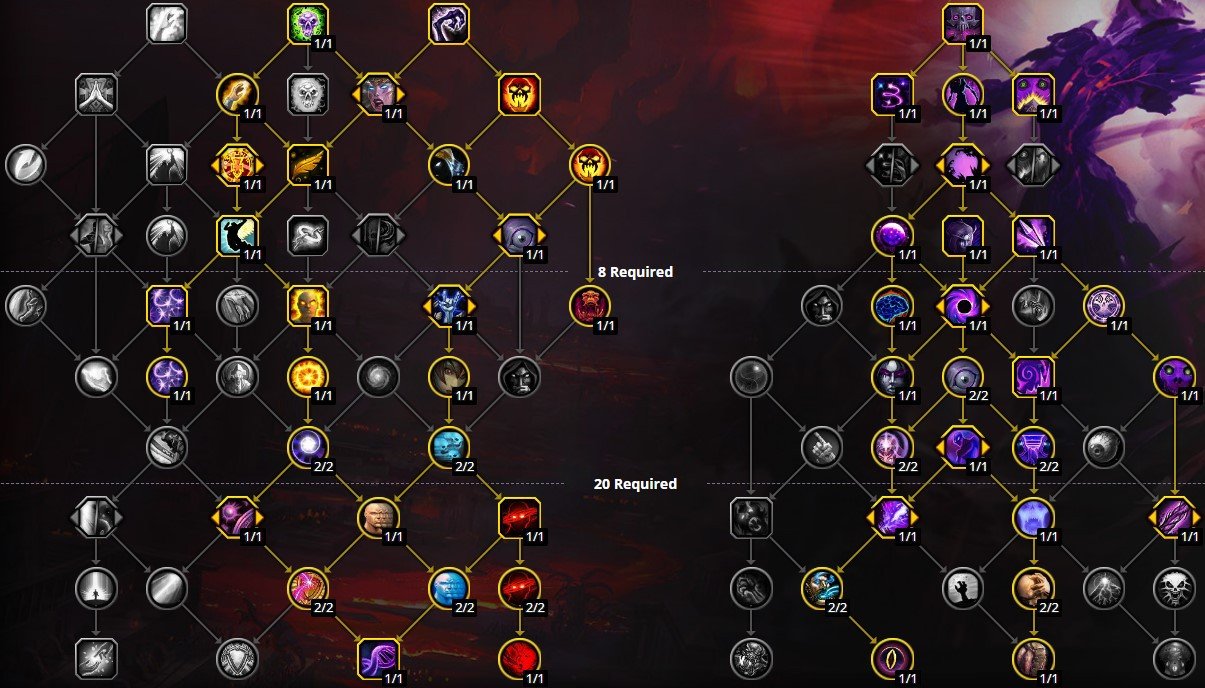 To export this build to your game, copy the following code:
BIQAAAAAAAAAAAAAAAAAAAAAAgk0iEAAAAAAAAAAAAABkSkm0IJJJlkIJgWkkkINShEEUkWIJAA
Keep in mind, you can only make the same talent tree after you reach the level's cap. To speed up this process, you can use our WoW Powerleveling services. In this case, our professional players will boost your character to level 70 in a blink of an eye. We offer fair prices and guarantee the result.
Karam and Raest Magespear Fight Strategy
Moving further, we have prepared the most essential Shadow Priest Mage Tower tips you can use to make your life easier during this encounter. By reading this paragraph, you will learn all the bosses' mechanics in advance and become better prepared for the fight.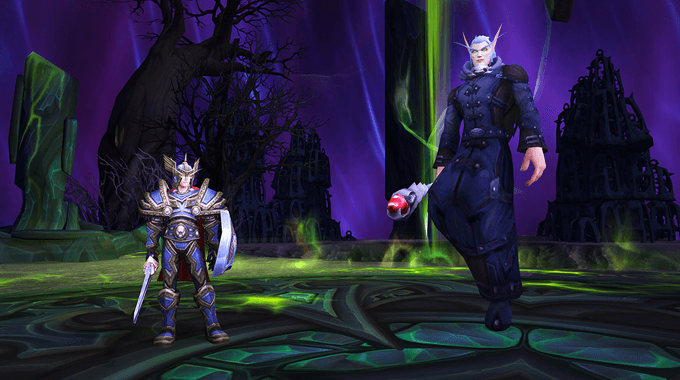 The first enemy you are to face off against if Karam Magespear. The latter will try to chase you around the platform. At first, his movement speed is nothing but it significantly increases, as the fight goes on. This boss' main ability is Rising Dragon. It deals immense damage and can literally one-shot you if you get hit by it. Therefore, you want to kite this boss and not let him close in any situation.
Stage 1 is relatively easy and you will not have any problems as long as you keep kiting Karam. Your task is to bring his HP pool to 33%. This will make him start channeling Purgatory, which makes him immune to any damage sources.
After Stage 2 starts, you are to deal with his brother, Raest. Unlike Karam, he uses ranged attacks and cannot be kited. His basic ability is Shadow Bolt, which he will keep casting all the time. Luckily, it deals minimum damage and you should not be afraid of it. At the same time, he will try to summon Hand from Beyond. The latter should be burst down ASAP since it casts Grasp from Beyond. If you cannot interrupt it, you will suffer overwhelming damage and most likely die.
Stage 3 is the final and toughest one. During it, you will be fighting both brothers simultaneously. However, the tactic remains pretty much the same. You want to keep kiting Karam while dealing maximum damage to Raest. On top of that, you need to stand on runes that appear due to the Rune of Summoning cast. Doing this makes them disappear and you prevent Thing of Nightmare from being summoned. If you fail to do it, this mob will take you down in a few seconds.
If you keep wondering how to do the Mage Tower as Shadow Priest, it is enough to defeat Raest to complete the encounter. Therefore, you want to save your most damaging abilities until the final phase. Besides, you want to finish the fight ASAP since Karam starts running faster and you need more resources to keep him slowed.
As for the Shadow Priest Mage Tower nerf, it is unlikely to happen. You see, this specialization is not overpowered or anything. Playing it requires you to be a skillful player who knows how to press buttons. So, you can safely choose it to complete this encounter.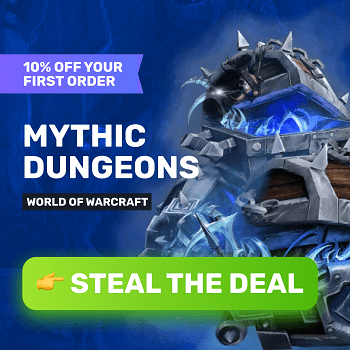 Shadow Priest Mage Tower Rewards
When you are done with the bosses, you will be teleported back to your initial location. After that, you will receive a unique Shadow Priest Mage Tower appearance that you can check out in the screenshot below.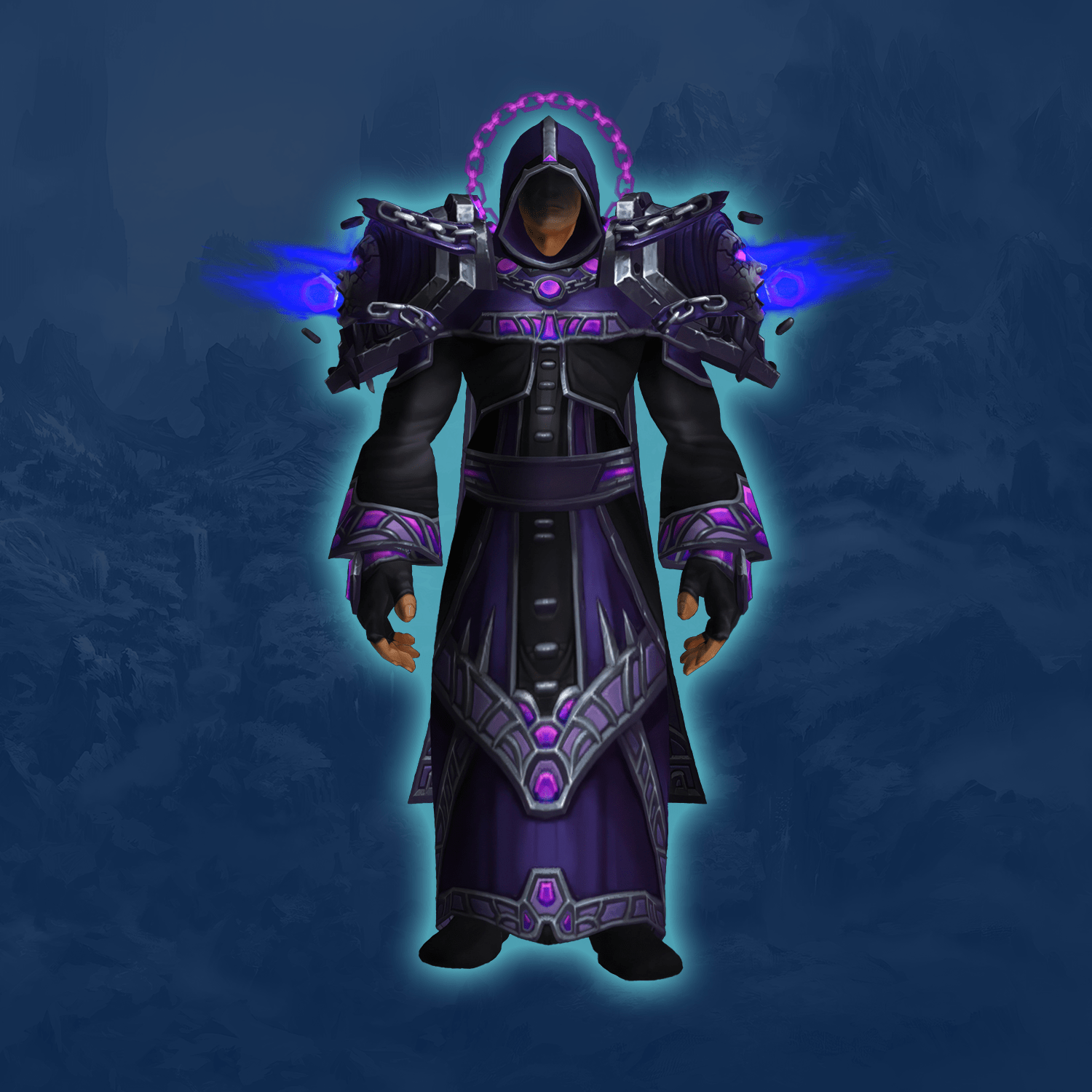 If you are strong enough, you can try to complete all 7 encounters designed for different roles. Doing this grants you Soaring Spelltome, which represents a ground mount. It looks like an open book your character stands on and soars over the ground.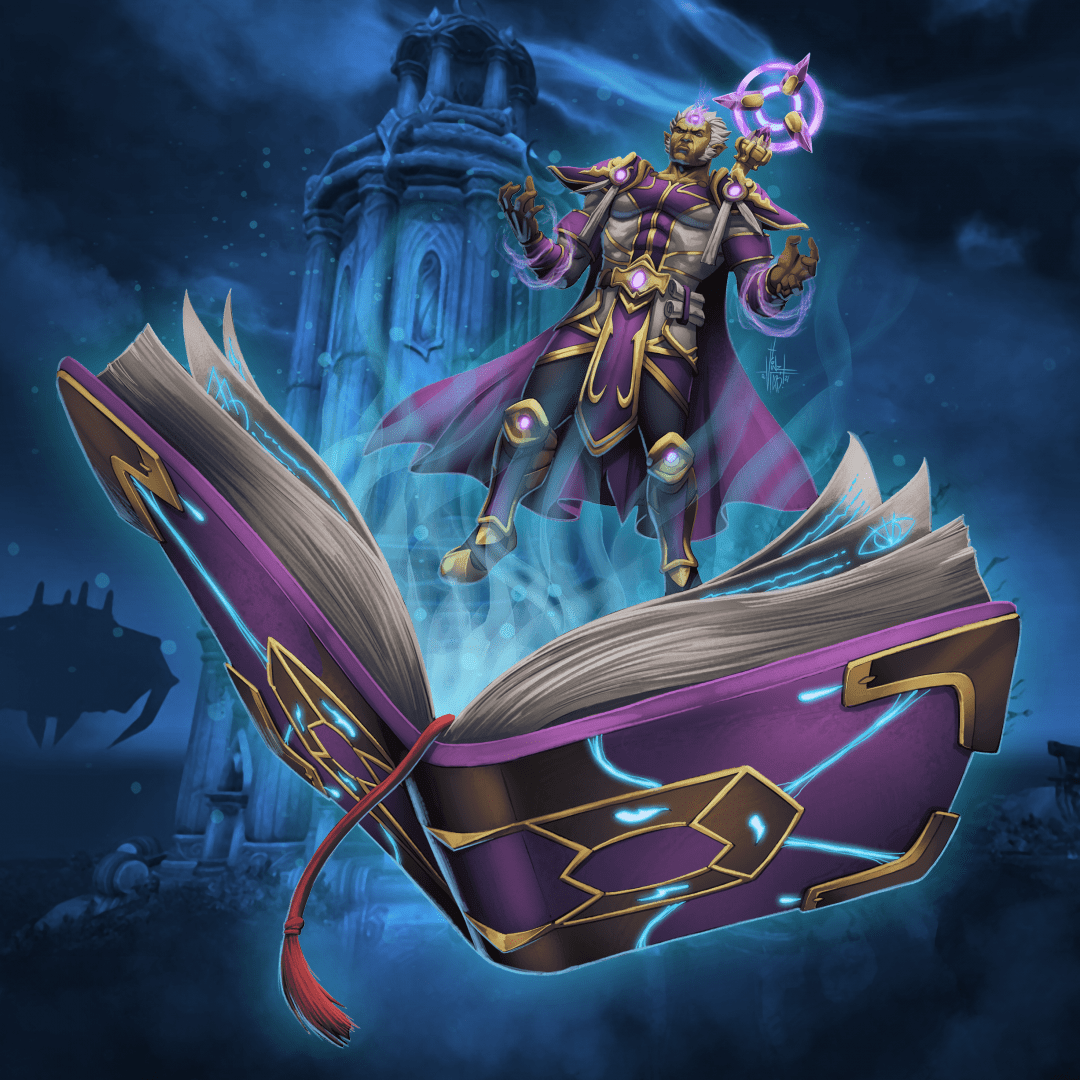 To make sure you get the desired rewards, you can order our World of Warcraft Boosting services. Our professional players will gladly complete any challenge for you. It is the easiest and fastest way to receive your transmog set and keep doing things you actually like in this game.
SkyCoach Boosting & Coaching Services
Here, at SkyCoach, we have been trying hard for you for over 5 years. During this period, we have created hundreds of offers to help you experience WoW and other online titles in a new way. No matter what problem you face, we are always here for you. By checking our website, you can see the whole specter of provided services and we do our best to enlarge it further.
To ensure you have the most amazing client experience, we provide a 5% cashback on all orders you place. This bonus can be used to make your future orders cheaper. Also, we can help you create a personal offer if you have not found something that suits you. If you have any questions left, feel free to contact our 24/7 customer support service.
Final Words
This brings us to the end of the guide. We hope you have learned a lot about the Shadow Priest gameplay and are ready to test your skills in a real fight. Make sure to stay with us, as we will keep updating this article if any changes occur.
F.A.Q.
What reward do Shadow Priests get from Timewalking Mage Tower?
Check out the class-specific transmog set we have shared above. This is what you will get after completing the challenge successfully.
What are the best Shadow Priest talents for Mage Tower?
To answer this question, you should check a separate paragraph devoted to the best talent build for this specialization.
How do you increase damage as Shadow Priest in Mage Tower?
You have quite enough of damage by default and you do not need to increase it on purpose. Just make sure you wear your best gear and use the optimal talent tree. Your primary goal is to survive while dealing this damage.
Is Shadow Priest good for Mage Tower?
It is a pretty decent specialization to play on a daily basis and to complete this encounter. So, if you actually like its playing style, go ahead and try it.