Since the long-awaited Mage Tower returns in Dragonflight, it is high time to get geared up and prepare for the most challenging encounters. You are to face off the same bosses as in the Legion expansion where this feature was introduced for the first time. Completing your specialization-specific encounter grants you unique rewards and unlocks the achievement.
With the variety of new equipment, reworked talent builds, and more, it is going to feel like a whole new in-game activity. You can try different strategies to see how easily you can deal with a particular boss. To start this challenge, you need to find War Councilor Victoria. This NPC is located at Deliverance Point. To save time, get yourself Dalaran Hearthstone to get there quicker. Once you are in Dalaran, it is a 2-minute flight to the necessary destination.
This article shares everything you need to know about Subtlety Rogue Mage Tower Dragonflight gameplay. We will cover every detail including what gear to wear, the best talent build, and the boss fighting strategy. Though this is not the hardest encounter, it tests your abilities to deal burst damage and avoid the boss' deadly mechanics.
IMPORTANT NOTE: At SkyCoach, you can also Buy WoW Boost at the lowest prices and with the fastest delivery. You can make your first purchase even CHEAPER if you find our special PROMO CODE (highlighted in green) hidden in this article and get a 20% DISCOUNT.
Check out some of our most popular
WoW Boosting services

below:
Subtlety Rogue Mage Tower Challenge Info
The Closing the Eye encounter consists of 3 stages where you are to defeat Archmage Xylem and Corrupting Shadows. The latter is summoned when the first boss' HP reaches 10%. That is why you are not going to fight them both simultaneously. At the same time, you have no one to rely on during this challenge. Unlike in other encounters, you are going to defeat them on your own and this is the biggest difficulty here.
Since you act as a melee DPS specialization, Archmage Xylem will try to slow you down with a variety of Frost spells. This will happen during the first stage where your primary task is to deal consistent damage and escape from his traps. Once the second stage starts, the boss will start using Arcane and Shadow abilities instead. They deal more damage yet provide no extra control to keep you slowed. This is the phase where you should put the maximum damage possible.
Though it may sound quite difficult at first, this encounter is relatively easy to pass if you learn the mechanics. Further in this article, we will share the Subtlety Rogue Mage Tower strategy that you can use in the real game to see if it suits you.
No matter what encounter you are to pass, it requires time and effort to practice and get ready for it. If you do not wish to challenge yourself but want to get the reward, we have you covered. Make sure to check out our Timewalking & Mage Tower Boost services where our professional players can complete any encounter for you. It is the fastest and easiest way to get the desired reward.
Best Gear for Subtlety Rogue Mage Tower
As this in-game activity is meant to be challenging, the developers have implemented certain rules. To complete the encounter successfully, you need more than just top-rank gear. Even if you have collected high-rank equipment pieces, it does not matter that much. The reason for this is that all your gear is downscaled to ilvl 120 while you are fighting the boss.
The same goes for your character's level, as you will become level 45 for a while. To ensure your victory, it makes sense to wear the gear that provides you with maximum stats. This will be your key to dealing the highest DPS. On top of that, your stat priority will differ radically, as you need not only to deal damage but survive as well. For example, you want to put Versatility first while you usually focus on Critical Strike instead. BLOG20
These rules may seem annoying but they make all players equal during this encounter. After all, everyone should have a chance of winning this fight. It is not obligatory to spend weeks farming top-rank equipment just to test yourself in this encounter. The game's developers have made the Subtlety Rogue Timewalking Mage Tower challenge available for players of any skill cap.
Since the Dragonflight expansion brings a variety of new equipment pieces, you can try to loot them to wear during the encounter. When it comes to the perfect Subtlety Rogue Mage Tower gear choice, we highly recommend that you opt for the option you see below. Its parts can be collected by defeating Raid and Mythic+ bosses.
We would like to remind you that all the mentioned gear parts are not obligatory to complete this challenge. However, having some of them makes the whole process noticeably easier since they grant decent main and secondary stats. If you decide to go for Mythic+ gear instead, it can be way more challenging and time-consuming. The encounter is not worth such efforts and you should better spend this time doing something else.
Another way to gain extra stats is to wear the best Subtlety Rogue Mage Tower Trinkets. They are relatively easier to get. Down below, we have compiled a list of the most powerful alternatives you should look for.
If you are dead set on acquiring some Raiding gear pieces, make sure to find a team you can rely on. Otherwise, you will get nothing but wasted time and negative emotions. However, you can go another way and buy WoW Raid Boost from our company. In this case, our professional players will get any boss slain for you. The only thing left to do for you is to enjoy the long-desired loot.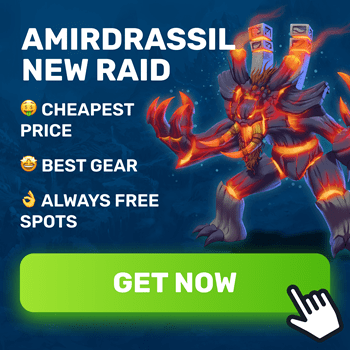 Subtlety Rogue Mage Tower Best Enchants & Gems
Another way of empowering your Rogue is crafting or buying certain enchantments. To make the right choice, read this part of our Subtlety Rogue Mage Tower guide attentively. At the end of this paragraph, we will also share information concerning what gems you should go for. Let us begin with the enchants, as they play a more crucial role during the encounter.
As you can see, a good part of the enchants focuses on increasing your Speed. The latter is what you need to reach the boss' location faster after he teleports away from you. On top of that, we have included a few enchants influencing our DPS potential to defeat the boss quicker.
Moving further, we have the Subtlety Rogue Mage Tower recommended gems to discuss. Of course, you can try your own alternatives, but we highly advise using the following items for this encounter:
The whole gearing up process may turn out to be quite exhausting and time-consuming. You can try to loot or craft all of the mentioned items on your own or you can go another way. By buying WoW Gold with our company's help, you can get enough in-game currency in the shortest time. After that, you can afford anything you like and get fully prepared for the challenge. We guarantee the fastest delivery time and offer reasonable prices.
Subtlety Rogue Mage Tower Best Consumables
You are not likely to outbattle the boss without the correctly chosen consumables. We have prepared the following list of items for you to increase your chances of achieving victory:
Subtlety Rogue Mage Tower Best Talent Build
With the updated talent system brought in Dragonflight, players can now experiment with a variety of possible talent setups. You can try to create your own variation or use ours to see how it works for you. During this encounter, you mainly focus on dealing single-target damage.
However, you are to deal with a few smaller mobs spawning from time to time. To clear them out quicker, we have included the Shuriken Tornado talent in this setup. This kind of AoE damage is enough to slay adds in a moment. Here is the final Subtlety Rogue Mage Tower 10.2 talent build for you to use.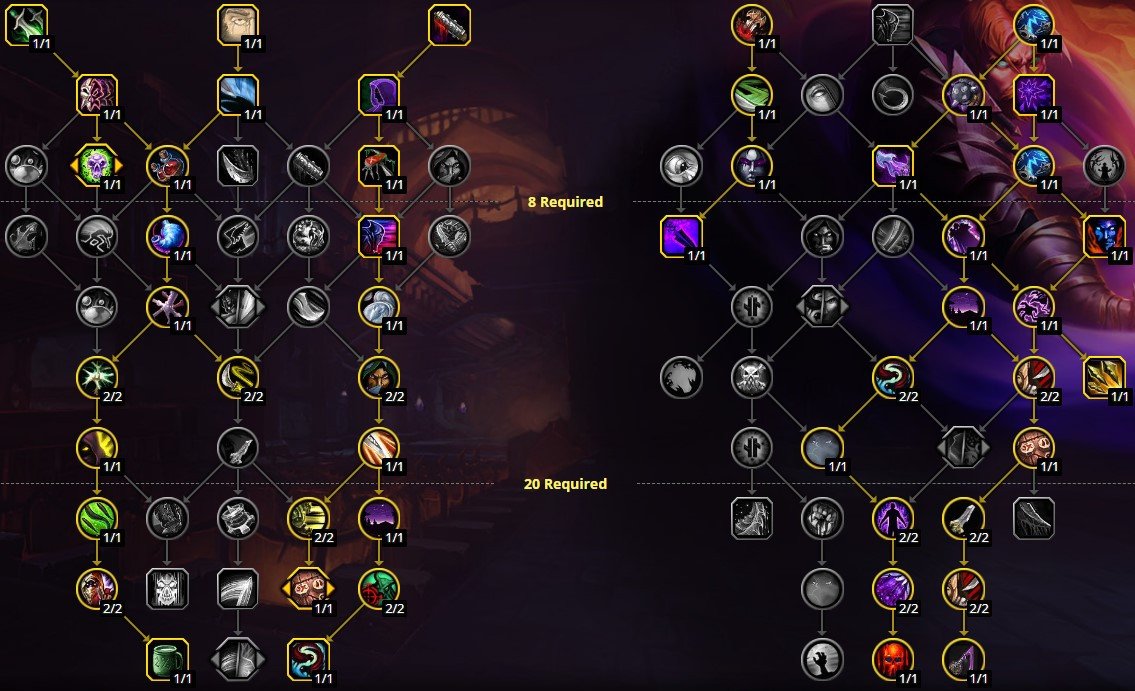 By copying the code, you can export this build directly to your game:
BUQAAAAAAAAAAAAAAAAAAAAAAAAAAAAAAAAARIJJJiQASkkkIJJRQSESSkkAlIkkEKBAAAA
To pass this encounter successfully, you are to pick a few talents that are usually omitted. However, the presented setup balances between solo and multiple target damage, which is what we need. To learn all the required talents, you should reach the level's cap first. To do this quicker, you can use our WoW Powerleveling services to boost your character from any level to the maximum.
Archmage Xylem Fight Strategy
The entire battle with this boss can be split into 3 stages, each having its own specific mechanics. Learning them is your key to passing this challenge successfully. To increase your chances of winning this battle, we have prepared several Subtlety Rogue Mage Tower tips for you.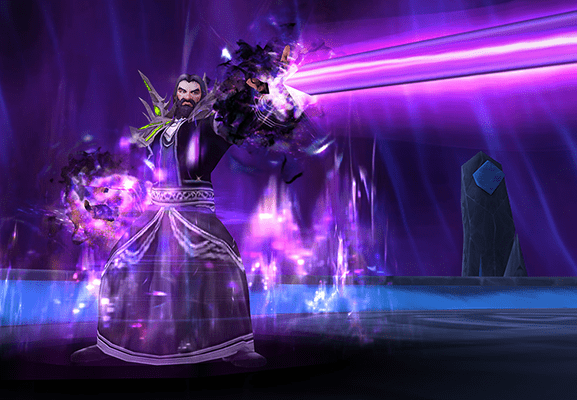 Stage 1 is all about dealing damage to Archmage Xylem while standing up against his Frost abilities. The boss will be constantly spamming Frostbolt, which can be interrupted. After you deal some damage, Xylem will use Razor Ice to change his location leaving you trapped in ice shards. You can get out of there by using any of your mobility talents or simply destroying a few ice shards. If you fail to do this, he will try to cast Comet Storm, which deals increased damage while you are trapped. This stage ends after 90 seconds followed by an intermission.
During this intermission, Xylem will create dozes of mirror images of himself trying to disorient you. Finding the real boss is not that difficult once you look at the minimap. He will also begin channeling Arcane Annihilation that must be interrupted. After you do this, the next stage starts.
Stage 2 is similar to the first one. The only difference is that Xylem will be using Arcane and Shadow abilities instead. He will be casting Arcane Barrage, which can be interrupted. Also, make sure to dodge the purple orbs after he casts Shadow Barrage. Finally, you should be aware of his Draw Power, which should be interrupted instantly. Otherwise, the boss' attack power will be massively increased.
He will also use his teleportation from time to time. There is nothing you can do about it. You just need to gap close the distance and keep damaging him. During this phase, you are to deal the maximum DPS to start the final stage. If you fail to reduce his HP to 10%, the intermission begins again and you are to return to Stage 1 again. This will happen again and again until his health pool reaches the required level.
During Stage 3, you are to face off against Corrupting Shadows. This mob moves quite slowly and does not seem too dangerous at first. However, he will be spawning pools of Void underneath him. If the fight goes on too long, it will cover the entire platform with it. This boss will also use Seed of Darkness.
The latter summons three Darkness Within that you are to kill before they reach the boss. Otherwise, his health will be greatly restored. To prevent this, stay away from the boss when he debuffs you with this ability, as these mobs are spawning at your location. Consequently, you want to have the longest range between you and the boss not to let them reach him quicker. Answering the question of how to do the Mage Tower as Subtlety Rogue, you want to kite the second boss around the platform not to let him corrupt the entire arena too fast. At the same time, you should deal the maximum damage possible while clearing the constantly spawning adds.
Speaking of a possible Subtlety Rogue Mage Tower nerf, it is not the strongest specialization you can use to complete this encounter. Therefore, it is unlikely to happen in the near future. After all, the challenge is designed in a way that any specialization can pass it. So, the result solely depends on your personal skills.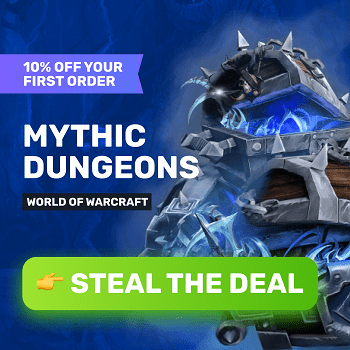 Subtlety Rogue Mage Tower Rewards
Completing the challenge, you will receive a unique Subtlety Rogue Mage Tower appearance that cannot be acquired in any other way. It represents a transmog set that looks astonishing and proves that you have passed this encounter successfully.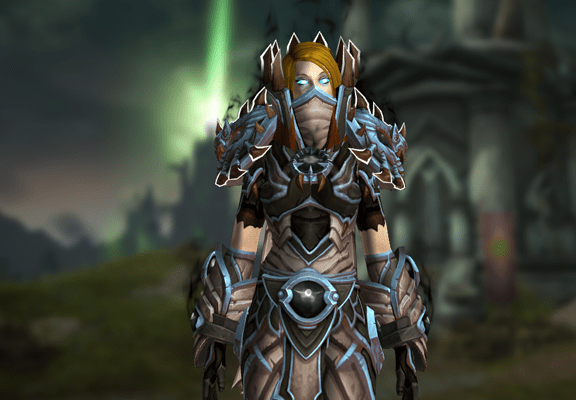 If you continue challenging yourself and manage to complete all 7 encounters present in the game, you will be rewarded with Soaring Spelltome. It is a mount that looks like an open book your character can stand on to float over the ground.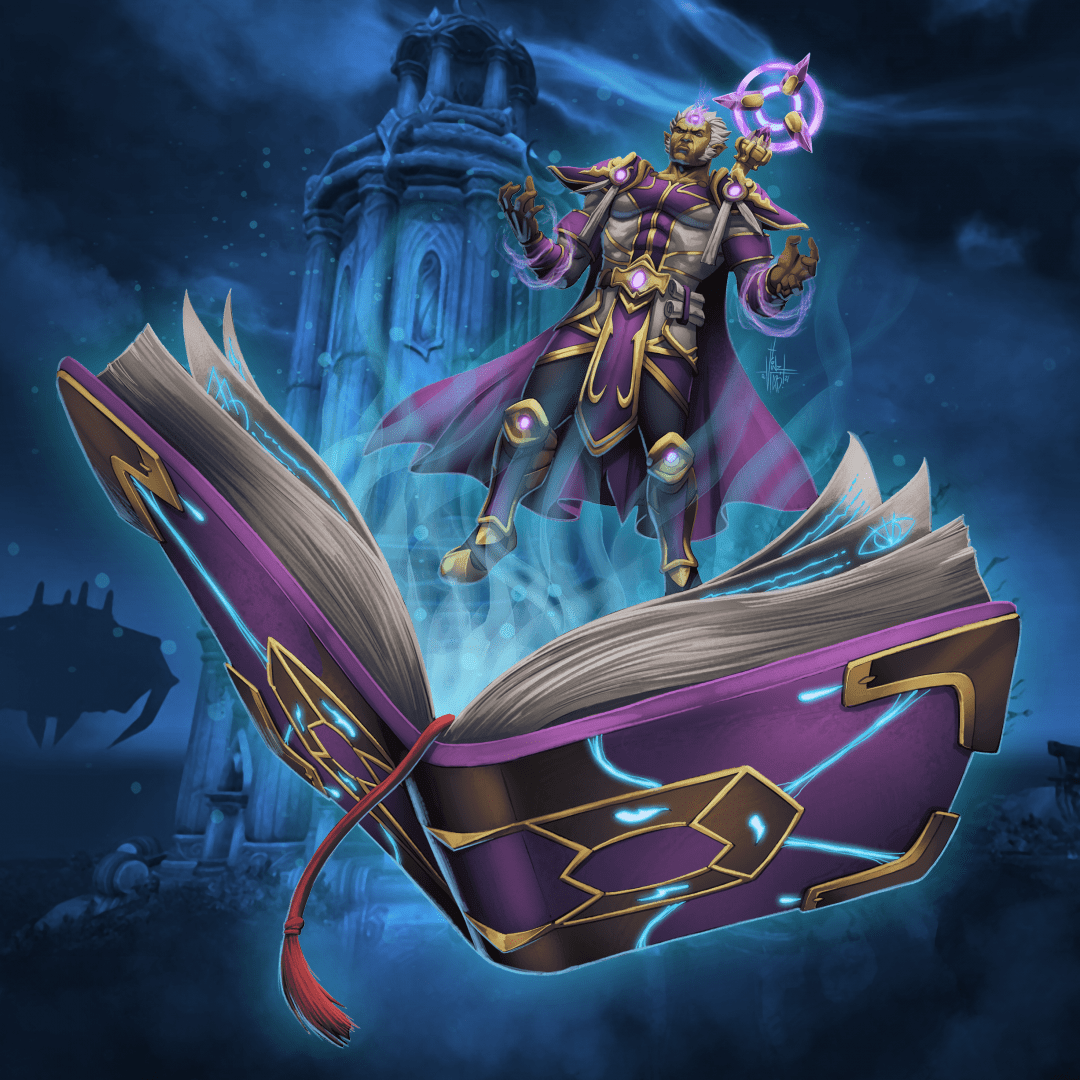 If you wish to get all the mentioned rewards quicker, you can always count on us. We offer World of Warcraft Boosting services to help you complete any challenge you are struggling with. It is the easiest method to receive any reward or loot you are hunting for.
SkyCoach Boosting & Coaching Services
The SkyCoach company has been helping players to reach the desired results for more than 5 years. Thousands of people trust us and choose our services. We specialize not only in World of Warcraft but in dozens of other online titles as well. Our team consists of a large number of avid gamers who are ready to help you day and night.
We always try to offer the best experience to our clients. For that, we provide cashback on all orders and guarantee the best market price. If you have any questions concerning your order, our 24/7 customer support service is here for you.
We are even ready to help you with the most challenging in-game activities like Mythic+ content. Our Mythic Carry boost has been created exactly for this purpose. Make sure to check it out if you cannot complete a particular level on your own or simply wish to speed up this process.
Final Words
Fellow heroes, this marks the end of our guide. We hope you have learned a lot about the Mage Tower challenge and the way you can complete it when playing Subtlety Rogue. Stay tuned, as we will keep updating this guide if any changes occur.
F.A.Q.
What reward do Subtlety Rogues get from Timewalking Mage Tower?
Your biggest reward is a unique class-specific transmog set. You can receive it after completing the challenge successfully.
What are the best Subtlety Rogue talents for Mage Tower?
Our recommended talent build focuses on a perfect balance between single and multiple damage output. To see the whole setup, make sure to check the separate paragraph devoted to this topic.
How do you increase damage as Subtlety Rogue in Mage Tower?
The main thing you want to do is to stick to the boss all the time. He will try to teleport away from you but you should gap close the distance by any means. Also, use your Combo abilities effectively and when the situation is right.
Is Subtlety Rogue good for Mage Tower?
While it may not be the strongest specialization for completing this challenge, it definitely does well enough. You have a large range of damaging abilities and can easily gap close the distance between you and the boss when needed.