Embark on an adventure in the mythical realm of Tarisland, a land where heroes rise and legends are born. This ultimate guide to the Tarisland Justice Paladin will be your beacon through the thrilling escapades and strategic depths of this formidable class. Renowned for their awe-inspiring power and steadfast resolve, Justice Paladin in Tarisland stands as a beacon of hope and strength amidst the chaos of battle.
This guide is tailored for both the battle-hardened veterans seeking to refine their mastery and the aspiring heroes just beginning their journey in Tarisland. Here, you will find a treasure trove of insights and strategies essential for shaping your Justice Paladin into a paragon of justice and a formidable adversary. Dive into the heart of combat with us as we explore the unique abilities, dynamic builds, and tactical nuances of the Justice Paladin Tarisland, paving your way to triumph and renown.
IMPORTANT NOTE: Apart from learning everything about the Justice Paladin spec, you can also Buy Tarisland Boost from SkyCoach. We offer a wide range of products at the lowest market price and with the fastest delivery. You can make your first purchase even CHEAPER if you find a special PROMO CODE (highlighted in green) hidden in this article and get a 20% DISCOUNT.
Check out some of our most popular
Tarisland Boosting

services below:
Justice Paladin Pros & Cons
Like other classes and specializations, the Justice Paladin stands out as a well-rounded and adaptable choice for players who prefer melee combat roles. In this part of our guide, we focus on the strengths and weaknesses of the Justice Paladin, providing insights to help you decide if this is the right fit for your playstyle. This class, although traditionally assumes the role of a tank, has an additional specialization that allows him to play the DPS role. Naturally, this comes with its own advantages and disadvantages.
Starting with the advantages of the Justice Paladin, they encompass the following:
Melee DPS role

- Justice Paladins are capable of delivering substantial damage to their enemies. This makes them invaluable in battles where high damage output is crucial for quickly defeating opponents.

Versatility in group content

- In group settings, such as dungeons or raids, the melee DPS role of a Justice Paladin is essential. They can focus on taking down single targets quickly or dealing damage to multiple enemies, making them versatile and valuable team members.

Increased Damage Potential

- Crit is an attribute that increases the chance of landing a critical hit, which deals significantly more damage than a regular hit. For Justice Paladins, who are focused on melee DPS, having a high Crit attribute means they can deal bursts of high damage, making them more effective in combat.
While Justice Paladins in Tarisland have their strengths, like any well-designed class in a balanced game, they also have their drawbacks. Here are three cons that help ensure Justice Paladins are not overpowered but remain a balanced class:
Vulnerability to Crowd Control:

As melee DPS characters, Justice Paladins often need to be in close proximity to their enemies to be effective. This can make them more susceptible to crowd control effects such as stuns, slows, or roots. Being caught in such effects can significantly reduce their effectiveness in combat, as they rely on mobility to execute their attacks and avoid damage.

Dependence on Positioning:

Effective melee combat often requires precise positioning, and Justice Paladins are no exception. This need for strategic placement in battle can be a double-edged sword. While it allows for tactical gameplay, it also means that mispositioning can lead to reduced effectiveness, increased damage taken, or even death. In chaotic combat scenarios or against enemies that frequently change position, maintaining optimal positioning can be challenging.

Resource Management:

If the Justice Paladin class relies on a specific resource for their abilities (such as mana, energy, or a unique class resource), managing this resource effectively can be a significant challenge. Ineffective resource management can lead to periods where the Paladin is unable to use their most powerful abilities, reducing their overall damage output and effectiveness in combat. This adds a layer of complexity to the class, requiring players to not only focus on dealing damage but also on managing their resources efficiently.
If you're eager to experience the Justice Paladin specialization but don't have the time to level up a new character solely for this, we've got your back. Opt for our service, and you can effortlessly buy Justice Paladin Powerleveling with just a few clicks. Leave the laborious task of leveling to our experts. In the end, you'll get a fully-prepared hero equipped with the highest level, top-tier gear, and the most effective build. Plus, we provide the most competitive prices and assure guaranteed results!
How to Play Justice Paladin in Tarisland
Getting to the essential part of the Justice Paladin DPS guide, it's time to learn what makes this specialization, well, special. At the cornerstone of his gameplay is the passive called Power of Glory. This is a system of points. Your abilities like Glory Judgement give you one Power of Glory point. If you do a critical hit (which is the main attribute of this DPS spec), you gain additional Power of Glory points. These Power of Glory allow you to give random effects to your active skills.
So, to summarise, here's how to play Justice Paladin in Tarisland in five simple points:
Combo builder

- the main mechanic of the class is building combos. You build up the power of Glory points (or you can call them tiers), which then is used to modify your active abilities, adding powerful effects.

Two Charge Abilities

- as any proper DPS, Justice Paladin has not one but two charging abilities that allow them to quickly get close to their enemies and engage in a fight. Both have very low cooldowns, allowing you to practically zip-zap between your targets.

Powerful Modfiers

- Paladin's random modifiers provide absolutely insane damage boosts to abilities. You can expect an increase of

174%

in damage to your ability that has not one but two charges that you can use without cooldown. It is very powerful right now.

Main Ability Choice

- you have the choice to opt for another powerful ability that also gives you a guaranteed, random enhancement to your abilities. This means that you can make different builds that suit your playstyle.

Play smart

- because you get random enhancements, you can't just rush into a group of enemies and press your buttons. You must assess what modifier you have and use it to your advantage instead of mindless button mashing. This calls for a more thoughtful fighting style which will make you more effective in any battle.
To summarise, use your passive to build stacks of points and get random effects that change and empower your active abilities. Use them mindfully to deal devastating damage to your enemies.
Justice Paladin Abilities Tarisland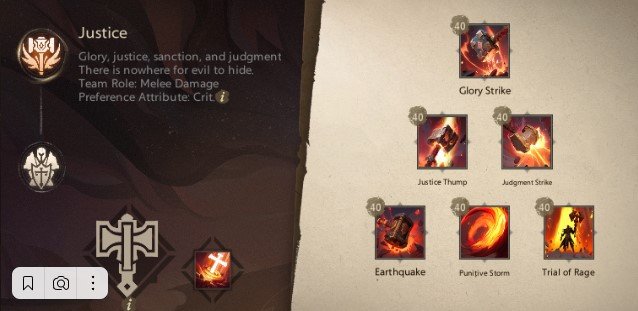 Now, it is time to have a more in-depth look at Tarisland Justice Paladin abilities and see what each of them does. This way, we can then determine the best skill rotation for this class.
Attack the enemy with the light of glory, dealing Physical DMG of 112% of your ATK +231. This skill can be recharged up to 2 times.
Call for justice power to attack an enemy, dealing Physical DMG of 156% of your ATK +392. If the target's HP is less than 25%, DMG dealt by the skill will be doubled. Judgment (enhancement) - A pursuit after hitting will be triggered (pursuit will also trigger the related Talent effect of the skill).
Attack an enemy with Judgement Power, dealing Magic DMG equal to 280% of your ATK +735. Judgement: Verdict (enhancement) - Increases DMG dealt and Crit. DMG by 15% separately.
Pour all your power into the Divine Hammer to smash the ground dealing to enemies around the target Physical DMG of 369% of your ATK +973.
Use Sanction Hammer to smash around, dealing to enemies within 4m Magic DMG of 37% of your ATK +98.
For the next Crit. Rate and Speed-up effect +12%. Your ATK will be boosted by 6% +63.
Your Glory Strike grants tier 1 Power of Glory. If it Crit. hits, it additionally grants the tier 1 Power of Glory. When you get the Power of Glory, you may randomly assign skill enhancement effects. When your Power of Glory is at tier 5, you get the assigned skill enhancement effect: BLOG20
Judgment Justice

-

Upon impact, your next Justice Thump pursues the target one more time after hit (this Pursuit can also trigger Talents associated with Justice Thump).

Judgement Verdict -

Your next Judgement Strike deals

15%

more DMG and Crit. DMG. Upon impact, your next

Judgment -

Sword makes the target take Magic DMG equal to

54%

of your ATK per second in the next 6 sec. When this effect is overwritten, the untallied DMG is added to the new effect.

Aura of Specialization -

Grant your group an attribute bonus aura Concentration that increases combo and crit. by

2%

during a raid.
Justice Paladin Ultimates Tarisland
While you have 6 Tarisland Justice Paladin ultimates to choose from, we highly recommend that you pick the one that suits your build best. The main reason why you want to do this is the fact that ultimates are the most crucial pieces of a build.
Breakout

- Boost your movement speed by

70%

for

8

sec.

Repentance

- Force a target to repent and make the target Stun for

12

sec. Chance of negating DMG:

100%

Invincible Might

- Reduces the DMG you take by

80%

and the DMG you deal by

50%

. The effect lasts 6 sec.

Scourge

- Make enemies within

5m

away from you Stun for

2

sec.

Punishment

- Punish the target to interrupt their spellcasting. Some Boss skills cannot be interrupted.

Brilliance

- Get an Aura of Radiance for

8

sec.: inflict enemies with

5

Deceleration effect of

50%

.
Best Justice Paladin Builds
Justice Paladins in Tarisland offer a range of builds to suit different playstyles and team compositions. For this guide, we're honing in on two specific builds that are currently standing out in the game's meta. These builds are tailored to maximize the unique strengths of the Justice Paladin in both PvP and PvE settings.
At present, the two standout builds for Justice Paladins are:
Judgement Striker Build for PvP;
Divine Conqueror Build for PvE.
If we were to highlight the best PvE Justice Paladin build, the Divine Conqueror would undoubtedly take the spotlight. This build excels in dungeon raids and handling multiple enemies, thanks to its focus on area of effect (AOE) damage and team support abilities. Its effectiveness lies in the strategic use of AOE skills like Earthquake and Punitive Storm, combined with the Aura of Specialization for team buffs. On the other hand, the Judgement Striker build shines in PvP environments. It leverages the Paladin's ability to deal high burst damage and control opponents, making it ideal for quick, decisive combat encounters typically in PvP scenarios.
Best Justice Paladin PvE Build
Core Concept: when making this Tarisland Justice Paladin PvE build, focus on area damage and sustain, which is ideal for PvE scenarios with multiple enemies and bosses.
Chosen Abilities:
Glory Strike
Justice Thump
Earthquake (AOE)
Punitive Storm (AOE)
Chosen Talents:
Talent

Description

Spiritual Recovery
"In battle, you regenerate 6 mana points every

5

seconds. When you receive any Glory Justice enhancement effect, you get double the mana points from this talent for

10

seconds."
Justice Storm
"When 'Justice Thump' hits, there is a

13%

chance to make your 'Punitive Storm' skill cost no mana and increase its damage by

33%.

"
Enh Punitive Storm
"The 'Punitive Storm' skill deals

3.3%

more base damage, and its base mana cost is reduced by

5%

."
Ultimate: Scourge
Playstyle: For this Justice Paladin raid build, engage groups using AOE skills like "Earthquake" and "Punitive Storm." Use "Glory Strike" for consistent damage and charging Justice Power. "Justice Thump" is effective against weaker enemies and can enhance "Punitive Storm." "Scourge" provides crowd control. "Spiritual Recovery" ensures mana sustainability.
This revised PvE build takes advantage of the synergy between "Justice Thump" and "Punitive Storm," enhancing the Paladin's AOE damage capabilities and mana efficiency, making it highly effective in PvE scenarios.
Best Justice Paladin PvP Build
Core Concept: Emphasize crowd control and burst damage in this Tarisland Justice Warrior PvP build, suitable for disabling and quickly eliminating opponents in PvP.
Chosen Abilities:
Glory Strike
Judgement Strike
Justice Thump
Trial of Rage (buff)
Chosen Talents:
Talent

Description

Echo
"When you use any Justice enhancement status, there is a

10%

chance to grant you a level 1 Glory power."
The Wrathful
"'Judgment Strike' makes your next skill stronger by

4%

in damage and critical damage."
Dogma
"Every

4

times you use 'Glory Strike', you have a

15%

higher chance of making a critical hit."
Ultimate: Repentance
Playstyle: Focus on single-target burst damage. Use "Judgement Strike" for high damage, especially when enhanced. "Glory Strike" builds up Justice Power. "Trial of Rage" boosts critical rate and speed. "Repentance" is key for controlling and quickly taking down opponents. Talents are chosen to maximize damage and critical hit chances.
These builds are tailored to the specific environments of PvE and PvP, leveraging Justice Paladin's strengths and the precise effects of each talent.
Justice Paladin Best in Slot Gear Tarisland
As of now, determining the Justice Paladin Best in Slot (BiS) gear for the Justice Paladin class in Tarisland remains a challenging task. This uncertainty primarily stems from the fact that Tarisland is currently in its closed beta phase. During this period, games often undergo significant changes, including adjustments to gear effectiveness, class balance, and overall gameplay mechanics. These changes can drastically alter what is considered optimal gear for any class, including the Justice Paladin.
Furthermore, the closed beta phase typically involves a limited player base, which means there's less collective experience and data to draw from when identifying the most effective gear combinations. This lack of extensive player-driven testing and feedback makes it premature to conclusively identify BiS gear at this stage.
Additionally, game developers often use beta phases to experiment with different gear stats and effects, leading to potential revisions and rebalancing before the final release. This fluid state of game development further complicates the process of pinpointing the BiS gear, as what may seem optimal now could be subject to change in the near future.
In summary, due to Tarisland being in closed beta, with ongoing adjustments, limited player data, and the potential for significant changes before the game's full release, it's too soon to accurately determine the Best in Slot gear for the Justice Paladin class. Players interested in this aspect should keep an eye on future updates and community discussions as the game progresses toward its final form.
Justice Paladin Rotation Tarisland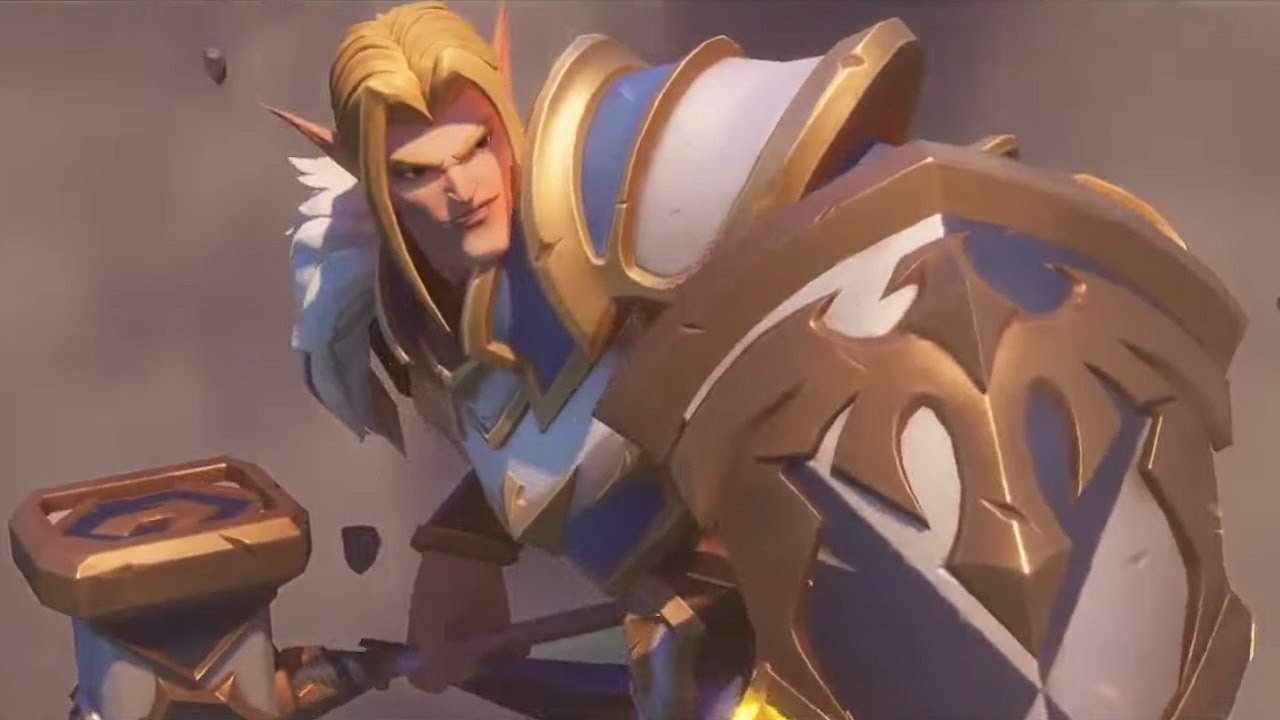 Mastering Justice Paladin's combat style requires a deep understanding of their unique abilities and the most effective ways to deploy them. The following part of the guide delves into two specialized rotation strategies for the Justice Paladin, each tailored to maximize combat efficiency in different scenarios. Whether facing the chaotic tumult of the battlefield or the strategic demands of a duel, these rotations harness the full potential of Justice Paladin's arsenal, blending raw power with tactical finesse. Let's explore the best Justice Paladin rotation and how it can be employed to dominate any battleground.
Rotation 1: Trial of Rage followed by Earthquake triggering Judgement Strike
Start by using "Trial of Rage": This enhances your critical hit rate and speed, setting a strong foundation for your attack sequence. Then use "Earthquake": This area-of-effect (AOE) attack not only deals significant damage but also triggers a cooldown reset for "Judgement Strike." Proceed with the following attack sequence:
"Judgement Strike" twice: Take advantage of the cooldown reset to unleash magic damage.
"Justice Thump" twice: This skill inflicts physical damage, especially potent if the target's HP is below 25%.
"Glory Strike" twice: A reliable and rechargeable attack for consistent damage.
"Punitive Storm": Conclude the sequence with this AOE magic attack.
Repeat the sequence, starting with "Glory Strike," followed by "Judgement Strike," and continuing in the same order.
Rotation 2: Trial of Rage followed by Earthquake triggering Justice Thump
Begin with "Trial of Rage": This initial buff boosts your critical hit rate and speed, which is crucial for the upcoming attacks. Follow with "Earthquake": This AOE attack now serves to reset the cooldown of "Justice Thump." Then proceed with the following attack sequence:
"Justice Thump": Utilize the reset to deal physical damage.
"Judgement Strike" twice: Deliver a double dose of magic damage.
"Justice Thump" again: Reapply the physical damage.
"Glory Strike" twice: A dependable attack that can be used repeatedly.
"Punitive Storm": Finish off with this powerful AOE magic attack.
Restart the sequence, leading with "Glory Strike" and then "Justice Thump", followed by the rest of the sequence as before.
Additional Note: If Skills "Justice Thump" and "Judgement Strike" are Reset: Should you have the opportunity to reset these skills, use them immediately to maximize your damage output.
These rotations are crafted to exploit the Justice Paladin's skill synergies and cooldown resets, ensuring a high damage output. The choice between the two depends on your preference for focusing on either "Judgement Strike" or "Justice Thump" as your primary damage dealer following "Earthquake."
Justice Paladin Leveling Tarisland
Embarking on the journey of Tarisland Justice Paladin leveling, with a focus on PvE, is an experience that blends strategic depth with the thrill of combat. Whether you choose to specialize as a formidable tank or a powerful DPS, our specialized Powerleveling services can significantly enhance your character's progression.
Our team of skilled professionals is adept at guiding your Paladin through the leveling process, ensuring rapid achievement of your desired level along with the acquisition of vital skills and gear. This approach frees you from the grind and long waits, allowing you to enjoy the more exhilarating aspects of your Justice Paladin's journey while avoiding the frustration of slow progress.
Conclusion
In conclusion, our Tarisland Justice Paladin guide, tailored for PvE, has led you through the noble realm of Tarisland, equipping you to wield the righteous might of this specialization. With a core focus on area damage and sustain, this build is ideal for PvE scenarios involving multiple enemies and bosses. Abilities like "Glory Strike", "Justice Thump", "Earthquake" (AOE), and "Punitive Storm" (AOE) are central to this build. Talents such as "Spiritual Recovery" and "Justice Storm" enhance mana regeneration and damage output, respectively, while the ultimate ability, "Scourge," provides crowd control. This playstyle encourages engaging groups using AOE skills, utilizing "Glory Strike" for consistent damage and exploiting the synergy between "Justice Thump" and "Punitive Storm" for enhanced AOE damage capabilities and mana efficiency.
Whether you opt for the role of a resilient tank or a high-output DPS, the Justice Paladin offers a variety of playstyles to explore. Your prowess in defense or damage dealing and your ability to control the battlefield are your hallmarks. With this guide as your faithful ally, you are prepared to embark on a valiant quest, defending the weak or unleashing devastation in the thrilling world of Tarisland. May your battles be victorious and your legacy be legendary.
As Tarisland continues to evolve, especially through its closed beta phase, players can anticipate further refinements and enhancements to the Justice Paladin class. This guide serves as a comprehensive foundation, preparing players to adapt to future changes and maintain their edge in the ever-changing landscape of Tarisland. Ultimately, the Justice Paladin stands as a testament to the intricate design and engaging gameplay that Tarisland offers, inviting players to embark on an epic journey of valor and conquest.
F.A.Q.
What is The Best Justice Paladin Spec in Tarisland?
Justice Paladin is the DPS spec of the class Paladin that specializes in building combo points that are spent on enhancing the class's core abilities.
Is Justice Paladin Good in Tarisland?
Justice Paladin is extremely strong in Tarisland as he has Talents and effects that boost his DMG significantly
Is Justice Paladin hard to play Tarisland?
Justice Paladin has a straightforward rotation, and as long as you know what kind of bonus you have and when to use it, it's not hard to play the class.
What is The Best Spec for Justice Paladin PvP Tarisland?
The best spec for Justice Paladin is the one that uses the right combination of talents. You might want to start by unlocking Justice Storm and work your way from there.
Is Justice Paladin Good in PvE Tarisland?
Justice Paladin is great in PvE because this class has several chasing abilities and powerful AOE abilities that make him equally great at dealing with solo targets and groups of enemies.
Which Justice Paladin Spec is Best for PvE Tarisland?
The best Justice Paladin Spec is the one that focuses on AOE damage, allowing you to quickly deal with groups of trash mobs in raids and dungeons.
How do I maximize DPS Justice Paladin Tarisland?
To maximize DPS with Justice Paladin, all you have to do is use your combo points stacks to get random effects on your active skills. Each of these effects gives a huge bonus to either direct DMG or Critical DMG.