Fellow heroes, welcome to another episode of the Mage Tower guides. In this article, we are going to focus on the Affliction Warlock Mage Tower Dragonflight gameplay. We will share a few essential tips and tricks that can help you defeat both bosses. On top of that, you will learn what gear and talent build suit this encounter best. After reading this guide, your chances of achieving victory will radically increase for sure.
Affliction Warlock Mage Tower Challenge Info
To find out what challenge is prepared for this specialization, you should visit War Councilor Victoria first. This NPC is located at Deliverance Point and she is the one who can teleport you to the encounter's arena. To get to the required destination quicker, you can buy and use Dalaran Hearthstone, which will immediately bring you to Dalaran. Once you are there, jump on your mount and you will be there in 2 minutes.
The encounter you are to complete is called Thwarting the Twins and consists of 3 stages. Your main enemies will be two brothers, Karam Magespear and Raest Magespear. Each of them has a range of unique mechanics and deadly spells to play around. This challenge tests your ability to kite and deal maximum DPS at the same time.
To make this encounter even harder, you will have no allies to assist you. It means you will be completely on your own when fighting both of these bosses. Luckily, you will face off against both of them simultaneously only during the last stage of the battle. Until this moment, you need to defeat them one by one.
Your chances of achieving victory without thorough preparation and practice are not high. Besides, you need to align to a particular Affliction Warlock Mage Tower strategy that we have already prepared for you. Keep reading further to learn what items can help you win this encounter and what tactics work best.
If you have no time to practice and just wish to get the rewards, we have you covered. By ordering our Timewalking & Mage Tower Boost services, you can be sure that our pro players will deal with any boss for you. It will take us a minimum time to complete your order and the result is guaranteed.
Best Gear for Affliction Warlock Mage Tower
Since the Mage Tower has been around for quite a while, the game's developers have decided not to invent anything new. They have remained the same rules applying to this challenge in the Dragonflight expansion as well. Taking your equipment as an example, its ilvl is temporarily lowered to 120 while you are in the encounter's arena. The same feature works for your character's level as well. It is downscaled to 45 to make this challenge a true pain.
These restrictions are not new and stay unchanged since the Legion expansion. Their main goal is to make all players more or less equal at least for the time of the challenge. Your success mostly depends on how well you perform when playing a particular specialization rather than what gear you are wearing.
To ensure you complete the Affliction Warlock Timewalking Mage Tower challenge with minimum attempts, you are to prioritize particular stats over others. Usually, you want to go for Haste and Mastery stats. At the same time, having a bit of extra Critical Strike is always nice. Do not forget about Intellect since it is your primary stat and should be prioritized in any case.
To get as many of these stats as possible, you are to wear a particular Affliction Warlock Mage Tower gear, which we have enlisted down below. All the mentioned items are lootable from Vault of the Incarnates bosses. Still, they are not mandatory to complete this encounter. They are just a nice boost to the stats we have talked about above.
Equipment Slot

Item Name

Source

Provided Bonus

Head
Scalesworn Cultist's Scorn
Raszageth
Greatly boosts your

Crit

and

Mastery

stats influencing your overall

DPS.

Neck
Eye of the Vengeful Hurricane
Dathea, Ascended
Immensely increases your

Haste

and

Crit

stats, which you need most.
Shoulders
Scalesworn Cultist's Effigy
Broodkeeper Diurna
Slightly boosts your

Haste

and gives you a bunch of

Versatility.

Cloak
Acid-Proof Webbing
Sennarth
Provides you with additional

Crit

and

Mastery

stats to deal higher damage.
Chest
Scalesworn Cultist's Frock
Kurog Grimtotem
Noticeably boosts your

Haste

and

Crit

stats you value over others.
Wrist
Chilled Silken Restraints
Sennarth
Grants you extra

Haste

and

Versatility

to cast spells quicker and live longer.
Gloves
Eggtender's Safety Mitts
Broodkeeper Diurna
Provides you with additional

Crit

and

Mastery

stats to hit harder.
Belt
Magatha's Spiritual Sash
Kurog Grimtotem
Slightly increases your

Haste

and

Mastery

stats influencing your damage output.
Legs
Scalesworn Cultist's Culottes
Sennarth
Grants you additional

Haste

and

Mastery

to cast spells quicker and deal higher damage.
Boots
Sandals of the Wild Sovereign
Raszageth
Just like the previous item, this one is another source of

Haste

and

Mastery

stats.
Ring
Seal of Filial Duty
Broodkeeper Diurna
Provides you with a ton of

Mastery

and

Haste

stats. On top of that, you can gain a shield if you deal

Fire

damage.
Ring
Seal of Diurna's Chosen
Eranog
A perfect source of extra

Crit

and

Versatility

stats. Besides, you can set nearby enemies aflame if you deal

Fire

damage.
Trinket
Whispering Incarnate Icon
Primal Council
Passively boosts your

Crit

and

Intellect

stats.
Trinket
Desperate Invoker's Codex
Raszageth
Gives you additional

Intellect

by wearing it. If activated, you can deal a ton of

Nature

damage to a chosen target and a bit of the same damage type to yourself.
Staff
Quake-Detecting Seismostaff
Terros
Immensely boosts your

Intellect.

On top of that, you gain a bit of

Haste

and

Versatility

as well.
Main Hand
Stormlash's Last Resort
Raszageth
Another source of

Intellect.

Besides, it gives you

Crit

and

Mastery

stats to deal higher damage.
Off Hand
Scripture of Primal Devotion
Kurog Grimtotem
Provides you with additional

Intellect, Haste,

and

Versatility.
If you have any Mythic+ equipment parts, you can use them instead. Though, they are usually much harder to get. In fact, you do not even need this powerful gear to defeat these bosses. If you still wish to get them, you can always order our Mythic Carry services to let our pro players clear out any dungeon for you.
Moving further, we would like to pay attention to what Affliction Warlock Mage Tower trinkets you can use for this challenge. They are a perfect source of extra stats and grant you unique on-use abilities that can help you in battle.
To get these and other powerful items, you cannot neglect Raiding content. However, you heavily depend on a team or usually do not have enough time to participate in this in-game activity on your own. In this case, you can use our WoW Raid Boost services where our pro players will defeat any boss for you. All you are left to do is to enjoy the loot and keep preparing for the encounter.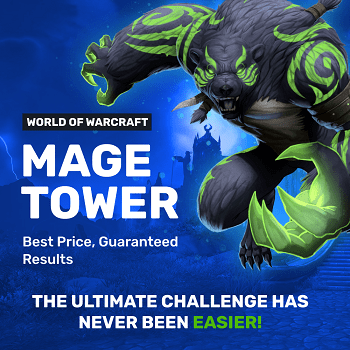 Affliction Warlock Mage Tower Best Enchants & Gems
The following section of our Affliction Warlock Mage Tower guide is devoted to the enchant and gem choice. These tiny items are a crucial part of your preparation process. They greatly boost your main and secondary stats, which is what you need during this encounter. Make sure to buy or craft them in advance before testing your skills in this challenge.
Equipment Slot

Best Alternative

Provided Bonus

Weapon
Sophic Devotion
If procs, you gain a ton of additional

Intellect

for a short period of time.
Cloak
Graceful Avoidance
Slightly boosts your

survivability

rate when you are attacked by

AoE

spells.
Chest
Waking Stats
Provides you with additional

Intellect

to deal higher damage.
Bracers
Devotion of Speed
Boosts your

Speed

to kite

Karam

around the platform easier.
Legs
Frozen Spellthread
Gives you extra Intellect and

Stamina

to hit harder and live longer.
Boots
Plainsrunner's Breeze
Grants you additional

Speed

to make the kiting process easier.
Ring
Devotion of Haste
Increases your

Haste

to cast spells quicker.
Moving further, we have the Affliction Warlock Mage Tower recommended gems to discuss. Your choice usually falls on the following items:
Fierce Illimited Diamond provides you with extra

Intellect

and

Haste

stats, which we need more than any others;
Keen Ysemerald is a common pick for the rest of your slots, as it gives you

Haste

and

Mastery

stats. If you wish to go for pure

Haste,

insert Quick Ysemerald instead.
Purchasing all the required stuff costs a ton of gold. You can spend weeks if not months of your precious time farming it. Instead, we highly recommend that you Buy WoW Gold with our company's help. We offer reasonable prices and guarantee the fastest delivery to any server you play on.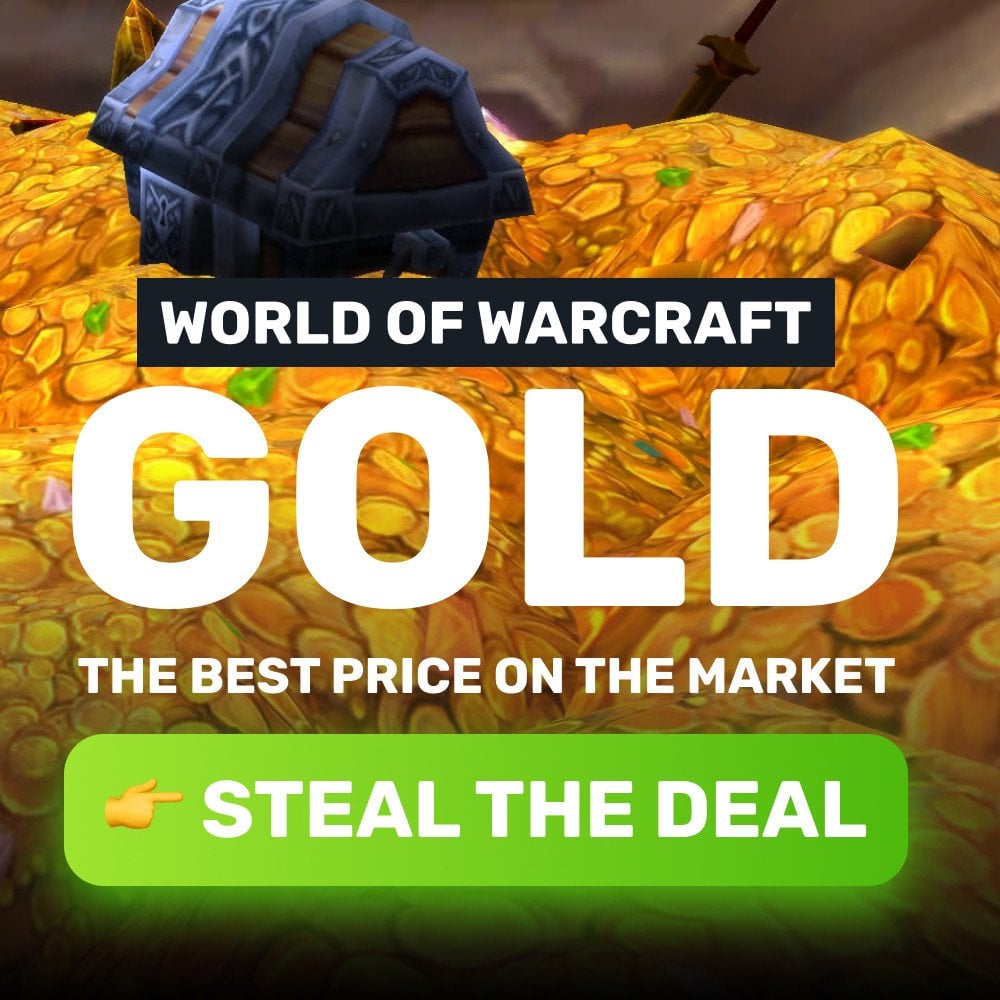 Affliction Warlock Mage Tower Best Consumables
When trying to complete the challenge, you just cannot go without consumables. They play a great role in achieving success. Down below, you can find a list containing the most powerful items that should always be in your backpack when fighting this encounter's bosses:
Affliction Warlock Mage Tower Best Talent Build
With the updated talent system brought together with the Dragonflight expansion, players have got a ton of new build variations. However, not all of them are equally good and suit the challenge when playing this specialization. In this paragraph, you can find the optimal Affliction Warlock Mage Tower 10.1 talent build that works perfectly for players of any skill cap.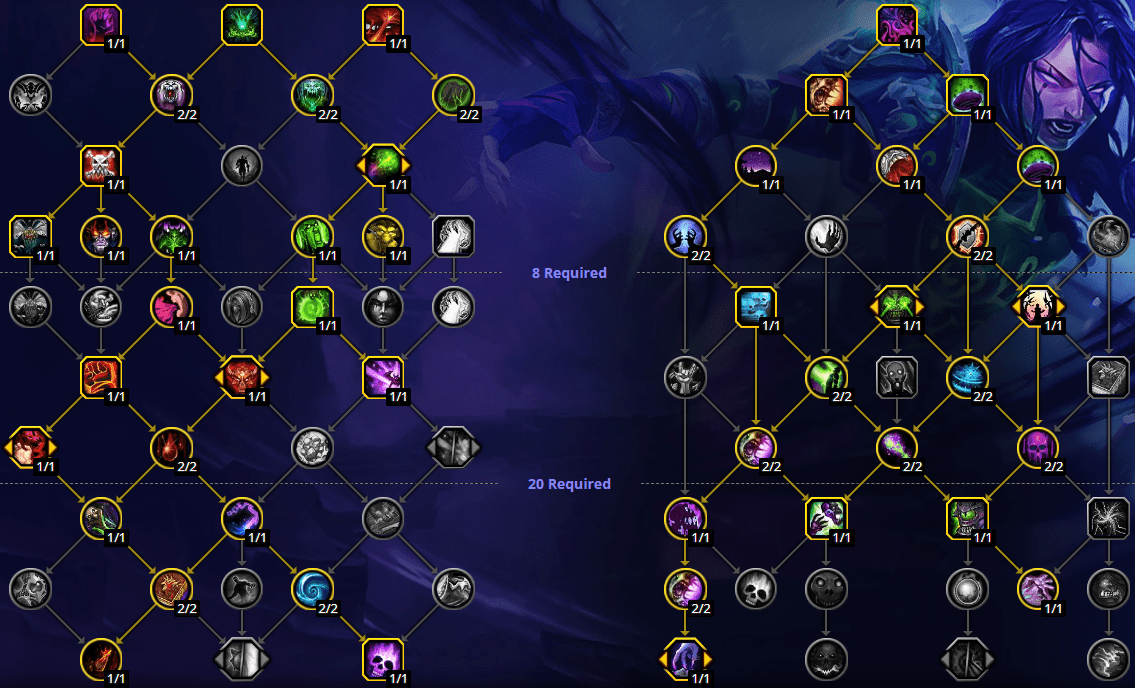 By copying the following code, you can easily export this setup into your game:
BkQAAAAAAAAAAAAAAAAAAAAAAgQSSSiEi0gg0SSSkWAAAAgGAAAAAAASSakkIJJJRRIAA
Before testing your skills in the Mage Tower, you are to reach the level's cap first. If you have no time for this or simply wish to speed this process up, you can always rely on our WoW Powerleveling services. Our professional players will get your character boosted in a blink of an eye.
Karam and Raest Magespear Fight Strategy
In this paragraph, we are going to share a few Affliction Warlock Mage Tower tips you can use to make your life easier during the challenge. However, the chances of you passing it after several attempts are not high. You will still need to practice a lot and learn how to play around the bosses' mechanics and spells.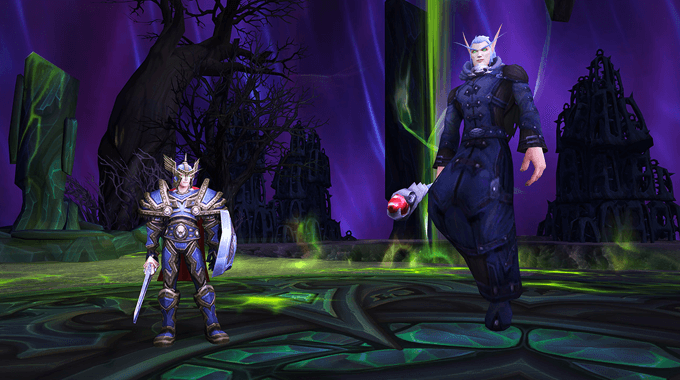 Fortunately, you will not have to face off against both brothers at the same time. At first, you need to deal with Karam Magespear who acts as a melee-range warrior with a shield. Once he is close to you, he will try to cast Rising Dragon, which deals immense damage. Avoid getting hit by it at any cost.
Your primary task during the entire Stage 1 is to kite the boss and deal the maximum damage possible. Once his HP pool reaches 33%, the boss will begin channeling Purgatory and become immune to any damage source.
This is where Stage 2 of the encounter starts. During it, you will fight Raest Magespear who will try to avenge his brother. His main cast is Shadow Bolt, which deals moderate damage. From time to time, he will also summon Hand from Beyond.
The latter immediately starts casting Grasp from Beyond. You want to interrupt this cast by all means or you will be wiped after it is finished. Make sure to deal maximum DPS to bring the boss' HP level to 60%. If you do not do this on time, you will have to repeat Stages 1 and 2 again.
During Stage 3, you will have to fight both twins simultaneously. Here, you want to keep kiting Karam around the platform while dealing the maximum damage possible to Raest. To make it worse, you need to get rid of Rune of Summoning. The latter should be destroyed ASAP or Thing of Nightmare will be summoned to kill you.
Do not try to kill both brothers, as you only need to defeat Raest to complete the challenge. So, do not spend any damaging resources on Karam. You just need to run away from him and keep him under control or slowed down.
Summing up the information given and answering the question of how to do the Mage Tower as Affliction Warlock, you want to use your CCs wisely and not get hit by the deadliest spells. Besides, you should pay attention to adds who can wipe you after a particular cast is finished.
If you wonder whether a possible Affliction Warlock Mage Tower nerf can happen, you can forget about it for now. It is one of the most underrated specializations currently available. Though it is super fun and exciting to play. So, if you enjoy its playing style, make sure to try it out in this challenge.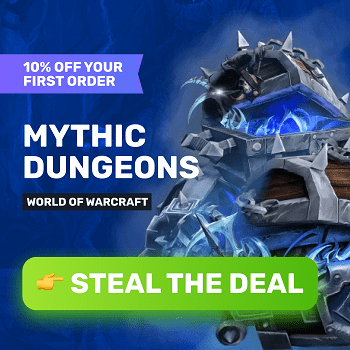 Affliction Warlock Mage Tower Rewards
After you kill Raest, the encounter is considered to be over. You will be teleported back to your original location where you will receive a unique Affliction Warlock Mage Tower appearance. You can check out the way it looks in the screenshot below.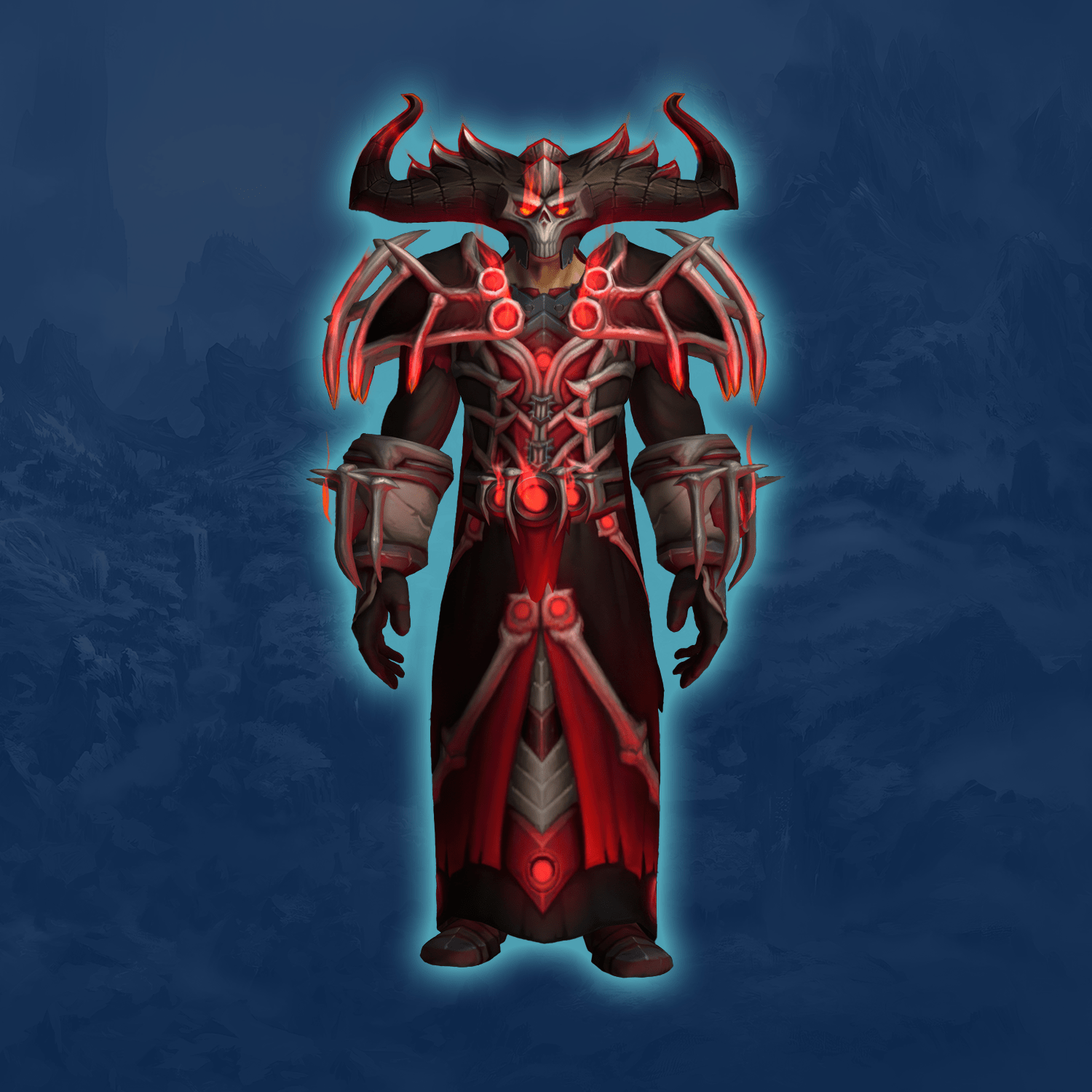 If you are a true hardcore player, you can try to complete all 7 encounters currently existing in the game. For this, you will be rewarded with Soaring Spelltome, which is a unique ground mount. It looks like an open book your character stands on to float over the ground.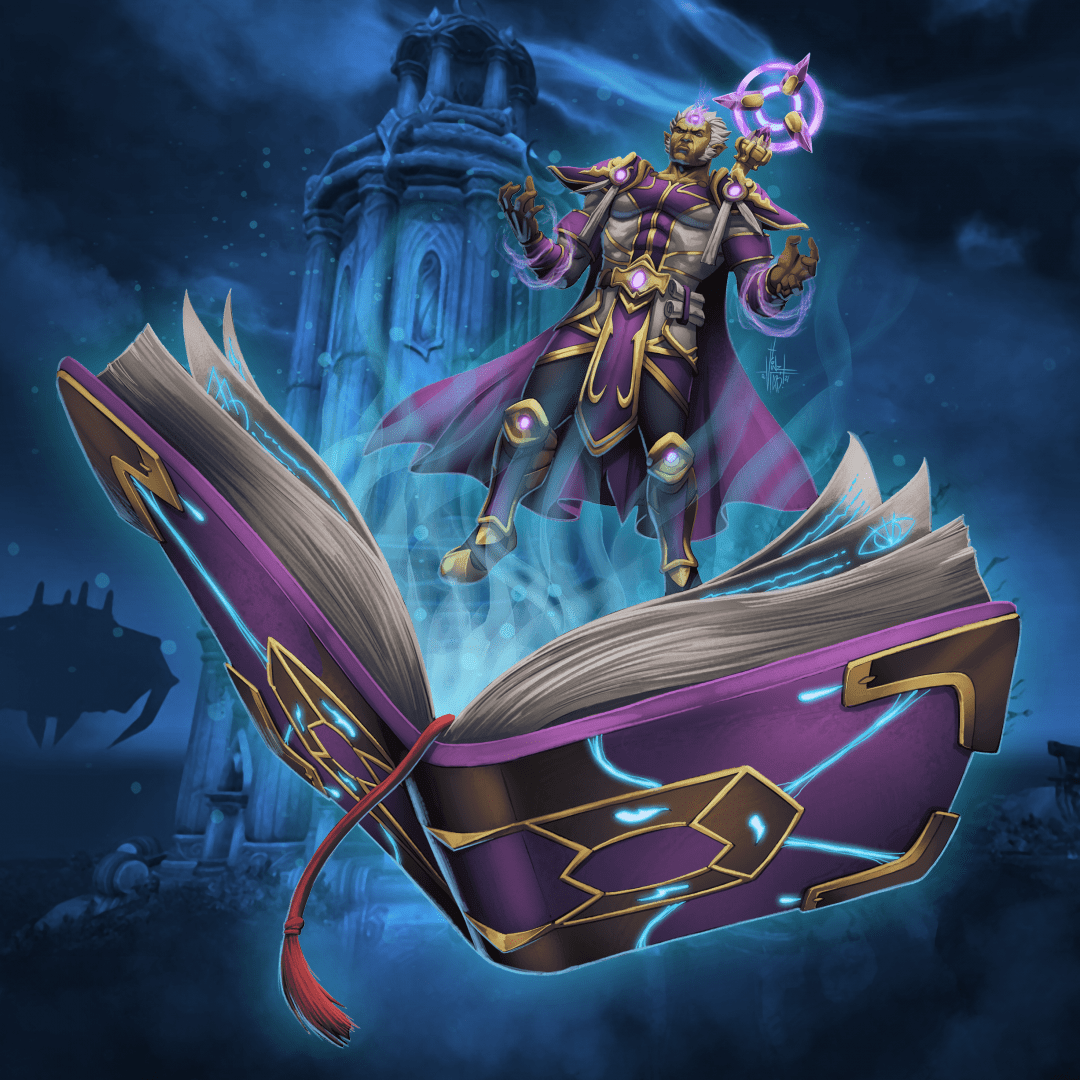 If you wish to get all the mentioned rewards ASAP, you can always order our World of Warcraft Boosting services to let our pro players do the whole job for you. We offer reasonable prices and guarantee the result.
SkyCoach Boosting & Coaching Services
The SkyCoach team has been on the market for over 5 years. While reading the article, you have got acquainted with a few of the services we provide. By using them, you can make your WoW experience truly unforgettable. We help people enjoy the game in a new way. You can forget about endless farming and grinding. Instead, you can actually explore the Dragon Isles while we do the routine job for you.
To ensure you have the best client experience, we offer a 5% cashback on all your orders. You can you this bonus for your future purchases to make them cheaper. If you wish to place an order, just contact our 24/7 customer support service. It will take us a few minutes to respond to you and answer all the questions you have.
F.A.Q.
What reward do Affliction Warlocks get from Timewalking Mage Tower?
As a rule, all people playing this specialization wish to get its class-specific transmog set we described earlier.
What are the best Affliction Warlock talents for Mage Tower?
To get an answer to this question, you need to check a separate paragraph devoted to the optimal talent build you can use for this encounter.
How do you increase damage as Affliction Warlock in Mage Tower?
Since you are a DPS spec, you just need to keep damaging Raest while kiting Karam. As a rule, pressing your damaging spells on cooldown is enough to complete the challenge.
Is Affliction Warlock good for Mage Tower?
Though it is not the most popular spec to play in the game, it is still worth your attention. If you enjoy playing this specialization, forget about any prejudices and give it a try.