Hello, fellow disciples of Elune! Our World of Warcraft Balance Druid DPS guide has everything you need to triumph over any situation the game may present. We'll cover all aspects of playing a Balance Druid, including abilities and talents, equipment and consumables, ways to improve, frequently asked questions, and more. If you're already familiar with the specialization, you can jump ahead to the section that interests you the most. However, if you're new to playing as a Balance Druid, we recommend reading the guide from beginning to end. So, without further ado, let's embark on this journey together!
Balance Druid Pros and Cons
Each World of Warcraft specialization has its own unique strengths and weaknesses, and the Balance Druid is not exempt from this. It is important to become acquainted with these aspects early on, so that if you choose to switch to the Balance specialization, you are aware of what to anticipate.
The Balance Druid class is a formidable force that should not be underestimated. This is due to a number of advantages that they possess:
Although the Balance Druid specialization has many advantages, it also has a few drawbacks that should be noted. These are as follows:
Long Multi-Target Ramp-Up Time - Due to the amount of time it takes to apply Moonfire to multiple targets, the

Balance Druid

's multi-target burst is significantly lower than other classes. Additionally, building up an initial Astral Power pool can take between 10-15 seconds, which can slow down the player at the start of a single-target encounter.
Lack of Talent Strength - Currently, the

Balance Druid

's base kit is quite strong, and the talents do not have much impact on overall damage. If the player chooses talents that do not alter damage, they may lose around 15% of their overall damage output. This lack of flexibility can make it difficult for the player to make meaningful choices when selecting talents for a particular encounter, which can be particularly problematic when compared to other classes that offer more varied talent choices.
To truly gauge the complete potential of any specialization, it is important to play it at maximum level. However, leveling up from scratch can seem daunting and time-consuming, especially if you do not have a level 70 Balance Druid yet. Fortunately, there is an effective and straightforward solution available. You can consider using our Dragonflight Leveling 60-70 service. Our team of professional players will take your character and quickly level it up to the cap. Our prices are reasonable, and we guarantee successful results.
Balance Druid Basics
The Balance Druid class follows a standard build and spend gameplay style that involves a predictable rotation cadence. When combat starts, or when Celestial Alignment is triggered, players must choose between Solar or Lunar Eclipse. Solar Eclipse requires casting two Starfires while Lunar Eclipse requires casting two Wraths. Currently, Lunar Eclipse and Wrath take priority in all phases.
After choosing an Eclipse, players proceed to generate Astral Power by using the appropriate filler spell. To generate Astral Power during Solar Eclipse, players must cast Wrath, while during Lunar Eclipse, Starfire should be used. Each Eclipse lasts for 15 seconds, and it's crucial to maintain uptime as much as possible. Therefore, players should aim to be inside Eclipse as often as possible.
Core Balance Druid Abilities
At the heart of the Balance Druid class lies the crucial mechanic of building and spending Astral Power. Astral Power is the key resource that enables players to unleash powerful spells like Starsurge or Starfall whenever necessary. This resource is generated through the use of specific abilities, commonly referred to as builders, such as Moonfire, Sunfire, Starfire, and Wrath.
It's important to note that the list of abilities mentioned above is by no means exhaustive. Players should carefully review their spellbook to familiarize themselves with additional rotational skills and cooldowns and learn when to use them effectively. Although practicing on target dummies can be helpful, it's crucial to eventually take on more challenging content.
Mythic+ dungeons are an excellent way for players to put their abilities to the test while also earning valuable gear. However, running these dungeons with random groups can often be stressful and negative, especially for those who are trying to gear up and improve their M+ score. Thankfully, there is a solution to this problem. By utilizing our Mythic Carry services, players can team up with our pro players who will clear any Dragonflight dungeons for them. This not only guarantees success but also provides players with valuable gear and a boost to their M+ score, which can greatly benefit them in future adventures.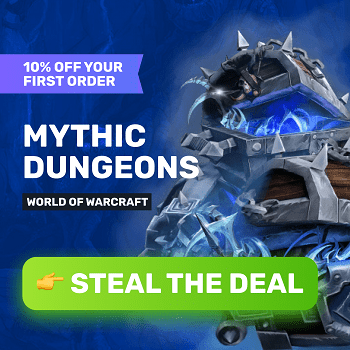 Balance Druid Stat Priority
Now let's turn our attention to Balance Druid stats. As a Balance Druid, maximizing your Intellect should be your top priority, as it is your primary stat. However, you shouldn't overlook the benefits of the secondary stats. Critical Strike can be especially advantageous, as it provides a chance to deal double damage with spells. Haste, on the other hand, reduces spell cast time, speeds up your damage over time effects, and can also decrease your global cooldown time. Although Haste is particularly strong for AoE damage, it's still quite effective for single-target damage. Mastery is another important stat that increases the overall damage of your spells, and is currently considered the best secondary stat for Balance Druids. Versatility is also worth considering, as it can improve both your damage output and your ability to heal, while also reducing damage taken.
Overall, this stat priority is a safe and effective choice for Dragonflight in the current state of the game:
Intellect;
Mastery;
Haste;
Crit;
Vers.
This guide provides a useful starting point for evaluating whether an item is an upgrade or not. However, as you gain more experience, it's best to use a character simulator to determine the exact value of an item's stats, since the relative importance of each stat can shift as you acquire new gear. While simulating your character is the most accurate way to assess upgrades, in the vast majority of cases, simply following the rule of prioritizing higher item level gear will suffice. Occasionally checking your stat priority can also be helpful in ensuring that you are equipping items that align with your desired playstyle.
Best Balance Druid PvE Builds
As you may already be aware, Dragonflight has implemented a new and improved talent system that allows for greater character customization and the creation of multiple builds. This system offers increased flexibility for various encounters and encourages experimentation, which was the developers' intention.
By utilizing the talent builds outlined below and saving them in your templates, your Balance Druid will be well-equipped to handle any situation that arises in World of Warcraft. It's important to note, however, that success is not solely determined by having the right talent build. In a world of lengthy raid queues, sudden key departures, and frustrating PUG experiences, success often requires teamwork. If you're looking to expedite your progress, we offer a variety of Dragonflight Boost services that are sure to meet your needs.
Balance Druid Raid Build
The talent build outlined below strikes a balance between area of effect (AOE) and single target damage, making it well-suited for most fights in the Aberrus, the Shadowed Crucible raid.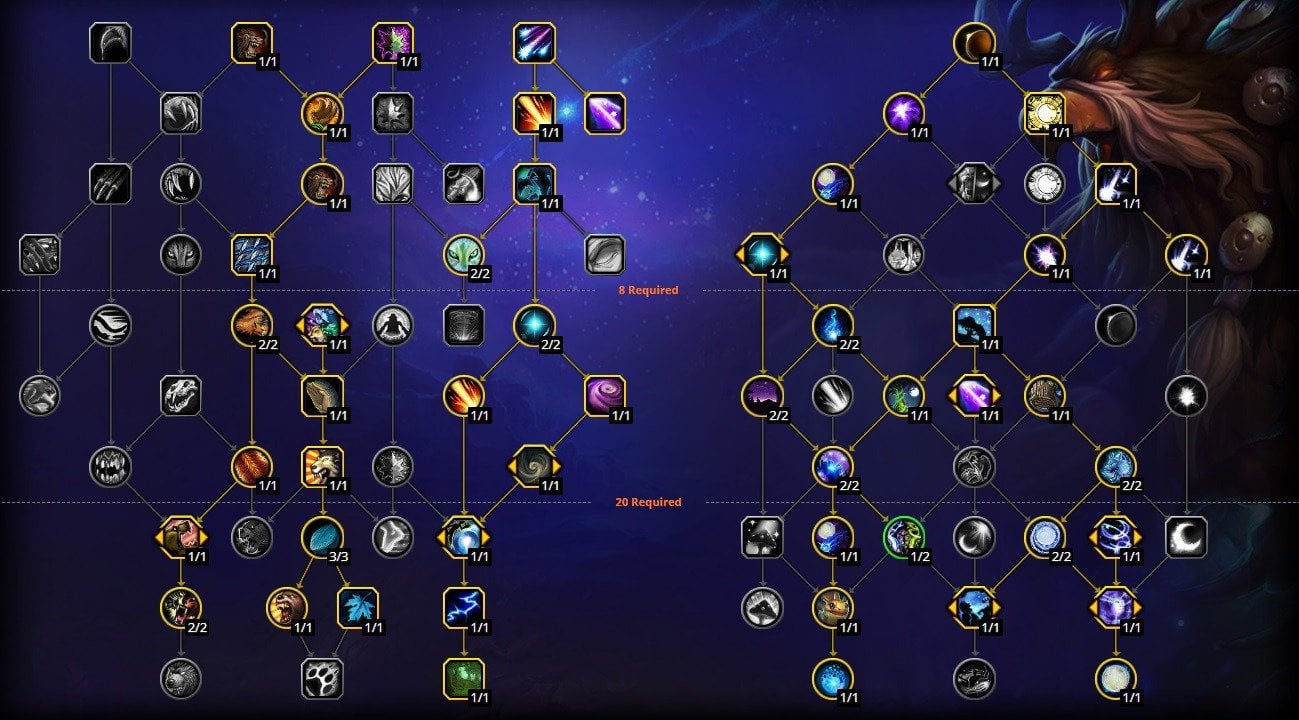 To apply this build in-game, simply copy and paste the text below:
BYGAAAAAAAAAAAAAAAAAAAAAAAAAAAAAAAAAAAAAAAAAAFASSEhkEgkEJRKQLRSSSUSCJHIEaJlIERDgCNAA
Balance Druid Mythic+ Build
For Balance Druids who plan to tackle Mythic+ dungeons, the talent build below prioritizes sustained AOE damage while also incorporating high-value nodes in the talent tree: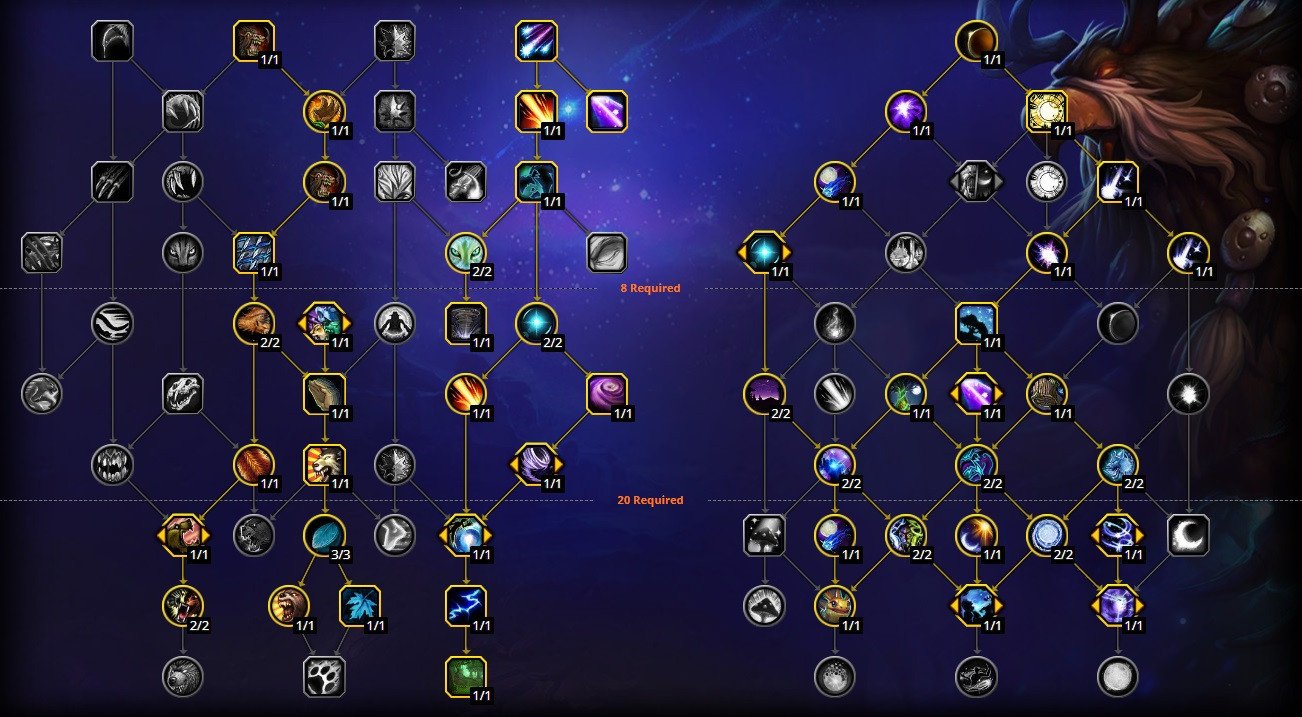 To import this build into your character's template, copy the string provided below:
BYGAAAAAAAAAAAAAAAAAAAAAAAAAAAAAAAAAAAAAAAAAAFASSkEkEgkEJRKQLRSSClkQkkEaJlIE0AoQBA
Best Balance Druid PvP Build
During an Arena match, Balance Druids are responsible for fulfilling two critical roles. Firstly, utilizing their potent single-target damage to keep the pressure on their opponents. Secondly, employing their crowd control abilities and mobility to set up kills. Among these crowd control abilities, Cyclone is widely considered the most effective one in the game. Besides, Balance Druids also have access to the Mass Entanglement + Solar Beam combination, which can be extremely useful. For optimal results, you should Cyclone the enemy's healer while your teammate stuns the kill target.
If you're looking for a talent setup specifically for PvP, then the following is the recommended build: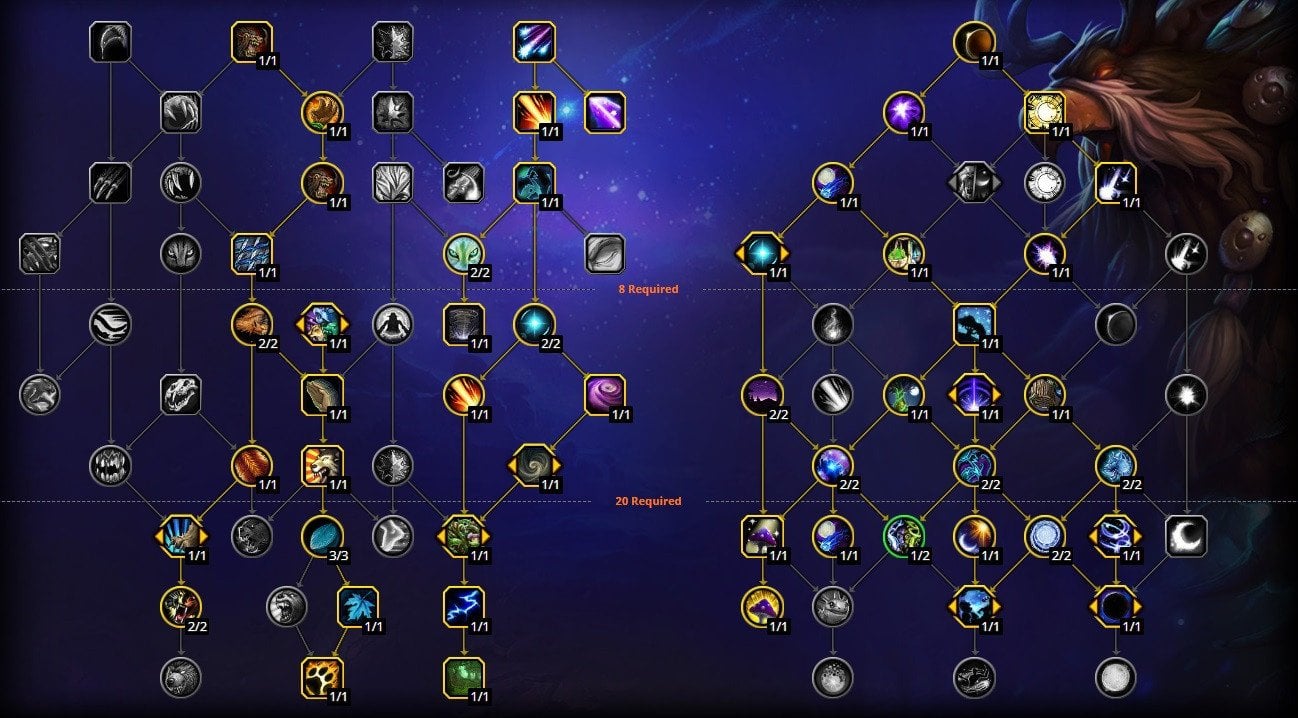 Import string:
BYGAAAAAAAAAAAAAAAAAAAAAAAAAAAAAAAAAAAAAAAAAAFASSkEkEgkIJRaQJRSSiUSQcgkQKJtkQQDgCNAA
When it comes to selecting PvP talents, you are allowed to choose three from the list provided below. Each talent has its specific applications, and some are more effective for certain strategies than others. While the top three choices are highly recommended, they can be substituted with other PvP talents based on your team's objectives.
Essential PvP Talents:
Moonkin Aura increases the Critical Strike chance of your teammates' spells when you use Starsurge. This is an excellent way to enhance you and your teammates' sustained damage.
With Owlkin Adept, Owlkin Frenzy can stack up to two times and reduce the cast time of your next Cyclone or Entangling Roots by 50%. This talent is especially useful against teams that tend to focus on you as it can help negate damage with near-instant Cyclones.
Situational PvP Talents:
If you find the prospect of engaging in this exhilarating gameplay exciting (which it undoubtedly is), you may want to focus on reaching the level cap as quickly as possible. It's worth noting that PvP activities below level 70 are somewhat limited, so achieving that milestone should be your primary objective. However, progressing through the levels can be tiresome and even frustrating, especially when you're on the cusp of leveling up. If you want to expedite the process, you might consider trying out our Dragonflight 60-70 Powerleveling service. At a reasonable cost, we can help you level up your Balance Druid to 70 and up to speed in a relatively short period of time.
Balance Druid Best in Slot Gear
The world of Dragonflight offers a multitude of options for obtaining gear, ranging from raids and Mythic+ dungeons to the Crafting Order system. As a result, the notion of BiS (Best-in-Slot) gear has lost some of its significance. However, many players still enjoy pursuing a specific list of items, and it serves as their primary motivation for engaging in WoW content.
It's worth noting that the effectiveness of an item is influenced by various factors, such as whether you're participating in PvP or PvE content and the other gear you have equipped. To determine the precise value of any gear for your Balance Druid, we highly recommend simulating your character.
In general, prioritize items with higher item levels, as they provide the most significant boost to your primary stat, Intellect. After that, consider the stat priority discussed earlier.
Aberrus, the Shadowed Crucible Best in Slot Gear for Balance Druid
It's important to note that raiding in Dragonflight may not be the quickest method for obtaining gear for your character. If speed is your top priority, it's worth exploring other options such as crafting or Mythic+ dungeons. However, if raiding is your preferred activity, here's a list of the items you should strive to acquire:
While striving to obtain the list of items mentioned above can significantly boost your character's power, it's important not to obsess over it. While it's tempting to pursue the "mathematically best" options, there are often alternatives that are easier to obtain and provide similar benefits. Additionally, game developers regularly introduce new gearing options and make changes to the game that can disrupt the theorycrafting of BiS lists. As such, these lists require constant updating. It's crucial to remember that executing your rotation effectively, having a deep understanding of encounters, and communicating and coordinating with your fellow players can have a more substantial impact on your damage output and survivability than any item on the list.
Mythic+ Best in Slot Gear for Balance Druid
Mythic+ system is a highly efficient means of obtaining gear in Dragonflight. Completing higher-level keys presents a significant challenge, but success can result in equipping your character with some of the best equipment available in WoW PvE.
It's worth reiterating that the items mentioned above are merely examples of what you should be aiming for in the end-of-the-run chests and the Great Vault. While completing Mythic+ dungeons or obtaining gear from other sources, you may encounter alternatives that suit your character better. As such, obtaining the exact set mentioned earlier is not a necessary goal.
The Upgrade, Spark of Shadowflame, and Embellishment Options for Balance Druid
In general, weapons and trinkets have traditionally been the best gear to prioritize for upgrades. However, it's also important to consider the possibility of upgrading tier or other off-pieces using Flightstones.
When it comes to dungeon items, the Ancestral Stoneshaper and Irideus Fragment are two items that are worth considering for upgrades. However, once these items have been upgraded, it's recommended to focus on upgrading crafted pieces or tier to a higher level.
After obtaining the Spark of Shadowflame, it's recommended to craft the following items at the highest possible item level. Remember that you can use the recrafting system to increase the item level later if needed. Once you have crafted your best pieces, use remaining sparks to upgrade slots with the lowest item level in order to increase your average item level.
Consider crafting these items with your Spark of Shadowflame:
Crafting items with Embellishments allows you to add special properties and effects to your gear in addition to regular stats. It's important to keep in mind that you can only wear two pieces of gear with Embellishments at a time. With that said, here are the best Embellishments to consider:
Toxified Armor Patch and Slimy Expulsion Boots are the two best Embellishments for both single target and area of effect situations. If you have these two Embellishments, you don't need to worry about anything else. Keep in mind that Toxified Armor Patch needs to be crafted on a Leather piece.
It is worth noting that acquiring all this crafted equipment can be quite costly in terms of gold, and it may take several weeks of dedicated effort to farm the necessary resources. However, players can opt to buy WoW Gold through a reliable service provider for a quick and convenient solution. The prices are reasonable, and the results are guaranteed.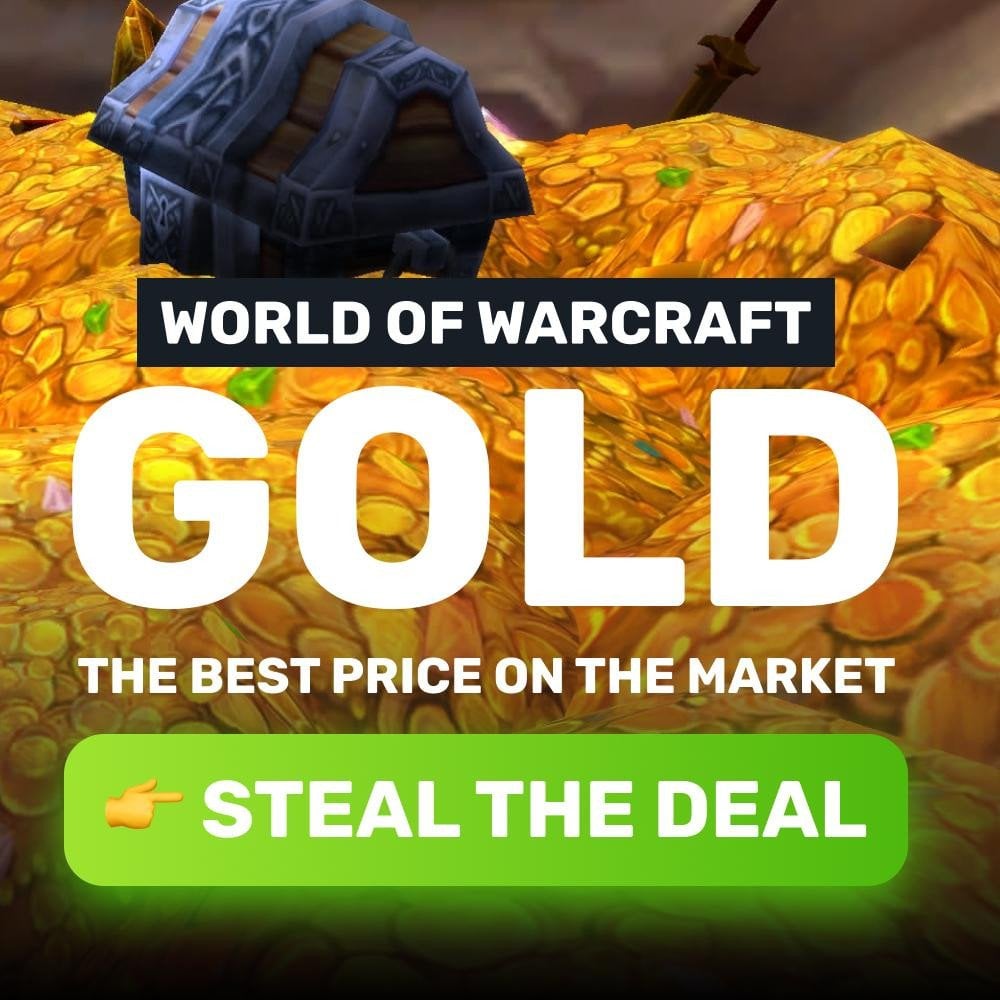 Best Balance Druid Enchants and Consumables
It's always a smart move to have appropriate enchantments on your gear. Enchantments not only boost your character's power but also indicate to other players that you're a skilled and dedicated member of your class. To help you out, here's a comprehensive list of the top enchantments currently available in Dragonflight:
When it comes to choosing the best phial for a Balance Druid, Phial of Elemental Chaos is the top pick. However, some players opt for Phial of Tepid Versatility, which offers similar damage output and damage reduction.
For maximum effectiveness in both raiding and Mythic+, Balance Druids should always have an Elemental Potion of Ultimate Power on hand, as well as an ample supply of Refreshing Healing Potions for any situation. In dire circumstances, a Potion of Withering Vitality may come in handy.
To further enhance your performance, don't forget to enchant your weapon with a Howling Rune and enjoy a feast of Grand Banquet of the Kalu'ak before every encounter. If sharing isn't your thing, a plate of Sizzling Seafood Medley should do the trick.
For gemming your gear, it's recommended to use Keen Neltharite in all your sockets, except for one Skillful Illimited Diamond.
While it's important to have the right gear enchants and consumables, they won't necessarily guarantee success in defeating raid bosses. Moreover, if you can't find a suitable raid group for a particular week, you risk missing out on an entire raid lockout. Fortunately, our WoW Raid Boost services offer a solution to this problem. Our team will help you acquire the best raid items for your character, allowing you to make the most of your gear enchants and consumables. With our assistance, you can rest assured that you're well-equipped to take on any raid challenge.
Balance Druid Rotation Guide
Let's take a look at the proper way to play a Balance Druid, starting with the opener rotation. As with any skill, practice makes perfect, so make sure to get plenty of practice on target dummies before entering real combat.
Balance Druid Opener Rotation
Pre cast 2 Wraths to get into Eclipse.
DOT with Stellar Flare.
Use Cooldowns such as Celestial Alignment on cooldown.
Starsurge to not cap Astral Power.
Fury of Elune during cooldowns.
Dump all your Astral Power towards the end of your cooldowns.
Balance Druid Single-Target Rotation
Balance Druid multi-target rotation
DOT targets with Moonfire and Sunfire with 100% uptime. This is very important due to our mastery. This is the first global priority.
Get into Eclipse ASAP or Press your Cooldowns. If you are going to use cooldowns on AOE you just activate after you get everything DOTted.
Starfall until you are 0 Astral Power.
Use Fury of Elune as often as possible. It is very good AP generation.
Stellar Flare targets that will live longer than 8 seconds assuming the trash pack also takes longer than 30 seconds and you will not overcap on AP.
Spam Starfire.
Balance Druid Leveling Guide
When it comes to leveling a Balance Druid, the early stages can feel pretty ridiculous. With the right gear, it's easy to mass pull a large number of mobs and spam abilities like Starfall and Moonfire. At the first few levels, enemies will simply melt away. However, this strategy doesn't hold up once you reach higher levels or encounter more challenging opponents. In fact, when it comes to leveling, Moonkin is often considered one of the strongest or weakest specs in the game, with little middle ground.
Here is the talent setup for the leveling process: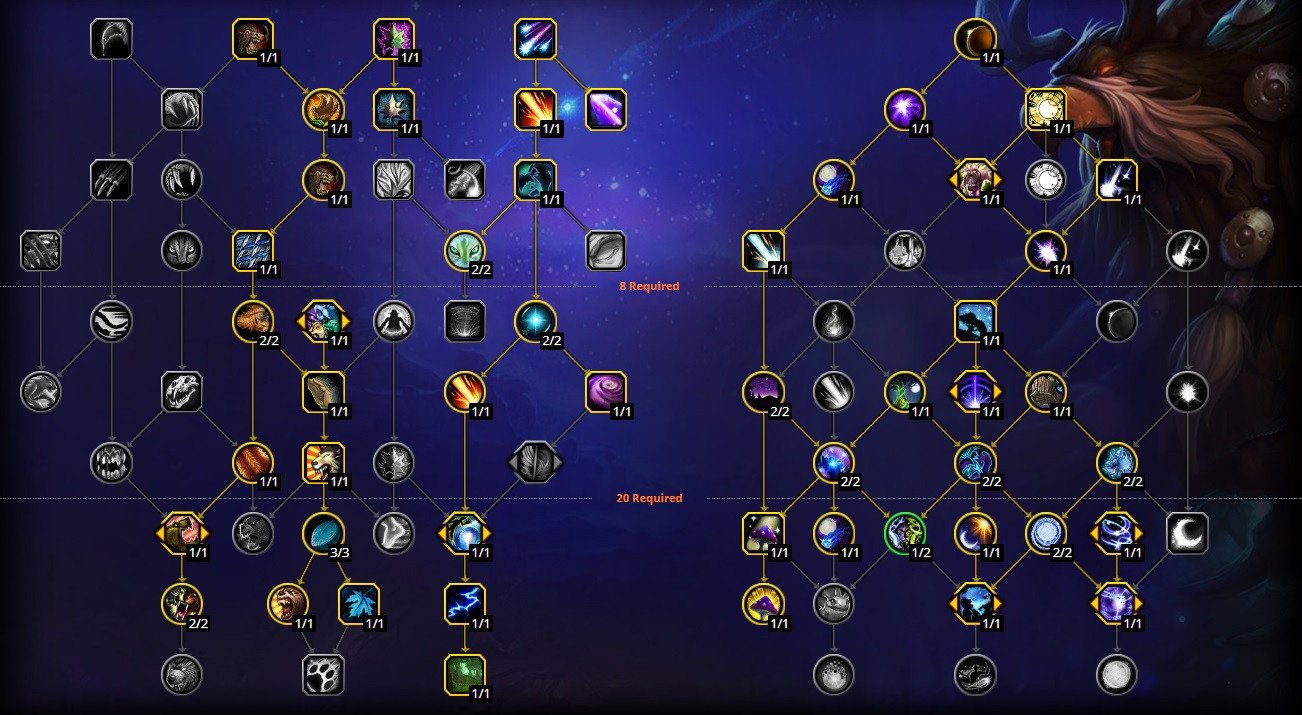 Sting for copying:
BYGAAAAAAAAAAAAAAAAAAAAAAAAAAAAAAAAAAAAAAAAAAFASSERSSASSkEpAtEJJJSJRRcgkQKJlIEUAoAAA
As you progress towards level 70 with your Balance Druid, you may want to consider using certain consumables to aid you on your journey.
When it comes to leveling your Balance Druid, there is no special rotation to follow. You can refer to the general rotation mentioned earlier in this guide.
Reaching level cap in WoW opens up a whole world of possibilities for your character. If you feel overwhelmed and would like some assistance with your newly-leveled character, you can check out our World of Warcraft Boosting services. Our professional players complete these services at the best market price and as quickly as possible.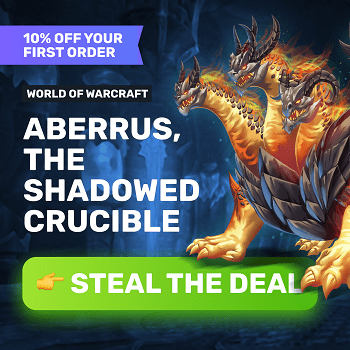 The Best Primordial Stones for Balance Druid
Currently, using Primordial Stones is not an optimal choice compared to crafted rings. The loss of secondary stats with Primordial Stones and Onyx Annulet makes them suitable only for Patchwerk Single Target scenarios. Even in Mythic+ dungeons, it appears that using them is a downgrade compared to crafted alternatives. Additionally, many of the stone combinations result in significant reductions in performance compared to the 418 Crafted Rings.
How to Become a Better Balance Druid in Dragonflight
With proper equipment, enchantments, and nourishment, as well as familiarity with your opener, you're ready to take on more advanced tips for a Balance Druid. This section provides some valuable tips and tricks:
Take your time exploring your

spellbook

and

talents

, paying close attention to everything, including talents that are not part of our recommended builds. Mastery of your specialization is what sets exceptional druids apart from good ones;
Don't neglect

target dummy training

or running

low-level keys

. Our opener and resource management are complex and require muscle memory to execute correctly;
Seek

gear upgrades

from multiple sources rather than focusing solely on "Best in Slot" lists or a single content type. Dragonflight provides equipment from nearly every activity, which is advantageous for beginners;
Research

raid strategies

and

dungeon routes

to become the most informed and prepared player in your group;
Be a team player! In WoW, individual accomplishments are rare. Learn to coordinate

crowd control

and

cooldowns

with your party and raid members to achieve extraordinary results;
Feel free to

experiment

! As we mentioned earlier, your talents and abilities are not set in stone. Try new things and see what works best for you.
Other Articles to Read
At SkyCoach, we strive to provide comprehensive coverage of our favorite games. If you're looking for information on other topics related to World of Warcraft, we invite you to explore our blog. We offer detailed guides and articles on various WoW specializations and in-game activities.
Perhaps you're interested in tanking and want to learn more about the Blood Death Knight, or maybe you'd like to try a new specialization like Retribution Paladin. Whatever your interests, we've got you covered.
If you're still focused on Balance Druid, we recommend our Balance Druid Mage Tower Guide. This exciting challenge offers unique rewards and will put your skills with this caster spec to the test!
SkyCoach Boosting & Coaching Services
With so much information available, it's easy to feel overwhelmed by the sheer scope of World of Warcraft. Over the years, the game has grown into a massive universe filled with countless intricacies, making it difficult to find the time to learn everything, especially if your playtime is limited.
At SkyCoach, we're dedicated to ensuring that you never miss out on anything. Whether you're in need of gold, gear, a cleared raid or dungeon, or even coaching from a pro player, we've got you covered. Our services are wide-ranging, our prices fair, and our support available 24/7. Plus, we offer regular sales and a cashback program that can save you up to 20%! So if you ever need anything in WoW (or several other online games), you can always count on us.
Final Words
Our goal with this article was to provide an all-encompassing resource on every aspect of playing a Balance Druid in Dragonflight. If you had any unanswered questions regarding Balance, we hope that you were able to find the answers you were looking for here. Our recommendations in this guide should assist you in improving your gameplay and increasing your enjoyment while playing WoW. However, please keep in mind that these are merely suggestions, not strict rules to follow. Don't hesitate to try out different talents, rotations, and gear to find what works best for you. Remember, at the end of the day, WoW is just a game meant to be enjoyed. That's all the information we have for now. Take care, and we'll see you in the Dragon Isles!
F.A.Q.
Are Balance Druids good in Dragonflight?
Balance Druids are extremely effective! They boast a versatile damage profile and impressive utility kit, making them a valuable asset in all types of content.
Is Balance Druid hard to play in WoW?
Although learning the basics of how to play Balance Druid is relatively straightforward, climbing the ranks in Mythic+ or raiding can be a daunting challenge at higher levels. It takes a skilled player with a determined mindset to master all the intricacies of this specialization.
What is the best weapon for a Balance Druid?
Equipping a weapon with Intellect, either a two-hander or a one-handed weapon with an off-hand, is always the best choice.
What is the best profession for a Balance Druid?
While not strictly mandatory, Leatherworking is an obvious choice as it allows you to craft armor for yourself. Herbalism and Mining are also excellent choices for general gold-making purposes.
Is Balance Druid good in PvE WoW?
Absolutely! Balance Druids are a top-tier choice for both raids and Mythic+ content, making them highly sought-after in group settings.
What is the best rotation for a Balance Druid?
Mastering your resources and cooldowns is key to playing Balance Druid effectively. Once you've achieved this, the spell sequence will come naturally. Reviewing the Balance Druid rotation section of our guide is a great place to start.