Fellow heroes, welcome to our WoW Retribution Paladin guide. This article is designed to help you master this class and excel in combat. No matter if you enjoy PvE or PvP content type, we have you covered. Whether you are a seasoned veteran or just starting out, this class overview will provide you with the tools and knowledge you need to succeed. With comprehensive information on builds, gear, rotations, and more, you will be well-equipped to take on any challenge. So, buckle up and get ready for a fight!
IMPORTANT NOTE: At SkyCoach, you can also Buy WoW Boost at the lowest prices and with the fastest delivery. You can make your first purchase even CHEAPER if you find our special PROMO CODE (highlighted in green) hidden in this article and get a 20% DISCOUNT.
Check out some of our most popular
WoW Boosting services

below:
Retribution Paladin Pros and Cons
We would like to begin our Retribution Paladin DPS guide with the spec's strengths and weaknesses description. This is especially important if you have never played this specialization before and wish to learn the basics and what to expect from it.
Let us begin with the Upsides, as there are quite a few of them:
Can perform extremely well not only in offense but defense as well;
Boasts a ton of utility and defensive spells;
Strong solo-target and multiple-target builds;
Overwhelming healing potential for a

DPS

spec.
Up next, we would like to discuss the Downsides, which include:
Limited mobility;
Heavily dependent on cooldowns;
Cannot deal significant single and multiple-target damage with one build.
To see what this specialization is capable of, you need to reach the level's cap first. The whole leveling process becomes extremely tedious and boring when you are about to finish. If you are tired of it and wish to speed things up, we have the solution for you. Check out our Dragonflight Leveling 60-70 service where our professional players are ready to boost your character. We offer fair prices and guarantee the result.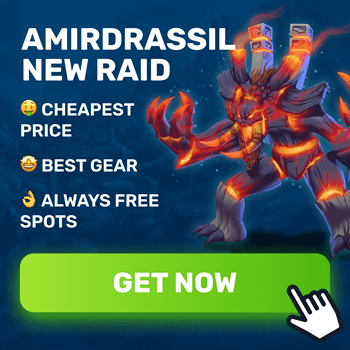 Retribution Paladin Basics
Luckily for beginners, this is by far not the most difficult spec to master. Your gameplay mainly revolves around dealing the maximum damage while buffing and saving your guild/party members. The only hard point you need to be aware of is how heavily you rely on your cooldowns. To put it simply, you cannot do anything while they are refreshing.
When you start playing high-level PvE content, you will notice how long they actually take to recharge. Therefore, you want to learn whether it is necessary to use this or that spell and when it is better to save it for later.
Just like before, your damage output mainly depends on how many Holy Power points you have generated. This part of the Retribution Paladin Dragonflight gameplay is relatively easy to master. You just need to save a few of these points to get access to the most powerful damaging spells. BLOG20
Retribution Paladin Core Abilities
Despite being a DPS specialization, you still play around your team. The reason you do this is a set of strong utility and defensive spells. Neglecting them will definitely lead your party to failure when participating in high-level PvE content. As for PvP, unlike most damage-oriented specs, you are not that squishy and can withstand face-to-face battles relatively easily. Therefore, this spec performs well in fighting other players. As for the strongest WoW Retribution Paladin abilities, they are as follows:
This is by far not the complete list, as this specialization boasts a lot of unique and truly powerful spells. Nonetheless, most of them have long cooldowns and should be used wisely. This especially concerns defensive spells.
All the abilities you see above perform equally well in PvP and PvE content. The latter is definitely of a higher value since your priority task is to get geared up. If you cannot find a decent team or are stuck at a certain keystone, we are here to help you. By ordering our Mythic Carry services, you can be sure our pros will clear out any dungeon for you in a blink of an eye. This will take us minimum time and the result is guaranteed.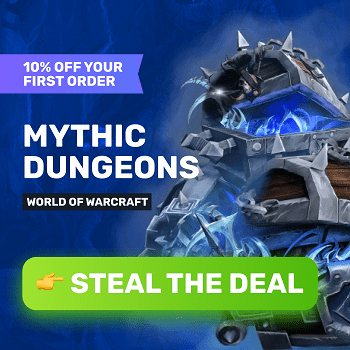 Retribution Paladin Stat Priority
When playing this specialization, you want to have as much Strength as possible. The latter is your most important stat, as it directly increases your damage output. Only then, you have various secondary stats, which also play a significant role. Critical Strike increases your chance to critically hit for more damage and heal twice as much. Haste decreases your global cooldown and increases your attack speed, allowing you to deal more damage in less time. Versatility increases the damage done and reduces the damage you take.
Below, you can see all the Retribution Paladin stats and the order they are usually prioritized in:
Strength;

Versatility;

Critical Strike;

Haste;

Mastery.
However, it is important to note that stat priority can change based on your current gear and talents. It is also crucial to balance your stats to ensure that you have a well-rounded character. If you are a more experienced player, you definitely should sim your character to see how it can possibly perform in action. In other cases, you can follow the priority presented above, as it generally suits any content type.
Best PvE Retribution Paladin Builds
Unlike the previous expansions, Dragonflight has brought a completely updated talent system. As time has shown, the majority of players enjoy it so far. The reason for this is that it brings more alternatives you can try out in the game. In general, it has become more flexible and lets you stick to a preferred playstyle indeed.
The following two sections of our guide are devoted to Raiding and Mythic+ types of content. However, having the correct talent setup does not guarantee success. You still have to rely on your guild/party members. If you are tired of wasting time and wish to get the desired loot, you can Buy Dragonflight Boost and let our professional players do this job for you. We offer reasonable prices and guarantee the fastest completion time.
Retribution Paladin Single-Target Raid Build
In this section of the article, you will find out what Retribution Paladin raid build you can use for practically any raid currently available in the game. As a rule, you want to focus on dealing the maximum damage against a solo target. The following talent setup grants you this opportunity as nothing else.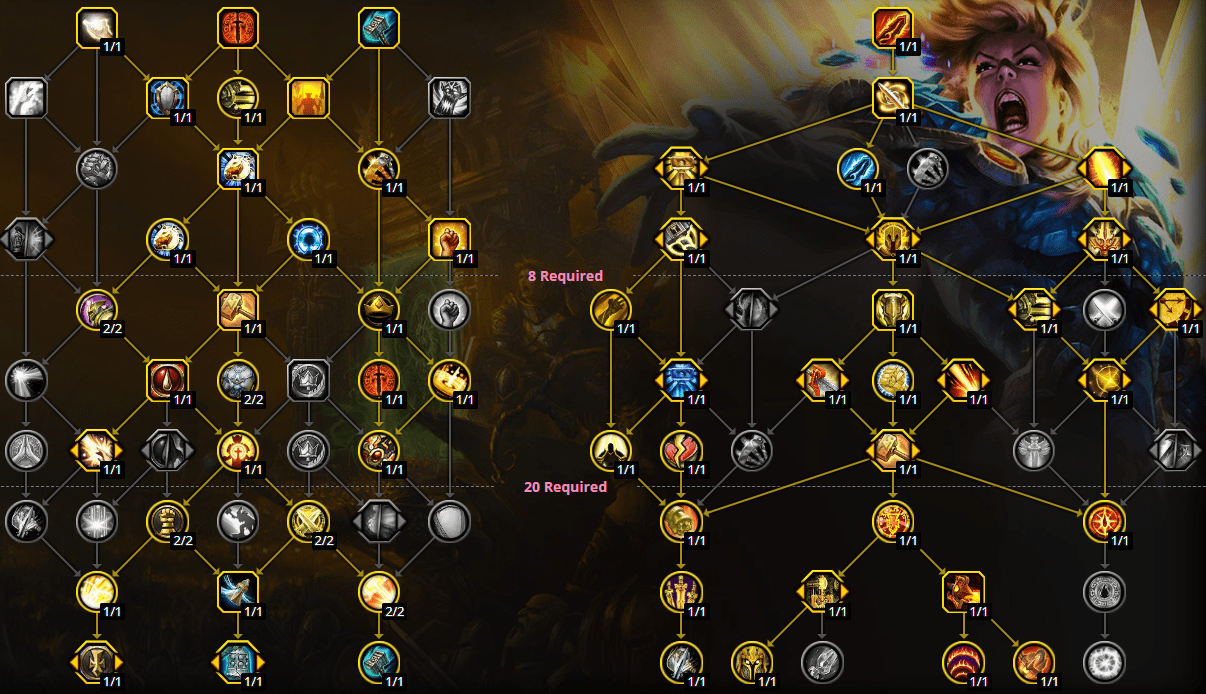 You can easily export this game into your game to see it in action:
BYEAAAAAAAAAAAAAAAAAAAAAAAAAAQAAiWp0KJtSjoFJplEAAAAAAARQSCBSQkSESCpkWCkICJiSjWA
Retribution Paladin AoE Raid Build
As we mentioned earlier, this specialization is not really good at combining damage. You either want to focus on devastating a single target or several of them. Doing both things simultaneously is practically impossible. Therefore, if you are acting as an AoE damage dealer in your party during a raid, the following build is what you are looking for.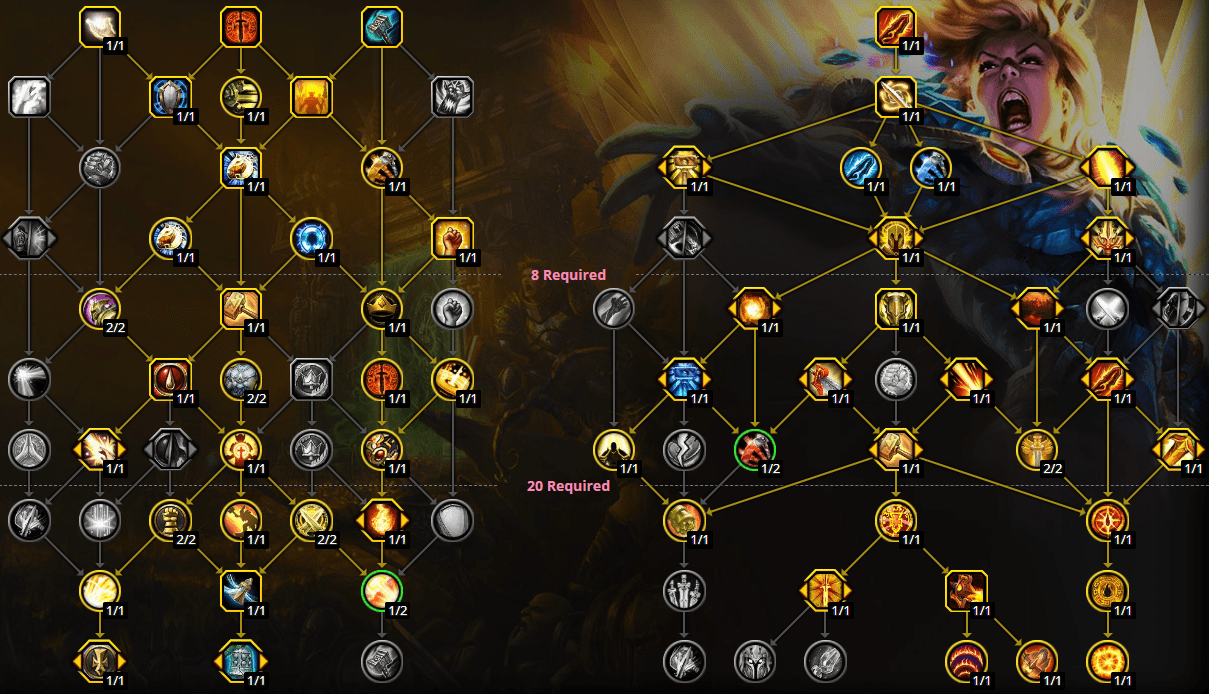 By copying the following code, you can quickly export this setup into your game:
BYEAAAAAAAAAAAAAAAAAAAAAAAAAAQAAClSrk00OQiiIpIJAAAAAAARQSCBSIRKxBKSCplWSpRCBJo0oBA
Retribution Paladin Mythic+ Build
Up next, we have another Dragonflight Retribution Paladin PvE build to discuss. It focuses on another type of content, which is Mythic+. When participating in it, you have to deal with dozens of small mobs before reaching a boss. Therefore, the setup you see below represents a combination of single-target and AoE builds. Even though this spec is not good at it, you have to make an exception and make up a required setup for every content type.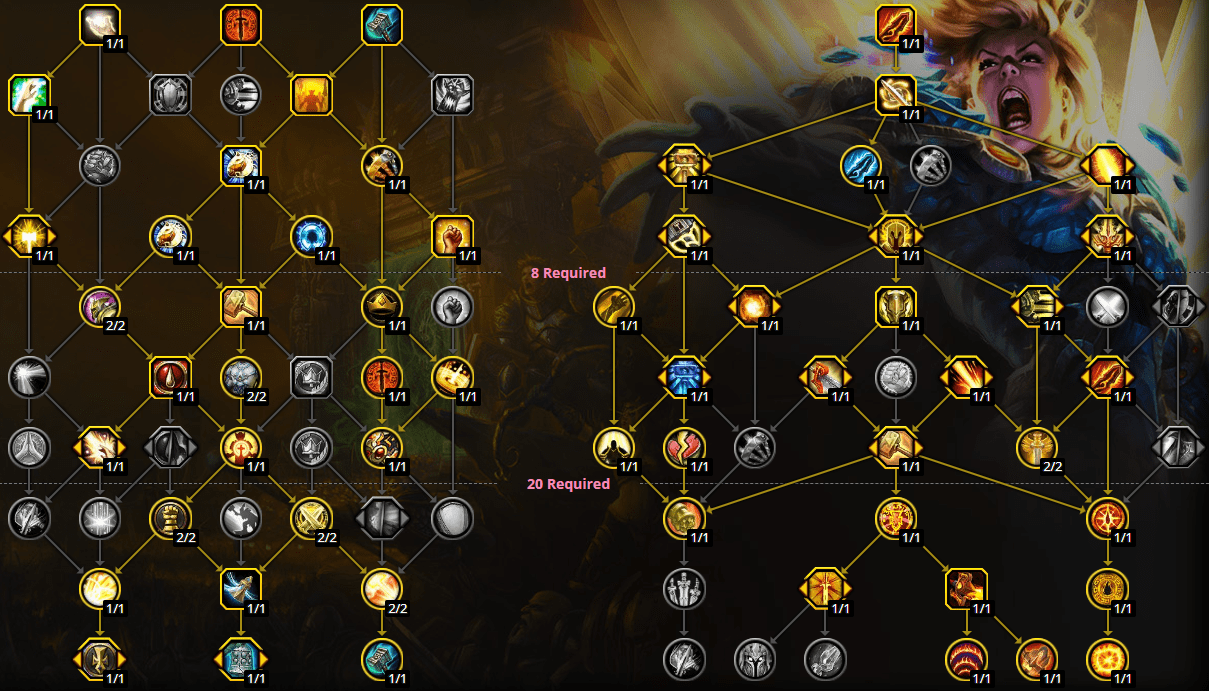 By copying the code below and inserting it into your game, you can see what potential it holds:
BYEAAAAAAAAAAAAAAAAAAAAAAAAAAQAgIUKtSSr0koIJpIJAAAAAAApBJJEIBRKRQCpkWiGJAJiSjWA
Best Retribution Paladin PvP Build
If you enjoy fighting other players more than mobs, you would be interested in a Dragonflight Retribution Paladin PvP build we have prepared for you. No matter if you are a beginner or an experienced player, this setup performs equally well. The general tactic for a PvP battle looks as follows.
You want to prioritize getting your target into the melee range as soon as possible and use your gap-closers and stuns to prevent them from escaping. Once in range, you should use your primary damaging abilities, such as Crusader Strike and Blade of Justice, to build Holy Power and then use your spenders. They are Templar's Verdict and Divine Storm, both allow you to deal devastating damage.
You should also make use of your crowd control abilities, such as Blinding Light to control opponents and create opportunities for additional damage. On top of that, you have access to defensive abilities like Divine Shield and Blessing of Protection, which you should use to survive incoming damage and avoid being CC'd.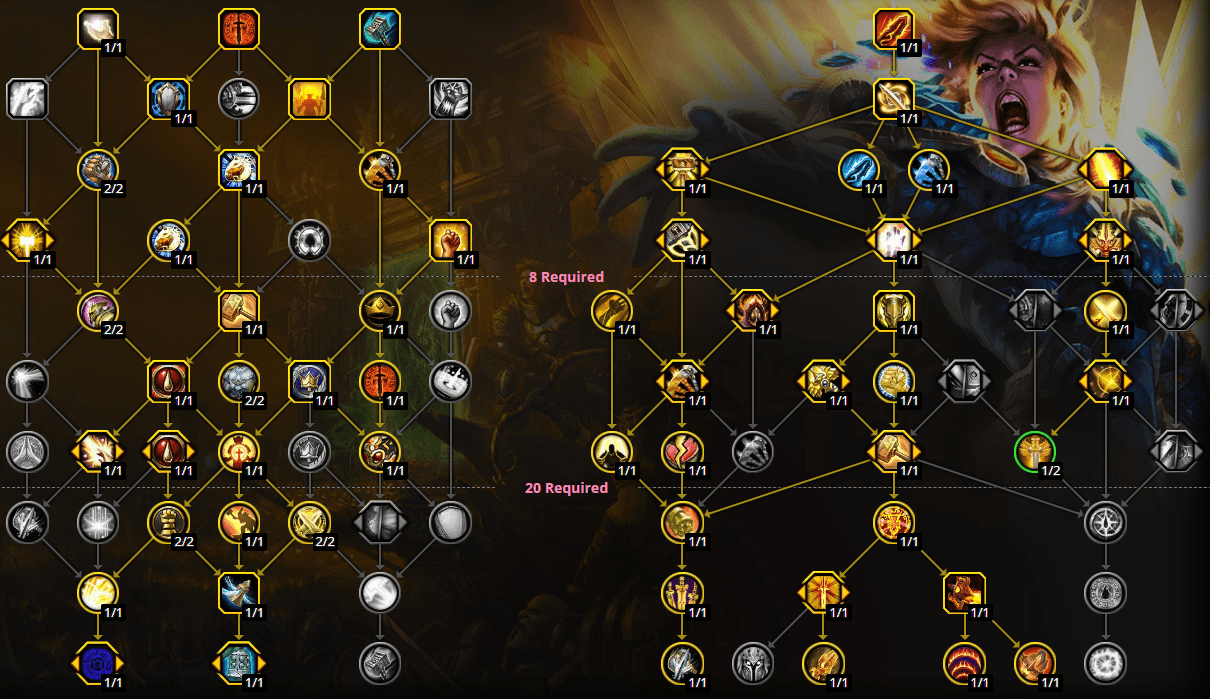 Make sure to try out this talent setup to outbattle any foe standing in your way:
BYEAAAAAAAAAAAAAAAAAAAAAAAAAAQAACKtSSpUIpkDkkmEAAAAAAApFSSSRgkIRaBIEpJKhIJkgShWA
However, do not try to get into PvP fights before you achieve the maximum level. Until reaching the level's cap, this build does not function properly. To unlock its full potential, you have to be level 70. To ensure you get to this point quicker, you can order our WoW Powerleveling services. In this case, our pros will gladly boost your character ASAP for a reasonable price.
Retribution Paladin Best in Slot Gear
With the Crafting Order system introduced in Dragonflight, people have stopped worrying about getting BiS gear that much. However, it still remains the strongest equipment you can possibly obtain. Besides, hunting for these powerful gear pieces is one of the main reasons players participate in PvE content so actively.
It is important to note that the most powerful equipment for this specialization can depend on your current stat weights and what content you are running, such as PvP or PvE content. Therefore, it is always a good idea to sim your character to see how it can perform in action.
Generally, you want to wear gear that provides you with additional Strength, Versatility, and Critical Strike first of all. Only then, you should focus on other secondary stats like Haste and Mastery. It is also important to note that the final choice can vary depending on the specific situation and your personal preferences.
Amirdrassil, the Dream's Hope Best in Slot Gear for Retribution Paladin
Even though the equipment pieces included in the table below seem to be powerful, they are usually not worth your time. You will spend months trying to get them but it is better to replace them with crafted alternatives or Mythic+ gear pieces instead. Still, if you prefer Raiding and consider it the most exciting type of content, here is what you should strive for.
While BiS gear can provide significant benefits to your performance, it is crucial to note that equipment is just one component of numerous components when it comes to building a powerful character in the game.
In PvP, for example, your success depends on factors beyond just your gear, such as your ability to coordinate with the team, make strategic decisions, and execute your abilities effectively. In this sense, skill and experience are just as important as gear.
Additionally, obtaining BiS gear can be a long and difficult process that requires significant time and effort, and the rewards may not necessarily outweigh the costs. There may be other equipment pieces that provide similar benefits and are easier to obtain, and players may find that they can be just as successful without this gear type.
Furthermore, the game is constantly evolving and new content is frequently released. It can change the BiS gear list. As a result, players may need to continually update and adjust their gear choices to stay competitive.
Mythic+ Best in Slot Gear for Retribution Paladin
Up next, we would like to add a few words on another type of PvE content and the rewards you can receive from it. As a rule, a Mythic+ set is considered a stronger option if compared to the previous alternative. However, it is extremely difficult to get, especially if we are talking about high-level keystones. If you manage to complete those levels, you will become the owner of the best Retribution Paladin equipment pieces currently available in the game.
Again, this is just an example and you are not likely to collect all the mentioned item pieces. You should always try to combine the best options available and not become obsessed with the idea of wearing exactly this set.
Best Upgrade, Spark of Dreams, and Embellishment Options for Retribution Paladin
Dreaming Crests act as a new currency used for item upgrades. In the previous season, players used Flightstones, and now it has been replaced. If compared to the previous currency, the recently implemented one can be obtained from raids, dungeons, and other activities. We cannot recommend that you should upgrade any specific items. As usual, focus on upgrading weapons and trinkets first.
Of course, you can replace them with the equipment you get from high-level activities but these are the options you can definitely obtain without trying too hard.
Thanks to Spark of Dreams, you can make your favorite equipment pieces of a higher level. In fact, they can become a complete substitute for Raiding and Mythic+ gear you wish to get your hands on. Here are the items that definitely deserve this reagent to be spent on them:
Obsidian Seared Claymore or any other powerful weapon;
Frostfire Legguards of Preparation (For Mythic+);
Any low item level Plate slot to use Shadowflame-Tempered Armor Patch on.
Finally, we have the Embellishment system to cover. The latter lets you obtain extra stats when wearing items with this effect. Nonetheless, you cannot wear more than 2 equipment parts with Embellishments simultaneously. Therefore, you need to think carefully about what they should be:
Shadowflame-Tempered Armor Patch – Dealing damage lets you deal

Shadowflame

damage as well, which stacks;
Frostfire Legguards of Preparation – Grants you extra Haste and

Mastery

stats. Besides, you can gain additional

Haste

if you deal damage to a new target. This effect also stacks.
To purchase all the mentioned and other items, you will need a ton of gold. To get the required amount of in-game currency, you can spend weeks farming it. Instead, you can Buy WoW Gold with our company's help and get it delivered to any server you wish. We offer reasonable prices and guarantee the result.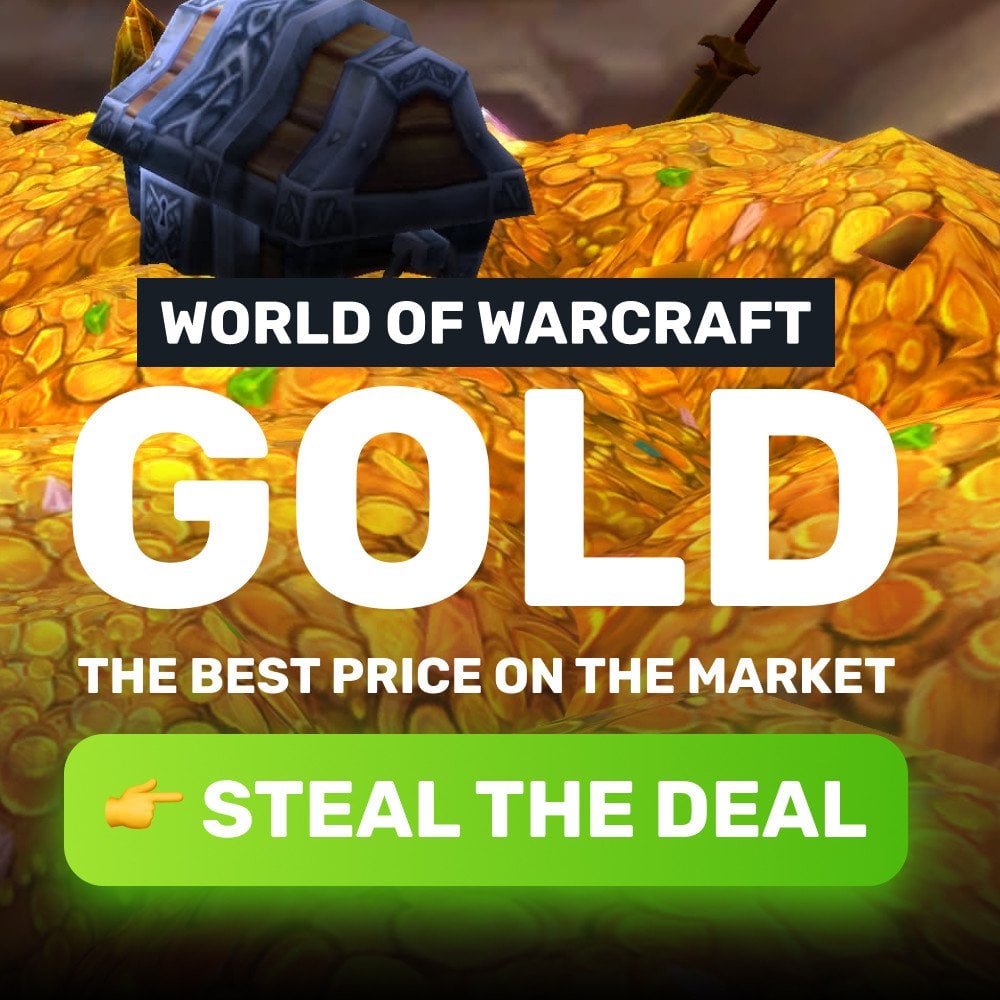 Best Retribution Paladin Enchants and Consumables
No matter what type of content you are into, neglecting enchantments always makes you weaker. They act as a great source of primary and secondary stats, which can never be extra. If you do not know what options to choose, we have a ready-made solution for you. In the table below, you can find the most powerful alternatives to use.
To make your character even stronger, you cannot go without certain consumables. For instance, you always want to use Phial of Tepid Versatility while Raiding. If you are a fan of Mythic+ content, go for Phial of Glacial Fury instead. To increase your DPS further, spend some shiny coins and get yourself Elemental Potion of Ultimate Power. If you feel like you lack healing or need to restore HP quickly in a critical situation, use Refreshing Healing Potion.
Adding a few words on what gems you can use when playing this specialization, go for the following options:
Resplendent Illimited Diamond – Grants you a ton of

Strength

and

Versatility,

the stats you need more than any others;
Radiant Malygite – Focuses on secondary stats only and provides you with additional

Versatility

and

Critical Strike.
If you have all the mentioned enchantments and consumables yet still cannot outbattle a particular boss, we have the solution for you. Often, you cannot obtain the desired loot just because you are not lucky with a team. By using our WoW Raid Boost services, you can forget about this problem. Our professional players will do this job for you and you will receive the item you want so badly.
Retribution Paladin Rotation Guide
Just like with all other specializations, you want to practice and master the most popular WoW Retribution Paladin rotation. However, there is no all-purpose alternative you can use in any battle. Instead, you have several of them to choose from in various fight scenarios.
No matter what option you stick to, here are a few rules you should always bear in mind.
Always check on your Holy Power. Depending on the situation, you either want to build or spend it. However, if you do not know what is better, we highly recommend that you keep building it until you have your spenders refreshed;
Fight multiple enemies wisely. Most players forget about their Divine Storm and spend their precious Holy Power points on Templar's Verdict only. If you are fighting more than two targets, use the first spell instead to deal damage to all of them.
Retribution Paladin Opener Rotation
Retribution Paladin Single-Target Rotation
Retribution Paladin Multi-Target Rotation
Retribution Paladin Leveling Guide
Even though the whole leveling process has become noticeably easier in Dragonflight, there are a few tips you can apply to make it faster and more efficient. For example, you can use a specific build to ensure you clear out large mob packs in a second. Down below, you can find the optimal leveling talent setup for this specialization.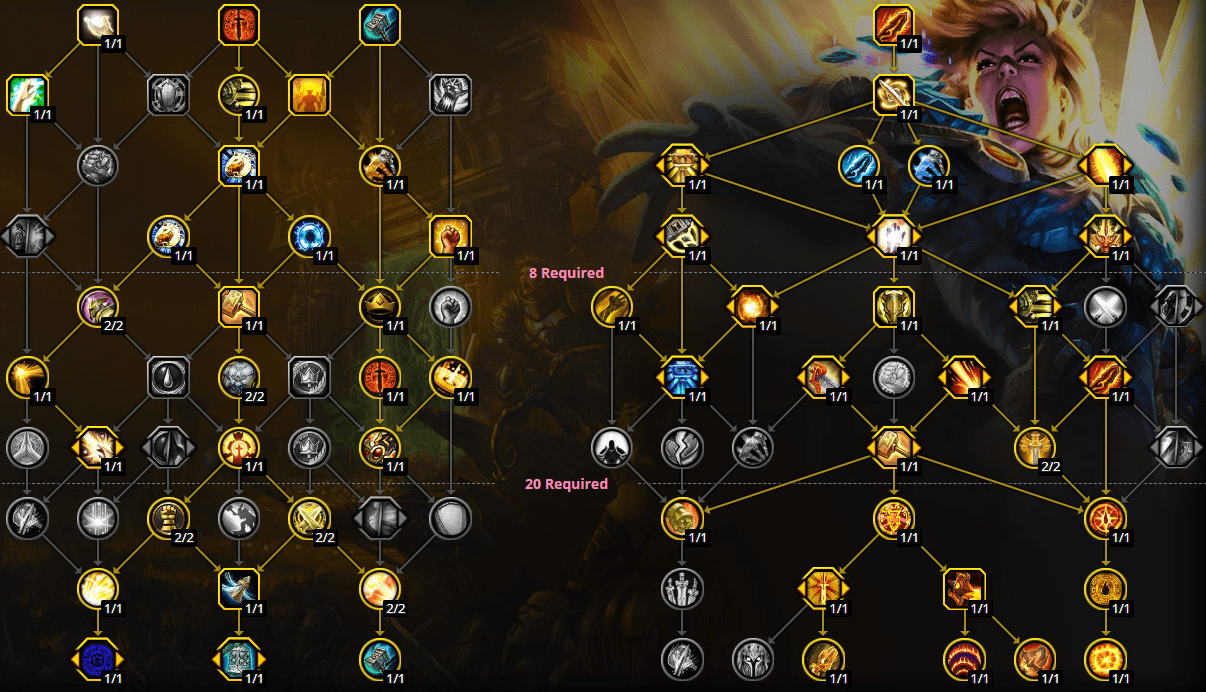 By copying the following code, you can export this setup directly into your game:
BYEAAAAAAAAAAAAAAAAAAAAAAAAAAQAgIUKtSSp0kkikkikAAAAAAAEQSCJQQkWESCpkWiGJEIiSjGA
Thanks to spells like Divine Shield or Lay on Hands, you can stay alive on your own and level up without a party. If you still struggle with outbattling certain mobs, try to use the following consumables:
Spectral Flask of Power – Boosts your

Strength

for an hour, which is exactly what you need for a long leveling process;
Potion of Spectral Strength – Thanks to it, you can defeat practically any mob, as it grants a ton of extra

Strength

for a short period of time.
As for the leveling rotation for this specialization, it does not differ too much from what we have already described. The most crucial thing to keep in mind is how many Holy Power points you build and spend.
If you are tired of leveling, always remember what awaits you at level 70. At this point, you unlock all types of end-game content. Of course, we are talking about Raiding and Mythic+, as these are the sources of the most powerful armor and weapons.
Nonetheless, you will need to find a skillful party to ensure you complete another raid or dungeon successfully. If you have no people to play with or wish to get the desired loot guaranteed, check out our World of Warcraft Boosting services available at the best market price. Our professional players will gladly slay any boss or clear a dungeon you are stuck at in a blink of an eye.
The Best Primordial Stones for Retribution Paladin
One of the much-awaited features implemented into the game with the 10.0.7 patch was the Onyx Annulet ring. You can use various Primordial Stones to insert into it gaining valuable effects, which you cannot get in any other way. In this section of the article, you will find what Primordial Stones you want to use for this specialization depending on the type of activity you are taking part in.


How to Become a Better Retribution Paladin in Dragonflight
In this section of the article, we would like to share a few Retribution Paladin 10.2 patch tips you can use to become better at this specialization. They include the following points:
Learn your spec in general.

Take the time to learn the ins and outs of the class's abilities and talents. Understand how your abilities work together, and how to manage your resources effectively;

Pay attention to the rotations.

Practice your rotation regularly to ensure you are maximizing your damage output. This will also help you build muscle memory and react more quickly to in-game situations;

Strive for better equipment.

Focus on obtaining the gear with the right stats for your specialization, such as

Strength, Versatility,

and

Critical Strike.

You can obtain gear through questing, dungeons, and raids;

Research encounters.

See what awaits you in this or that encounter before participating in it. This will help you know what to expect and how to optimize your rotation for each specific battle;

Communicate with your team.

Communication is key when playing this spec in group content. Coordinate with your team to ensure you are using your utility abilities effectively and supporting each other;

Experiment with talents and abilities.

Try different talents and abilities to see what works best for your playstyle and the content you are doing.
Other Articles to Read
The SkyCoach team is trying hard to provide you with detailed guides on all aspects of WoW. By visiting our blog, you can find a variety of articles devoted to other classes and specializations as well. For example, you might be interested in reading our Arcane Mage Guide, which is available at the blue link. If you would like to try yourself as a full healer, we have the Preservation Evoker Guide here as well. Finally, if you wish to master the specialization you are reading about right now, you will be definitely interested in our Retribution Paladin Mage Tower Guide, which explains everything you need to know to complete this spec's encounter with minimum attempts and effort.
SkyCoach Boosting & Coaching Services
No matter how captivating a game may seem, finding enough time to play it can be a challenge. This is where the SkyCoach team comes in to help. Whether you need coaching or boosting services, we have more than 5 years of experience working with a wide range of games, not limited to just World of Warcraft. We can help you obtain enough gold or high-rank gear needed to succeed and dominate the server.
In addition to our commitment to delivering results, we also strive to provide excellent customer service. Our team is available 24/7 to answer any questions or concerns you may have. Plus, we offer regular sales and a cashback program, giving you a 5-20% cashback on each order to help you save even more money. So do not hesitate to check out our services and see how we can help you on your virtual journey.
Final Words
This guide provides comprehensive information on how to play Retribution Paladin. You have learned all the details on gear, talents, rotations, and playstyle to help you maximize your damage output and dominate in both PvE and PvP content. By following the tips and strategies outlined in this article, you can become a skilled and effective player. Remember to keep practicing and experimenting with different tactics to find what works best for you. Make sure to stay with us, as we will keep updating this article if any changes occur. Good luck on your journey and see you in the game!
F.A.Q.
Are Retribution Paladins good in Dragonflight?
They definitely are. They have a strong burst and sustained damage, along with decent self-healing and crowd-control abilities. This specialization suits beginners and experienced players equally well.
Is Retribution Paladin hard to play in WoW?
It can be considered moderately difficult to play, as it requires good timing, resource management, and decision-making skills to maximize damage output and survivability. Players must also be able to adapt to different situations, such as managing multiple enemies or reacting to unexpected changes on the battlefield.
What is the best weapon for a Retribution Paladin?
As a rule, you want to go for two-handed swords, maces, axes, or polearms. This weapon type significantly boosts your damage output and syncs with the spec's abilities.
What is the best profession for a Retribution Paladin?
One of the most popular choices for this spec has always been Blacksmithing, as it allows players to craft their own weapons and armor. This can be especially useful for end-game content, where having the best possible gear can make a big difference.
Is Retribution Paladin good in PvE WoW?
With a variety of utility and defensive abilities, you always remain a central character in PvE content. At the same time, you deal significant damage, which can never be extra.
How do I maximize DPS as Retribution Paladin?
It is crucial to pay attention to how many Holy Power points you have and spend them timely and correctly. Besides, you want to use a specific rotation for a particular combat situation. All of them have been described in our article above.
What is the best rotation for a Retribution Paladin?
The choice depends on the situation and the enemy you are fighting against. We have shared the most powerful rotations for this specialization earlier in our guide. Check them out and master all of them to see how they perform in action.