Hey there, fellow harbingers of doom! Our WoW Frost Death Knight guide will equip you with the essential knowledge to conquer any challenge that the game might present. From Frost Death Knight abilities and talents to equipment and consumables, we'll cover everything you need to know to improve your gameplay. Whether you're a seasoned Frost DK player or just starting out, our guide has something for everyone. You can skip ahead to the section that interests you the most, but we recommend reading the whole guide if you're new to the class. So, without further ado, let's get started!
IMPORTANT NOTE: At SkyCoach, you can also Buy WoW Boost at the lowest prices and with the fastest delivery. You can make your first purchase even CHEAPER if you find our special PROMO CODE (highlighted in green) hidden in this article and get a 20% DISCOUNT.
Check out some of our most popular
WoW Carry services

below:
Frost Death Knight Pros and Cons
All World of Warcraft specializations have their own advantages and disadvantages, and the Frost Death Knight is no exception. To prepare yourself for a potential switch to Frost DK, it's important to understand these points from the beginning.
The Frost Death Knight is a formidable DPS, with a number of strengths including:
the ability to run an AoE setup without sacrificing much Single Target damage;
impressive survivability making them one of the tankiest specializations;
powerful cleave.
However, there are a few downsides to playing a Frost DK that you should be aware of:
They are vulnerable to forced downtime, particularly when using Breath of Sindragosa.
They can be slow with limited options for increasing movement speed.
Not very much utility in Mythic+.
To truly gauge the full potential of any specialization, you'll need to play it at the maximum level. If the thought of starting from scratch seems unappealing, our Dragonflight Leveling 60-70 service is a simple and effective solution. Our professional players will quickly level up your character, ensuring a fair price and a guaranteed result.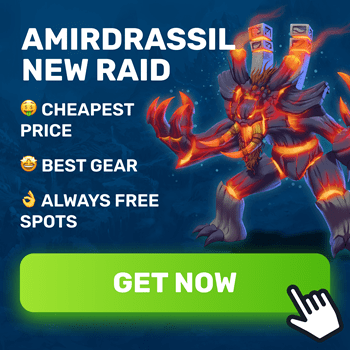 Frost Death Knight Basics
As a DPS specialization, the Frost Death Knight is a force to be reckoned with, utilizing both physical and magical damage through dual-wielding or 2-handing weapons. With powerful abilities like Obliterate for massive hits, Breath of Sindragosa and Frostwyrm's Fury for freezing breath attacks, and Remorseless Winter to envelop enemies in merciless blizzards, we excel in cleave damage and are especially effective against 2 targets. BLOG20
To truly master the Frost Death Knight, it's all about resource management and maximizing your cooldown windows. Positioning is key, particularly when using talents such as Breath of Sindragosa and Glacial Advance. By carefully managing these elements, you can maximize your damage potential and dominate your enemies on the battlefield.
Frost Death Knight Core Abilities
When playing Frost, your main resources are the Runes and Runic Power. You have a total of six Runes that gradually generate over time, although their recharge time of 10 seconds can be reduced by haste. These Runes are required for executing most of your abilities, including Obliterate and Remorseless Winter. By using Runes, you can gain 10 Runic Power for each Rune consumed. Runic Power is the resource used for powerful spells such as Frost Strike and Glacial Advance.
Presented here are the most iconic abilities and spells for the Frost Death Knight:
It's important to note that this list only scratches the surface of what your spellbook has to offer. Take the time to read through and familiarize yourself with all of your rotational skills and cooldowns, learning when and how to use them. While target dummies can be a useful practice tool, nothing beats real-world experience in serious content.
Mythic+ dungeons are an excellent way to put your skills to the test and earn valuable gear. However, running these dungeons with random groups can often be stressful and negative, particularly if you're trying to gear up or earn a high M+ score as a lone DPS. Thankfully, we have a solution to this problem. Our Mythic Carry services provide a team of professional players who will clear all Dragonflight dungeons for you, ensuring that you receive the gear and score needed to succeed in your future adventures.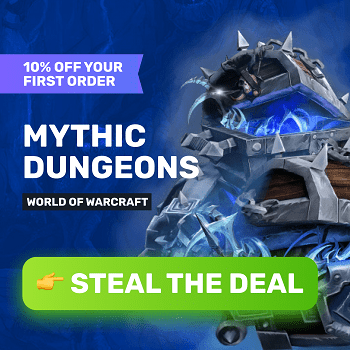 Frost Death Knight Stat Priority
As a Frost Death Knight, your primary focus should be on Strength, which is your most important stat. However, the secondary stats can also be quite valuable in their own ways. Critical Strike buffs your overall damage output and increases the chance of getting Killing Machine procs. Haste speeds up your Global Cooldowns (GCD) and increases your rune recharge rate, as well as improves the proc rates of various talents and items. Mastery boosts your frost damage output, which is especially valuable in AoE situations. Versatility reduces incoming damage and increases your overall damage dealt.
While secondary stats are generally close in value, with the exception of Versatility, you should prioritize item level when choosing equipment. However, if you are deciding between items that are relatively close in ilvl, here is a priority list that can guide you based on your build:
Breath of Sindragosa build:
Crit;
Mastery;
Haste;
Versatility.
This build focuses primarily on Mastery and Crit, with Haste playing a supporting role to extend the duration of Breath of Sindragosa.
Obliteration build:
Haste;
Crit;
Mastery;
Versatility.
This build prefers a balanced set of stats with roughly equal amounts of Crit and Haste to optimize the number of Killing Machine procs generated.
While this priority list is a good starting point, it's important to note that the relative value of stats can change as you gear up, and the best way to determine whether an item is an upgrade is to sim your character. In most cases, prioritizing item level and occasionally checking your stat priority should be sufficient.
Best PvE Frost Death Knight Builds
As I'm sure you're aware, Dragonflight has recently implemented an updated talent system that allows players to create numerous character builds and personalize them to their liking. This new system offers great flexibility for a variety of encounters and encourages experimentation, as intended by the developers.
By following the recommendations below and saving your preferred builds in your talent templates, your character will be equipped to handle any situation that may arise in World of Warcraft. However, it's important to note that simply having the perfect build doesn't guarantee success. Despite being a formidable Frost Death Knight, the game's long queues, sudden key leavers, and frustrating PUG experiences can all hinder your progress. If you're looking to speed things up, you can Buy Dragonflight Boost services. We offer a wide range of boost services to help you reach your goals faster. With so many options available, you're sure to find something that suits your needs!
Frost Death Knight Raid Build
In the realm of raiding, Frost Death Knights have three distinct builds to choose from, each with their own benefits and drawbacks. The Breath of Sindragosa build is highly effective as long as you can remain on the target for an extended period of time. With an average duration of 60+ seconds, which can be further increased through Anti-Magic Shell and Assimilation cheese, it is crucial to avoid any disruptive mechanics that could prematurely end the Breath. This build excels in sustained cleave situations.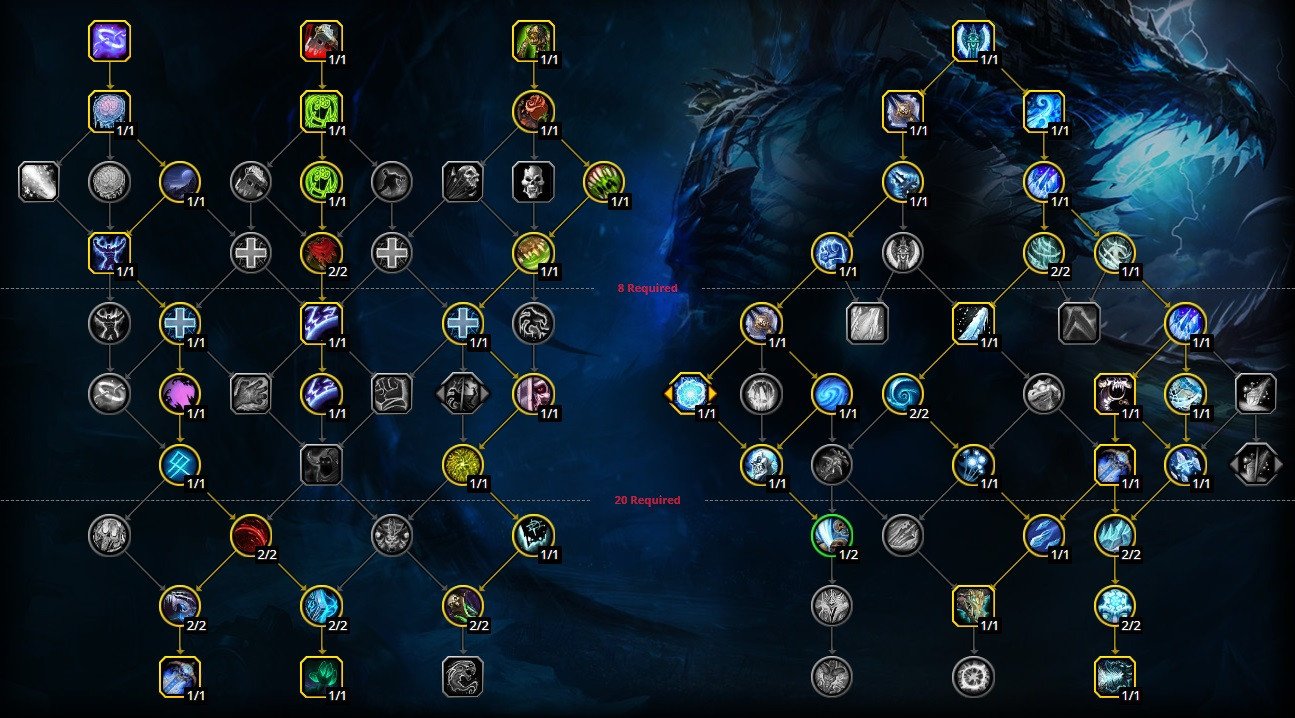 Import string:
BsPAAAAAAAAAAAAAAAAAAAAAAkIAISSCJiERISSIkIJREigERikkkkkkWOAAAAAAAAAAAAAA
In addition, there is the Obliteration build, which comes in two versions. The 2H version is more commonly used and provides a powerful 30-40 second burst window that excels in short cleave situations and against bosses that require a lot of movement.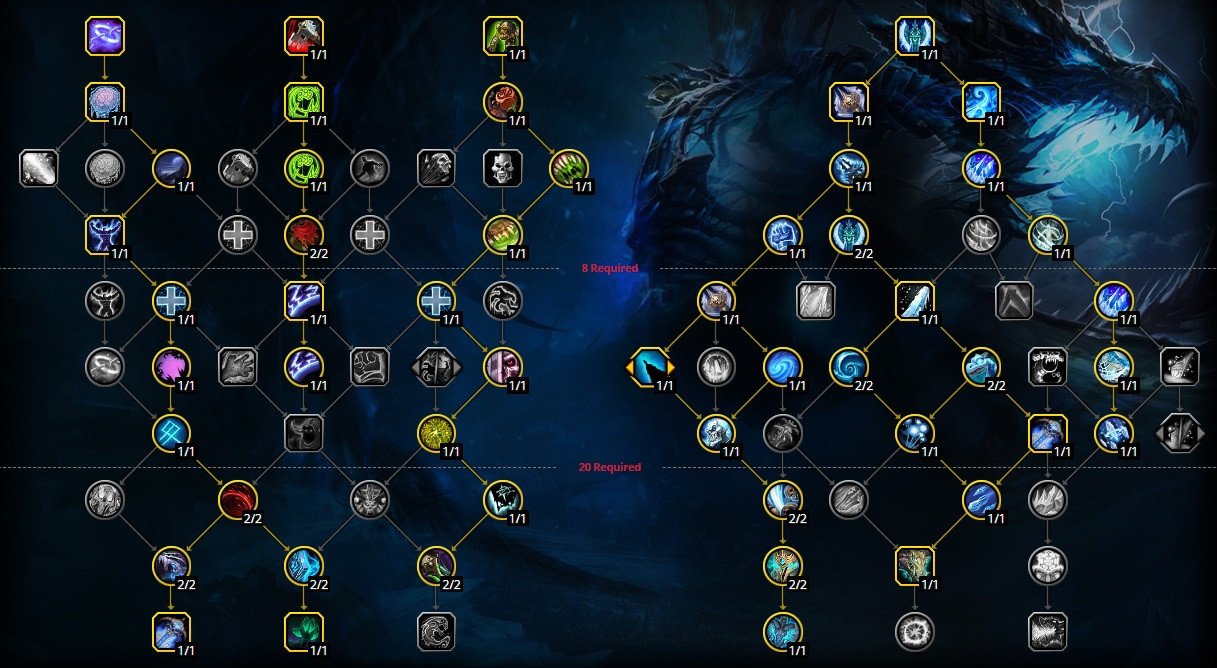 Import string:
BsPAAAAAAAAAAAAAAAAAAAAAAICAikkQiIREikECJSSEJIIhkERSSSSKJBAAAAAAAAAAAA
The DW version utilizes Shattering Blade and delivers a consistent damage output, but it also involves managing a high number of procs, making it more challenging to play optimally.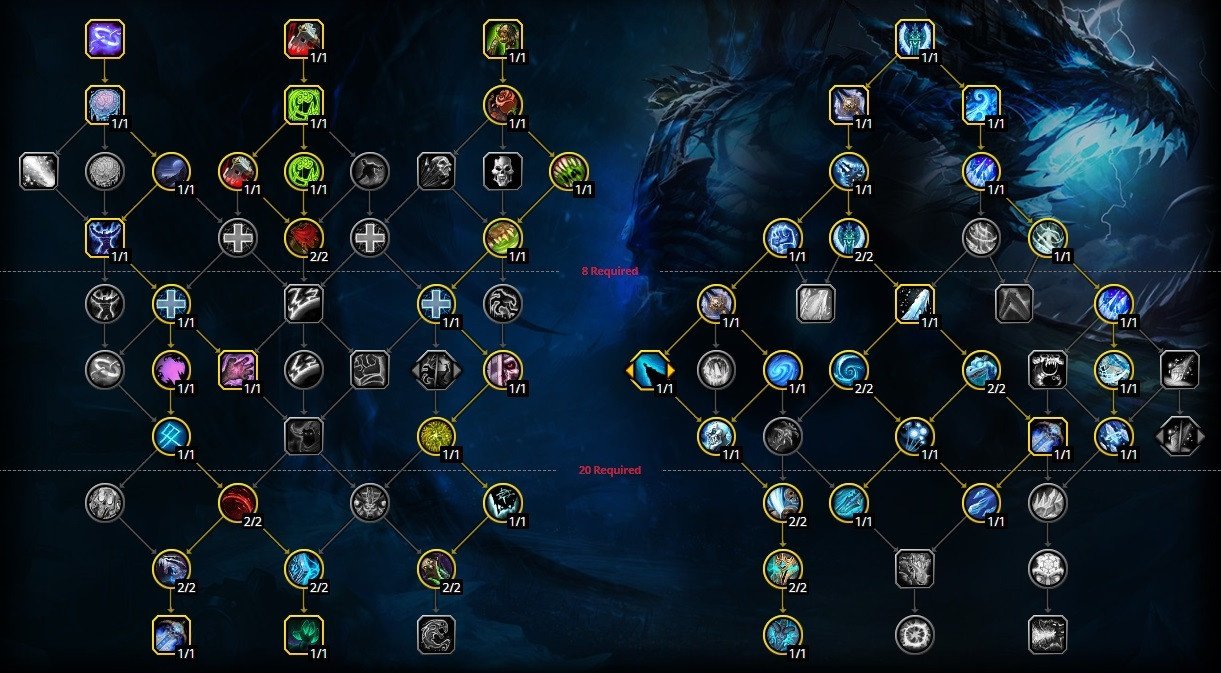 Import string:
BsPAAAAAAAAAAAAAAAAAAAAAAICACJJkISkQikECJSSEJASikERSSSSKJBAAAAAAAAAAAA
In most cases, the decision boils down to the particular encounter you're facing and your own inclination. All three builds are viable, but there may be one that prevails depending on the circumstance.
Frost Death Knight Mythic+ Build
Mythic+ sees Obliteration as the most powerful option. Having short, powerful 3-target cleave with Cleaving Strikes is simply too powerful: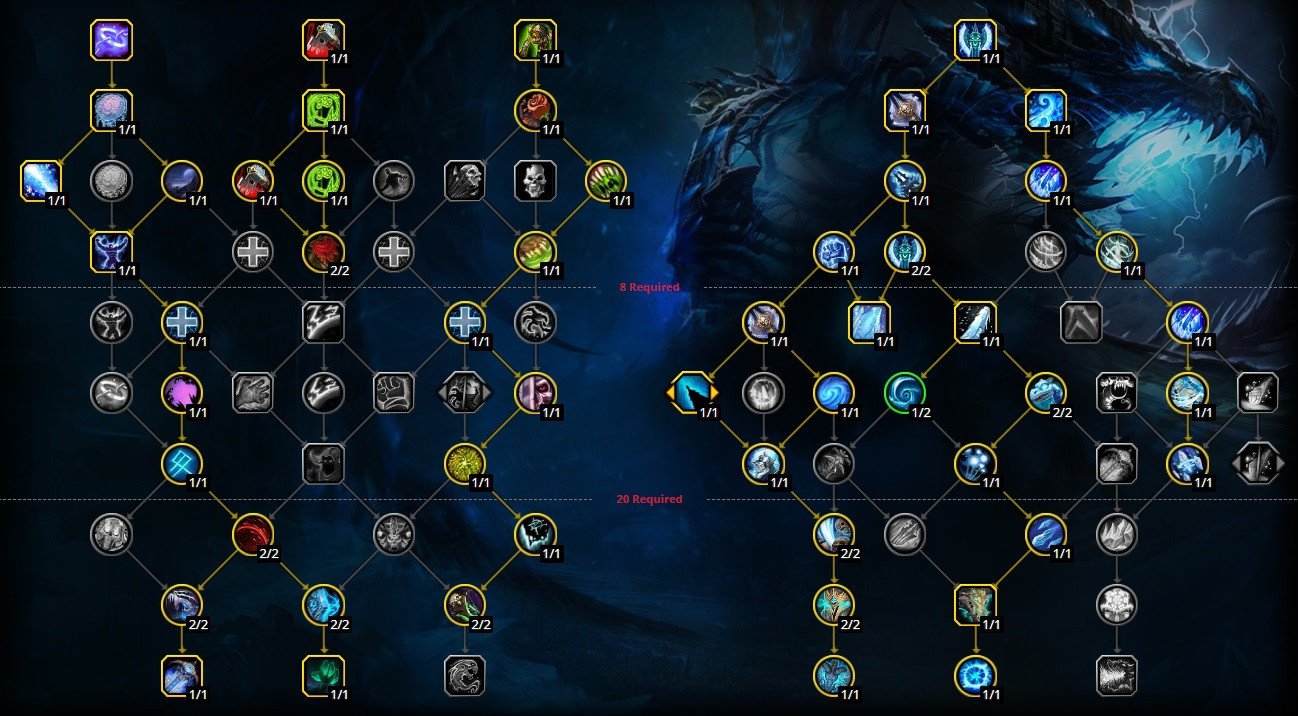 You can copy the string below to import this build into your character template in game:
BsPAAAAAAAAAAAAAAAAAAAAAAICgIkkQiIRQikECJSSEJRCcASSEJJJJpkEAAAAAAAAAAAAA
Best Frost Death Knight PvP Build
Frost Death Knights are a formidable force on the battlefield, excelling in multiple areas such as sustained pressure, powerful AoE burst, and disrupting mobility and cooldowns. Their resilience in combat is due to a variety of abilities including Death's Advance, Anti-Magic Shell, Death Grip, and Icebound Fortitude, which prevent enemies from escaping or using CC against them. As a Frost Death Knight, your primary objective is to strategically rotate these abilities to maintain consistent pressure on your opponents. With sustained damage output and limited opportunities for enemy teams to retaliate, your team will eventually outlast their cooldowns, providing a window of opportunity to secure victory with the devastating combination of Chill Streak and Frostwyrm's Fury.
This is the general build you should use: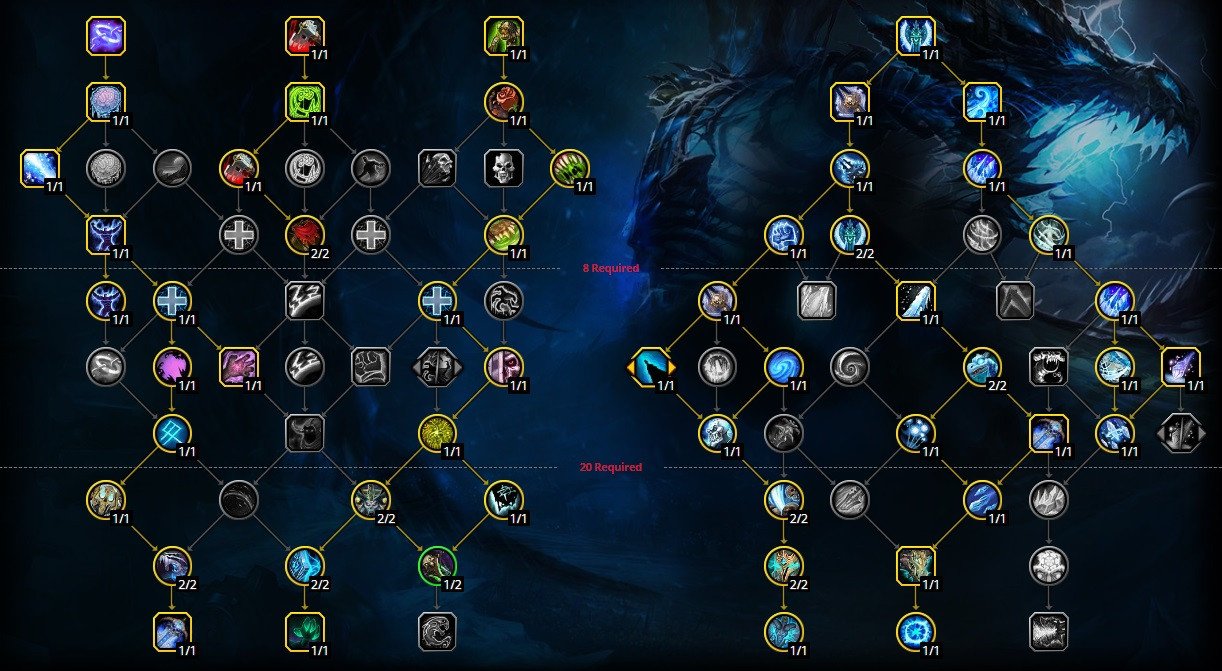 Import string:
BsPAAAAAAAAAAAAAAAAAAAAAAICgQkkIHIiEJkIJhgISkkQCJIJRkkkkkSSAAAAAAAAAAAAA
We also suggest you take the following three PvP talents for most of the time:
Situational: Delirium against mobile classes, Dark Simulacrum against spammable CC and powerful healing cooldowns, Dead of WInter when your team has a lack of AoE stuns, Spellwarden against spell cleaves.
If you're finding all of this exciting (and why wouldn't you?), then your main goal should be reaching the level cap as quickly as possible. Keep in mind that PvP opportunities are limited below level 70, making it all the more crucial to hit level 70 as soon as you can. However, the journey to the top can be a bit monotonous and challenging. If you're looking for ways to accelerate your progress, then our WoW Powerleveling services are definitely worth considering. For a reasonable fee, you can quickly level up your Frost DK, bringing them to level 70 and up-to-speed in no time at all.
Frost Death Knight Best in Slot Gear
It's important to keep in mind that the effectiveness of a particular item is influenced by the type of content you're engaging in, be it PvP or PvE, as well as the other items you have equipped. To accurately assess the value of any gear for your Frost Death Knight, we highly recommend using simulations to determine its exact worth.
Overall, your focus should be on obtaining items with the highest item level, as they offer the most of your primary stat, Strength. Once this is ensured, you can then consider the stat priority we previously discussed to further optimize your character.
Raid and Mythic+ Best in Slot Gear for Frost Death Knight
It's important to note that raiding in Dragonflight is not the fastest way to gear up your character. If your goal is to quickly obtain gear, we recommend also exploring other options such as crafting or Mythic+.
So, here's the "theoretically best" gear set compiled from different sources:
Although completing the above list can undoubtedly enhance your character's power, becoming too fixated on it may not be the best course of action. It can be tempting to pursue the "mathematically best" options, but there are often more accessible alternatives for many of the items listed that offer similar benefits.
Furthermore, game developers frequently make changes to the game and introduce new gearing options, rendering previous BiS lists obsolete with each minor patch. As a result, players must constantly update their strategies and equipment.
It's also crucial to remember that proper execution of rotations, extensive knowledge of encounters, and effective communication and coordination with teammates will often result in much higher DPS than any equipment piece on this list. So while gear is undoubtedly essential, it's only one aspect of the overall picture.
The Best Upgrade, Spark of Dreams, and Embellishment Options for Frost Death Knight
Dreaming Crests have emerged as a new alternative to upgrade items, replacing previous currencies like Valor and Flightstones. Notably, Dreaming Crests offer the advantage of upgrading raid gear as well. For optimal upgrades, we suggest prioritizing these items:
Since Crests are a limited currency, Frost Death Knights should prioritize upgrading trinkets first. While upgrading the weapon is generally a good option, it's best to simulate your character to determine the best DPS value per Crest unit. If you focus on raiding, upgrade a 1-handed weapon, and if you focus on Mythic+, go for a 2-handed weapon.
Once you have acquired the Spark of Dreams, your focus should be on crafting the items listed below at the highest item level possible. It's worth noting that you have the option to use the recrafting system later on to further increase the item level of these items. Once you have crafted your best pieces, you can use the remaining Sparks to improve the slots with the lowest item level pieces, with the aim of increasing your average item level.
Any low ilvl slot.
By crafting items with Embellishments, you can imbue them with special properties and effects that go beyond regular stats. However, it's worth noting that you can only equip two pieces of gear with Embellishments at a time.
For Frost players, the best-in-slot Embellishments are the Elemental Lariat and a belt with the Shadowflame-Tempered Armor Patch. It's important to keep in mind that the Lariat only becomes the best option once you have 6-7 sockets on your gear. Prior to that, going for double Shadowflame-Tempered Armor Patch (Boots + Legs) will provide better results. Therefore, it's recommended to start with double Shadowflame-Tempered Armor Patch and then switch to the Lariat once you are closer to having the best-in-slot gear.
It's no secret that equipping your character with all the crafted equipment mentioned above can be quite expensive in terms of gold. Farming the necessary amount of gold could take you several weeks of dedicated effort. However, there is a more convenient and faster solution available to you. Our service provides the option to Buy WoW Gold, which will be delivered to your character promptly. Our prices are always reasonable, and we guarantee a successful outcome. With this option, you can obtain the necessary amount of gold quickly and easily, allowing you to focus on improving your character's gear and gameplay rather than spending countless hours farming gold.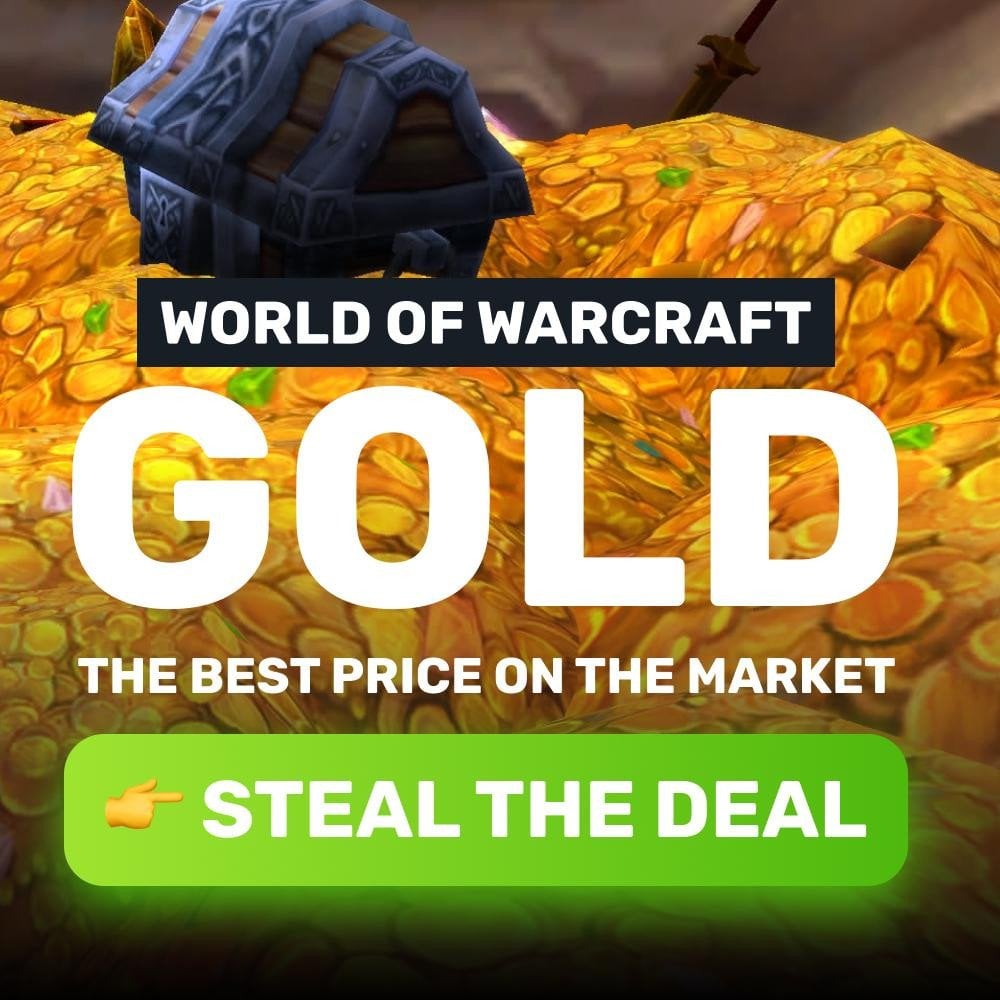 Best Frost Death Knight Enchants and Consumables
It's highly recommended to have proper enchantments on your gear to maximize your character's power and demonstrate your knowledge and dedication to your class to other players. To assist with this, we have compiled a list of the top enchantments available in Dragonflight to help you make informed decisions when choosing how to enchant your gear:
The most optimal phial options for Frost Death Knights are the Phial of Elemental Chaos and the Phial of Tepid Versatility. However, the selection depends on your current character stats, so it's crucial to simulate your character first to determine the most suitable one.
To excel in both raiding and Mythic+ scenarios, Frost Death Knights should consume the Elemental Potion of Ultimate Power. In any content, it's recommended to carry enough Refreshing Healing Potions, with the option of Potion of Withering Vitality in dire situations.
To maximize your performance, ensure to enchant your weapon with Buzzing Rune and indulge in a Grand Banquet of the Kalu'ak or Fated Fortune Cookie before each pull. For gem slots, Sensei's Alexstraszite is preferred in all sockets, except for one Inscribed Illimited Diamond.
However, having the right consumables and enhancements won't guarantee boss kills. If you're struggling to find a reliable raid group, you may miss out on the raid lockout. Luckily, purchasing WoW Raid Boost services can eliminate this problem entirely. Our team will assist you in obtaining the best raid items for your character, allowing you to apply all these gear enhancements on something worthwhile.
WoW Frost Death Knight Rotation Guide
Let's now dive into the actual gameplay and dicuss how to play Frost Death Knight. As with anything else, practice is key to achieving mastery, so make sure to practice on target dummies before jumping into actual combat.
Frost Death Knight Obliteration Opener
Frost Death Knight Core Single Target Rotation and Priority
The core rotation listed above should be your priority, as it includes the vast majority of the buttons you will press during a fight, excluding your cooldowns. Please refer to the detailed instructions further down on this page for guidance on when to use your cooldowns. Keep in mind that when using your cooldowns, they should take precedence over everything else in your rotation.
Frost Death Knight Breath of Sindragosa Single Target Rotation and Priority
Frost Death Knight Obliteration Single Target Rotation and Priority
Frost Death Knight AoE Rotation
The method for executing Frost Death Knight's AoE rotation is quite similar to the single-target rotation, with few changes. One of the most significant one is the utilization of the Glacial Advance talent in place of Frost Strike, when possible. Additionally, to maximize cleave, Death and Decay should be used whenever it is off cooldown. If the Obliteration talent has been selected, Death and Decay should be used at the beginning of the Obliteration window. Frostscythe may also be used instead of Obliterate in some instances, but it should not be used while standing in Death and Decay or when Breath of Sindragosa is active and below 50 Runic Power. However, Frostscythe is not commonly used, so there is no need to be overly concerned about it.
Frost Death Knight Leveling Guide
Looking for a leveling spec that can take on multiple mobs simultaneously? The Frost Death Knight might be just what you need. With the ability to cleave down several enemies at once, you can quickly heal yourself up using Dark Succor. Even if you're not the fastest, you can use Death Grip to pull targets towards you instead of having to reach them yourself.
To get started, here is a recommended talent setup for leveling: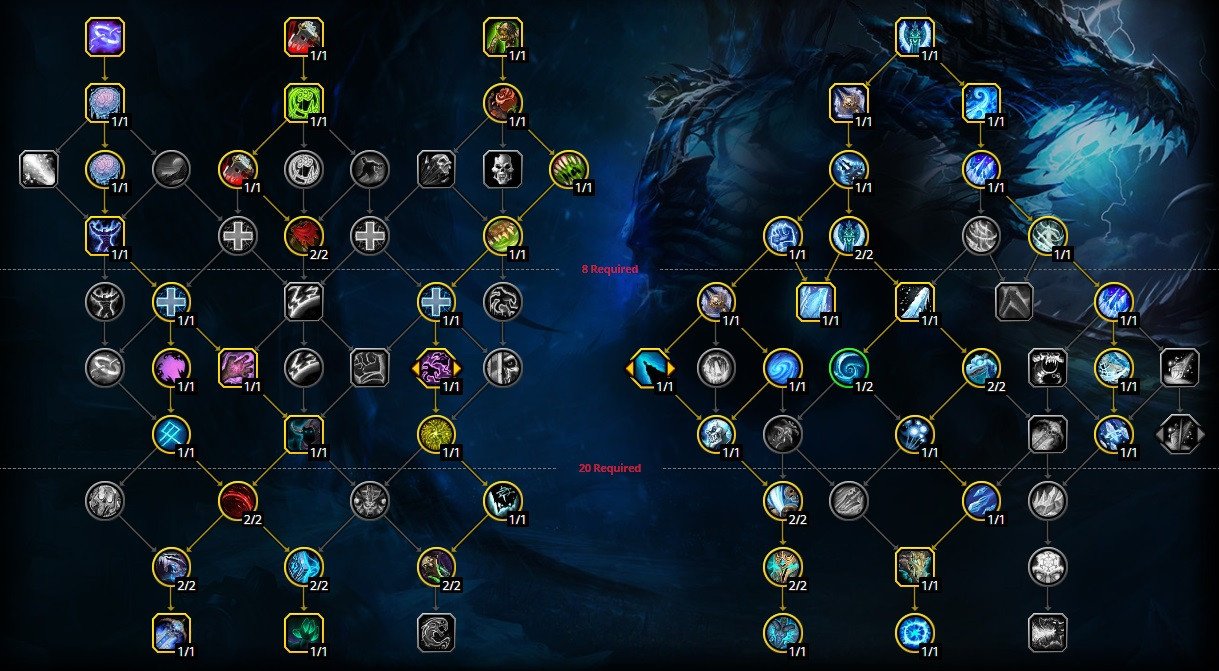 Import string:
BsPAAAAAAAAAAAAAAAAAAAAAAICABJJkUiECJSSISiIRkEJwBIJRkkkkkSSAAAAAAAAAAAAA
As you embark on your journey to reach level 70, here are some consumables that could prove to be useful:
As for leveling rotations, there is no special one that differs from the general rotation. If you are curious about what spells to use, refer to the section above.
Congratulations on leveling up your Frost Death Knight! This is just the beginning of your World of Warcraft journey, as reaching the level cap unlocks a world of possibilities for your character. However, the options available can be overwhelming at times. If you find yourself in need of assistance with your newly-leveled character, consider checking out our World of Warcraft Raid Boosting services. Our professional players complete these services at lightning-fast speeds and always offer the best market prices. Let us help you make the most of your WoW experience!
The Best Primordial Stones for Frost Death Knight
In Patch 10.0.7, a new type of gem called Primordial Stones has been introduced. These gems can be inserted into Primordial Sockets found in the Onyx Annulet ring. However, it's important to note that this ring lacks secondary stats, making it a downgrade compared to any max-lvl ring. Equipping the new ring with Primordial Stones will not provide any benefits, and as a result, we do not recommend using this ring at all.
How to Become a Better Frost Death Knight in Dragonflight
Now you've got everything you need to succeed as a Frost Death Knight - enchanted gear, a full stomach, and even your opener mastered. But to truly excel, here are some advanced tips and tricks:
Take the time to thoroughly read your

spellbook

and

talent tree

, including talents outside of recommended builds. In-depth knowledge of your spec will set you apart as an exceptional DK.
Don't overlook

target dummy training

and running

low-level keys

. Proper execution of complex resource management and openers requires muscle memory.
Don't limit yourself to BiS lists or any single type of content when seeking

gear upgrades

. Dragonflight offers equipment from a variety of sources, which is especially helpful for newer players.
Research

raid strategies

and

dungeon routes

to fulfill your responsibilities as a DPS and be a knowledgeable team member.
Collaborate with your party and raid members by coordinating

crowd control

and

cooldowns

. Success in WoW requires teamwork and communication.
Don't be afraid to

experiment

! Your talents and abilities can be customized to fit your playstyle. Try different approaches and see what works best for you.
Other Articles to Read
At SkyCoach, we strive to provide comprehensive coverage of all aspects of our favorite games, including World of Warcraft. Our blog offers detailed guides and articles on various WoW specs and in-game activities.
Whether you're interested in trying out a new specialization like Havoc Demon Hunter or dipping your toes into tanking with Blood Death Knight, we've got you covered.
For those specifically interested in Frost DK, we recommend our Frost Death Knight Mage Tower Guide. This exciting challenge with exclusive rewards will put your skills with this tanking spec to the test!
SkyCoach Boosting & Coaching Services
The amount of information available in WoW can be overwhelming. With its vast complexity and various intricacies, it's almost impossible to learn everything even if you have a lot of free time. For those with limited play time, it can be even more daunting.
Fortunately, SkyCoach is here to ensure that you don't miss out on anything. Whether you need gold, gear, help with raid or dungeon clears, or even coaching from a pro player, we've got you covered. Our wide range of services, fair prices, and 24/7 support make us the go-to for all your WoW needs. We even offer regular sales and a cashback program of up to 20%. So no matter what you need in WoW (or other online games), you can always count on us.
Final Words
We aimed to provide a comprehensive source of information on every aspect of Frost Death Knight in Dragonflight with this article. If you had any questions about Frost DK before, we hope you were able to find answers here. Our guide's recommendations are intended to improve your gameplay and enhance your enjoyment of WoW. However, please remember that these are merely suggestions and not strict commands. Feel free to experiment with different talents, rotations, and gear. After all, this is a game, and we should treat it as such. That's all for now. Take care, and we'll see you in the Dragon Isles!
F.A.Q.
Are Frost Death Knights good in Dragonflight?
Frost DKs are definitely above average in raids (arguably better in some cases than their Unholy brothers), although they may be lagging a bit behind in Mythic+. They are also great in PvP. All in all, if you really enjoy the spec, there is no reason to play anything else.
Is Frost Death Knight hard to play in WoW?
Starting out as a Frost DK is not very hard, as it is rather intuitive. However, climbing the Mythic+ or raiding ladder can be quite challenging at higher levels. It really takes a skilled player and a determined mindset to master all the intricacies of this spec.
What is the best weapon for a Frost Death Knight?
The choice of weapons (dual-wielding or 2-hand) depends on your chosen talent build. Breath of Sindragosa build requires a pair of one-handers, while Obliteration set ups typically (but not necessarily) prefer the 2-handed option.
What is the best profession for a Frost Death Knight?
Having a certain profession (or any profession, for that matter) is not strictly mandatory. Blacksmithing seems like an obvious choice, so that you can craft both armor and weapons for yourself. Herbalism and Mining are also great for general gold making.
Is Frost Death Knight good in PvE WoW?
Frost DKs may not be one of those "mandatory" specs with a unique raid buff. However, they are perfectly viable in all forms of content, and there are some niches where they truly excel, like heavy cleave encounters.
What is the best rotation for a Frost Death Knight?
The key to playing Frost DK correctly is to understand and master your resources. If you do that, the spell sequence will flow quite naturally. Reading through the Frost Death Knight rotation section of our guide will be more than enough to get you started.