Welcome to our WoW Subtlety Rogue guide covering all the details you ever wanted to know about this specialization. If you are looking to master the art of stealth and precision, you have found the right article to read. This spec excels in single-target damage and does relatively well when it comes to AoE. After reading this article, you will learn everything about talent builds, rotations, gear, and more. So, whether you are a seasoned veteran or just starting out, you will find something useful here. Let us get started and dive into the shadows!
Subtlety Rogue Pros and Cons
If you do not know much about this specialization, this part of our Subtlety Rogue DPS guide will provide you with basic information on its strengths and weaknesses. By reading this extract, you will realize what it is capable of and whether you want to try it in action.
Starting with the Upsides, they are as follows:
Overwhelming burst damage against solo targets;
Strong defensive and utility tools;
Fast-paced specialization with decent mobility.
As for the Downsides, they look like this:
Having Shadow Dance and Symbols of Death on cooldown radically reduces damage output;
Have to choose between dealing burst single or multi-target damage.
To unlock the spec's full potential, you are to achieve the maximum level first. Even though the leveling process has become noticeably easier, it still takes much time. If you wish to skip all the boring stuff and dive into end-game content, we have you covered here. By ordering our Dragonflight Leveling 60-70 service, our pros will do the job for you. We provide reasonable prices and guarantee the result.
Subtlety Rogue Basics
The Rogue class itself is by far one of the hardest ones to master. Its Subtlety specialization is not an exception. So, if you are a complete beginner, you will need to put some time into practice to learn the basic mechanics. As a full DPS spec, you are extremely squishy and can die easily if not positioned correctly. Your damage output fully depends on what priority you press your buttons in and how quickly you do this.
To ensure you devastate a target, you want to generate as many Combo Points as possible. Luckily, this mechanic is not that difficult to get used to. You just have combo generating (e.g. Backstab) and combo spending (e.g. Eviscerate) types of abilities. So, this part of the Subtlety Rogue Dragonflight gameplay is quite easy to master and the learning process will not take much of your time.
Subtlety Rogue Core Abilities
Being a squishy yet deadly specialization, you cannot go without your utility abilities. Thanks to them, you can deal devastating damage and stay alive. If used correctly, you will excel in any content type whether you prefer PvE or PvP. In most cases, you use a similar range of spells to deal damage and shorten the distance between you and the target. Therefore, we have prepared a list of the most popular and powerful WoW Subtlety Rogue abilities, which looks as follows:
Again, this list is not complete but it includes all the basic spells you need to be acquainted with. As you can see, we have not mentioned defensive cooldowns like Evasion and Cloak of Shadows. They work in a straightforward way and require no detailed explanation. The first one grants you a 100% dodge chance. The second one makes you immune to any harmful effects and magic damage.
All the above-mentioned spells are widely used in both PvP and PvE content types. However, you cannot clear out a dungeon on your own no matter how hard you try. If you play well but are never lucky with a team, we have the solution for you. Check out our Mythic Carry services where our professional players do the whole job for you. All you are left to do is to enjoy the desired look and explore the Dragon Isles further.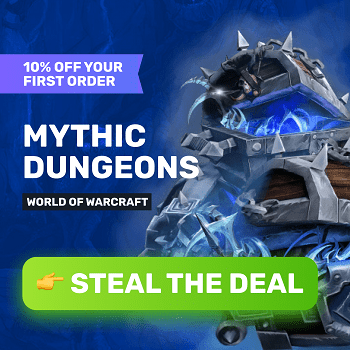 Subtlety Rogue Stat Priority
To ensure you have fully unlocked your damaging potential, always focus on Agility. This stat is your main one and it increases your DPS as no other stats do. As for secondary stats, you want to prioritize Critical Strike and Mastery, as they provide you with an extra damage boost as well. Only then, you can think of gaining some Versatility and Haste. The latter is worth your attention even less if we are talking about dealing AoE damage.
Keeping all that in mind, you want to have your Subtlety Rogue stats distributed in the following order:
Agility;

Critical Strike;

Versatility;

Mastery;

Haste.
While these stats are generally prioritized in this order, the specific weights of each stat can vary depending on your gear, talents, and general playstyle. It is always a good idea to sim your character to determine the most optimal stat priority for you. However, if you are only starting out, the presented alternative will work for any content type.
Best PvE Subtlety Rogue Builds
With the fully updated talent system presented in Dragonflight, players can now experiment with their talent setups. Unlike in previous expansions, you have so many branches to specialize in and choose from. At the same time, the whole system has become more difficult to understand for beginners.
Therefore, the following two extracts of our guide are devoted to Raiding and Mythic+ types of content. After reading them, you will learn what talent setups work best for these activities. By using the presented-below options, you can significantly increase your DPS and become a valuable player in your party/guild.
However, if you wish to obtain the desired loot quicker and effortlessly, you can Buy Dragonflight Boost from our company. This is a great opportunity to save your time and get the required items from certain raids and dungeons. We guarantee the best market price and the fastest completion time.
Subtlety Rogue Single-Target Raid Build
Moving further, we would like to continue our guide with the most optimal Subtlety Rogue raid build currently existing in the game. It focuses on optimizing your solo-target DPS, which is what you usually need while fighting a tough boss with millions of HP points.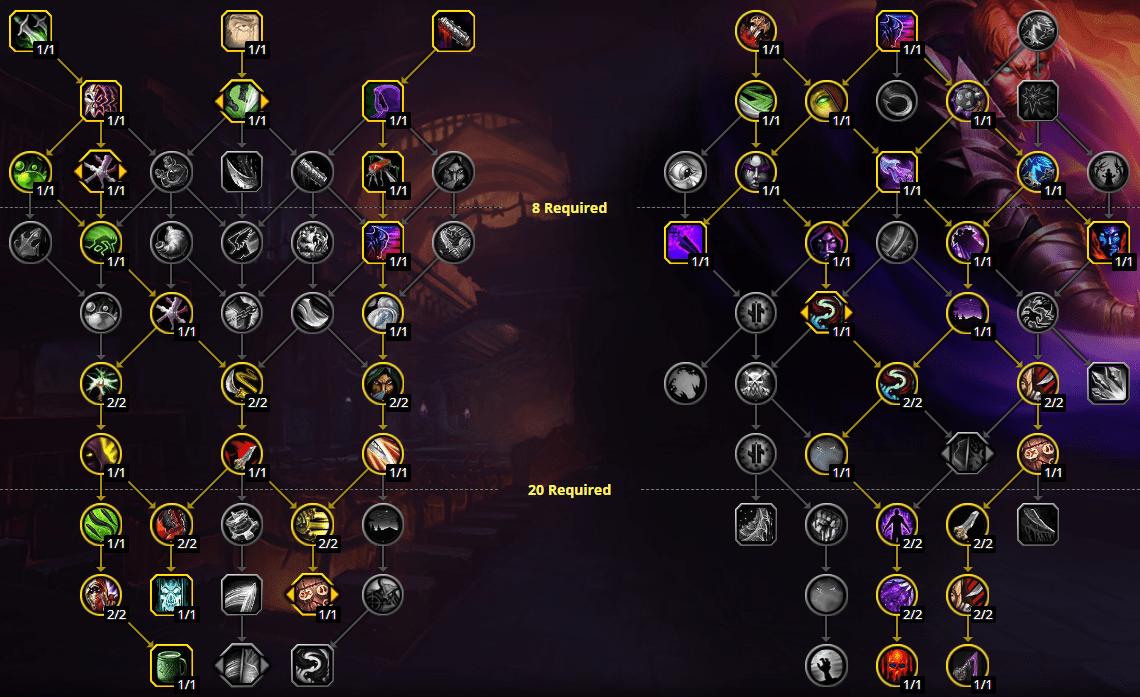 You can try this setup in action by copying and pasting the following code into your game:
BUQAAAAAAAAAAAAAAAAAAAAAAAAABAAAAAAAEBkkICBIIJIJJRikEpkkEtAJlkQSSkWAAAA
Subtlety Rogue Mythic+ Build
If you prefer another type of content, which is Mythic+ dungeons, you would be interested in a different Dragonflight Subtlety Rogue PvE build variety. Unlike the previous alternative, this one maximizes your AoE damage. Even though this specialization is not good at dealing with groups of enemies, you have certain spells and talents to optimize damage output in such combat scenarios.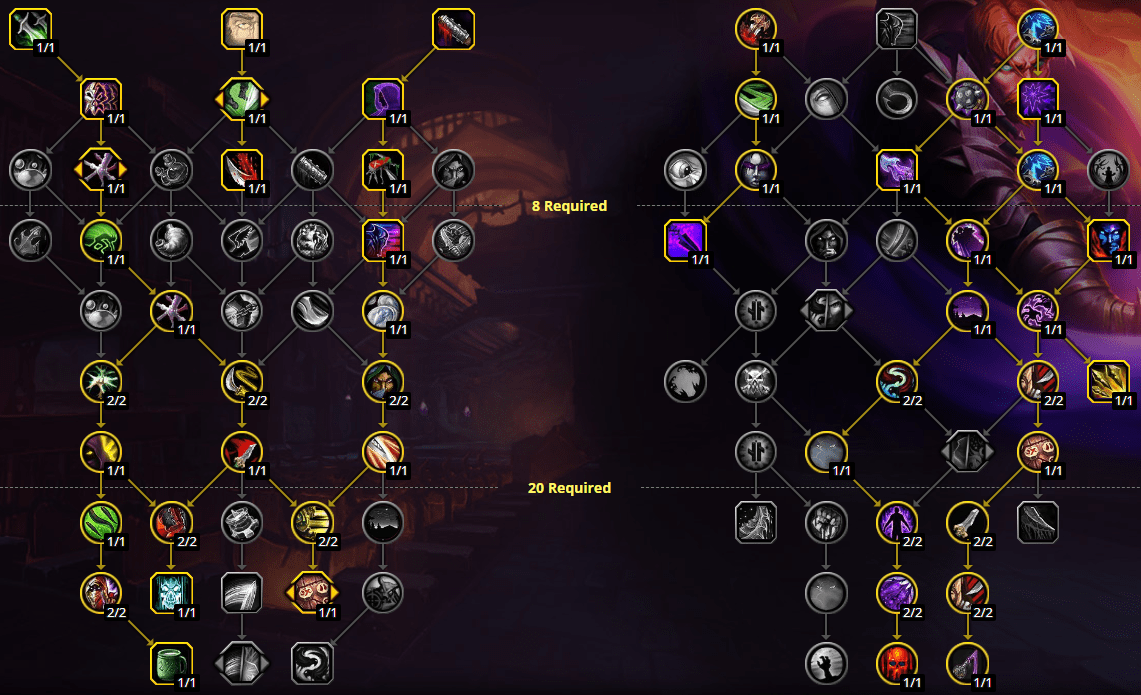 Make sure to copy the code below to see this build in action:
BUQAAAAAAAAAAAAAAAAAAAAAAAAAAAAAAAAARAJJiQASkkkIJJRQSESSSLQSJJkkEpFAAAA
Best Subtlety Rogue PvP Build
Up next, we would like to share a Dragonflight Subtlety Rogue PvP build, which is perfect for devastating other players. Remember, in PvP, it is crucial to remain mobile and unpredictable, using Vanish and mobility abilities to catch opponents off-guard and take them down quickly. It is also important to be aware of your surroundings and use line-of-sight to your advantage, avoiding incoming attacks and setting up surprise attacks on your opponents.
Thanks to your Invigorating Shadowdust and Without a Trace talents, you can strike unexpectedly while reducing the cooldown of your other abilities. This allows you to repeat the rotation at a lightning speed. However, you should be extremely attentive and press all the buttons right after they refresh.
At the same time, do not forget about your utility and defensive abilities if something goes wrong during the fight. No matter who you are fighting, you can always become immune to incoming auto attacks or magic damage for a short period of time. Besides, you have enough control spells under your belt to keep the opponent immobilized while dealing devastating amounts of damage.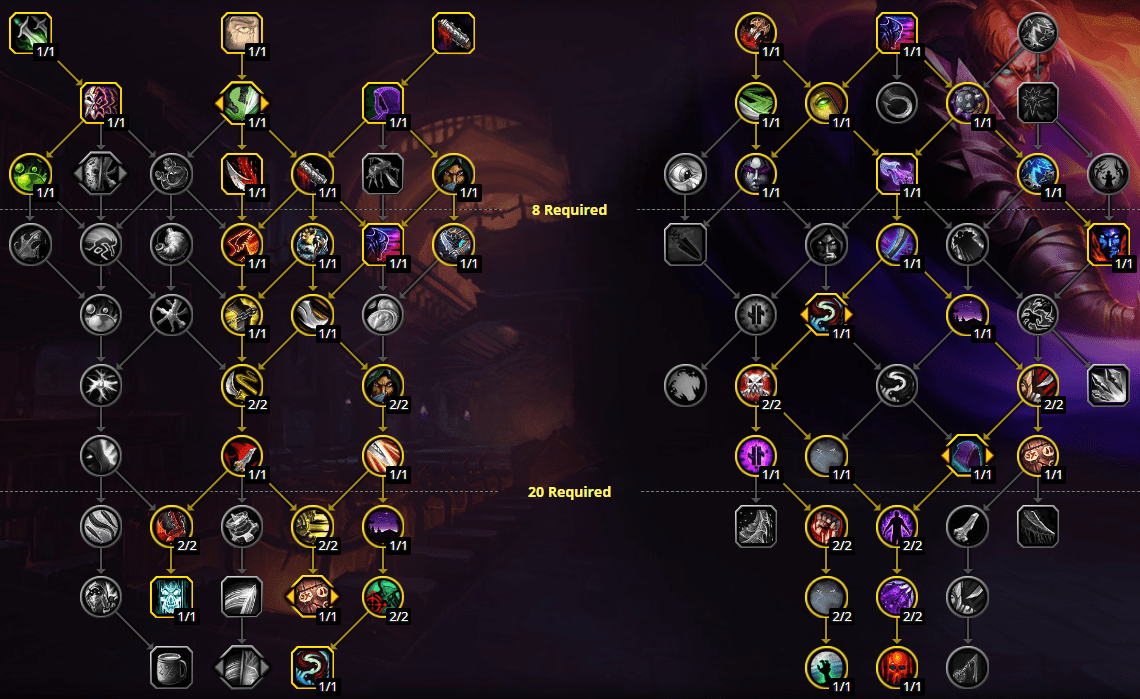 Copy the following code to try out the presented-above talent setup by yourself:
BUQAAAAAAAAAAAAAAAAAAAAAAAAABAAAAAAAESSSikAJSSCkAkkkIJpoIJJNkkUSSCABAAAA
To truly excel in PvP and be able to defeat any foe you encounter, you are to reach level 70 first. Only then, this build starts shining indeed. You will gain access to all the required abilities and talents. If you wish to speed up this process, you can always use our WoW Powerleveling services. Our professional players will get your character boosted in a blink of an eye. We provide the best market price and guarantee the fastest result.
Subtlety Rogue Best in Slot Gear
Before we plunge into the topic, it is important to mention the Crafting Order system. The latter completely changes the perception of what BiS gear is. Even though it was only implemented to the game with the Dragonflight expansion release, all players absolutely adore it.
You no longer need to spend hours clearing dungeons or trying to kill a boss to get a truly powerful item. Instead, you can find an artisan who can create a substitute for you. It will not be as powerful as items you get from end-game content but it still works fine for most average players.
It is also important to note that the specific gear that constitutes the best in slot for this spec can vary depending on factors such as your raid group's composition, the specific boss encounter, and your personal preferences and playstyle. We highly recommend that you use a sim program to determine the best equipment and stat priority for your specific character.
Aberrus, the Shadowed Crucible Best in Slot Gear for Subtlety Rogue
If you are a fan of Raiding content, you can try to collect the following equipment pieces to make your character even more powerful. However, it should not be your priority task, as it may take you months before you can actually do this. If you have managed to loot at least a few of these items, it is already great.
Always remember that wearing BiS gear does not guarantee you success. For example, your personal skills and execution are more important than the items you have equipped. Besides, the time and effort required to acquire this type of equipment can be significant.
If you are not striving for the highest results, the difference in performance between BiS gear and alternative gear is often minimal. This is especially seen in PvP situations where the focus is more on strategy and tactics than raw stats.
Finally, gear upgrades are constantly changing. Future patches and expansions can bring new gear with improved stats and bonuses, meaning that BiS equipment may quickly become outdated and replaced.
We highly recommend that you enjoy the game instead of focusing on endless grinding and farming. As we can see, the game's developers are trying their best to entertain players by releasing new patches quite frequently. Have fun and keep exploring the Dragon Isles!
Mythic+ Best in Slot Gear for Subtlety Rogue
If you prefer another type of PvE content, then you can try to collect a Mythic+ set. The latter is considered to be a stronger alternative if compared to the previous option. Nonetheless, if you truly enjoy the process of dungeon clearing and love the idea of unlocking new keystones, you can try your skill. If you succeed, you will own the best Subtlety Rogue gear you can possibly find.
Being extremely powerful, the items from the list are extremely difficult to get. So, it should not be your priority to collect all of them, as it may spoil the gaming experience.
Best Upgrade, Spark of Shadowflame, and Embellishment Options for Subtlety Rogue
Flightstones have been implemented to replace Valor from the previous season. Unlike Valor, it can be used to upgrade not only Mythic+ equipment but Raiding one as well.
As it is difficult to get, you will always have a limited amount of this currency. Therefore, it is crucial to set priorities and understand what gear pieces you want to upgrade first. As a rule, you want to start with trinkets followed by weapons. These are the items that are definitely worth Flightstones to be spent on:
Another way to substitute high-level gear pieces is to use Spark of Shadowflame. This reagent allows you to create items almost as strong as those you get from end-game activities. However, it is also rare and should be spent wisely. For instance, you can craft the following equipment without a doubt:
Since two of the mentioned-above items are also Embellishments, it is time to add a few words on this system as well. To put it shortly, it allows you to have additional stats and bonuses when wearing items with this effect. However, no more than 2 equipment pieces with Embellishments can be equipped at the same time. As a rule, you want to choose from the following alternatives:
To acquire all the required items, you need to be a rich person indeed. Farming millions of gold can take an eternity and spoil the fun you should have while playing. To ensure you can afford everything you want, you can Buy WoW Gold with our company's help. We guarantee the best market price and can deliver it to any server you play on.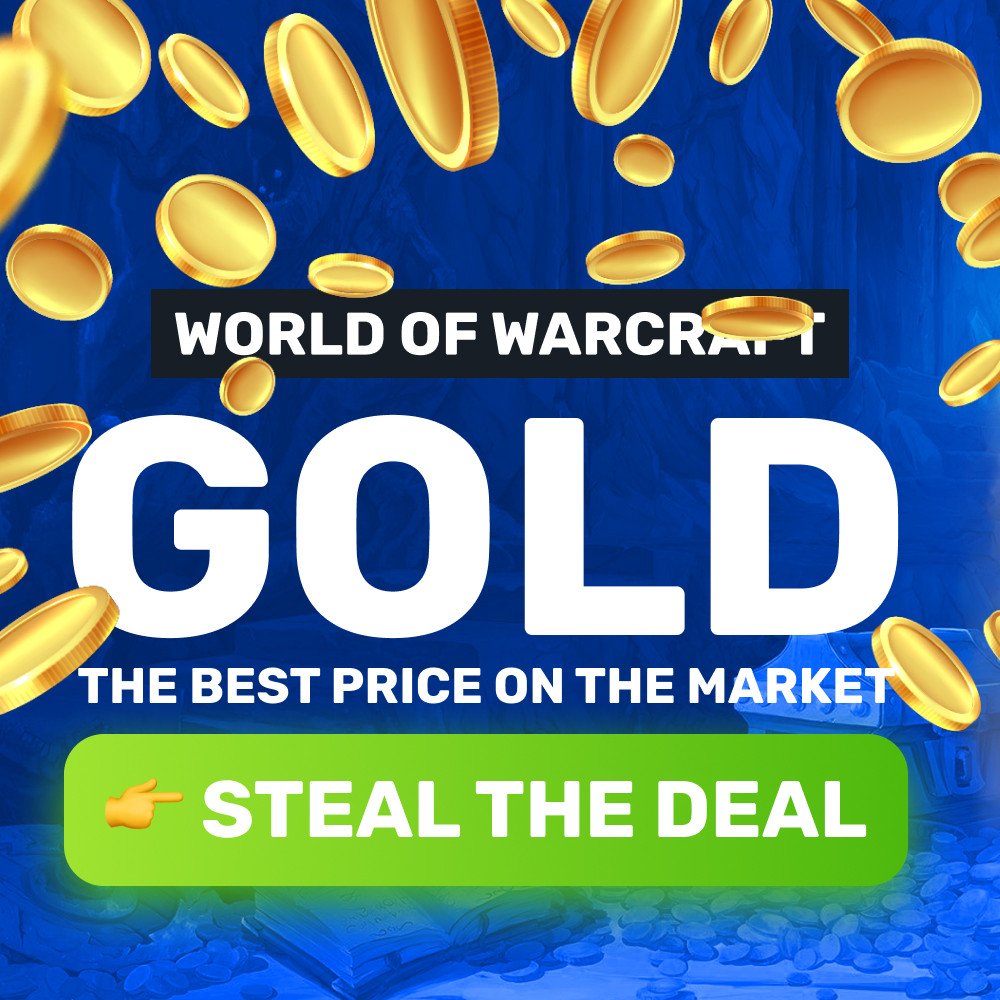 Best Subtlety Rogue Enchants and Consumables
To make your character more powerful, you cannot go without enchantments and a range of must-have consumables. They grant you a ton of extra primary and secondary stats, which you can never have too much. We have prepared a small table containing the best enchant options you can currently find in the game. Make sure to buy them at the Auction House or craft them by yourself.
As for the strongest consumables, Phial of Static Empowerment is the strongest alternative you can go for. However, it only works for PvE content and unlocks its full potential if you play with reliable teammates. In other cases, you want to use Phial of Tepid Versatility. If you are sure you can take down a target quickly, you try Iced Phial of Corrupting Rage instead. However, be mindful of its drawback effect.
The most powerful short-term DPS buff is Elemental Potion of Ultimate Power. Nonetheless, it costs quite a lot and should only be used when fighting a tough opponent. As a damage-dealing specialization, you always lack HP and this is when Refreshing Healing Potion comes in handy. The latter can save your life when your health drops to a crucially low level.
Finally, we would like to share a piece of advice on what gems you want to run for this specialization:
By using all the mentioned enchants and consumables, you can radically increase your DPS when fighting another boss. Nonetheless, it may not be enough if you are raiding with a low-skill group. By ordering our WoW Raid Boost services, you can be sure our pros will take care of this problem. All you are left to do is to enjoy the desired loot and keep exploring the Dragon Isles.
Subtlety Rogue Rotation Guide
In this section of the article, you will find out what rotations exist for this specialization. Before we start, it is crucial to point out that there is no all-purpose WoW Subtlety Rogue rotation as many beginners think. Each of them suits different combat scenarios and should be mastered properly.
It is also important to note that your rotation can be flexible, and you may need to adapt it depending on the situation, such as adding crowd control or defensive abilities. Additionally, it is essential to maintain a balance between offensive and defensive abilities to ensure survivability in combat.
On top of that, you always want to check on your Energy bar. Most of your damage-dealing spells use Energy to be cast. Therefore, spend it wisely since you may need it in a critical situation. Your cooldown usage is another key component when learning to play this spec. If you miss an opportunity and leave an ability uncast, you break the rotation and lose tons of damage.
Finally, this specialization is for initiative people who prefer to start combat first. As a rule, you do this while in Stealth, which allows you to deal significant damage before an opponent can start fighting you back.
Subtlety Rogue Opener Rotation
Before starting the described-below rotation, make sure you are in Stealth and have Instant Poison applied to your weapon. Also, your Slice and Dice ability should always be activated.
While invisible, start the rotation with Shadowstrike;
Use Shadow Blades, Symbols of Death, and Gloomblade;
Shadow Dance, Thistle Tea, and Gloomblade;
Vanish and Shadowstrike;
Repeat step 10;
Subtlety Rogue Single-Target Rotation
The same pre-combat rules are applied for this rotation as well.
Subtlety Rogue Multi-Target Rotation
Do not forget about the essential pre-combat rules discussed above.
Subtlety Rogue Leveling Guide
The following paragraph of our article shares crucial details on how to speed up your leveling process. In spite of the fact, it has become noticeably faster with the latest expansion release, a lot of players still struggle to get to the level's cap. To do this quicker, you are to use a specific build, which allows you to clear out large mob packs effortlessly. Below, you can find a ready-made solution for fast leveling.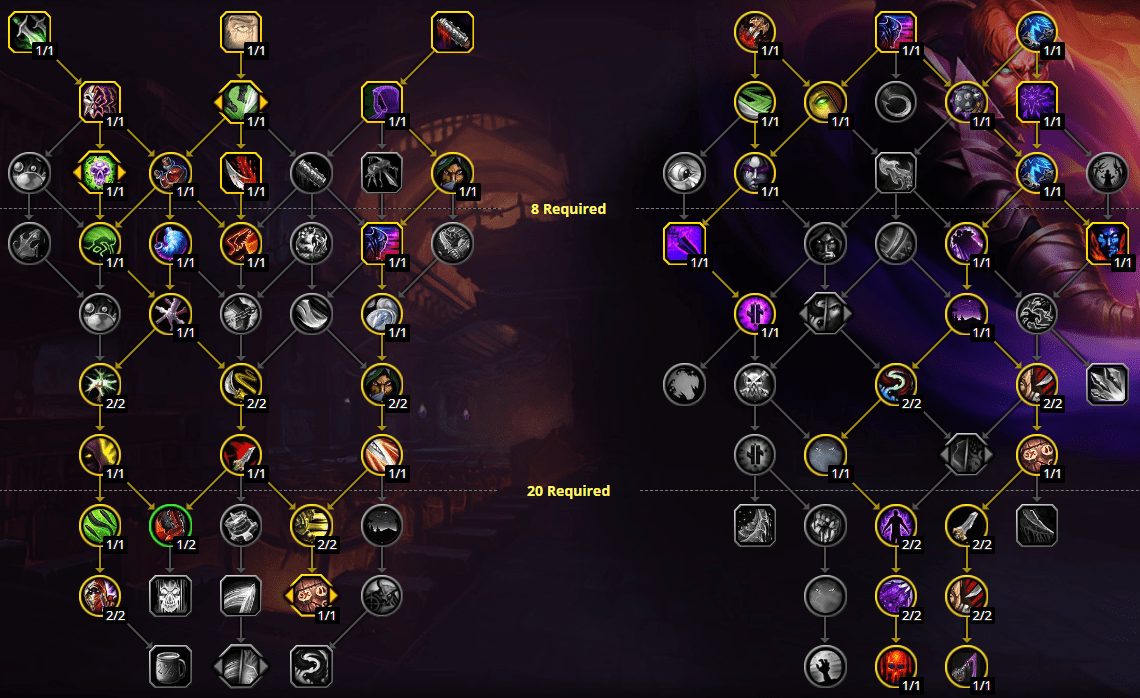 By copying the following code, you can load this build directly into your game:
BUQAAAAAAAAAAAAAAAAAAAAAAAAAAAAAAAAAhAJJiIBIRSCSSSISSESSSLJhDUSCSSkSAAAA
Relying solely on your talent setup is a bad idea, as you still need to manage to survive during battle. For this, you can use a variety of consumables that are especially good for leveling. Some of them boost your DPS while others help you stay alive:
It is particularly difficult to single out a certain rotation during the leveling process. It mostly depends on what enemy you are fighting against. However, you always want to check on your Energy and use core abilities on cooldown.
After reaching level 70, you get access to end-game content, such as Raiding and Mythic+. This is where the actual fun begins. You will start gearing up and participating in various activities becoming stronger as time passes.
However, you will get stuck at a certain point if you have no friends to play with. If you still wish to get the best loot and progress further, you can always order our World of Warcraft Boosting services. Our professional players will easily defeat any boss or clear a dungeon of any difficulty for you. We offer reasonable prices and guarantee the result.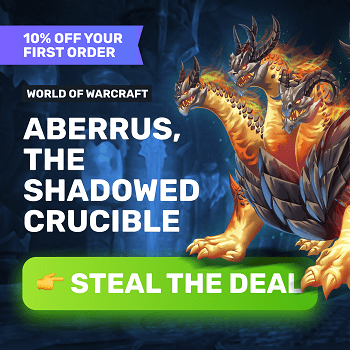 The Best Primordial Stones for Subtlety Rogue
With the 10.0.7 patch release, players have finally got the opportunity to try out the Onyx Annulet ring. The latter uses different Primordial Stones you can insert into it. They provide you with unique effects and bonuses you cannot obtain any other way. In this extract of our guide, you will learn what Primordial Stones you want to use for various content types.


How to Become a Better Subtlety Rogue in Dragonflight
Up next, we have prepared a few essential Subtlety Rogue 10.1 patch tips, which will definitely improve your performance. They are as follows:
Understand your role.

In most cases, your role is not only to deal damage quickly and efficiently, but also to control the battlefield by stunning and incapacitating enemies. Understanding your role and playing to your strengths can help you succeed in different combat scenarios;
Practice your rotation. One of the most important things you can do is practice your rotation in different situations, such as in raids, dungeons, or

PvP.

This will help you develop muscle memory and improve your reaction times, allowing you to execute your abilities more efficiently;

Be aware of your Energy.

You rely on Energy to use most of your abilities. Be aware of its levels and manage them carefully to avoid running out in the middle of the fight;

Use your mobility tools.

With abilities like Shadowstep and Sprint, this specialization excels in mobility. Use them to quickly move around the battlefield, escape danger, or catch up to fleeing enemies;

Experiment with talents and gear.

Your talents and gear can significantly affect your gameplay. Experiment with different combinations to find what works best for you and your playstyle;

Analyze your gameplay.

After each combat encounter, take a few moments to analyze your gameplay. Identify areas where you can improve and adjust your tactics accordingly.
Other Articles to Read
If you wish to try out other classes and specializations in action, we have you covered. The SkyCoach team has prepared a range of comprehensive guides sharing all the details you want to know about them. For instance, you can check out our Marksmanship Hunter Guide and see how a ranged spec works for you. If you enjoy casting spells and wish to defeat your enemies with dark magic, you will definitely enjoy our Demonology Warlock Guide. To ensure you have mastered the specialization you are reading about right now, you cannot go without our Subtlety Rogue Mage Tower Guide, which provides essential tips and tricks on how to complete this spec's encounter.
SkyCoach Boosting & Coaching Services
The SkyCoach team is made up of dedicated professionals who work hard to provide top-quality services to our clients. We understand that many WoW players struggle to find the time to participate in raids or complete dungeons, and that is where we come in. With over 5 years of experience, we offer a wide range of boosting and coaching services to help you achieve your in-game goals.
On top of that, our services are not limited to World of Warcraft only. We offer support for a variety of the most popular online titles that can be incredibly time-consuming. By relying on our pros, you can save your precious time and energy for other pursuits.
We are committed to providing the fastest possible results for our clients, all at attractive prices. Additionally, we offer a 5-20% cashback on each order as a way of showing our appreciation for our valued customers. So, take a look at our offers today and see how we can help you reach your gaming goals.
Final Words
With tons of information presented in this guide, you have surely learned how to play Subtlety Rogue now. Whether you are focused on PvE or PvP content, you have found comprehensive advice on gear, talents, rotations, and playstyle. By following the tips and strategies outlined in this article, you will be able to maximize your damage output and dominate in any situation.
It is important to remember that practice makes perfect, so do not be afraid to experiment with different tactics and approaches until you find what works best for you. Since the game evolves and changes over time, we will continue to update this guide to ensure that you have the most up-to-date information available. Therefore, do not forget to return here from time to time and we will see you in the game!
F.A.Q.
Are Subtlety Rogues good in Dragonflight?
To put it shortly, yes. They have high burst damage potential, strong utility, and decent survivability, which makes them a popular choice for both PvP and PvE content.
Is Subtlety Rogue hard to play in WoW?
This spec can be considered a more complex and challenging one if compared to others. It requires good situational awareness, precise timing, and careful resource management to maximize its potential. However, players who enjoy a more strategic and nuanced playstyle may find this specialization to be a rewarding and satisfying choice.
What is the best weapon for a Subtlety Rogue?
Usually, you choose between daggers, fist weapons, one-handed axes, maces, and swords. Nonetheless, most of your damaging abilities become unavailable if you are not using two daggers.
What is the best profession for a Subtlety Rogue?
A lot of players usually go for Leatherworking combined with Skinning. This allows you to create your own equipment. This can be especially useful for end-game content, where having the best possible gear can make a big difference. You can wear it by yourself or sell it to others for a bunch of gold.
Is Subtlety Rogue good in PvE WoW?
This spec has high burst damage potential and good utility, making it a valuable addition to raid and dungeon groups. This specialization can also bring strong single-target damage, making it particularly effective in situations where burst damage is needed.
How do I maximize DPS as Subtlety Rogue?
It all starts with your Energy and how you spend it. Besides, you want to press the most crucial cooldowns like Shadow Dance and Symbols of Death once they are refreshed. Finally, you want to master all the rotations described in this article.
What is the best rotation for a Subtlety Rogue?
It is impossible to single out a particular rotation and use it for all combat scenarios. You should learn them all and see which one suits you better when in battle.