Welcome, fellow heroes, to our comprehensive Assassination Rogue DPS guide. In this comprehensive article, we will delve into the intricacies of playing this spec, covering both PvE and PvP aspects of it.
From mastering the basics to understanding core abilities, talents, rotations, and more, we have got you covered. Whether you are a seasoned rogue or just starting your journey, this guide will equip you with the knowledge and strategies to maximize your damage and outmaneuver your foes in any situation.
We will help you dominate the battlefield and eliminate your rivals with deadly precision. Get ready to embrace the shadows and learn everything you have ever wanted to know about this specialization.
IMPORTANT NOTE: At SkyCoach, you can also Buy WoW Boost at the lowest prices and with the fastest delivery. You can make your first purchase even CHEAPER if you find our special PROMO CODE (highlighted in green) hidden in this article and get a 20% DISCOUNT.
Check out some of our most popular
WoW Boosting services

below:
Assassination Rogue Pros and Cons
The first part of our WoW Assassination Rogue guide is devoted to the spec's strengths and weaknesses. By reading about them, you will have a clear understanding of whether you want to give this specialization a try or if its playstyle is not what you expected.
Beginning with the Upsides, they include the following points:
As for the Downsides, here is a list of them:
Weaker

AoE

damage compared to the

Outlaw

specialization;
Lack of burst damage;
Struggles to bring something special to raid groups;
Having no mid option, has to specialize in either

single-target

or

AoE

build.
If you wish to give this spec a shot yet do not want to spend endless hours leveling up, we have a solution just for you. By ordering our Dragonflight Leveling 60-70 service, our professional players will gladly boost your character to the maximum level in a blink of an eye. We guarantee the fastest completion time and the best market price.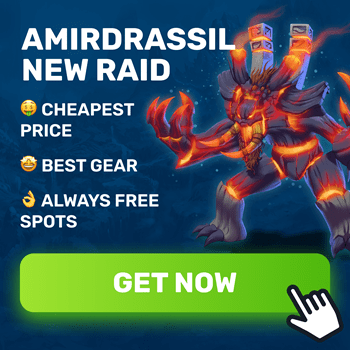 Assassination Rogue Basics
No matter what specialization you choose to play, mastering the basics is crucial to your success. This is what the following paragraph of our guide is going to be about. Your primary resource is Energy, which fuels your abilities and allows you to execute your strategies with precision. You will need to carefully manage your Combo Points, which are built through your attacks and used to unleash devastating finishers. Applying poisons to your weapons adds extra damage over time (DoTs) and further enhances your lethality.
Stealth is your ally, providing you with the element of surprise and allowing you to initiate combat on your terms. You will employ powerful openers to start the encounter with a burst of damage, catching your opponents off guard. Additionally, you possess defensive abilities that can mitigate damage and keep you alive in challenging situations.
By understanding and mastering these core elements of the Assassination Rogue Dragonflight gameplay, you will become a formidable force in any encounter, striking fear into the hearts of your enemies from the shadows. BLOG20
Assassination Rogue Core Abilities
If you only begin learning to play this specialization, it is essential to pay attention to your WoW Assassination Rogue abilities used most frequently. They will be your bread and butter in any type of activity whether you prefer slaying mobs or fighting other players. For your convenience, we have enlisted them all below and provided a brief description for each of them:
Even though this list is far from complete, we have tried to describe not only offensive but defensive abilities as well. Make sure to learn how to properly use all the abilities mentioned above, as they will be your primary tools in any fight.
Learning how to use these and other abilities is your key to victory in activities like Mythic+ dungeons. However, you will also need a reliable team of skilled players to succeed in it. If you are never lucky with a party or prefer to play alone, you can use our Mythic Carry services to obtain the desired loot. We guarantee the best market price and the fastest completion time.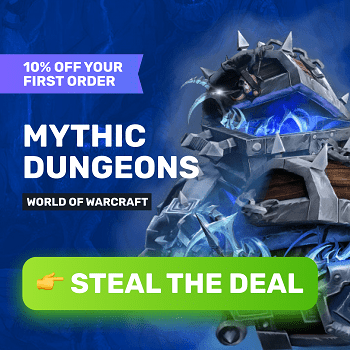 Assassination Rogue Stat Priority
When it comes to choosing what Assassination Rogue stats to focus on, Agility stands out over others for sure. The latter is your primary stats and should be maxed out in any build preferred. As for secondaries, go for the ones that help you increase your damage output. They are Critical Strike and Mastery, of course. The first one syncs perfectly with your Seal Fate talent while the second one boosts your bleed and poison damage.
After that, you can pay attention to Haste and Versatility stats. Keep in mind that the stat priority is subject to change and depends on your gear and personal preferences. However, if you only begin playing this specialization, it will look like this for any type of content:
Agility;

Critical Strike;

Mastery;

Haste;

Versatility.
You can see what stat order suits you personally by using programs like Simcraft or Raidbots. Otherwise, stick to the above-described alternative you will be just fine.
Best PvE Assassination Rogue Builds
With the completely reworked talent system introduced in Dragonflight, players can now experiment with various build for any specialization. At the same time, it has become a true challenge for beginners to make up their own builds that can be called competitive.
If you are looking for a ready-made solution that works best, we are here to assist. We have prepared the most optimal Raiding and Mythic+ builds to share with you. By using them, you can excel in both types of content. Further in this guide, you will also find the best PvP build as well.
Struggle to complete another dungeon run or slay a particular boss? You can always Buy Dragonflight Boost from our company and let our pros do the job for you. You will get the required loot in a blink of an eye. All that comes at the best market price and with a guaranteed result.
Assassination Rogue Raid Build
By using the presented-below build, you can surely deal the highest single-target damage and excel in Raiding content. This Assassination Rogue raid build is subject to change if you feel like it. Depending on your preferred playstyle and team composition, it can look slightly different. However, the given alternative works just fine in most cases.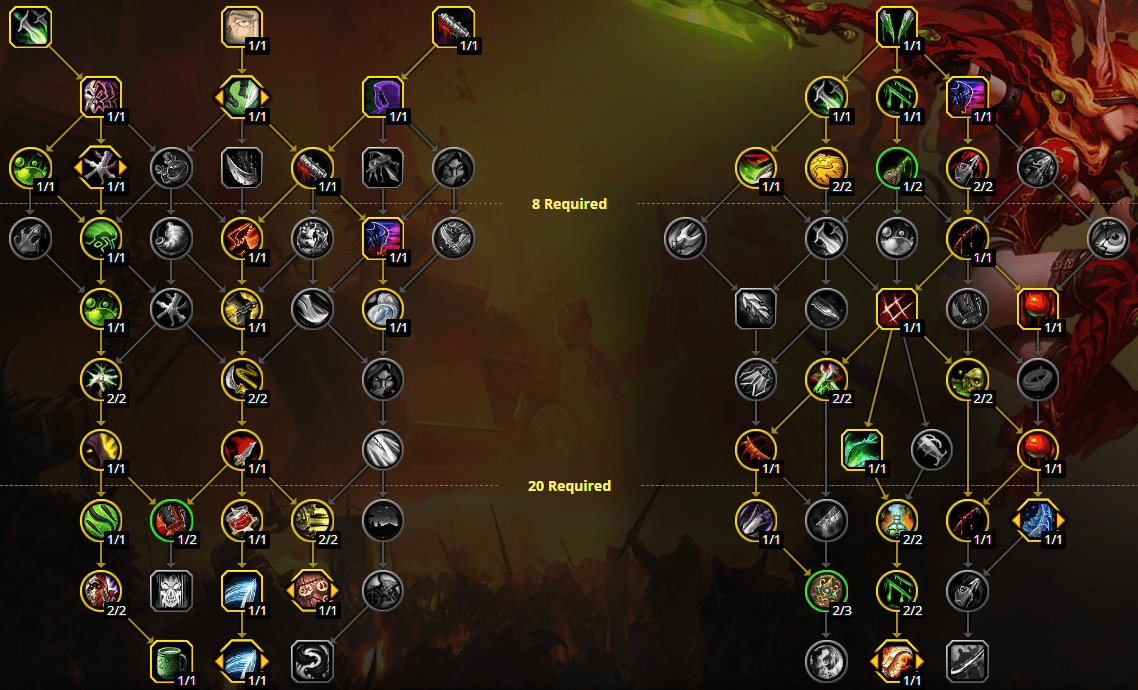 Copy this export string to try this build in action:
BMQAAAAAAAAAAAAAAAAAAAAAAIFJSCcgElEAAAAAAAJAkkAAAAAAAQDJOQJJkkkkWKJiEkIRiFE
Assassination Rogue Mythic+ Build
Unlike the previous build, this one is more AoE oriented. Remember, this specialization struggles to deal damage to multiple targets and should be talented in a specific way. You can also change this Dragonflight Assassination Rogue PvE build if you feel like it or the situation requires it.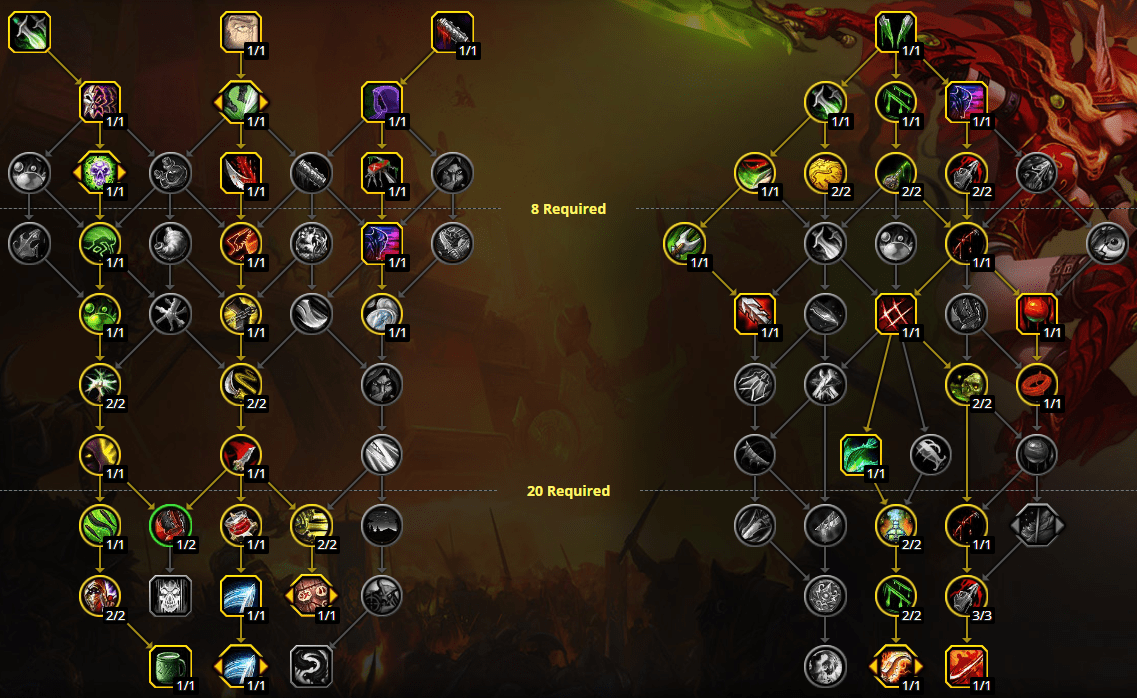 By copying this code, you can export this build into your game:
BMQAAAAAAAAAAAAAAAAAAAAAAIkIJRkQJBAAAAAAQSAkIAAAAAAASDJOQJJkkkkSKJCkEJRCA
Best Assassination Rogue PvP Build
Do you prefer to test your skills in player-versus-player fights? Then, you should check out our Dragonflight Assassination Rogue PvP build we have prepared for you. On top of that, we would like to share a few crucial tips that will help you excel in this type of content if you are only starting out.
In PvP, your strategy revolves around using your stealth, burst damage, and control abilities to quickly eliminate your opponents. Start the fight by opening from stealth with Cheap Shot to stun your target, then follow it up with Mutilate or Garrote and activate cooldowns like Shadow Dance for a powerful burst of damage.
Use CC abilities like Kidney Shot, Cheap Shot, and Blind to disrupt healers or high-priority targets. Maintain your damage over time (DoT) effects such as Garrote and Rupture to apply constant pressure. Utilize defensive abilities like Cloak of Shadows, Evasion, and Feint to mitigate incoming damage, and use mobility tools like Sprint and Shadowstep to engage or disengage from fights.
Coordinate attacks with your teammates, communicate, and focus fire on priority targets. Adapt your strategy based on the situation and the opposing team's composition. Stay aware of your surroundings, make use of utility abilities, and constantly evaluate the flow of the battle.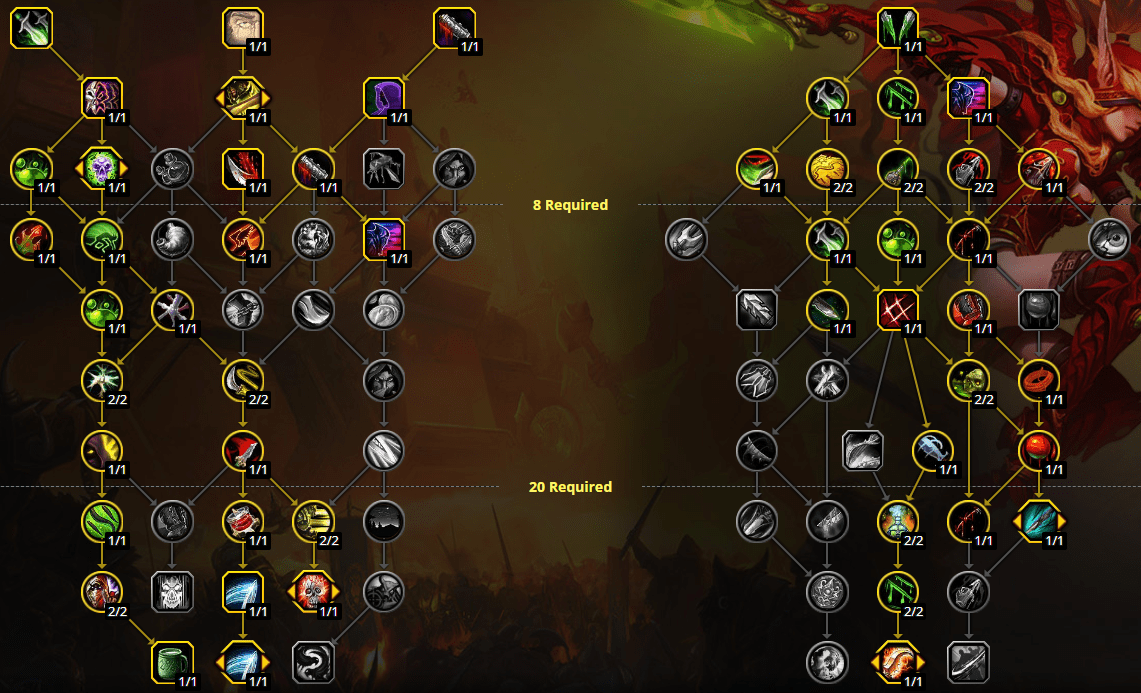 The following copy string lets you import the build into your game:
BMQAAAAAAAAAAAAAAAAAAAAAAQLJJJIJJlEAAAAAAAJAIJAAAAAAASJE0SCJJJpkSSCCJRSCA
Before testing your skills in PvP, you must reach the maximum level. Only then, you will have access to all the required abilities and talents. To speed up this process, you can rely on our WoW Powerleveling services. We offer the best market price and guarantee the result.
Assassination Rogue Best in Slot Gear
Before rushing to farm BiS gear, let us tell you a few words about the Crafting Order system. The latter allows you to create nearly identical equipment pieces without taking part in end-game activities. Of course, they will not be as powerful as what you get from Raiding or Mythic+ content yet can work just fine for most average players.
To use it, you need to find an artisan who is ready to take your order, prepare all the required materials and reagents, and pay the required fee for the service provided. This feature is a great solution for players who are not striving to get their hands on the best gear possible. However, if you always strive to be number one, the following tables are for you.
Amirdrassil, the Dream's Hope Best in Slot Gear for Assassination Rogue
Cannot defeat a particular boss no matter how hard you try? By ordering our WoW Raid Boost services, you can forget about this problem once and forever. Our professional players will gladly help you slay any boss you consider an unbeatable challenge. We offer the most attractive price for the service and guarantee the result.
Mythic+ Best in Slot Gear for Assassination Rogue
If you are looking for a real challenge, you can try to collect a Mythic+ set. It is a more difficult task compared to raid items. However, if you manage to achieve this, you will have the best Assassination Rogue gear ever imaginable. Though it will take you an eternity to do so. In most cases, it is not worth it, especially if you are playing for fun.
Remember, using higher-tier equipment does not always mean you are going to succeed in any activity. After all, it all comes down to how well you press your buttons and know your spec's mechanics.
Best Upgrade, Spark of Dreams, and Embellishment Options for Assassination Rogue
With the start of Season 3, we have got a new reagent to upgrade PvE gear. It is called Dreaming Crests and it lets you increase your gear ilvl. To ensure you deal the highest DPS, focus on upgrading weapons and trinkets first. Here is a list of the best options to spend your precious Dreaming Crests on:
Nick of Time or any other dagger for your main hand;
Any High-Value Trinket, such as Witherbark's Branch or Pip's Emerald Friendship Badge;
Any Low Item Level pieces, such as Lucid Shadewalker's Bladed Spaulders or Lucid Shadewalker's Deathmask.
If you wish to create substitutes for Mythic gear, you can use Spark of Dreams for that purpose. This currency is also extremely limited and should be spent wisely. These are the best alternatives to consider crafting:
As for the Embellishment system, the latter lets you wear up to 2 items with special properties and effects. Your choice usually comes down to the following options:
Slimy Expulsion Boots – Provides you with additional

Versatility

and

Mastery

stats increasing your damage output. You can also deal extra

Nature

damage;
Life-Bound Bindings with Toxified Armor Patch – Grants you pure stats, which can never be extra;
Toxic Thorn Footwraps – Boosts your

Critical Strike

and

Haste

stats to deal higher damage. It also lets you deal

Nature

damage.
To get geared up ASAP, you will need quite a lot of gold. Farming it manually can be a challenging task. Instead, you can Buy WoW Gold and purchase everything you need in a moment. We offer the best market price and guarantee the fastest delivery time to any server.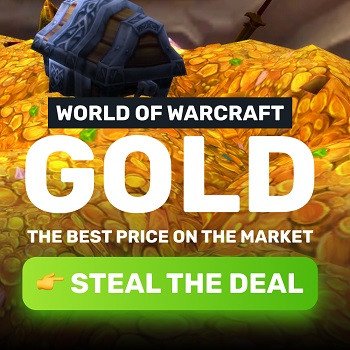 Best Assassination Rogue Enchants and Consumables
If you are looking for another way to empower your character, do not miss out on enchantments and consumables. They grant you a ton of extra stats and can save your life in battle. Usually, you can purchase them at the Auction House, craft them by yourself, or ask a friend/guild member about this service.
For the maximum damage increase in Raiding, you can go for Phial of Elemental Chaos. If your goal is to deal AoE damage, pick Phial of Glacial Fury instead. The latter can be especially good in Mythic+ content. Sometimes, you can try Phial of Charged Isolation if the situation allows it. If you wish to take a risk, Phial of Glacial Fury is your option. However, remember about its drawback.
Speaking of potions, Elemental Potion of Ultimate Power is the number one alternative for any type of content. It grants a ton of Agility, which can never be extra and increases your damage output. As a DPS spec, you will be in constant need of healing, which is why Refreshing Healing Potion can serve as a solution here.
When it comes to the gem choice, we suggest that you use the following options:
Also, make sure you have the effects from Hoard of Draconic Delicacies or Grand Banquet of the Kalu'ak active. As for other food, you can use Thousandbone Tongueslicer or Filet of Fangs.
Assassination Rogue Rotation Guide
Just like other Rogue specs, the Assassination one unlocks its full potential only when a player knows a specific WoW Assassination Rogue rotation to use in a fight. We have prepared the two most popular rotations for you to learn. To let you understand how they work in action, we will also provide a brief description of each of them.
Assassination Rogue Single-Target Rotation
Assassination Rogue Multi-Target Rotation
Assassination Rogue Leveling Guide
Once you have made it to level 70, the actual game begins. You will get access to all types of content available in the game. To ensure you reach the maximum level ASAP, you can use a certain talent build and consumables. They will let you achieve the level cap much faster.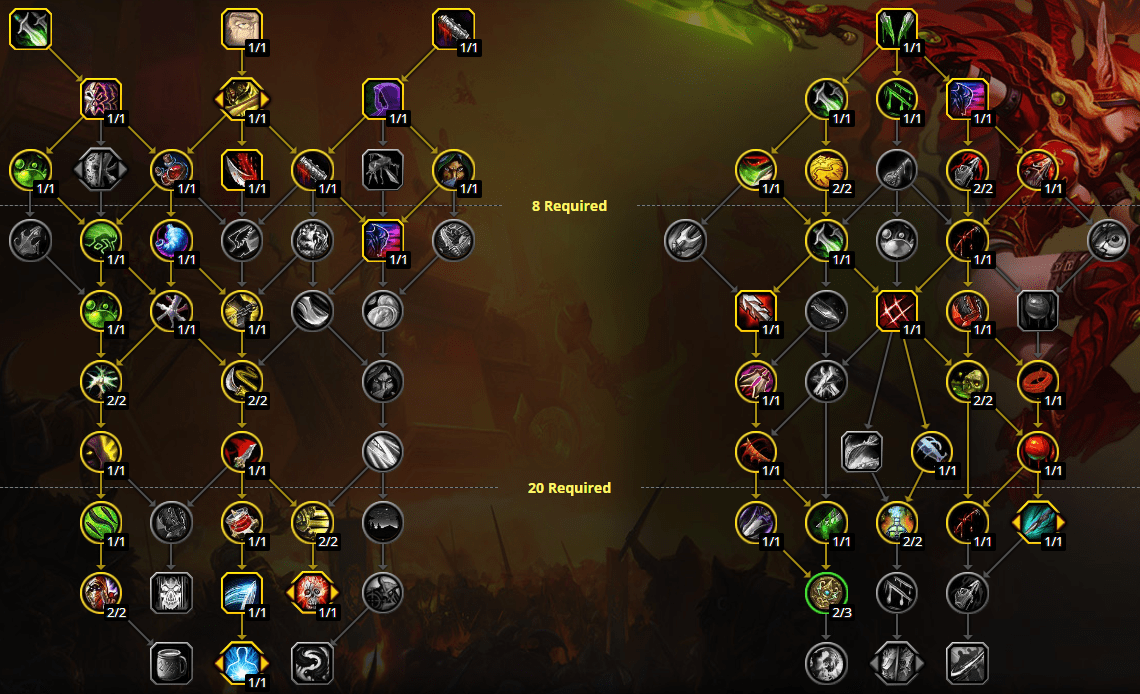 Copy this string to export the build into your game:
BMQAAAAAAAAAAAAAAAAAAAAAAQLJSikIRLBAAAAAAQiAIJAAAAAAASJJCtkgkkEhkkAJRSiFE
When it comes to the most powerful consumables for leveling, they are as follows:
If you cannot complete a certain end-game activity no matter how well you play, we have you covered. By ordering our World of Warcraft Boosting services, our professional players will complete the most challenging dungeon runs or slay any boss for you.
Best Primordial Stones for Assassination Rogue
With the introduction of the Onyx Annulet ring to the game, players have received the opportunity to experience the power of Primordial Stones. The latter grants unique bonuses and effects, which cannot be obtained in any other way. In this section of the article, we will enlist the best Primordial Stones for every type of activity.


Desirous Blood Stone – Lets you deal additional Shadow damage and heal for the amount of damage inflicted;
Prophetic Twilight Stone – Combines perfectly with the previous Primordial Stone;
Freezing Ice Stone – Allows you to follow your target easier, as they will not be able to escape that quickly.


Desirous Blood Stone – Lets you deal additional

Shadow

damage and heal for the amount of damage inflicted;
Prophetic Twilight Stone – Combines perfectly with the previous

Primordial Stone;

Freezing Ice Stone – Allows you to follow your target easier, as they will not be able to escape that quickly.


How to Become a Better Assassination Rogue in Dragonflight
In this part of our guide, you can find a few Assassination Rogue 10.2 patch tips to excel in any type of content. Make sure to pay attention to them if you wish to become a true master of this specialization:
Master your rotation.

Familiarize yourself with the optimal rotation for maximizing your damage output. Practice maintaining your damage over time effects and properly timing your burst abilities;

Study your class mechanics.

Understand the intricacies of Assassination Rogue abilities, cooldowns, and resource management. Learn how to effectively use your Combo Points and energy to optimize your damage output;

Stay aware of your surroundings.

Awareness is crucial in

PvP.

Keep an eye on your enemies, monitor their cooldowns, and anticipate their actions. Position yourself strategically and be ready to react to different situations;

Communicate and coordinate with your team.

PvP is a team-based activity, so communication is key. Coordinate your attacks with your teammates, focus fire on priority targets, and provide support when needed. Effective teamwork can make a significant difference in your success;

Analyze and learn from your mistakes.

Take the time to review your gameplay and identify areas for improvement. Reflect on your decisions, positioning, and timing. Learn from your mistakes and adapt your strategies accordingly;

Practice dueling and skirmishes.

Engage in duels and skirmishes to improve your individual combat skills. This will help you understand your class strengths and weaknesses, refine your timing, and develop effective strategies against different classes.
Other Articles to Read
If you wish to try yourself at tanking, our Protection Warrior Guide is at your service. Looking forward to trying a ranged DPS specialization? Then, check out our Fire Mage Guide. If you are going to master the spec you are reading about completely, our Assassination Rogue Mage Tower Guide will be of great use to you.
SkyCoach Boosting & Coaching Services
At SkyCoach, we take great pride in our team of dedicated professionals who provide top-tier boosting and coaching services to gamers worldwide. We understand that completing raids and dungeons can be a daunting task for many players, which is why we are here to help. With over 5 years of experience in the gaming industry, we offer a wide range of services tailored to your specific needs, helping you achieve your in-game goals.
Our expertise spans beyond World of Warcraft, as we specialize in many other popular titles like Destiny 2, FIFA, and more. Our team of professionals is committed to delivering fast and efficient results at affordable prices, and we offer a 5-20% cashback on every order as a token of our appreciation for our customers.
We invite you to explore our services and discover how we can assist you in reaching your gaming potential. With our dedication and proficiency, we can help you become a better player and achieve success in your favorite games.
Final Words
Fellow heroes, this marks the end of our guide. We hope you had a great time reading it and learned a lot about how to play Assassination Rogue. With the information provided in this article, you can safely start your journey in World of Warcraft and explore it to the full. As this guide will be constantly updated, make sure to stay with us to learn all the details about playing this specialization.
F.A.Q.
Are Assassination Rogues good in Dragonflight?
With their focus on dealing burst damage and inflicting deadly poison effects, Assassination Rogues excel at taking down single targets swiftly. Their high sustained damage, strong crowd control abilities, and utility make them a valuable asset in both PvE and PvP scenarios.
Is Assassination Rogue hard to play in WoW?
It is quite a challenging spec to play, as it requires a good understanding of the class mechanics, resource management, and proper timing of abilities to maximize damage output. Assassination Rogues rely on maintaining DoT effects and effectively managing energy and Combo Points.
What is the best weapon for an Assassination Rogue?
Unlike other Rogue specs, assassins should only wear daggers in both hands. This is necessary to have access to the specialization's strongest abilities.
What is the best profession for an Assassination Rogue?
Going for Engineering and Jewelcrafting can be quite beneficial, as you will have rare equipment to sell. On top of that, you can wear it by yourself if the situation requires it. You can also go for Engineering and Tailoring combination as your second option.
Is Assassination Rogue good in PvE WoW?
Assassination Rogues have a strong toolkit for sustained damage, applying deadly poisons, and executing precise strikes. They also possess good utility through abilities like crowd control, interrupts, and defensive cooldowns. So, this is a great pick for PvE content.
How do I maximize DPS as an Assassination Rogue?
Make sure to follow the correct stat priority, wear the best gear possible, and learn all the rotations we have described in the article.
What is the best rotation for an Assassination Rogue?
It depends on what combat scenario you find yourself in. We highly recommend that you learn both rotations provided in our guide.