Fellow heroes, welcome to our Fire Mage DPS guide where we are going to tell you everything you need to know about this spec. If you are a player who loves to burn your enemies to a crisp, then you have come to the right place.
In this article, we will cover both PvE and PvP aspects when playing Fire Mage, including the basics of the specialization, its core abilities, talents, stat priorities, rotations, and more. Whether you are a seasoned player or just starting out, our guide will help you maximize your damage output and become a force to be reckoned with in any situation. So, let us light up the battlefield and dive into the world of fire magic!
IMPORTANT NOTE: At SkyCoach, you can also Buy WoW Boost at the lowest prices and with the fastest delivery. You can make your first purchase even CHEAPER if you find our special PROMO CODE (highlighted in green) hidden in this article and get a 20% DISCOUNT.
Check out some of our most popular
WoW Boosting services

below:
Fire Mage Pros and Cons
Before we plunge into more complex parts of our WoW Fire Mage guide, let us begin with the essentials. After reading this article's extract, you will come to the conclusion whether this specialization is for you at all or if you wish to try something else. Besides, you will learn what strengths and weaknesses this spec has to offer:
Beginning with the Upsides, they include the following points:
Moving further, we would like to enlist a few Downsides as well:
No spread cleave;
Highly dependent on Hot Streak! procs;

DPS

struggles when certain abilities are on cooldown or interrupted;
No self-healing to live longer in fights.
To unlock your character's full specter of abilities and deal truly amazing damage, you are to reach the level cap first. The whole leveling process becomes especially tedious when you are making your final lap from 60 to 70. However, you can speed things up by ordering our Dragonflight Leveling 60-70 service and letting our pros do the job for you. We guarantee fair prices and the fastest result.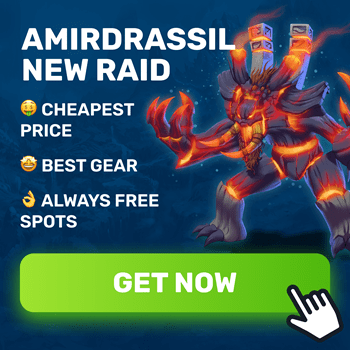 Fire Mage Basics
As with all other Mage's specializations, this is a range DPS spec as well. Fire Mages rely on dealing high amounts of damage through the use of fire spells, with a focus on critical hits and DoT. effects. The last point is the bread and butter of Fire Mage Dragonflight gameplay, yet many players underestimate DoT effects for some reason. BLOG20
You have a variety of abilities that can quickly ignite enemies and deal massive amounts of damage. The spec also has access to various crowd-control abilities, allowing you to control the battlefield and keep enemies at bay.
To maximize your damage output, you need to keep a close eye on your resources like Mana and crucial abilities' cooldowns, and carefully execute your spell rotations. This specialization excels at dealing sustained damage and is a solid choice for players who enjoy a high-risk, high-reward playstyle.
Fire Mage Core Abilities
As a caster, you have essential abilities you should be aware of before learning any complex rotations. They will serve you well in any type of content whether you prefer to fight other players or farm mighty bosses. Therefore, we have enlisted and briefly described the most important WoW Fire Mage abilities you should know. Most of them will be included in the spec's rotations you will find further in the article:
There are dozens of other abilities apart from the ones listed above. However, these are the most popular spells and talents you are going to use when fighting mobs or other players. As you can see, the list consists of not only DPS abilities but defensive ones as well. Combining them all lets you deal overwhelming damage from afar and stay alive throughout the battle.
Speaking of PvE content, most players enjoy participating in dungeon runs. Finishing them successfully rewards you with unique items and rare loot. However, you need a reliable team of five players to excel at this type of content. If you have no friends to play with or prefer to play alone intentionally, we have you covered. Check out our Mythic Carry services to see how we can help you. Our professional players will gladly clear out a dungeon of any difficulty for you in the shortest time possible and at the lowest price available.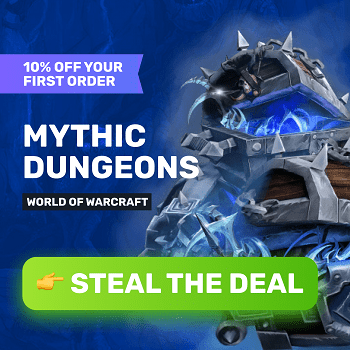 Fire Mage Stat Priority
Since your primary goal is to maximize your damage output, you benefit from Intellect the most. The latter boosts your overall DPS from any spell you cast or if you simply auto attack. As for other Fire Mage stats, you want to prioritize Haste and Mastery. The first one lets you cast spells much faster while the second one enhances your Mastery: Ignite.
After that, you can pay attention to Versatility and Critical Strike stats. Unlike with most DPS specs, you prioritize Critical Strike after all the others. The reason for this is your Combustion cooldown, which lets you deal critical damage wherever you want to.
The described stat priority is subject to change depending on your own preferences and playstyle. To see how this works for your character in particular, do not hesitate to use programs like Simcraft or Raidbots. However, the suggested stat order should perform just fine for most average players who only begin to play this specialization:
Intellect;

Haste;

Mastery;

Versatility;

Critical Strike.
Experimenting with the stat priority is a good idea if you see that your damage output struggles. Depending on what gear you are wearing and the team composition you are playing with, things can radically change.
Best PvE Fire Mage Builds
The completely renewed talent system we have seen with the Dragonflight launch has changed the way we perceive talent builds. You have access to dozens of possible builds to try depending on your own playstyle or the type of activities you take part in. The only problem here is that not all of these setups are equally efficient.
Therefore, we have compiled the best Raiding and Mythic+ builds you can use in these PvE activities. They let you deal the maximum DPS possible and grant access to the most valuable abilities necessary for certain rotations. On top of that, you will find the optimal PvP build for this specialization down below as well.
No matter what build you are using, your team cooperation and personal skills are key factors in achieving success. If you struggle to find reliable people to play with, you can Buy Dragonflight Boost from our company. Our professional players will get you the desired loot from any activity you choose. All that comes at the best market price and with the fastest completion time.
Fire Mage Single-Target Raid Build
The build is used specifically for Raiding, as it allows you to deal overwhelming DPS against solo targets. This is exactly what you are looking for in this type of activity. However, you can change this Fire Mage raid build depending on your team composition if the situation requires it.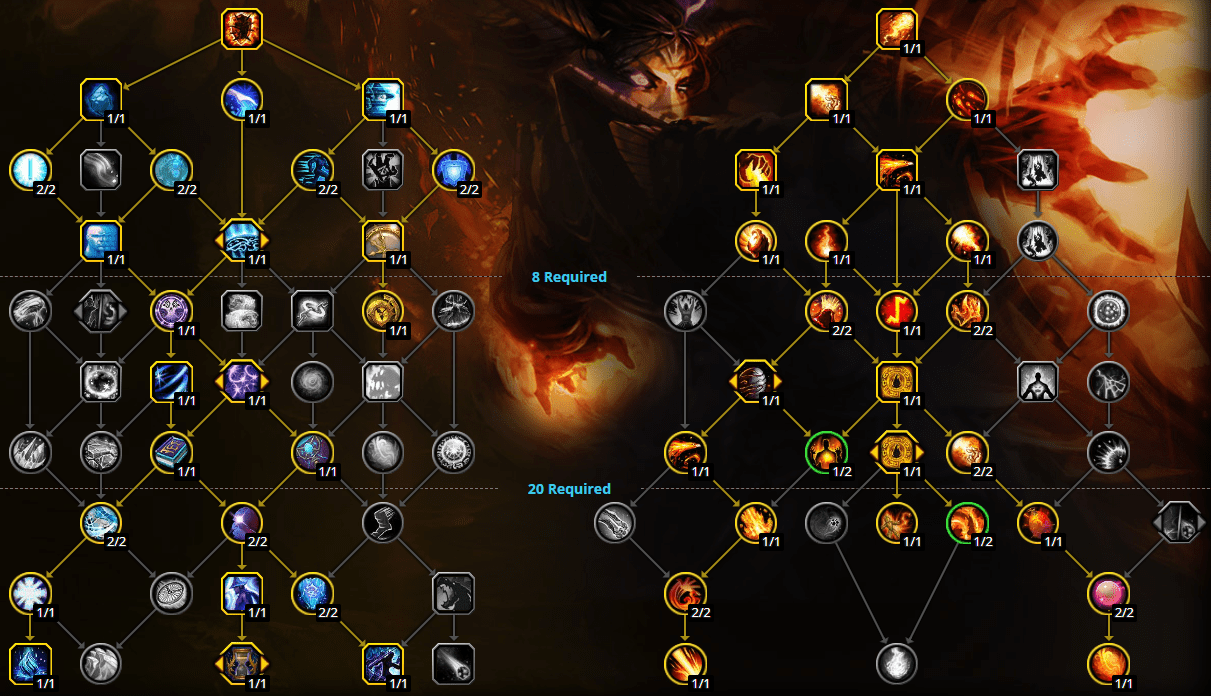 To see how this setup performs in action, copy the following string:
B8DAAAAAAAAAAAAAAAAAAAAAAEJgkWigIFQSLhISikAAAAAAAAAQCBSEKHQSyBSkkkkUAAAA
Fire Mage Mythic+ Build
When it comes to Mythic+ content, you want to prioritize AoE damage instead, as you will be fighting large groups of mobs. Therefore, you need a completely different Dragonflight Fire Mage PvE build for this purpose. The latter lets you turn your opponents into ashes no matter how many of them are facing off against you.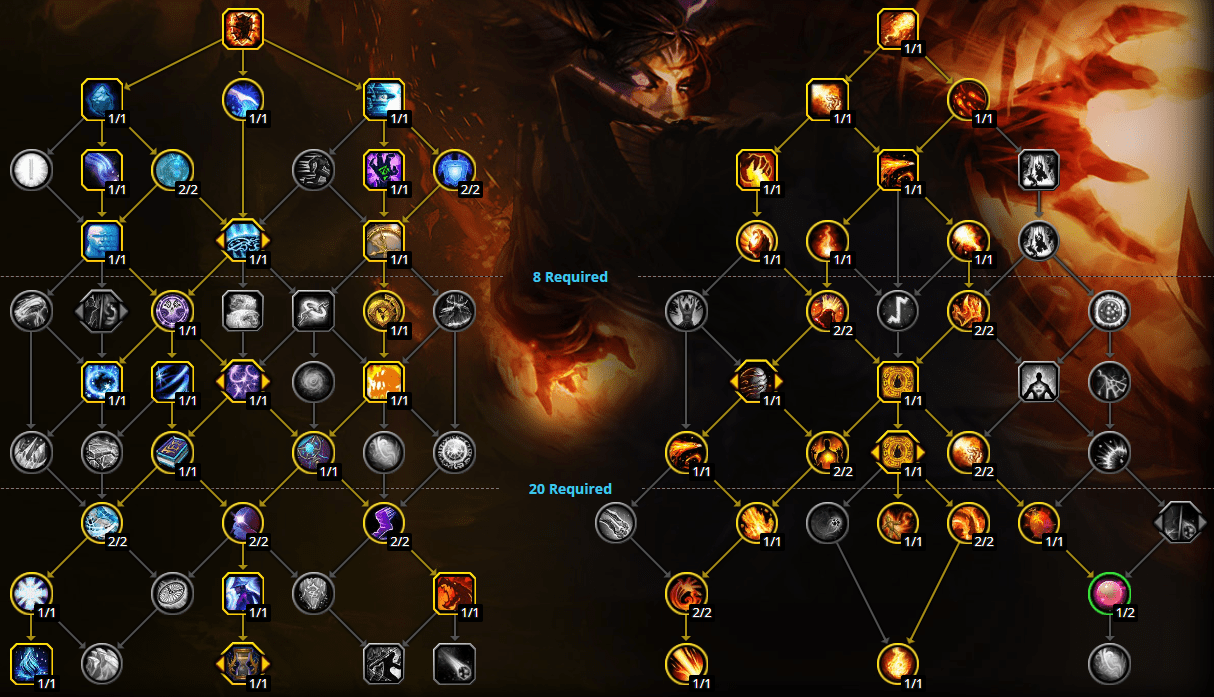 To export this build into your game, copy this code:
B8DAAAAAAAAAAAAAAAAAAAAAAkkIEaJSIJFQ0SiIiIJAAAAAAAAA4AEIRokkIJRSSSSBAAAA
Best Fire Mage PvP Build
Even though PvP content is not the most popular type of activity, it requires you to use a special Dragonflight Fire Mage PvP build to excel in it. We are going to share the most efficient talent setup to ensure you destroy other players in a few seconds. On top of that, we will provide you with valuable tips on how to act in PvP battles.
First of all, try to keep a distance from melee classes and use your Blink ability to create more space. When engaging with ranged classes, use your counterspell to interrupt their spells and lock them down. It's important to keep your Flamestrike and Dragon's Breath abilities on cooldown to deal massive AoE damage to enemy groups.
Use your Fire Blast and Pyroblast spells to burst down single targets and finish off enemies. Keep your Living Bomb ability active on as many targets as possible to deal additional damage over time. Use your Ice Block ability to avoid lethal damage, and use your Greater Invisibility ability to avoid being targeted altogether.
Finally, use your Polymorph ability to remove an enemy from a fight temporarily and focus on other targets. Remember to use your crowd-control abilities wisely and communicate with your team to coordinate attacks.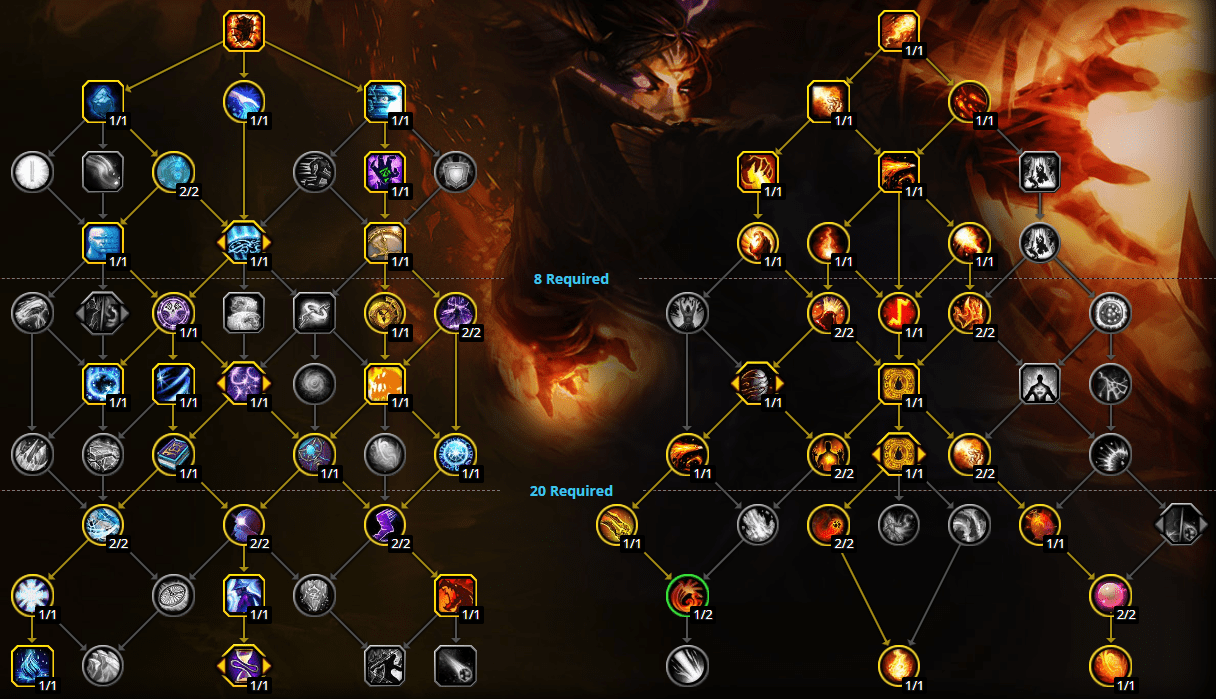 Copy this string to export the build into your game:
B8DAAAAAAAAAAAAAAAAAAAAAAEJChSikkkUARTiIiIJAAAAAAAAAkQgESKyBkERSSSSBAAAA
Before you engage in PvP content, make sure you have reached the level cap. Without that, you do not have access to your strongest abilities, which are essential for this type of activity. If you wish to speed up this process, you might be interested in our WoW Powerleveling services. We offer fair prices and guarantee the fastest result.
Fire Mage Best in Slot Gear
To arouse your interest, we would like to point out that Raiding and Mythic+ activities are no longer the only options to obtain top-rank gear in the game. For this, you can use the Crafting Order system as well. The latter has become available only with the Dragonflight launch and revolutionized the idea of BiS equipment in general.
Now, you can find an artisan who is proficient enough at a certain profession (e.g. Leatherworking or Blacksmithing) and ask them to create an item you are looking for. After that, you are to provide them with all the required items and pay a fee. Even though these equipment pieces are not equally strong to what you get from end-game activities, they are good enough for most average players who play for fun and their own enjoyment.
Amirdrassil, the Dream's Hope Best in Slot Gear for Fire Mage
For people who enjoy fighting mighty bosses, this set will be a great reward to hunt for. The latter contains powerful items that can only be received after you defeat the bosses from the Amirdrassil, the Dream's Hope raid. Collecting them all is quite a difficult task, as the drop chance is quite low. However, this is the list of items you should be looking for.
If you cannot defeat a particular boss or do not have a reliable team to play with, we have you covered. Check out our WoW Raid Boost services where our professional players are ready to deal with any boss. They will get you the desired loot in no time and at the best market price possible.
Mythic+ Best in Slot Gear for Fire Mage
If you enjoy clearing out deep and dark dungeons full of various mobs, you would rather hunt for a Mythic+ set instead. A lot of players consider it to be the best Fire Mage gear you can get your hands on. However, it is also extremely difficult to collect all the items you see in the table below.
Again, collecting all the enlisted items should not be your main priority. There are tons of alternatives you can find in the game. So, do not let grinding and farming spoil your gaming experience. Enjoy the Dragon Isles and explore it to the full.
Best Upgrade, Spark of Dreams, and Embellishment Options for Fire Mage
Powerful items are not the only reward you get from various end-game activities. On top of that, you will obtain Dreaming Crests, a currency you can use for upgrading your PvE gear. By using it, you can increase your gear pieces' ilvl.
Since Dreaming Crests has a low drop chance and is hard to get, you are to use it wisely. First of all, start upgrading your weapons followed by trinkets. They will provide you with the most significant DPS boost compared to other items. Here are a few options to consider:
Another way to get your hands on quite strong items is to use Spark of Dreams. The latter lets you create so-called substitutes for Mythic gear. However, you need to choose carefully what items you want to craft. If you do not know where to start, here are a few alternatives for you to consider:
Adding a few words on the Embellishment system, the latter allows you to wear items having the Unique-Equipped: Embellished (2) effect. They provide you with unique effects and bonuses. Nonetheless, you cannot wear more than 2 items with this effect at a time. Therefore, you usually choose from the following alternatives:
Undulating Sporecloak nerfed, but provides defensiveness;
Obtaining all the mentioned items costs a fortune. If you are going to farm this amount of gold by yourself, it will take you weeks if not months of constant grinding. Instead, you can Buy WoW Gold at the best market price with our company's help and get it delivered to any server you choose.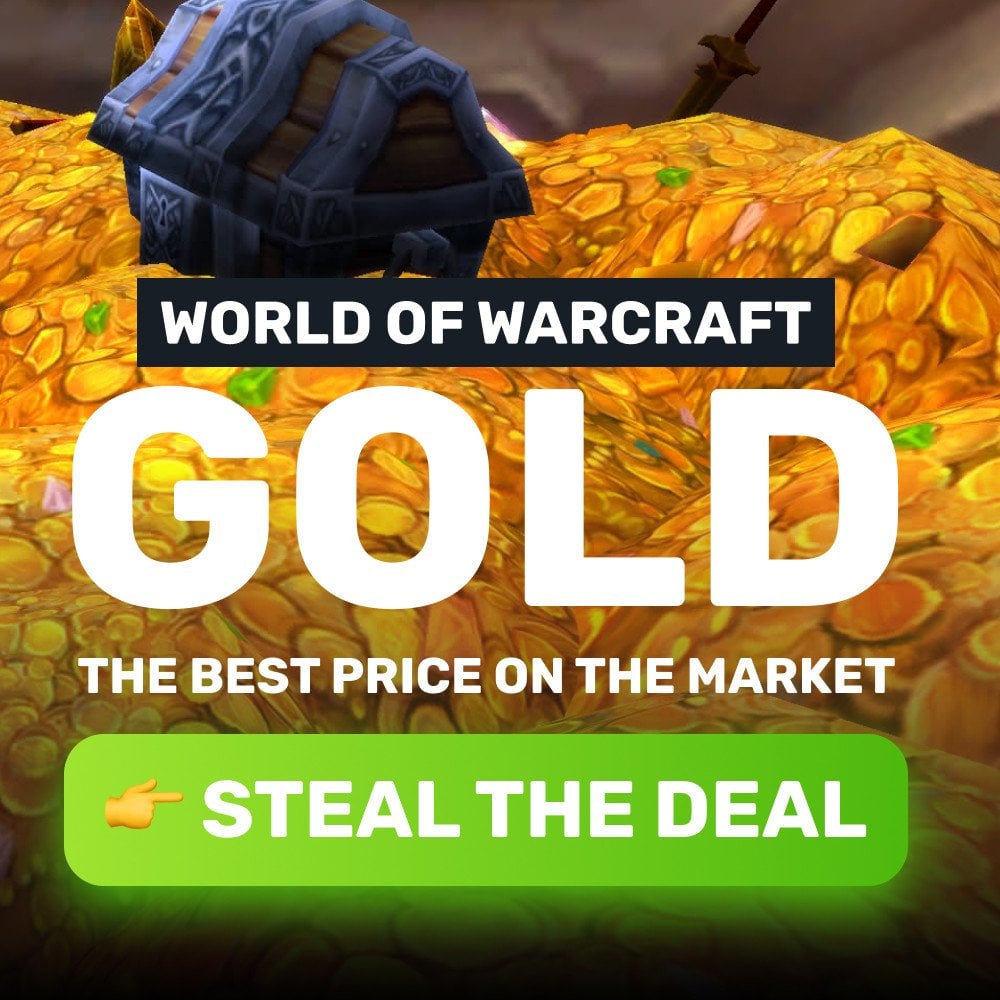 Best Fire Mage Enchants and Consumables
To make your character even stronger, you cannot neglect enchants and various consumables. They provide you with additional primary and secondary stats, which are always nice to have no matter what activity you participate in. Buying them at the Auction House is the simplest way yet you can create them on your own, or ask a friend about that.
As for the best consumables for this specialization, you should always go for Phial of Tepid Versatility. No matter what type of content you take part in, this phial is the optimal option for you. Do not forget to have Elemental Potion of Ultimate Power to gain a large Intellect boost for a short period of time. If you feel like you die too quickly, Refreshing Healing Potion can help you survive longer.
If it is possible, buy the following gems to get even more stats:
It is also essential to have the effects of Hoard of Draconic Delicacies or Grand Banquet of the Kalu'ak activated all the time. As for other food, go for Deviously Deviled Eggs or Fated Fortune Cookie to gain even more Intellect. Finally, do not forget about Howling Rune, as it grants you a ton of Haste, which is always nice for you.
Fire Mage Rotation Guide
Once you have learned your basic spells, it is time to move on and see what WoW Fire Mage rotation performs best at this or that combat situation. This part of our guide includes the two most popular rotations you can use when playing this specialization. We also provide you with a brief description of each of them to ensure you understand how they work.
Despite the fact that you need to keep an eye on your Mana, it is unlikely you are going to run out of it completely. It is possible only if you cast Spellsteal, which is a very situational ability. Apart from dealing damage, do not forget about your defensive and utility cooldowns to stay alive longer.
Fire Mage Single-Target Rotation
Fire Mage Multi-Target Rotation
Fire Mage Leveling Guide
When you reach the level cap, the actual game only begins. Therefore, it is essential to make your path to level 70 ASAP. For this, you should use a special talent build we are going to share down below. On top of that, we have prepared a list of the most useful consumables you can utilize throughout the whole leveling process.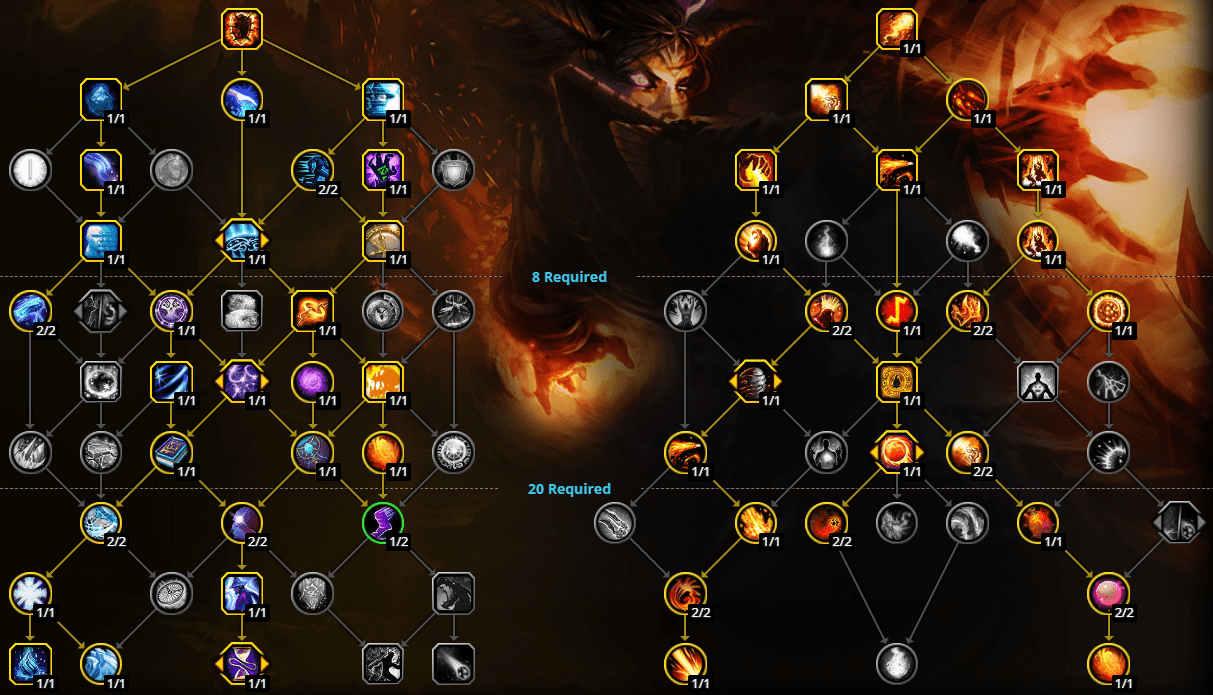 By copying the following string, you can try this build in your game:
B8DAAAAAAAAAAAAAAAAAAAAAAIJRgSSyBQSRESTiIiIJAAAAAAAAAkQSiEkGJJSkkkIFAAAA
As for the consumables, you usually want to use the ones boosting your DPS or increasing your survivability rate. You can use other items apart from those enlisted below but the following options are preferable:
Once you have made your way to level 70, you can participate in various end-game activities. However, it is impossible to succeed in them without having a party of skillful players. By using our World of Warcraft Boosting services, you can be sure our professional players will slay any boss or finish even the most difficult dungeon run for you.
Best Primordial Stones for Fire Mage
With the introduction of the 10.0.7 patch, the Onyx Annulet ring saw the world. The latter allows you to insert various Primordial Stones in it to gain unique effects and bonuses. If you do not know what Primordial Stones work best for this particular specialization, we are here to cover this topic.


How to Become a Better Fire Mage in Dragonflight
Before we jump to the conclusion, let us share a few Fire Mage 10.2 patch tips, which will help you excel at playing this specialization and perform noticeably better:
Master your rotation.

Fire Mages rely on a specific rotation to maximize their damage output. Practice your rotation until it becomes second nature, as this allows you to boost your

DPS

as nothing else;

Pay attention to positioning.

You rely on being at a safe distance from your enemies to avoid taking damage. Make sure you are always positioned in a safe spot and be aware of your surroundings;

Use your CC tools.

You have access to a variety of crowd-control abilities, such as Polymorph and Dragon's Breath. Use them strategically to gain the upper hand in fights or retreat if the situation requires it;

Manage your cooldowns.

Fire Mages have a variety of powerful cooldowns, such as Combustion and others. Use them wisely to maximize their effectiveness and increase your damage output;

Stay mobile.

This spec can be vulnerable to melee attacks, so make sure you are constantly moving to avoid being caught by your enemies;

Remember about your defensive abilities.

While dealing damage is definitely your primary task, you should utilize defensive tools to stay alive longer.
Other Articles to Read
If you are looking forward to trying out an opposite class's specialization, you would be interested in our Frost Mage Guide for sure. To destroy your opponents in melee range, you can read our Arms Warrior Guide to learn more about this spec. If you enjoy playing the specialization you are reading about right now, keep mastering it with our Fire Mage Mage Tower Guide.
SkyCoach Boosting & Coaching Services
At SkyCoach, we take great pride in our team of passionate professionals who provide top-tier boosting and coaching services to gamers worldwide. We understand that completing raids and dungeons can be a daunting task for many players, which is why we are here to help. With over 5 years of experience in the gaming industry, we offer a wide range of services tailored to your specific needs, helping you achieve your in-game goals.
Our expertise spans beyond World of Warcraft, as we specialize in many other popular titles like Destiny 2, FIFA, and more. Our team of professionals is dedicated to delivering fast and efficient results at affordable prices, and we offer a 5-20% cashback on every order as a token of appreciation for our customers.
We invite you to explore our services and discover how we can help you reach your gaming potential. With our dedication and proficiency, we can assist you in becoming a better player and achieving success in your favorite games.
Final Words
Fellow heroes, this is the end of our guide. We are sure you have learned a lot about how to play Fire Mage and understand what this specialization is about. With the knowledge and strategies gained from this article, you can maximize the potential of this spec and become a valuable asset in any group activity, be it PvE or PvP. Thank you for reading, and we wish you the best of luck in your adventures in the Dragon Isles!
F.A.Q.
Are Fire Mages good in Dragonflight?
They have high burst damage potential and can excel in situations where there are multiple targets. However, in PvP content, they may require good positioning and defensive skills to avoid being targeted by enemies.
Is Fire Mage hard to play in WoW?
It is considered to be a bit more challenging spec to play than others due to its reliance on critical hits and managing various abilities and cooldowns.
What is the best weapon for a Fire Mage?
Your choice comes down to Staves, One-Handed Swords, Wands, and Daggers.
What is the best profession for a Fire Mage?
Combining Herbalism and Alchemy works fine for most players. This lets you gain extra gold for selling herbs and crafting rare and useful potions. The latter is what you need in most types of content you can possibly participate in.
Is Fire Mage good in PvE WoW?
This spec has a strong single-target damage output and excels in fights where the boss is stationary, allowing you to maximize your damage over time. Additionally, you have a number of CC abilities and burst damage options that can be useful in group settings.
How do I maximize DPS as a Fire Mage?
By learning the rotations we have described in our guide, you can deal the highest damage possible. Also, do not forget to analyze your gameplay and lost fights to learn from your own mistakes.
What is the best rotation for a Fire Mage?
Unfortunately, there is no all-around rotation you can use in any combat scenario. It is necessary to learn all of them for maximum DPS.