Greetings, fellow beer enthusiasts! Are you prepared to triumph over any trial that crosses your path in the realm of World of Warcraft, wielding the might of a Brewmaster? Look no further than our all-encompassing guide to Brewmaster Monk Tanking! Within its pages, you will find a wealth of knowledge covering every aspect of mastering this specialization: from the intricacies of abilities and talents to the optimal equipment and consumables, and beyond. Seasoned practitioners of the Brewmaster Monk arts can swiftly navigate to their desired sections of interest, while beginners are encouraged to read it from beginning to end. Let us join forces on this path, united in our pursuit of becoming the ultimate Brewmaster Monks!
Check out some of our most popular
WoW Carry services

below:
Brewmaster Monk Pros and Cons
Within the vastness of World of Warcraft, each specialization possesses its own unique array of strengths and weaknesses, and the Brewmaster Monk is certainly no exception. Delving into this specialization requires a comprehensive understanding of these facets to make an informed decision.
The path of a Brewmaster Monk bestows upon you a formidable arsenal of skills. It is these distinctive advantages that distinguish them, including:
Great Damage Mitigation:

Through the employment of Stagger, Purifying Brew, and Celestial Brew,

Monks

exhibit exceptional survivability against all forms of damage.
Celestial Fortune:

Brewmasters

benefit from enhanced healing taken, surpassing those of other tank classes, making it easier to recover from injuries.

Unparalleled Mobility:

With abilities like Roll, Transcendence: Transfer, and Tiger's Lust,

Monks

boast extraordinary mobility, allowing them to swiftly navigate the battlefield.

Devastating Damage:

Monks

possess

an extensive repertoire of offensive cooldowns, excelling in unleashing devastating

AoE

damage.

Versatility:

While not unmatched in every aspect,

Monks

excel in the majority of tanking scenarios, showcasing their adaptability.

Forgiving Nature:

Despite imposing a significant degree of technical complexity on players, the Stagger mechanic grants

Brewmaster Monks

a forgiving edge when facing formidable tank mechanics. With the ability to absorb punishing blows that would incapacitate a Paladin or a Warrior, a

Monk

can promptly activate Purifying Brew and continue fighting.
Nevertheless, it is crucial to acknowledge that the Brewmaster Monk specialization also bears certain limitations, including:
Small Health Pool:

Among tanks,

Brewmaster Monks

possess

the smallest health pool

. Consequently, they are more susceptible to sustained spell damage and damage over time effects, requiring extra caution and mitigation strategies.

Complexity:

Thanks to the redesigned talent system,

Brewmasters

have evolved to eliminate any glaring weaknesses. The class now boasts a versatile toolkit capable of handling various situations, rendering it an immensely formidable specialization. However, this comes at the cost of increased complexity. Mastering the

Brewmaster Monk

requires managing a multitude of keybinds and possessing a high level of technical skill. The extensive array of core rotational skills, offensive and defensive cooldowns, as well as mobility abilities, demand meticulous attention to maximize the full potential of the specialization.
Unlocking the true prowess of any specialization necessitates playing at the highest level. Yet, starting from scratch can be daunting and time-consuming, particularly if you lack a level 70 Brewmaster Monk character. Fortunately, a simple and effective solution awaits: consider utilizing our Dragonflight Leveling 60-70 service. Our team of seasoned players stands ready to expedite the leveling process, swiftly guiding your character to the level cap. With competitive prices and a guarantee of successful results, we ensure your journey to unlocking the full potential of the Brewmaster Monk remains unhindered.
Brewmaster Monk Basics
Stagger is a distinctive method of damage absorption unique to the Brewmaster Monk. This extraordinary mechanic splits incoming damage into two components: an immediate portion and a staggered portion, which is spread out over 10 seconds. The extent to which you stagger an enemy's attacks relies on a combination of your Agility and the opponent's level.
Magic damage, including most damage-over-time effects, can only be staggered up to 45% of the amount that would be absorbed from physical attacks.
Furthermore, Brewmaster Monks hold a myriad of talents and spells that can further modify the intricacies of Stagger.
Core Brewmaster Monk Abilities
At the heart of the Brewmaster's arsenal lies the primary resource known as Energy, which grants them a natural global cooldown of 1 second. Energy accrues gradually over time, with the quantity generated contingent upon your Haste rating. Its upper limit stands at 100. Any Energy that would have been generated while already at the maximum will go to waste.
Brewmaster's repertoire also has numerous abilities that do not consume Energy. These skills are instead regulated by their respective cooldown timers. Skillfully navigating the interplay between Energy-spending abilities and the freely available ones forms the bedrock of effective Brewmaster spell management.
It is crucial to recognize that the aforementioned skills merely scratch the surface of WoW Brewmaster Monks abilities. As players embark on their journey, it is imperative to delve into their spellbook and acquaint themselves with additional rotational skills and powerful cooldowns. Mastering the art of timing and effectively utilizing these abilities will greatly enhance their combat prowess. While practicing on training dummies can be beneficial for honing skills, it is vital to eventually venture into more demanding encounters.
For those seeking to test their mettle and reap valuable rewards, Mythic+ dungeons represent an excellent opportunity. However, tackling these challenging dungeons with random groups can often be stressful and yield negative experiences, especially for tanks aiming to improve their M+ score and acquire superior gear. Thankfully, a solution exists to alleviate this predicament. Players can now take advantage of our esteemed Mythic Carry services, enabling them to join forces with our seasoned players to conquer any Dragonflight dungeon. With a guaranteed path to success, participants not only secure valuable gear but also receive a substantial boost to their M+ score, laying a solid foundation for future endeavors. Embrace this opportunity to elevate your Brewmaster Monk journey to new heights while ensuring a positive and rewarding experience.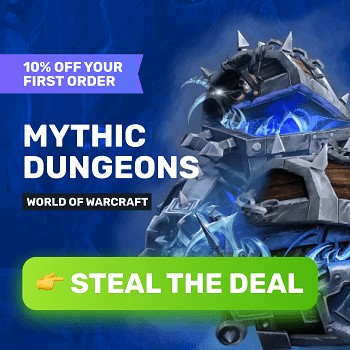 Brewmaster Monk Stat Priority
Now, let's delve into Brewmaster Monk stats. Agility stands as the primary stat, found on leather gear. Not only does it passively enhance the scaling rate of Stagger, but it also contributes to self-healing abilities such as Gift of the Ox, Celestial Brew, and Expel Harm.
Beyond Agility, Brewmaster Monks are influenced by various secondary stats. These include:
Critical Strike: The importance of Critical Strike cannot be understated, primarily due to its synergy with Celestial Fortune. Critical Strike augments the healing taken by the Brewmaster Monk, playing a vital role in surviving challenging encounters, given the limited self-healing tools at their disposal. Additionally, Critical Strike serves as an excellent offensive stat.
Haste: Haste enhances Energy generation and reduces the cooldown of Keg Smash. While Haste is generally considered a lower-value stat, its impact is more noticeable in AoE situations compared to single-target scenarios.
Mastery: Grants you Dodge chance and Attack Power. Its effectiveness in reducing damage from auto attacks positions it as a strong defensive stat. When combined with its offensive benefits, Mastery stands on par with Haste, providing a versatile advantage to Brewmaster Monks.
Versatility: Versatility shines as an exceptional stat for both damage output and damage reduction. As Versatility is often scarcer on gear compared to Critical Strike, it typically emerges as a preferred option for gemming and enchanting.
In the current state of the game, the stat priority for Brewmaster Monks in the realm of Dragonflight unfolds as follows:
Item Level / Agility;

Versatility;

Critical Strike;

Mastery;

Haste.
This guide acts as a valuable starting point for determining whether an item is an upgrade or not. However, as experience grows, utilizing a character simulator becomes recommended for accurate assessment of an item's stat value. The relative importance of each stat may shift as new gear is acquired, making periodic checks of your stat priority crucial to ensure that equipped items align with your desired playstyle. While character simulation provides the most precise evaluation of upgrades, prioritizing higher item level gear generally proves sufficient. Adapt and refine your gear choices, harnessing the power of the most advantageous stats as you progress through the Dragonflight realm.
Best PvE Brewmaster Monk Builds
By harnessing the talent builds provided below and storing them in your talent templates, your Brewmaster Monk will be equipped to handle any situation with finesse. Remember, while talent builds are essential, success isn't solely dependent on them. Teamwork plays a crucial role in achieving triumph, especially in the face of lengthy raid queues, unexpected departures from key groups, and frustrating PUG encounters. For those seeking to expedite their progress, our Dragonflight Boost services are readily available to cater to your needs.
Brewmaster Monk Raid Build
This Dragonflight Brewmaster Monk PvE build is a standard setup for Brewmaster Monks who are tanking Raid content in Dragonflight.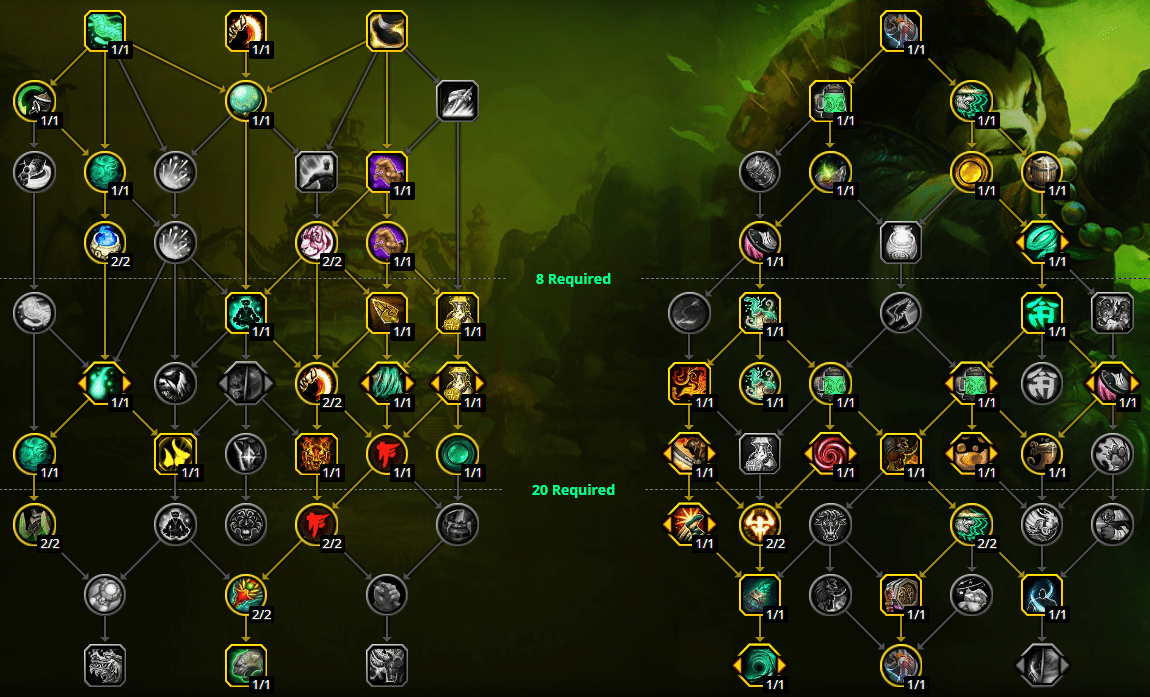 To utilize this build in the game, all you need to do is copy the following string:
BwQAAAAAAAAAAAAAAAAAAAAAAAAAAAAAIAAAAgSUKJJBSSatIAAAApEplEJSIIJJJpkEgIRapVCB
Brewmaster Monk Mythic+ Build
For Brewmaster Monks delving into the depths of Mythic+ dungeons during Dragonflight, this build serves as a tried-and-true setup.
Remember to consider taking Detox in place of Bounce Back if necessary, granting you the ability to cleanse yourself of poisons and diseases.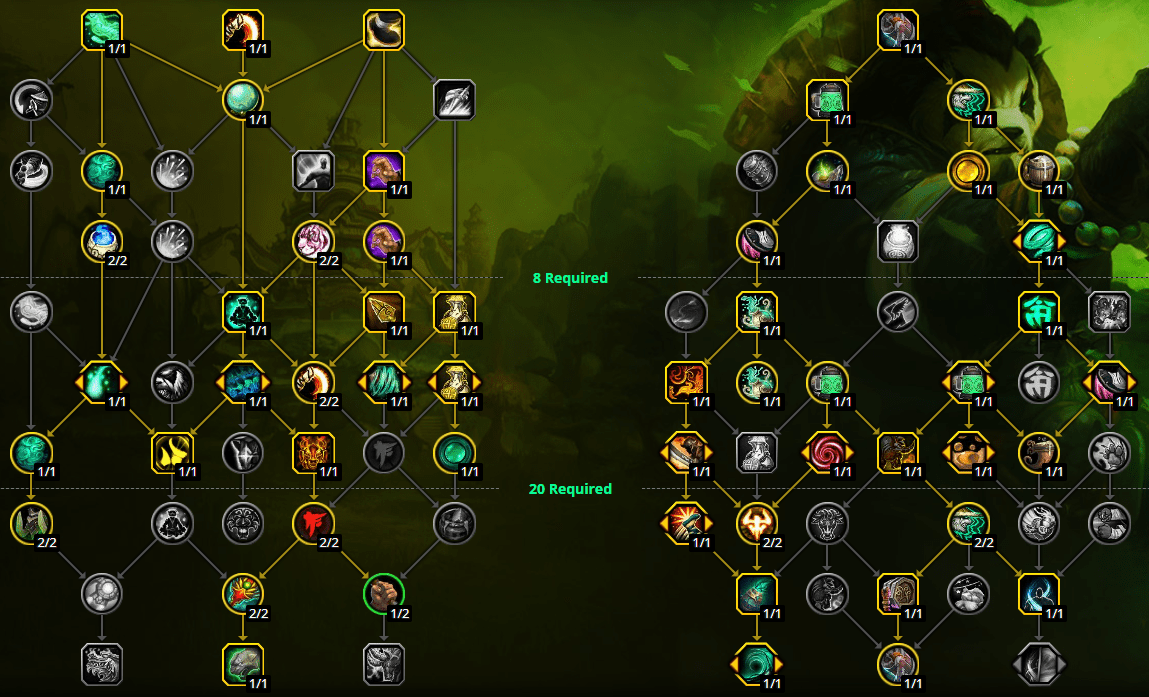 To add this talent build to your character's template, copy and paste the following string:
BwQAAAAAAAAAAAAAAAAAAAAAAAAAAAAAIAAAAgSUKJJBSSatIAAAApEaJRiEShkkkkSC4AiEplWJE
Best Brewmaster Monk PvP Build
If your primary focus revolves around engaging in Arena battles or pursuing the renowned Solo Shuffle playstyle, it may be worth exploring other Monk specializations that are better suited for those activities. However, if you have a desire to enjoy Battlegrounds on your Brewmaster Monk, there's no reason to deter you from doing so. Who knows, there might be a future patch where Brewmaster Monks rise to prominence and become the dominant force in Arena battles. Ultimately, the choice is yours, and the most important thing is to have fun in your preferred gameplay style.
Brewmaster Monks have both impressive single-target and AoE burst damage, allowing them to unleash devastating attacks on their adversaries. With an arsenal of defensive cooldowns at their disposal, Brewmasters prove to be resilient and challenging to defeat when they are not being overwhelmed by stunlocks. Furthermore, their crowd control can effectively immobilize one or multiple enemies for extended durations.
If you're looking for a talent setup specifically for PvP, the following Dragonflight Brewmaster Monk PvP build is recommended: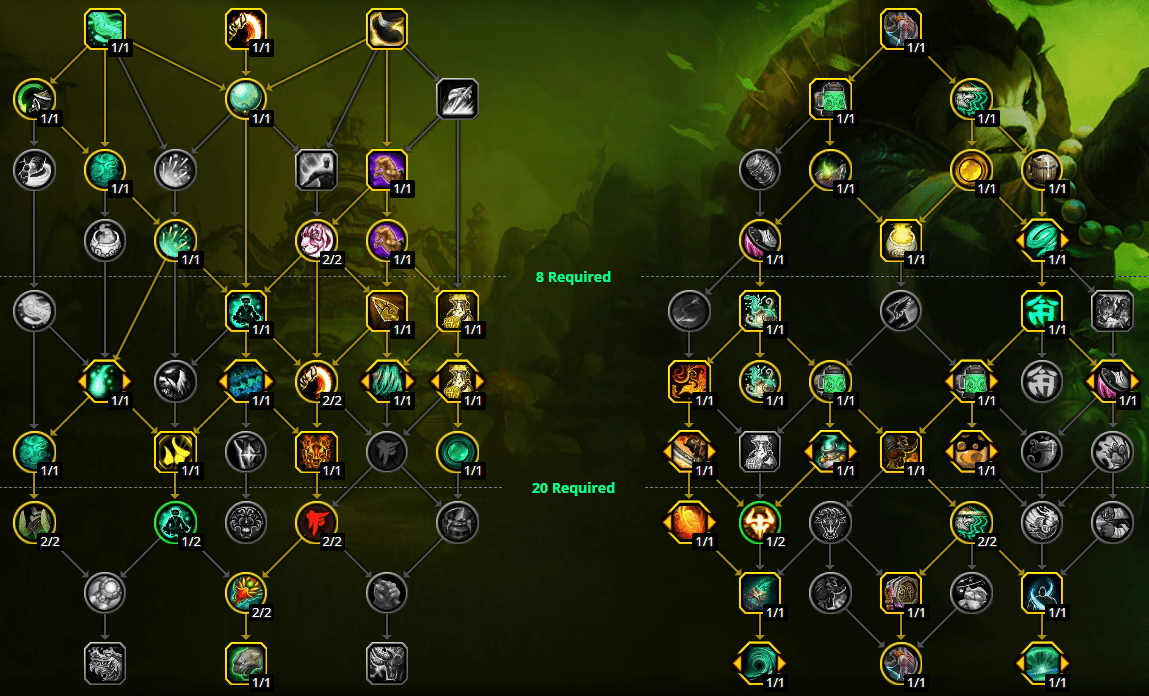 Import string:
BwQAAAAAAAAAAAAAAAAAAAAAAAAAAAAAIAAAAgClWSSESSKtDIAAAApEaJRikIFSSSSKS4A0iEplWJE
When delving into the realm of PvP, you have the opportunity to choose three talents from the list provided below. While each talent possesses unique strengths, their suitability may vary depending on your chosen strategies. Typically, the top two choices are regarded as the most adaptable and impactful, but feel free to experiment with different PvP talents based on your team's specific objectives.
Essential PvP Talents:
Double Barrel - Amplifies the damage of your next Keg Smash, transforming it into a formidable

AoE

stun;
Admonishment - Transforms your taunt into a damage-taken effect on enemies, proving particularly advantageous in coordinated group engagements.
Situational PvP Talents:
Dematerialize - Unleashes a potent defensive barrier, providing substantial protection against teams reliant on stun-heavy compositions;
Rodeo - Ignites your inner frenzy, allowing you to seize control of the battlefield when utilizing Clash by captivating and immobilizing the entire enemy team;
Grapple Weapon - Empowers you to neutralize a melee combatant or Hunter for a brief but impactful

8-second

duration, placing their offensive capabilities on hold.
If the exhilarating prospect of engaging in this dynamic gameplay captivates your interest (and it assuredly will), your primary objective may be to swiftly reach the level cap. It's important to recognize that PvP activities below level 70 are somewhat restricted, making attaining this milestone paramount. However, ascending through the ranks can prove arduous and exasperating, particularly when you're on the cusp of leveling. To expedite your progress, you might consider utilizing our WoW Powerleveling service. For a reasonable investment, we can assist in swiftly propelling your Brewmaster Monk to level 70, allowing you to swiftly become a force to be reckoned with.
Brewmaster Monk Best in Slot Gear
The realm of Dragonflight beckons with its vast expanse, offering a myriad of avenues for acquiring coveted gear. From epic raids and challenging Mythic+ dungeons to the intricate Crafting Order system, there are plentiful opportunities to enhance your Brewmaster Monk's prowess.
While the notion of BiS (Best-in-Slot) gear may have evolved in significance, many adventurers still relish the pursuit of specific items to optimize their Brewmaster Monk's performance.
It is crucial to recognize that an item's effectiveness is influenced by various factors, including the type of content you engage in and your existing gear. To precisely gauge the value of any item for your character, it is advisable to simulate your Brewmaster Monk.
In general, prioritize items with higher item levels as they bestow a substantial boost to your primary stat, Agility. Subsequently, consider the stat priority outlined earlier.
Aberrus, the Shadowed Crucible Best in Slot Gear for Brewmaster Monk
For those immersed in raiding endeavors, below is a compilation of sought-after items from Aberrus, the Shadowed Crucible, representing the pinnacle of gear for Brewmaster Monks. However, it is worth noting that raiding may not be the swiftest avenue for gear acquisition. If expeditious progression is your paramount objective, exploring alternative avenues such as crafting or engaging in Mythic+ dungeons may yield faster results.
While the desire to acquire the aforementioned list of items is understandable due to their potential for enhancing your character's power, it is crucial to avoid becoming fixated on it. The allure of pursuing the "mathematically best" options can be tempting, but it is worth considering that there are often alternative paths that offer similar benefits and are more accessible.
Furthermore, game developers continually introduce new gearing options and make adjustments to the game mechanics, which can disrupt the established theorycrafting of BiS (Best-in-Slot) lists. Therefore, these lists should be viewed as dynamic and subject to regular updates, rather than absolute truths set in stone.
It is vital to remember that executing your rotation with precision, delving deep into encounter mechanics, and fostering effective communication and coordination with your team can wield a more substantial impact on your damage output and survivability than any specific item on a list.
Mythic+ Best in Slot Gear for Brewmaster Monk
When it comes to Mythic+ dungeons, they serve as a highly efficient avenue for obtaining gear within the realm of Dragonflight. Conquering higher-level keystones presents a significant challenge, but the rewards can be substantial, offering some of the most exceptional equipment available in the realm of PvE in World of Warcraft.
It is crucial to stress that the previously mentioned items serve as a reference for aiming towards the rewards found in end-of-run chests and the Great Vault. However, it's important to remember that there may be other gear that you encounter during your gameplay that could be better suited to your Brewmaster Monk. Thus, it is not imperative to obtain the exact set of gear mentioned earlier. Adopting an open-minded approach and considering all available options when it comes to gearing up your character is highly recommended.
The Best Upgrade, Spark of Shadowflame, and Embellishment Options for Brewmaster Monk
When it comes to optimizing your gear, prioritizing weapons and trinkets at the highest possible item level is generally recommended. While the impact of itemization on weapons is relatively minor, the disparity between a high item level weapon and a low item level weapon can be significant. Therefore, upgrading whichever weapon is available to you is a wise choice.
Next, place emphasis on acquiring trinkets, especially those ranked near the top of the aforementioned list. Finally, concentrate on maximizing the item level of your lowest piece of gear.
Here is a concise list to summarize the suggested approach:
Weapons;

Trinkets;

Everything Else.
After acquiring the powerful Spark of Shadowflame, your focus should shift towards crafting specific items at the highest item level attainable. Keep in mind that you have the option to increase their item level through the recrafting system at a later time if desired. Start by crafting the following items to ensure you have the best possible pieces. Additionally, consider using sparks to enhance slots that currently contain your lowest item level gear, aiming to raise your average item level.
Crafted gear serves as an excellent solution for bolstering weaker gear slots across your overall setup. Therefore, view the list below as a recommendation of the two most formidable pieces to craft when all other factors are equal, rather than a strict requirement.
Enhancing your crafted items with Embellishments grants them unique properties and additional effects alongside their regular stats. It's important to note that you can only equip a maximum of two gear pieces with Embellishments simultaneously. With this limitation in mind, here are the top recommendations for the most impactful Embellishments to consider incorporating into your gear:
While acquiring the necessary materials to craft the mentioned equipment is a significant undertaking, it's crucial to consider the associated expenses and time commitment. Gathering all the required resources may require weeks of dedicated farming and investment. However, for players seeking a more convenient and efficient alternative, our reliable service offers the option to Buy WoW Gold. This allows for a quicker and more streamlined solution, saving you time and effort. Rest assured that our prices are fair, and we guarantee satisfactory results.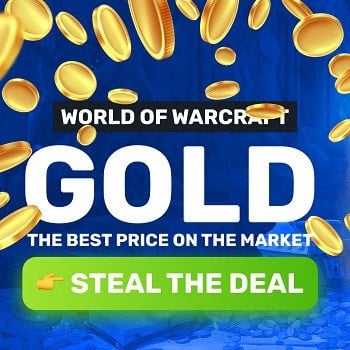 Best Brewmaster Monk Enchants and Consumables
It is highly advisable to enchant your gear to maximize its potential and showcase your dedication and skill to fellow players. Enchantments not only provide substantial enhancements to your character's abilities but also reflect your commitment to mastering your class. To aid you in this endeavor, we present a comprehensive compilation of the most potent enchantments currently available in the realm of Dragonflight.
To fully unleash the potential of your Brewmaster Monk, it is crucial to have a well-stocked inventory of potions and phials. Regardless of the content you engage in, the Phial of Tepid Versatility stands as the optimal choice. As for potions, the Potion of Shocking Disclosure reigns supreme, delivering unparalleled damage output in any situation. Additionally, it is essential for Brewmaster Monks to carry an ample supply of Refreshing Healing Potion for a swift recovery. In dire circumstances, a Potion of Withering Vitality can prove to be a valuable asset.
Furthermore, augmenting your weapon with a Buzzing Rune can further amplify your abilities, while partaking in a Hoard of Draconic Delicacies prior to combat provides an additional boost. For those seeking personal buffs, indulging in a plate of Fated Fortune Cookie or Deviously Deviled Eggs can do wonders.
When it comes to gemming your gear, it is recommended to embed a Resplendent Illimited Diamond as a centerpiece, accompanied by Radiant Malygite, Stormy Malygite, or Radiant Alexstraszite for the remaining slot.
While it's important to recognize that top-notch gear enchants and consumables can significantly enhance your performance, it's crucial to understand that victory against raid bosses isn't guaranteed solely by these factors. The journey to finding a compatible raid group can be a daunting task, and the risk of missing out on an entire raid lockout is ever-present.
However, fear not! Our WoW Raid Boost services offer a solution to these challenges. Our team of seasoned experts is ready to assist you in obtaining the finest raid items tailored to your character, ensuring optimal gear enchants and consumables. With our dedicated support, you'll approach each raid challenge with confidence, equipped to overcome any obstacle that comes your way.
Brewmaster Monk Rotation Guide
Let us now turn to the optimal approach to playing as a Brewmaster Monk, delving into the opener, single-target rotation AoE rotation. Keep in mind that mastery comes with practice, so dedicating time to refine your techniques on target dummies will pave the path to triumphant battles.
Brewmaster Monk Opener Rotation
Brewmaster Monk Single-Target Rotation
Make sure to unleash your offensive cooldowns during battles! There are a plethora of cooldowns available, too many to list here. Utilize them at the beginning of encounters and promptly reapply them as they become available;
To maintain the

Monk Brewmaster

class set 2pc bonus, be sure to use Tiger Palm when the remaining duration is less than

2 seconds;

Strive to always have at least one charge of Keg Smash on cooldown, ensuring its frequent usage;
When in need of healing, promptly activate Expel Harm to restore your health;
Blackout Kick should be utilized promptly as it becomes available;
Rising Sun Kick should also be cast on cooldown to maximize its impact;
Sustain Rushing Jade Wind to maintain its beneficial effects;
Use Breath of Fire as a filler ability when other priority actions are unavailable;
Take advantage of the second charge of Stormstout's Last Keg when it is accessible;
Tiger Palm serves as a filler ability to be cast when other key actions are not applicable.
Brewmaster Monk Multi-Target Rotation
The AoE rotation for Brewmasters closely resembles the single-target rotation mentioned earlier. The primary distinction lies in the substitution of Tiger Palm with Spinning Crane Kick when engaging multiple targets.
Brewmaster Monk Defensive Cooldowns
Brewmaster Monk Leveling Guide
As you traverse the vast realms of Dragonflight, the journey of a Brewmaster Monk unfolds seamlessly. With formidable defenses surpassing that of a Windwalker, you possess the power to effortlessly withstand hordes of adversaries. This advantage grants you the ability to swiftly dispatch enemies, making tasks like completing bonus objectives or quests that demand numerous kills a breeze.
To optimize your leveling expedition, consider adopting the following talent configuration: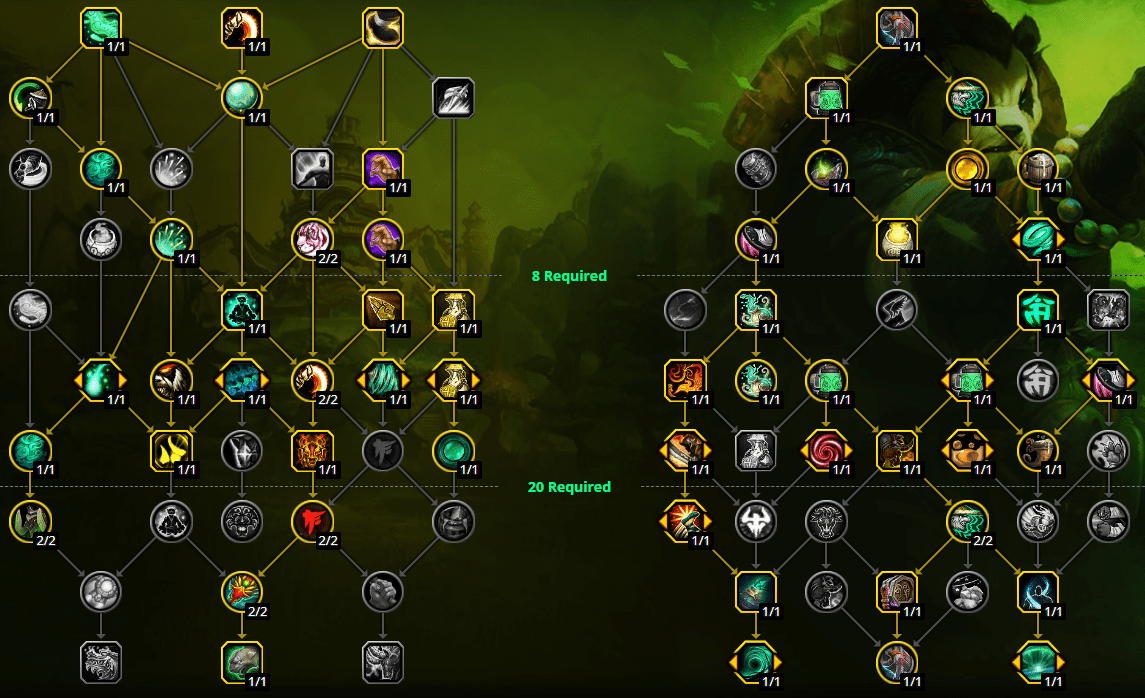 Sting for copying: BwQAAAAAAAAAAAAAAAAAAAAAAAAAAAAAIAAAAgSUKJJRIJp1IAAAApEaJRikkUIJJJpIB0iEplWJE
As your path ascends to higher realms alongside your Brewmaster Monk, it becomes opportune to incorporate various consumables into your odyssey, empowering your endeavors.
When leveling your Brewmaster Monk, There is no specific WoW Brewmaster Monk rotation to adhere to while leveling. Instead, refer to the comprehensive rotation previously mentioned in this guide.
Embarking upon the summit of the level cap in the vast realm of WoW unveils a world brimming with infinite possibilities for your character's journey. Should you find yourself yearning for guidance with your freshly leveled character, check out our World of Warcraft Boosting services. Our seasoned players stand ready to offer their expertise, delivering unparalleled assistance at the most competitive market prices.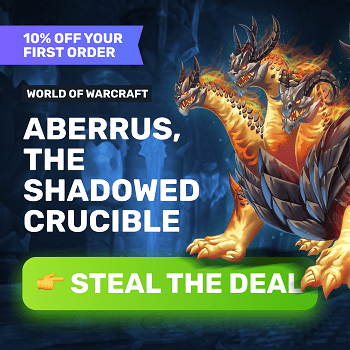 The Best Primordial Stones for Brewmaster Monk
Onyx Annulet, once fully upgraded, emerges as a formidable contender at its item level of 424, showcasing its prowess in single-target encounters throughout the duration of Season 2. However, it's worth noting that its dominance primarily revolves around single-target engagements. In the realm of AoE encounters, the scales tip in favor of a ring with a higher item level of 440 or above, bolstered by the presence of Versatility, eclipsing even the most optimal Primordial Stone setup.
To optimize your performance as a Brewmaster Monk in various scenarios, consider the following recommendations for socketing Primordial Stones into your Onyx Annulet:
For Raiding:
For Mythic+:
How to Become a Better Brewmaster Monk in Dragonflight
Having armed yourself with the appropriate gear, enchantments, and nourishment, and having mastered your opener through dedicated practice, it's time to delve into more advanced strategies for how to play Brewmaster Monk:
Take the opportunity to thoroughly

explore your spellbook

and talents, leaving no stone unturned. A comprehensive understanding of your specialization sets apart exceptional monks from the rest, even encompassing talents that may not align with our recommended builds;
Never underestimate the value of

training

on target dummies or engaging in lower-level keystones. Our opener and resource management demand a level of muscle memory to execute flawlessly;

Seek gear upgrades

from a variety of sources. Avoid fixating solely on "Best-in-Slot" lists or specific content. Dragonflight presents plentiful equipment options, ensuring a wealth of possibilities for those embarking on their journey;
Immerse yourself in

raid strategies and dungeon routes.

As a tank, you shoulder unique responsibilities and should be the most prepared and knowledgeable member of your party;
Embrace the spirit of teamwork! While playing as a

Brewmaster

can foster self-sufficiency, remember that WoW thrives on collaboration. Learn to synchronize your crowd control and cooldowns with your party and raid members, transcending limitations to achieve unprecedented heights;
Don't shy away from

experimentation!

We've emphasized this before, but it bears repeating: your talents and abilities are not set in stone! Venture into uncharted territory and witness the results firsthand.
With these advanced tips and tricks, you'll unlock the full potential of your Brewmaster Monk and leave an indelible mark on your adventures in Dragonflight.
Other Articles to Read
At SkyCoach, our commitment lies in delivering comprehensive coverage of our favorite games. Through our blog, we provide a wealth of valuable information encompassing various aspects of World of Warcraft. Immerse yourself in detailed guides and articles that delve into different WoW specializations and in-game activities.
Whether your interest lies in the art of tanking and you yearn to explore the intricacies of the Protection Paladin, or you seek the thrill of embracing a completely new specialization such as the Fire Mage, we've got you covered.
For Brewmaster Monk enthusiasts who crave more knowledge, we wholeheartedly recommend exploring our Brewmaster Monk Mage Tower Guide. This thrilling challenge not only offers unique rewards but also pushes your skills with this tanking specialization to their limits!
SkyCoach Boosting & Coaching Services
Embarking on your World of Warcraft journey can be a daunting task, especially if time is not on your side. Here at SkyCoach, we empathize with that sentiment and are here to ensure you never miss a beat. Whether you're in search of ways to bolster your gold reserves or gear up for epic battles, longing for cleared raids and dungeons, or yearning for guidance from a seasoned player, we've got your back. Our services span a wide range, our prices are fair, and our dedicated support team is available round the clock. Plus, we frequently offer enticing sales and a generous cashback program that can save you up to 20%! So, whenever you find yourself in need of assistance in WoW or other online games, know that we are standing by, ready to lend a helping hand.
Final Words
Our goal in crafting this article was to present you with a comprehensive resource that delves into every facet of mastering the Brewmaster Monk in Dragonflight. It is our hope that within this WoW Brewmaster Monk guide, you have found recommendations tailored to elevate your gameplay experience, amplifying both your performance and enjoyment within WoW. Nevertheless, keep in mind that these suggestions are not set in stone but rather offer a springboard for exploration. You can always tinker with various talents, rotations, and gear until you discover something that suits your playstyle. After all, World of Warcraft is a realm of boundless possibilities. As we conclude this chapter, we bid you farewell and hope to meet you in the majestic Dragon Isles. Until then, take care and may your exploits be legendary.
F.A.Q.
Are Brewmaster Monks good in Dragonflight?
Absolutely! Brewmasters exhibit remarkable strength across all forms of content, provided that one takes the time to grasp their intricate mechanics. With a versatile toolkit at your disposal, you'll find yourself well-equipped to conquer Mythic+ challenges and overcome the trials of Aberrus.
Is Brewmaster Monk hard to play in WoW?
While the core principles of Brewmaster Monk Dragonflight gameplay are relatively straightforward, reaching mastery at higher levels of Mythic+ or raiding demands a combination of skill, perseverance, and practice.
What is the best weapon for a Brewmaster Monk?
For Brewmaster Monks, agility-based weapons, such as a formidable two-handed weapon or a pair of finely-crafted one-handed weapons, are the ideal choices.
What is the best profession for a Brewmaster Monk?
While Leatherworking grants the advantage of crafting armor tailored to your needs, don't overlook the opportunities provided by Herbalism and Mining, which can prove lucrative ventures for accumulating wealth.
Is Brewmaster Monk good in PvE WoW?
Brewmasters excel in dealing significant damage and bring the valuable asset of Mystic Touch, particularly beneficial as Windwalker specialization may appear lackluster, and guilds may lack access to a Mistweaver. The defensive and utility capabilities of Brewmasters make them invaluable assets in both Raiding and Mythic+ endeavors.
What is the best rotation for a Brewmaster Monk?
To achieve mastery in Brewmaster Monk gameplay, honing resource management and cooldown utilization is paramount. As you become attuned to these aspects, the spell sequence will flow naturally. For an excellent starting point, explore our dedicated WoW Brewmaster Monk rotation section.