Fellow heroes, welcome to another guide devoted to the Mage Tower challenge. This article includes everything you need to know about the Brewmaster Monk Mage Tower Dragonflight gameplay. After reading it, you will learn the most essential tips and tricks that will help you complete this challenge effortlessly. On top of that, we will share what gear and talent build suits the specialization better when it comes to this particular encounter.
Brewmaster Monk Mage Tower Challenge Info
To see what challenge is designed for this spec, you need to find and talk to War Councilor Victoria. She is waiting for you at Deliverance Point, which is close to Dalaran. In fact, you can use Dalaran Hearthstone to shorten your traveling time dramatically. After you are teleported to the city, get on your flying mount and you will be there in a few minutes. As a rule, getting to the required destination should not take you more than 5 minutes in total.
The challenge all tanks should pass is called The Highlord's Return. The latter can be roughly split into 2 stages. Each of them has its main boss with several unique mechanics and abilities. As you keep reading the article to the end, we will describe each strategy you can apply to defeat a particular boss.
Since this encounter is designed specifically for tanks, your goal is not only to slay the enemies. You also need to protect two allies throughout the fight. They will also help you by either healing you (Velen) or dealing extra damage (Kor'vas Bloodthorn) to the foes. The first NPC plays a huge role since he spawns Holy Ward every 30 seconds. If you pick it up, you will be healed and cleansed from all active debuffs. Most importantly, it also disorients all surrounding enemies for 5 seconds.
The second ally is not really worth the attention, as it only deals an insignificant amount of damage. However, both of them should be kept alive until the battle is over. Otherwise, you will have to start the encounter from the beginning.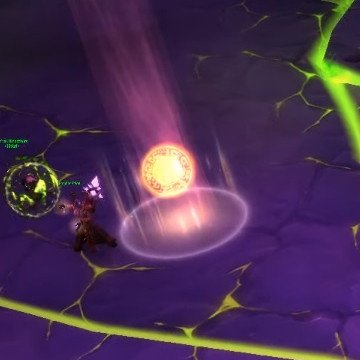 By using a ready-made Brewmaster Monk Mage Tower strategy we have prepared for you, the chances of achieving victory radically increase. In all other cases, you can spend days if not weeks trying to complete this challenge. Your success mainly depends on how well you play around the bosses' mechanics and whether you can counter their deadliest spells on time.
If you have no spare time to practice and just want to receive the desired rewards right away, we have the solution for you. Check out our Timewalking & Mage Tower Boost services where our professional players will happily complete any encounter for you. This will take minimum time and the result is guaranteed.
Best Gear for Brewmaster Monk Mage Tower
When it comes to the challenge's rules, it is not that plain and simple. Unlike most other PvE activities, this one aims at making all players equal. This is done by implementing certain restrictions we are going to discuss below. Before we begin, it is worth mentioning that these rules were added back in the Legion expansion. They have remained unchanged ever since and Dragonflight has not become an exception.
The game's developers know how much players rely on their equipment. Therefore, your gear ilvl will be temporarily lowered to 120 when fighting in the arena. As for your character's level, it will also be downscaled to 45. This makes the Brewmaster Monk Timewalking Mage Tower a real pain for certain players. After the 10th wipe, you will realize that the only thing that matters is your personal skills.
To ensure you squeeze the maximum value out of your equipment, you should follow the right stat priority. When playing this spec, you usually focus on Versatility and Critical Strike. At the same time, Agility remains your number one choice in any activity, as it is your primary stat.
If you have no idea what Brewmaster Monk Mage Tower gear to choose, we are here to help you. Check out the table below to see what gear parts suit this specialization best. To get them, you need to slay Vault of the Incarnates bosses. Keep in mind that none of the mentioned items are mandatory for this encounter. The presented list is one of many alternatives you can go for. You just need to follow the correct stat order and victory is yours.
Equipment Slot

Item Name

Source

Provided Bonus

Head
Gaze of the Waking Fist
Raszageth
Grants you additional

Haste

and

Mastery

stats to use spells more often and deal higher damage.
Neck
Terros's Captive Core
Terros
Provides you with a ton of extra

Versatility

and a bunch of

Haste.

The first stat is your priority for this fight.
Shoulders
Mantle of the Waking Fist
Broodkeeper Diurna
Slightly boosts your

Crit

and

Haste

stats to get extra healing and cast spells more often.
Cloak
Acid-Proof Webbing
Sennarth
A great source of

Crit

and

Mastery

stats, both are good for this spec in this challenge.
Chest
Chestwrap of the Waking Fist
Kurog Grimtotem
Gives you a ton of

Versatility

and

Crit

stats. They are your top priority in this battle.
Wrist
Loyal Flametender's Bracers
Broodkeeper Diurna
Significantly increases your

Crit

and

Mastery

stats to get extra healing and hit harder.
Gloves
Palms of the Waking Fist
Dathea, Ascended
A decent source of

Crit

and

Mastery

stats, which can never be extra.
Belt
Fused Shale Waistband
Terros
Provides you with additional

Versatility

and

Mastery

stats, which are what you need.
Legs
Legguards of the Waking Fist
Sennarth
Just like the previous item, this one immensely boosts your

Versatility

and

Mastery

stats.
Boots
Ice-Climber's Cleats
Sennarth
Grants you a bunch of

Crit

and

Haste

stats, which are good for both incoming healing and damage output.
Ring
Seal of Diurna's Chosen
Eranog
This is definitely the number one pick in this slot. It provides you with a ton of

Crit

and

Versatility.

On top of that, you can set nearby enemies aflame if you deal

Fire

damage.
Ring
Seal of Filial Duty
Broodkeeper Diurna
Grants you additional

Haste

and

Mastery

stats. Besides, you can gain a shield if you deal

Fire

damage.
Trinket
Decoration of Flame
Eranog
Passively boosts your

Agility

stat. If activated, you deal

Fire

damage to all nearby enemies and gain a large shield. This works perfectly with your rings.
Trinket
Whispering Incarnate Icon
Primal Council
Just a nice passive

Agility

and

Crit

boost.
Weapon (2h)
Awak'mani, Grimtotem's Legacy
Kurog Grimtotem
A great source of

Haste

and

Mastery

stats, which are always nice to have.
Weapon (1h)
Fist of the Grand Summoner
Kurog Grimtotem
Provides you with additional

Haste

and

Mastery

stats to cast spells more often and deal higher damage.
Weapon (1h)
Frostbreath Thumper
Sennarth
Grants you a bunch of

Crit

and

Versatility

stats, which are your priority for this encounter.
If you are a fan of Mythic+ content, you can try to farm its set parts instead. Nonetheless, it is not an obligatory thing to do as well. You can choose practically any equipment you like. Though we can help you clear out any dungeon if you order our Mythic Carry services. Our pro players will do this ASAP and you will receive the loot you are hunting for.
Moving further, we have prepared a list containing the most useful Brewmaster Monk Mage Tower trinkets you can use for this challenge. They grant you additional stats and have unique on-use abilities that can help you win this battle.
If you wish to get these and other top-rank rewards, you just cannot neglect Raiding content. At the same time, it takes a lot of time to slay any boss and the team is not always what you expect. To ensure you get the desired loot, you can order our WoW Raid Boost services. Our professional players will do the whole job for you.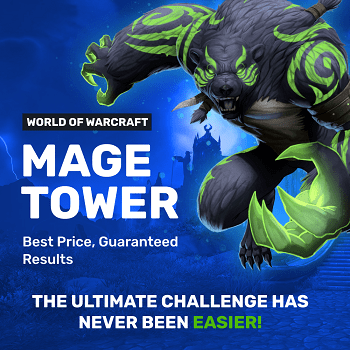 Brewmaster Monk Mage Tower Best Enchants & Gems
In this paragraph of our Brewmaster Monk Mage Tower guide, we are going to focus on various enchantments and gems you can use for this encounter. They act as a great source of additional main and secondary stats. So, if you have some spare gold, do not neglect these equipment parts.
Equipment Slot

Best Alternative

Provided Bonus

Weapon (Main Hand)
Frozen Devotion
If procs, you can deal extra

Frost

damage to enemies in front of you.
Weapon (Off Hand)
Sophic Devotion
Also works randomly but grants you a large amount of

Agility

if procs.
Cloak
Homebound Speed
Grants you additional

Speed

to move around the arena faster.
Chest
Accelerated Agility
Provides you with extra

Agility

and

Speed

stats, which are essential for you in this fight.
Bracers
Devotion of Speed
Another source of

Speed,

which is always nice.
Legs
Fierce Armor Kit
Gives you extra

Stamina

and

Agility

allowing you to live longer and hit harder.
Boots
Plainsrunner's Breeze
Greatly increases your

Speed

stat to move quicker.
Ring
Devotion of Versatility
Slightly boosts your

Versatility,

the stat you need more than any other.
Returning to the Brewmaster Monk Mage Tower recommended gems, they look as follows:
Resplendent Illimited Diamond is your number one choice, as it grants you additional

Agility

and

Versatility

stats;
Radiant Malygite is the common alternative for the rest of the slots since it boosts your

Versatility

and

Crit

stats.
Crafting all these and other items on your own is impossible. Instead, you can purchase them at the Auction House. However, you will need quite a lot of gold for this. If you are tired of endless farming and grinding, you can simply Buy WoW Gold with our company's help. We guarantee the fastest delivery time to any server and offer the best market price.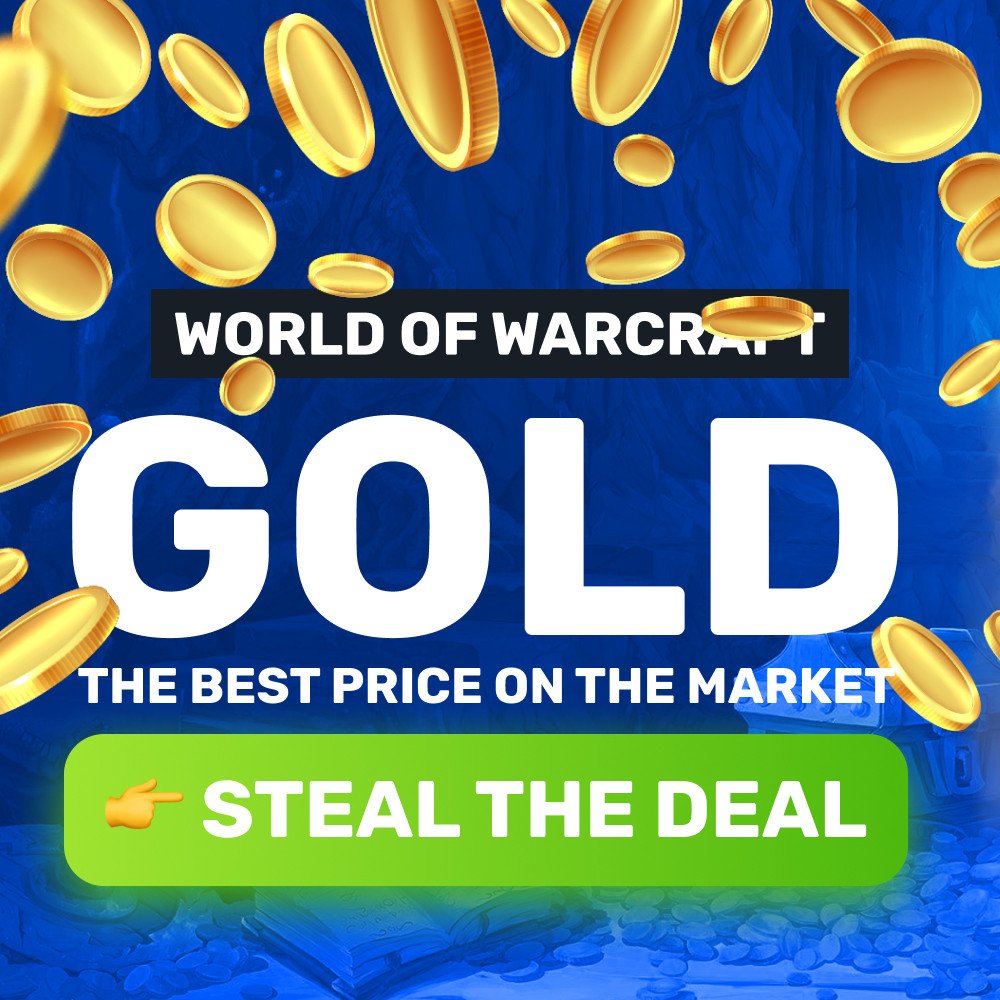 Brewmaster Monk Mage Tower Best Consumables
Nothing boosts your main and secondary stats like consumables. They are easy to use and the effect usually lasts long enough to deal devastating damage to the target. In this paragraph, we would like to share a few really powerful consumables you want to have before beginning this battle:
Brewmaster Monk Mage Tower Best Talent Build
When preparing for the encounter, you cannot underestimate the value of the correctly chosen talent build. Luckily, this system has been completely changed with the Dragonflight expansion. You can experiment with a talent setup on your own or go for a ready-made solution we have prepared for you.
Down below, you can find the optimal Brewmaster Monk Mage Tower 10.1 talent build. Do not hesitate to change it according to your playing style but the suggested alternative should work just fine.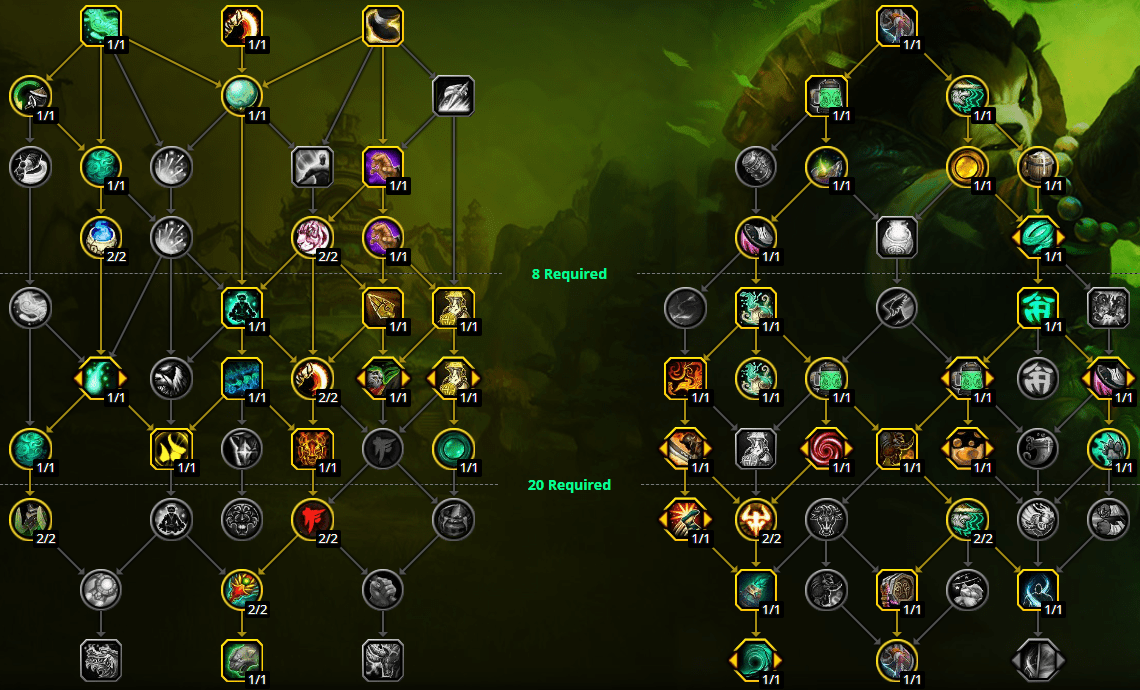 To try out this build in the game, copy the following code:
BwQAAAAAAAAAAAAAAAAAAAAAAAAAAAAAQAAAAgUoUSSCkk0aRAAAASLUSiEJkQSSSSJJARi0SrEC
Unfortunately, you will not get access to all the required talents until you reach level 70. This process can take quite a lot of time, especially if you do not spend too much time in the game. To speed things up, you can order our WoW Powerleveling services and let our professional players do this routine job for you.
Inquisitor Variss Fight Strategy
In this and the next paragraphs of the guide, we are going to share the most essential Brewmaster Monk Mage Tower tips you can use to outbattle both bosses. Stage 1 begins when Inquisitor Variss starts attacking you. His most dangerous abilities are Aura of Decay and Life Drain. You should never have more than 5 stacks of his first talent or you will be one-shotted for sure. At the same time, always keep any interrupting ability to stop his second ability. Otherwise, he will restore HP to full.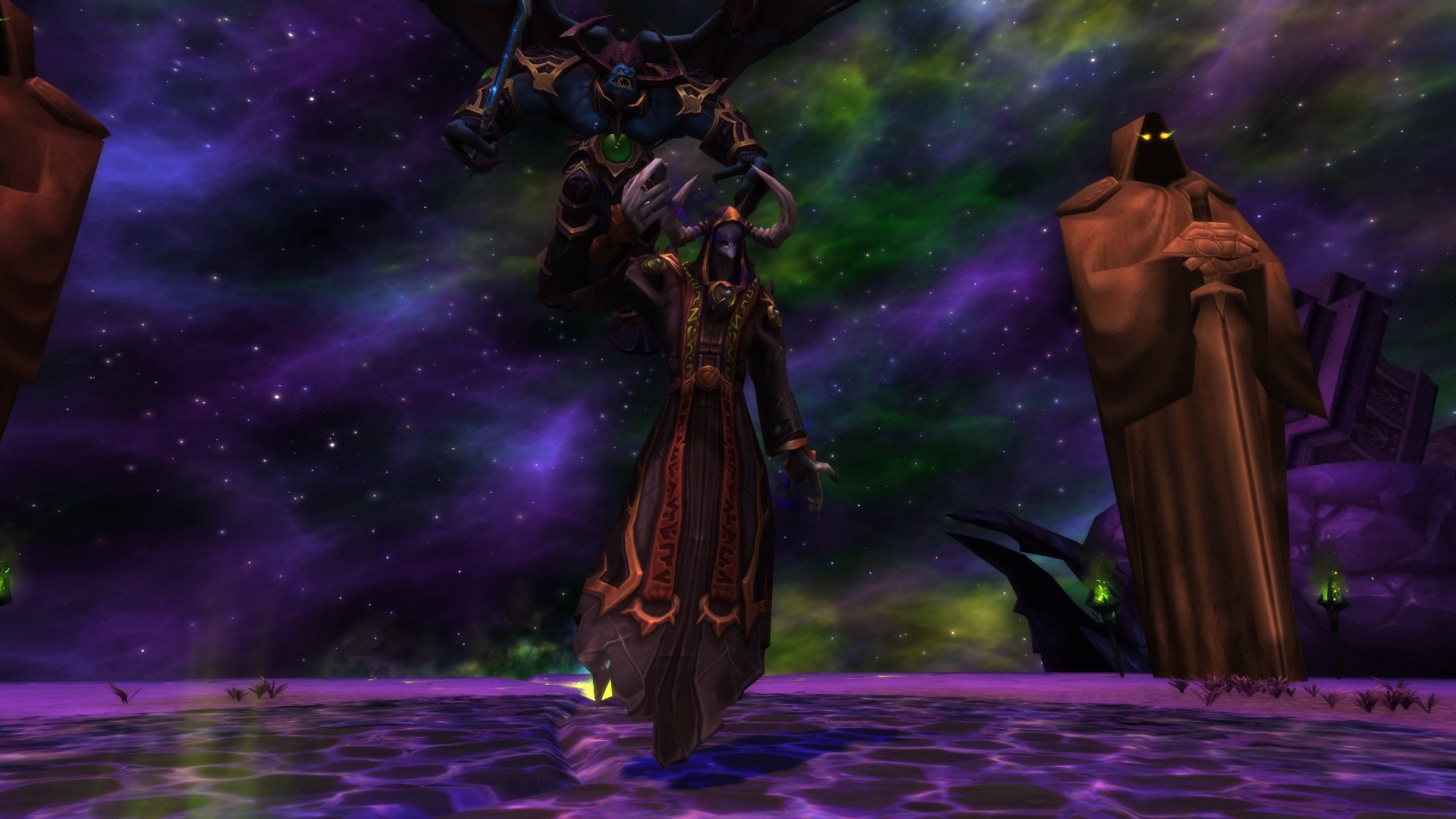 Apart from the boss, Stage 1 is full of annoying adds that spawn from time to time. They are Tormenting Eye, Smoldering Infernal, and Nether Horror. Slaying them is usually not a big issue, as they have a relatively small HP pool. However, be aware of the eye's Inquisitive Stare talent.
If you see him casting it, you need to look directly at the mob. Failing to do this will knock you away and you can easily fall off of the platform. On top of that, this mob does not take Physical damage, which makes him a bit more difficult to kill.
Speaking of the infernal, you should only be aware of his Smash, as it also pushes you away from the platform. This mob is not your priority target, as he basically kills himself due to the Fel Resonation debuff.
Unlike the previous enemy, Nether Horror is your number one target right after it spawns. The reason for this is that it is going to focus Velen only. You cannot let your allies die or take too much damage. Therefore, get rid of this mob ASAP or your healer will suffer.
Answering the question of how to do the Mage Tower as Brewmaster Monk, your task is to stay in the arena while fighting the boss and his annoying adds. At the same time, you always need to look at the active debuffs you are experiencing. Otherwise, it may lead to a sudden wipe and you will have to start the encounter from the beginning.
Highlord Kruul Fight Strategy
Stage 2 starts right after you are done with the first boss. You will see Highlord Kruul flying down to the platform. Be aware of his Annihilate, Netherstomp, and Twisted Reflection. His first talent is a debuff, which increases the boss' outgoing damage. As a rule, you want to pick up Holy Ward to cleanse all the stacks of it. As for the second spell, it is quite easy to avoid. Although, you are likely to fall off of the platform if you get hit by it.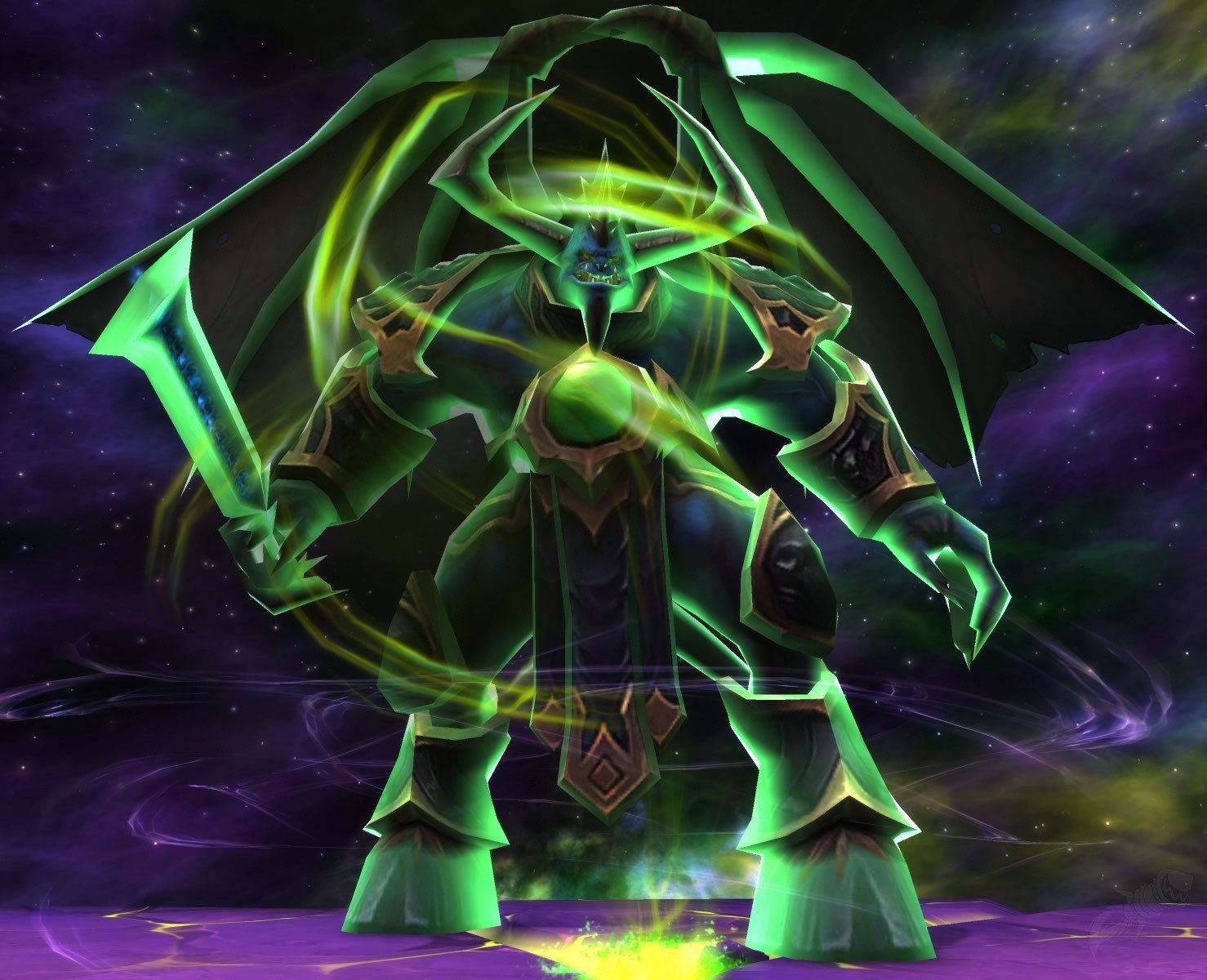 Finally, his last talent is arguably the deadliest one. You always want to keep a CC ability to interrupt its channeling. If you fail to do this, the boss will restore his HP to full in a moment. If it happens, he will simply outsustain you and this will lead to a 100% wipe.
Speaking of a Brewmaster Monk Mage Tower nerf, it is unlikely to happen. This specialization is not one of those that can be called overpowered. In fact, it is by far not the most popular pick for a tank role. So, if you enjoy playing this spec, it is high time to give it a try in this challenge.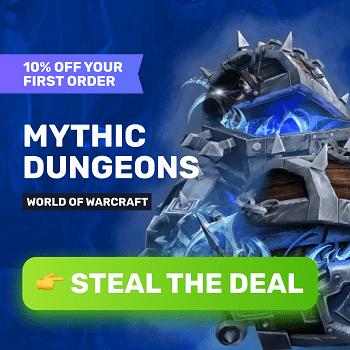 Brewmaster Monk Mage Tower Rewards
After you are done with both bosses, the encounter is considered to be over. You will be teleported back to your original location where you will receive a unique Brewmaster Monk Mage Tower appearance. We have provided a screenshot of it down below.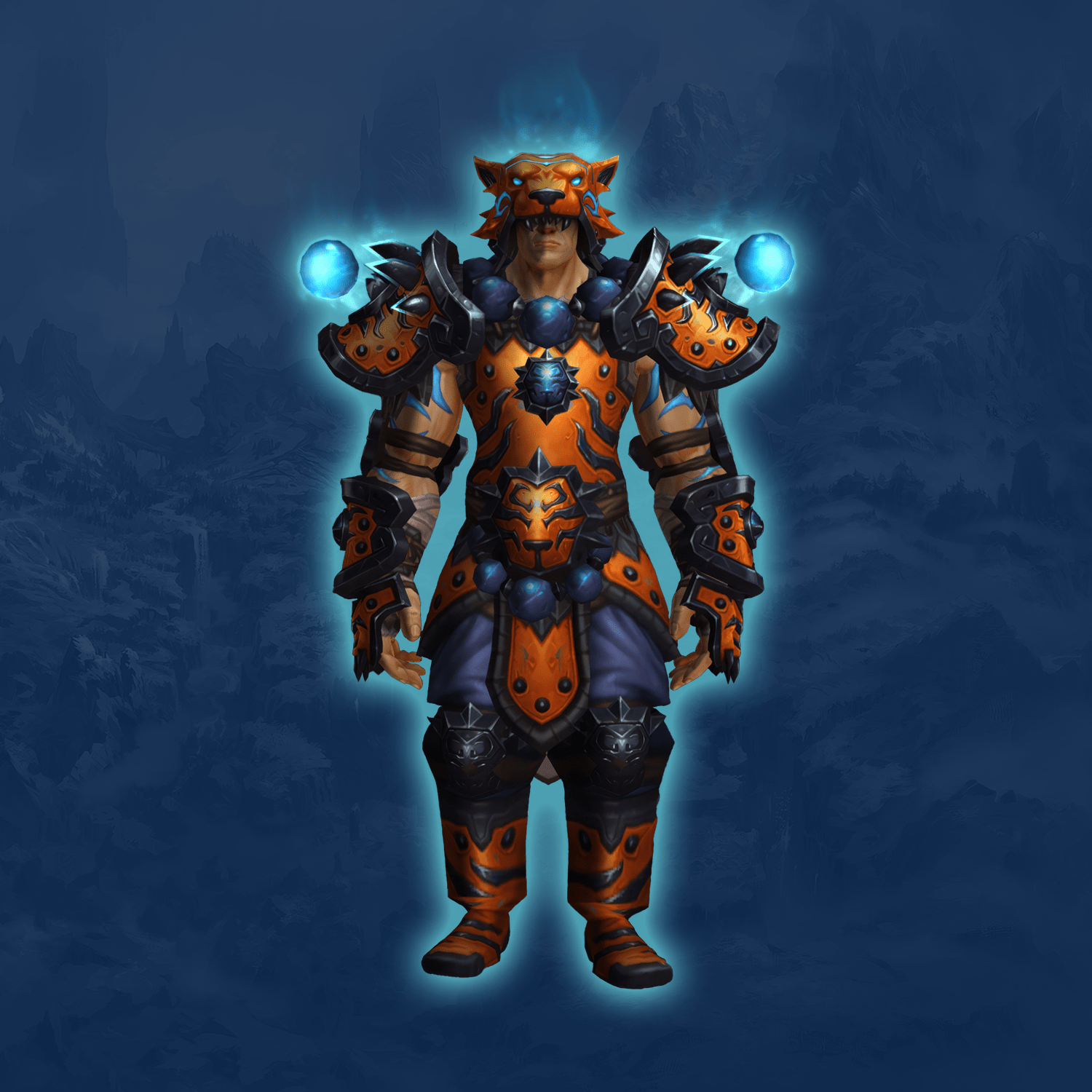 By completing all 7 encounters currently available in the game, you can receive Soaring Spelltome. This is a unique ground mount, which is only lootable from this activity. It represents a book your character stands on to fly over the ground.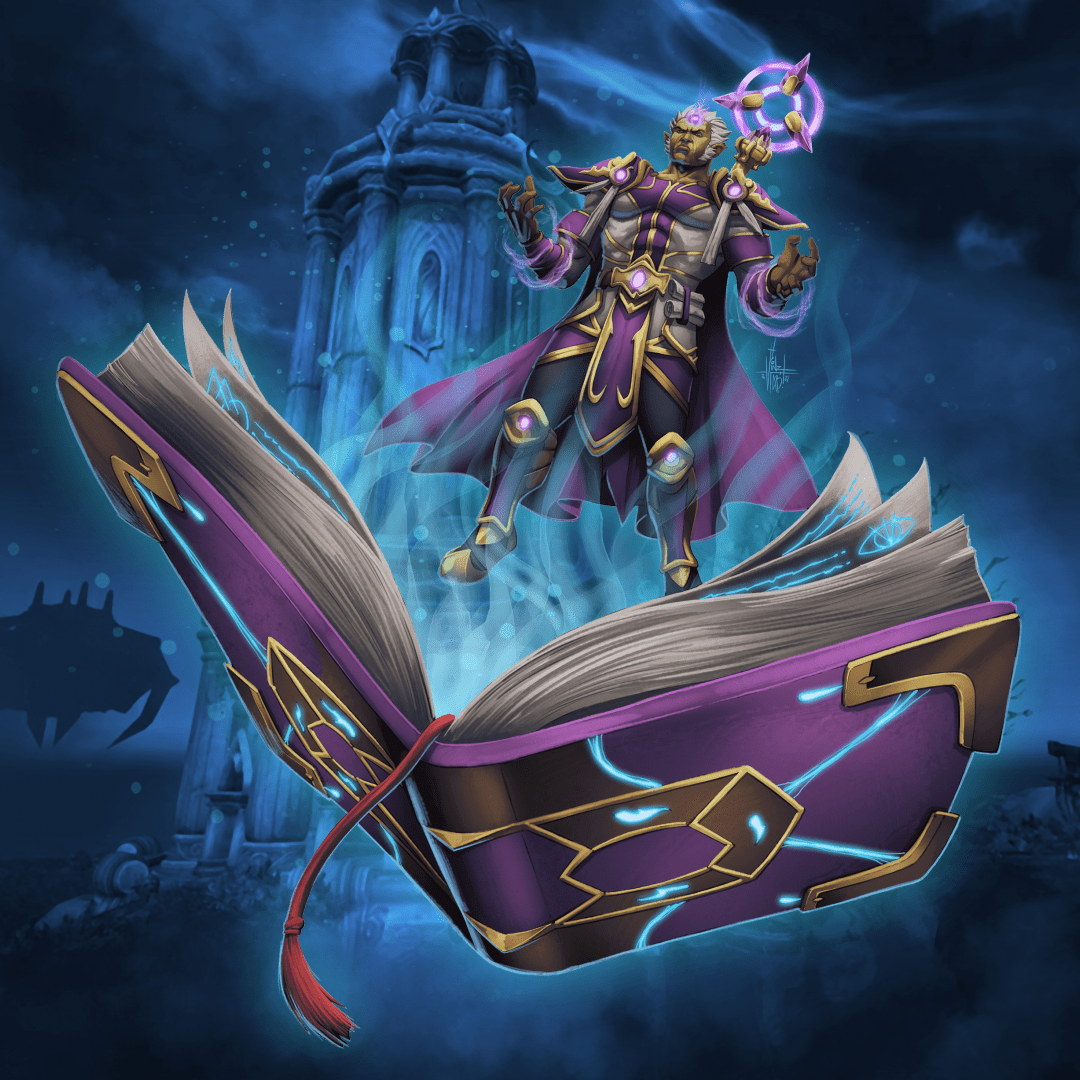 To get all the desired rewards in a fast and easy way, you can order our World of Warcraft Boosting services. In this case, our professional players will complete any encounter for you in the shortest time possible.
SkyCoach Boosting & Coaching Services
At SkyCoach, we try our best to make your gaming experience exciting and truly unforgettable. You no longer have to worry about pointless grinding and farming. Our team is here to handle all this boring stuff for you. While reading the article, you have already learned about a few of our most widespread services. However, this list is far from complete.
We have been on the market for over 5 years and have dozens of online titles we work with. To make your client experience special, we offer a 5% cashback on all orders you place. If you have not found an offer that suits your needs, contact our 24/7 customer support service to create a personal order.
Final Words
Fellow heroes, this marks the end of our guide. We hope you have learned a lot about this exciting in-game activity and the reviewed specialization as a whole. Make sure to stay with us, as we will keep updating this article if any changes or updates occur.
F.A.Q.
What reward do Brewmaster Monks get from Timewalking Mage Tower?
As we mentioned earlier, most players are hunting for a class-specific transmog set.
What are the best Brewmaster Monk talents for Mage Tower?
You cannot single out particular talents, as they all work in combination with each other. We have shared the strongest talent build you can use for this encounter in a separate paragraph.
How do you increase damage as Brewmaster Monk in Mage Tower?
Make sure you use all your damaging abilities on cooldown. At the same time, this challenge is more about defending your allies rather than dealing damage.
Is Brewmaster Monk good for Mage Tower?
It is definitely a good tank to try out for this specialization. If you enjoy this spec's playing style, go ahead and give it a shot.