Welcome, brave defenders, to our comprehensive Protection Paladin DPS guide. If you yearn to stand strong as an impenetrable shield against the forces of darkness, then this article is your ultimate resource.
In this guide, we will explore the spec's unique playstyle, core abilities, talents, rotations, and more. Whether you are a seasoned player or new to the path of righteousness, our guide will equip you with the knowledge and strategies to excel in both PvE and PvP encounters.
Prepare to embrace your sacred duty, protect your allies, and unleash righteous fury upon your enemies. With our guidance, you will become an unyielding bastion of defense, embodying the true essence of Protection Paladin. So, ready your shield, grasp your holy weapon, and let us embark on this epic journey together!
Protection Paladin Pros and Cons
If you are a complete beginner, this part of our WoW Protection Paladin guide is what you need to learn the spec's basics. We are going to enlist this specialization's strengths and weaknesses to let you understand whether you wish to try it at all.
Starting with the Upsides, they are as follows:
Up next, we have the following Downsides to mention:
Apart from Divine Steed, you have no other mobility tools;
Has to stand in the Consecration zone to have damage reduction;
Highly dependent on Shield of the Righteous to survive high damage;
Has the second lowest

Health

pool

of all tanks in the game.
To see how this spec performs in battle, it is essential to reach the level cap first. Making your way from 60 to 70 can be a challenging and time-consuming task. So, you can order our Dragonflight Leveling 60-70 service and let our professional players do the job for you. We guarantee the best market price and the fastest completion time.
Protection Paladin Basics
As you already understand, your main role is to tank and protect allies from incoming attacks. For this, you have a set of defensive and healing abilities allowing you to survive longer in a fight while keeping your allies alive as well. To cast your spells, you use Mana and Holy Power. The latter is your unique class resource, which lets you cast stronger abilities like Shield of the Righteousness, Word of Glory, and others.
Having different utility tools as well as offensive abilities, you can balance between keeping your allies alive and dealing damage. This makes you a great threat-generation machine, as opponents always have to focus you. As for the most essential part of Protection Paladin Dragonflight gameplay, you need to learn to position yourself correctly. Having no escape tools, you may find yourself in a weak position and die due to burst damage relatively quickly.
As we mentioned earlier, you have the second lowest Health pool of all tanks in the game. This means, you highly rely on self-healing abilities. However, if you have them on cooldown, it is better to retreat for a few seconds.
Protection Paladin Core Abilities
As with any other class and specialization, you have a set of basic abilities you use most frequently. They are an essential part of your rotation and should be used in every fight. To make things easier for you, we have enlisted the most crucial WoW Protection Paladin abilities down below:
Of course, this list is far from complete. You have a wide variety of other spells you are going to use in certain situations. However, we have tried to include not only tanking but also healing and offensive abilities in this list. You are going to use them in any type of content whether you prefer PvE or PvP.
Adding a few words on PvE content, dungeons are extremely popular among players of all levels. Completing them grants you rare rewards, which cannot be obtained by any other means. If you struggle to finish a particular dungeon run, you can always use our Mythic Carry services and rely on our pros instead. We guarantee the fastest result at the most attractive price.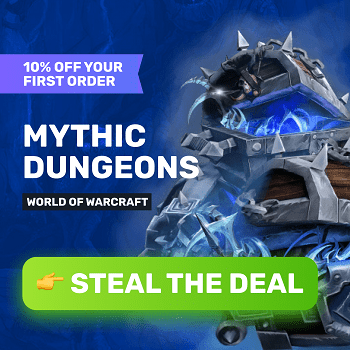 Protection Paladin Stat Priority
Moving further, we would like to share the most optimal stat priority for Prot Paladin. Starting with your primary stat, it is Strength. The latter boosts your attack, parry chance, and most importantly the amount of armor you gain from Shield of the Righteous. Therefore, Strength should always be the highest priority compared to other Protection Paladin stats.
After that, you should pay attention to Haste and Mastery stats, as the first one reduces your GCD allowing you to cast spells more often. The second one improves your Mastery: Divine Bulwark efficiency and lets you attack harder. Then, you have Versatility and Critical Strike stats, which are less important to you.
The provided stat priority is subject to change, as the final choice often depends on your own preferences and a particular combat scenario. To see what alternative works best for you, do not hesitate to use Simcraft or Raidbots programs. If you only begin playing the game, follow this stat priority in any case:
Strength;

Haste;

Mastery;

Versatility;

Critical Strike.
Again, do not forget to experiment with it as you become a more experienced player. It may happen that you will find a better option suiting exactly your playstyle.
Best PvE Protection Paladin Builds
One of the most important and awaited features of the Dragonflight expansion was the renewed talent system. Unlike in the previous expansion, you can try out a larger variety of possible talent setups. However, it has become more difficult for beginners to choose the most optimal talent build for a particular in-game activity.
That is why we have decided to share the best Raiding and Mythic+ builds with you. They let you deal the highest damage possible while protecting your allies. Besides, we have prepared the most efficient PvP build as well.
If you are struggling to complete any in-game activity because of a bad team or lack of friends, we have you covered. You can Buy Dragonflight Boost from our company and let our pros do the job for you. We will help you get the desired loot from any activity. Besides, we guarantee the best market price and the fastest completion time.
Protection Paladin Raid Build
The following talent setup is designed specifically for Raiding, allowing you to deal impressive damage while also protecting your allies. You can change this Protection Paladin raid build depending on your playstyle or team composition but it should work just fine in most situations.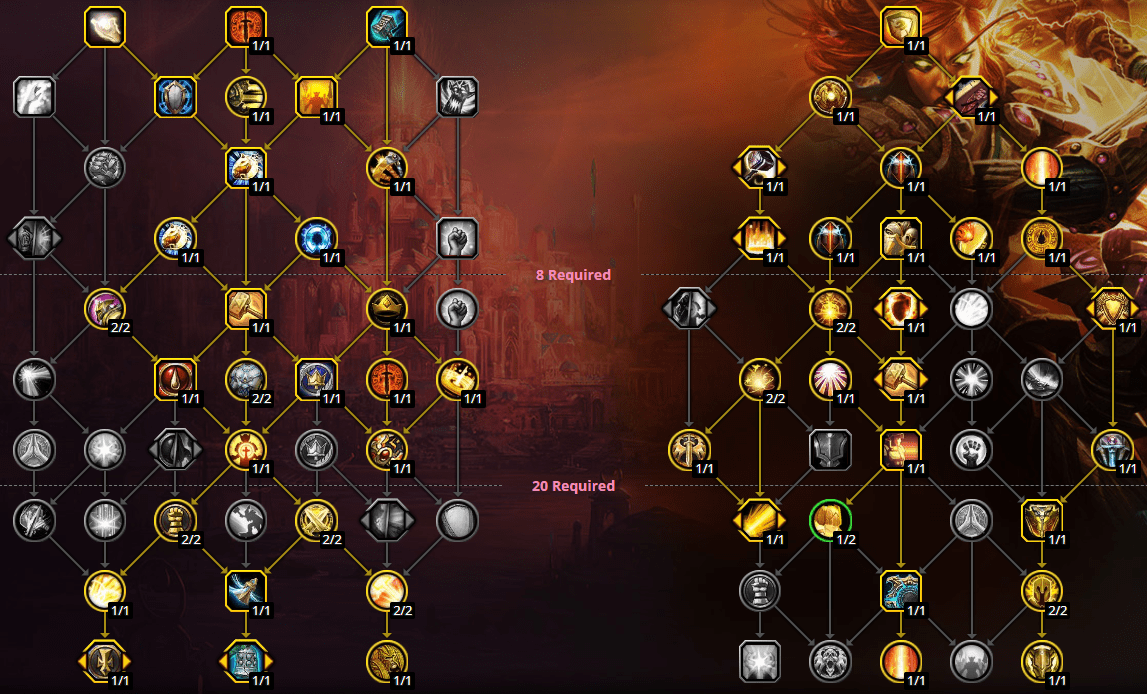 Copy this string to try the build in action:
BIEAAAAAAAAAAAAAAAAAAAAAAUSKJSKiyB0iEaNJJSQIBAAIAAAAAAAAIRkQgkQSKSkk0AgIgAIgA
Protection Paladin Mythic+ Build
Compared to the previous build, this one focuses on optimizing your AoE damage while also protecting your allies. As usual, this Dragonflight Protection Paladin PvE build is subject to change if the situation requires it.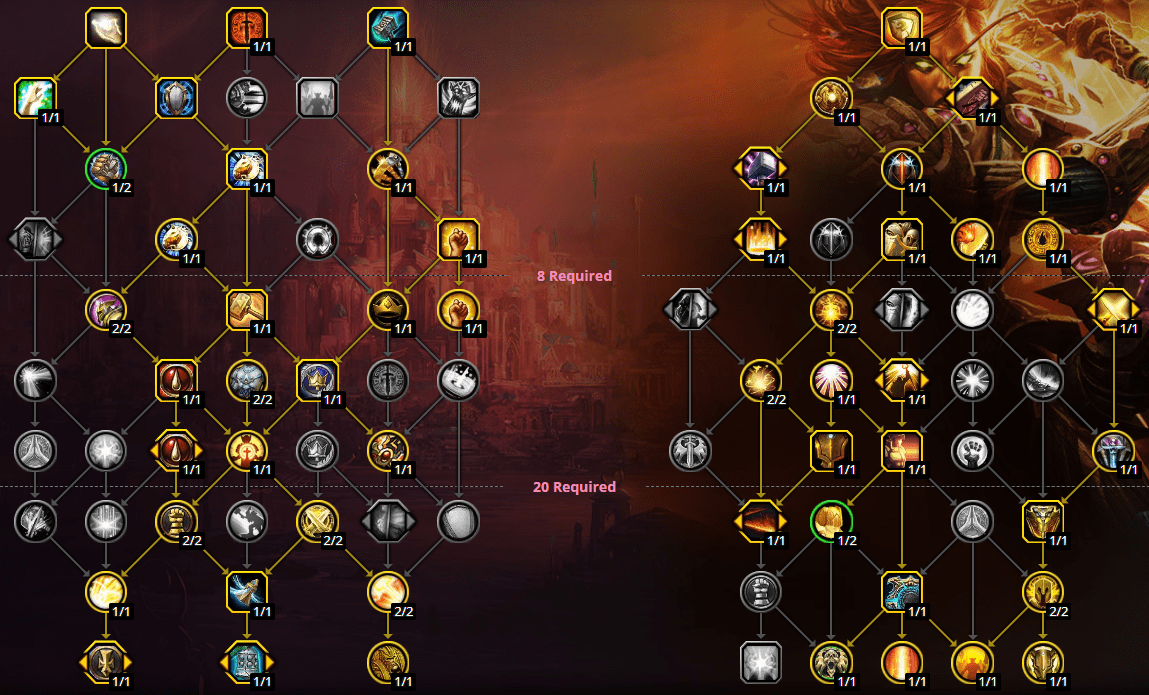 To see how this build performs, copy the following string:
BIEAAAAAAAAAAAAAAAAAAAAAA0SaJkiodAtkko0kkIRkIBAAIAAAAAAAAIOQSSRgkQSKSgAAiABAgA
Best Protection Paladin PvP Build
If you enjoy fighting other players more than mobs, you would definitely find our Dragonflight Protection Paladin PvP build useful. To excel in this type of activity, you are to practice your rotation and cooperate with your team. Also, you can find a few essential tips you can use in PvP to ensure you prevail.
In PvP, Protection Paladins need to focus on their survivability to effectively protect their allies and control the battlefield. One effective tactic is to use the Hammer of Justice ability to stun enemies and disrupt their attacks, giving you time to heal yourself and your allies or deliver devastating blows.
Additionally, using Divine Shield to protect yourself from enemy attacks can be a game-changer in intense battles. It is also important to stay aware of your surroundings and position yourself strategically to control the battlefield and protect your teammates. Finally, using the Avenging Wrath ability can increase your damage output and help you quickly eliminate enemies, making it a useful tool in any encounter.
On top of that, remember about your positioning, as you can find yourself in a situation where it is difficult or impossible to retreat. In this case, you are likely to die leaving your party without a tank.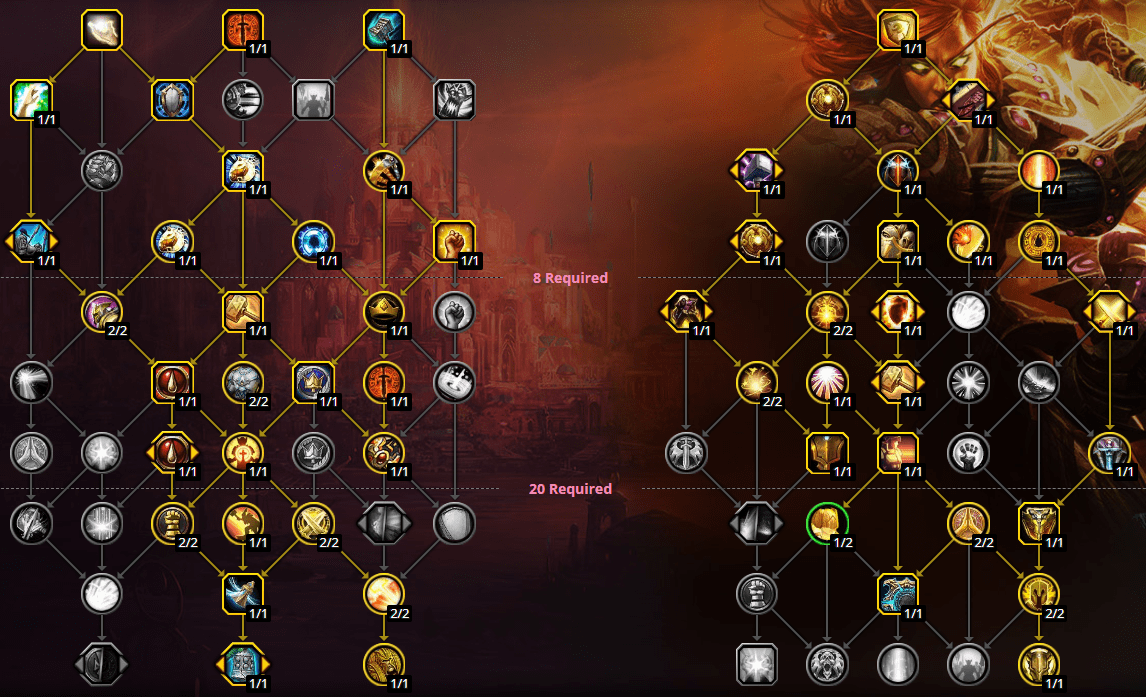 To export this build into the game, copy the following string:
BIEAAAAAAAAAAAAAAAAAAAAAA0SkQKiyBUSSUKNJJJBJSAAACAAAAAAAgiQSSRgkQSIBJNAgAAIQA
To ensure you excel in PvP content, you are to be of the maximum level. Until that, you do not have access to your most powerful spells and cooldowns. To speed things up, you can use our WoW Powerleveling services. We guarantee the fastest result and the most attractive price.
Protection Paladin Best in Slot Gear
If you only begin playing the game or do not wish to try too hard, you can use the Crafting Order system to replace equipment pieces you obtain from end-game activities. This system has completely changed the way BiS equipment works. You no longer need to spend hours of your precious time trying to slay another boss.
Instead, you can find an artisan who is good enough at their profession (e.g. Jewelcrafting or Blacksmithing) and ask them to create the desired item for you. All you need to do is to find the required materials and pay a fee for this service. Of course, these gear pieces will be slightly weaker than what you get from end-game activities but they are much easier to obtain and can be good enough for most average players.
Aberrus, the Shadowed Crucible Best in Slot Gear for Protection Paladin
If you struggle to slay a particular boss or your team always lets you down, we have the solution for you. By ordering our WoW Raid Boost services, you can be sure our pros will defeat any boss for you. You will get the desired loot in a blink of an eye and at the most attractive price possible.
Mythic+ Best in Slot Gear for Protection Paladin
Unlike with raid items, collecting the items listed below is even a more difficult task. Therefore, if you enjoy clearing out Mythic+ dungeons, it would be huge luck if you manage to loot at least a few of these equipment pieces. Theoretically, you can collect them all and wear the best Protection Paladin gear, but it is unlikely to happen.
Again, do not try to get your hands on all the items you see in the table. It may take you an eternity to do so. Instead, explore the Dragon Isles and enjoy the game to the full.
Best Upgrade, Spark of Shadowflame, and Embellishment Options for Protection Paladin
For players looking forward to increasing their PvE gear item level, Flightstones have been introduced to the game with Season 2. This currency lets you boost your equipment ilvl up to 441.
Being a tank, you want to upgrade your shield first. After that, pay attention to your weapon to increase DPS. Finally, make sure to upgrade trinkets and rings before you move to other gear pieces. Here are a few options to start with:
Adding a few words on crafted gear, you can use Spark of Shadowflame to create substitutes for Mythic gear. Since this currency also comes in a limited amount, you want to spend it on the following items first of all:
Finally, we have the Embellishment system to cover. The latter lets you wear items with special effects and bonuses. Nonetheless, you can only wear 2 gear pieces with Embellishments simultaneously. Your choice usually comes down to the following options:
To purchase everything you need, tons of gold are required. However, you will spend an eternity farming it manually. To speed things up and save your precious time, you can Buy WoW Gold with our company's help. We guarantee the best market price and the fastest delivery to any server.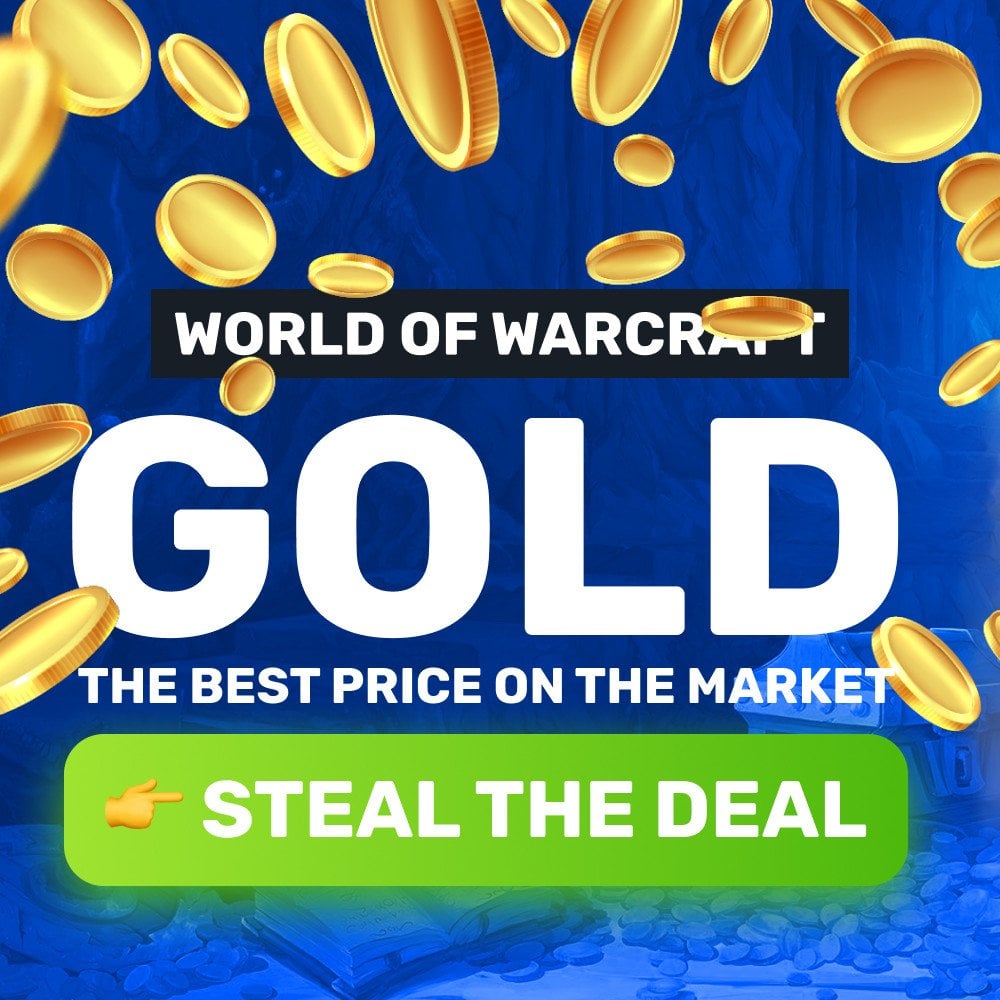 Best Protection Paladin Enchants and Consumables
When it comes to extra stats and bonuses, you cannot neglect enchants and consumables. They are an essential part of your equipment for any in-game content. As a rule, you can buy them at the Auction House, create them by yourself, or ask a friend/guild member about that.
For Raiding, use Phial of Elemental Chaos, as a random secondary stat can never be extra. If you prefer Mythic+ instead, make sure to use Phial of the Eye in the Storm, as it provides you with a ton of Strength. Consequently, it is converted into additional armor and an extra parry chance. If you wish to maximize your DPS, you can try Phial of Glacial Fury to see if it suits your playstyle.
As for potions, you may want to go for Elemental Potion of Ultimate Power. The latter is perfect for Raiding, as you want to increase your single-target damage output. For Mythic+, Potion of Shocking Disclosure is the best choice since it grants you extra AoE damage. If you lack survivability and die quickly, Refreshing Healing Potion can be a solution.
Speaking of the gem choice, you want to use the following alternatives:
Fierce Illimited Diamond – Provides you with additional

Strength

and

Haste,

the stats you need more than any others;
Keen Ysemerald – Grants you even more

Haste

and

Mastery

stats, which can never be extra.
Since you value Haste a lot, go for Howling Rune to buff your weapon for a few hours. Adding a few words on food, Grand Banquet of the Kalu'ak is the best choice. Other decent options are Timely Demise or Sizzling Seafood Medley.
Protection Paladin Rotation Guide
To maximize your performance in any type of activity, you are to use a special WoW Protection Paladin rotation depending on the situation. This extract of our guide includes the three most popular rotations you can use when playing this spec. To make things easier for you, we are going to provide a brief description of each rotation to let you see how it works in action.
Before we begin, it is crucial to mention that any rotation is built around efficient Holy Power management. It is important to use your spells timely and correctly to have them ready when the situation requires it.
Protection Paladin Opener Rotation
Protection Paladin Single-Target Rotation
Protection Paladin Multi-Target Rotation
Protection Paladin Leveling Guide
Upon reaching level 70, the real game begins. You will be able to participate in various end-game activities and test your skills in PvP. However, all this will be impossible until you make your way to the level cap. To speed up this process, we would like to share a special talent build and a list of consumables.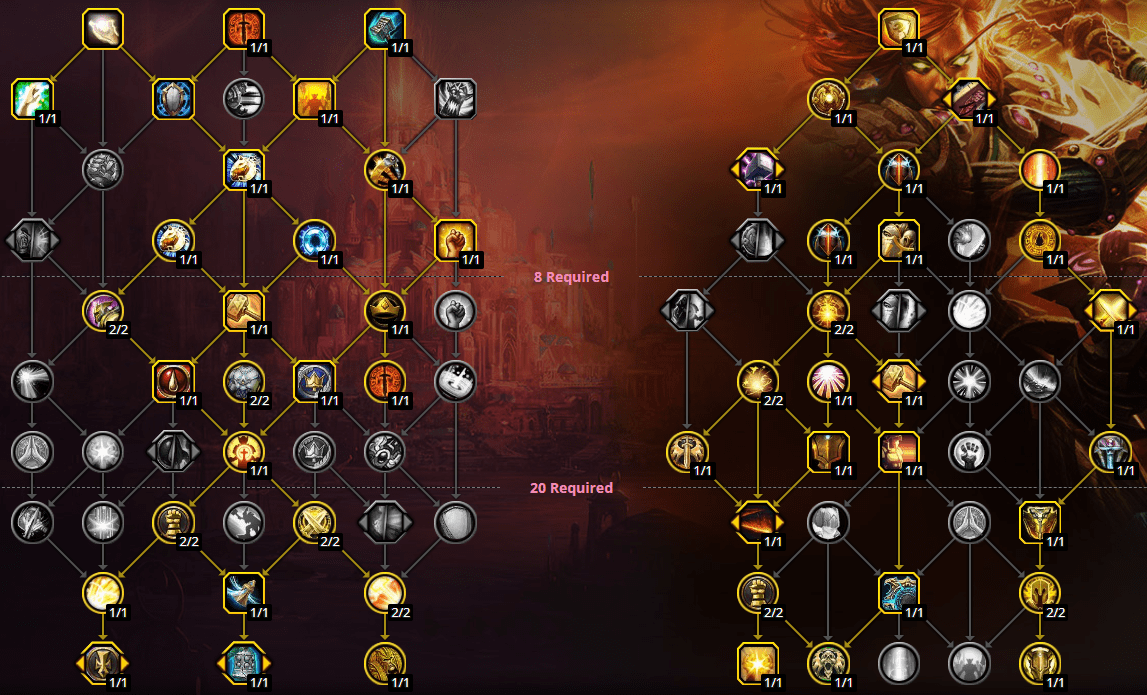 Copy this string to export the build into your game:
BIEAAAAAAAAAAAAAAAAAAAAAA0SaJSKSKIJJKNJJESiEAAAAAAAAAAAkEJJEIJkkiERCAgAAIgA
The most useful consumables for leveling are as follows:
If you still struggle to complete a particular end-game activity even after you have reached level 70, we are here to help you. By ordering our World of Warcraft Boosting services, you can be sure our pros will defeat any boss or finish the most challenging dungeon run for you. All that comes at the most attractive price.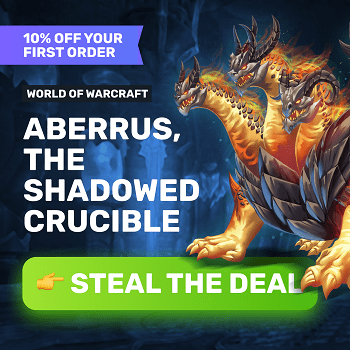 Best Primordial Stones for Protection Paladin
The 10.0.7 patch has brought the Onyx Annulet ring to the game. You can use it to insert different Primordial Stones in it. They grant you unique bonuses and effects. In this part of the article, we are going to describe what Primordial Stones suit this specialization in every type of activity.


How to Become a Better Protection Paladin in Dragonflight
As our guide draws to a conclusion, we would like to share a few Protection Paladin 10.1 patch tips. They will help you become better at playing this specialization and master it quicker:
Master your abilities.

Familiarize yourself with your core abilities, defensive cooldowns, and utility spells. Understand how each ability works and when to use them effectively. Practice using your defensive abilities to mitigate damage and protect your team;

Learn the rotations.

Study the optimal rotation for each combat scenario. Understand the priority of your abilities and the synergy between them. Practice your rotations to maximize your damage output while maintaining threat on enemies yet keeping your allies alive;

Practice positioning and awareness.

Positioning is crucial in both

PvE

and

PvP.

Learn how to position yourself to protect your teammates, maintain threat against enemies, and avoid unnecessary damage. Be aware of your surroundings and anticipate incoming threats;

Study strategies and tactics.

Take the time to study and understand the strategies and tactics for different encounters or

PvP

scenarios. Learn about the strengths and weaknesses of your adversaries and adapt your gameplay accordingly. Stay open to learning from experienced players and seek advice from knowledgeable sources;

Communication and teamwork.

Communication is key in group content. Coordinate with your team, communicate your intentions, and be responsive to the needs of your group. Work together to optimize crowd control, interrupts, and offensive bursts. A well-coordinated team can achieve greater success;

Analyze and learn from your experiences.

Reflect on your performance after each encounter. Analyze your weaknesses and areas for improvement. Identify any mistakes or missed opportunities and learn from them. Embrace a growth mindset and continuously strive to improve your skills.
Other Articles to Read
If you wish to try another specialization of this class, you would be interested in our Holy Paladin Guide for sure. Would you like to destroy your opponents from the shadows? Then, check out our Outlaw Rogue Guide as well. If you want to keep mastering this specialization in particular, our Protection Paladin Mage Tower Guide will be of great use to you.
SkyCoach Boosting & Coaching Services
At SkyCoach, we are proud to be a team of dedicated professionals who offer top-notch boosting and coaching services to gamers around the world. We understand that tackling challenging raids and dungeons can be overwhelming for many players, which is why we are here to lend a hand. With over 5 years of experience in the gaming industry, we provide a wide range of tailored services to meet your specific needs and help you achieve your in-game goals.
Our expertise extends beyond World of Warcraft, as we specialize in other popular titles such as Destiny 2, FIFA, and more. Our team of professionals is committed to delivering fast and efficient results at affordable prices, and we even offer a 5-20% cashback on every order as a token of our appreciation for our valued customers.
We invite you to explore our services and discover how we can assist you in reaching your gaming potential. With our unwavering dedication and expertise, we are confident in our ability to help you become a better player and achieve success in your favorite games.
Final Words
This brings us to the end of our guide. We are sure you have learned a lot about how to play Protection Paladin and understand what this spec is about. With the information you have found in this article, you can excel in both PvE and PvP types of content. This guide will be constantly updated if any changes occur. So, stay tuned and do not forget to check it from time to time. We hope you had a fun time reading our article, see you in the game!
F.A.Q.
Are Protection Paladins good in Dragonflight?
With their robust defensive abilities and self-healing capabilities, Protection Paladins excel at mitigating damage and keeping their allies safe. They have a wide range of utility spells that can provide crowd control, healing, and support to the group.
Is Protection Paladin hard to play in WoW?
It can be moderately challenging, as you need to learn when to use your strongest cooldowns. Besides, you need to understand how your resource management works when it comes to spending your Mana and Holy Power.
What is the best weapon for a Protection Paladin?
You need to choose between 1H/2H Axes, Maces, Swords, and Polearms. It is advisable to use a one-handed weapon combined with a shield. The latter is necessary to use some of your abilities.
What is the best profession for a Protection Paladin?
Having Mining and Blacksmithing paired together can be a wise choice. The first alternative lets you earn extra gold while the second one allows you to create powerful equipment pieces on your own.
Is Protection Paladin good in PvE WoW?
This spec is considered to be strong tanks in PvE content. It features excellent survivability, mitigation abilities, and utility that make it a valuable addition to raid groups and dungeon parties.
How do I maximize DPS as a Protection Paladin?
First of all, you need to learn your core abilities and understand exactly the way they work. Then, you should master the rotations we have described in the guide to utilize them in various combat scenarios.
What is the best rotation for a Protection Paladin?
Depending on what situation you find yourself in, a different rotation should be used. It is necessary to learn them all to be able to destroy your opponents quicker and keep your allies alive longer.